Pages 25-60
The History and Antiquities of the County Palatine of Durham: Volume 3, Stockton and Darlington Wards. Originally published by Nichols and Son, London, 1823.
This free content was digitised by double rekeying. All rights reserved.
PARISH OF SEDGEFIELD.
The Parish of Sedgefield is bounded by Kelloe and Trimdon on the North, by Elwick on the East, by Grindon on the South-east, by Redmarshall and Great Stainton on the South, and by Aycliffe and Bishop Middleham on the West and North-west.
The Parish is divided into seven Constableries: 1. Sedgefield, which includes Hardwick, Sands, and Layton (fn. 1); 2. Bradbury and the Isle; 3. Mordon; 4. Foxton and Shotton; 5. Butterwick, which includes Oldacres; 6. Fishburn; 7. Embleton, which includes Swainston and the Mortons.
Sedgefield,
A small, neat, market town (fn. 2), with the appearance rather of a handsome village, stands on a fine gradual swell of dry gravelly soil, considerably elevated above the marshy lands to the South and West, and commanding to the South and South-east an extensive prospect of the long range of the Yorkshire hills, with the vale of Tees at their foot.
Sedgefield is a member of the Bishop's great Manor of Middleham.
Cutheard, who succeeded Bishop Eardulph, about A. D. 900, redeemed (or purchased), with the church's money, the vill of Sedgefield with its members, then held by Aculf Ethelbrytht and Frythlak.
Under the Survey of Boldon Buke there were here twenty tenants in villenage, whose tenures and services were like those of Boldon; and twenty firmarii or renters, each of whom held two oxgangs, paid five shillings, ploughed and harrowed half an acre for the lord, and laboured three days in winning and reaping the lord's hay, carted two days in hay harvest and two in corn harvest, and each farmer with his whole household, except the housewife, tilled two portions of land in autumn. John the headborough holds two oxgangs for the salary of his office, rent free; but if he quit his place he shall pay rent and service like the other farmers. The smith has one oxgang for making iron work for the tenants' carts, and provides his own coal. The carpenter holds twelve acres for making and mending carts and harrows. The punder has twelve acres and his thraves, and pays forty hens and four hundred eggs. Five cottagers (bordarii) hold five tofts, pay 5s. and till four portions. The villans pay 3s. for toll of ale, and 20s. for cornage. The whole vill provides one milch cow. The manor-mill pays six marks. Fishburn milldam 2s. William of Aldacres 16s. Utred of Buterwic for his lands half a mark. William holds Herdwyk, and pays 10s.
Hatfield's Survey contains the usual mixture of bond and free tenants; amongst the latter are the owners of Herdwyk, Buterwyk, and Oldakris, and the rector of Sedgefield (fn. 3). The tenures and services of the bond tenants, twenty-eight in number, exactly resemble those of Middleham. The villans, if need be, were bound to build, once in the year, a house, eleven feet long and fifteen in breadth; and on such service performed, each shall be released from four pence of his averpenys. Another class of tenants are mentioned called malmen, twenty-four in number, whose rents and services are exactly the same as those of the fermers under Boldon Buke. Thomas de Hedlem, one of the malmen, held eighteen acres, once William of Mordon's, 6s. and a dovecote 6d. and twelve pence for the common kiln. Thomas Maggeson a dovecote 6d. Adam Mylner 4d. Thomas Smyth, for the common forge, 20d. The tenants jointly hold a water-mill and a wind-mill, with toll of ale: viz. one penny for every quarter of malt, 14l. 6s. 8d. William Kellaw held the punder's place, and paid 6s. and hens and eggs, sicut Boldon. The tenants paid 6s. in lieu of providing a milch cow, 20s. for cornage, 31s. 8d. for scatpenys, and 26s. 8d. for averpenys, and all the bonds redeemed their woodlades for 20s. A few lands are mentioned in the end of the Survey as held by Exchequer rents (fn. 4). The tenants jointly hold the Brok moor, and used to pay 40s. now only 16s. 8d. John Shepherd, of Fishburn, a pasture called Wytterdaw 53s. 4d. and Grenewykes Felos formerly 12s. 1d. now 6s. A fulling mill near Cornforth used to pay 33s. 4d. now untenanted. The compiler, patient and minute as he has been, concludes "terras vastas numerosas recensere non vacat."
In 1636, 25th July, a division of waste and common lands in the township of Sedgefield was made by the Bishop's consent. The Bishop's waste appeared to be about two acres and a half, which he gave to the rector; and in consideration that the value of the tithes was likely to be lessened by the inclosure, the parties interested agreed to give to the rector, for his consent, as much land in the East-field as would, with the two acres and a half, amount to thirty acres, and in lieu of eight cattle-gates which he held in the South-field, fifteen acres more, being the remainder of the East-field; the rector had also one hundred and fifteen acres twenty-seven perches allotted in the East moor in right of his glebe.
The other chief claimants on the division were, Sir Ralph Conyers, of Layton, Knt. Nicholas Frevile, of Hardwick, Esq. Henry Blakeston, of Sedgefield, Gent. (fn. 5) (son of Marmaduke Blakeston, then late rector), Robert Jonson, John Harrison, John Johnson, Thomas Smith, Leonard Middleton, Rowland Hixon, Richard Bradley, Thomas Wright, John Younge, Humphrey Mason, Roger Cowlinge, Robert Bellerbie, Richard Key, John Walker, Robert Hindmers, Olliver Scott, Ralph Watkin, Peter Hodshon, Robert Brown, Gyles Botcherbie, Alice Buckle, and William Elstob, and Florence Butler, widow, and Gregory Butler, Gent. of Fishburne.
At this day a large proportion of the lands in Sedgefield are held by lease, or by copy of Court Roll, under the See of Durham.
This is, however, to be understood without prejudice to several freehold estates within the Constablery, which are by no means included in the Bishop's manor.
In 1684 the freeholders in the Constablery of Sedgefield were, Frevile Lambton, of Hardwick, Esq. John Conyers, of Layton, Esq. (Recusant), Richard Wright, senior, Richard Wright, junior, Thomas Wright, Thomas Ord, Thomas Smith, John Smith, Marke Orde, Thomas Midleton, and Ralph Buckle.
The Church,
One of the handsomest parochial structures in the district, is built in the form of a cross; a lofty West tower rises sixty feet, embattled and crowned with four hexagonal turrets springing from the buttresses, and finished with short spires. The nave has uniform ailes, formed by rows of three pillars, each of which consists of four cylinders conjoined in lozenge. The columns are belted, and the few remaining capitals are variously and fancifully adorned with palm branches, vine leaves, wreaths of flowers, birds, and human figures, executed with admirable delicacy (see the Plate). The arches are pointed, ornamented with filletted and zigzag mouldings, and spring from corbeils representing grotesque heads. The lights in the nave (two on each side and six in the clerestory) are all modern. The South transept has one large South window, and two other lights on the East under pointed arches; in one of these is a piece of stained glass ... de henlee rector eccles. fecit ...... fenestram, with a fleur de lis, and some other ornaments below (fn. 6); there are a few fragments of coloured glass in the South light. The North transept is lighted in the same manner; but has been long used as a burial-place for the Hotons and Freviles, and is inclosed and filled up with a gallery, containing the Hardwick seats (fn. 7). The chancel is divided from the nave by a rich screen of tabernacle work in old oak, with three stalls on each side, divided by light pillars and canopied. The chancel is wainscoted with dark oak, and stalled with seven seats on each side. The old roof is covered with a ceiling of stucco. In the East window are the arms of the See of Durham on the dexter side, and Tunstall on the sinister, and above all, in the centre, those of Crewe, impaling Durham. There is an organ, the gift of Dr. Pickering, at the West end of the nave.
The font is a handsome octagonal basin of black marble. Each face bears an armorial shield. 1. Ermine, a lion rampant, Pickering, quartering .... three garlands, .... 2. A fleur de lis, Elstob of Foxton. 3. A chevron inter three trefoils, Hoton of Hardwick. 4. A chevron and chief indented, Thornton; impaling, two bars, over all three chaplets, Greystoke. 5. A chevron inter three covered cups, Butler of Oldacres. 6. A chevron inter three birds? ..... 7. A. fesse inter three lambs passant, Lambton of Hardwick; impaling Wright, as below. 8. A chevron engrailed, inter three fleurs de lis, on a chief three spear heads, Wright of Sedgefield; impaling, a bend charged with three pheons, inter two towers, on a chief a demi-lion rampant, inter two lozenges, Johnson. The preservation of the old coats of Hoton and Thornton (fn. 8), as well as the handsome design of the font, seem to prove that it was copied or restored from some ancient basin of the same form.
The church-yard is spacious, and shaded by lofty elms.
Monumental Inscriptions.
On a brass plate, in the floor of the North porch, formerly St. Catharine's Chantry.
Karissimi orate sp'ialiter p' a'i'a Roberti Kerr Capelli q'ndam custodis hujus cantarie qui suo t'pe recuperavit eidem cantarie quendam anuum redditum quinq. marcar. exeunt. de Villa de Hoton juxta Holome et unum Messuag. cum p'tinen. in Villa de Segefeld et dedit ad reparac'o'em Porticus Sancte Katharine et ad fabricam prefate Ecclesiae quinquaginta tres solidos et viij denarios cum tribus toftis ac etiam donavit Silde beate Marie in Ecclesia parochiali predicta in perpetuum supportande decem libras legalis Monete ut alter Fundator ejusdem ita proviso q'd Capellanus dicte Gilde p' t'p'e existens in perpetuum orabit p' salute a'i'arum prefati Rob'ti et suorum parentum viz. Thome Kerr et Agnetis Uxoris ejus necnon Ade Heddon Thome Heddon Capelli et o'ium suor. Benefactor. qui quidem Rob'tus obiit 14 die Nov. 1478, a'i'e cujus p'pitietur omnipotens Deus. Amen.
On a brass plate near the entrance of the same porch:

Hic jacet Will'ms Hoton qui obiit xvi die Septembris
Anno d'ni mill'mo ccciv. cuj. a'i'e p'picietur Deus. Amen.
The brass retains the crest of Hoton; on an Esquire's helmet, a trefoil slipped.
The monuments of the Freviles in the same porch are removed.
A monument, inclosed with iron rails, and on a small plate a little below it,

Paucis contentus
Nicholaus Frevile jacet hic
Obt. xv° xmbris
mdclxxiii. Ætat. 76.
Janua pauperibus, sed amicis mensa patebat
Lustra decem: semper mens bona, fama, fides.
Frevile Lambton, Nepos et
Executor, hocce posuit.

An° millesimo sexcentmo septimo pa-
rentalibs peractis prr ilabenti sep-
tuagmo primo sculptile hoc dica-
tum memoriæ Ricdi et Martae Frevile
necnon triũ et o'niũ filior. Niclai
Frevile de Hardwick armiri quo-
rũ epicedia haec paragraphe
paucis perstringit An° Doni 1671.
On a large brass plate fixed to the wall:

Post tot p'teritos retró cum respicis annos,
Et lachrymis madefacta novis nova marmora cernis,
Non sint dura magis duris præcordia saxis.
Hic latet urna patrum, licet hic latet urna pûrorum
(Inter avos natosq. licet stant claustra sepulchri)
Inter utrosq mihi cœlo patet exitus ultra
—et in hoc convenimus omnes.
Nic. Frevile hæc vovit An° Ætatis suæ 73½.
In the North aile, near the entrance, on a brass plate:
Orate boni p' a'i'ab's Tho'e de le Hart, eccl'ie b'nfactoris optimi, qui obiit xxvi die mens. Januarii, A'o. d'ni. mill'mo cccclxiiii. Et Bert'm Herbotell Armig'i, q. obiit vi die Januarij, A'o. dom. mill'mo cccclxiiij. quor. a'i'ab's p'p'cietur dom's deus. Amen.
In the same North aile is an ancient brass, representing two skeletons in shrouds; one shroud is open, so as to display the whole figure, the other has the shroud folded over the loins. There has been an armorial shield above the figures.
Representations of this nature are by no means uncommon. Mr. Gough's remarks contain all that need be observed on this subject:—"The least degree of reflection would have shewn, that the figure (fn. 9) here alluded to, which has created an unnecessary perplexity with several curious persons, and given rise to the foolish tales of vergers and sextons (fn. 10), was nothing more than a striking exemplification of the change of condition made by death."
On a red free-stone on the floor, before the altar rails, a holy lamb bearing a crosier, a chalice in the middle of the stalk, and the cross in a fleur de lis; the brass is removed.
Sir: Andrew: de: Stanelai: Metir: de: Gretham: git: icy: pur: deu: priez: pur: l'ame: (fn. 11)
On a marble in the pavement at the foot of the altar rails:

Here lies interr'd the body of Mr.
Thomas Cooper, late
of Sedgfield, Chirurgion, whose just
character to posterity must be the
most judicious and successful practitionr
in this country; belov'd, esteem'd, and applauded by all.
He founded an Almes Houes,
and endow'd ye same with 44l. pr Annũ for ever,
and departed this life the 14th of July,
Anno
Ætatis suæ 78.
Æræ Christi 1703.
Arms, a bend engrailed inter six lions rampant; impaling, a fesse inter three stags trippant. Crest, a bull passant.
On a marble slab at the entrance of the quire:
Jacent sub hoc marmore exuviæ Baldwini Pitt de
Agro Hamptoniensi Armr, nobilis et antiquæ familiæ;
constans ecclesiæ Anglicanæ
assertor;
et regiæ majestatis
ingenium acre
habuit.
judicium subactum
memoriam tenacem
Christiane ac pie 10mo die Julij
Anno
Salutis 1679
tradidit.
Corpus solo animam cœlo
Ætatis 33
Posuit hoc illi conjux tristissima Alicia, filia et
hæres Johannis Johnson, de Sedgefeild genr, pia
expectatione eternæ gloriæ.
Arms: Sable, a fesse chequy, Argent and Azure, inter three bezants, Pitt; impaling, a bend charged with three pheons inter two towers. On a chief a demi-lion rampant inter two lozenges, Johnson.
On a white marble against the South wall of the Chancel:
Here lieth interr'd the body of Mrs. Catharine Vane, relict of Lionel Vane, of Longnewton, in the county of Durham, Esq. by whom she had six sons and five daughters; she was daughter of Sir George Fletcher, of Hutton, in the county of Cumberland, Bart.; she departed this life, upon the 14th day of January, Anno Domini 1735, in the 83d year of her age.
Here also lieth interr'd the body of Mrs. Alice Vane, her second daughter, who departed this life upon the 19th day of Novr, Anno Domini 1733, in the 50th year of her age.
Arms: Azure, three dexter gauntlets Or, in a lozenge.
On the North wall, opposite the Chancel door:

To the memory
of Mary Anne Spearman,
daughter of Robert Spearman,
late of Old Acres, Esquire,
and Ann his wife.
If elegance and amiableness of form,
united with simplicity of manners,
innocence of life,
and a truly benevolent disposition,
could have prolonged her existence upon earth,
many had been her days,
and her example continually instructive:
but He, who seeth not as man seeth,
ordained otherwise;
and to the inexpressible grief of her nearest relations
and sincere concern of all who knew her value,
called her unexpectedly from hence,
May the 9th, 1777, in the 21st year of her age.
On an oval tablet of blue marble, fixed to the outside of the East Chancel wall:

In the vault below,
are deposited the remains
of Robert Spearman,
of Old Acres, Esquire,
who employed the leisure and abilities
which God had given him,
in the study of his Word and his Works.
He departed this life,
in steadfast hope,
through the mercies of God
and the merits of Christ,
of a joyful Resurrection to a better,
October xxth, mdcclxi.
in the lviiith year of his age.
Arms: A chevron inter three spear-heads, Spearman; quartering, a bend wavy, in the sinister canton a mullet, Webster; impaling, a plain cross charged with a quaterfoil in the centre, a canton Ermine, Lewin.
On a square marble tablet below the former:
Here lieth, in hope of a blessed Resurrection through Christ, the body of Mary, late wife of Robert Spearman, of Old Acres, Esquire, who departed this life, March 18, 1748, in the 43d year of her age.
This marble is placed by her surviving Husband, as a memorial of her virtues and his sincere affection.
In the Chancel, on a marble tablet against the South wall:

Here lieth the body
of Theophilus Pickering, D. D. son of
Sr Gilbert Pickering, of Tichmarsh, in the
County of Northampton, Bart. and of
Elisabeth Mountagu his wife, only sister to ye
first Earl of Sandwich.
He was born the 10th of May, A. D. 1662,
made Fellow of Sidney Colledge in Cambridge 1687,
Chaplain to the Rt Honble Nathanael
Ld Crewe, Ld Bishop of Durham, 13 Nov. 1690,
Prebendary of Durham 28 Apr. 1692,
Rector of Gateshead 5 Dec. 1695,
Rector of Sedgfield 31 Aug. 1705.
In all places he left behind him ample monuments
of his Piety, Charity, and Generosity, devoting
himself, and all he had, to the service of God
and the good of mankind, which endear'd him to
the whole country, and put it into a general
mourning for the loss of him.
He died at Durham, ye 20th of March, A. D. 1710,
but chose to be buried among his parishioners, as of
all things in the world, the dearest to him.
Arms, Quarterly, 1 and 4, Ermine, a lion rampant Azure, crowned Or, Pickering; 2 and 3, Argent, three chaplets Gules, Lascelles.
On a white marble tablet against the North wall:

Hic jacet
Johannes Morton, S. T. P.
hujus parochiæ Rector,
ecclesiæ Dunelmensis canonicus,
in utroque munere
optimé de religione & patriâ meritus.
Fuit ille literarum fautor,
pauperum patronus,
primævæ disciplinæ et orthodoxæ fidei
fortissimus assertor.
Animus illi, qualis Christi Ministrum decet,
sanctus, sincerus & candidus,
ab omni fuco, parsimonia & timiditate
quam maximé abhorrens,
gregis suæ ut verus pastor,
nec errantibus consilium
nec indigentibus subsidium denegavit.
Cœlestium terrenarumq. pariter opum
fidelis dispensator,
post longum & laudabilem vitæ cursum,
plenus dierum
multumque deflendus,
obiit decimo die Nov.
A. D. 1722, ætatis suæ 78.

Hic in D'no requiescit Josephus Naylor, S. T. P. eccl'æ
Dunelmensis canonicus major, hujusq; parochiæ
rector verè; dignus: theologus insignis doctrinà;, pietate,
fide, erga Deum, ecclesiam, regem, ad exemplum
constanti, singulari prudentia, et moribus
universim suavissimis; penitus supra fatum.
Hoc sui, quod mortale fuit, et jam in
occiduo cinere, sub spe christianissimà;
resurgendi ad gloriam, et eum aspiciendi,
cujus nomen est oriens, placidè;

hic deposuit 6° die Januarij
(epiphaniorum sacro, bono omine)
Anno
Christi 1667
Ætatis 73.

I nunc, lector amice; attamen quisquis sis, exhinè;
disce, quid es, et quid eris.
In memoriam
optimi et charissimi conjugis, conjux mœstissima
Dulcibella Naylor hocce posuit.
Arms: Or, a pale engrailed inter two lions rampant Sable. Crest: A lion's head erased.
On a brass plate in the floor of the Chancel:

Depositum
Jacobi Clayton, S. T. P. indigniss. hujus ecclesiæ Rector:
obiit Aug. 12, 1705.
On an altar-tomb in the church-yard, near the South porch:
Here lyeth the body of Mr. Robert Ord, of Sands, in this parish, who departed this life the 11th day of July 1761, in the 44th year of his age.
Also the body of Mrs. Mary Ord, wife of the abovesaid Mr. Robert Ord, who died the 26th of May 1747, aged 27 years.
Here lies interred the body of Mrs. Alice Ball, who departed this life Nov. 17th 1724, aged 52 years. Near lies interred the body of John Ball, Esq. husband of the said Alice, who departed this life the 5th day of January 1732.
Arms: A chevron inter three fleurs de lis, on a chief three lozenges.
Chantries.
St. Catharine's Chantry, in the North Porch, was founded in 1379, by John de Henlee, Rector of Sedgefield, and Treasurer of Bishop Hatfield's household, under a licence to settle lands of 10l. per annum, for two Chaplains to celebrate divine service at the altar of St. Catharine (fn. 12). In 1392 Bishop Skirlaw granted licence to John de Henlee, Clerk, William de Langchestre, Vicar of St. Oswald's, and William Hill, Chaplain, to grant to John de Bischopton, guardian of St. Catharine's Chantry, and his successors, a garden, thirty acres of arable, and three of meadow, in Butterwick, and the same quantity in Aldacres, and five marks rent out of Hoton (fn. 13); and lastly, in 1435, under a licence from Cardinal Langley, William Hoton, of Herdwyk, settled six messuages, two cottages, and a hundred and seventy acres in Sedgefield, on Thomas Hoton, chaplain of St. Catharine's Chantry, and his successors for ever (fn. 14).
Chaplains—John de Bischopton, 1392—6. William de Mordon, 1413. Thomas Hoton, 1435—1454. Robert Kerr, bur. in St. Catharine's Porch, 1478 (fn. 15). John Lee, occ. 1487—1504. Ralph Lee 1508. Ralph Elstob, 1528. John Franke had a pension, at the Dissolution, which he received in 1553. The Chantry was valued at 11l. 8s. 8d. per ann.
The foundation of St. Thomas's chantry, in the South porch, is unknown; it was valued at the Dissolution at 5l. 6s. Richard Turner, the last Chantry priest, received a pension of 4l. in 1553.
The Chantry of St. Mary's (fn. 16) is also mentioned, to which Robert Kerr, chaplain of St. Katharine's, left ten pounds. In 1500 an indulgence was granted by Bishop Fox, for the reparation of the chapel and altar of the Virgin in the church of Sedgefield (fn. 17).
Succession of Rectors.
Rectory of Sedgefield—the Bishop of Durham, Patron.—King's books, 73l. 18s. 1 1/2d.; tenths 7l. 7s. 9 3/4d.; Episc. Proc. 1l. 13s. 4d.; Synod. 11s.; Archid. 4s.—Dedication to St. Edmund the Bishop.
Ulchild, 1085.
Peter, Clericus de Seggefeld, 1168.
William de Quelmar, 1274.
William de Ewell, 1301.
Thomas de Hessewell, 1313, Master of Sherburn.
John de Whytechurch (fn. 18), 1339, p. m. Hessewell.
John Grey, 1359, p. m. Whytechurch.
John de Henlee (fn. 19), 1361, p. m. Grey.
Thomas Weston, 1380, Archdeac. of Durham.
John Clifford, 1392, ob. 1396 (fn. 20).
Adam de Hopwood, occurs 1408.
John Leyburne (fn. 21), 1424, p. m. Hopwood.
George Radclyff (fn. 22), 1425, p. res. Leyburne.
John Heyworth, 1436, p. res. Radclyff.
William Heyworth, id. an. p. res. Heyworth.
John Radclyffe, res. for a pension of fifty marks.
William Estfeld, 1496, per. res. Radclyffe.
Roger Leyburn (fn. 23), 1499, p. m. Estfeld.
Robert Shorton, S. T. P. 1518 (fn. 24).
Richard Layton, LL. D. 1535 (fn. 25).
John Redmayn, S. T. P. 1544, p. m. Layton.
Anthony Salvin (fn. 26), S. T. P. 1558, p. m. Redmayn.
Adam Lofthouse (fn. 27), 1560, p. depriv. Salvin.
Ralph Skynner (fn. 28), S. T. B. 1562, p. res. Lofthouse.
Robert Swifte (fn. 29), LL. D. 1562, p. m. Skynner.
Marmaduke Blakiston (fn. 30), A. M. 1599, p. m. Swyft.
Robert Blakiston (fn. 31), A. M. 1631, p. res. Patris.
Joseph Naylor (fn. 32), S. T. B. 1634, p. m. Blakiston.
John Vincent, Preacher of God's word app. by authority of Parliament, 29 Nov. 1644.
Hunton, an intruder, ejected 1660.
Denis Granville (fn. 33), A. M. 1667, p. m. Naylor.
James Clayton, S. T. P. 1691, p. depr. Granville.
Theophilus Pickering (fn. 34), S. T. P. 1705, p. m. Clayton.
John Morton (fn. 35), S. T. P. 1711, p. m. Pickering.
Thomas Rundle (fn. 36), LL. D. 1722, p. m. Morton.
John Gamage (fn. 37), A. M. 1728, p. res. Rundle.
James Lesley (fn. 38), A. M. 1747, p. m. Gamage.
Robert Lowth (fn. 39), S. T. P. 1755, p. res. Lesley.
Jeffery Ekins (fn. 40), S. T. P. 1777, p. res. Lowth.
George Barrington (fn. 41), A. M. Ch. Ch. 1791, p. m. Ekins.
Apud Gretham, die Martis, xx° die Aug. 1644.
A warrant to the severall petty Constables of Sedgefield Parish, to give warninge to the inhabitants of that parish, that they forbeare payment of any tythes or rents to Joseph Naylor, Dr. of Divinitie, Parson of the said parish, and to appeare before us at Sedgefeld upon Thursday next, the xxii of this inst. August.
Apud Sedgefield, die Jovis, xxii Aug. 1644.
Warrant to John Johnson, John Harisson, Raiph Mason, and Hy Steavenson to sequester the goods of Dr. Naylor, Rector of Sedgefield, and to keep the same accordinge to Inventory for the use of the Com'onwealth.
Order, &c. to pay all rent, and averages of rent, due for tyths, to John Vincent, Preacher of God's Word, who hath now the Parsonage of Sedgefield conferred upon him by Authy of Parliament, only Mrs. Dulcibella Naylor, wife of Joseph Naylor, Dr. of Divinitie, late Parson thereof, is to have a fifth part of the Rents and Estate of the rectory, which we formerly granted her, allowed to her for the maintenance of herself and children. Sequestrators' Books D. and C. Library.
The rector of Sedgefield is generally entitled to tythe throughout the parish, with the exception of some prescripts or moduses mentioned below. The glebe is extensive, lying in Sedgefield, Bradbury, Fishburn, and Embleton.
The rectory house adjoins the church on the South; it stands enclosed from the village, and surrounded by rich soft grounds on the South and East. The old house was nearly destroyed by fire in 1792; a portion of it is still remaining (fn. 42), with mullions and dormer windows, and forms the kitchen of the present handsome mansion, which was reared from its ruins by the present rector, assisted by his relatives the Bishop of Durham and the Hon. Admiral Barrington.
A tablet over the North front is inscribed—munificentia samuelis et shute barrington, quorum unus classis britannicæ præfectus, alter ecclesiæ dunelmensis episcopus, uterque summo omnium præconio.
On the lawn before the rectory are five remarkable specimens of the ilex or evergreen oak. These trees were, it is believed, raised from seed by—Gamage, a Turkey merchant, brother to the rector of that name; and must consequently be at least of nearly eighty years growth. The girth of the largest is 6f. 7in.; a straighter and taller tree measures scarcely less. They stand too crowded to have expanded perhaps to their full growth, and form together a very dense shade.
Hardwick.
The manor of Hardwick adjoins Sedgefield immediately on the West: there is no village. Under Boldon Book, "William holds Herdwyk by ten shillings rent." His descendants or successors assumed the local name. William de Herdwyk (possibly the William of Boldon Book) gave five acres, a toft and croft, in the Western part of his vill of Herdwyk to the Convent of Durham (fn. 43). In 1267 a convention occurs betwixt the almoner of the house of Durham and Peter, son of Peter lord of Hardwyk. The almoner claimed free entrance to his tillage-ground, over a plot betwixt Wulriging and Herdwyk-marsh, which he therefore contended should be unploughed, "frescam jacere;" and he claimed the like privilege for a plot on the West of his tillage-ground as a headrig, or place to put up his carts and harrows. Peter allows both demands, but bargains for retaining the property of the soil.
In 1341 Richard de Herdwyk died seised (fn. 44) of two parts (the third was in dower to his mother Isabel) of a messuage and forty acres in Herdwyk, juxta Norton, held by homage, fealty, 3s. 9d. and suit of court, leaving an infant son, John of Hardwick, who died in 1398 (fn. 45), and left an only daughter, Agnes, wife of Gilbert de Hoton. William, son of Gilbert and Agnes, died without male issue, and executed a long entail of his lands with very various remainders. "The manor of Herdwyk, except the great chamber and the chapel (fn. 46), which he reserved for life to his brother Thomas the priest, a messuage, four cottages and a hundred acres in Maynesford, a messuage and thirty acres in Middleham, three messuages, eight cottages, and four oxgangs in Preston-on-Tees, certain tenements in Hoton, and a messuage, two cottages, and eighty acres in Whitton, to himself and Alice for life; remainder to heirs of his own body, to his brother Thomas Hoton, chaplain, to his kinsman William Hoton, of London, mercer, and his heirs male, to Nicholas Blaykeston, paying twenty pounds to the executors of William Hoton, or, in lieu, providing four chaplains to sing for his soul at St. Catharine's altar; remainder, as to Hardwick, to Roger Thornton, Esq.; as to Maynesforde, to John Maynesforde, for life, remainder to Robert Rodes, Esq. for ever; as to Hoton, to Robert Rodes, and the heirs of Joane his wife, then to Ralph, son of William Hoton, of Herdwyk, for ever; and as to lands in Preston and Eggescliffe, failing the issue of Joane Rodes, to the Prioress of Neceham (fn. 47); and under this settlement, John Neceham, vicar of Billingham, John Thornburgh and William Raket, Esquires, and John Stapylton, chaplain, granted the estates (limited as above) to Isabel, only child of the settler (1 April, 1448) (fn. 48), who probably died without issue, for the patrimony came to William Hoton, the mercer, whose coheirs cut off the over claimants under the entail. Elizabeth elder daughter of William Hoton, was the wife of William Hansard, of Walworth, and Eleanor intermarried with William Hebborne, whose descendants held, under partition, the whole manor of Hardwick (fn. 49).
Anthony Hebborne, third in descent from William, joined the Northern Earls, and was included in the attainder of 1570 (fn. 50). Hardwick became the landed reward or pension of George Frevile (fn. 51), a Staffordshire gentleman of ancient descent, who had served under the Earl of Sussex as clerk of the ordnance, in the armament which quelled the Northern rising. Whatever became of the poor scattered Hebbornes, whose chief line emerged as gentry in Oxfordshire (supported probably by their Tempest connexions), the favour does not seem to have been thrown away on the new occupant; whether, with the good taste imputed to the presumed possessor of Tully-veolan, he preserved "all the bears, great and small (fn. 52)," which belonged to the former family, without lifting his own burgonet amidst them, I know not; but he persevered in a long and steady course, with great honour, and in charity with his neighbours. Sir George was knighted by King James at York, on his first entry, in 1603, and was long Keeper of Raby for the Crown. He died childless; and preferred, in the disposition of his estate, his youngest nephew, Nicholas Frevile (fn. 53), who left three daughters (fn. 53), his coheirs, of whom Margaret, the youngest, was wife of Sir Thomas Lambton, (knighted by Cromwell, and under him Governor of the Leeward Islands,) and mother of Frevile Lambton, of Hardwick, Esq. Thomas, son of Frevile, left six daughters, his coheirs (fn. 53), who sold the estate to John Burdon, Esq. Mr. Burdon alienated Hardwick, in 178. (reserving his life interest,) to William Russel, Esq.
The chief beauty of Hardwick is its soft, silvery lake, an expanse of water covering forty acres, edged with wood and grassy slopes, sprinkled with luxuriant evergreens. The place has been infinitely improved by the taste of the present owner,—by breaking the masses of tall, naked wood, and introducing amidst these bare groves an undergrowth of copsewood and hollies, and by throwing a little into the shade the numerous artificial ornaments which crowded the grounds.
Of the ornamental buildings, on which, and on the formation of the grounds, the late owner expended large sums, the Banqueting-house is, facile princeps, a very gallant building, flanked by two noble lines of evergreens on the highest part of the grounds (fn. 54). The façade is Corinthian; and within is a splendid room, fifty feet by twenty, full of painted ceiling and gilding (fn. 55),—"međ renidet in domo lacunar." The Ruin is now very decently clothed in ivy. In the walls are built up some fragments of carved stone from Guis-brough Abbey (fn. 56). The Temple (fn. 57) stands just without the pale of the old plantations, on a swell of dry ground, commanding a wide-soaring view Westward, with Heighington and Brusleton Tower, and Merrington on the horizon; the scattered woods and villages of Windleston, Ferry-hill, Mainsforth, and Middleham, in the foreground, and the cold heights of Garmonsway on the North.
The lake at Hardwick is enlivened by the resort of numerous water-birds from the neighbouring marshes, rising on the wing or oaring their way across its surface. The wild-ducks have a perpetual haunt, sedes perennis, amidst the reeds and rushes; which for this reason are allowed to cover the plashy margin of the lake on the South.
I omit the Serpentine, the Bridge, the Bath-house, the Cascades, and the whole of the Anti-masque, for as such it was intended, behind the Bath. See Hutchinson in loco.
Pedigree of Hebborne, of Hardwick.
Arms: Argent, three lamps Sable (fn. 58), enflamed proper, a label of five points Gules, Hebborne; quartering, Gules, a chevron inter three trefoils slipped Argent, Hoton of Hardwick.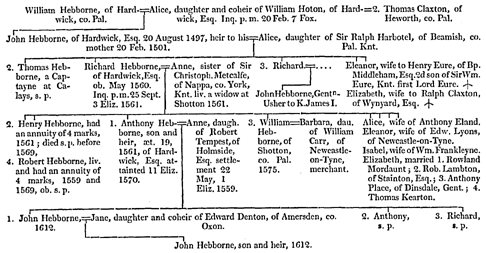 Pedigree of Frevile and Lambton, of Hardwick.
Arms: Frevile, Gules, three crescents Ermine. Crest: out of a ducal coronet Or, a Saracen's head in profile proper, habited Gules, collar Ermine; on the head a cap Gules, turned up Ermine and tasseled of gold.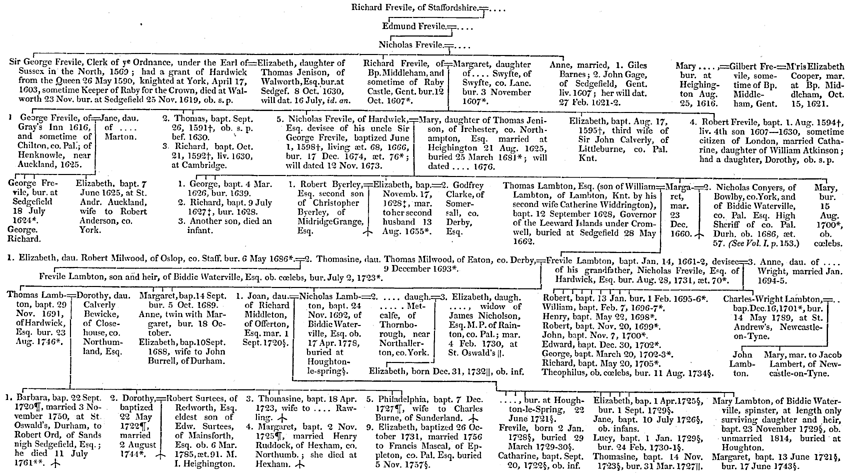 Lambton, Sable, a fesse between three lambs passant Argent, a crescent difference. Crest: on a wreath a ram's head caboshed Argent, attired Sable.
** The issue is extinguished. See Pedigree of Ord.
Layton.
The manor of Layton lies two miles to the South-east of Sedgefield: there is no village.
Of the ancient family of Laton, who had assumed the local name, all that has occurred to me is, that Cecily, then widow of Peter de Brakenbury, held the manors of Hetton and Laton; the latter, of the heirs of Mundeville, by the service of a barbed arrow, or 40d. as a relief on entrance; both which manors on her death, in 1370, descended to William, son of her former husband Thomas de Laton (fn. 59). The same William de Laton had issue by Isabel, lady of Horden (fn. 60), (See Vol. I. p. 215,) an only daughter Elizabeth, wife to Piers Tylliol, Knight, whose son and heir, Robert, died without issue on the Eve of St. Martin 1435 (fn. 61), leaving his two sisters, Isabel Colvyle and Margaret Moresby, his coheirs. The descendants of Colvyle re-assumed the name of Tylliol; and in them and in the heirs of Moresby the manor of Layton is stated in various successive Inquisitions to have been vested in distinct moieties (fn. 62). (See Pedigree of Tyliol and Musgrave, under Hetton, Vol. I. p. 215.) Yet the whole manor seems to have been vested in Cuthbert Conyers, Esq. (second son of Sir William, of Sockburne,) who died in 1567. Ralph Conyers, son and heir of Cuthbert, engaged in the rebellion of the Earls in 1559, and was included in the list of attainders, but forfeited only his life-interest in the estate, which descended under an entail to his nephew Sir Ralph Conyers. The manor of Layton afterwards passed according to the line traced in the pedigree, till the death of John Conyers in 1748. This gentleman, who in the life-time of his elder brother had been educated abroad, and intended for an ecclesiastic, led for many years a very retired and melancholy life in an obscure lodging, with one of his own tenants; and dying unmarried and intestate, the succession was found to belong to George Baker, of Elemore, Esq. and Thomas Maire, of Lartington, Esq. as representatives of Anne and Helen, daughters of Sir Ralph Conyers, of Layton, Knt.
In 1771 Mr. Maire sold his moiety of the estate to George Baker, Esq.; and in ..... George Baker, Esq. conveyed the whole manor to William Russell, of Brancepath Castle, Esq.
Pedigree of Conyers, of Layton.
Arms: Sable, a maunch Or; a mullet Gules for difference.

Margareta Conyers Vid. Generosa, de Parochiâ de Elvet, Dunelm. hic sepulta, Dec. 29, 1727. Sedgefield.
* Thomas Conyers, of Sedgefield, Gent. 8 Jan. 1625.—"To my cosen Sir George Conyers, of Sockburn, Knt. To my nephew Sir Raphe Conyers, of Layton, Knt. a piece of plate, a basin, and an ewre to be an heir-loome. Nephew, Marmaduke, youngest son of Sir Raphe. Margaret and Anne, daughters of Sir Raphe. Niece, Anne Medcalfe. Nephew, Charles Conyers, 50l. Dorothy Conyers, sister of Charles, 10l. Niece, Catharine Richardson. Niece, Averie Parkinson.
† Bond given by Jane Conyers, mother of the bride, joined by Christopher Conyers, of Saxhoc, co. York, Gent. and Thomas Conyers, of Sedgefield, Gent.
‡ Warrant to sequester the goods of Cuthbert Conyers, late of Layton, Esq. 22 Aug. 1644. Seq. Books.
§ In the issue of these two ladies the representation of the family centered on the death of John Conyers, Esq. 1748.
| Thomas Fairfax was living, æt. 32, 1665, and had issue by his wife Anne, John, æt. 11, and Conyers, æt. 5 years, 1665.
¶ Georgius Conyers, fil. Thomæ Conyers, de Layton, Gen. natus Maii 21°, et patris rogatu illatus in Registrum à Thoma Wilson, Curat.
** Johannes Conyers, Generos, de Layton, sepult. May 27, 1748, ultimus familiœ.
*** The dates are from Sedgefield Register.
A family of Machell, descendants, as it should seem, of the ancient Mali Catuli, of Cracanthorpe (fn. 63), resided for some time at Layton, and afterwards on a messuage called Pittfield, in Little Stainton (purchased from Sir George Conyers). The Pedigree explains their connexion with the lords of the fee.
Pedigree of Machell, of Pittfield.

* "Mr. John Machell died at Stockton, bur. at Bishopton 12 May 1659."
† Gul. Machell de Laton, sepult. 8 Dec. 1605.
‡ Sedgefield Register. The following entries also occur:—Eliza Granger, ancilla Joh'is Machell de Laton, sepult, 18 Febr. 1605. Margaret Humble, ancilla predicti Joh'is, &c. 22 Feb. 1605. Anna Machell, ancilla, &c. sep. 4 April 1606.
Sands,
Half a mile to the South-west of Sedgefield, the property of the Ords for some descents, and now the seat of Richard Wright, Esq. (fn. 64) son of the late Ralph Ord (fn. 65), Esq. and devisee of his great uncle Richard Wright, of Sedgefield. The house, which has been nearly rebuilt by the present owner, commands an extensive prospect to the West and South, with a foreground of soft green home-inclosures.
Bradbury.
A small village on the Skerne, two miles to the West of Sedgefield.
In the time of Bishop Aldhune, "Snaculf the son of Cykell, gave to St. Cuthbert Bradbyrig, Mordun, Socceburg, Grisebi (fn. 66)." Bradbury, being a freehold manor, is mentioned neither in Boldon Buke, nor in Hatfield's Survey, and its subsequent evidences commence only with the earliest Rolls of the Durham chancery; yet I strongly suspect that this, as well as the neighbouring manor of the Isle, were, in the first ages after the Conquest, the property of the distinguished and knightly family who derived from the latter the name of L'Isle or De Insula; and that, as no trace of consanguinity appears, both passed, perhaps by purchase, to the wealthy founder of the house of De la Pole, whose descendants, from Hull merchants, rose in the fourth descent to the rank of Duke, and heir apparent to the English Crown.
In 1343 both manors were in the possession of William de la Pole (fn. 67), to whom, in 1347, Bishop Hatfield granted free warren in his manors of the Isle, Bradbury, Chilton, Preston on Skerne, Foxden, Fishburn, and Bolam (fn. 68). In 1365 the same William de la Pole, Knt. died seised of the manors of Bradbury and the Isle, held of the See of Durham jointly, by half a knight's fee and suit of court (worth 20 marks per ann.), leaving Michael de la Pole, afterwards first Earl of Suffolk, his son and heir (fn. 69). In 1388 Michael de la Pole (whose history may be seen in Dugdale) fled from the fury of the Commons, and died at Paris. The King seized the lands of his exiled favourite, which he soon after remitted to Bishop Walter Skirlaw "jure sedis", for the purpose probably of their restoration to the heir (fn. 70), Michael second Earl of Suffolk, who was restored in blood in the first Parliament of Henry IV. (fn. 71), and died of the flux before Harfleur in 1415 (fn. 72); and within a month afterwards the next Earl fell in the battle of Agincourt, on St. Crispin's day 1415 (fn. 72), leaving three daughters, and a brother (heir by entail male of his Earldom and estates) William, Earl, Marquis, and Duke of Suffolk, who fell, like his first ennobled ancestor, the victim of popular fury, in 1450 (fn. 73). John de la Pole, second Duke of Suffolk (and the only one of his line who died in a bed of peace), had issue, John his eldest son, created Earl of Lincoln in his father's life-time, and proclaimed heir apparent to the crown by Richard III. in 1484. In 1487 he perished in open arms against Henry VII. fighting for the last shadow of the house of York; and left a brother Edmund, the last unfortunate Earl of Suffolk, who died on the scaffold in 1513, a victim to Henry's jealousy of the royal blood of York.
I have been thus far tempted to pursue the fortunes of the house of Suffolk (fn. 74); but the estates of Bradbury and the Isle (which in 1439 are stated as having descended to William Earl of Suffolk by the death of his three nieces) had, before that date, become the property of Roger Thornton, the great merchant of Newcastle. The daughter of Roger Thornton carried vast possessions in marriage to her husband George Lord Lumley, and amongst them the manors of Bradbury and the Isle, both of which are included in a general recovery of the Lumley estates in 1509. It is not so easy to say by what means Bradbury and the Isle became the property of the Nevilles, and were included in the forfeiture of the Earl of Westmoreland in 1569.
The first crown grant of Bradbury was to the family of Bowes, probably for term of years. Sir George Bowes held the manor in 1574, and a rental of the Bowes family in 1580; "xl. xiiis. oulde rent and xxviil. xvis. viiid. new rent, dew at Bradburie at Whitsonday."
After the expiration of Bowes' term, King James in 1606 (16 May 4 Jac.) granted the manor of Bradbury (with that of Hilton near Staindrop) to Sir John Ramsay, Knt. the King's preserver from the Gowry conspiracy (fn. 75). The grant appears to be made in fee; yet either under some subsequent exchange or tacit condition, the estate reverted to the crown, and in 1638 (12 Dec. 14 Car.) King Charles executed the grant which is the foundation of the present title; viz. of the manors of Bradbury and Hilton, late parcel of the possessions of Henry Earl of Huntingdon or Sir William Bowes, to Edward Manning, of London, Gent. under the heavy reserved rent of 550l. to the royal exchequer (fn. 76).
By Ind. 24 June 1653, Edward and Henry Manning, for 1500l. conveyed the manor of Bradbury, to John Farrer, Gent. In 1670 (9 Dec.) John Farrer the younger and elder, conveyed a moiety of the manor of Bradbury, for 1400l., to Thomas Farrer, of London, Gent.; and in 1719 Thomas Farrer granted the same moiety to Benjamin Ord, of Sedgefield. The other moiety descended to Rebecca, only daughter and heiress of John Farrer, of Bradbury, Gent. who intermarried with Robert Wren, of Binchester, Esq.; and Farrer Wren, Esq. his son and heir, sold this remaining moiety of Bradbury to Richard Wright, of Sedgefield, Esq. who devised this, with other estates, to his grand-nephew Richard Ord, fourth son of Ralph Ord, of Sands, Esq. on condition of his assuming the name of Wright. Mr. Wright also purchased the other moiety from the devisees of his late father Ralph Ord, Esq. (See Pedigree of Ord and Wright.)
Some parcels of land in Bradbury, probably not included in the conveyances already mentioned, were at an early date granted by the Prior and Convent of Durham to their almoner; viz. the whole plot of arable ground (culturam) called Holden flatt; one acre at Munknowl; a toft and croft which William Swan held, and all the meadow and arable ground betwixt Renesden and Hardwick burn; twenty acres and a toft and croft betwixt the lands of Adam and of Nicholas, with the meadow and peat bog of the same Adam—of these twenty acres various parcels are stated to lie at Catlawe, Munknowl, Wineneleche, the Braches, Brademere, Redeways, and at the fishpond (vivarium); one oxgang betwixt the road which leads to Bradbury, and the Infirmary which stands near the road leading to Sadberge; two acres near the road to Sedgefield, in two places near Standande stone; and one acre of meadow to the West of Bradbury, in the marsh near the meadow of William de Monasteriis; and a toft and croft betwixt the path which descends from the Chapel of St. Nicholas of Bradbury (fn. 77), to the road towards the water, and the common road towards the East of Bradbury; and all the land above Renesden called Braks upwards by the runner as far as the moor, and on the other side downwards to Hardwick mill-race (fn. 78).
Smith's Lands.—Robert Smithe, son and heir of George Smith, of Foxdene, had livery of a messuage and three closes in Bradbury, 1633. Eliz. Smith, widow of Robert, compounded with the Parliamentary commissioners for her lands in Bradbury and Foxdene, as a recusant, for 3l. per ann. (being the two-thirds of the annual rent,) and had a quietus for the arrears in 1656. By will, dated 10 Dec. 1720, Richard Smith, of Stockton (son and heir of Robert), devised to his wife and daughters, who, in 1728, conveyed their lands in Bradbury to John Lynn, of Shotton, Yeoman.
Another parcel of lands in Bradbury belonged, together with certain tenements in Helmedon, co. Pal. to the family of Addison, of Ovingham. (See vol. I. p. 149.) John Addison, Esq. was a lunatic; and dying without issue in 1723, his estates descended to his only brother, George Addison, Esq. who died unmarried and intestate in 1730, leaving his six sisters or their issue his heirs, who all conveyed at several times to John Lynn, of Shotton. In 1808 the daughters and coheirs of Mr. John Lynn (who died 1807) conveyed the whole of their lands in Bradbury to Richard Wright, Esq.
The township includes (besides Mr. Wright's estate and the Isle) about sixty acres of the glebe, and a portion of Brak's farm belonging to Hardwick, and some freehold garths and cottages.
Pedigree of Lord and Wright, of Bradbury.
Arms: 1st and 4th, Wright, Sable, a chevron engrailed between three fleurs de lis Argent, on a chief of the second as many spear-heads Gules; 2d and 3d, Ord, Sable, three salmons hauriant Argent, a canton of the second.
Crest: on a wreath of the colours a dragon's head, couped Gules, semée de cross crosslets Argent, Wright.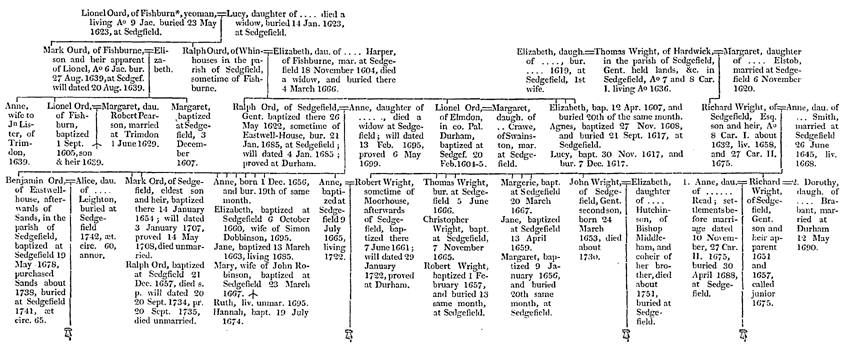 * 13 Nov. 5 Jac. Anthony Cradocke and William Williamson, Gents, sold lands in Fishburn, parcel of the dissolved College of St. Andrew's, Auckland, to Lionel Ourd, of Fishburn, and John Ourd, of the same, Gent. 12 Oct. 6 Jac. Lionel and John Ourd granted the same to Mark Ourd, son and heir of Lionel.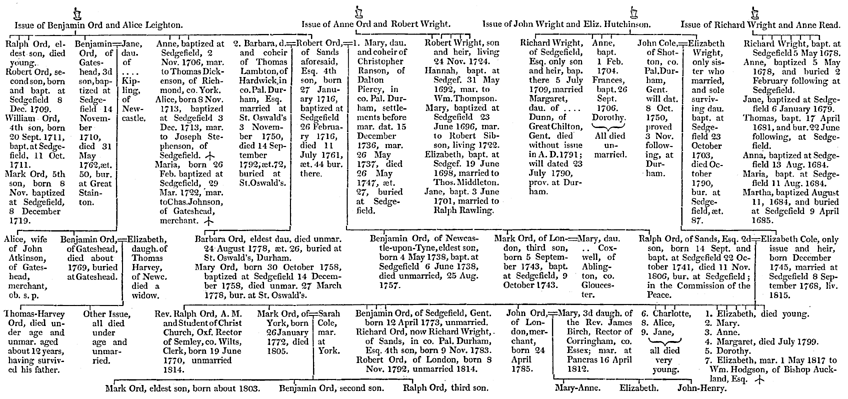 Pedigree of Farrer, of Mainsforth and Bradbury.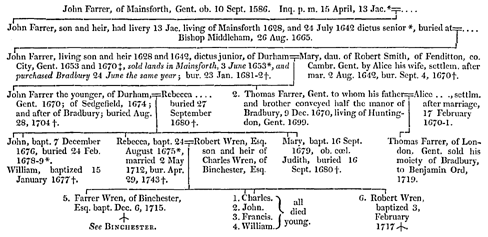 * See Mainsforth, Lynn's Estate.
‡ Mr. Farrer was for some time, 1662–70, one of Bishop Cosin's Receivers, and several of his letters occur in the Auckland collection, so often quoted. Nov. 17, 1662, he writes to Myles Stapylton, Esq. from Cambridge, desiring him to pay his Bradbury rent of 390l. per ann. with allowance for taxes. "For Myles Stapylton, Esq. at Mr. Sander's, Coleman Streete." Dec. 28th he writes, "if the cordivant waistcoat you bought for Mr. Cosin be disposed on, I must entreat you to buy me one, of any sad colour, wth some little lace on it, and let it be given to the Richmond Carryers, at the Beare, in Basinghall Streete. It is for my eldest son, not so large as for myselfe."
*** The Arms used by this family on their Seals, are, Argent, three horse-shoes Sable. Evidently borrowed from Ferrers, Earl of Derby.
The Isle
Lies to the South-west of Bradbury, entirely insulated by the confluence of the Skerne, the Rushyford beck, and some smaller feeders.
The knightly family of L'Isle occurs in some of the earliest episcopal charters, and Walter de Insula is a frequent witness to the grants of Bishops Robert and Anthony.
At a later date Henry L'Isle of the Isle, left two sons, Sir Henry, Lord of Winyard and Redmarshall, and Sir John Lisle, whose daughter and heiress married Alan Langton, ancestor of the subsequent Lords of Winyard. It is certain, however, that the Isle did not follow this course of descent, and its earliest evidences have been already stated together with those of Bradbury, to which manor it apparently remained united till the end of the 16th century.
In 1642 Sir Thomas Tempest, Knt. Attorney General of Ireland, settled the manors of Swainston and the Isle, on the marriage of his only son John Tempest, Esq. with Elizabeth, daughter and heiress of John Heath, of Kepyer, Esq. (fn. 79), and in the same deed, Sir Thomas recites his purchase of the Isle from Sir Christopher Buckle, of Bampstead, in Surrey, Knt. son of Sir Cuthbert Buckle, who had purchased the same from Sir William Bowes, Knt. son of Sir George Bowes, of Streatlam.
The Isle has since continued in lineal descent in the family of Tempest, and is now the property of their representative, Lady Vane Stewart (fn. 80).
The Isle, deserted as it now is, and dreary and inaccessible as it must always have been, was once at least the scene of mirth and hospitality. In 1675 it was the seat of Col. John Tempest, the first and popular Member for the county of Durham. The mansion-house, which stands on a little plot of rising ground, surrounded by a marshy level always liable to be inundated by the sluggish waters of the Skerne (fn. 81), still exhibits the wreck of an old manor-house,—projecting gavels, narrow lights divided by stone mullions, and the ruins of gardens and orchards. There is something so picturesque in this stile of building with any tolerable accompaniments, that one frequently cannot help lamenting the want of taste in the owners of many a neglected residence, ill exchanged for some staring regular modern house, surrounded by clumps and belts hooped in with neat park paling; but there can be no reason to condemn the choice which exchanged the dreary morasses of the Skerne, for the green slopes and hanging woods of Old Durham.
Mordon,
A village two miles to the South-west of Sedgefield, surrounded with rich low pasture grounds, verging to the marsh (fn. 82). To the South, the slow mazy waters of the Skerne and its numerous feeders form a wide morass; in winter frequently a continued sheet of water, bounded by Copelaw on the West, and by the rising grounds near Ricknall and the Howhills, on the South (fn. 83).
Mordon, it has been already stated, was included in Snaculf's donation to the See. In 1334 William, son of Thomas de Shotton, died seised of two messuages and sixty acres in Mordon, held by homage, fealty, and the fortieth part of a knight's fee, leaving Alice, daughter of Roger of Grendon, his heir (fn. 84).
In 1348 John de Kellaw died seised, jointly with Elizabeth his sister, of three parts of the vill of Mordon, held of the See of Durham by the service of half a knight's fee (fn. 85). This said John and Elizabeth seem to have granted their estates to John Harpyn, charged, however, with the support of three Chantry Priests at the altar of St. Helen of Kellawe (fn. 86); and in 1354 Thomas Harpyn, of Thornlawe, died seised of two parts of Mordon, held by half a knight's service, and charged with 66s. 8d. for two Priests; the third priest was charged on lands in Thornley, where the whole circumstance of the foundation has been already detailed. The heiress of Harpyn married Lumley, and the heiress of Lumley carried her possessions, and amongst them the manor of Mordon, the consequent, into the family of Trollop, where it remained till the ruin of the house of Thornlaw, and dissipation of their property, in the reign of James I. (fn. 87).
A portion of the Trollops' property was alienated to George Martyn, of Durham, Gent. whose descendant, John Martin, devised lands in Mordon to his son Joseph in 1713. Another part of Martin's lands was alienated before 1689, by Thomas Martin, of Flass, to the family of Reed, who by various other purchases ultimately acquired a very considerable estate in Mordon.
In 1672, John, Elizabeth, and Bryan Harrison, conveyed a messuage and three oxgangs of land to Richard Reed, of Mordon (fn. 88). In 1692 Robert Shutwell sold Mordon red house to William Reed, of Framwellgate (fn. 89). In 1697 Wheatley Garthorne, of Cleasby, Gent. granted other lands to William Reed (fn. 90); and in 1750 John Elstob (fn. 91) conveyed a messuage and two oxgangs to John Reed, of Framwellgate. In 180. the widow and the coheirs of William Reed, of Holywell, conveyed a part of their estate in Mordon to William Russell, Esq.; another portion was purchased by the Rev. G. Barrington, now Viscount Barrington.
The Hixons held considerable property in Mordon for some descents. One of them went through the following curious adventure:
Die Jovis, die Febr. nono, 1630.
Willm Hixon, of Mordon, a Papist recusant, for interrupting Divine Service in ye Cathedral Church of Durham, by his profane & outrageous roaring & bellowing (fn. 92) like a Bull, near unto the Queare door, whereby the service of God was interrupted, &c. & wh was conceived to be done in contempt, he being as aforesaid a Papist recusant; was sentenced to make an open submission at ye Markett Crosse, in Durham, on a Satterdaie in his lyninge apparell, & to paie costes of court. Presentibus Ricardo Hunt, S. T. P. Decan. Joħe Cosin, Joħe Robson, &c.

A family of Conyers occurs at Mordon, from the earliest period of the Register, and disappears about 1700. The following tragical story is, I think, the last entry.
1698, Sara Conyers, de Mordon, à Scoto quodam peregrino barbare tractata vulneribus occidit Jan. 29.
This narrative includes probably rape and murder.
It remains to state some evidences which prove that a family, who assumed the local name, held a manor in Mordon contemporary with the period of the Trollop's possession. William de Mordon (the same probably who occurs as Sheriff under Bishop Bury) held the manor of Mordon, worth 100s. per ann. of the heirs of John Burnynghill, by the fourth part of a knight's service (fn. 93), leaving William his son and heir of full age, who died in 1370, leaving another William under age (fn. 94). The link is broken betwixt the last William and Peter de Mordon, who died in 1419, leaving John del Spence, son of his sister Elizabeth, his heir (fn. 95). This same John died in the following year seised of the manor of Mordon, held of Hugh Burnynghill, and of a croft and one acre held of the Bishop, by the hundredth part of a knight's service, leaving Robert del Spence his brother and heir (fn. 96).
Neither the family nor the estate are traced any further. But to reconcile this adverse evidence with Trollop's possession of the manor, it may be well to observe, that the earliest proprietors of our villages after the Conquest, who in general assumed the local name, frequently granted out, in process of time, much larger portions of the estate than they retained (fn. 97), yet reserving, possibly, or at least not positively conveying, any part of the manorial rights; and thus the manor or superiority of the vill (dominium ville) is frequently found in conjunction with a very slender parcel of the estate, whilst the ampler property of the tenant or feoffee began to be gradually invested with manorial rights, confirmed by usage and tacit permission. And thus it is to be remarked, that the Trollops' estate is never distinctly called a manor during the possession of the Harpyns and Lumleys, but simply stated, with some variation, as two or three parts of the vill.
About 1717 the estate belonged to Reed Hodshon, of Witton-le-Wear, Gent. whose son and heir, William Hodshon, conveyed his reputed manor of Mordon (containing 344 acres, with a messuage and a garth and several free rents, amounting to 8l. 3s.) to John Ward, of Billingham, Gent. (fn. 98) whose only surviving daughter and heiress became the wife of William Sleigh, Esq. the present proprietor.
Foxton.
Foxton lies about three miles full South from Sedgefield. The manor of Foxdene belonged to the Knights Templars, whose possessions, on the dissolution of their order, were transferred to the Knights Hospitallers of St. John (fn. 99).
In 1360 Thomas de Seton, Chivaler, held the manor (fn. 100) of Foxden under the Prior of St. John (fn. 101). His descendants, the Setons, Carrowes, and Sayers, held the same estate; and under them the De la Poles held lands by subinfeudation (fn. 102). Some small parcels were also held in chief of the Prior of St. John, viz. a messuage and oxgang by the Fulthorpes (fn. 103), and three acres by John Watkinson, whose heir, in 1391, was John de Elstobb (fn. 104).
But the family of Elstobb (deriving local name probably from a neighbouring hamlet) were proprietors of lands in Foxden at a much earlier date, and finally acquired nearly the whole property of the vill.
In 1304 Adam de Elnestobb gave certain lands to the Knights of the Temple (fn. 105). In 1302 Walter de Berveclose, and Robert his son and heir, granted all their lands in Foxden to John de Elnestobbe (fn. 106), whose descendant, John de Elstobb, entered into the following extraordinary convention, by which he seems to have placed himself, and all his concerns, at the entire disposal of John Sayer, of Worsall, Esq.
This Indentur, maid the xiith day of Marce, &c. (33 H. 8) betweene Iohn Elstobe, of Foxton, in the County of Doram, Gentilman, and Iohn Sayer, Esquire, and Thomas Sayer, Gentilman, Witnesses, &c. yat ye said John Elstobe, for sondry considerac'ones, hath condisonyd, barganyd, and fully agreed to and with the said John Sayer, &c. that the sayd John Elstobe, at no tyme hereafter, sall alyene, wadsette, gyve, selle, or putt away, any manr of landes, tenements, or any parte or parcel of his inherytance, to any manr p'son or persons, outher for teyrme of lyff or lyves, or by any manr of meanes, bot onely by ye counsell & consent of ye said John & Thomas; and also ye said John Elstobe co'venteth and grants, yt he the said John, at no tyme hereafter, sall latte, take, or sett, any lands or fermeholds, or maik any bargain or bargayns, outhyr of lands or tents, without ye consent and thonely counsell of ye said John and Thomas; and also to be ordered by they onelye, at all times in all manr of causes—(with an obligac'on annexed, of one hundred marks, on failure of trew performance on behalfe of the said John Elstobe).l
The two learned Elstobs, William, and his more distinguished sister Elizabeth, were the children of Ralph Elstob, merchant-adventurer, of Newcastle, who left them orphans at an early age, very slenderly provided. William Elstob was removed from Eton to Catharine-hall, Cambridge, which he soon quitted for Queen's College, Oxford, whence he was elected Fellow of University 23 July, 1696. Queen's College, it should seem, was at this time a nest of Saxon scholars, and to this study Mr. Elstob applied himself with extreme diligence. At the request of Dr. Hickes he translated into Latin the Saxon homily of Lupus; and in 1709 he gave a Latin version of the Saxon homily on St. Gregory's Day. His most considerable design was an edition of the Saxon Laws; but the publication was prevented by his death. In 1702 Mr. Elstob had been presented by the Dean and Chapter of Canterbury, of which his uncle Charles was Prebendary, to the united parishes of St. Swithin and St. Mary Bothaw, London. This was his only preferment; and with the very usual fate of men of letters attached to abstruse and unfashionable literature, he complains of evil days, poverty, cold patrons, and neglected efforts. He died, after a lingering illness, March 3, 1715, and lies buried under the altar-table of his parish church of St. Swithin.
Mrs. Elizabeth Elstob, the only English female, I think, who has been distinguished as a Saxon scholar, is said to have owed the rudiments of her very extraordinary learning to her mother, whom, however, she lost at eight years of age. She accompanied her brother to Oxford, and was the companion of all his studies. She removed with him to London, and in 1709 printed an English translation, together with her brother's Homily of St. Gregory. She also assisted him in an intended edition of Gregory's Pastoral. By Dr. Hickes' advice she next undertook an edition of the Saxon Homilies: a few of these only were printed at Oxford, in folio. In 1715 she published a Saxon Grammar, for which Chief Justice Parker defrayed the expence of the types. After her brother's death Mrs. Elstob was reduced to teach a school at Evesham. She afterwards obtained a pension of twenty guineas from Queen Caroline, which ceased with her Majesty's death, and Mrs. Elstob was again plunged in difficulties. Her latter days, however, were easy and comfortable; for in 1739 she found a residence in the family of the Duchess Dowager of Portland, and continued there till her death, the 30th of May 1756 (fn. 107).
Pedigree of Elstob, of Foxton.
Arms: Party per pale Gules and Vert, over all a fleur de lis Argent.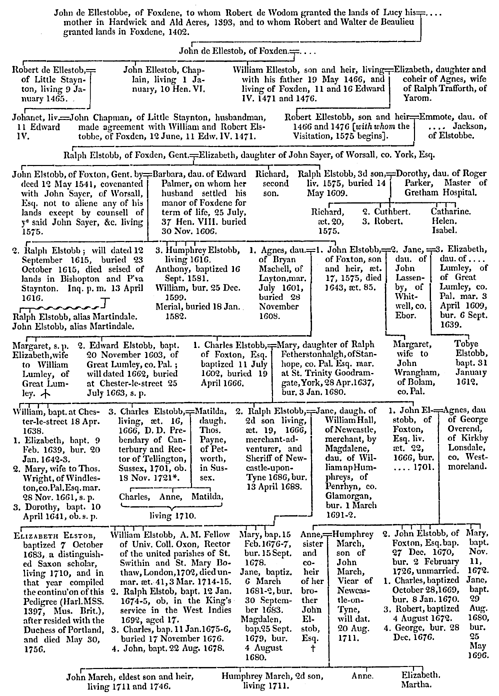 Thomas de Ellestob married Lucia . . . . , sans dat. Inspeximus 11 Jac. Rot. W. James.
John Elstob, Rector of Wodheton, co. Oxon. relaxat terras in Herdwyk, &c. 8 June, 15 Skirlaw.
* Dr. Elstob died suddenly, in Canterbury Cathedral, during divine service. Lit. Anecd. vol. VIII. p. 501.
† About 1746 Anne March, widow, and John, her eldest son, sold the estate to Carleton Carr, Esq. of Haughton-le-Skerne, who devised for life to his wife Elizabeth, with remainder to his nephew Robert Bates. Mr. Carr's widow purchased the reversion from her husband's heirs, and with her second husband, William Alexander, M.D. conveyed, several years ago, to William Russell, Esq.
*** Bishop James granted to Robert Laverock, of Bradburie, two messuages and two husband lands, containing a hundred and fifteen acres, in Foxdene; an eschaet, forfeited by George Elstobb, of Mablyn-butts, Gent. outlawed for the murder of Robert Robinson, yeoman, 7 Jan. 7 Jac. 1609.
Shotton,
A small hamlet to the East of Foxton, and included in the same Constablery.
The Setons and Carrowes held property here, attached to their manor of Foxden. In 1386 John, son of Thomas de Carrowe, Knt. held three messuages and a hundred acres in Shotton, of the Bishop, by homage and fealty (fn. 108). In 1404 Isabel, widow of Thomas de Seton, held a messuage and sixty acres, as of the heirs of Carrowe, in whom the manor was vested (fn. 109). A moiety of the general estates of the Setons descended to the Sayers, and in 1449 John Sayer, of Worsall, Esq. settled three messuages and a hundred acres in Shotton (probably the lands mentioned above) on his son John Sayer, and Joan his wife (fn. 110).
The estate of Shotton, or some considerable portion of it, had become, before 1569, the property of the Hebbornes, of Hardwick; for in that year Anthony Hebborne, of Hardwick, forfeited lands worth 11l. annual rent, in Shotton (fn. 111). This estate was granted by the Crown to Sir William Bowes, who conveyed to Sir George Frevile, of Hardwick.
In 1594 a pardon occurs on the roll to John Redhead and Henry Ferror, for the acquisition of lands in Shotton, called Gunston's, or Mason's lands, purchased from Ralph Mayson, of Mordon (fn. 112).
In 1685 Shotton was the estate of Gerard Salvin, of Croxdale, Esq. whose descendant, William-Thomas Salvin, Esq. sold it some years ago to William Russel, Esq.
Oldacres.
Oldacres (fn. 113) lies two miles to the East of Sedgefield. Under Boldon Book William de Oldacres paid a free rent of sixteen shillings. Under Hatfield's Survey the rent was reduced to 8s. 11d.; the proprietor is not named.
In 1408 (fn. 114) Thomas Cramlyngton, of Guiseburn, died seised of half of the manor of Oldacres (held by knight's service, suit of court, and 4s. 5d. rent), which descended to his daughter Alice, wife of Robert Burton, of Scarborough. I am ignorant through what line of descent the whole manor was soon after vested in the family of Fulthorpe.
In 146. Thomas Fulthorpe, Esq. settled his manor of Aldacres (inter alia) on Richard Earl of Warwick, and others, on trust for his daughters Isabel and Philippe (fn. 115).
These coheiresses, with a third sister, made partition of the inheritance (fn. 116), and Oldacres descended in the heirs of Richard Booth, the husband of Philippe, till it centered in Anne, daughter of John Smith, of Nunstainton, and wife of John Swinburne, of Chopwell, Esq. whose share in the rebellion of 1569, and consequent attainder, have been mentioned in a former volume (fn. 117).
The modern abstract of the title to Oldacres commences with a Crown grant, 18 Feb. 17 Eliz. 1574, to Edmond Gresham and Percival Gunston, trustees for Robert Bowes, of Aske, Esq. of a tenement in Oldacres (inter alia), late parcel of the possessions of John Swinburne, of high treason attainted, in exchange for Bowes's manors of Barnes, Hamildon, and Clowcroft (fn. 118). On the 12th March in the same year, Bowes, Gresham, and Gunston, for 71l. 13s. 4d. grant all the premises in Oldacres to Gregory Butler, of Bishop-Aukland, Gent. By Ind. 20 March, 1611, Nicholas Fulthorpe, of Tunstall, Esq. (the representative of one of the coheirs of Ralph Booth,) granted his manor of Oldacres to his son and heir, Christopher Fulthorpe, who conveyed the same estate, 2 March, 1612, to Ralph Butler, of Oldacres, Gent. On the 11th of April 1612, Gregory Butler, before named, released all his right to the same Ralph Butler, his son and heir. The whole estate thus centered in the family of Butler, whether derived under the Crown grant or under the heirs of Booth and Fulthorpe. In 1679 William Butler, Esq. settled the estate by devise. Thomas Butler, his son, again settled the estate on his own issue, on his marriage with Mary Hilton, in 1683, and left an only son Thomas Butler, who died under age in 1708, and two daughters, Mary, wife of James Butler, Esq. and Margaret, wife of the Rev. William Partherick Turner, both of whom died without surviving issue. In 1715 (Ind. 2d and 3d Aug.) James Butler (in right of Mary his late wife) and Barbara his then wife released a moiety of the manor of Old-acres to Robert Spearman, Gent. for £1500; and by Ind. 28th and 29th Oct. in the same year, Turner released the remaining moiety for the same sum. (See the Pedigree of Spearman of Oldacres vol. I. pt. I. p. 96.) (fn. 119)
Pedigree of Butler, of Old Acres.
Arms: Azure, a chevron inter three covered cups Or; a crescent for difference. Crest: on a wreath, a horse passant Argent, pellettè and bridled Sable.
Thus entered in the Visitation by St. George, A. D. 1666; but in Dugdale's Visitation of Northumberland, A. D. 1666, the chevron is charged with three crescents Gules.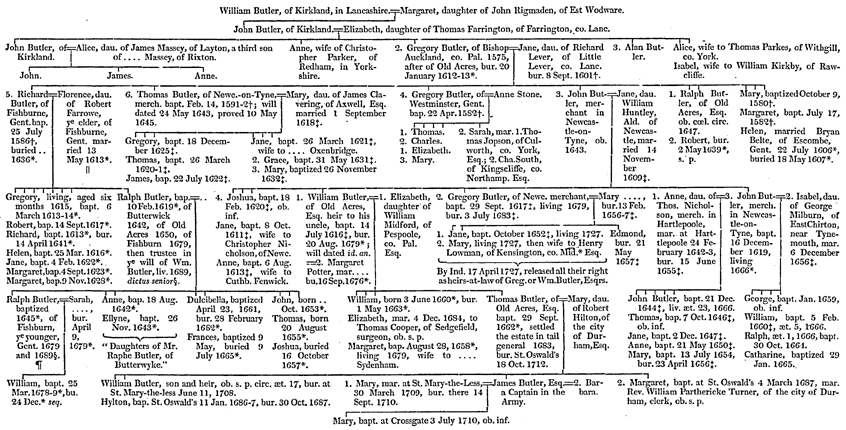 § Sheriff's List, Spearman's MSS.
| Qu. Florine Butler, de Butterwick, sepult. Apr. 22, 1664.
¶ Vacat Registrum à 1645 usq. 1653.—I am inclined to believe the following Registers belong to the Fishburn or Butterwick branch:—1672, Rad. fil. Richardi Butler, de Fishburn, Gent. bapt. 28 Jan.—1674. William Ward, de Billingham, Maria Butler de Fishburn, nupt. 18 Oct.—1683. Rad. fil. Thomæ Butler, de Fishburn, Gent. bapt. 9 Sept.—1685. John Butler, de Fishburn, Gent. & Isabella Kitchin; nupt. 2 April.—1689. Anna, fil. Johannes Butler, de Fishburn, bapt. 29 June.—1690. Thomas fil. Tho. et Marie Butler, de Sedgefield, Gent. bapt. 30 Novr.—Ralph Butler, of Fishburne, and Grace Kitchin, mar. 12 Feb. 1677–8. Egglescliffe.
Butterwick.
Butterwick, a small hamlet of four or five houses, lies two miles to the North-east of Sedgefield.
At the period of Boldon Book the vill was held by the servile tenure of Drengage. The Dreng fed the Bishop's dog and horse, attended the great chase with two greyhounds and five cords of provision, did suit at the Court of Pleas, and served on embassies. The whole vill paid 32s. cornage, provided one milch cow, paid one soldier for Castle-ward, and furnished eight chalders of malt, as many of meal, and as many of oatmeal, and for every carucate of land the tenant in villenage harrowed and ploughed two acres of land at Sedgefield. The whole of the tenants in villenage performed jointly three porcations, sending one man from each household, and carted annually a ton of wine and a millstone to the lord's manor at Sedgefield.
Under Hatfield's Survey the manor was held by a free rent of 6l. 13s. 4d. a change tenure which is fully accounted for by the following charters (fn. 120).
Bishop Nicholas (1241–49) granted the whole vill of Buterwyk, as well the demesnes as the services in villenage, to William son of William de Sadberge, under ten marks reserved rent in lieu of all service, which said vill Roger, son of William de Buterwyk, held of the See of Durham in drengage, and surrendered up all his right for fifty marks.
William de Sadberge transferred the manor and vill to his nephew Robert, son of Richard de Hoton, of Hardwick; and Hugh, the brother of William, confirmed the grant by charter, without date. The manor descended in the family of Hoton, by the same free rent of ten marks, till the marriage of Cecily, daughter and heiress of William Hoton, of Buterwyk, with William Belasyse, of Henknoll. In 1436 the same William Belasyse granted all his lands in Buterwyk to William Yong, of Acklington, in Yorkshire, and to Catharine his wife, sister of William, reserving the reversion on failure of his sister's issue. In 1469 Roger Yong, of Aclyngton, son and heir of William and Catharine, conveyed his manor of Butterwick to Richard Baynbrigg, Esq. to whom, or to his trustees, William Belasyse had previously released his reversion in fee, in 1462. In 1581 George Baynbrigg, Esq. grandson of Richard, granted the manor and vill of Butterwick to Gerard Salvin, of Croxdale, Esq. lineal ancestor of the present proprietor (fn. 121).
Chantry Lands.—By letters patent, 12 March 1591, Queen Elizabeth granted to Edmund Downing and Roger Rant, all that tenement in Butterwick, and fifteen acres of land, and four acres of meadow, late parcel of the dissolved Chantry of St. Katharine, in the church of Sedgefield; to hold of the manor of East Greenwich in socage, and by 14s. 8d. rent. Downing and Rant conveyed to William Fisher, of Hounslow, who granted to Anthony Wood, of York. By Ind. 20 June 1612, Anthony Wood, of Copmanthorp, co. York, Gent. and John, his son and heir, conveyed all those their two messuages in Butterwick to Ralph Butler, of Butterwick, Gent. for 500l. (fn. 122) This portion of the estate has since remained united to Old Acres.
Fishburn,
Two miles to the North-east of Sedgefield. The village is scattered along a dry swell of limestone, considerably to the North of the beck which has given its name.
The family of Fishburne, who assumed the local name, were the earliest proprietors on record of the vill and manor. Ranulf de Fisseburne executed a deed of convention with the Prior, concerning his chapel of Hardwick by the sea, in 1084 (fn. 123), which was confirmed by his son Symon de Fisseburn with the consent of his brothers Robert and Ranulf and his sister Meliora (fn. 123). William de Fisseburn held one knight's fee under Hugh Pudsey (fn. 124); and lastly (after the commencement of the regular episcopal records, above a century later), Ranulf de Fisseburne died seised of eleven messuages and a hundred acres in Fishburne, to which the manorial superiority was still attached (cum dominico ejusd. villœ), held of the See of Durham by the service of half a knight's fee (fn. 125). This last Ranulf left only two daughters, who probably sold the inheritance (fn. 126); for, in 1380, Sir William Claxton died seised of the manor of Fishburne, charged with an annuity for life, to Elizabeth and Margaret de Fishburne (fn. 127) of nine marks each. In 1484 Robert Claxton (grandson of Sir William) died without male issue (fn. 128), and left the large inheritance of his family to be divided amongst his four daughters, of whom Anne, the wife of John Cartington, accepted the manors of Hawthorn, and of Dilston in Northumberland, in lieu of all claim, and the manor of Fishburne appears to have been divided in thirds amongst the three remaining coheirs: 1. Margaret, wife of Sir William Elmeden, whose daughter married Sir William Bulmer; 2. Elizabeth, wife of Richard Conyers; and 3. Phelice, wife of Ralph Widdrington.
Bulmer's Third.—Elizabeth, daughter and sole heir of Sir William Elmden and widow of Sir William Bulmer, died in 1558 (fn. 129), seised of a third part of the manor of Fishburn, which descended to her son Francis Bulmer, Esq. to her grandson Anthony Bulmer, and to her great-grandson Bertram (fn. 129). By fine, 26 July 1602, Bartram Bulmer, Esq. conveyed his third of the manor of Fishburne to John Orde, Gent. who died in 1625 (fn. 130), seised of the same portion of the manor, leaving Bartram Orde his son and heir, who by Ind. 7 Aug. 1649 (fn. 131), granted all his lands in Fishburne to Clement Woodifield, of Mainsforth, Yeoman, for 395l. (fn. 131) The heiress of the family of Woodifield intermarried, in 1715, with William Beckwith, of Thurcroft in Yorkshire, Esq. whose grandson William Beckwith, Esq. is proprietor of a considerable estate in Fishburne.
Widdrington's Third.—By charter, 27 Jan. 1556, Sir Henry Widdrington, of Widdrington, Knt. granted to his younger sons Ralph and William his manor of Haswell, lands in Pespoole, and the third part of the manor of Fishburne, being the whole inheritance of his mother Phelice Claxton (fn. 132).
Conyers' Third.—Before 1557 Conyers, of Horden, had conveyed his rights in Fishburne to his kinsman Conyers, of Layton; for in that year Cuthbert Conyers, Esq. died seised of a third of the manor of Fishburne (fn. 133), which, under an entail created by his will, descended (notwithstanding the attainder of John Conyers) to Sir Ralph Conyers In 1644 the estate was in the hands of the sequestrators to atone for the delinquencies of Col. Cuthbert Conyers (fn. 134); and in the same year his sister, Helen Conyers, petitioned the commissioners for that small portion which was provided for the support of female recusants, viz. a third of her income arising from 1000l. charged by the will of her father, Sir Ralph, on the said estate (fn. 135). The distresses consequent on the civil wars ruined the house of Layton, and occasioned, probably, the sale of the Fishburne estate, but I have been unable to trace its subsequent descent.
There are several other considerable estates in Fishburn which it is difficult to identify at present with any of the three portions of the manor already mentioned.
Ayton's Lands.—In 1558 Robert Ayton died seised of one hundred acres of arable and two acres of meadow, sometime belonging to John Lord Lumley, of a messuage and sixty acres, sometime of Sir Ralph Bowes, Knight, and another messuage and eighty acres, all held of the heirs of Sir Robert Claxton, and six messuages three hundred acres of arable, and twenty of meadow, formerly belonging to Ralph de Fishburne, and also held of the heirs of Claxton by the service of one pound of pepper. He left two sisters and coheirs, Alice, wife of Robert Farrer, and Elizabeth, wife of William Heighington, who divided the inheritance (fn. 136).
Robert Farrowe, son or grandson of Robert and Alice, died in 1617, seised of a very considerable estate in Fishburne, of which the chief messuage is mentioned in his will as the East Hall. Robert Farrowe, his son, died in the same year with his father; and Robert, the grandson, settled his lands, in 1632, on his marriage with Anne Chambers, of Cleadon. Their descendants continued in lineal succession (fn. 137) till 1759, when, on the death of Nicholas Farrow without issue, the estate descended, under settlement, to his only nephew, Nicholas Chilton, Esq. father of the present proprietor (fn. 138).
William Heighington, who married Elizabeth, the younger coheir of Ayton, left an only son, Richard Heighington, of Greystones, co. Pal. Gent. (fn. 139) who by Ind. 1601 settled the whole of his lands in Fishburn on his eldest son Henry Heighington (fn. 140). Jane, daugh- and heir of Henry, married Robert Mason, whose family already held lands in Fishburne.
Before 1614 Thomas Done, Gent. acquired two messuages one hundred acres of arable land, fifty of meadow, and eighty of pasture, in Fishburne, from John Eden, Gent.; and in 1633 alienated the same lands to Richard Reed the elder and younger, ancestors of the Reeds of Holywell.
By Ind. 22 Aug. 41 Eliz. Joan Lee, widow, purchased of John Girlington, Esq. and Christian his wife, and Richard Heighington and Elenor his wife, six messuages, gardens, and orchards, a cottage and dovecote, and three hundred acres of arable, two hundred of meadow, three hundred of pasture, and common of pasture (fn. 141), which descended to her son John Lee. (See Pedigree of Lee.)
By Ind. 13 Nov. 5 Jac. 1607, Anthony Cradocke, of Woodhouses, and William Williamson, of St. Helen's Auckland, Gent. conveyed to Lionel Ord, of Fishburn, yeoman, lands in Fishburn, parcel of the dissolved Chantry of St. Andrew's Auckland (fn. 142). In 1608 Lyonel Orde granted the premises to his son Mark Orde (fn. 143). William Orde, of Stockton, sold part of the same premises (called the Broom hills) to Richard Thompson, of Billingham, 24 May 1699 (fn. 144).
In 1641 Robert Farrow, of Fishburn, Gent. sold lands called the Brodemeres, Skinster Close, and two closes near the Bridge, to Christopher Wardell, of West Morton, the younger, yeoman; and in 1660 Nicholas Farrowe sold East and West Barrowpoole to Christopher Wardell, second son of the abovenamed Christopher. Thomas Wardell, of Fishburn, Gent. settled the same lands in 1704, and in 1742, devised to his son John Wardell, father of Thomas Wardell, under whose bankruptcy the estate was sold in 1799 to Francis Smales, Esq. (fn. 145)
In 1686 the freeholders in Fishburn were Nicholas Farrow, Gent. Thomas Reed, Gent. Ralph Butler, Gent. sen. and jun. Edward Richardson, Gent. John Woodifield, Gent. Christopher Wardell, Gent. Thomas Orde (in Northumberland), William Mason, of Sedgefield, Gent. Thomas Ewbanke (in Yorkshire), Martin Dunn, Anthony Armstrong, Richard Richardson, George Wardell, of Trimdon, William Reed, Robert Craggs, and William Woodifield (fn. 146).
Pedigree of Lee, of Fishburn.
Arms: Or, a chevron chequé Or and Azure; a crescent for difference.
Crest: on a wreath, an antelope's head erased Argent pelletté, maned, tufted, and attired Sable, holding in the mouth a white lily slipped proper.

Pedigree of Orde, of Fishburn.
Arms: Sable, three salmons hauriant Argent.

‡ 31 May 1675, Anne, wife of Mr. Bartram Ord, buried.—9 Feb. 1687–8, Mr. Bartram Ord, buried. Holy Island Register.
Embleton,
Anciently Elmdene, a name derived from its deep hollow dene, where some remains of old elm-wood are still seen amongst the hazel copses. The hamlet is reduced to a single farmhold and two or three cottages; the little Chapel stands on the very brink of the dene. The structure has evidently been once extended towards the North, as four round arches are closed up in the North wall; and it seems probable that the original chancel has been also once extended towards the East. This little oratory, four miles distant from the mother church, through foul roads and deep clay, is now the only one remaining of four chapelries which were once dependant on the church of Sedgefield. All of these probably owed their establishment to the devotional feelings of individual territorial lords, who generally considered a family place of worship as an indispensable requisite near a manorial residence.
In most of these little chapels the religious feelings of the patron would be increased by the recollection that he knelt amongst the ashes of his ancestors, to whom he should himself be gathered, and for whose souls' repose a chantry was generally instituted (fn. 147). The Reformation swept away, almost indiscriminately, chapel and chantry. The endowments chiefly returned to lay hands, and during the struggling birth of the Reformation the people, deprived of their old pastors, and neglected by their new ones, were left in a state of almost utter darkness. The old tree, with all its cankered boughs and caterpillars, was stubbed and burned, and it was long before the new set afforded to the remote districts of the North either fruit or shelter (fn. 148).
From an obvious inference, it seems probable that the ancient seat of the earliest Lords of Elmdene is to be sought for near the chapel; but the farmhold which now bears the name of the Old Hall lies across the dene, considerably to the North. This second mansion rose probably after the Reformation, and was the occasional seat of the Bulmers, of Tursdale, during the declension of their fortunes. The whole of the squared freestone jambs and coin-stones were led away, a century ago, to build the present house at Mainsforth; and the Old Hall is now merely an ordinary farm-house.
Still farther to the North-west, and on the height, lie Embleton Whin-houses, where the wild and uncultivated boundary of the estate has formerly lain in open pasture with Butterwick Moors.
Immediately on the Eastern bank of the dene stand the remains of Amerston Hall, in the parish of Elwick: the midstream divides the two parishes.
The family of Elmeden held considerable property of the Earl of Lincoln, and assumed the local name about the thirteenth century; they afterwards acquired the remainder of the vill from the Nevils, yet it is sometime before they are mentioned as possessing the manor. The family acquired, within the course of a few generations, a very widely extended property; with this remarkable difference from most of their neighbours, that it seems to have been got together rather by purchase and exchange, than by any large episcopal grant, or by alliance. In the reign of Henry the Seventh, Elizabeth, the heiress of the family, intermarried with Sir William Bulmer, whose descendants have been already noticed under Tursdale.
Under the gay and gallant Sir Bertram and his sons, the estate of Elmeden was dissipated piece-meal; and it remains only to collect a few scattered evidences relative to the fragments.
In 1639 Isabel Bulmer (widow of Sir Bertram) and William Bulmer, Esq. alienated a part of the estate, described as sixty acres of arable and two hundred of pasture John Smythe, Gent. (second son of Sir Edward Smythe, of Eshe, and husband Margaret Bulmer (fn. 149). In 1644 the Commissioners of Sequestration seized the estate of the same John Smythe, Esq. at Low Embleton, then valued at 70l. per annum (fn. 150) the same lands were in the possession of his son Sir Edward Smyth, of Eshe, Bart. in 1689 (fn. 151)
By Ind. 12 Feb. 1667, Anthony Bulmer, of Morwick, Esq. son and heir-apparent William Bulmer, Esq. and grandson of Sir Bertram, conveyed all his messuage called High Elmeden, Embleton, or Embleton Hall, to John Hickson, of Black Hurworth, Robert Surtees, of Ryton, and George Surtees of Colt Parke (fn. 152), who seem to have made a subsequent division of their purchase. Hickson's share I am unable to trace.
Robert Surtees's share descended, under various devises and settlements, to his great grandson, Crosier Surtees, who sold his portion of Embleton, to William Wrightson, of Sedgefield, surgeon, who again transferred it to Mr. John Willis, of Stillington, father of the present owner, Mr. George Willis.
Swainston,
A hamlet within the Constablery of Embleton, about three miles to the East of sedgefield. The vestiges of a considerable village may be traced near the farm-house at Low Swainston.
In 1370 John Nevill, of Raby, Chivaler, acquired the manor of Newton Hansard, with its appurtenances in Swainston and Emilden, of Katharine de Whitfield (fn. 153).
By letters patent, 7 Dec. 17 Eliz. Queen Elizabeth granted the messuage or tenement called Swainston, to Thomas Calverley, Esq. and Henry Anderson. In 1634 (9 April 10 Car.) Sir John Calverley, Knt. conveyed the same estate (subject to a crown rent of 11l. 6s. 8d.) to Sir William Lambton, Knt. Henry Tempest, Francis Tempest, and Thomas Ridel, Esquires (fn. 154). The purchase was on trust for Sir Thomas Tempest, Knt. who settled his estate (together with the manor of the Isle) on the marriage of his son, John Tempest, with Elizabeth Heath, the heiress of Old Durham, in 1642 (fn. 155); and both properties have since descended, in the line so often pointed out, to Lady Vane Stewart
Sir Thomas Tempest's lands here and at the Isle were seized by the Sequestrators It may be as well to introduce here as in any other place the whole record relative to the parish of Sedgefield.
A warrant to the Constable of Sedgefield Parish to warne the teñts of Sir Thos. Tempest, Knt. at the Isle and Swainston, the tenants of John Smyth, Esq. at Elmeden, and of John Claxton, esqre at West Morton, to appeare before us at Henry Stevenson's, in Sedgefield, at 9 of the clock before noone on Thursday next, 3 Septr 1644.
Embleton.
The rents now paid for Low Embleton is 70l. p. ann. beinge the inheritance of John claxton, Esqre, letten to Robt and John Richardson for 70l. from May, reserving a 5th for maintenance of the wife and family of the said John Smythe, Esqre, 5 Septr 1644.
Whinhouse being a Q'ter of Embleton, formerly 50l. p. ann. letten to John Hutchinson and John Liddell for 32l.
Swainston belonging Sr Thos. Tempest, formerly 140l. let for 90l. Tenants to the Lady Conyers, widow of Sir Ralph Conyers, at Layton, 76l. per ann., whereof allowed to the said Lady for her maintenance, 26l. 6s. 8d. and alsoe her porc'on of the corne and medow fields now in her possession. Tenants' names continued under the old rents—William Cowlin, William Wilkinson, Robert Chapman.
Coll. Cuthb. Conyers' lands at Layton, let for 85l. per ann. allowing thereout xviil. for maintenance of his lady, Mrs. Katharine Conyers.
Geo. Atkinson 2 parts of a farme in Fishburne, late Ralph Catherick's, a papist, for 20 nobles, to be paid by 22s. 11d. 4/6 monethly.
A certificate that Thos. Welfoot, Gen. hath bought 1800 sheepe and 160 cattell of the Sequestrators, that he may travell with the said cattell for Kirby Moorside, Malton, or Chesterfield, in Yorkshire.
Letten to Wm Davison and Raiph Snaith all the lands in Mordon, late the inheritance of Sr Raiph Conyers, Knt. wh have now devolved on his son Coll. Conyers, a papist and delinqt, for 20l. Mrs. Ellinor Conyers is to have a 3d part of this rent, in satisfaction of her father's will; also a 3d of the lands in Fishburne.
Letten to Raiph Thompson, Sr Raiph Conyers's lands in Fishburn, 12l. and lands in Layton, 28l.
Letten to John Hodgson the farme called the Isle, late the property of Sr Thos. Tempest, Knt. for 50l. per ann.
Letten to Isable and Robt Earle one farme in Foxton, late belongg to Robt Smith, a papist and delinqt, 14l. per ann.
Descent of Elmeden, of Elmeden.
Arms: Argent, on a bend Sable three crescents of the first.
* Her estates were the fourth part of the manors of Brandon and Halywell, and of lands in Preston-on-Tees, and Preston-on-Skerne. Thomas Elmeden exchanged his shares of Brandon and Halywell with John Nevill for lands in Elmeden.
§ See Tursdale, vol. I. p. 77.
West Morton.
The two Mortons lie on the extreme North-eastern verge of the Parish of Sedgefield to the North of Embleton.
By charter, without date, Jordan de Escolland granted the manor of West Morton to Roger de Valoygnes, in frank marriage with his daughter Marjory. Amongst the Claxton evidences, preserved in the Treasury of the Dean and Chapter of Durham, are thirteen successive charters of West Morton.—1. John de Valoygnes grants to Hugh de Valoygnes, his son and heir, two parts of a toft and croft in West Morton, betwixt the lands of William Fitz-Geoffrey, and the lands of John, another son of John the elder; to hold as freely as Roger de Valoygnes, father of the grantor, received the same in frank marriage with Marjory his wife. 2. is only an additional deed of the same tenor as the preceding. 3. Hugh de Valaynes, of West Moreton, grants a plot of ground to his brother de John Valaynes, in latitudine quatuordecem pedes hominum legales, et in lon-gitudine, &c. 4. Thomas de Bellafago and Isabel his wife grant all their lands in Morton to Robert de Bellafago and Maud his wife. 5. John de Valoynes grants to Richard de Park, lord of Blakiston, and Amy his wife, a toft and two oxgangs, with common of pasture in Coveden, within the vill of West Moreton, except three acres in each townfield, viz. one acre in each, and the meadow belonging to each, at Blackston, Thursday after the F. of St. Dunstan, 1312. 6. Hugh de Valoynes grants all his lands in West Morton to Richard de Park and Amy for life, under eight marks rent, sunday after the F. of St. Dunstan, 1314. 7. Richard de Park, lord of Blaykeston, grants all his interest in West Moreton to John, son of John de Park, Knt. deceased 1323–8. 8. Roger, son of William de Trykyngham grants all his lands there to William de Eggiscliff, 1337. 9. is a power of attorney of equal date, from Roger de Trekingham to John son of Sir William de Aslacby, Knt. to deliver possession, dated at Eggliselyff 10. Richard de Eggesclyff, chaplain, next of kin and heir to William de Egglisclyff, grants to John Botiller all his reversionary interest in West Moreton, after the death of Margaret de Egglesclyff, 1358. 11. is a general release between the same parties. 12 and 13. General release and quit-claim from Margaret to John Botiller, dat. West Moreton, on the Feast of St. Hilary, 1359. The heir of Botiller alienated to Elmeden (fn. 156) and partly by descent and partly by purchase, the whole manor of West Morton became the property of the Claxtons, of Old Park. In 1402 Thomas Claxton, of Old Park, Esq. died seised of a messuage and one hundred acres in West Morton, held of the Earl of Westmoreland (the reversion was in Sir William Claxton, Knt.) (fn. 157); and in 1462 his son Thomas Claxton, Esq. died seised, jointly with Agnes his wife (a daughter and coheiress of Elmeden), of the whole manor of West Morton, held of the Earl of Westmoreland by a free rent of 20s. in lieu of all service (fn. 158). The same estate is returned in all the subsequent Inquisitions on the family (fn. 159); and notwithstanding the attainder of Robert Claxton, of Old Park, Esq. in the rebellion of the Earls in 1569 (fn. 160), either under an entail or other conveyance, descended to his son Sir John Claxton, of Nettlesworth, Knt. and afterwards to John Claxton, of Durham, Esq. who, in 1649, sold the whole manor of West Morton to Thomas Todd, of Newcastle-on-Tyne, merchant, reserving an annuity of 20l. per annum (fn. 161). In 1659 Oswold Matfen and Jane Todd, trustees under the will of Thomas Todd, mortgaged one third of the manor to Georg Wilkinson (fn. 161); and in 1663 the same parties conveyed the two remaining thirds in fee to Mark Milbanke and Christopher Nicholson, of Newcastle, who, in 1669, conveyed the same premises to Richard Stote, Esq. In 1671 Sir Robert Shafto, Knt. released all his interest in the remaining third; and in 1672 George Wilkinson conveyed the residue of his estate for a thousand years term, to Ralph Jenison, Esq. and Henry Holmes, who in 1704 conveyed to Bertram Stote, Esq. son and heir of Sir Richard Stote, of Jesmond Knt. who thus re-united the whole estate, and, dying without issue, left his three sisters his heirs, viz. Margaret, wife of John Tong, rector of Brancepath; Frances, wife of William Shippen, of the city of London, Esq.; and Dorothy, wife of the Hon. Dixie Windsor. In 1740 Shippen and Windsor (and their wives) conveyed to John Nesham, Gent. for 3000l. (fn. 161)
In 1742 John Wardell, of Owston, co. Lincoln, clerk, son of George, and grandson of John Wardell, of West Morton, conveyed to the same John Nesham (400l.) a messuage and closes in West Morton, on mortgage; and in 1754 Martha, widow of the same John Wardell, released the equity.
In 1808 John Nesham, Esq. sold West Morton to John Griffith, Esq. of Durham (fn. 161)
Pedigree of Robson, of West Morton.
Arms: Azure, a chevron between three boars' heads erased Erminois.
Crest: out of a mural crown Azure, a boar's head issuant Erminois crined of the first.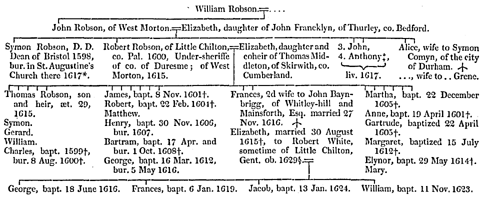 * Wood's Athen, vol. I. p. 614.
‡ Anthonius, fil. Magr Anthonii Robson, de East Murton, bapt. 6 May 1606, Sedgefield.
§ Robert Whyt, Generos. sepult. 3 Sept. 1629—Bp. Middleham.
*** Aprill 5, 1617. Symon Robson, Doctor of Dyvinitie and Deane of Bristoll—to be buried in St. Augustine's Church. To my brother Robert a guilded pott, wth a cover; to my brother Anthonie the highest of my guilt bowles; to my syster Grene a litle silver bowle to drinke wine in; another to my syster Commine; to my cozen Charles all my bookes, unless it be my Bible, and all my cloathes unlesse it be my scarlet gowne and the hood; to John Comin five poundes and my colte stagge; to Nicholas Robson, xxl. and myne own guelding; if Robert Grene doeth not pay the xxl. his life shall be putt out of the lease of the Greene and Barresleighes and Clifton; the residue to my wife Marie, and she sole execx. Witness, Robert Codrinton, Christopher Sympson. Proved by Mary Robson, the widow, 3 July 1617. 66 Weldon.
East Morton.
In 1339 William de Elmeden died seised of the manor and vill of East Morton (which he had purchased of William de Wassingley), held of the heir of Gilbert Hansard, by 8s. rent (fn. 162). The manor descended in the family of Elmeden till the marriage of the heiress with Bulmer (fn. 163). By Ind. 2 and 3 Philip and Mary, Elizabeth, widow of Sir William Bulmer, settled the manors of East Morton, Pelowe, and lands in Hurworth, on herself and her second husband, Anthony Preston, for life, with remainder to her son Francis Bulmer, whose grandson, Sir Bertram Bulmer, probably sold this estate (fn. 164). In 1670 the manor was in the possession of—Clarke, and in 1689 of Elizabeth Clarke, of—, in Nottinghamshire, widow (fn. 165). East Morton since passed by purchase to the Maires, and is now the property of Mrs. Silvertop-Maire, of Lartington (fn. 166).
Charitable Benefactions to the Parish of Sedgefield.
1630, July 1. Will of Dame Elizabeth Frevill (fn. 167), relict of Sir George Freville, of Hardwick, Knt.:
Item, I doe will and appoynt that myne execr or executors shall, within one year after my death (in case I shall not do it in my life-tyme), purchase in fee-simple, in the names of such eight persons as he or they shall noĩate, in trust for that purpose, lands, tenements, or hereditaments, of the yearly value of twenty pounds of lawful English money, or a p'petuity of the same value; the sayd yearly sum of xxl. to be yearly disposed and imployed by the p'sons trusted, or some of them, in such manner as hereonder is expressed (that is to say), twelve pounds thereof for the yearly binding of three poore children apprentices; the same to be equally divided and distributed for that purpose; weh sayd three children shall be yearly chosen by the p'sons in whose names the sayd lands, tenemts or hereditaments, or p'petuity, shall be purchased, or by the greater number of the survivor of them: the choyse to be made for the first two years within the parish of Sedgefield aforesayd, and in the third yeare wthin the p'ish of Bp Middleham aforesaid (fn. 168). And out of the residue of the sayd yearly sum of xxl. (being viiil.) my will is, that ye ....... to threescore of the poorest people wthin the parish of Sedgefield aforesayd, and unto xx of the poorest wthin the p'ish of Bp Middleham aforesd; the sayd poore people of the sd p'ishes to be yearly noĩated and appointed by the several and respective parsons, vicars, or curatts, and overseers (fn. 169) of the poore of the sayd p'ishes for the tyme being. And if the lands, tenemts, and hereditamts to be purchased as aforesayd, or any p'te thereof after the purchase thereof, shall so fall and abate in the yearly value and rent, that the same shall not be of the yearly rent of xxl. then my will is, that during the time of such fall and decay of rent there shall be a p'portionable defalcation out of the said xiil. allotted for binding apprentices: and if the sd lands, tenemts, and hereditamts to be purchased as aforesd, shall happen after such purchase to be improved to a greater rent or yearly value than xxl. then my will is, that such increase and surplusage, during the continuance thereof, shall be given, imployed, and bestowed, amongst the residue of the poore of the said p'ishes p'portionably. And I do further will and appoynt, that when so many of the p'sons in whose names the said lands, tenemts, and heredit's, or p'petuity, shall be purchased as aforesd, shall be dead, so that there shall be but iii of them living, that then, within two months after such death, the three surviving p'sons shall make and execute a newe assurance of the fee-simple of the sayd lands, tenemts, or hereditaments, or p'petuity, upon the like trust, and for the same purposes as hereinbefore is expressed, to eight other persons, to be chosen by the said three surviving persons, and so to be of new estated from tyme to tyme for ever; and the charges of making such new estates to be for that year defalked and taken out (if there be not sufficient overplus of rent, above the sayd yearly sum of xxl.) of the money allotted for that year for the binding of apprentices. The wch poor children so to be bound as apprentices, I expressly forbid, by this my will, to be put out to weavers or . . . lers (fn. 170), beeing poore trades (fn. 171).
The following lands in the township of Bishop Middleham, lying in the marsh or carrs to the South of Middleham, were purchased under the trusts of the will:—Grainge-Bridge-end Carr, 3a. 2r.; Bells Carr, 21a. 3r. 21p.; Grainge Carr, 18a. 3r. 3p.; Two, Rushy Carrs, and Horse Carr-side, 46a. 3r. 25p.—Total 91 roods and 9 perches (fn. 172). The premises are entirely of copyhold tenure, and within the manor of Middleham; they pay a Bishop's rent of 1l. 18s. 8d. and 4s. to the rector of Sedgefield.
These lands did, according to the apprehension of the founder, fall at times below the yearly value of 20l. (fn. 173); and in 1675 Master Simon Lodge, agent for the Trustees, makes sore complaint of a deduction of fourteen pounds, paid to the Commissioners of Sewers—
When the poore's rent was taken away and bestowed in other men's groundes, sure it was unreasonable. The poore carres lying uppermost (i. e. near the head of the marsh), there could not be a necessity, for a com'on good, to take their money; if they were in a pond none could have p'judice below them. To draine the charitye yat puts forth three printices a yeare, yat the poore could not have three in two yeares, made ye poore barren and dry in their prayers, but fruitfull in their curses (fn. 174).
Of late years the rental of these lands has risen rapidly. In 1786, 35l. per annum; in 1815, 75l. per. ann. (fn. 175) The whole is in grass, and ought to continue so. The lands might be still much improved by more effectual drains.
Trustees appointed in 1804:—Sir Henry Vane Tempest (fn. 176), Bart, George Baker, Esq. William Thomas Salvin, Esq. Rev. George Barrington, rector of Sedgefield (now Viscount Barrington), Robert Surtees, Esq. Thomas Swinburne, Esq. Richard Wright, Esq. and the Rev. Robert Waugh (fn. 176), Vicar of Bishop Middleham (fn. 177).
1633 Brian Harrison, of Sedgefield, left 100l. the interest to be given to the poor of the town of Sedgefield every Sunday: a house near Eastwell, and a cottage near Ryal, were bought with 80l. of this money. 20l. remains in the parish-stock.
29 July 1662, Jane Mason, of Sedgefield, left a rent-charge of 20s. issuing out of a close called Shotton Newkes, purchased of Nicholas Frevile, Esq. to be given yearly to the poor of the parish.
1680 Henry Airey, Gent. left 10l. the interest to be given to the poor of Sedgefield township on the 17th of February, and 7l. 10s. the interest to be given to the poor of Fishburn on the same day.
4 June 1684, Robert Johnson, of Sedgefield, yeoman, gave 20l. the interest to be distributed to the poor of Sedgefield on St. Thomas's Day.
23 Jan. 1685, John Gibson, of Sedgefield, mason, gave 3l. to the poore of Sedgefield, the interest to be distributed yearly, on the day of his burial.
1686 Thomas Barker, of Sedgefield, yeoman, gave 10l. the interest to be given to the poor of the parish on Candlemas Day.
13 Dec. 1696, William Mason, of Fishburn, Gent. charged his scat-house and lands in Fishburn with a rent of 24s. to be annually given to the poor of Fishburn on St. Thomas's Day, and sixpence a-piece at Christmas, Easter, and Pentecost, to every poor widow legally settled there. "This devise to be utterly void, if the said poor's pore'on of any other doles of charity be thereby lessened." Proved 1697, by John Mason, the testator's nephew.
1728 William Lamb gave 5l. the interest to be given to the poor of Embleton.
1732 Mr. John Ball gave five guineas towards buying a patten for the bread at the sacrament.
23 Oct. 1733, Mrs. Alice Vane gave 5l. the interest to be distributed to the poor of Sedgefield township: proved 1734.
1744 Mrs. Rebecca Wren gave 30l. the interest to be distributed to all the poor within the parish, receiving weekly cess on Good Friday.
1744 John Woodifield, Gent. gave 20l. the interest to be distributed annually to the poor of the township of Fishburn.
In 1790 Richard Wright, of Sedgefield, Esq. left the interest of 400l. 3 per cent. Bank Annuities, to clothe and educate six poor boys.
The rent of one half of Howlehope, and the interest of 76l. Poor-stock (of which the origin is unknown) are distributed to the poor of the whole parish on St. Thomas's Day.
The Almshouses were founded by Thomas Cooper, surgeon, in Sedgefield (fn. 178). By will, dated 6 March 1702, he devised
To George Cuthbertson, of Newcastle-upon-Tyne, merchant, and John Mowbray, of the city of Durham, Gent. their heirs and assigns for ever, all his messuages, lands, tenements, and hereditaments whatsoever, with their appurtenances, situate, lying, and being within the parish or chapelry of Hamsterley, in the county of Durham; and also all his messuages, lands, tenements, and hereditaments, with their appurtenances, situate at Haynden, in the parish of Cockfield, in the said county, to hold to them, their heirs, and assigns, for ever, upon trust and confidence, that they, and the survivor of them, and the heirs of such survivor, should receive the rents and profits of the said lands and tenements, and thereout pay yearly for ever, unto five poor men and five poor women, (each of them being of the age of fifty years at the least, and living within the township of Sedgefield aforesaid) the sum of four pounds, half yearly, by equal portions, the said poor men and women to be nominated (after the death of the testator's wife) by the rector and the four-and-twenty of the parish, or the major part of them, whereof the rector to be one; and also yearly provide for each of the said poor men and women, a coat of the value of eight shillings, against Christmas: and as to the overplus of the rents (if any such there be), beside all taxes, repairs, and all other necessary charges, he gave the same to his said wife, her heirs and assigns, for ever.
The site of the Almhouses is to the North of the church, a range of low brick buildings; the founder's arms are in the centre.
By Indenture, enrolled in Chancery at Durham, William Wrightson, Esq. (also an eminent surgeon in Sedgefield), gave a rent-charge of 5l. issuing out of a cottage (now the property of Viscount Barrington), to be distributed annually amongst the inmates of Cooper's Almshouses, viz. 10s. to each person.
There is a Free Grammar School, near the church-yard. The endowment consists of a field of five acres, at Beacon-hill, and an out-rent of 2l. 12s. out of Howle hope. Six poor children are taught gratis. The election of the Master is in the Rector and Vestry (fn. 179).
1782, Oct. 19. John Lowther, Esq. of Church-street, in the parish of St. Oswald, near the city of Durham, by his will of this date, after bequeathing several legacies, amongst which are fifty pounds to the poor of St. Oswald's parish, Durham, and fifty pounds to the poor of Sedgefield parish, takes notice, that he is possessed of two thousand pounds Three per cent. Bank annuities, 1400l. of which he disposes of; and then says, "And as to the remaining six hundred pounds Three per cent. Bank annuities, upon trust, to transfer and settle the same so as to become vested in Anne Lowther, Ralph Ord, and Nicholas Chilton (the executors), and Mr. William Wrightson, of Sedgefield, surgeon, and the rector of Sedgefield for the time being, upon the trusts, and to and for the intents and purposes hereinafter mentioned; (that is to say) upon trust, to pay and apply the interest, produce, and dividends of the said six hundred pounds, from time to time, as the same shall hereafter be received and receivable, for and towards the education and cloathing of such poor female children as I have now placed at school at Sedgefield aforesaid, or which I shall, during my natural life, place at school there, and such other poor female children as the said Ann Lowther, Ralph Ord, Nicholas Chilton, William Wrightson, and the rector of Sedgefield aforesaid, for the time being, or their successors, to be nominated as hereinafter mentioned, or any three of them, or their successors, shall think proper objects to place at the said school; and for the better carrying this part of my will into execution, and for perpetuating and to fulfil my charitable intentions, I do direct, that when and so soon as my said trustees, Ann Lowther, Ralph Ord, Nicholas Chilton, or William Wrightson, shall, by death or otherwise, be reduced to three, then such three, or the survivors or survivor of them, and the rector of Sedgefield for the time being, shall thereupon forthwith elect, nominate, and make choice of so many and other fit and proper person or persons to be trustees or trustee, as, together with the remaining trustees or trustee, for the purposes aforesaid, shall then compleat and make up the number of trustees, with the said rector, five; and that thereupon, and so soon as conveniently may be after such choice as aforesaid, the then remaining trustees, or the survivors or survivor of them, shall well and sufficiently transfer the said six hundred pounds Three per cent. Bank annuities, so and in such manner as that the same may become legally vested in the said remaining trustees or trustee, and such new trustees or trustee to be nominated and elected as aforesaid, their executors, administrators, and assigns, respectively, upon the trusts, and to and for the intents and purposes aforesaid; and so from time to time, and as often as the said trustees for the time being, of the said six hundred pounds Three per cent. Bank annuities, shall, by death or otherwise, be reduced to the number of three; to the end that the same premises may not at any time hereafter come to or vest in the executors or administrators of any single surviving trustee (fn. 180).
Mr. Thomas Foster (fn. 181), who died in 1816, by his last will, dated 15 Nov. 1814, and proved 8 May 1816 (fn. 182), ordered his executors (John Shepherd, of Godliman-street, Doctors' Commons, Esq. James Wadmore, the younger, of the parish of St. Mary-le-bone, Gent. and Thomas Haudley, of Winchester-place, Pentonville, co. Middlesex, Esq.) to invest 2,600l. in the purchase of Government Securities; the interest of the stock purchased with 2000l. thereof to be expended in providing clothes for the inmates of Cooper's Alms-houses in Sedgefield (viz. five old men and five old women) once in the year, about Christmas; and the interest of the stock purchased with 600l. to be expended in bread of good quality, to be distributed, every Sunday morning after divine service, to poor persons residing within the parish and township of Sedgefield, not receiving parish relief, at the discretion of the Rector and Churchwardens. Each inmate of Cooper's Almshouse received 10l. 6s. 1½d. in 1817.