Pages 1-4
Register and Records of Holm Cultram. Originally published by T Wilson & Son, Kendal, 1929.
This free content was digitised by double rekeying. All rights reserved.
The Register Of Holm Cultram.
(C. p. 1). Cartularium monasterij de Holm Cultram in com. Cumbr.' vid. Thoresby's Hist. of Leedes, p. 91.
By the gift of Joseph Nicolson of Hawkesdale, Esquire, 1777.
(C. flyleaf).—From a note wch I met with (Aug. 15, 1707) amongst Sr D. Fleming's papers, I suppose yt Mr. Tho. Denton (who gave it me) had this book from Mr. Blenerhasset. W. Carliol [i.e. Bishop Nicolson].
N.B. Hugo Epūs Carl' A° D. 1230 et 1237 p. 16 & 17 et Walterus ibid. Epūs. A° D. 1234 p. 18. Qu. 1230, 7° Kal. Octobr. Both Dates false [:] one x too much in xxx. [See charters 18 and 19.]
N.B. This is not the same Regr book wch was in Lord William Howard's Custody; as will easily appear frō Monast. Angl. T. i, p. 885. W. Carliol.
Gylgaran. Geryn Keld heid under Standyngston. Frenchou otherwise callyed Frostyknotte lying beneath Roukkrofte vnto the greatt waye. [Note in 15th century hand, referring to charters 89 and 92.]
Burgh-By-Sands.
1. (C. p. 3; H. 1; D. art. 57).—Lady Johanna de Morevill in her widowhood grants to the abbey of Holmcoltran common of pasture as claimed for the abbot's free tenement in Burgh; and to the church of St. Michael at Burgh two tofts in Burgh formerly held by Richard Basket and Henry Coc, near the houses of the abbey on the west. The abbey in return permits Johanna and her heirs to sow and reap in the marsh within the dyke of Burgh, reserving common pasture after harvest and hay are carried. Witnesses—[from H. 1], W[alter Mauclerk], bishop of Carlisle, etc. (fn. 1) [Johanna, co-heiress with her sister Ada of Hugh de Morevill, married Richard Gernon who was alive in 1236 (F.F.). She died in 1246–7. Walter was bishop 1223–46. The date is therefore between 1236 and 1246.]
2. (C. p. 5; H. 1; D. art. 58).—Thomas de Multon agrees to grant Holmcoltran common pasture after hay and harvest [as above], and grants to St. Michael's church two acres arable in Burgh marsh next the land of Lady Johanna de Morevill in the same marsh on the east; also a fishery in the Eden belonging to the free tenement in Burgh, two nets to each carucate. The abbot in return allows Sir Thomas and his heirs to sow and reap the marsh belonging to Sir Thomas within the dyke of Burgh, reserving common pasture after hay and harvest. Witnesses— [from H. 1], W[alter], bishop of Carlisle, etc. [This Thomas de Multon, who married Johanna's sister Ada, died 1240 (Wetherhal, 192n.); the charter dates 1240 or earlier.]
3. (C. p. 6).—King Edward [I], notwithstanding the Statute of Mortmain [passed in 1279], desiring to confer a favour on his trusty and wellbeloved Thomas de Multon of Gillesland [i.e. Thomas 'secundus' of the pedigree opposite], allows him to grant and the abbey to receive one acre in Burgh-on-the-Sands, to enlarge their court (curia), reserving services due to the lords of the fee. Letters patent witnessed by himself May 1st in his 13th year [1285].
3a. (H. 2).—King Edward [I], notwithstanding the Statute of Mortmain, grants to Holmcoltran liberty to acquire 10 librates [i.e. areas worth £1 a year] of land and tenements [place not stated]. Witnessed by himself at Neuburgh, Nov. 2nd in his 10th year [1282].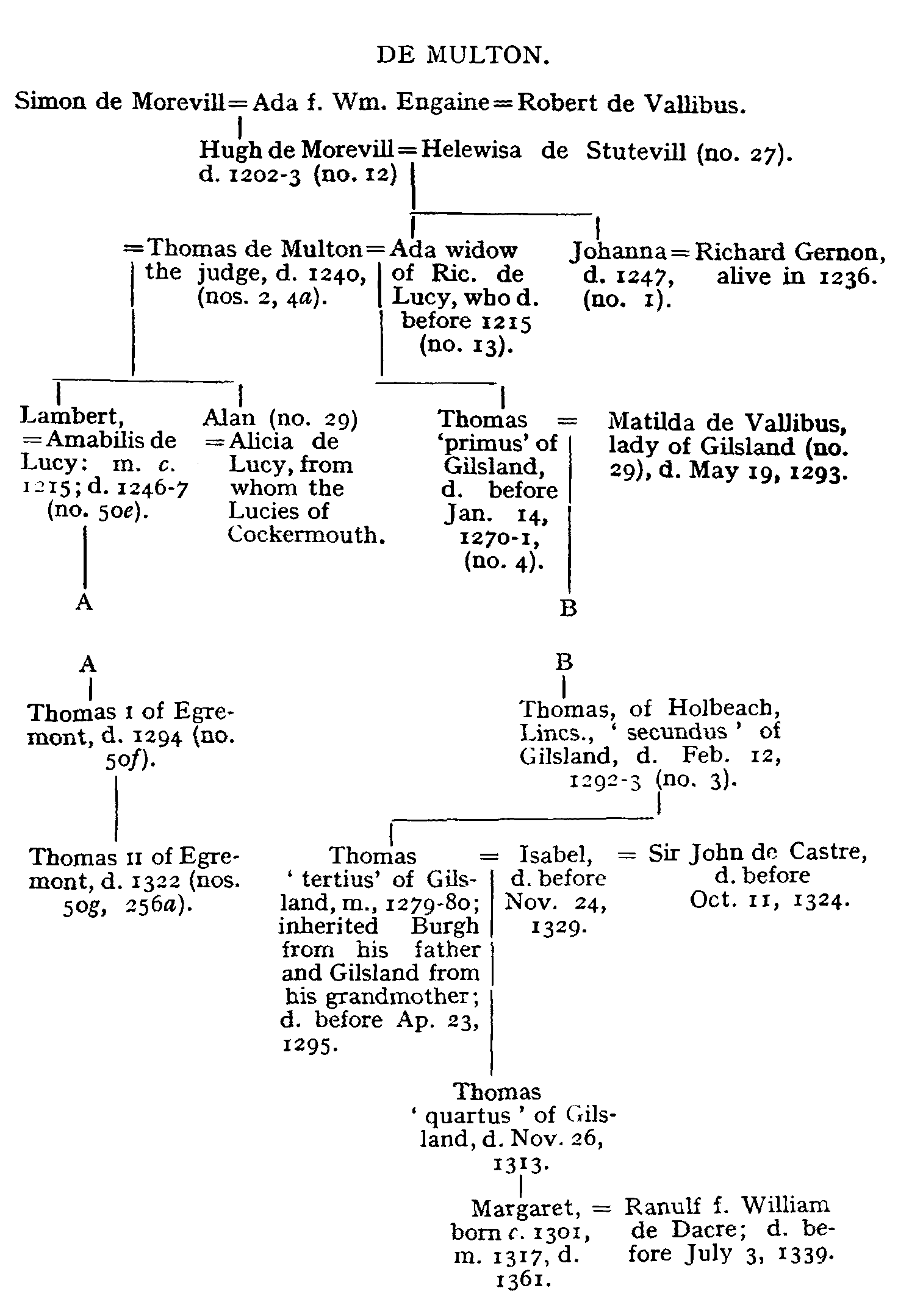 4. (C. p. 7; D. art. 59).—Thomas de Multon ['primus' of Gilsland] grants to Holmcoltran the toft and croft held by John Haynes [the initial doubtful] f. Richard in Burgh adjoining on the east the monks' manor, and land formerly held by Robert the miller. Witnesses—Sir Robert de Feritate, Sir Robert de Mulcaster, Sir John de Terryby, Sir Thomas de Neuton, knights; Robert de Crokelyne, Adam de Thoresby, etc. [The witnesses suggest the date 1260–70.]
4a. (H. 2).—Thomas de Multon [the judge] grants to Holm abbey as rectors of Burgh church, 10 acres arable, one rood and 2½ falls [a fall is 160th of an acre] in Brunerigg and Trendilbut, half an acre in the marsh formerly held by David Ged, half an acre on the south of Suthou formerly held by Robert f. Astin and half an acre and 2½ falls in the middle of Merscland formerly held by Ranulph Waleis—these in exchange for 10 acres and one rood formerly of Burgh church; i.e. 4½ acres, 1 rood and 4½ falls in Prestholm, 2 acres and 36½ falls in Witeholm, ½ acre in Bursted, 5 roods and 2½ falls in Clailand, ½ rood on the east of Grenegate, 3½ roods in Engelandis, ½ rood in Little Brunerigg and ½ acre and 7½ falls near the west of Godefraicroft. Also a saltwork which Dermann de Bursted held of the abbey for which Thomas exchanges his saltwork near Drumbogh. He and his heirs by Ada his wife warrant the exchange. [Before the death of Thomas in 1240.]
5. (C. pp. 7, 8; H. 1).—Pope Alexander [IV, 1254–56] confirms to the abbot and convent of Holmcoltran, Cistercians, in the diocese of Carlisle, the freedom from taxation of the vicarage of Burgh which, as he understands from their petition, was granted by the late B[ernard], bishop of Carlisle [1204–14; see nos. 20, 23]. At the Lateran, xi Kal. Ap. in his second year [Feb. 21st, 1255].
5a. (H. 2).—Pope Alexander confirms the abbey's possession of the church of Burgh as granted by the late W[alter], bishop of Carlisle, appropriated to them and at first not taxed, but now taxed with their consent. [c. 1255.]