Pages 18-21
Register and Records of Holm Cultram. Originally published by T Wilson & Son, Kendal, 1929.
This free content was digitised by double rekeying. All rights reserved.
Flimby.
49. (C. pp. 33–35; D. art. 65).—Cospatric f. Orm, with consent of Thomas, his son and heir, and Alan, his son, grants to Holm abbey Flemingby [Flimby] by its right bounds, except the land of Waytecroft which he has given to the canons of Carlisle. The bounds are:—from the confines of Alneburg [Ellenborough] as a thorn-tree marks the division, across to Elisic; thence up to the true division between Fleminby and Ouenrig [Ewanrigg] and thence by the true division across between Waytecroft and Folchegile; thence up to the head of Folkegile and by the road across to Waytecroft as far as Scalegile and across to Suanesate; thence across as far as Akegile and down the stream between the two groves (saltus) of Natuait by the middle of the wood to Kernepot. He grants also common pasture in Seton and Camerton except on ploughed land and meadows and in the wood, and from Kernepot to Fulwic [or Folchwyke] between the wood and the sea except where it has been usually ploughed. He will share common pasture in Flemingby; cattle strayed from either side are to be returned gratis. He warrants the grant and will do forinsec and secular services, namely Noutegeld [cornage] and Endemot [suit of county court], and services to the lord of Alredal, namely Seawake [watching the coast] and Castelwerke [maintenance of fortified posts], pleas and aids, etc. And if he cannot perform this promise he will give something of equal value, in Cumberland if possible. [To this H. 2 adds:—] Cospatric has exchanged land in Seton, equal in value to the church of Camberton, for the land in Flemingby near Camberton church, and grants the whole to the monks; at Carlisle before Robert de Vallibus, justice, in the county court. [Robert de Vallibus was justice itinerant in 1174.]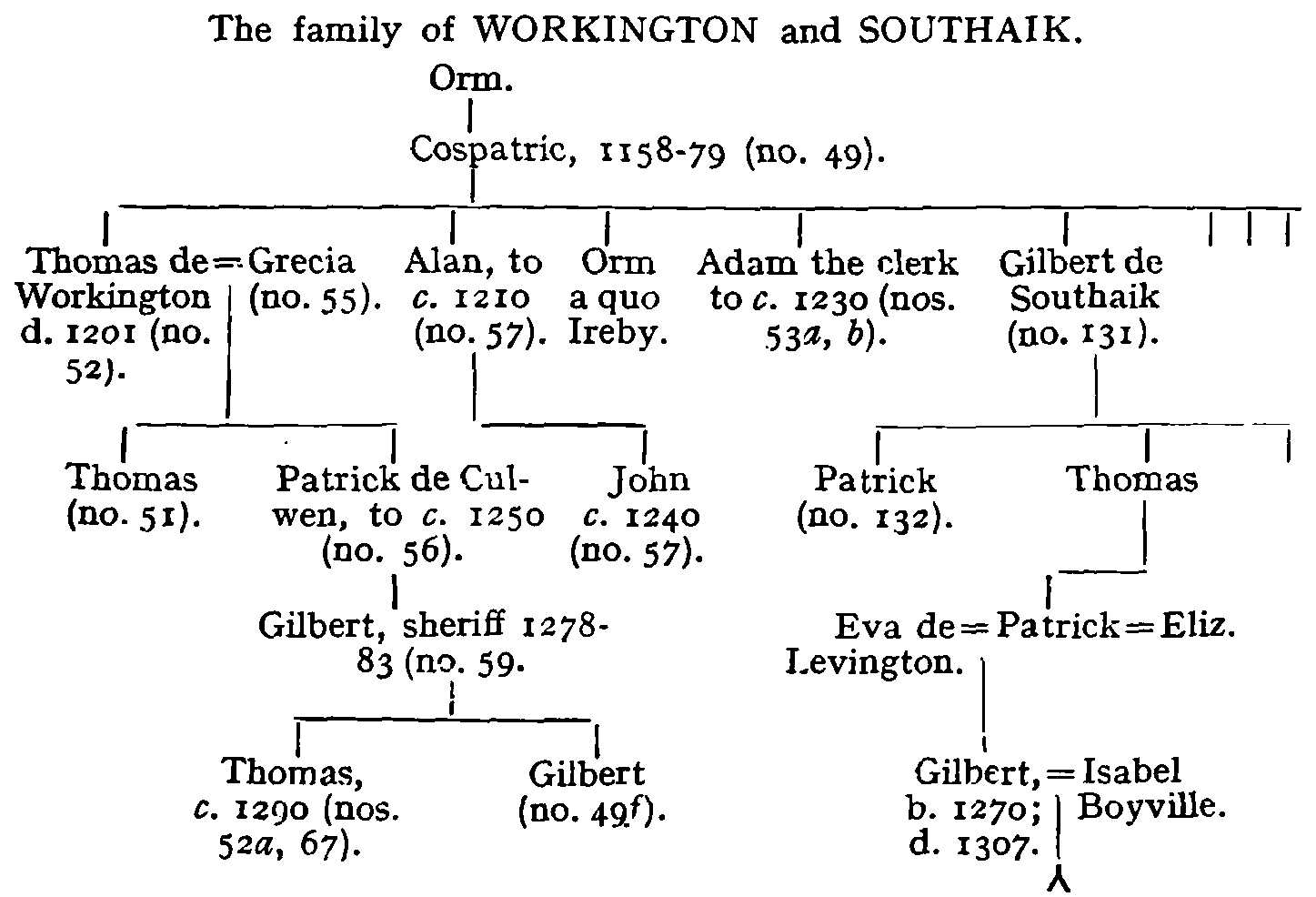 49a. (D. art. 12).—Thomas f. Cospatric f. Orm, with his brother Alan's consent, confirms all Flemingby by these bounds:— from the sea near Alneburgh to the stone placed by the monks on the shore, by the Rane [i.e. rein or balk of unploughed turf] across to Helesik and up that sike to the head of Middelholm westward; thence by the main sike to Brandesdic and up that dyke to Wyterigg; by the lower head of Wyterigg to Folkegile; up the gill to the northern head of the monks' dyke; up this dyke to the higher head of Scalegile; up by the furrow he had caused to be drawn to the upper head of Thweregile and the upper head of Aykegile; down the beck between the two groves of Nathwait, by the middle of the wood to Kirnepot and the sea. Also common pasture in Seton and Camerton and in Kirnepot as far as Fulewik between the wood and the sea. Thomas is to have common pasture in Flemiby except in arable, meadow and woodland. Witnesses—R. de Vallibus, etc. [Date between 1179, when Thomas succeeded his father, and the confirmation by pope Lucius (no. 50a.) in 1185.]
49b. (H. 2).—Thomas f. Cospatric grants to Holm abbey his land of Whatecroft by these bounds:—Heldwode on the north, Broghton more on the east, Fowgill on the south and Whytrygge on the west, as more fully stated in a charter to the prior of Carlisle [to whom Waitcroft had been granted (see no. 49). It was withdrawn from Carlisle priory in exchange for Kelton at a date (shown by nos. 49e and 50a) between 1185 and 1189.]
49c. (H. 1 and 2).—Thomas f. Cospatric confirms to Holm abbey the land of Waytecroft in exchange for the vill of Kelton which Cospatric granted them, and common pasture in Seton and Camberton [after no. 49b].
49d. (H. 1 and 2; D. art. 13).—Cecilia, countess of Albemarle, confirms to Holm abbey a moiety of the vill of Chelton, granted by Cospatric f. Orm; she grants also all service due to her and her heirs, for the souls of herself and family, and of Berta, wife of Radulph f. Radulph de Glanvill and all her ancestors. [Cecilia, elder daughter of Alice de Rumeli and William f. Duncan, was lady of Coupland and wife of William le Gros, earl of Albemarle. The Durham Liber Vitae (fol. 22) contains the names of 'Rannulfus de Glanuile et uxor eius Berta.' This charter must date c. 1174–5.]
49e. (H. 1 and 2; D. art. 44).—King Richard (I) confirms to Holm abbey the grant of Flemingby by Cospatric f. Orm as in his charter and that of Thomas, and the exchange made by Thomas f. Cospatric of Waitecroft for the vill of Kelton; also all the land they have in Kirkebithore. The monks are to be free of demands for shires, hundreds and wapentac, thol, tale, theam, infangenethef, wastes and essarts. If they trespass in the forest in excess of their liberties, reasonable amends are to be made. They are to be free of reguard of forest, escape, amercements, payment for murder [i.e. the payment by the hundred when a murderer was not apprehended], pleas, plaints, cornage, geld, danegeld [still kept up as contributing to the defence of the realm], assizes, sewake, castelwerk, carriage and summage [tolls for transport by carts or packhorses], stallage [tolls at fairs] and all toll, pontage and passage [bridge and road tolls], tallage, scutage, aids to sheriffs and serjeants, and all secular exactions, customs and services, and all servile work for the Crown. Witnesses— H[ubert], archbishop of Canterbury, etc. This was the tenour of a charter under the Great Seal in the king's first year [1189–90] which was lost for a while during the king's captivity in Germany and was re-granted November 11th in his 10th year [1198] at Château Gaillard (apud Rupem).
49f. (H. 1; D. art. 74).—Gilbert f. Gilbert de Culwenne confirms the charters of Cospatric f. Orm, Thomas f. Cospatric, Patrick f. Thomas, Gilbert his father and Thomas his brother [c. 1290].
50. (C. p. 35).—John, prior of Carlisle, and his convent grant to Thomas f. Cospatric the land of Waytecroft given to them by his father; they are to have 7s. a year as rent [1185–89.]
50a. (H. 1 and 2; D. art. 21).—Pope Lucius [111] confirms to Everard, abbot of Holmcoltran, king Henry's charter [no. 208] of the island of Holmcoltran as it was forested in the time of king Henry senior [I] and Radulph, earl of Chester; with the Old Grange and the granges of Ternis, Mayburgh, Schineburgh, Rabi, Arlosk and (outside the Holm) Flemingby and Kelton, given by Cospatric f. Orm and his son Thomas [nos. 49, 49a]); the forge at Wynnefelle, etc. given by earl William and countess Cecilia de Albemarle [nos. 50b, 50c); Kirkby thore, given by Waldeve f. Gamell [no. 157]; the grange of Kirkewinni and a saltwork in Locchindalo, easements in the wood of Preston [Kirkcudbright] and Lochindal and rights of way, given by Roland f. Huctred [no. 121]; and gifts in Ireland by earl Richard [no. 267a], Hugh de Lacy and others. The general rights and privileges of the abbey are stated at length. Dated vi Non. Maii, in his 4th year [May 2,1185].