Pages 42-43
Register and Records of Holm Cultram. Originally published by T Wilson & Son, Kendal, 1929.
This free content was digitised by double rekeying. All rights reserved.
Wigton.
108. (C. p. 76).—Agreement between the abbot of Holm, querent, and Walter de Wiggeton, impedient, concerning rights of way in his barony of Wyggeton. Walter agrees that the abbey retain all previous rights of way for driving beasts of burden and carrying loads by waggons, cars and carts (plaustris carris et carettis) and by packhorses (summagiis) with leave to unyoke oxen from the waggons and horses from the carts to refresh and rest them when needed on long journeys; but they are not to stay in one place for more than a day and a night. If their waggons, carts or packs happen to be broken, they can stop until the carts, etc. are mended, or others fetched from the abbey, etc. Witnesses —Sir John de Deyvill, justice of the forest, Thomas de Multon, William de Furnivall, William de Dacre, William de Vallibus, etc. [Walter f. Odard III de Wigton, who died in 1238, came of age in 1258; he quitclaimed land in Wigton to the abbey in 1265 (no. 115a) and died in 1286. William de Furnivall married Ada, widow of Ranulph Boivill of Levington, and predeceased her; she died in 1270–1. William de Vallibus II was dead in 1253 (Wetherhal, 131n), but the witness here must be a younger namesake, identified by Mr. T. H. B. Graham with a nephew of William II and lord of Catterlen after the death of his father John. Date before 1270.]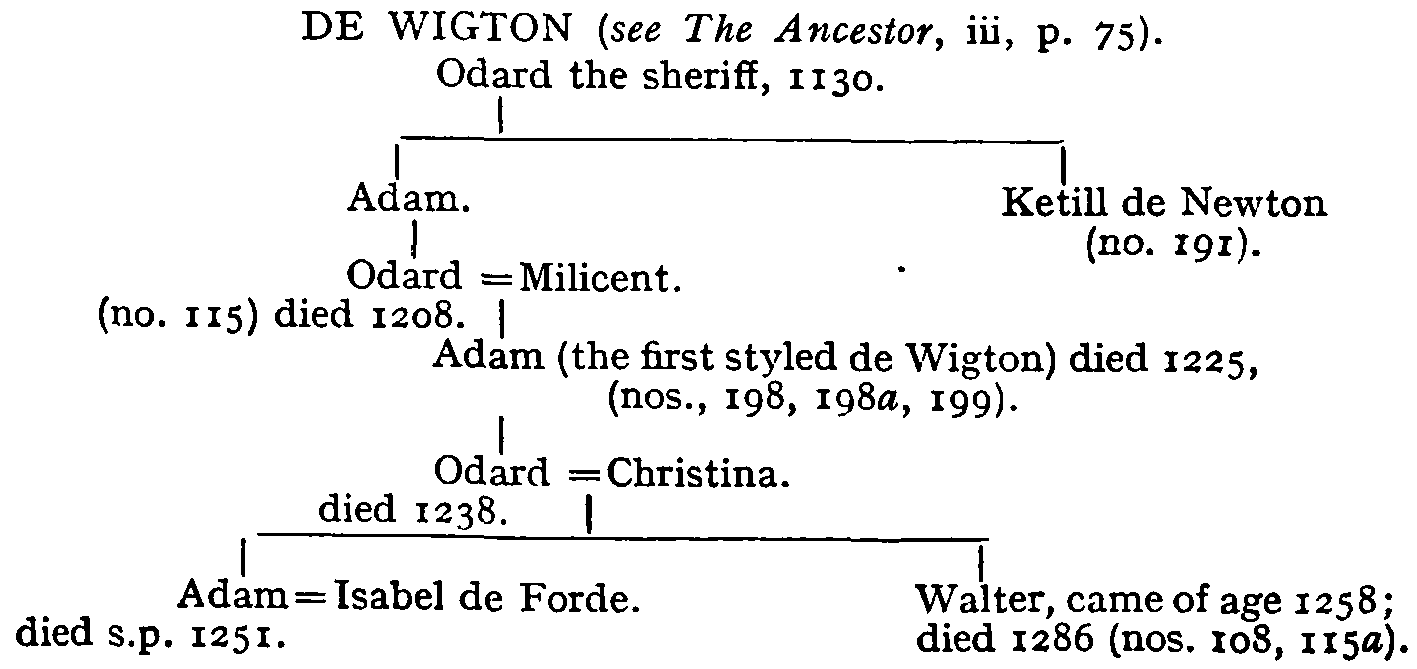 108a. (H. 1 and 2).—Agreement between Sir H[enry], abbot of Holm, and Sir Walter f. Odard de Wygeton, who had been at law in the king's court concerning beasts of burden detained by Sir Walter. He and his heirs are to hold all purprestures made then and thereafter in the common pasture, so long as they do not impede right of way to the abbey's horses and pigs. The abbey is to retain all rights granted in Walter's two charters and a third which they have from Odard [no. 115]; any other document is null and void. Walter and his heirs will enclose their purprestures with a dyke or a hedge, so that the abbey's horses and pigs may not trespass into them; and if they do, they are to be driven out without penalty, impounding or arrest. Walter agrees that the abbey's horses and pigs may have free pasture in these purprestures and in all his other lands in Wygeton from Martinmas to Easter, and before Martinmas every year after hay and crops have been carried; and that small quantities of hay and crops shall not be left for the sake of excluding the beasts maliciously. Walter may enclose his wood of Aykehevid [a mile N.W. of Wigton] called Aykehevid scawe, so that the abbey shall not send beasts to pasture there as they would if it were not enclosed. On St. Ambrose day [April 4th], 1270.