Pages 221-226
The History and Antiquities of the County of Suffolk: Volume 1. Originally published by WS Crowell, Ipswich, 1846.
This free content was digitised by double rekeying. All rights reserved.
St. Margaret South Elmham.
This parish formed the nucleus of the ancient demesne of South Elmham. The bishops had a residence here from the time of Herbert de Lozinga, who obtained the see of Norwich in 1094, to their final disseisin of the estate in the reign of Henry VIII. In the early mansion, which has been conjectured (fn. 14) —I think without reason—to have occupied the site of the residence of the Danish leaders, Herbert and his successors dwelt, occasionally, in feudal magnificence. Walter de Suffield, a prelate of the thirteenth century, who united the character of a strict devotee with a free indulgence in martial and sylvan sports, kept great state at South Elmham; and we may infer that his pack of hounds—considered worthy the acceptance of his monarch—made the merry woods of St. Margaret re-echo with their notes. He died in 1257, and bequeathed to Gotle of South Elmham, who was probably his steward, a legacy of 3 marks. Walter de Skerning, his successor, died at "his manor-house" of South Elmham on the 22nd of January, 1278, but was interred in the Lady chapel of his cathedral at Norwich.
Bishop Bateman, who was advanced to the see in 1343, was much attached to this residence. His partiality to the place arose, in all probability, from its locality to Flixton, where his brother Sir Bartholomew resided. He purchased considerable estates in the neighbourhood. These prelates occupied, without doubt, the mansion erected by Herbert; for the buildings of those days were constructed for duration; though the house appears to have been shortly after demolished: for in the eleventh of Richard II., 1387, Henry de Spencer, "the warlike Bishop of Norwich," obtained a license from his monarch to kernellate, or embattle, his manor-house of South Elmham. His magnificent and martial habits lead us to conclude that this was done on an extensive scale, and in a style which combined much of the castellated with the domestic architecture of the day.
From the lapse of time, and the vicissitudes which the place has experienced, we seek in vain for any considerable remains of Spencer's mansion, once calculated, no doubt, to accommodate the numerous retinue of feudal state and rude magnificence. The present house, which occupies a part of the site, and retains the name of its statelier predecessor, is, in all probability, a portion of Bishop Spencer's "kernellated manorhouse," though externally modernized and modified to existing circumstances; the durable materials and strong construction of its massy walls referring it to an early period. Its site, which is high and commanding, is encompassed by a broad and deep moat, enclosing about three acres. Within this area arose a vast quadrangular mansion, entered through a lofty gateway-tower, the remains of which were almost entire in the latter part of the seventeenth century. This gate-house was approached by a long and wide avenue of oaks, most of which are still flourishing and majestic, although planted by Bishop Nix in the year 1520. The lofty hall and gigantic kitchen have left no traces to identify their position, and that of the various minor apartments defies speculation. A small room on the west side of the quadrangle, and immediately opposite to the great gate-house, is pointed out to visitors as the chapel of this extensive pile; but no appropriation can be more misplaced. Without noticing its inadequacy to accommodate one quarter of the numerous retainers of the prelates, the proofs of its having been a private and low apartment are evident; and its position, close upon the postern gate and drawbridge, the piles of which were discovered a very few years since, when the moat was cleansed, refer it, with more probability, to a porter's lodge. The room is open to the elements, in its present ruined state, but terminates towards the north in a lofty and acute gable, in which, at regular heights, are holes left for the reception of floor-beams. A wide well of rubble-stone and mortar has lately been laid open, and the pavement of several apartments discovered at the same time, which seemed to have been appropriated to inferior purposes. The tenacity of ancient masonry is strongly exhibited at this place, where several portions of old foundation walls are lying in the garden, some of which measure three or four yards in length, and have been dragged by horses from a distant quarter of the area, and deposited entire in the spot where they lie. When the moat was cleansed a few years since, by the present occupant, between three and four thousand cart-loads of mud were scooped from its bed; but the only discoveries made were a few earthen jars of a comparatively modern date.
South Elmham Hall, in its prouder days, was much visited by pilgrims, on their way to the chapel of Our Lady of Walsingham, and the flat thin coin known as pilgrims' tokens, stamped with a rose and a cross, are not unfrequently found among the ruins The farm, which surrounds the remains of South Elmham Hall, is still known in the neighbourhood as the Park Farm.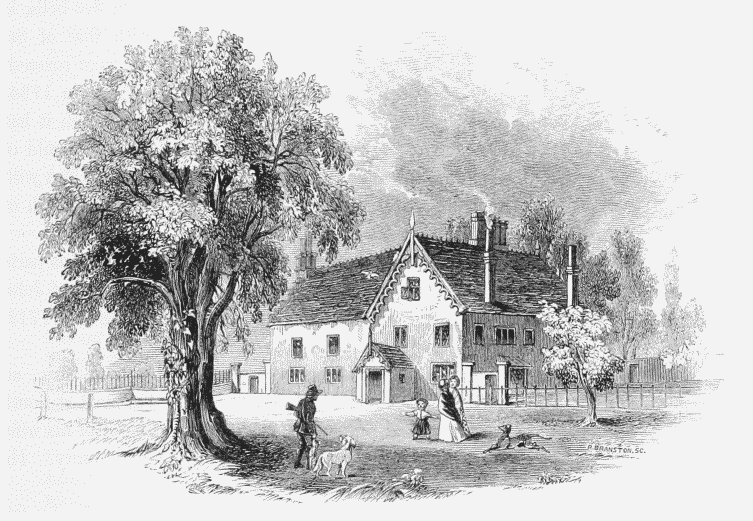 The family of the late Mr. Norman, of South Elmham Hall, has been settled for several centuries in the township. About the time of the old Pretender, that gentleman's grandfather was deputed by some member of the family, then owners of Flixton Hall, to convey a casket of jewels to a lady residing in a certain convent in France. Having safely delivered his charge to the fair hands of the devotee, through the convent grate, he returned to Dover, where the authorities had been for some time previous on the look-out for the Pretender. Mr. Norman, being habited in the old English costume, with a laced cocked-hat, and having somewhat of a military carriage, was immediately seized as that prince, and lodged in Dover Castle, where he was immured, and guarded with the utmost circumspection, till letters arrived from Suffolk to certify his indentity.
Gregory Clarke, of Bungay, Gentleman, by his will dated May 11th, 1723, devises to his son, Gregory Clarke, all his houses, lands, &c., in the parishes of St. Margaret, St. Peter, and Flixton, and South Elmham. He leaves to the poor of Bungay £5, to the poor of Mettingham 20s., and to the poor of Earsham 20s., to be distributed in the church-yards.
The Church
at St. Margaret's, which is a moderately sized building, comprising a nave and chancel only, with a square tower, open to the body of the church, and containing five bells, is in sound and reputable condition. The rectory was consolidated with that of St. Nicholas on the 26th of July, 1362, (fn. 15) but it does not appear when they were severed. It was subsequently consolidated with the adjoining benefice of St. Peter in 1734, and so remains. (fn. 16) The church was built about the reign of King John, though it has been remodified at various periods. It contained, before the Reformation, a Guild of St. Margaret, and an image of St. Thomas. William Thederick, Rector, by his last will, proved on the 11th of January, 1504, leaves his body to be buried in the church of St. Margaret South Elmham, before the image of Saint Thomas. (fn. 17)
Against the north wall of the chancel is a small inarched recess, and in various parts of the interior are the following monumental records: Elizabeth Britten, wife of John Carter, died Dec. 3rd, 1748, aged 23. John Buxton, Esq., died 21st of January, 1712, aged 78; his wife died the 11th of May, 1710, aged 58.
This John Buxton was the second son of John Buxton, of Tibbenham, Esq., an ancestor of the present Sir John Buxton, Bart., of Shadwell Lodge. He lived at South Elmham, and was patron of the church of Shimpling, in Norfolk, in right of his wife, who was daughter and heiress of Mr. Proctor, of Burston, in the same county. He left issue three sons and one daughter.
Attached to this monument are the arms of Buxton, arg. a lion ramp. sable: his tail turned over his back, impaling Proctor, arg. a chevron gules. Guillim says "that although this manner of bearing, in respect of the tail, is rarely used, yet it is very ancient, as appears from an old table of the said arms, taken out of the monastery at Bungay, in Suffolk, having been hung up there before the dissolution of religious houses, for one styled Le Seneschal Buxton, which table then remained in possession of the said John Buxton. (fn. 18)
Katherine Randall died in the year 1681.
The parish of St. Margaret South Elmham contains 589 acres, 15 perches of land, of which 65 acres, 2 roods, 7 perches, are glebe. The tithes have been commuted for £136. 1s. There is about half an acre of glebe, attached to this benefice, lying in All Saints South Elmham. The registers commence in 1679.
Rectors of St. Margaret South Elmham.
Rectors.
Date.
Patrons.
William Skendelby
1309
The Bishop, pleno jure.
Joēs de Tadelow
1312
Id.
Thos. de Wederhale
1326
Id.
Richard de Ulflet
1329
Id.
Will: fil: Math: de Wytnesham
1338
Id.
Nicholas Lacy
1346
Id.
Samuel Gysoun
1346
Id.
Joēs de Brymchampton, alias Stairlak
1349
Id.
Nicholas de Cranwich
Andrew de Colney, resigned 1362
1358
Id.
William Skothowe
Joēs Ravene
1373
Id.
Robert Rendylesham
1412
Id.
William Douce
1420
Id.
John Cok
1425
The King.
John Smith de Warden
1426
Vicar-General.
John Robin
1433
The Bishop.
John Dalyson
1458
Id.
Richard Bartholomew
1467
Id.
William Thederick
1479
Id.
Robert Gurnell
1504
Id.
Robert Nooke
1545
Thos. Godsalve, assig. of Sir E. North, Knt.
Christopher Batten
1557
Edward, Lord North.
Thomas Broke
1563
The Bishop, by lapse.
John Morland
1572
Sir Roger North, Knt.
William Goddard
1599
Id.
Thomas Linseley
Elias Sheen
1631
George Gooch, Gent.
John Woolmer
1679
Robt. Woolmer, Gent.
John Woolmer
1684
Thomas Baxter, Gent.
Thomas Ibbott
1717
Wm. Clayton, Clk., and Jane Clayton, widow.
John Kerrich
1732
Daniel Sayer, Gent.
Peter Routh
1753
Grace Britten, widow.
Charles Jeffryes Cottrell
1802
Alexander Adair, Esq.
Benjamin Evans
1807
Id.
Edward Adolphus Holmes
1833
Id.
This parish has estates vested in certain feoffees, which were purchased by the proprietors or occupiers of lands therein, of Thomas Gawdye, of Redenhall, in the reign of Queen Elizabeth, for certain uses mentioned in the feoffments, which are for the discharge of the leet, here due to the lord, for the repairs of the highways, bridges, &c., within the said parish; and the surplus, if any, to be applied to charitable and pious uses at the discretion of the feoffees. There is, also, a town-farm, supposed to be given to this parish long since, vested, likewise, in trust; and by an exemplification of a decretal order, under a commission of charitable uses in the reign of King James I., dated 1607, Robert Haghe and Thomas Carye are mentioned as donors. The uses of the rent and profits are to aid the inhabitants of the said parish in discharging and paying the fifteenths, tenths, and taxes, and other common local burthens and charges, happening to be charged upon the parishioners of the said parish. All the above lands are now vested in the hands of feoffees, and the rents and profits duly applied. (fn. 19)