Pages 81-96
The History and Antiquities of the County of Suffolk: Volume 1. Originally published by WS Crowell, Ipswich, 1846.
This free content was digitised by double rekeying. All rights reserved.
Sotterley.
Sotterley is, undoubtedly, the southern lea or pasture land of Saxon times, so called in relation to some more important locality, probably Beccles, from which it is distant about four miles.
In Domesday Book it is written Soterlega, and was then the estate of Earl Hugh. Mundret held the parish as one manor under this powerful chieftain: it contained a church with seven acres of glebe, and appears to have been a flourishing village, rich in sheep, swine, and poultry. It was one leuca in length, and nine furlongs in breadth. In the reign of Henry III., Philip Bocland, already mentioned under Shaddingfield, obtained a license of free-warren in Sotterley, with liberty to hold a market and a fair. (fn. 1) It very soon after became possessed by a family that assumed their surname from it, for in the year 1309 Roger de Soterle held this manor, with those of Stoke, Argh, and Wirrall, in the county of Chester, of the King, by the service of finding a horse furnished for the army for forty days, when employed against the Welsh. (fn. 2) Edmund de Soterle, his son, had free-warren in this parish, and held one knight's fee. In the list of towns and their lords made by order of King Edward II., in the ninth year of his reign, the Sheriff of Suffolk returns that Edmund de Soterle was lord of Soterle. (fn. 3) He paid the King 100s. for relief of his lands here, and in Cheshire, (fn. 4) and was Knight of the Shire for Suffolk in the fourth and sixth years of King Edward III. His arms were gules, a fess between 3 round buckles argent, the tongues pale-wise. In the seventeenth of the same King's reign, Roger de Soterle, his son, granted the manor of Uggeshall to the lady Joan, his mother, for life; provided she claimed no dower in the manors of Sotterley, in Suffolk, and Stody, in Norfolk. (fn. 5) In 1380 it was returned that Edmund de Soterle held, at the day of his death, conjointly with Margaret his wife, the manor of Sotterley, with the advowson of the church; and that Roger was his son and heir. (fn. 6) Margaret Soterle enjoyed this property after the decease of her husband, whom she survived about four years; for in 1384 it was returned that Margaret, widow of Edmund de Soterle, held at the day of her death this manor and advowson, of the King, as of his county of Chester, by the service of one knight's fee. (fn. 7)
Roger de Soterle, her son, held these estates by the same tenure, and purchased of Sir Ralph Bigod 11s. 6d. per annum rent, with the rent of 1500 herrings in Gisleham and Sotterley. (fn. 8)
In 1434 it was entered in the court books that "Johēs Soterle aravit quandam divisionem inter terr: et ad prejudicium D'ni." In 1459 one branch of this family became extinct in the male line; for in that year John Fisk, of Badingham, and Katharine his wife, daughter and heiress of John Soterle, son and heir of Edward Soterle, held in Sotterley one messuage and thirty acres of land. (fn. 9)
This was evidently a junior branch of this ancient stock, not only from the circumstance that John Soterle had trespassed upon the lord's lands, but also from the fact that the manor and advowson remained with the Soterleys till about 1470, when, the representative being an adherent of the Red Rose, they were confiscated by the Duke of York, afterwards Edward IV., and bestowed on Thomas Playfair, or Playters, a partisan of his cause. The estate, however, could not have been bestowed on this gentleman for his valour at the battle of Barnet, as has been supposed, (fn. 10) because that decisive engagement was not fought till the 14th of April, 1471; and we find the armorial bearings of Playters still sparkling with their lustrous azure bendlets in a south window of the nave in Sotterley church, beneath which shield is placed the date of mcccclxx.; whence it would appear that Thomas Playters then possessed the manor of the Soterleys, which is confirmed by the fact that he presented to the church in 1469. It is more likely that Edward IV., whose reign commenced on the 4th of March, in the year 1460, bestowed on Playters the patrimony of the adverse party soon after his accession, for services rendered in preceding struggles.
From this period we hear no more of the family of Soterle. Driven out from the house of their fathers by domestic conflicts, when every man's hand was raised against his brother, they fell into poverty, and its consequent obscurity, and probably soon after became extinct. In 1477, Thomas Sotterle, Esq., was interred in the conventual church of the Austin Friars, at Norwich. He was possibly the unfortunate exiled Lancastrian.
The descendants of Thomas Playters, the successful Yorkist, retained the manor and advowson of Sotterley till the year 1744, when John Playters, Esq., in the lifetime of his father, sold the paternal estate to Miles Barne, Esq., the son of a merchant in London, who pulled down the old hall, and built a beautiful seat on nearly the same site. The estate was then so covered with timber as to render it an objectionable purchase, so little was the value of forest trees at that time understood. A manuscript, formerly in the possession of Sir William John Playters, of Yelverton, in Norfolk, the last Baronet, relates that Mr. Barne felled sufficient timber to pay the purchase-money, and left Sotterley one of the best wooded estates in Suffolk.
Thomas Playters, the Yorkist, died on the 21st of September, 1479. He married Anne, sister and heiress of Roger Dennys, of Tannington, in Suffolk, who died on the 10th of October in the same year. The portraiture of this stalwart warrior in complete armour, with the exception of his head-piece, and covered with the surcoat of his arms, is remaining in the east window of the chancel in Sotterley church. He is represented in a devotional attitude, with seven sons kneeling behind him. As this group occupies the central day, or division, of the window, it is not probable that the effigy of the wife with her daughters was ever placed with it.
By an inquisitio post mortem, taken on the 19th of January, in the fifteenth of Queen Elizabeth, we learn that Thomas Playters held Sotterley of the Queen, as of her honour of Eastry: its annual value is stated to be £10. He also held the advowson. He died on the 19th of September, in the preceding year, and after providing a life interest for his widow Elizabeth, entails his manor of Sotterley, &c., on his son William; then on Thomas, son and heir of the said William, and his lawful heirs; remainder to the heirs male of the said William; remainder to the heirs male of the said Thomas, father of William; remainder to right heirs of the said Thomas. He further bequeaths to each of his younger sons, Thomas, John, and Henry, an annuity of £16, with power to distrain for arrears on his manor of Sotterley. (fn. 11)
From a like evidence, taken on the 20th of October, in the twenty-sixth of the same reign, William Playters, Esq., was found to die seized, inter alia, of the manors and advowsons of Sotterley, Uggeshall, and Ellough, and the reversion of the lordship of Brusyard. He died on the 6th of June in the previous year, and Thomas was found to be his son and heir, aged 18 years. In 1599, Thomas Playters, Esq., furnished one horseman to be conducted to London, for the defence of the court against secret purposes intended. (fn. 12)
In the third of James I., Thomas Playters occurs as High Sheriff for the county of Suffolk: his estate was then valued at £2000 per annum. (fn. 13) He is said to have been "a worthy Patriott, and the last Baronet created by James I." He had previously received the honour of knighthood at Newmarket: the patent for his baronetcy is dated August 13th, 1623. It is related of this gentleman that he was so wealthy, that he could ride from Beccles to Dunwich, a distance of 15 miles, upon his own landed property.
In the sixteenth of Charles I., Sir William Playters was Member in Parliament for Orford, and Vice-Admiral of Suffolk. The loyal and gallant achievements of this gentleman and his son are recorded on a monument in the church at Dickleburgh, in the county of Norfolk, and are here transcribed. "Here under lyeth buried the body of Dame Frances Platers, the daughter and heir of Charles le Grys, of Billingford, in Norff., Esq. She married Sir William Playters, of Sotterley, in Suffolk, Knt. and Bart.; sometimes one of the deputie Lieuetenants and Vice-Admir. of the said countie, and Justice of the Peace and Coram; and Coll. of a regiment of foot, till turn'd out of all by the then rebellious Parliament; and in fine out of that Hous of Parliament, whereof he had the misfortune to be a member. She had issue by him only Thomas, who married with Rebecka, the daughter and co-heir of Tho. Chapman, of Woormly, in the countie of Hartford, Esq., which said Sir Tho. was a great traveller before and after marriage, his ladie sometimes beyond the seas with him: a learned schollar; an exact linguist, expert in all arts and knowledge; of rare temper and courage; and of great esteem in most courts in Christendom; High Sheriff for the countie of Suffolk, by commission from his Majestie of blessed memory, ao. 1646, till forc'd by that fatal parliament to flee to the King at Oxford, where, by commission from his Majesty, he rais'd a regiment of Hors, wherewith he performed remarkable service, till his Majesties forces were totally ruin'd; and then he departed the Kingdome, arriving in Cicilia, where, by commission from that Viceroy, he had command of a squadron of six shipps against all enemies to the crown of Spain, which being prepared, he put to sea, and performed many gallant services, much to the honour of the Spanish flagg. In July, 1651, he put into the port of Messina with a very rich prize, and posted to the court at Palermo, where he met with an honourable reception for the several good services he had performed; but at 4 days end he there fell ill of a violent fever, whereof within 8 dayes he died, aged about 35 years; and by the Princes ordir had an honourable interment, and much lamented there, but much greater cause at home, leaving no issue, but a sorrowful widw and sad childless parents."
Sir Lionel Playters, who succeeded this gallant gentleman in his honours and estates, was a clerk in holy orders, and Rector of Uggeshall and Sotterley. Walker, in his 'Sufferings of the Clergy,' has detailed the troubles he was subjected to by the rebels in the great rebellion of the 17th century. "His troubles began with the rebellion; for in 1642 they brake open his stable doors, plundered him of two very good horses; and when he had the confidence to demand by what authority they did it, they replied, 'Pistol the Parson,' and fired two or more pistols at him. June 20th, 1644, articles were exhibited against him before the sequestrators, under the Earl of Manchester, the substance of which, as entered in the proceedings of those sequestrators, was his observing the rules and orders prescribed by the church; preaching up submission to his Majesty; inveighing earnestly against the rebellion; refusing the covenant; keeping company with one, who afterwards, as t'was reported, went to the cavalier popish army, and saying that he had a parcel of hemp to sell, and hoped it would bear a good price; because, if the times continued, a great many would want hanging; and that rather than fail, he would give it to the King to hang up the roundheads. The sentence of sequestration pass'd upon him, if I mistake not, the same day that those articles were exhibited; on the 24th of July following it was served upon him, when Mr. Playters, asking the sequestrators what time they would give him to remove his family, they answered him not an hour's time; and accordingly, himself, his wife, and four children, were turned out of doors. The 30th of the same month, they entered on the parsonage barn, the tythe hay, and corn therein; as likewise upon the glebe, (part of which was sown with barley, flax, pease, and other grain, with a crop of grass ready to be cut,) and upon all the tythe of the parish not then gathered in; all which they seized into their own hands, and converted to their own use for two years together, without ever giving any account, or paying Mr. Playters the fifths out of it; but instead of that, they took care to levy the taxes of the months of May and June upon him, notwithstanding they had seiz'd almost the whole produce of that year, either in his barns, or in the fields. Besides which the poor gentleman had another misfortune befel him; for having buried several of his children in the chancel, he hid in one of their graves, on prospect, without question, of those troubles which afterwards came upon him, about 200 pieces of gold, which these godly reformers, as they were tearing up the rails and levelling the chancel, happen'd to discover; and as zealous as they were against superstition and idolatry, made no conscience of committing a robbery very near ally'd to sacrilege, carrying away every penny of it. He had likewise a temporal estate of about £200 a year, which they either put under sequestration, or what was as bad, forbid the tenants to pay the rent; whereupon some of them quitted their farms; and although by that means the estates lay untenanted for two years together, yet they compelled him to pay the taxes even of those unoccupied estates. About the year 1646, one Henry Younger succeeded in the living, but it pleased God that Mr. Playters lived to receive it of him again, on the restoration, and enjoy'd his living, as well as the title and estate of his family, for many years after, and constantly preached in his church till the day of his death. He was a person of a meek and peaceable temper, and of a regular conversation. I had almost omitted to say, that the sequestrators let several of the out-houses belonging to the parsonage fall quite down to the ground." (fn. 14)
Upon the sale of the manor of Sotterley by John Playters, Esq., in 1744, an estate was purchased by him at Yelverton, in Norfolk, which remained in the family till its extinction in the person of Sir William John Playters, who died in 1832.
On Wednesday, February the 27th, 1833, at a levee held at the Palace of Saint James, Lieut. G. C. Degen Lewis, Roy. Eng., was presented as heir-at-law to the late Sir William John Playters, of Yelverton, who was the last Baronet of the ancient family of the Playters of Sotterley, in Suffolk.
Lady Anne Playters, widow of Sir William John Playters, abovesaid, died in London, aged 60, on the 12th of May, 1845.
The following pedigree of this family is extracted from the Harleian Manuscripts (No. 1560) preserved in the British Museum; the later descents being supplied from the private papers of the last Baronet.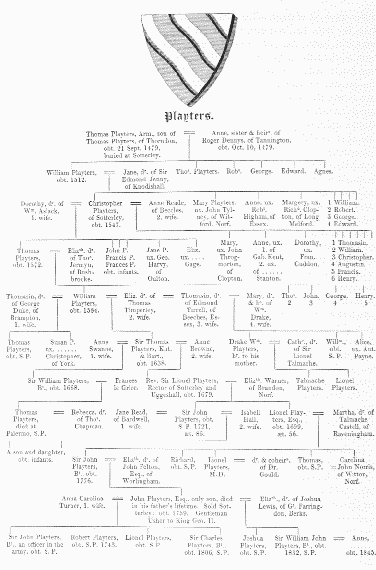 In Cole's MSS., vol. xxxv., (fn. 15) is an indenture dated at Sotterley, on All Saints Day, anno 1390, by which Sir William Argenthem, Knight; Adam, parson of the church of Brampton; Richard de Mikilfield, John Leche, and Richard Candeler, of Beccles, demise to farm for the term of her life, to Alice, late wife of Walter Skorle, of Sotterley, all lands, &c., lately belonging to Richard Reymond, of Willingham, in Sotterle and Henstead, which they (Sir William Argenthem, Adam, &c.) held by deed and feoffment of Richard, son of William Reymond, of Soterle.
The Berney family also held estates here; for in 1551, John Berney, of Sotterley, Esq., presented to Bradeston, in Norfolk. (fn. 16)
Manerium de Soterle: Bailiff's account, 1610.
s.
d.
Reddit assis: lib: tenent:
suma 28
6
Reddit assis: nat: tenent:
suma 39
5
Reddit mobil: lib: tenent:
suma 4 dies autumpnal: 111 gall: 200 halec: rubri:
Reddit mobil: nat: tenent:
2 dies at falcand:
Ferina terr:
£ 531
17
0
et duo casson:
Perquis: curiæ
£5
3
1
Vendic: boscor
xxx
Reddit resolut: Johi Rouse, Milit:, ut debit m'no suo de Raydon
3
2
Reddit resolut: Ballio Hundr: de Waingford. (fn. 17)
3
3
Upon the inclosure of the parish in 1796, the following was the state of the property.
Proprietors.
Acres.
r.
p.
Miles Barne, Esq., possessed
1085
0
8
William Crisp
9
2
31
Glebe
24
0
38
— Kilner, Esq.
43
3
18
Poor of Sotterley
0
0
36
Mary Sayer
2
0
5
Robert Sparrow, Esq.
172
0
10
George Watson, Esq.
99
2
37
Private property
1436
3
23
Acres.
r.
p.
Allotted
68
2
15
2
0
16
5
2
8
0
3
32
9
0
20
8
0
33
94
2
4
Acres.
r.
p.
Private property
1436
3
23
Waste lands allotted
94
2
4
Old roads
19
3
26
New roads
2
1
0
Total
1553
2
13 (fn. 18)
The following is the result of a new mensuration made in conformity with the Tithe Commutation Act.
Acres.
r.
p.
Public roads
17
0
37
Glebe
16
2
9
Church-yard
1
0
17
Total number of acres in the parish
1576
0
0
The amount of rent-charge in lieu of tithes was fixed at £295. The population was returned in 1841 at 223, which exhibits a very considerable decrease from the census of 1811, when the parish contained 355 souls, as recorded in the register books. The Rectory-house is a moderately sized modern building, occupying the site of the older manse, which appears to have been of considerable antiquity; for on a piece of oak which formed the mantel-beam in the kitchen of the old rectory, and now built into the wall of the new residence, is the date of "a. d. 1587."
A picture of the old Hall at Sotterley is preserved in one of the farm-houses there. It does not appear to have been an extensive pile, neither does its architectural elegance establish, in the remotest degree, the claim which it prefers of having been erected by Inigo Jones: it was, as usual with most old houses in Suffolk, built of red brick.
The Church
The Church, at Sotterley is rendered particularly interesting by the numerous monumental records it contains of its former patrons; and although it has not altogether escaped the hands of the despoiler, appears to have suffered less than the generality of our sacred edifices.
It is a plain unpretending edifice, comprising a nave and chancel without aisles, and having a square tower at the west end of very unusual shape and proportions; and to which I ascribe considerable antiquity, notwithstanding that it presents no positive feature of early architecture. The chancel is covered internally with a wainscot ceiling of no great antiquity, divided into panels, and painted green; but the ceiling of the nave, and the screen between the body of the church and the chancel, appear to have been erected by the Soterleys, whose arms are on a corbel of the roof, and occupy an escutcheon placed over the central arch of the latter. The ignorance or caprice of some modern painter has rendered these, with their impalement, a jumble of heraldic errors. The font is octangular, ornamented with shields in its compartments charged with the symbols of the Trinity, and the Passion of our Lord: but the most curious details in the edifice are the corbels, some of which represent demi-angels playing on violins and bag-pipes. Besides the stained glass in the east window already described, a few shields and fragments remain in the other lights, which attest how profusely Sotterley church was ornamented in olden days with this beautiful but fragile enrichment. In the east window of the north side was formerly an Agnus Dei; and in the western window, on the south side, another; while the story of Sisera and Jael; the mocking, and scourging of our Saviour—his head crowned with a tiara; and a device of a mounted warrior before a walled town, with the following shields of arms,—all blended their glorious colours in rich harmonious tints.
1. Az., a chev. or, between 3 cinquefoils arg., on a chief ermine 3 pales gules; with the date of 1541.
2. Gules, a chev. between 3 cinquefoils or; impaling gules, a cross or, between 12 martlets arg.
3. Quarterly, 1 and 4. Barry of eight . . . . . . and or; in a bordure . . . . . . 2 and 3. An eagle, or phœnix, rising on a mount. On an inescutcheon, . . . . . . . per fess . . . . . and or, six roundlets counterchanged.
The two former of these shields yet remain, with those of Playters and Barne, bearing, respectively, the dates of 1470, and 1744.
Will. Dowsing thus records his iconoclastic visit to this church. "Saterley, April 6th, 1643. There were divers superstitious pictures painted, which they promised to take down, and I gave order to level the steps, and to break in pieces the rails, which I have seen done; and to take off a cross on the church." Notwithstanding these orders, the communion table is raised on three very high steps; so that, possibly, Dowsing's directions were never fulfilled. Within the communion rails lies a large stone, inlaid with the effigies of Thomas Playters, the Yorkist, and Anne Dennys, his wife: he in a splendid suit of armour, with a broad-sword of such formidable dimensions as might well befit the 'faber fortunæ suæ;' she, habited in a dress unseemly low, with a rich collar or necklace, and the fantastic head-dress then in fashion. The inscription at their feet is now partly lost, but is here supplied from Weever's 'Ancient Funeral Monuments.'

These effigies are represented in the accompanying engraving by the figures 1 and 2.
Adjoining this stone, but not following in strict chronological order, lies the brass (No. 3) of Thomasin, daughter of Edmund Tirrell, and third wife of William Playters, Esq., with that of an infant daughter. The partial injury the larger figure has sustained does not prevent us from observing the very handsome dress in which she is clothed. The following inscription is placed beneath her:

At the head of the female figure is a large escutcheon, thus charged: Quarterly, 1st and 4th quarterly. 1st. Playters. 2. Denny, arg., a chev. sab. between 3 mullets of six points gules, pierced or. 3. Bridgenorth, vert, a lion ramp. arg., crowned or. 2 and 3. Aslack of eight coats. 1. Aslack, sab. a chev. erm. between 3 Catharine wheels arg. 2. Berry, arg., a chev. between 3 bears' heads couped sab. 3. Banyard, sab. a fess between 2 chevronels or. 4. . . . . arg., on a fess azure, 2 ducal coronets or. 5. Bardolph, az., a fleur-de-lis between 3 cinquefoils or. 6. Charler, erm. on a chief gules, 3 lozenges arg., each charged with an annulet sable. 7. . . . . arg., on a chev. gul. 3 fleur-de-lis or. 8. Aslack: impaling Tirrell of four coats. 1. Tirrell, arg., 2 chev. az., within a bordure engr. gules. 2. Swinford, paly of six sab. and arg. 3. Flambert, or, on a chev. arg., 3 dolphins embowed sable. 4. Coggeshall, arg., a cross between four escallops sable.
Upon a large stone, inlaid with the arms of Playters impaling the eight coats of Aslack as before, but twice repeated, is the following inscription.

Just without the altar rails, and attached to the north wall of the chancel, is an altar-tomb of stone, covering the remains of William, son of Thomas Playters and Anne Dennys. On the sides of the tomb were two small effigies in brass, representing this gentleman and his wife, Ann Jenny, in devotional attitudes. The figure of the man has been removed within the last few years, but the female effigy remains. The tomb bears, on its sides, four shields thus charged:
2. Playters quartered with Dennys and Bridgenorth.
3. Playters quartered as above, impaling, quarterly, 1st and 4th, Jenny, erm., a bend gules, cotised or.; 2nd and 3rd, Leiston, vert, 3 dexter hands or gloves arg., on them 3 falcons or.
4. Playters impaling Park, az., an eagle displayed arg.
Round the chamfered edge of the tomb is a fillet of brass, with this legend.

At the foot of this tomb lies the effigy of Christopher Playters, the eldest son of the above personages; a sturdy figure clad in a suit of plain armour, with this inscription at his feet. (No. 4.)

Although Christopher Playters died on the day above mentioned, it appears from the parish registers that he was not buried till the 27th of September following; more than five weeks after his decease. The reason for this unusual postponement of his funeral rites is not recorded.
The next brass (No. 5) is the portraiture of this gentleman's eldest son and heir, Thomas, who died in 1575. When we consider that twenty-eight years only had elapsed between the death of the latter gentleman and his father, the alteration in the costume appears very remarkable. The smooth chin, and plain effective armour of the father, are strikingly contrasted by the thick mustaches, curly beard, and heavy cumbrous panoply of the son, whose square-toed shoes and clumsy figure give an unfavourable specimen of a gentleman of the courtly reign of the "Virgine Queene." The legend attached to this brass is as follows:

At the foot of the figure are the arms of Playters, impaling Jermyn of Rushbrook, sab., a crescent between 2 mullets palewise arg., pierced of the field.
The last brass which remains to be noticed in this interesting church is the most ancient of them all (No. 6), and in the absence of its inscription and armorial bearings, conjecture must supply the appropriation. From the form of the armour it cannot be referred to a period much subsequent to 1420 or 1430, and may possibly cover one of the last of the Soterles. It is not impossible, however, that it may have been intended to commemorate Sir Robert de Tye, who died on the 8th of October, 1415, and was buried in the church of Sotterley. (fn. 19)
Against the north wall of the chancel is a huge and costly monument of marble erected to the memory of Sir Thomas Playters, Knight and Baronet, who died on the 18th of May, anno Domini 1638, aged 73 years. In the central compartment is seen the kneeling effigy of Sir Thomas; and in side compartments those of his two wives; by the first of whom, Anne, eldest daughter of Sir William Swann, of Southfleet, in Kent, he had two sons and two daughters. His second wife was Anne, only daughter and heiress of Sir Anthony Browne, of Elsing, in Norfolk, who brought him eight sons and ten daughters. This numerous family of two-and-twenty—quaintly termed 'diverse children,'—are represented on a lower compartment of the monument, kneeling before a faldstool. In point of cost, this sepulchral memorial is commensurate with the noble estate of the deceased, which has already been mentioned; but as a work of art it is unworthy of critical notice.
There are also monumental records of Sir Lionel Playters, Bart., Rector of Sotterley, whose sufferings during the rebellion in King Charles's time are related in a previous page, and who died in 1679;—of John Playters, Gent., who died in 1609;—of Lionel Playters, Esq., who died in 1699; and of Jane, the first wife of Sir John Playters, Bart., and daughter of Thomas Read, Esq., who died in November, 1665.
The very ancient family of Bumpstede, who bore argent, on a bend engrail. gules 3 mullets of the field, flourished for many generations in Sotterley and its neighbourhood. In 1298, Peter de Bumpstede was one of the bailiffs of Norwich. (fn. 20) In 1479, Robert Bumpstede, of Willingham St. Mary, by his will, dated on the 30th of March in that year, "legat corpus suum ad sepeliend: in cancello See Margaret de Soterle, in introitu chori." The following members of this family were also interred here:
John Bumpstede, who dyed the vij of Aprill, in anno MCCCCLXXIX.
Alex. Bompstead, late wyef of William Bompstead.

Hervey has recorded this inscription, now lost.

There are monuments to the memory of the Barne family, the present lords of Sotterley, who have a vault under the west end of the church. Against the south wall of the chancel is a slab of white marble for Miles Barne, Esq.
"ex eâ domo prognati, quæ labente sæculo xvito
Duos Londiniis Prætores
exemplo rarissimo protulit:
quæque maternum genus ab Eduino
Sandys, Archiepiscopo Eboracensi, duxit."
Arms, Barne with Elwick, arg. on a chev. az. 3 fleurs-de-lis or; and Thornhill, gules, 4 bars and a chief argent.
There is also a monument to the Rev. Thomas Barne, instituted Rector of Sotterley in 1790.
Against the north wall of the chancel are the matches of the Playters' family emblazoned on wood, most of which are decayed by time and damp. In addition to the splendid shields already noticed, may still be discerned Playters impaling Le Grice, quarterly, az. and gules, on a bend arg. 3 boars pass. sable, with eleven coats; and also Playters impaling Browne of sixteen coats, viz.
1. Browne, sab. 3 lioncels pass. in bend, between 2 double cotises arg.
2. Fitzallan, gules, a lion ramp. or.
3. . . . . . sable, a fret or.
4. . . . . . gul. a saltire and a chief arg.
5. Montacute, arg. 3 fusils in fess gules.
6. Monthermer, or, an eagle displayed vert.
7. Plantagenet, gul. 3 lions, pass. guard. in pale, or.
8. Nevill, gul. a saltire arg.
9. Ingoldesthorpe, gules, a cross engrailed arg.
10. Bradston, arg., on a canton gul. a rose or.
11. Charlton, Lord Powis, or, a lion ramp. gules.
12. De la Pole, az., a fess between 3 leopards' faces or.
13. Burgh, arg., a fess dauncette gules, charged with 3 bezants.
14. Hastings, or, a maunch sable.
15. Valance, Barry arg. and azure, an orle of martlets gules.
The church of Sotterley is a rectory, dedicated to St. Margaret; and its oldest bell is inscribed with a legend to that female saint.

The registers commence in 1547.
Rectors of Sotterley.
Rectors.
Date.
Patrons.
William Clerk
1433
Thomas Charlton, Knight, Thomas Frowyke, Esq., Henry Frowyke, Alderman of London, John Fray, Robert Warner, and Thomas Dalby.
Laurence Hullyngheghe
1469
Thomas Playter, Gent.
Thomas Aylward
1479
William Clerk.
John Pickeringe
1504
William Playter, Esq.
Robert Tailor
1523
Bishop, by lapse.
Robert Peytwoode
Thomas Wytton
1553
Thomas Playters, Esq.
William Riddiswail
1558
Id.
Thomas Baseley
1580
William Timperley, William Sydney, and Robert Barney, Esqrs., for William Playters, Esq.
Gilbert Corker
1599
Thomas Playters, Esq.
James Bell
1636
Id.
Lionel Playters
1678
John Playters, Esq.
Edward Fawden
1679
Id.
Nicholas Taylor
1727
Sir John Playters.
Robert Cayley
1758
Miles Barne, Esq.
William Leach
1784
Id.
Abraham Dawson
1786
Id.
Thomas Barne
1790
Bishop, by lapse.
George Francis Barlow
1805
Miles Barne, Esq.
The following genealogy is printed from the collections of Charles Townley, York Herald, made by him for Miles Barne, Esq., of Sotterley, representative in Parliament for Dunwich in 1748; and continued from family papers to the present time.
The arms of Barne, borne quarterly with arg., a chevron az. between 3 Cornish choughs proper, were granted and confirmed to Sir George Barne, Knight, and to his posterity; and to the issue of John Barne, Esq., his brother, and to the issue of Sir George Barne, Knight, their father, by Robert Cooke, Esq., Clarenceux King of Arms, the 15th day of July, 1580, and in the twenty-second year of the reign of Queen Elizabeth.
There are two engraved portraits of the first Sir George Barne, Lord Mayor of London in 1552. The first is in the delivery of the charter of Bridewell by King Edward VI., where he appears with Aldermen John Maynard and William Gerrard. The second portrait is a small oval, copied from the preceding; engraved by C. Hall.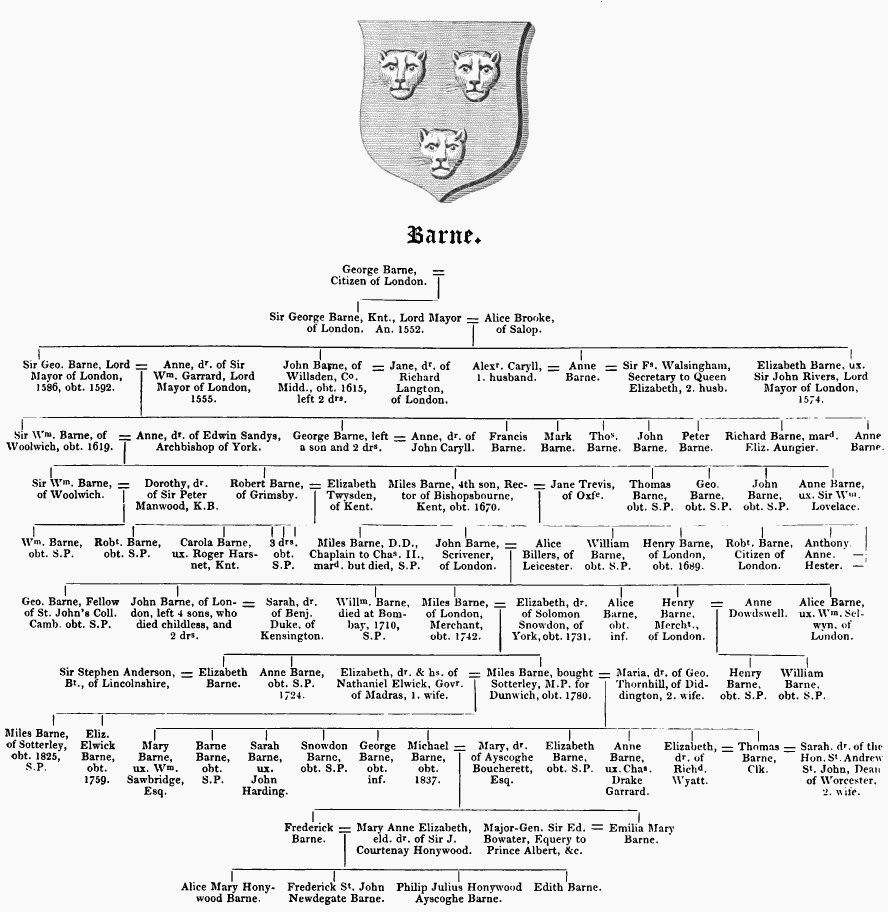 Miles Barne, D.D., son of Miles Barne, Rector of Bishopsbourne cum Barham, in the county of Kent, was fellow of Peter House, in Cambridge, and chaplain to King Charles II. He was entered at Peter House, as a sizer, on the 27th of June, 1656, from Westminster School, being then seventeen years of age. He afterwards obtained a scholarship in his college, and appears among the list of Questionists there in 1659. He took his degree of A. B. in 1659; M. A. 1663; was admitted a fellow of his college on the 2nd of December, 1662, and proceeded D.D. in 1682. In 1688, upon the accession of the Prince of Orange, he threw up his fellowship; and his name does not occur in the college books, or among the list of its members, after March in that year. Dr. Barne was the author of three sermons preached before the University; two of which were printed at Cambridge in 1682, and the third in the following year, at London. This was preached "on the ninth of September, being the day of publick thanksgiving for the deliverance of his Majesties sacred person, his Royal Brother, and the Government, from the late hellish Fanatick Conspiracy." It is, as may be presumed from its title, a strong political discourse, abundantly interlarded with Latin quotations, and levelled alike against "popish plot" and "fanatick conspiracy." It gives, however, the authorities of the day this sensible advice: "since we are plac'd between two extreams, common prudence bids us have a watchful eye over both, and not to give a palpable advantage to the one, by applying all our force against the other."
Dr. Barne died at Kingham, in Oxfordshire, about the year 1709, and was buried there.
Sotterley Hall is a large and excellent mansion, and stands near the church, in the centre of a park of nearly 500 acres, finely diversified with ancient timber and thriving modern plantations.
The manor of Benacre pays £4. 16s. to the poor of this parish annually, under a charge devised in 1616, by Thomas Jolly; which amount is expended, together with £9 arising from a piece of land called the poors' allotment, in donations of coals, &c., about Christmas time. A double tenement is also occupied by poor families belonging to Sotterley, rent free.