Pages 11-12
Ancient and Historical Monuments in the County of Gloucester Iron Age and Romano-British Monuments in the Gloucestershire Cotswolds. Originally published by Her Majesty's Stationery Office, London, 1976.
This free content was digitised by double rekeying and sponsored by English Heritage. All rights reserved.
BARRINGTON
(14 miles N.E. of Cirencester)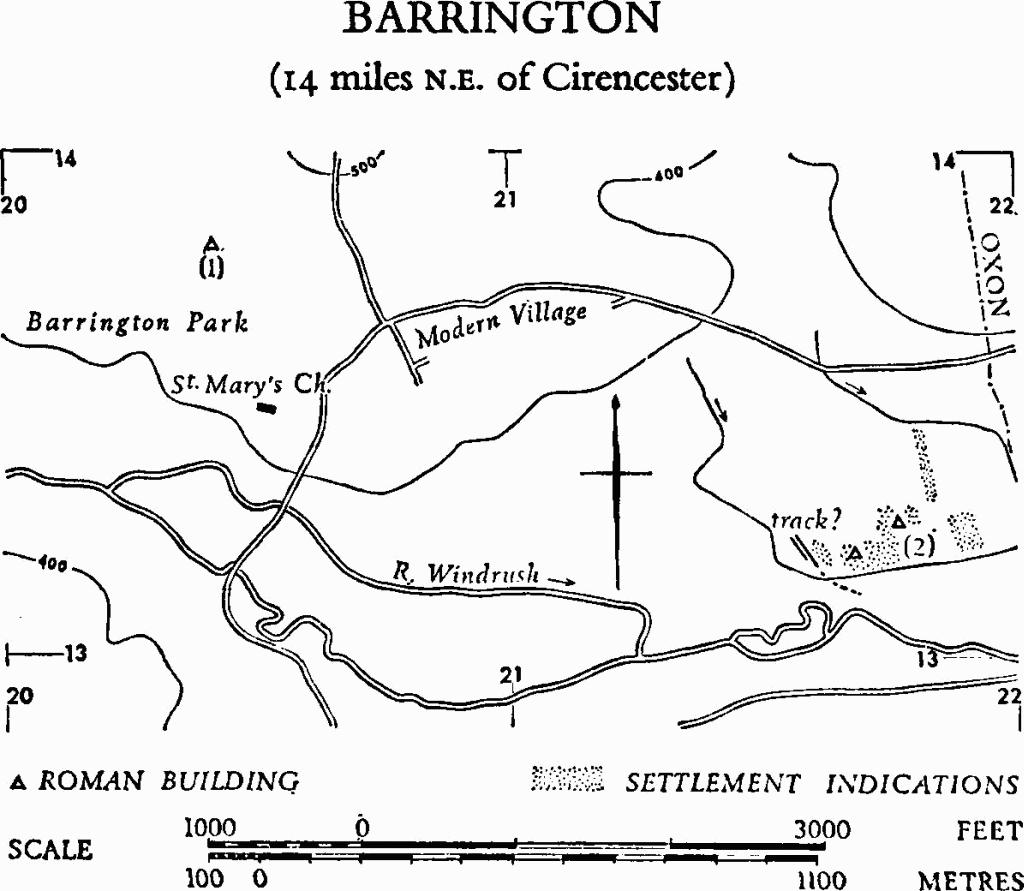 (1) Romano-British Building (SP 204138), in Barrington Park approximately 330 yds. N. of St. Mary's Church, on a gentle S.-facing slope, was discovered by chance about 1867 and was partly dug in 1882. A wellbuilt wall 4 ft. thick, a plunge bath, roof slates and tiles, 'grooved' tiles, pottery and bones were noted.
MS. Notebook III of Dr. John Moore, pp. 14–16 (9 Mar. 1882), in library of Brist. & Glos. Archaeol. Soc.
N.M.R., OAP SP 2013/1/16–23; 2013/2/24–30.
(2) Romano-British Settlement (SP 217132), 4/5 mile E.S.E. of St. Mary's Church, extends over some 7 acres on the almost flat alluvial terrace immediately N. of the R. Windrush. Remains of buildings with stone footings and tessellated pavements are reported in parts of the area. Two channelled streams flow through the site. Disturbed earthworks survive at SP 217132, but the ground to the E. is flattened in arable. Air photographs (Plate 50) indicate a double ditched feature (t), probably a track, earlier than modern enclosure and drainage patterns, approaching the site from N.W. Roman tiles, tesserae and wall plaster, possibly found on this site in 1931, are now in Gloucester City Museum. Similar material was found c. 1935 together with a coin of Gratian.
Information, from letters and notebooks in private possession, supplied by Dr. J. Liversidge.
Air photographs: W. G. Allen OAP 585–7.