Pages 12-13
Ancient and Historical Monuments in the County of Gloucester Iron Age and Romano-British Monuments in the Gloucestershire Cotswolds. Originally published by Her Majesty's Stationery Office, London, 1976.
This free content was digitised by double rekeying and sponsored by English Heritage. All rights reserved.
BATSFORD
(22 miles N.E. of Cirencester)
A small stone panel now in Chedworth Museum, inscribed Dea Regina below a low relief of a goddess, is allegedly from Lemington, E. of Dorn (JRS, XXXIX (1949), 114; Toynbee (1964), 175; RIB, I, No. 125).
(1) Romano-British Settlement (SP 207339), at Dorn (formerly in Worcestershire), is marked by an oblong enclosure of some 10 acres, extremely disturbed and mostly in ground which has long been ploughed. Its existence was already recognised in the 17th century (Bodleian Lib. MS., Ashmole 1817 A; data communicated by Mr. H. E. M. Icely). The enclosure butts on the Foss Way (3), 300 yds. N. of the point where the road changes course at its intersection with another ancient road line. The enclosure is massively ditched, unlike any civil site in this area. The name Dorn probably means 'fort' or 'gate' (PNG, I, 235).
The enclosure is on Boulder Clay sloping gently W. to the level floor of the Evenlode valley, but its eastern parts stand relatively dominant when approached from N. or S. The N. and S. sides are each defined by an inner bank (not shown on the accompanying plan), 1 ft. to 2 ft. high, spread to a width of about 100 ft. and standing some 3 ft. to 5 ft. above a ditch apparently 150 ft. to 200 ft. across, with a counter-scarp bank beyond. On the E., downhill from the agger of the Foss Way, the ditch line is filled. At 'r', on the S.W., the line of the ditch is corrugated by ridge-and-furrow. To the N. of the railway cutting, at the foot of the natural slope, feeble or disturbed scarps probably indicate its approximate position.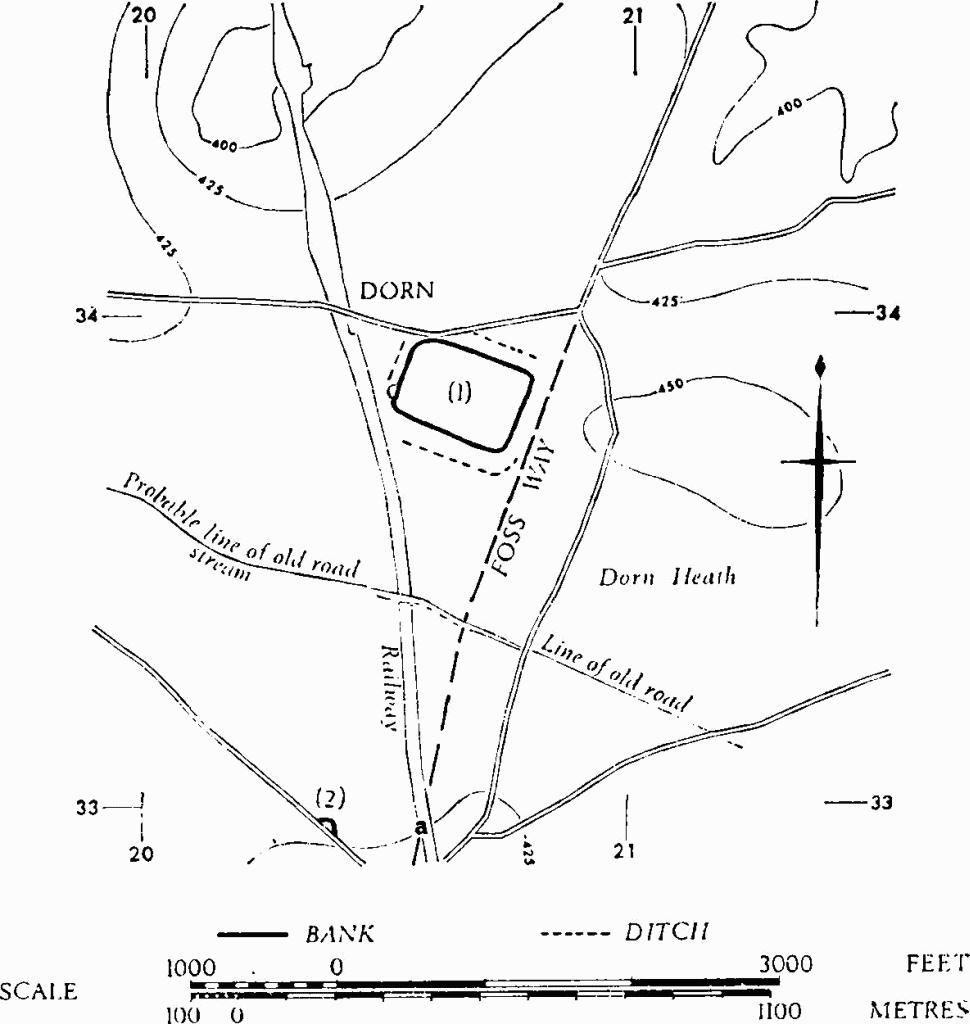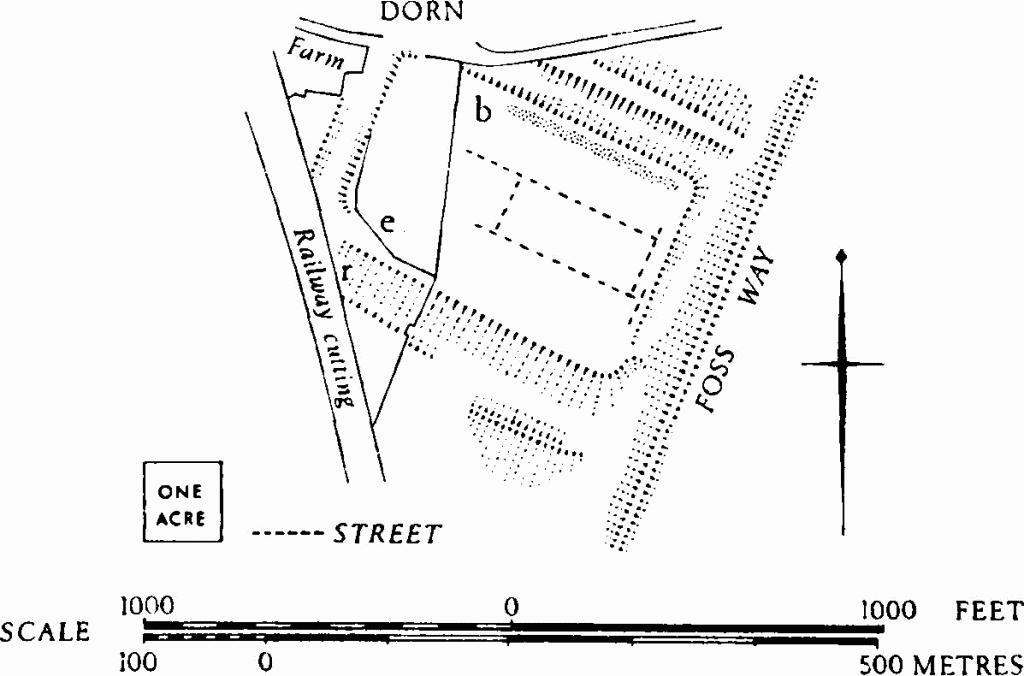 Inside the enclosure, crop-marks suggest a wall extending S.E. from 'b' and a rectangular pattern of paved roads (Plate 48); the latter seem to have been visible on the surface in 1731 (Cox, Magna Britannia et Hibernia, vi, 240). Excavation at 'e' in 1937 by Lieut.Col. R. K. Morcom showed occupation from the 1st to the 5th century. A stone building with corridor, tiled roof, plastered walls and some tesserae belonged to the latest period. There were two wells. Finds included: pottery of the 1st century including butt-beaker and samian; samian ware of the 2nd century with potters' stamps; much calcite-gritted ware, some with finger-pressed bands, and colour-coated ware; two steelyards and an ornamental spit (now in Birmingham Museum on loan from B.M.) from a late 2nd-century level, and other iron objects, mainly agricultural; also fragments of glass and of pewter.
Construction of the railway exposed a score of pits and two stone blocks with carved panels, both now lost; one panel was recognisable as depicting a genius. Finds recorded at other times include many coins, mostly of the 3rd and 4th centuries, limestone and other building stone, and part of a rotary quern. Pottery has been noted in the field W. of the railway cutting and can be found outside the enclosure on the south.
Some of the surviving finds are in private possession.
C.U.A.P., OAP ABV 31–41, ABW 78, AHU 7, AIJ 41–4.
T. Nash, Collections for the History of Worcestershire, I (1781), 101. Ibid., II (1782), postscript, 20. VCH, Worcs. I (1901), 221 (F. Haverfield). JRS, LI (1961), 119–35. TBGAS, 81 (1962), 194–5 (sculptures); 82 (1963), 18–24 (excavation of 1937).
(2) Rectangular Enclosure (SP 20383296), on the parish boundary, ½ mile S.S.W. of (1), undated, covers ½ acre. It lies on the flat valley floor and is partly destroyed by the road which crosses it and by buildings on the south. No original entrance survives. The N.E. angle, in pasture, is rounded. The bank, some 20 ft. across, stands 1½ ft. above the interior and 4 ft. above the ditch, which is about 20 ft. across with a bottom 9 ft. wide. The interior of the enclosure lies about 6 in. above the ground outside. The ditch is wet where it coincides with the parish boundary to the S.; the bank in this part is very spread and overgrown. Roman finds are reported, but without corroboration.
Playne (1876), 207. Witts (1883), 4, No. 7. Arch J. CIX (1952), 23.
(3) Roman Road, The Foss Way (N.N.E. from SP 205328), largely destroyed, but visible in places, continues its former alignment northwards from MoretonIn-Marsh. An agger 25 ft. across and 1 ft. high with contiguous side ditches, deepest on the E. side, is preserved for some 75 yds. before destruction by the railway cutting at 20573297 (a on general plan). After some 500 yds. it crosses an ancient road line (marked further S.E. by the Warwickshire/Oxfordshire county boundary) which meets it at right angles; here the Foss Way veers about 12 degrees to the E. Some 300 yds. further N.E., where it adjoins (1), the road is seen as a low, spread ridge following a natural N. shoulder (Plate 48).
C.U.A.P., OAP ABV 31–41, ABW 78, AHU 7, AIJ 41–4, YT 47.