Pages 21-22
Ancient and Historical Monuments in the County of Gloucester Iron Age and Romano-British Monuments in the Gloucestershire Cotswolds. Originally published by Her Majesty's Stationery Office, London, 1976.
This free content was digitised by double rekeying and sponsored by English Heritage. All rights reserved.
BROCKWORTH
(11 miles N.E. of Cirencester)
There have been suggestions that a complex of Iron Age defences extended S. from Cooper's Hill to High Brotheridge, Cranham, (fn. 1) covering a total of some 200 acres; these earthworks are described under Cranham, p. 41. Quarrying has destroyed any sign of fortifications on the N. tip of the hill (SO 892147), where a 'camp' is shown on O.S. 6 inch, but traditional maypole ceremonies (fn. 2) in the area could be taken to suggest the existence of an ancient site, as might the former name 'Castle Hill'. (fn. 3) The only clearly recognisable defensive or boundary earthwork, probably of Iron-Age origin, is the cross-ridge dyke (1) 500 yds. S. of this point.
(1) Cross-Ridge Dyke (SO 89191416—SO 89341413), in Brockworth Wood on Cooper's Hill at about 900 ft. above O.D. (map, p. 41, s.v. Cranham), spans the narrow Great Oolite ridge which rises gently N. from this point; it ends on the shoulders of the ridge at E. and W.
The bank is 18 ft. wide and 2 ft. high; the ditch on the S. side is a further 2 ft. deep and from 12 ft. to 20 ft. wide. The dyke runs straight for a total length of 655 ft.; 475 ft. in the E. are on Oolite and 180 ft. in the W. are on Fuller's Earth.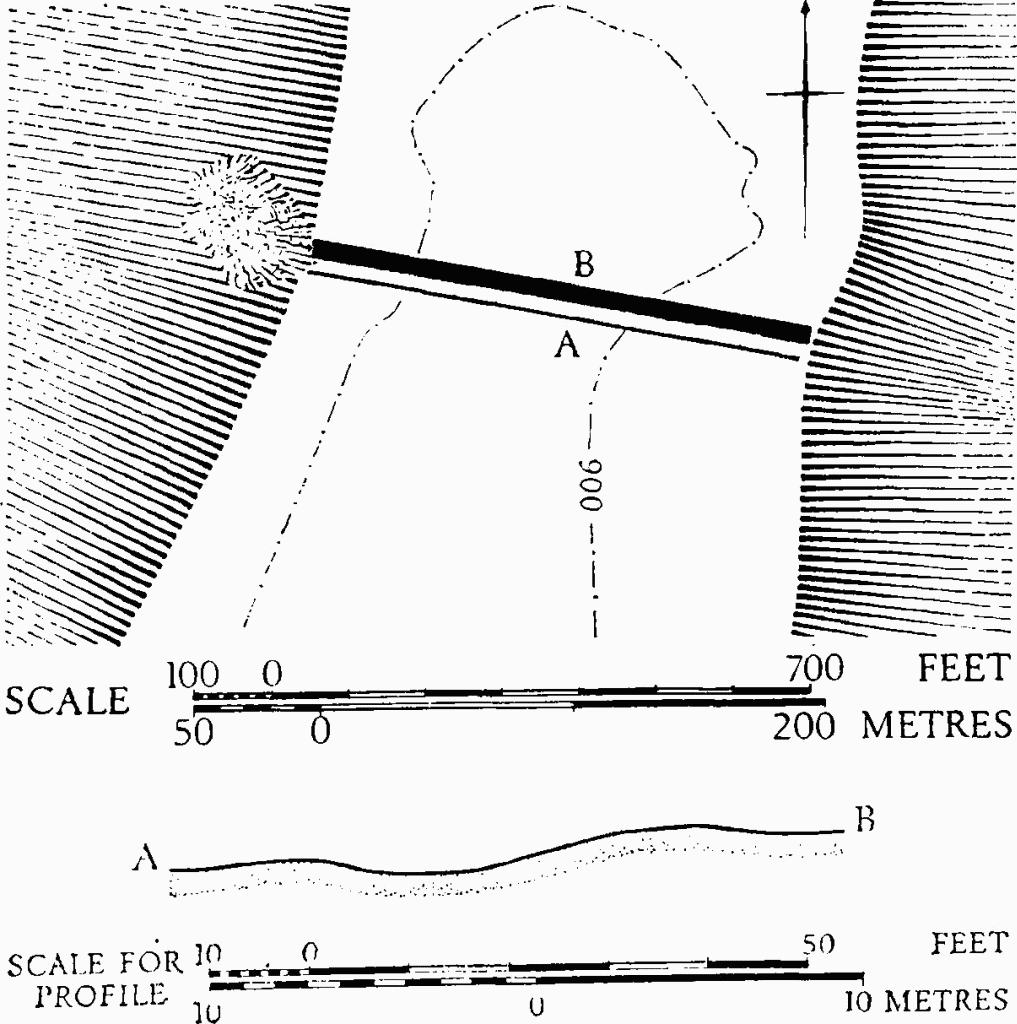 (2) Romano-British Building (SO 891168) is indicated by finds in allotments about 200 yds. S. of the church, close to Horsbere Brook, 150 ft. above O.D. The finds include 2nd to 4th-century pottery, and tegulae, in association with a hard gravel floor (TBGAS, 87 (1968), 203).