Pages 39-40
Ancient and Historical Monuments in the County of Gloucester Iron Age and Romano-British Monuments in the Gloucestershire Cotswolds. Originally published by Her Majesty's Stationery Office, London, 1976.
This free content was digitised by double rekeying and sponsored by English Heritage. All rights reserved.
COWLEY
(9 miles N.N.W. of Cirencester)
'Birdlip Camp' (so 925150) is an alleged hill-fort (fn. 1) whose existence is dubious (p. xxix). A Dobunnic gold coin inscribed BODVOC, found at Birdlip, is lost. (fn. 2) The late Iron Age inhumation cemetery at Barrow Wake (1) is unique in the Cotswolds.
Numerous Roman coins are said to have been found during the construction of houses along the course of Ermin Street in Birdlip. (fn. 3)
(1) Iron Age Inhumation Cemetery (SO 93191532), Barrow Wake, Birdlip, near the edge of the escarpment, came to light during quarrying in 1879. Imprecise and varying accounts refer to four burials. Three found together, possibly under a cairn, are said to have been in cists lined and covered with limestone flags. The group comprised a female wih an ornamented bronze mirror (the 'Birdlip mirror'), two bronze bowls, an iron knife-handle with a bronze bull's-head terminal, a silver-gilt fibula datable within the early 1st century A.D., a bracelet, rings, tweezers and other bronze objects, and beads from a necklace of amber, marble and shale; with her were two unaccompanied skeletons, thought to be male. The fourth skeleton, found near by in a shallow grave, was accompanied by the remains of a bronze-mounted wooden bucket and an iron weapon with a blade 13 in. long, perhaps a dagger. Apart from the iron weapon, these grave-goods are in Gloucester City Museum. Part of a gold torque, found in the area in 1947 and now lost, may have come from a fifth grave.
TBGAS, V (1880–1), 137–41. PCNFC, VIII (1881–2), 81–2. PPS, XV (1949), 188–90. Additional data from Mr. J. F. Rhodes, Gloucester City Museum. Early Celtic Art (Festival Exhibition Catalogue), Edinburgh Univ., 1970, pp. 28–9, Nos. 146–9. Bedfordshire Archaeol. J, 5 (1970), 13 (date of fibula).
(2) Roman Road, Ermin Street (so 92921422). The agger probably survives E. of Birdlip (2a on map), where a mutilated flat-topped ridge 300 ft. long and up to 3 ft. high lies parallel to the S. side of the modern road. No ditch can be seen in the disturbed marshy ground to the south. Other denuded remains (2b) exist in gardens in the village (so 92601433). A terraceway (t) in Great Witcombe, possibly the original course of Ermin Street as it descended the escarpment, has gentler gradients than those of the modern road on Birdlip Hill.
R.A.F., VAP F21 58/RAF/1970: 0120–1 (Birdlip Hill). Witts (1883), 111.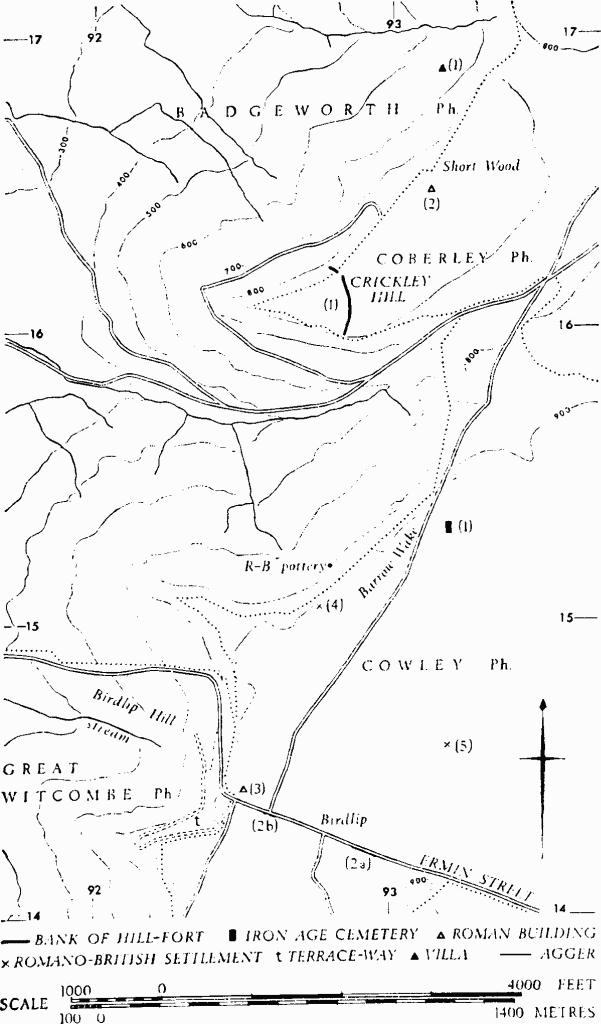 (3) Roman Villa (SO 92501443), near the Royal George Hotel, stood on level ground at the edge of the escarpment, N. of Ermin Street. There is a disturbed platform in gardens W. of the hotel.
A limited investigation c. 1918 revealed a wall with painted plaster, hypocaust flue-tiles, and pottery. Over 200 Roman coins are said to have been found here in 1890–1. Apart from fragments of masonry in the hotel grounds, possibly from this building, no finds survive.
TBGAS, XLV (1923), 294–5; LIV (1932), 387–8. JRS, XIV (1924), 231.
(4) Roman Building (SO 92761506), at Barrow Wake, is denoted by a rectangular platform yielding pottery, reported in 1970. The finds are in Gloucester City Museum.
(5) Probable Settlement (SO 93251463), Romano-British, ploughed out, is reported on level ground ½ mile N.E. of Birdlip. A hypocaust flue-tile and pottery are in a private collection.
Information from Mr. J. F. Rhodes.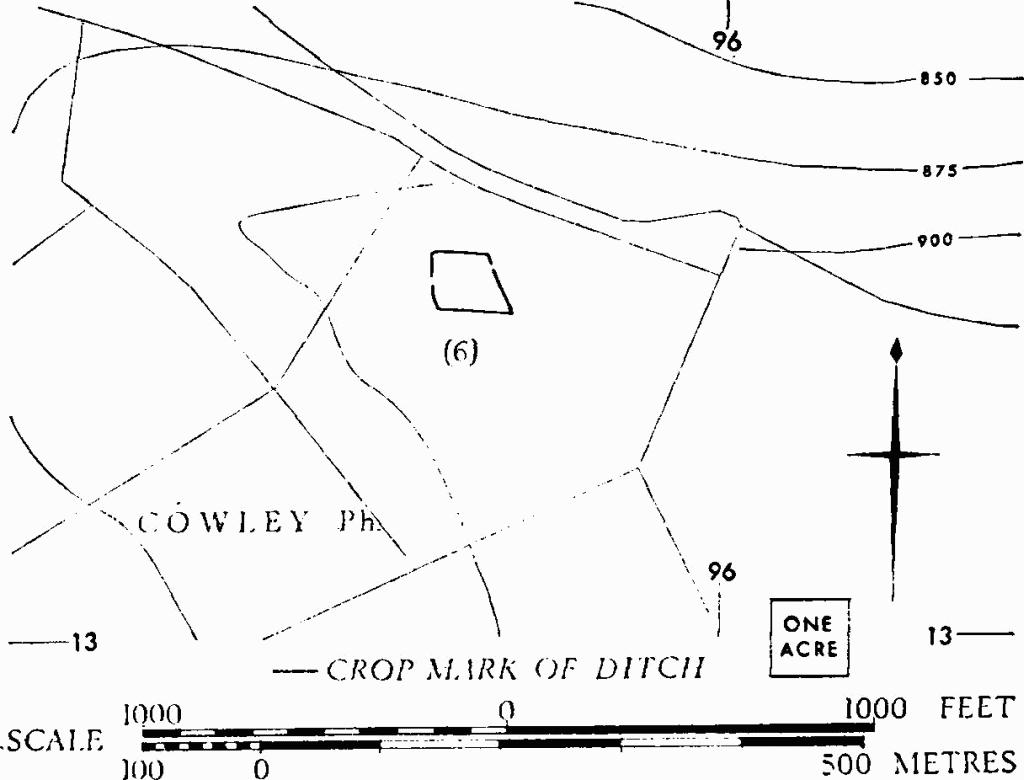 (6) Enclosure (SO 958133), S. of Cowley Wood, undated, shows as a crop-mark on the flat top of an eminence in the plateau (Plate 57). The area enclosed is about ¾ acre.
C.U.A.P., OAP UM 35.