Pages 102-104
An Inventory of the Historical Monuments in Essex, Volume 2, Central and South west. Originally published by His Majesty's Stationery Office, London, 1921.
This free content was digitised by double rekeying and sponsored by English Heritage. All rights reserved.
34. GREAT PARNDON. (B.b.)
(O.S. 6 in. (a)xl. S.E. (b)xli. S.W. (c)1. N.W.)
Great Parndon is a parish and small village 3 m. S.W. of Harlow. The Church is of interest.
Ecclesiastical
a(1). Parish Church of St. Mary The Virgin stands N.W. of the village. The walls are of flint-rubble and some modern brick, all much plastered; the dressings are of limestone and clunch; the roofs are tiled. The Chancel, North Vestry, Nave, and West Tower were built in the 15th century; the North Porch was added probably in the 18th century, and the North and South Transepts are modern.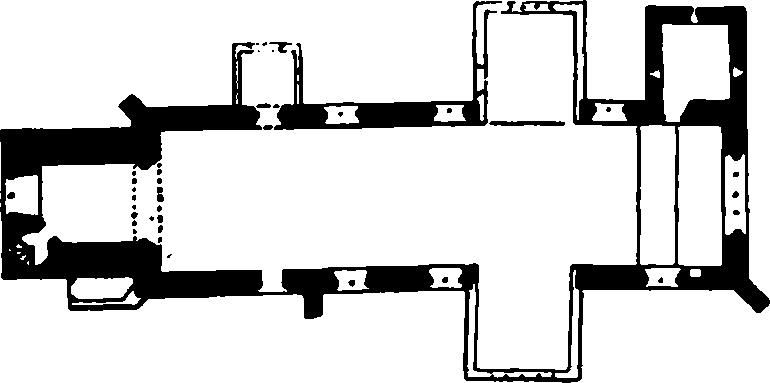 Architectural Description—All details are of the 15th century unless otherwise noted. The Chancel (19½ ft. by 18 ft.) has an E. window of four cinque-foiled lights with vertical tracery in a two-centred head and all covered with cement. In the N. wall is a window of two cinque-foiled lights with vertical tracery in a square head with a moulded label; further E. is a doorway, opening into the N. vestry, with hollow-chamfered jambs and two-centred head. In the S. wall is a window uniform with that in the N. wall. There is no chancel-arch.
The North Vestry has in the E. and N. walls a small trefoiled light in a two-centred head with a moulded label. In the W. wall is a small quatre-foiled opening.
The modern North Transept has in the W. wall the two-centred head, re-set, of a 15th-century doorway of two hollow-chamfered orders.
The Nave (41 ft. by 18 ft.) has in both N. and S. walls two windows uniform with those of the chancel but slightly restored. In the N. wall, W. of the windows, is the N. doorway with continuously moulded jambs and two-centred head. Opposite to it is the similar S. doorway, now blocked.
The West Tower (12 ft. by 10½ ft.), is of three slightly diminishing stages with an embattled parapet. The two-centred tower-arch is of three chamfered orders, the outer two continuous, the innermost interrupted by moulded capitals and bases to the responds; the moulded label has defaced stops; the W. window is of two cinque-foiled lights with vertical tracery in a segmental head with a label; the stair-turret in the splayed S.W. angle is now approached by an inserted external doorway; the original internal doorway, now blocked, has chamfered jambs and two-centred head. The second stage has in the S. and W. walls a loop. The bell-chamber has in each wall a window of two trefoiled lights in a square head with a label, all much weathered.
The Roof of the chancel and nave is continuous and is mostly modern but incorporates some old timbers.
Fittings—Bells: four; 4th by Robert Oldfield, 1613. Brass: In chancel—of Rowland Rampston, 1598, figure in civil dress and inscription. Doors: In doorway to N. vestry—(1) of oak battens with strap-hinges, 15th-century. In nave—in S. doorway, (2) similar. In W. tower—in original doorway to stair-turret, (3) similar. Font: octagonal bowl, each face with quatre-foiled panel enclosing floral boss, lower edge moulded and enriched with flowers; octagonal stem, each face with cusped panels in two stages divided by an embattled transom, 15th-century. Glass: In nave—in N.W. window, shield of twelve quarterings wrongly re-set, originally for William Cecil, 1st Lord Burghley and his wife, late 16th-century; head of weeping woman, possibly the Virgin, an angel's head, part of a wing, tabernacle work, 15th-century; and quarries inscribed with the name John Celley and with the initials I and A, portcullis and rose-sprig, 16th-century. Monuments: In chancel—on N. wall, (1) to Mary (Turnor), widow of Thomas Sparke, B.D., 1661, tablet in alabaster frame; (2) to Christopher Sparke, son of above, 1713, marble tablet with achievement of arms and broken pediment containing urn. Piscina: In chancel—sex-foiled drain, shelf, chamfered jambs and shouldered square head, probably 15th-century. Seating: In nave—nine benches of oak with some old popey-heads, 15th or early 16th-century; short bench with turned legs, 17th-century. Sedilia: Sill of S. window of chancel carried down to form seat.
Secular
b(2). Homestead Moat, at Passmores, ¾ m. E. of the church.
b(3). Gateway and Barn at Great Canons, about 1 m. N. of the church. The Gateway is of late 17th-century date and has rusticated brick piers surmounted by cornices, pedestals and balls of stone. Some garden walls are of the same date.
The Barn has brick walls and a tiled roof. It was built in the 17th century and is of five bays.
Foundation mounds E. of the house are said to mark the site of the Premonstratensian Abbey before its removal to Beeleigh by Maldon.
Condition—Of gateway and barn, good.
The following monuments, unless otherwise described, are of the 17th century and of two storeys, timber-framed and plastered or weather-boarded; the roofs are tiled or thatched. Several houses have original chimney-stacks, exposed ceiling-beams and wide fireplaces.
Condition—Good, or fairly good, unless noted.
b(4). Hare Street Farm, house, about 1 m. N.E. of the church, has a gabled cross-wing at the E. end and an original chimney-stack with grouped diagonal shafts.
b(5). Tod's Brock Farm, house, about ½ m. E. of the church, was built probably late in the 16th century. The original central chimney-stack has six octagonal shafts and the stack at the N. end has two shafts, also octagonal.
b(6). Cottage, on the E. side of Press Lane, at Linford End, 210 yards S. of (5), was built probably in the 16th century and has a gabled cross-wing at the E. end.
b(7). The Cock Inn, ¼ m. S.E. of the church, is of L-shaped plan with the wings extending towards the N. and E.
b(8). Cottage, N. of Kingsmoor House and about 1 m. S.S.E. of the church.
c(9). Cottage, on the N.E. side of the road, about 1½ m. S.S.E. of the church.