Pages 76-77
An Inventory of the Historical Monuments in Herefordshire, Volume 2, East. Originally published by His Majesty's Stationery Office, London, 1932.
This free content was digitised by double rekeying and sponsored by English Heritage. All rights reserved.
33 EDVIN RALPH (D.b.)
(O.S. 6 in. (a)XIV, S.W., (b)XXI, N.W.)
Edvin Ralph is a small parish 2 m. N. of Bromyard. The church, with its mediæval effigies, is the principal monument.
Ecclesiastical
b(1). Parish Church of St. Michael (Plate 4) stands in the S. part of the parish. The walls and dressings are of local sandstone with some calcareous tufa; the roofs are covered with tiles and stone slates. The Chancel and Nave were built in the 12th century. The West Tower was added early in the 13th century. The church was restored in 1862 and 1885, and the North Vestry and South Porch are modern.
The mediæval effigies and incised slab are noteworthy.
Architectural Description—The Chancel (27¾ ft. by 17 ft.) has a three-light window of c. 1320, with modern mullions and tracery in a two-centred head. In the N. wall are two windows, the eastern of c. 1320, much restored and of two trefoiled lights with tracery in a two-centred head; the western window is a single round-headed early 12th-century light, with a cablemoulding round the external head. The S. wall has been refaced; in it are two windows almost entirely modern but of late 13th-century origin. There is no chancel-arch.
The Nave (38½ ft. by 16½ ft.) has, in both the N. and S. walls, two windows, almost entirely modern, the eastern uniform with the N.E. window in the chancel, and the western with a trefoiled head, mostly modern. The early 14th-century N. doorway has chamfered jambs and two-centred arch, mostly of 12th-century materials re-used. The 12th-century S. doorway, altered in the 13th century, has a two-centred arch of the later date but of 12th-century materials, and of two orders, the inner plain and the outer roll-moulded with lozenge-ornament on the label; the 12th-century jambs have a plain inner order and moulded outer order, with conventional ornament on the top stones and imposts with billet-ornament. The S. wall has been largely refaced. There are some remains, on both sides, of the tufa quoins of the 12th-century W. wall, butting against the plinth of the tower.
The West Tower (13¾ ft. square) is of early 13th-century date and of three stages with a battered plinth and a pyramidal roof from which rises a slender spire. The tower-arch has responds and two-centred arch of two chamfered orders with moulded imposts and a chamfered label. The N., S. and W. walls have each a single lancet-light. The second stage has a round-headed doorway in the E. wall; the N., S. and W. walls have each a small lancet-window. The bell-chamber has, in each wall, a window of two lancetlights.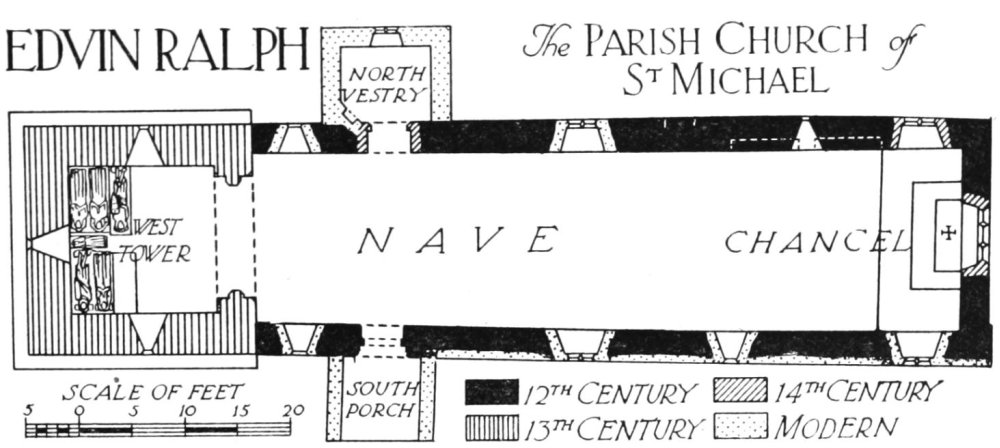 The Roofs of the chancel and nave are of braced collar-beam type with a cambered tie-beam between them, perhaps used as a rood-beam, as there are three sockets on the upper face, perhaps for the rood and attendant figures.
Fittings—Bells: two; 1st by I. B., 1587; 2nd, 1603. Monuments and Floor-slab. Monuments: In W. tower—on N. wall, (1) to Thomas Burwall, Anne, his wife, and Edward, their son, all died 1699, tablet with cherubs and conventional flowers; on S. wall, (2) to James Pytt and Dorothy, his wife, erected 1625, stone tablet with Tuscan side-columns of red-veined stone, cornice and cresting; on floor in N.W. angle, (3) stone effigies of man of the Edefen family and two wives, male effigy (Plate 126), in mail with surcoat, hands drawing or sheathing sword, legs crossed, head on cushions, feet on lion with dog at side, shield on left arm charged with the arms of Edefen; effigies of women (Plate 127) in long gowns, tight sleeves, veiled head-dress, dog at feet, early 14th-century; in S.W. angle, (4) stone effigies of man and wife (Plate 126), effigy of man in mail armour similar to (3) but with lion only at feet and plain shield; effigy of woman also similar to those in (3), c. 1300; (5) small stone effigy of woman or girl, in similar costume, dog at feet, early 14th-century; (6) incised slab (Plate 125) to Maud, wife of Thomas de Edefen, mid 14th-century, figure of woman in long gown, dog at feet, cinque-foiled and two-centred canopy with side-shafts and pinnacles, inscription—"Hic jecet Dna. Matild. que condam fuit uxoris Dni. Thome, de Eddefen.—Ubiqū. d'centib. pr. ave p. aiā. Matil. de Yddefn. Dns. Epus. Hareford con cedutr [i.e. conceduntur]. LX dies wenie. —Ubiqū dicentib. pr-. aie p. aiā. Matil. de Yddefe. Dns. Epus. Hygornis XXX dies wenie"; two shields of arms (a) said to be Le Poher of Worcester, (b) Edefen. Floor-slab: In W. tower — to . . . daughter of Richard Colly, 1682. Piscina: In chancel —in E. wall, recess with trefoiled head and octofoiled drain, 13th-century. Recesses: In chancel—in N. wall, (1) with chamfered two-centred head, moulded label and head-stops, third head at apex; (2) with moulded jambs, two-centred head, head at apex; both tomb-recesses and early 14th-century.
Secular
b(2). Moat, 100 yards W. of the church, is circular and encloses an island about 40 yards in diameter. There are traces of an outer enclosure on the N. and N.W.
b(3). Philip's Place, house, 600 yards W.N.W. of the church, is of two storeys, timber-framed and partly faced with brick; the roofs are tiled. It was built early in the 17th century on a T-shaped plan with the cross-wing at the E. end. Some of the timber-framing is exposed. Inside the building are some exposed ceiling-beams and 17th-century doors.
a(4). House, two tenements, 700 yards N.N.W. of the church, is of two storeys, timber-framed and with tiled roofs. It was built late in the 16th or early in the 17th century and has a N. wing added in the 17th century. The timber-framing is exposed and inside the building are exposed ceiling-beams and 17th-century doors.
b(5). Brickhouse Farm, house, 500 yards N.N.E. of the church, is of two storeys with attics; the walls are timber-framed and the roofs are tiled. It was built in the 17th century and has exposed timber-framing.