Pages 189-190
An Inventory of the Historical Monuments in Herefordshire, Volume 3, North West. Originally published by His Majesty's Stationery Office, London, 1934.
This free content was digitised by double rekeying and sponsored by English Heritage. All rights reserved.
71 STRETFORD (C.c.)
Stretford is a small parish 4 m. S.W. of Leominster. The church is the principal monument.
Ecclesiastical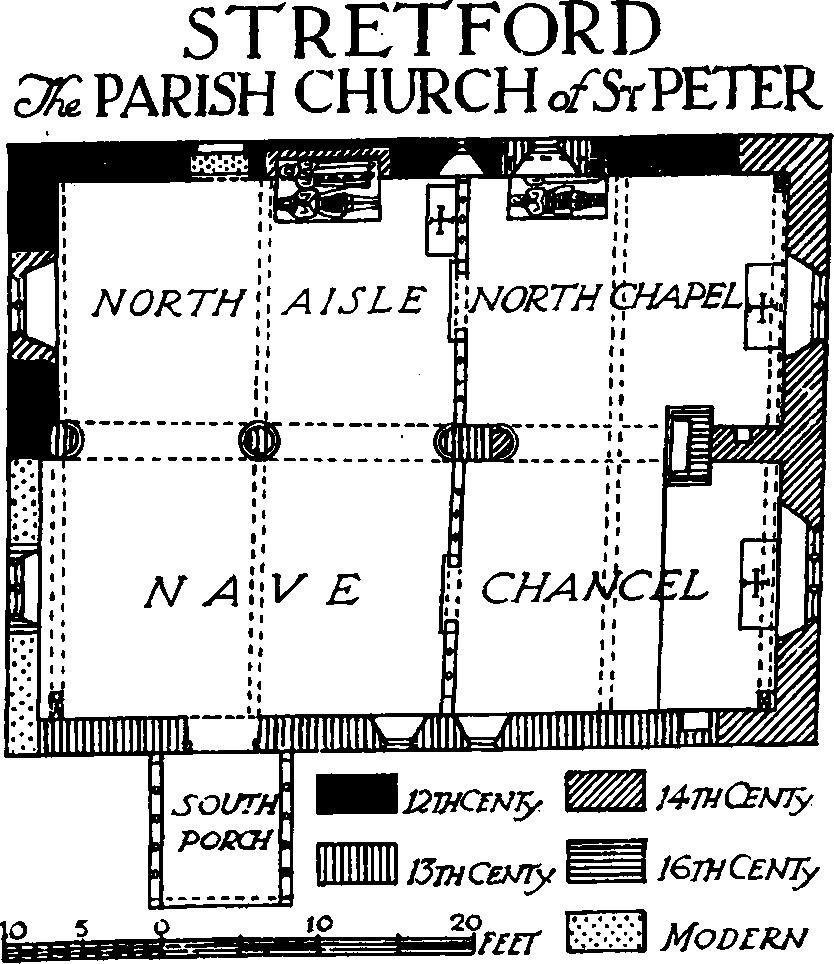 (1). Parish Church of St. Peter or St. Cosmas and St. Damian stands near the S. end of the parish. The walls are of local sandstone rubble with dressings of the same material; the roofs are tiled. The N. wall of the North Chapel and Aisle, formerly the chancel and nave, is of early to mid 12th-century date. The existing Chancel and Nave were added in the first half of the 13th century with an arcade between them and the earlier building. About 1320–30 the whole building was lengthened about 7 or 8 feet to the E. and the easternmost arch widened. The original doublegabled roof was removed c. 1540 and replaced by the existing single gabled roof covering the whole building and with a bell-turret at the W. end. The South Porch was added in the 16th or early 17th century. The church was restored in 1875, and the W. wall was re-built in 1922.
The roof is an interesting piece of construction, and among the fittings the mediæval effigies are noteworthy.
Architectural Description—The Chancel (20½ ft. by 15¾ft.) has an early 14th-century E. window of three plain pointed lights with intersecting tracery in a two-centred head with an ogee point; the rear-arch springs from corbelling. In the N. wall is a 13th-century arch widened in the 14th century; it is two-centred and of two chamfered orders; the E. respond is concealed, but the W. respond has a half-round attached shaft with moulded capital and base. In the S. wall is a 13th-century lancet-window. There is no structural chancel-arch.
The Nave (26½ ft. by 16 ft.) has a 13th-century N. arcade (Plate 13) of two bays, with two-centred arches of two chamfered orders; the cylindrical column and half-cylindrical responds have moulded capitals and bases. In the S. wall is a 13th-century lancet-window; the 13th-century S. doorway has chamfered jambs and two-centred head. In the W. wall is a window, perhaps of early 16th-century date and of two trefoiled lights in a square head.
The North Chapel and Aisle (46½ ft. by 15¾ ft.), formerly the chancel and nave, has an early 14th-century E. window of two plain pointed lights in a two-centred head with an ogee point; the rear-arch springs from chamfered corbelling. In the N. wall are two windows, the eastern a 13th-century lancetlight and the western a single round-headed 12th-century light. The 12th-century N. doorway, now blocked, has chamfered jambs and round arch. In the W. wall is a 14th-century window of two trefoiled ogee lights; above it is a small round window. Over the W. gable is a square 16th-century bell-turret of timber finished with a short spire.
The South Porch is of 16th or early 17th-century date, and of timber on dwarf stone walls. The S. end has posts, tie-beam and braces forming a three-centred arch. The sides have posts forming five openings with modern inserted heads; there is a collar-beam truss against the N. wall.
The Roof (Plate 168) of the church is of the 16th-century, covering the whole building, and of four bays; the truss over the chancel-screens has a moulded tie-beam, plain king and subsidiary posts and a collar; below the collar are curved braces; the truss against the W. wall has a tie-beam, but the other trusses are of collar-beam type, with central posts, standing on the arcade-wall and curved braces; the four purlins on each side have wind-braces, the two upper ranges curved and the lower ranges cusped; the end trusses, except in the N.W. angle, and the middle truss rest on posts set against the walls and carried down to the floor; the intermediate trusses rest on wall-posts each carved with a shield-of-arms, two of Delabere on the N. and one each of Baskerville and Devereux on the S.; there are also shields with plain crosses on the E. pair of main posts.
Fittings—Bells: two, inaccessible. Chest: In N. chapel—boarded chest with two strap-hinges, probably 17th-century. Coffin-lid: In recess against E. respond —re-set slab with cross-head consisting of intersecting curves, late 13th-century. Font (Plate 55): irregular cupshaped bowl and tapering stem, moulded base, probably late 12th-century. Monuments: In N. chapel—in N. wall (1), recess with moulded ogee arch and label with headstops of a king and queen; in recess, freestone effigies (Plate 175) of man in mixed mail and plate armour with cyclas and shield with the arms of Delabere on the left arm, feet on beast; lady in wimple and long gown with tight sleeves, c. 1320–30, possibly for Robert Delabere and Margaret (Gamage) his wife. In N. aisle—in N. wall (2), recess with plain segmental-pointed arch; in front of it, freestone effigies (Plate 175) of man in mixed mail and plate, with cyclas, feet on beast, shield on left arm with the arms of Delabere; lady in wimple and sideless gown, etc., feet on beast, c. 1340–50, possibly for Sir John Delabere and Agnes (Turberville) his wife. Piscinæ: In chancel—re-set head of 12th-century pillar-piscina, with scalloped and enriched capital and square drain, 13th-century recess at back with moulded two-centred head. In N. chapel—in S. wall, recess with trefoiled ogee and crocketted head and broken drain, 14th-century. Plate: includes an Elizabethan cup and cover-paten. Pulpit: four sides of octagon, each side with two ranges of panels, the upper with enriched arches and styles with jewel-ornament and half-baluster ornament; lower panels dentilled and enclosing rosettes in circles; top-rail with strap-ornament and enriched cornice, early to mid 17th-century. Recess: set against E. respond of arcade, rectangular stone structure with embattled cornice and having in the W. face a recess with moulded jambs and square head, 4½ ft. high by 3¼ ft. wide and 1¼ ft. deep, probably early 16th-century. Screens: Between chancel and nave—of six bays, three on each side of central doorway, moulded rails and posts, those to doorway with buttresses, doorway with three-centred head foliated spandrels and panelled frieze above, side bays with close lower and open upper panels with trefoiled ogee and traceried heads; posts, where original, all cut with a sloping groove as for the insertion of a book board towards the chancel and 4¾ ft. above the floor. Screen between N. chapel and aisle, generally similar but with no grooves and with different treatment above central doorway. Both screens probably early 16th-century.
Secular
(2) Moss Hill Farm, outbuilding, over 1 m. N.N.W. of the church, is of one storey with attics, timber-framed and with tiled roofs. It was built probably late in the 17th or early in the 18th century, but was partly re-built in 1796, which date, with the initials R.H., appears on the S. end. The external framing and the ceiling-beams are exposed.