Pages 113-114
An Inventory of the Historical Monuments in the County of Northamptonshire, Volume 3, Archaeological Sites in North-West Northamptonshire. Originally published by Her Majesty's Stationery Office, London, 1981.
This free content was digitised by double rekeying and sponsored by English Heritage. All rights reserved.
41 KILSBY
(OS 1: 10000a SP 57 SW, b SP 57 SE, c SP 56 NE)
The parish, covering some 1100 hectares, lies against the county boundary with Warwickshire to the N. and the line of Watling Street to the E. and is bounded by streams on the W. and S. It now includes the land of the hamlet of Barby Nortoft(2), formerly a detached part of Barby parish (Fig. 87). The higher S. half of the parish is mainly covered by Boulder Clay and patches of glacial sands and gravels between 120 m. and 150 m. above OD. To the N. the ground is lower and although there are still considerable spreads of glacial material the underlying Jurassic Clay is exposed over large areas.
Prehistoric and Roman
a(1) Barrow (?) (unlocated). In the early 18th century a large bank or barrow was recorded on a hill to the E. of Kilsby (J. Bridges, Hist. of Northants., I (1791), 73). Such a feature could not be traced in the early 19th century (G. Baker, Hist. of Northants., I (1822–30), 404).
For Roman Road 1f, Watling Street, see Appendix.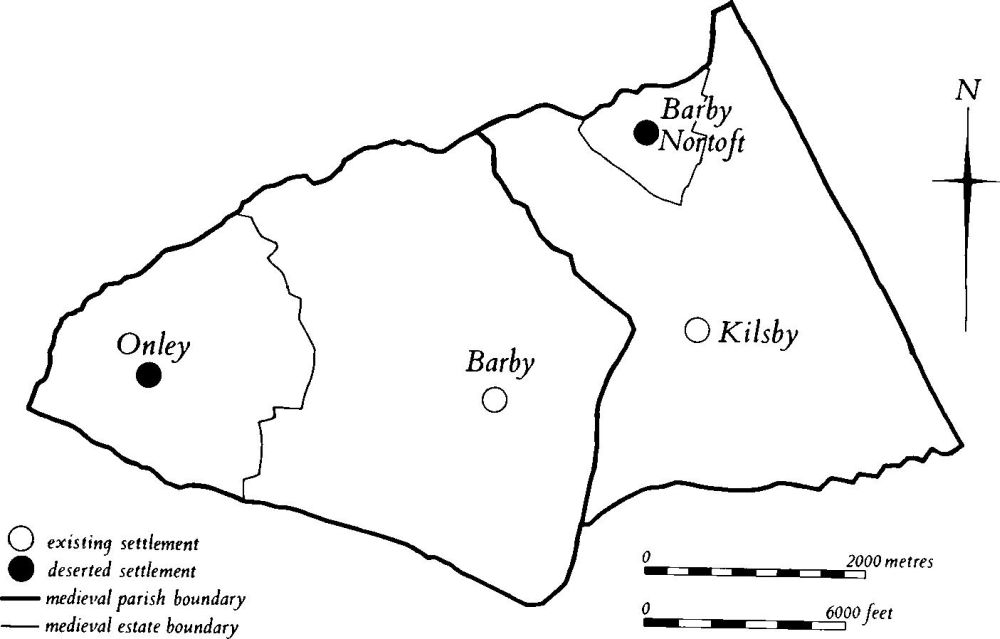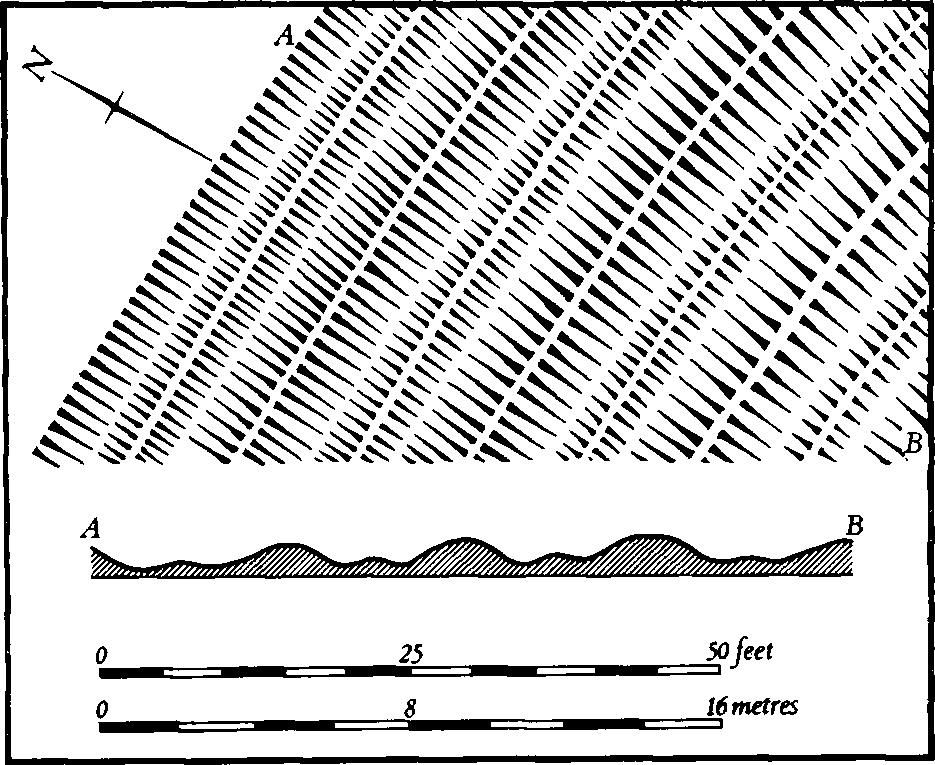 Medieval and Later
For Anglo-Saxon burials on or near Watling Street, see Crick (6).
b(2) Settlement Remains (SP 557727; Fig. 87), formerly part of the hamlet of Barby Nortoft, lie in the N.W. corner of the parish, on a low N.W.–S.E. ridge of clay covered with glacial sand and gravel, at 115 m. above OD. The hamlet, together with its land, was a detached part of Barby parish but little is known of its history, the name not being recorded until 1247 (PN Northants., 25). In 1834 (1st ed. OS 1 in. map) two of the three present isolated farms already existed. The land which belonged to the settlement is shown on a map of Barby parish of 1840 (NRO). This suggests that the hamlet may have originated as a secondary settlement of Kilsby but its name and its association with Barby make this unlikely.
The remains, now under grass, have almost all been destroyed by cultivation and little exists on the ground. To the S.E. of West Nortoft Farm a large scarp up to 1.5 m. high curves N. for a distance of some 120 m. At its S. end it appears to meet an access-way between the adjacent ridge-and-furrow, but the railway has partly obscured the relationship at this point. To the E. of the scarp are three very low banks, projecting E. from it and now almost ploughed out. A few sherds of pottery, mainly 13th or 14th-century in date have been found in the field to the S.E. (SP 559728; RAF VAP CPE/UK/1994, 4439–40).
b(3) Mound (SP 55107203), N.W. of the village, on a low ridge of clay at 115 m. above OD. A roughly circular mound, 1 m. high and 17 m. in diam., with no trace of a ditch, overlies ridge-and-furrow. On the 1st ed. OS 1 in. map of 1834 it is marked as 'tumulus', but it is perhaps a windmill mound.
b(4) Fishpond (?) (SP 560709), on Boulder Clay at 130 m. above OD, lay in a field on the S.W. side of the village, now built over and known as Fishers Close. It is visible on air photographs as a roughly rectangular depression with a large bank on its N. side (RAF VAP CPE/UK/1994, 1480–1).
(5) Cultivation Remains. (Fig. 88). The common fields of the village of Kilsby were enclosed by Act of Parliament of 1777 (NRO, Enclosure Map, 1778). Ridge-and-furrow of these fields exists on the ground or can be traced from air photographs over almost all of that part of the parish which comprised medieval Kilsby and a virtually complete pattern is recoverable. It is arranged in end-on and interlocked furlongs, mainly of pronounced C-curved or reversed-S form. Some exceptionally well-preserved furlongs still survive S. of the village between the M45 motorway and the Ashby St. Ledgers boundary (SP 563705–565698). Also in this area (especially at SP 563704) are blocks of ridge-and-furrow consisting of rounded ridges up to 1 m. high with subsidiary low ridges between them occupying the normal positions of the furrows (Fig. 88). The purpose and method of formation of these is not clear. The enclosure of the common fields of Barby Nortoft (2) took place in 1778, at the same time as that of Barby parish and under the same Act of Parliament. Ridge-and-furrow of these fields exists within the area of land attributable to the hamlet (Fig. 87), and is arranged in interlocked furlongs (RAF VAP 106G/UK/636, 4185–9, 3185–92; CPE/UK/1994, 2452–6, 4455–61; CPE/UK/2109, 3288–93).