Pages 106-108
An Inventory of the Historical Monuments in the Town of Stamford. Originally published by Her Majesty's Stationery Office, London, 1977.
This free content was digitised by double rekeying and sponsored by English Heritage. All rights reserved.
Ironmonger Street (Fig. 100)
This straight street has every appearance of having been deliberately laid out, but evidence for this has not been found; it was certainly in existence in the early 17th century. The street already had its present name by the 18th century, when it housed a relatively large number of ironmongers. (Plate 145.)
The E. side of the street was occupied by the Blue Bell Inn, reaching from the High Street to Broad Street. In 1595 the Inn was described as newly built (NRO, Fitzwilliam Misc. 433); during the 17th century the Inn contracted and the northern part was sub-divided and leased separately. This process was well advanced by 1677 when No. 36 Broad Street was described as 'parcel of the Sun and Bell'; by 1684 the Inn was confined to the High Street frontage and the remainder of the building was divided into at least five lots (Corporation Lease Books). Most of the buildings were shops, but in the 18th century the yard appears to have housed the workshops of a succession of cabinet makers, including Saunders Laughton until 1750, Robert Timperon from 1750 to 1772 and Henry Tatam after 1772 (Court Rolls).
(240) House, No. 1 (Fig. 133; Plate 73), two storeys, cellar and attics, ashlar walls, class 10, probably dates from the late 17th century. In the early 18th century windows with moulded surrounds and sills were inserted on the street front on the first floor, in the position of former, taller windows; above the earlier lintels is scroll ornament in relief. Leaf-decorated wooden eaves brackets, and quoins with raised margins (Plate 121), are of the first period. The rear wall is stone on the ground floor and timber-framed above; the coved eaves are widely projecting. Inside, partions to a former, almost central, passage have been largely removed, but the early 18th-century stair at the back, with turned balusters and square knops, remains. Early 19th-century fittings include ceiling cornices with acanthus decoration and an elliptically-headed recess with key-block.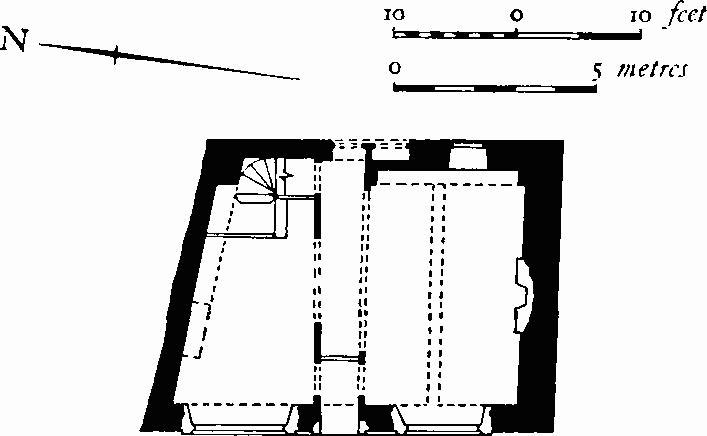 (241) Shop, No. 2, two storeys with attics in mansard roof, red brick walls, is early 19th-century; it was built as a shop and has a side entrance serving a dwelling on the first floor. Early 19th-century pilasters to the shop front remain; the fascia is applied against a vestigial platband which is traceable on either side. One sash window has triple lights.
(242) House, No. 3 (Plate 107), two storeys and attics, ashlar front wall, class 10 plan, was built in the first half of the 18th century. The door and window openings on the street front have plain projecting surrounds with keystones; the elevation is enriched with rusticated quoins, platband and deeply projecting wooden cornice with shaped brackets. A shop front with flat bay window, occupying the N. bay, may be early 19th-century. A rear window has ovolo-moulded mullions. The interior is largely gutted except for a stair against the back wall. For plan see Fig. 7.
(243) House, Nos. 4–5 (Plate 145), two storeys and attics, mostly timber-framed, has a late 16th-century origin; a central carriageway is an original feature but has been narrowed on the S. The building formed part of the Blue Bell Inn. A first-floor room, adjacent to the carriageway, overhangs on the street side, has a hipped roof, and is perhaps 18th-century. A two-storey rear wing with cellar was added in the 18th century; the lower walls are of stone, the upper, jettied at the gable end, are timber-framed. The interior walls are almost entirely early 19th-century, when a second rear wing with mansard roof was also added. The two shop fronts give the street elevation, with the exception of the jetty, an early 19th-century appearance; the smaller shop window, beneath the jetty, is bow-fronted, the larger has a central entrance, rounded ends to each window and later glazing bars. The upper window in the jetty is a triple sash. Inside, ceiling beams in the S. room are stop-chamfered and the joists are laid flat. The N. room, now sub-divided, has intersecting beams. In the S. rear wing is a fireplace with eared surround of the 18th century.
At the rear of No. 5 is a stone Warehouse of the early 19th century; the wide openings are modern. At right angles is a two-storey range with attics in a mansard roof, and walls partly of dressed stone and partly of timber-frame; it is perhaps mid 19th-century.
(244) Shop, No. 6, three storeys and cellar, coursed rubble walls with freestone dressings and quoins, red brick N. gable, was built c. 1840. The L-shaped plan provides for a shop, and a side hallway with staircase which serve accommodation on the upper floors; the entrance is late 19th-century. Inside, the main rooms have plaster cornices with Greek meander pattern.
(245) House, No. 8, three storeys and attics, ashlar front wall, mansard roof, was probably built c. 1800. The front of three bays has upper sash windows with continuous sills; the ground floor has a late shop front but the main door and a round-headed passage-entry are retained. The plan is narrow, only one room deep.
(246) House, Nos. 9–10 (Plate 99), three storeys and cellar, ashlar front and rubble rear walls, was built in the early 18th century by Henry Butcher (died 1736), upholsterer, who bought the site in 1706 for £70 (deeds).
This large building comprises two houses of classes 13 and 9. The seven-bay street elevation has rusticated quoins and continuous platbands at sill level; all windows have eared architraves but the lower also have flat hoods above pulvinated friezes (Fig. 10). A plain parapet rises off a moulded cornice which breaks forward above the quoins. In the early 19th century shop fronts were installed but that in No. 9 alone remains; this has a central doorway with semicircular fanlight flanked by large windows surmounted by segmental fanlights (Plate 138). The interiors have been much altered. In the main house (No. 10) the stair has turned balusters and rises past an arch with key-block. One upper room has double-height fielded panelling with wooden cornice; other fittings include plain panelling, doorcases and a stone fireplace, all of the late 18th century. The fittings in No. 9 are mainly late 18th-century. For plan of No. 10 see Fig. 7.
(247) House, No. 11, three storeys, coursed rubble with ashlar dressings and quoins, was built between April 1796 and February 1798, when it was described as newly erected by Thomas Harper, ironmonger (indentures of 1819, in deeds of 3 All Saints' Place, and of 1798 in deeds of 10 Ironmonger Street).
The plan approximates to class 10 with a rear block housing stairway and lesser rooms. The three-bay street front has modern shop front, upper sash windows with lintels and keystones in relief, and third-floor platband at sill level. A rainwater head is dated 1802. Fittings include a moulded fireplace surround between round-headed recesses, and moulded doorcases.
(248) House and Shop, No. 12, three storeys and attics, coursed rubble with flush ashlar quoins and dressings, double roofs with central valley, class 14b, is late 18th-century. The absence of a door between hall and front room implies its use as a shop from the beginning. The stair, in the rear block, has square balusters and turned newels. An upper room has fluted plaster cornice.
(249) Terrace, Nos. 13–14, and 38 Broad Street, two storeys, attics and cellar, walls of coursed rubble with ashlar dressings, is late 18th-century. Before alteration to modern shops, each house consisted of an L-shaped plan of three rooms with a stair in the angle. The staircase in No. 13 has splat balusters with shaped profiles (Fig. 15).