Pages 57-58
An Inventory of the Historical Monuments in the Town of Stamford. Originally published by Her Majesty's Stationery Office, London, 1977.
This free content was digitised by double rekeying and sponsored by English Heritage. All rights reserved.
All Saints' Place (Fig. 70)
This open space to the N. of All Saints' church formed part of a large medieval market place.
(70) House, No. 1 (Fig. 64), two storeys and attics, has ashlar and stone rubble walls. It was rebuilt in 1791 after damage by fire. In 1791 the lease was renewed by Browne's Hospital, the owners, to John Boyfield, carpenter, with a covenant to rebuild according to a plan and elevation prepared by the Warden. The front range of three bays has sash windows rising from platbands. The plan now approximates to class 12, the side passage giving access to an entrance hall as well as to workshops at the rear. The kitchen has a late 18th-century fireplace with keystone.
(71) House, No. 2 (Plate 148), two storeys and attics, with ashlar walls, incorporates an earlier, perhaps 17th-century, timber-framed building which was encased in ashlar in the first half of the 18th century; a two-storey kitchen wing was also added at the rear. The three upper windows of the main front, above a platband, are symmetrical and have keystones and moulded architraves. A wooden cornice with brackets carries the gutter (Plate 122). The unevenly spaced ground-floor openings of varying widths are later alterations; each has keystones and channelled lintels imitating voussoirs. Inside, the main room has fielded panelling in two heights; early in the 19th century, the interior was refurbished and the lower flights of the stairs were reset probably from the N.E. corner where the upper flights survive in a hipped turret. The stairs have turned balusters. Against the side wall an arcade of three elliptical arches was built in the early 19th century. In 1750 John Dixon, carpenter, acquired the property through his wife, Alice Newcomb, and the present building may date in part between then and his death in 1782 (Ex. MS, 90/27).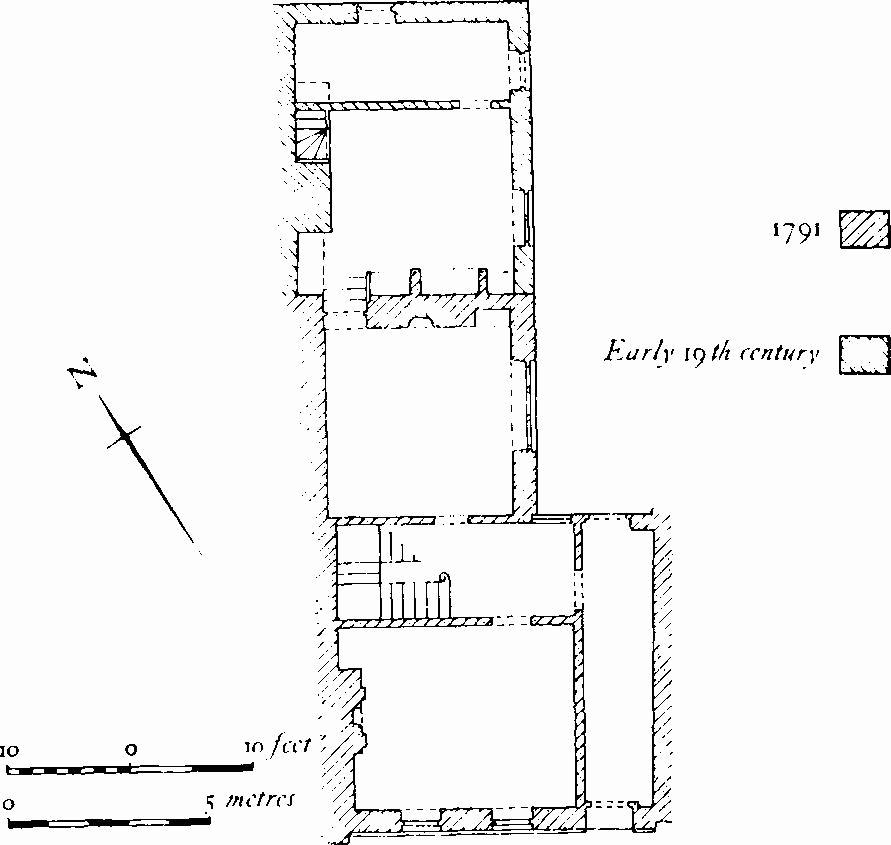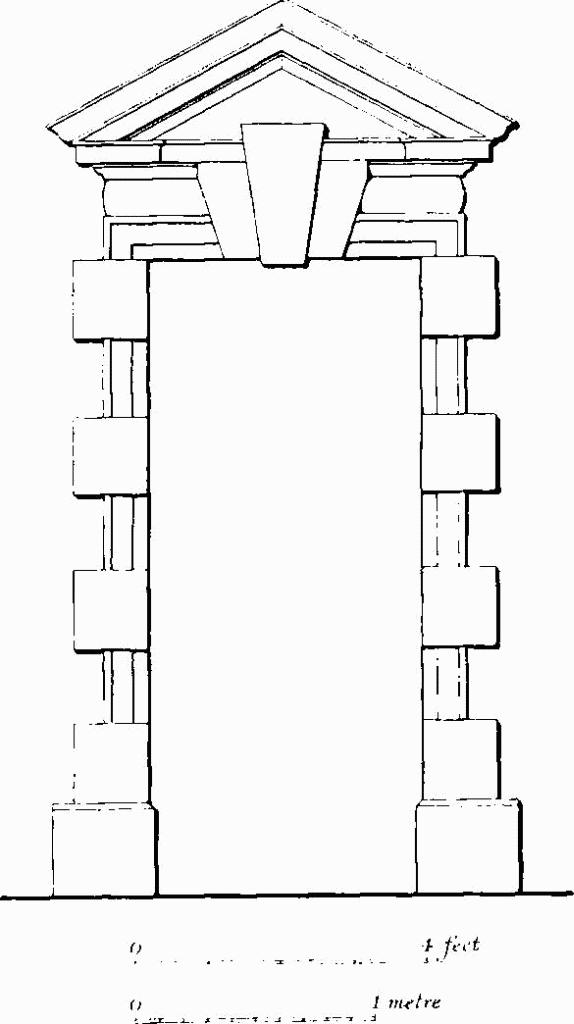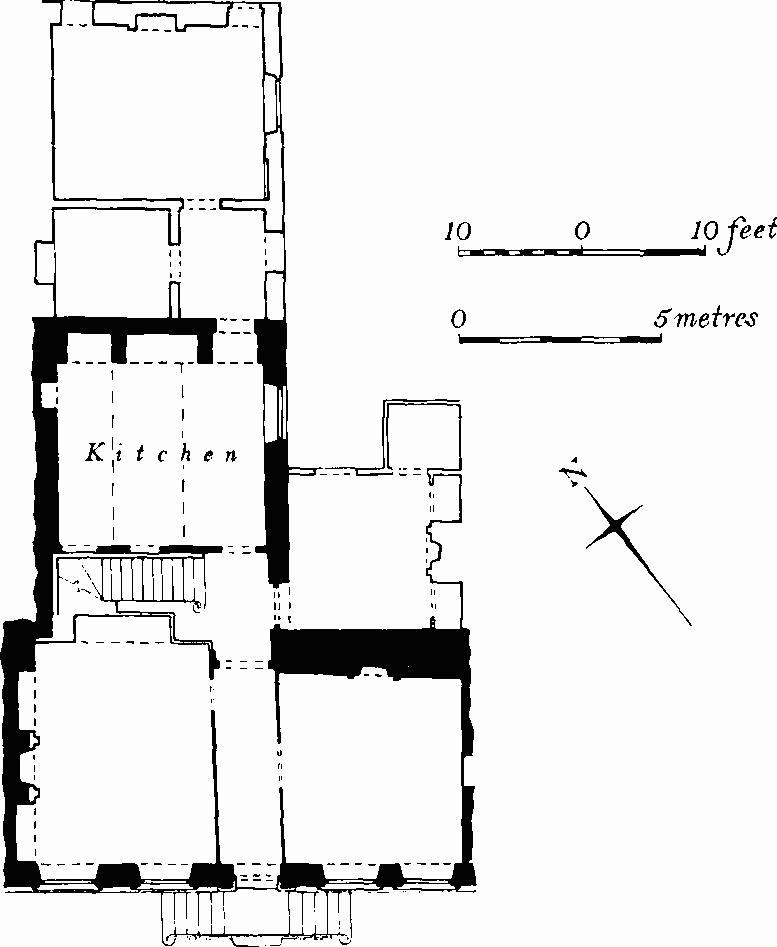 (72) House, No. 3 (Figs. 65, 66; Plate 96), two storeys and attics, with ashlar front wall, rubble gable, is early 18th-century. The plan is L-shaped and in the entrant angle a small timber-framed block was added in the late 18th century to give a class 11b plan; the rear arm was lengthened in the 19th century. The main front on the S. is in five unequal bays with approaching steps, moulded platband and a later central doorway having a moulded architrave with spaced rustication, double keystone in relief, and a pediment; the uniform upper and lower windows have moulded architraves (Figs. 10, 12, 13, 65). Above is a central shield-shaped plaque. The wooden cornice has square brackets (Plate 122). Inside, the entrance hall and two front rooms have fielded panelling in two heights with chair-rail and cornice of the 18th century. The kitchen in the rear wing has a wide elliptical-headed fireplace and flanking round-headed openings (Fig. 67). Doorcases with angle-roundels, and the staircase, are early 19th-century. The roof has staggered purlins; principal rafters have curved feet.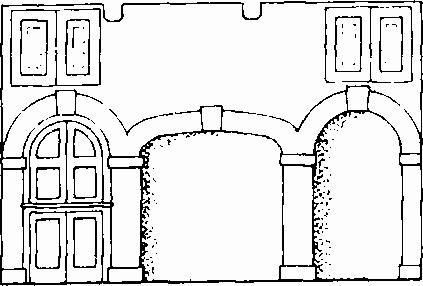 (73) Bourn Court, Nos. 4, 5, two storeys, attics and cellar, hipped mansard roof, rubble walls, comprises two separate dwellings which were built in c.1800 by the Bourn Charity. By 1813 there were four houses, two barns and two stables on the site (Blore, 235–50). The two surviving houses each had a front of three bays with central doorway but both have been recently altered. Wooden-framed windows have fixed glazing with small metal casements. No. 4 incorporates a large stack from an earlier building.
Nos. 14–15, see mon. (432).
(74) House, No. 16 (Plate 146), three storeys, cellars and attics, ashlar walls, wooden cornice, mansard roof with three dormers, class 10, is probably the house described in 1793 as newly built, James Hames being tenant (Mercury, 15 July). The cellars comprise three parallel vaults. The front elevation is dominated by three-storey twin bow windows in timber-framing and of slight projection; the central doorway has a fanlight with gothic tracery in a round head. Contemporary interior features include fluted pilasters and a plaster acanthus frieze. Carved fragments reset in the yard behind are probably from the workshop of John Hames.