Pages 58-59
An Inventory of the Historical Monuments in the Town of Stamford. Originally published by Her Majesty's Stationery Office, London, 1977.
This free content was digitised by double rekeying and sponsored by English Heritage. All rights reserved.
All Saints' Street (Fig. 70)
This street, a continuation of St. Peter's Street, crosses at its E. end a possible market-place, partly infilled, although any such infilling was complete by the 13th century (Peck, IX. 34). At its W. end is St. Peter's Callis, an almshouse which is of ancient origin, and which possibly dates from before 1466 (Hall Book I, 7). Two inns, Millstone and Salutation (75, 80), doubtless arose because of proximity to Red Lion Square. In 1826 the first Roman Catholic church in the town was built on the site now occupied by No. 19.
(75) The Millstone Inn, No. 1, of two storeys, has coursed rubble walls. The street front, of the 17th century, has a wide rectangular two-storey bay window with hollow-chamfered mullions; the proportions of the building, which approximates to class 1 or 2, suggest an earlier origin. A carriage entry on the W. has been blocked to form additional accommodation. A wide projecting chimney stack is built in the back wall. A rear wing on the S. may have been timber-framed, perhaps 17th-century, but the walls are now of stone.
(76) House, No. 3, three storeys, coursed rubble with flush dressings, class 10, now has a shop on the ground floor. It was described as newly built in a lease of 1812 and was presumably constructed after a previous lease of 1805 (Browne's Hospital, leases).
(77) Terrace, Nos. 4–8, two storeys and attics, red brick front wall, remainder coursed rubble, with mansard roof, class 14a, was built between 1792–8 (Browne's Hospital, leases). Openings in the rear wall have brick dressings. Modern shops occupy most of the ground floor.
(78) Former Wheatsheaf Inn, No. 13 (Plate 73), now class 12, two storeys, consists of an early 17th-century timber-framed rear wing of one-room plan, having a jetty on one side and a slightly later wooden mullion-and-transom window, and a late 17th-century front range. The latter has ashlar walls, moulded string-course, and a two-storey bay window with flat roof and ovolo-moulded mullions; the quoins have raised margins. Between the front room and the rear wing is a staircase which replaces a former winding stair, the scar of which remains.
(79) House, Nos. 14–15, two storeys and attics, slate roof, is 17th-century but was substantially renovated in the 19th century; the original walling is in squared ashlar, the remainder coursed rubble. The original street front comprised two bay windows with canted sides, ovolo-moulded mullions and parapeted gables, but the E. bay has been removed, the gable being reset over the main wall (drawing by Twopeny, 1827; OS map). The front range, of class 6, originally consisted of two rooms. The central entrance has depressed four-centred head and ovolo-moulded jambs, and internally there is a similar doorway but with sunk spandrels. At the rear is an 18th-century wing with a diamondpatterned panel in the gable. To the E. is a reset arch from the former Corn Market (see Introduction to Broad Street).
(80) Houses, Nos. 16–17, two storeys, attics in mansard roof, rubble walls, continuous sills, large flush quoins and dressings, were rebuilt in the late 18th-century by Alderman Robert Hunt as the Salutation Inn (Blore, 253). No. 17, marginally earlier than No. 16, of class 9, has been gutted for a shop but the symmetrical front of No. 16 remains.
(81) Albion Tavern, No. 20, three storeys, ashlar walls and Welsh slate roof, class 14b, is early 19th-century. The sash windows and round-headed doorway have flush dressings. The deeply overhanging eaves have plain widely-spaced brackets.
(82) House, No. 21 (Fig. 68), now with two storeys and attics and stone walls, originated as a class 1a timber-framed medieval building of three bays, the two W. bays comprising the hall; both the hall and the single bay, on the E., were originally open to the roof, and the upper section of the partition between them survives in the roof. In the E. wall is a fireplace with chamfered jambs, and brackets supporting a vestigial hood; it is in a stone wall and is presumably secondary. The roof has tie beams, collars, clasped purlins, curved wind-braces and principals diminishing above the collars. These members and the faces of the W. wall and the partition are smoke-blackened. The house now has a central stack of unknown but possibly early 19th-century date. Several mullion windows are modern reproductions.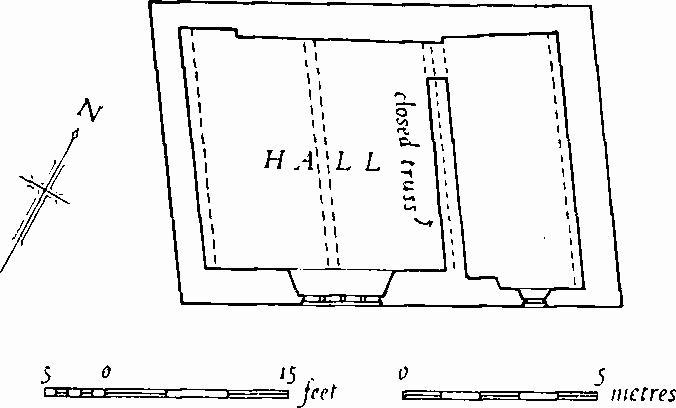 (83) House, No. 22, two storeys, attics, coursed rubble walls with 18th-century wooden eaves course, is 16th or 17th-century. All that remain of this date are some outside walls, a central stack, a heavy axial beam with substantial joists, and a roof with clasped purlins but no ridge-piece. On the street front is a three-storey timber-framed bow window, probably of the early 19th century. Internal partitions are modern. To the side is an early 19th-century two-storey wing of rubble.