Pages 68-69
An Inventory of the Historical Monuments in the Town of Stamford. Originally published by Her Majesty's Stationery Office, London, 1977.
This free content was digitised by double rekeying and sponsored by English Heritage. All rights reserved.
Bath Row (Fig. 138)
Running between the castle and the tail-race of King's Mill, this road takes its name from public baths which were first built here in 1722 (Burton, 19). There were a few cottages in the 18th century, but it only became a residential street in the early 19th century. The Baptists built a chapel here in 1835 (38).
(106) House, No. 7, two storeys, coursed rubble walls, has class 10 plan with roof continued at rear over service rooms and stair. Between the upper sash windows is a circular date-panel inscribed 'W.P. 1826'. Interior modernised.
(107) Houses, Nos. 8–10, now two dwellings, two storeys, coursed rubble walls, were built on a site which was bought in 1817 by Robert Nicholls and James Althorp, drapers; the house had been built by 1824 when their joint property was divided between them (Deeds). No. 8 has a class 10 plan of three bays with a contemporary wooden latticework porch; Nos. 9–10 originally had class 15 plans.
(108) Houses, Nos. 11–12, two storeys, coursed rubble walls with dressed window surrounds, were built by James Richardson after purchase of the land in 1833 (Deeds); they were completed before 1839 (Dewhirst and Nichols' map). The reflecting pair, each class 14b, has adjacent entrances.
(109) Doorway, E. of former Baptist chapel, reset in wall of a garden on the Castle site, of 'Barnack' limestone, with two-centred head, single chamfered jambs, moulded hood, is 13th or early 14th-century. The doorway is shown on Knipe's map of 1833.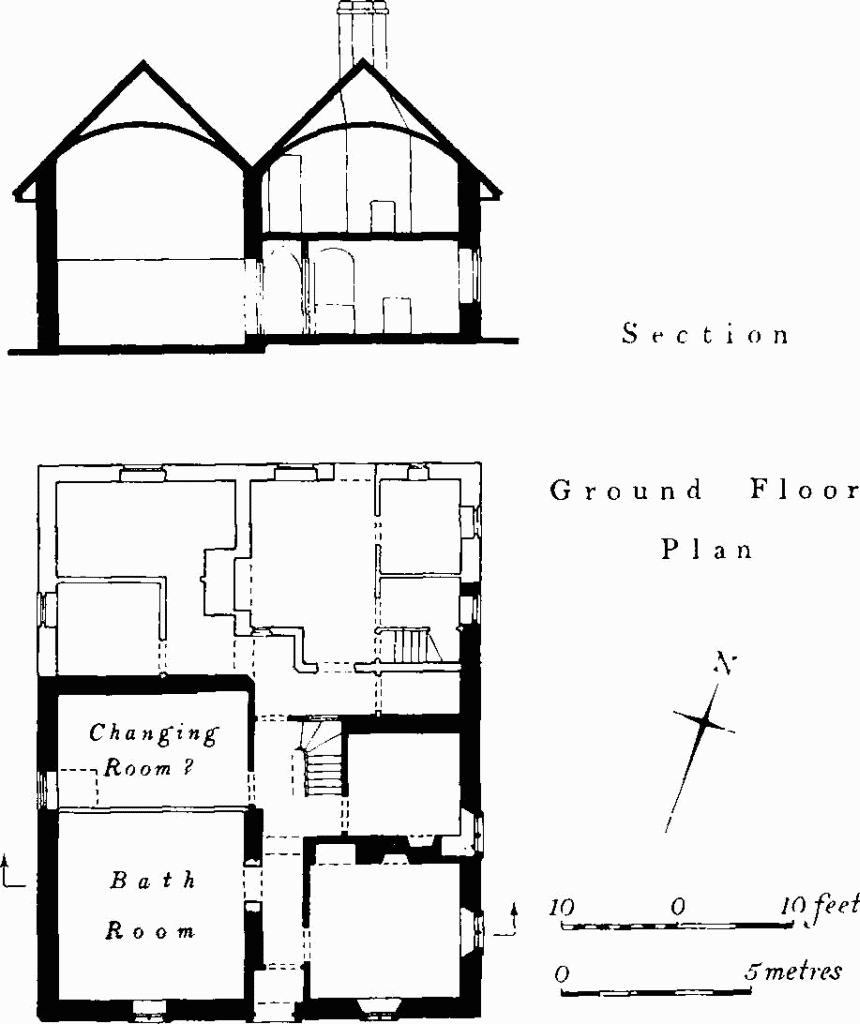 (110) Bath House, No. 16 (Fig. 84; Plate 151), two storeys, has walls of pindle with ashlar quoins and finely dressed surrounds to openings. It was built in 1823, the date inscribed internally on the S. wall. The openings are in the First Pointed Gothic style. It was extended at the rear in the late 19th century probably over a former yard. On the front elevation a parapet with obelisk finials and openwork cresting masks the valley between two parallel roofs, producing a truncated outline. Inside, the bathroom has a high barrel-vaulted plaster ceiling and possibly had a plunge bath, now filled in; to the N. was a ground-floor room perhaps used for changing. E. of the central passage was accommodation for the attendant; the first-floor rooms have barrel-vaulted plaster ceilings.
(111) House, No. 24, two storeys and attics, coursed rubble walls, mansard roof, is an early 19th-century single-room dwelling (class 15). It is of some topographical interest as being a survivor of the many small houses that formerly cluttered the riverside along Bath Row.