Pages 26-35
Survey of London Monograph 10, Morden College, Blackheath. Originally published by Guild & School of Handicraft, London, 1916.
This free content was digitised by double rekeying and sponsored by English Heritage. All rights reserved.
III.—BIOGRAPHY OF SIR JOHN AND LADY MORDEN.
SIR JOHN MORDEN was born in the year 1623. The following entry appears in the Registers of St. Bride's Church, Fleet Street:—
(fn. 1) Christenings in Auguste 1623.
John, Sonn to George Morden hys wyef Martha. Daye 13. (fn. 2)
His father, George Morden, was son of Robert Morden of Thurlow, Suffolk, and Anne, daughter of Thomas Soame of Botley, Norfolk, and sister of Sir Stephen Soame. (fn. 3)
He died just over a year after his son's birth, an entry of his burial in the Registers of St. Bride's Church, on the 28th August 1624, de scribing him as "Housekeeper and Working Fellow, free, also Goldsmith." (fn. 4) In his will made a day or so prior to his death, i.e. on the 24th August 1624, and proved the 7th September following, he directs his body "to be buried in the church of St. Bride's, Fleet Street, as near as may be to my late wife." From this we may conclude that Sir John's mother died soon after his birth, although I have been unable to find any record of her death or burial.
In a Register of Pedigree prepared at the Visitation of London in 1664 and preserved at the College of Arms (fn. 5) the maiden name of Sir John's mother is given as Mary. This document bears Sir John Morden's signature.
According to Cockayne's "Complete Baronetage" (fn. 6) his father and mother were married in October 1619, but a search in the Registers of St. Bride's proves that the ceremony did not take place there.
Sir John had one sister Mary, but nothing is known of her, and it is presumed that she died in childhood. The two children were each left a sum of £450 by their father, to be paid them on reaching the age of 21. The pedigree, mentioned in footnote on page 26, compiled by Robert Laurie, Norroy King of Arms, and dated 31st May 1850, is given on the next page, and will show his other relations.
On the 31st May 1662, in his 39th year, Sir John married by special licence Susan, daughter of Joseph Brand of Edwardstone in Suffolk. Of his circumstances at this date we have no knowledge, but it seems probable that his marriage, if it was not the outcome of his business relationships, was the means of assisting his commercial career. His brother-in-law, Sir Samuel Barnardiston, Bart., the future deputy Governor of the East India Company, who married Lady Morden's eldest sister Thomasin, came of a family engaged in the Levant trade, and was residing at Smyrna in 1649 as agent for the Turkey Company. Several members of the Brand and Barnardiston families intermarried, and they both came from Suffolk, whence also came Sir John's father and grandfather. Members of both families come into prominence in the history of the administration of Morden College.
At the time of his marriage Sir John is stated to be of the parish of St. Martin Outwich, and he seems to have retained the same business premises during his lifetime. In the Little London Directory of 1677 (fn. 7) occurs the name of John Morden, merchant, Bishopsgate Street, and in his will Sir John Morden left £3 to the poor of the parish of St. Martin Outwich. (fn. 8) The actual position of the premises occupied by him has not yet been discovered, but those of Sir Samuel Barnardiston are shown on Ogilby and Morgan's well-known map of London, published in 1677. (fn. 9) Sir Samuel's house was in Bishopsgate Street Within, near Cornhill, and abutted, at the rear, upon Merchant Taylors' Hall, being reached by a passage between two of the houses or shops that occupied the street frontage. It is possible that Sir John at one time had his counting house in part of his friend's building; but he must subsequently have owned or taken on lease other premises which may have combined residence and business premises, for in his private account books for later years occur receipts of rent from Sir Thomas Rolt for "ye chamber" and from John Wynde for "ye warehouses." (fn. 10)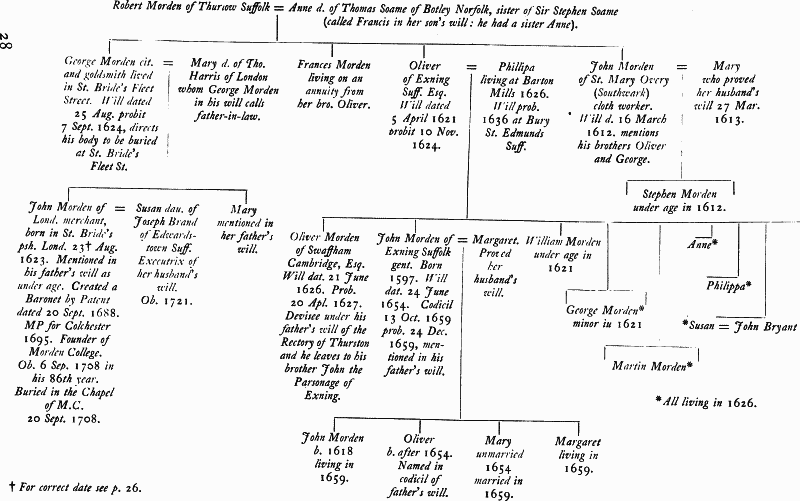 At what date Sir John Morden became a member of the Turkey Company, of which he was at one time a director, has not as yet been ascertained. He was later a member of the East India Company, in whose books his name has been found, from 1667 to 1696, and held the position of a "Committee," i.e., one of the Company's 24 directors, in the years 1667–70, 1672, 1674–77, and 1679–82. (fn. 11) Strype, in his edition of Stow's "Survey of London," (fn. 12) states that Sir John brought with him a fair estate from Aleppo, but although there is ample evidence in his business accounts, of trading voyages carried out on his behalf to Surat, Cadiz, and other places, and also of his ownership of vessels engaged in foreign trade, we do not know that he actually left England himself.
An interesting story, which has gained wide currency, not only credits him with a long stay at Aleppo, but gives a picturesque account of the loss and recovery of his fortune which induced Sir John Morden to found his College for decayed merchants. The account is probably, and indeed in many of its details almost certainly, apocryphal, but it may be given in the words of H. W. Smith, who was for 53 years treasurer of the College and published some important materials for its history:—
" A detailed version of the circumstances attending the loss and recovery of his property is preserved in the following tradition said to have been current in the College about sixty years ago [This was written in 1867]: After residing many years at Aleppo Sir John Morden shipped the whole of his merchandise on board three of his ships and sent them on a trading voyage after which they were to proceed to the Port of London. As Sir John Morden now intended to settle in England he embarked the rest of his property and family on board a vessel bound for London. Here he arrived in safety, expecting to receive some account of his missing ships. But year after year passed away without any tidings of them till they were finally given up for lost.
"Sir John Morden was now reduced to such an extremity of poverty that he was obliged to take service with a tradesman and was employed to call upon his customers for their orders. It so fell out that while waiting in the hall of a gentleman's house he overheard him reading a newspaper and suddenly exclaiming: Here is an astonishing circumstance. Three ships have just arrived richly laden supposed to have been lost, for they have not been heard of for ten years or more.
"Sir John instantly ran into the city to learn further particulars, when he found that they were his own long-lost vessels. In the joy and gratitude of the moment he made a vow that he would build an asylum for decayed merchants that none might hereafter be reduced to the extreme penury which he had endured himself. Thus was the disaster, so grievous and mysterious in its first visitation, converted by the over-ruling providence of God into a sevenfold blessing."
Seven years after Sir John's marriage he purchased, on 7th July 1669, the estate of Wricklemarsh, in the parish of Charlton, for the sum of £4,200. This property, now covered with houses and known as the Blackheath Park Estate, comprised much of the site of the present village of Blackheath. (See also page 39.)
John Morden's purchase of Wricklemarsh set him up as a county gentleman, and his social position was made secure by the acquirement, under patent dated 20th September 1688, of a baronetcy, which was presumably obtained by purchase from James II. only just before his abdication. The arms granted to him were Argent a fleur-de-lys Gules, being those of Simon Morden, Mayor of London, 1369, with whom, however, he had not necessarily any affinity.
Sir John appears to have been employed by King William as one of the distributors of his bounty for the relief of the French Protestant refugees, as is evidenced by a receipt dated 31st December 1689 for £1,000, preserved at the Bodleian Library. (fn. 13) He was in 1691 appointed a Commissioner of Assize and (according to Treasurer Smith) (fn. 14) a Justice of the Peace and of the Quorum for the county of Kent. His trading with foreign parts was evidently in full swing in 1693. In that year (23rd October) he applied for permission to import a cargo of cochineal which was forbidden in the Navigation Acts of 12 Charles II.; but the permission was (3rd November 1693) refused by the Treasury. (fn. 15)
Dr. Lansdell has also brought to light an important document now preserved at the Record Office, being an Indenture of Sale, 18th May 1694, relating to the purchase by Sir John Morden for £4,975 18s. 8d. of certain reversionary interests in property forming part of the jointure of Queen Catherine of Braganza. The rents were derived from property in Essex and Norfolk of amounts varying from 1d. to £59 5s.; and one includes a pound of pepper. The net amount of these rents appears to have been £207 12s. 7½d. after paying for way-leaves, etc. The writer suggests the possibility that Sir John purchased these rents in order to qualify as a candidate for election as a burgess, for on the 12th November 1694 a warrant was issued for electing a burgess for the borough of Colchester. The candidates were Sir John Morden, Sir Isaac Rebow, Sir Thomas Cooke, and Dr. Harrison.
Sir John was returned with a majority of six on 22nd October 1695. The parliament ensuing was summoned on the following 22nd November and dissolved on 7th July 1698. On the 29th November after his return, however, a petition was presented by the burgesses of Colchester alleging certain illegalities and irregularities in the election of Sir John and challenging the right of some of those who had voted for him, with the result that a Committee of Privileges, after examining witnesses and consulting the Poor Books (persons in receipt of relief not being eligible to vote), reported that Sir John was not duly elected and declared Sir Thomas Cooke as the elected burgess for Colchester. The report was noted and passed, and on 26th March 1696 Sir John's brief parliamentary career ended. It may be mentioned that Sir John's name appears among the M.P.'s who formed an association to protect the King's life.
Treasurer Smith (fn. 16) states that Sir John Morden seems to have been defeated in a subsequent election in 1708, and the "Dictionary of National Biography" says that he represented Colchester from 1695 to 1698. But Dr. Lansdell's quotations from the Journals of the House of Commons seem to discredit both statements.
Reference has already been made (fn. 17) to Sir John's connection, as treasurer and trustee, with Bromley College, which, commencing in 1693, ended in 1698, although certain matters connected with his trusteeship were not finally settled until after his death.
Before he entered Parliament Sir John was appointed one of the Commission for a Survey of the King's Manor of Greenwich. This was formed to define the boundaries and encroachments of the manor, on 24th February 1695, and after two years' labour—on 26th May 1697 —it made its report, illustrated by a plan (fn. 18) which is preserved at the Office of Woods and Forests at Whitehall, and bears among other signatures that of Sir John Morden. It shows the reputed manor of Old Court, mentioned below, and still the principal possession of the College.
From 1695, at which date the building of Morden College began, to the date of Sir John's decease he appears, apart from his work in connection with the survey of the Manor of Green wich and his trusteeship of Bromley College, to have devoted his time to the completion of his own Foundation and the arrangements necessary to ensure its continuance in perpetuity. The purchase of the lease of the manor of Old Court, Greenwich, from the widow of Sir William Boreman, as a part of its endowment, and his subsequent acquirement of the freehold so that the income might be perpetually secured to the College, brought into relation with his Foundation a property of considerable interest, the history of which from its grant, inter alia, by Ælfrida, the daughter of Alfred the Great, to the Abbot of the Benedictine monastery of St. Peter at Ghent in the year 918 has been dealt with very exhaustively by Dr. Lansdell in his history of the Charity. (fn. 19)
It was in 1698 that Sir John Morden bought from Lady Boreman the remainder of her lease of Old Court for £9,000. On 1st November 1699 he purchased the reversion of the freehold from William III. subject to a fee-farm rent of £6 13s. 4d. The transaction included the purchase, also at fee-farm, of Sedgwick Park, Sussex, and cost Sir John a further payment of £2,000.
Sir John Morden died on 6th September 1708 in his 86th year. The entry in the College Register of Burials under the above date runs thus:—"The Honble Sir John Morden Bart (the pious and worthy Founder of this College for Decayed Merchants) Died, and was interred in his Vault in ye Chappel belonging to ye said College, Septrye 20th. Funeral service being performed by Sam. Asplin, a.m. and Chaplain to the Sd College." The certificate of Sir John Morden's funeral and descent at the College of Arms states that he died at Wricklemarsh and that there "his body (being set out with all the Trophies befitting his degree) remained until Monday evening the twentieth of the said month, and then, it being accompanied by many of his relations, and the principal gentlemen his neighbours, and others, was solemnly interred in a vault under the Chancel of his Chappel, belonging to the College, near Blackheath." Some of the trophies referred to in this document are preserved in the chapel and the dining-hall, and have already been described in dealing with these parts of the College.
Sir John's last years were spent chiefly in setting a sure foundation to the work which was to be the crowning effort of his life and which has caused his name to be continually and gratefully remembered. He superintended the erection of the College, completed its endowment, and guided the first years of its existence. The events connected with this period are more particularly described under Chapter IV., and his will is given in full, together with the regulations which he left for the government of the members.
Lady Morden.
Lady Morden survived her husband thirteen years and died on 26th June 1721, at the age of 83. As sole executrix of his will and one of the trustees of the College she was called upon to direct the charity during this period, concerning which the reader is referred to Chapter IV. Her family, however, assumes a further importance in the College history, due to Sir John Morden's provision that the offices of chaplain and treasurer should as far as possible be filled from among his own relations or those of his wife. Lady Morden's family connections were numerous, and her relatives have so frequently been engaged in the College administration that a note concerning them appears necessary for purposes of reference.
Susanna, Lady Morden, was the second daughter of Joseph Brand, of Edwardstone Hall, Edwardstone, Boxwood, Suffolk, a J.P. of the county, whose wife, Thomasin, was a daughter of Thomas Trotter, a merchant of London, and by whom he had several sons and daughters. Susanna was born in London, her name appearing in the Register of Baptisms of the parish of St. Dunstan-in-the-East, under date 24th January 1638–9, and in the same register follow the names of a brother, Nathaniel (22nd August 1640), and a sister, Elizabeth(21st July 1641). From this it appears that her father and mother were for some years resident in London, but in 1645 they were at Edwardstone, for the parish registers (which commence in this year) open with the baptism of a younger daughter, Anne, on 1st January.
There is in Edwardstone Church a brass without a date, but apparently of the early 17th century, to the memory of Benjamin Brand, of Edwardstone Hall, and Elizabeth his wife. It is inscribed with the following words (and has engraved upon it effigies of Benjamin Brand, his wife, six sons, and six daughters):—
Memoriae Sacrum
To ye precious memory of
Benjamin Brand of Edwardstone Hal Esq and
Elizabeth his wife
whom when Providence after 35 yeares coniunction divided
death after 12 dayes divorcemt reunited
who leaving their rare examples
To 6 sonnes and 6 daughters
(All nursed with her unborrowed milk)
Blest with poore men's prayres embaulmd w. numerous teares
Lye here reposed.
Three tablets also commemorate:—
John Brand, d. 6 Oct. 1642. Aged 76 (3 sons and 9 daughters).
Joseph Brand, d. 1674. Aged 69 (3 sons and 4 daughters).
Thomas Brand, eldest son of Sir Joseph Brand, d. unmarried 11 Nov. 1705. Aged 31.
Lady Morden's eldest brother became, in 1679, Sir Joseph Brand of Edwardstone, and another brother, Thomas, married Frances Wincoll, of Waldingfield Parva in Suffolk, by whom he had five children. Her elder sister Thomasin married Sir Samuel Barnardiston, M.P., of Brightwell Hall, Suffolk, previously mentioned as a neighbour of Sir John's in Bishopsgate, and in all probability an acquaintance prior to his meeting with Susanna Brand. Her youngest sister Anne, whose baptism has been noted, married as her second husband Sir John Bennett, Serjeant-at-Law, and judge of the Marshalsea Court to whom Sir John Morden left by will £100 in recognition of personal service and also £25 for mourning.
The table on the opposite page has been compiled for purposes of reference; it does not pretend to be complete, but it shows the relationship of several of the officials referred to in this volume. (fn. 20) (fn. 21)