Pages 307-316
Survey of London Monograph 16, College of Arms, Queen Victoria Street. Originally published by Guild & School of Handicraft, London, 1963.
This free content was digitised by double rekeying and sponsored by English Heritage. All rights reserved.
VIII. ADDITIONAL NAMES OF OFFICERS WITH TITLES UNKNOWN
In addition to the above there are many references to officers of arms with no mention of their title. These are arranged in chronological order below.
B.M. Cotton MS. Vitell. F. xii, referring to the Greyfriars in London, says 'Studia pro magna parte constructa fuerunt de bonis Bonde Regis Heraldorum' (Coll. of Arms MS. O.A. I, 156)—Leland and others misread bonis and called him Bevis or Bogo Bond (Hearne, v, 82, 84; Stow's Survey, 1633, p. 341 a).
As 'rex haraldorum' had winter and summer robes and 6d. a day wages 1289.
3. ROBERTUS PARVUS or LITTLE ROBERT
Was paid 40s. composition for winter and summer robes 18 Ed. I, 1289–90 (Coll. of Arms MS. O.A. I, 40).
Made minstrelsy for Edward I at Dunfermline, New Year's Day, 1304 (Wardrobe Account, B.M. MS. Add. 8835, fo. 42; Cal. Doc. Scot., iv, 473); gave Edward II large white pearls at Newcastle-upon-Tyne 5 April 1311 (Issue Roll, 4 Ed. II).
5. WILLIAM TREACHANT or TRENCHANT
1 January 1304, 20s. paid to him, 'haraldo, facienti menestralciam suam coram rege' at Dunfermline (Wardrobe Account, 33 Ed. I; B.M. MS. Add. 8835, fo. 42).
Herald of the King and the King's minstrel May 1332. (Archaeologia, lxxvii (1928), 112, 134, 139, citing Exchequer Accounts in P.R.O.)
Uncertain whether Cokerel surname or Christian name. See below (8).
'Cokerello et Waltero Cardinal, apprenticiis heraldorum d'armes', p.s. 5 May, 11 Ed. III, cited by Anstis (Reg. Garter, ii, 284t). Is Cokerel Christian or surname? See above (7).
Named as king of heralds in p.s. 6 March, 12 Ed. III, 1338, but no title given (Coll. of Arms MS. O.A. I, 81).
William de Gayton 'Tabourer et Heraud de North' is mentioned as dead in June 1339 (Court of Hustings, Comm. Pleas, R. 63, 13 Ed. III).
11. JOHN MUSHON (or ?MUSCHAMP)
Herald or king of arms, c. 1353.
Mentioned as herald with the Black Prince in Gascony 18 December 1353, 10 November 1355, 1 July 1356 and 20 June 1358 (Register of Black Prince, Calendar, pp. 108, 163, 167, 253), but called king of arms in Issue Roll, 30 Ed. III, 1356–7.
William de Stafford herald of arms 'of Alvan' occurs 7 September 1355 in the Register of the Black Prince (Calendar, iv, pp. 72, 157). Was Stafford surname or title? Perhaps retained by Sir Ralph Stafford, K.G., first Earl of Stafford.
Named in Wardrobe Account, 31 Ed. III (Anstis, Reg. Garter, 1, 302 note h).
King of arms with the Black Prince, c. 1357.
Described as 'the Prince's King' in wt. for liveries, 10 November 1357 (Register of the Black Prince, Calendar, pp. 226, 230).
Pursuivant to Lord Daubeney c. 1357 (Coll. of Arms MS. O.A. III, 314 citing Cotton MS. Galba E. XII).
Rewarded by the King 1361 (Coll. of Arms MS. O.A. I, 155b citing 'Protocolla de Term. Pasch. 35 Ed. III').
17. JOHN CARLILL (c. 1370). See Carlisle (1).
18. RICHARD SPENSER (1383). See Clarenceux (2).
(Coll. of Arms MS. O.A. citing p.s. of 19 July 1395.)
'Johannes Elyot nuncius domini Regis' made his will 1396 and desired to be buried in St Clement Danes (Commissary Court, London).
Mentioned in will of William Merston, baker, of Islington, 1404, as 'Alexandrus Lasyngby nuncius domini regis' (Commissary Court).
'Serviens et scutifer noster Johannes Ham heraldus', licensed by Henry IV to travel for his instruction, p.s. 18 September 1411.
23. JEAN LEFÈVRE, SIRE DE ST RÉMY
B. c. 1395 at Abbeville, in county of Ponthieu; 1415 with English army on Agincourt campaign; c. 1425 Charolais, herald to Philip the Good of Burgundy; November 1431 Toison d'or, first king of arms of the Order of the Golden Fleece; compiled 'Grand Armorial Equestre de la Toison d'or et de l'Europe' (published by Lorédan Larchey, Paris, 1890); author of historical works; d. 1468.
Larchey's suggestion that St Rémy was an English pursuivant has been doubted and the fact that he was with the English army in 1415 is not in itself conclusive. But at the time of his birth and for some time after Ponthieu belonged to the King of England whose subject St Rémy consequently was, and the fact that he accompanied Henry V back to England after Agincourt goes far to confirm Larchey's idea. Nothing to show whether he was a royal or a private officer. Later Ponthieu was ceded to Burgundy and St Rémy entered the ducal service.
Employed as courier with the English forces in France 1430; does not appear whose servant he was (Rolls Series 22, ii, Letters and Papers temp. Hen. VI, pp. 145, 147).
25. JOHN COLLIS (c. 1435). See Louvre (2).
Brought despatches from Rouen to the King in England in 1437 (Issue Roll, Michaelmas, 16 Hen. VI).
27. NAME UNKNOWN (1437–8). Pursuivant of Walter Cressever, Captain of Crotey (Coll. of Arms MS. O.A. II, 315 citing Issue Roll, Michaelmas, 16 Hen. VI).
'Pursevant of Oure Towne of Roen' (Rouen), 1437–49.
He is mentioned passim in the Issue Rolls from Easter, 16 Hen. VI to Michaelmas, 28 Hen. VI, and in Warrant for Issue, 28 Hen. VI, no. 33, 2 October 1449 (Coll. of Arms MS. O.A. III, 631). It is assumed that Villiers was this officer's name and not the title of the Rouen pursuivant.
A pursuivant of this name was sent 10 November 1443 with despatches from Henry VI to Rouen. He occurs also in September 1444, again carrying despatches for the King (Rymer, xi, 47; Letters and Papers temp. Hen. VI, Rolls Series 22, ii, 468–9). Anstis thought he was a retainer of the Cardinal of Luxembourg (Coll. of Arms MS. O.A. III, 192–3, 689).
Pursuivant in 1443–4 (Issue Roll, Easter, 22 Hen. VI).
'Merlyne pursevaunte' was sent to Normandy to collect shipping for Margaret of Anjou's journey to England in July 1444 (Rolls Series 22, Letters and Papers temp. Hen. VI, 1, 451). Otherwise unknown.
32. NAME UNKNOWN (c. 1449). Pursuivant of the Earl of Longueville; perhaps Papillon, q.v.
33. NAME UNKNOWN (c. 1449). Pursuivant of 'François de Surienne, dit l'Arrogonais', K.G. 1447–50 (Coll. of Arms MS. O.A. III, 40 citing Warrant for Issue, 27 Hen. VI, no. 227, 22 August).
34. NAME UNKNOWN (c. 1450). Pursuivant of William Nevill, Lord Fauconberg (Coll. of Arms MS. O.A. III, 315 citing an unnumbered Cotton MS.).
'Thomas Sharpe pursevaunt' sent to Newcastle with letters to Master Richard Andrewe; paid 26s. 8d. for his expenses 25 May 1451 (Cal. Doc. Scot., iv, 1236 citing Issue Roll, Easter, 29 Hen. VI).
36. WILLIAM GRIMSBY (c. 1462). See Norroy (9a).
37. NAME UNKNOWN (c. 1463). Pursuivant of Lord Wenlock. Sent to France June 1463 to obtain safe-conducts for an English embassy (Scofield, Life of Edward IV, 1, 296).
38. NAME UNKNOWN (c. November 1469). Herald of George, Duke of Clarence (Coll. of Arms MS. O.A. II, 710 citing a MS. penes Sir Thos. Sebright, Bt., 'The State, Rule and Governance of the Print').
Named as 'late Herode of Armes' in a bill in Chancery c. 19 Ed. IV, and as dead in Pat. 2 December, 19 Ed. IV, 1479, appointing Wm. Tyler messenger of the Exchequer in his place.
Richard Watkins, herald of arms, attainted 1485 with other adherents of Richard III (Rot. Parl., vi, 276). In pat. 7 August 1486, confiscating his and others' property called serjeant at arms.
41. BAWDEWINE STEPMAN (c. 1490). See Bucky (1).
42. NAME UNKNOWN (c. 1490). Pursuivant of the Earl of Oxford, sent to Scotland (L.T.A., 1, 175).
Pursuivant to Lord Daubeney, c. 1490.
Said to be brother of Norroy Carlill and to have d. at Rouen (Coll. of Arms MS. O.A. III, 317). Perhaps the same as Thomas Carlill (see below, no. 45), said in another manuscript to have d. at Rome.
(Excerpta Hist. 88 citing Privy Purse Expenses of Henry VII.)
A pedigree in the College makes 'Thomas Carlille, pursevant, buried at Rome' to be brother of Sir Christopher Barker's mother Joan, and therefore of Norroy Carlill (Coll. of Arms MS. L. 14, 265b). Was he same as Charles Carlill (see above, no. 43)?
Pursuivant to Sir Charles Somerset, c. 1503.
5 January 1503, 'Fraunceys a purcevaunt belonging to my lord the Kinges Chambrelain' brought the Queen a present of oranges, etc., and was given 10s. reward (Privy Purse Expenses of Elizabeth of York, ed. Nicolas, p. 87).
Uncertain whether Fraunceys was Christian or surname, but at that date the latter is rather more likely. Nor is it known what his title was, but at a later date Somerset retained pursuivants called Herbert and Esperance Herbert (H. of N.).
47. WILLIAM HASYNG (c. 1508). See Somerset (4).
49. NAME UNKNOWN (c. 1520). Herald of Cardinal Wolsey ('The Negotiations of Thomas Wolsey...', by Mr Cavendish, printed 1641, reprinted Harl. Misc., v, 122; Stow, Annals (1631), p. 501).
'Musgra pursevant' accompanied an unnamed English herald to Scotland March 1539 (L.T.A., vii, 150).
? Pursuivant of Lord Cobham, Deputy of Calais, 1544–50 (?).
Baker was employed by Cobham as courier in 1545–6 (L. & P. Hen. VIII, xx, ii, 518, etc.), and Cobham wished to have him appointed pursuivant, but there is no evidence that this was done (H. of N., p. 47).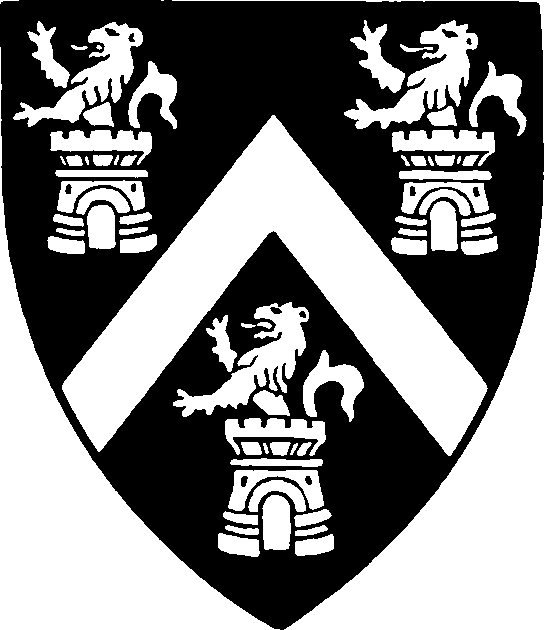 Arms: Sable, a chevron between 3 towers or with a demi-lion argent issuing from each.
'He that did beare this coate was an Herehaught, whose name was Cailis, and by report he surmounted all other of his time both in tongues and armoury' (Gerard Legh, Accedence of Armorie (1591), fo. 49b; similarly 1562 edition).
No other reference to a 'herald' of this name has been found, nor is any Calais pursuivant known to have borne these arms, but Gerard Legh's mother was Isabel Cailis and these arms were in St Dunstan's in the West on the brass to Gerard's father, Henry Legh, d. 1568. Is it possible that the surname comes from an ancestor who was Calais pursuivant?
'The howse of one Smallage Herolde' mentioned in will of J. Boron 1552.
? Pursuivant extraordinary, c. 1574.
In 1573–4 the Pewterers' Co. paid 'M. Greenwood the Harrolt at Armes' £4 for 'a new addicion to be made of the armes'. If an officer of arms, Greenwood must have been extraordinary (for example, Rose), but he may have been merely a herald-painter.
(Welch, History of the Pewterers' Co., 1, 279; Coat-Armour of the London Livery Companies, p. 23.)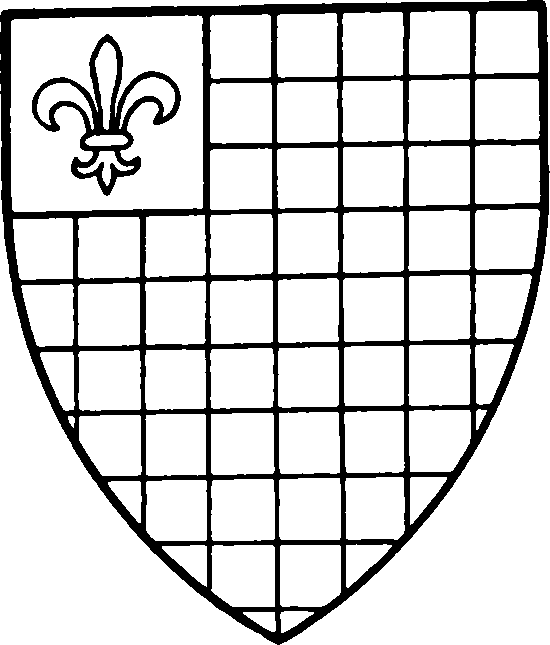 ? Herald, seventeenth century (?).
'John Smith, herald' occurs with arms: Checky argent & gules, on a canton gules a fleur de lis argent, in Coll. of Arms MS. E.D.N. Alphabet and B.M. MS. Harl. 3526 (no. 37, pl. xv in H. S. Grazebrook's Heraldry of Smith); not in William Smith's armory of the name (Coll. of Arms MS. Philipot, b. 7). Was he an officer of arms? or a painter?
56. MAJOR-GENERAL SIR WILLIAM ELIOT PEYTON, K.C.B., K.C.V.O., D.S.O.
Herald extraordinary at the Delhi Durbar, 1911.
B. 1866, s. of Col. John Peyton, 7th Dragoon Guards; served in 7th Dragoon Guards and 15th Hussars (Debrett, Knightage, 1931).
57. SIR MALIK MOHAMMED AMUR KHAN
Herald extraordinary at the Delhi Durbar, 1911.
An important chief (Tiwana) of the Punjab.
Addenda
The following two names occur in the records of the College of Arms, but obviously through inadvertence.
Norroy (sic), in 1342 or 1376.
Called 'Norrey roy d'armes du norst...' in faked grant of arms to Alan Trowte of Norfolk, dat. 8 November, '1376, 16 Ed. III'. Apart from faulty dating (16 Ed. III would be 1342, and 1376, 50 Ed. III) language shows document to be Tudor forgery.
Powell, History of Wales (ed. W. Wynne, 1697), p. 344, names 'John King' as one of those who drew up the pedigree of Owen Tudor at Henry VII's behest. S. M. Meyrick (L. Dwnn, 1, xiv–xx) and Thomas Moule (Bibliotheca Heraldica, p. 604) in referring to this call King 'Herald at Arms', but there is no such appellation in the original document as given by Wynne and Meyrick.
'Herald at Arms' is probably used loosely, for King is not known as an officer of arms, nor has Major F. Jones found him among the Welsh heraldgenealogists (letter of 9 December 1957).