Page 18
Survey of London Monograph 9, Crosby Place. Originally published by Guild & School of Handicraft, London, 1908.
This free content was digitised by double rekeying and sponsored by English Heritage. All rights reserved.
Plate 18: conjectural general plan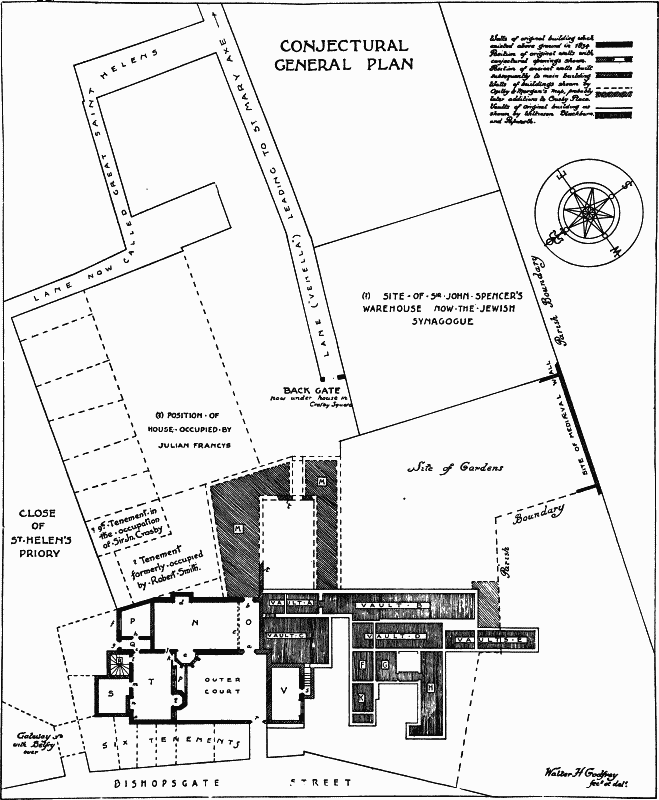 ABC. Vaults as shown by Wilkinson.
D. Vault shown by Wilkinson as detached.
EFGHK. Additional vaults shown by Papworth.
MM. Buildings round eastern courtyard shown by Ogilby and Morgan.
O. Passage with gallery over (now roadway into Crosby Square).
P. Apartment to north of hall.
R. Original position of staircase, subsequently enclosed, as shown.
S. Apartment mentioned in deed of sale, 1566.
T. Great parlour (great chamber over).
V. Apartment supposed to have been the chapel.
b. Door leading originally to open air.
f. Position of window to north room.
g. Entrance from St. Helen's Close.
h, i. Doors to north room and great parlour from vestibule.
j. Door from hall to great parlour.
k. Postern leading to outer courtyard.
m. Door to apartment south of great parlour.
n. Fireplace in great parlour.
o. Window in great parlour inserted (?) 16th century.
p. Position of supposed cloistered porch.
q. Bay window formerly in great parlour.
r. Entrance from Bishopsgate Street ("The Foregate").
s. Stairs from groined vault below apartment V.