Pages 58-75
Survey of London: Volume 15, All Hallows, Barking-By-The-Tower, Pt II. Originally published by London County Council, London, 1934.
This free content was digitised by double rekeying and sponsored by English Heritage. All rights reserved.
XIV.—MEMORIALS IN THE CHURCH
(A) BRASSES
Note.—The numbers are shown on the plan (p. 57) enclosed in diamonds.
On east wall of north chapel.
1. Shield. DENNIS with three quarterings. From the brass to PHILIP DENNIS, Esq., 1556.
A shield, 8¼ × 7¼ inches, bearing the arms of Dennis, quarterly I. Ermine three battle axes and a border engrailed (gules) for DENNIS. II. Party (argent) and (sable) a double-headed eagle counter-coloured and collared with a crown (or) for LOVEDAY. III. (Gules) two demi-leopards (or) for HATCH. IV. (Argent) a fesse (azure) with three escallops (argent) thereon for PYE. Over all a martlet—for difference.
Philip Dennis was buried in the church 6th September, 1556, with some ceremony, as described by Henry Machyn in his Diary. (fn. 1) Strype's edition of Stow's Survey of London, i, Book 2, p. 34, gives the inscription "Of your charity pray for the soul of Philip Dennis of London, Esq., whose body lyeth buried before this stone, who died 3 day September, 1556."
His will is quoted by Maskell, who gives his directions for burial, for his armorial monument, and for the disposition of his property to his nephews, Thomas and Sir Robert Dennis, Kt. (fn. 2)
On east wall of south aisle, modern brass:
2. REVD. JOHN THOMAS. Vicar 1852–1883.
On south wall of south aisle, five modern brasses:
3. BERNARD CLEMENT STENNING. 1917.
4. FLORENCE MARY WHITE. 1920.
5. FANNY ELIZA WOOLCOTT. 1915.
6. ANNE YELLAND. 1916.
7. WILLIAM PENN.
Baptized in All Hallows in 1644. Memorial presented by Pennsylvania Society of New York, 1911.
On floor of north chapel.
8. JOHN BACON, citizen and woolman, 1437, and wife JOAN.
Full-length effigies, full face, the man 25 and the woman 23 inches in height. Foot inscription, 31½ × 3, in two lines, in raised black letter, and interlacing mouth scrolls, also in raised black letter, enclosing a heart inscribed "Mercy" in incised letters. Between each word of the scrolls is a rose. A fine and well engraved brass. (Plate 72.)
John Bacon, who stands on a woolpack, is clean shaven, with short hair, and wears an under-dress, the close sleeves of which appear at the wrists, a long tunic or gown edged with fur and having large full sleeves, tight hose and boots laced up the sides. His wife wears the horned headdress, the side cauls of which are plain, with large veil covering the forehead and dependent behind, a close-fitting kirtle with tight sleeves and a highwaisted gown with open collar and large full sleeves. Both have openwork girdles ornamented with quatrefoils.
Inscription:
Hic jacet Johēs Bacon quond'm Civis & Wolman London' qui obiit VI° die Mens' Maii A° dni Mill'mo CCCC°XXXVII° Et Johā ux' ejus Quor' aiābz p'piciet' de' Amen.
Scrolls:
(man) Ih' fili dei miserere mei.
(woman) Mater dei memento mei.
In original stone, 78 × 43 inches.
John Bacon is described in his will (fn. 3) as of All Hallows Barking, London, Bermondsey, and Easton Neston, Northants. He desires to be buried either in the church of Easton Neston, where his father and mother were interred, or in the church of All Hallows Barking. He provides for the rebuilding of the church of Easton Neston and leaves the remainder of his property to his daughter Margery, wife of John Poutrelle. The will is also enrolled in the Court of Husting.
John Poutrelle and, before him, his father-in-law, John Bacon, had property which extended from Seething Lane to Mark Lane. (fn. 4)
On floor of north chapel.
9. THOMAS VYRLY. Vicar 1454.
Inscription in Latin, 18¼ × 4 inches, three lines, black letter (the precatory clause at the end defaced).
Hic jacet d[omi]n[u]s Thomas Vyrly quond'm vicarius istius eccl'ie qui obiit Scdo die mens' Decembr' Anno d'ni Mill'o CCCC°Liiii° [Cuj' aīe ppicietur deus amē].

This inscription is inlaid at the foot of a dark marble slab, 80 × 36 inches, which still shows very faint traces of an incised figure of a priest under a canopy, the head, hands, etc., originally filled in with brass or white marble, now represented by some nondescript brass or copper plates resembling a large fan and two small wings.
Thomas Vyrly, erroneously called Vyrby, was vicar from 1434 to 1454 Notices of him occur in Survey of London, xii (A.H.B. pt. i), pp. 12, 24, 33, 74. The origin of the misspelling of the name seems to have been a general misreading of the brass, due perhaps to the fact that the "y" is dotted. In his will (1453), (fn. 5) he spells his name "Virle." John, son of Robert Virly (called Gurdelere) held a house on the frontage of 34 Great Tower Street in 1373.
On floor of north aisle.
10. GEORGE SNAYTH, esq., sometime auditor to William Laud, Archbishop of Canterbury, born in Durham 28th August, 1602, died 17th January, 1651–2.
Inscription with shield, 15½ × 9 inches, eight lines, Roman capitals.
Here lyeth
George Snayth [Shield] the body of
Esq Some =
=times Avditor to Will': Lawd
late Arch Bpp of Cant': wch
George was Borne in Dvrham
the 28th of Avgvst 1602: and
dyed the 17th of Ianvary 1651:
Mors mihi lvcrvm
Arms: (Argent) a cheveron between three griffons' heads rased (sable) for SNAYTH.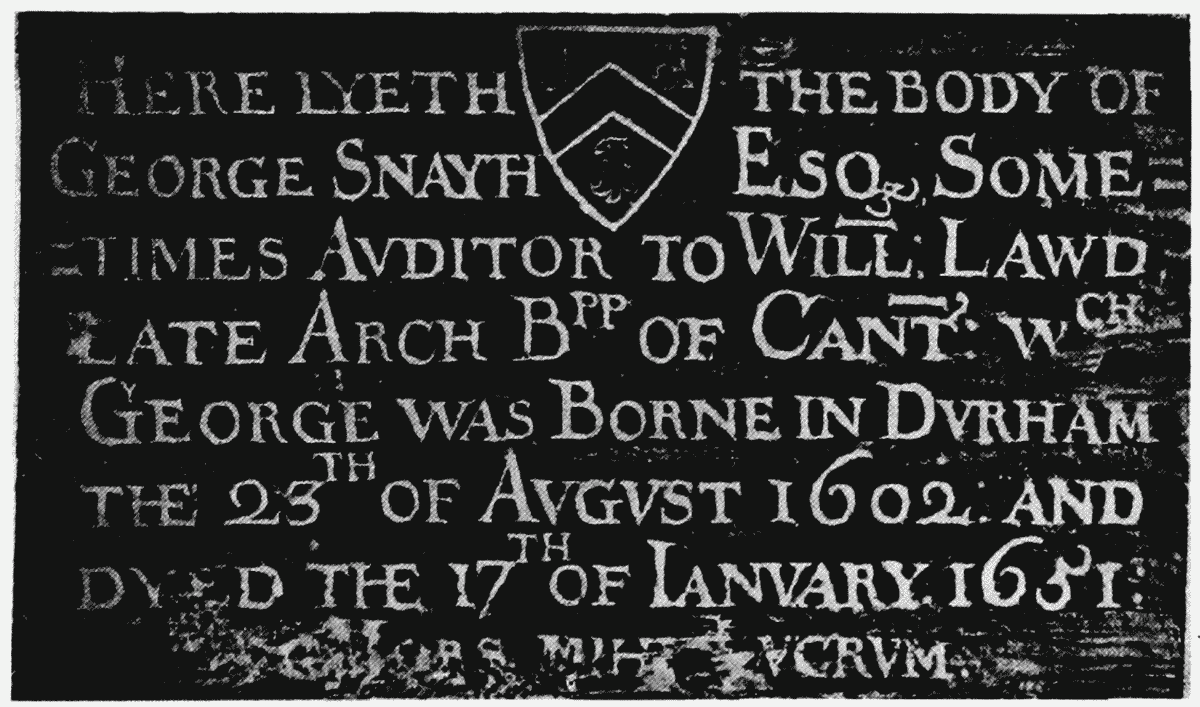 Relaid in a slab 34 × 24 inches.
This brass has been moved from the position shown on the plan (page 57) to a point just west of the modern memorial to an officer.
On floor of nave at east end.
11. ROGER JAMES, brewer, 1591–2, aged 67.
Full length effigy, 39 inches in height, in civil dress. Foot inscription, 25 × 5 inches, in five lines, black letter, and shield, 6½ × 5½, of the Brewers' Company. (Plate 73.)
Roger James, slightly inclined to the left, is represented with beard and moustaches, wearing ruff, doublet and fur-trimmed gown.
Arms: (Gules) a cheveron (argent) between three pairs of barley sheaves in saltire (or) with three kilderkins (sable) hooped (or) on the cheveron, for THE BREWERS' COMPANY, grant of 1544, where the cheveron is engrailed.
Inscription:
Here under lyeth ye bodye of Roger James late of London Brewer
whoe beinge of the age of threeskore and seven departed this
lyfe the second daye of March in the yeare of our lorde one
thowsand five hundred foure skore and Eleaven leavinge
behind hym Sara his wyfe eight sonnes and one daughter.
Relaid in a new slab, 48 × 30 inches, and fastened by large nails.
He was a son of Jacob von Haestrecht in the Duchy of Cleve near Utrecht, and established a brewery at Clare's Quay. It was in 1566 that he purchased the quay from Thomas Wylson, together with a house thereon, late in the occupation of Elizabeth Alderton and then in the tenure of Thomas Edwards. (fn. 6) He also owned the "Ram's Head," adjoining Clare's Quay on the east. He owned extensive properties in London, Essex, Kent, etc., and married Sara, daughter and sole heiress of Henry Morskin of London. (fn. 7)
On floor of nave at east end partly covered by benches.
12. MARIE, only daughter of MATHEW BROWNRIGG of Ipswich, Suffolk, esq., wife of JOHN BURNELL, citizen and merchant of London, 1612.
Inscription in English, 24 × 13 inches, twelve lines, Roman capitals.
Here lyeth the bodie of Marie Bvrnell late wife of Iohn Bvrnell Citizen & marchant of Lon don ye only davghter of Mathew Brownrigg of Ipswich in ye covntye of Svffolk Esq. A woman Syncerely lyvinge in ye feare of god & dyinge con stantly in ye fayth of Christ Ihesvs she departed this lyfe ye 5 daye of Aprill 1612 beinge of yf age of 20 years havinge fynished in wedlock wth her sayd hvsband to yeafes & v moneths & bear ing him Issve one sone whereof she dyed in child bed & expecteth now wth ye Elect of god a Ioyfvll
resvrrection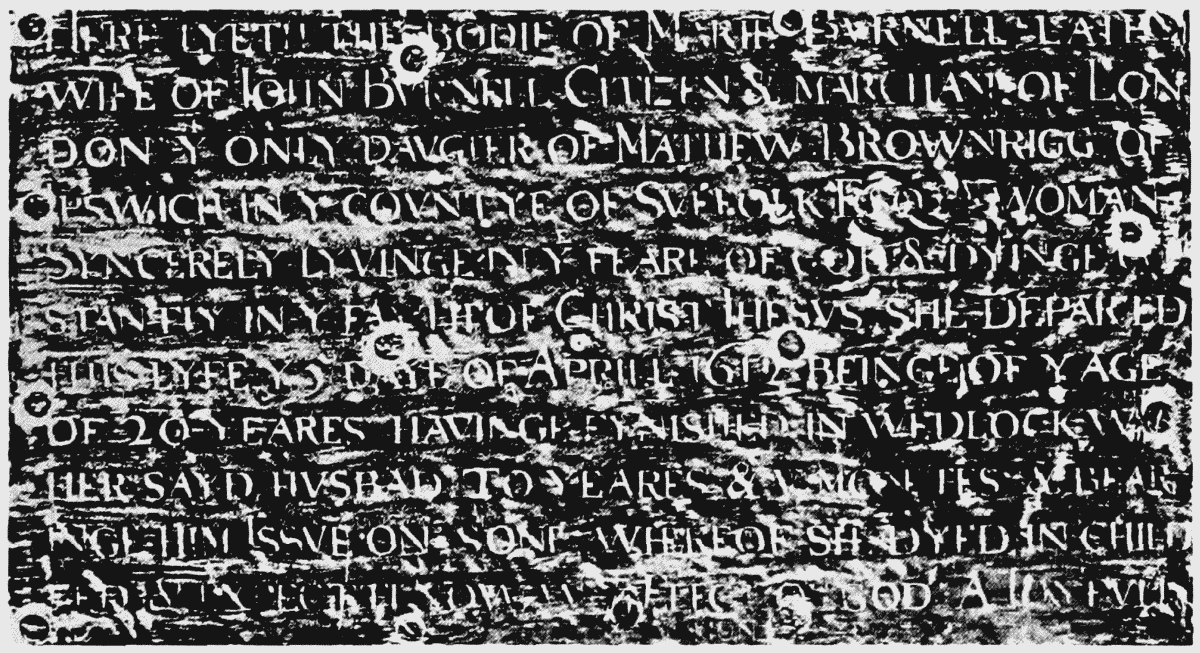 In original stone, but cut down to 34 × 35 inches.
John Burnell's gift of a communion table in 1613 has already been referred to in Part I of this Survey. (fn. 8)
On floor of nave.
13. ANDREW EVYNGAR, citizen and salter of London [1533], and wife ELLYN.
A rectangular plate, 34 × 23 inches, engraved in Flanders and inserted in the centre of a large stone originally 69 × 40, but now cut down to 32 inches, on which are incised three devotional sentences, one round the margin with the symbols of the Evangelists at the corners, the second above the plate and the third below. (Plate 74.)
Andrew Evyngar, his wife and children are represented standing on a chequered pavement under arches supported by circular banded columns and groined with arabesque work. At the junction of the arches is a bracket upon which is a figure of Our Lady in Pity seated in a chair and holding the dead Christ in her lap. The background of the plate is hung with tapestry with floral designs. Between the feet of the figures is a shield bearing the merchant mark of Andrew Evyngar and in the upper dexter corner the arms of the Merchant Adventurers' Company and in the upper sinister those of the Salters' Company. In both cases the engraver has blundered, the lions on the chief of the Merchant Adventurers' coat are shown as "passant" when they should be "passant guardant" and the cheveron division line in the Salters' arms is reversed. At the bottom of the plate is the inscription.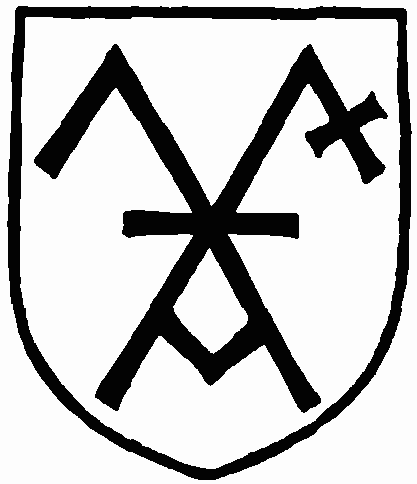 Andrew Evyngar is represented as an elderly man, clean shaven, with long curly hair, wearing a short under-gown, a fur-lined over-gown with deep sleeves, close-fitting hose, and large round-toed shoes. From his mouth is a scroll inscribed: O filii dei miserere mei. By his side stands his son similarly dressed, except that his over-gown has no sleeves and is not lined with fur. His wife Ellyn wears a plain hood and a close-fitting gown with fur cuffs. Her girdle is richly ornamented and fastened by a large boss from which hangs a rosary. From her mouth is a scroll inscribed: O mater dei memento mei. Beside her are her six daughters wearing curious shaped hoods and gowns with plain loose girdles.
Inscription in English, three lines, raised black letter (the precatory clauses defaced).
[Off your charity pray for the soul] of Andrewe
Evyngar cytezē and salter of London and Ellyn
hys [wyff on whoos soulys Ihesu have M'cy ame].
The word "wyff" was no doubt inadvertently defaced.
Incised round the margin of the stone is a sentence from the Antiphon to the Litanies, Sarum Breviary, with the Evangelistic symbols at the corners, the left-hand side now cut off: (St. Matthew) Ne reminiscaris (St. Mark) domine delicta nostra vel parentum (St. Luke) nostrorum neque (St. John) vindictam sumas de peccatis nostris. Above the plate one from Ps. 40 said in the third nocturn of the Office of the Dead, Sarum Breviary: Sana domine animam meam quia peccavi tibi. And below, one from the responsory in the second nocturn of the same: Ideo deprecor majestatem ut tu deus deleas iniquitatem meam.
Andrew Evyngar was son of John Evyngar of London, brewer, who was a native of Brabant. John Evyngar died in 1496 and by will (fn. 9) left to his wife Jacomyn his house and tenements in Antwerp for five years after his decease and then to his son Andrew for evermore. He also left money for painting and setting up a rood in All Hallows. (fn. 10) Andrew Evyngar in his will dated 13th January, 1525–6, proved in the Commissary Court of London (fn. 11) 17th July, 1533, describes himself as a citizen and salter of London, of the parish of St. Mary upon Hill at Billingsgate, to which church he leaves five shillings. To his wife Elyn he bequeaths the "bere house" at Charing Cross with three tenements belonging thereto with remainder to his daughter Elizabeth Lorde and the heirs of her body. To Elizabeth is also left "the house that belongyth to Westmynster," and to her husband Robert Lorde his ring of gold. Mentions that he is bound to the vicar and churchwardens of All Hallows Barking by the Tower in £30 to keep an obit yearly after the death of Jacomyn his mother late the wife of John Evyngar his father, for their souls and for the soul of Andrew Evyngar their son. His wife Elyn is residuary legatee and also an executor with Robert Lorde.
Ellen Evyngar, widow, is referred to in a grant of 1548 to Henry Polstead of Chilworth and William More of Loseley of a house belonging to Robert Tate's chantry. (fn. 12)
On floor of south aisle.
14. WILLIAM THYNNE, esq., a master of the household to Henry VIII, 1546, and his second wife, ANNE BOND.
This brass was restored and relaid in a new stone, 72 × 39 inches, in 1861, by Messrs. Waller at the expense of the then Marquis of Bath, a lineal descendant. All that was then left was the figure of Thynne, slightly damaged, the figure of his wife, more damaged, two strips of the marginal inscription and the symbol of St. Mark. (Plate 75.)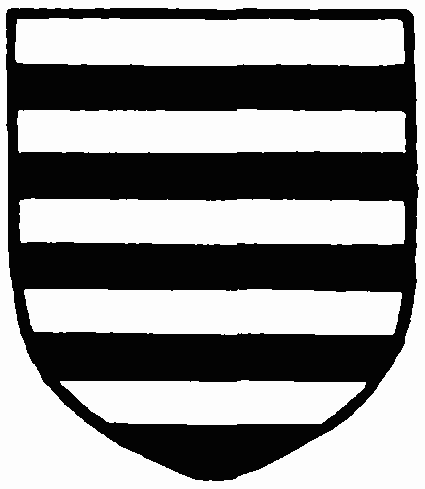 As restored the brass now consists of the figures of Thynne and his wife, each 30 inches in height, a foot inscription, 22½ × 6 inches, and a marginal inscription 69 × 34 inches, with symbols of the evangelists at the corners, one, St. Mark, now lost. From Sloane Ms. 576 it appears that originally there were the figures of his three children and some shields of arms, but this was not known at the time of the restoration. Fletcher's (fn. 13) account of the tombs has a sketch of the brass showing indents for one son, three daughters and four shields. It also shows that the inscription originally began: "Pray for the soule of." William Thynne is represented in armour, slightly turned to the right, clean shaven, bare headed with long hair, his head resting on a helmet. Over the shoulders and round the neck is a long metal chain. His armour consists of a gorget, breastplate, large shoulderpieces with escalloped edges and straight upright guards, small elbow-pieces and shell-back gauntlets. The taces, worn over a long skirt of mail, are short with two tassets in front, the knee-pieces are large with escalloped edges, and the feet are encased in broad round-toed sabbatons with gussets of mail at the insteps and rowel spurs in the heels. The sword, which hangs diagonally behind the body, is supported from a narrow belt, and on the left side is a long dagger.
His wife, slightly turned to the left, wears a Paris head or French hood, a pleated partlet at the neck, and a close-fitting gown with open lace collar, the sleeves elaborately puffed and ornamented at the shoulders and terminating in frills at the wrists. From her girdle hangs a small ornament inscribed with the letters IHS.
Marginal inscription in black letter with the symbols of the evangelists at the corners, one (St. Mark) now lost. The restored portions shown in brackets.
[(St. Matthew). Here lyeth Mr Willm Thynne Esqre one of the masters of the honourable (St. John) household to King Henry VIIIth our Soueraigne Lord. He] Departyd from the prison of his frayle body ye Xth day of Auguste Anno d'ni 1546 & in the XXXVIIIth [(St. Luke) yeere of our said soveraigne lord the King whose body & every part (St. Mark) thereof in the last day shall be raised up againe at the sounde] of the lord's Trumpet in whose Comyng that we may all Joyfully mete hym.
The foot plate continues:
Our heavenly father grant to us whose mercies are so great that
he freely offereth to all them that earnestly repent their sins
eternal life through the death of his dearly beloved Sonne
Jesus To whom everlasting praise. Amen.
When the brass passed through the hands of Messrs. Waller it was found that all the pieces were palimpsest. The figure of Wm. Thynne was cut out of the centre portion of a much larger figure of a lady, c. 1530, and shows part of the hands with frills at the wrists, a richly worked girdle encircling the gown at the waist, and a long cord with tassels, which originally fastened a mantle, but of this there is no trace. The figure of his wife shows the centre of an ecclesiastic, early 16th century, in mass vestments, holding a chalice. One strip of the marginal inscription, 37 inches in length, is cut from the top of a 16th-century inscription, showing an ornamental border and the tops of the letters of the first line of the inscription. The other strip, 41 inches in length, is made up of four fragments of inscriptions, three of which appear to have belonged to the above-mentioned inscription and read: "The whych Sr John' deceasyd—the Vth daye of August—In The yere of our lord God," with traces of the bottoms of letters above, and in two cases of the side ornamentation. The fourth fragment, bearing the numeral XXXVIII, shows a portion of an earlier inscription with the words: [ob]iit XXVIIo die ppiciet' de am in two lines. All the pieces are of English workmanship. (Plate 76.)
For an account of Wm. Thynne see the Dictionary of National Biography. His will is printed in full in Notes and Queries, 3 S. iv, 365. In 1532 he edited the first complete edition of Chaucer's works, with the exception of the "Ploughman's Tale." By his second wife Anne, (fn. 14) a daughter of William Bond, clerk of the green cloth, he had three daughters and one son, Francis, afterwards Lancaster Herald and one of the original members of the Society of Antiquaries.
On floor of south aisle.
15. WILLIAM TONGE [1389].
Inscription in French, in raised black letter, on a narrow scroll encircling a shield with the arms of Tonge: Party… and … a fleur-de-lis parted and counter-coloured within a border engrailed. Diameter 10¾ inches. (Plate 77.)
[+] Pries p' lalme Will'm Tonge q' gyt
ycy ky dieu de sonn alme eyt mercy.
In original stone, 77 × 38 inches.
William Tonge, citizen of London, represented the city in the parliaments of 1376–77 and 1388. In his will, proved 2nd September, 1389, (fn. 15) he is described as William de Tonge, of All Hallows Berkingcherch, London, and Higham Ferrers, Northants. He desires to be buried in the church of All Hallows Barking, and leaves money for an oblation and an obit. His will is also enrolled in the Court of Husting at the Guildhall. His widow, Avice, possessed property in Mark Lane (vide ante).
On floor of south aisle.
16. JOHN RUSCHE, gent., 1498.
Large full-length effigy, 36½ inches, slightly turned to the right. John Rusche is clean shaven with long hair and wears a doublet with close sleeves, a long fur-trimmed over-gown with wide sleeves, and large round-toed shoes. From his girdle hangs a large pouch and rosary, to one end of which is attached his ring. Between the feet is a small couchant dog, an unusual feature on a civil brass of this date. (Plate 78.)
Inscription in Latin, 19 × 4 inches, three lines, black letter (the precatory clause at the end defaced):
Hic jacet Johannes Rusche Generosus qui obiit
Octavo die Mēsis maii Anno Domini Mill'o CCCCo LXXXXVIIIo [Cujus an'e p'picit' de' ame]
An original slab, 74 × 34 inches.
By will dated 20th March, 1497–8, proved 16th May, 1498, (fn. 16) John Rusche desires to be buried in the parish church of Our Lady of Barking in London. Mentions his wife Isabella, who as executrix proved the will, his son John, a young boy, and his daughters Mary, Anne, and Joan, a nun.
On floor of south aisle.
17. CHRISTOPHER RAWSON, mercer of London and merchant of the staple of Calais, 1518, and two wives, MARGARET and AGNES.
Full-faced effigy of Christopher Rawson standing between the effigies of his two wives, who are slightly turned so as to face him. Each figure has a mouth scroll, and above the head of the man is another semicircular scroll. Below is a foot inscription. The figures are 19½ inches in height, the mouth scrolls 7 × 1 inch, and the semicircular scroll 7 × 1 inch. (Plate 79.)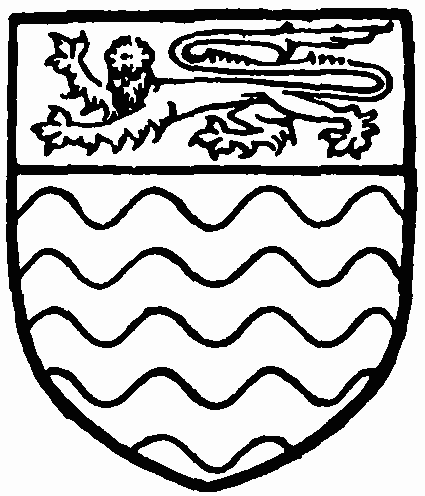 Christopher Rawson is represented clean shaven, with long hair, wearing a doublet, a long fur-lined overgown with wide sleeves edged with fur, and broad round-toed shoes. Attached to his girdle is a large pouch. His mouth scroll reads "Justifica nos" with some animal between the words. In the centre of the stone and above his head is another semicircular scroll inscribed "O beata Trinitas" with a rose dividing the words. His two wives are dressed alike in kennel-shaped head-dresses and close-fitting gowns with fur cuffs and broad girdles with large buckles and long pendent ends terminating in metal tags. The dexter wife's scroll, which is slightly mutilated, reads "Libera nos" with a rabbit between the words, and the sinister wife's "Salva nos" with the stem of a tree between the words.
Inscription in English, 27 × 4½ inches, four lines, black letter (the precatory clauses completely defaced):
[…] of xpofer Rawson late m'cer of London & m'chūnt of the
staple of Calais which decessid the second day of october Ano d'ni
MoVoXVIIIo & M' garet & Agnes his wyves which agnes dyed the
—day of —Anno d'ni MoCCCCC — […].
He was the son of Richard Rawson, citizen and mercer, and Isabella (Crawford), who is mentioned in a transaction in 1491 relating to the old Wool Quay, (fn. 17) which she devised to her son. (fn. 18) He belonged to a distinguished family of brothers, among whom were John, Prior of Kilmainham and later Viscount Clontarf; Avery, who settled at Avely in Essex; and Richard, rector of St. Olave's, Hart Street. His father was Sheriff in 1476. Christopher Rawson's occupation is referred to in the account of the Custom House in this volume. He married Agnes, daughter of William Buke, and left full directions for the execution of this brass in his will, (fn. 19) dated 30th September, 1518, and proved 18th January, 1518–19. He desires to be buried in the chapel of our blessed Lady set on the south side of the parish church of All Hallows Barking, "where I am parisshen," and wills that "a marble stone shalbe ordeyned by myn exrs and laide upon my grave, wt the ymages of me and my two wyfes and children, and wt an ymage of the Holy Trinitie, and this scripture, Libera nos, Salva nos, Sanctifica nos, O beata Trinitas, for which I bequeth XLs." He also intended the foundation of a chantry in the chapel of St. Anne in the church of All Hallows Barking. For the family of Rawson, see G. R. Corner in Gent. Mag., May, 1856, quoted by Maskell, p. 47.
Relaid in a new slab, 64 × 32 inches.
On floor of south aisle.
18. MARGARET, wife of ARTHUR BASSANO of this parish, gent., 26th October, 1620, aged 66, leaving behind her three sons and three daughters; also CAMELA, eldest daughter of Arthur and Margaret Bassano, wife of Henry Whitton of Lamberhurst, Kent, gent., 11th May, 1622, aged about 46 years. This memorial placed 10th April, 1623.
Inscription in English, 24 1/2 × 12 inches, thirteen lines, Roman capitals.
Here are interred the body of Margaret Bassano late wife of Arthvr Bassano of this parishe gent: and also the body of Camela Whitton late wife of Henry Whitton of Lamberhvrst In the covnty of Kent gent: Eldest davghter of Ye sayd Arthvr & Margaret: Bothe wch havinge christianly and charitably passed theire pilgrimage in this transitory life did comfortably & patiently yeld theire spiritts to almighty god who gave them the said Margaret at the age of 66 yeeres vpon the 26 of October 1620 levinge behinde her 3 sonnes & 3 Davghters & The Said Camela About The Age Of 46 Yeeres vppon the XIth of May 1622. In the remembrance of both wch This Memoriall Was Here Placed Ye 10 Of Aprill Anno D'ni 1623
Blessed are the dead wch dye in the lorde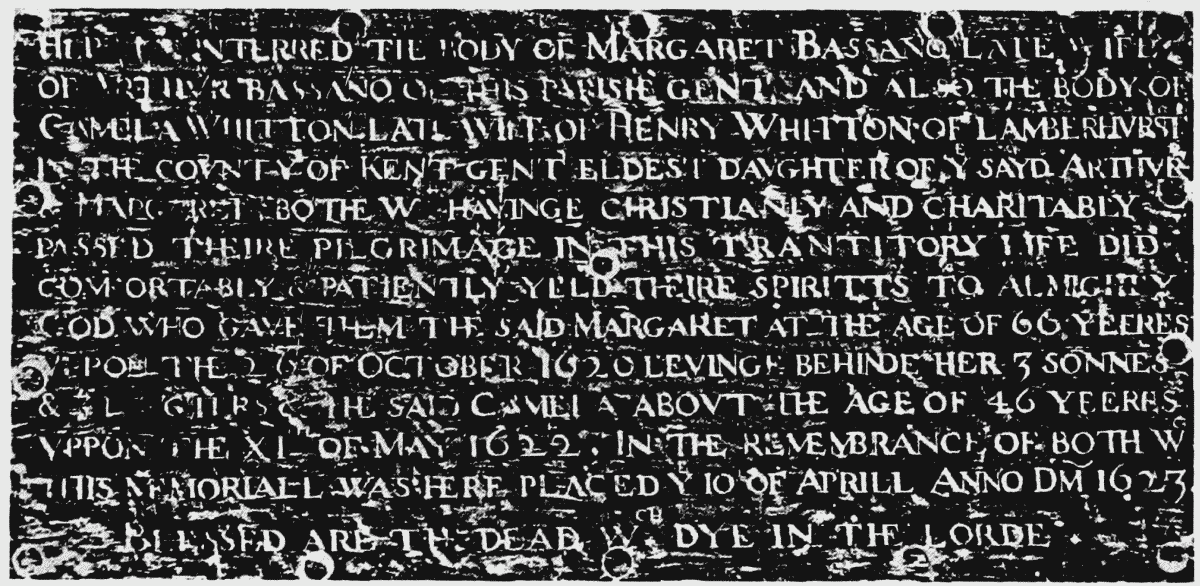 In original stone, but cut down to 38 × 29 inches.
Arthur Bassano was probably related to Anthony Bassanye, "one of the Queene's musisyans dwelling in Mark Lane," mentioned in an amusing entry in the Parish Registers for the year 1565, relating to the birth of a child of Venetian parentage, quoted by Joseph Maskell. (fn. 20) Several names belonging to an Italian colony of merchants are given. Three members of the family owned the Bell, Mark Lane, in 1555 (vide ante).
On floor of chancel behind altar.
19. Shield from the brass to AGNES, widow of WILLIAM BOND, Esq., 1552–3.
A shield, 6¼ × 5½ inches, bearing the arms of BOND (Argent) two bends and in chief a crosslet (sable), impaling ALPHEW (Argent) a fesse between three boars' heads (sable) quartering PETTIT (Argent) a cheveron engrailed (gules) between three bugle-horns (sable).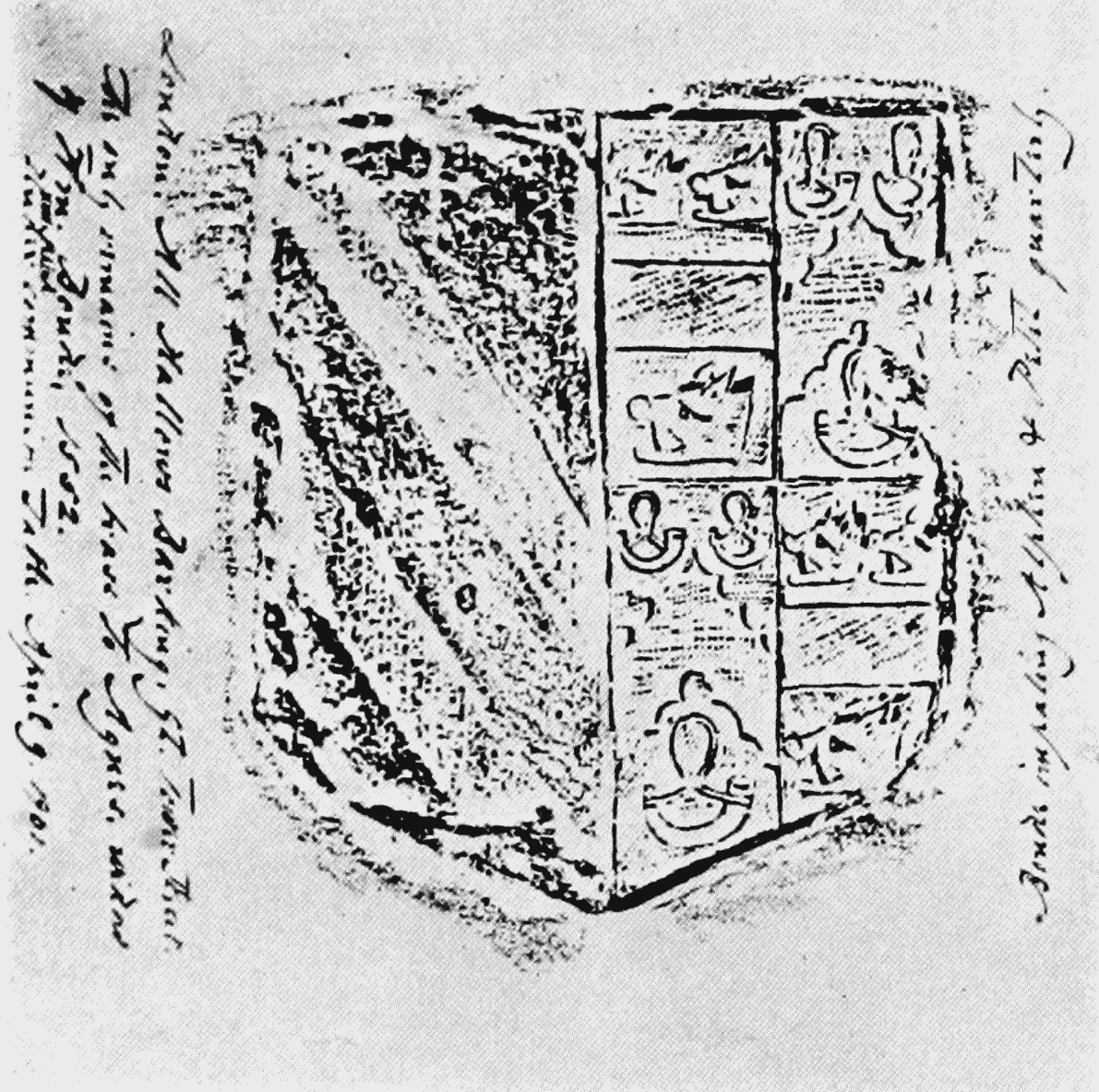 Relaid in a small stone 43 × 34 inches.
Fletcher's account (fn. 21) of the tombs gives a sketch of the brass complete. It consisted of an inscription and four shields of arms, the two lower being represented by matrices. (Plate 80.) The inscription then read:
Here resteth the body of Agnes Bonde widowe sutyme wyff
to Willm Bonde esquyer which William and Agnes had
issue betwixt them 8 sonnes and 8 daughters which Agnes
deceased the 4 day of February in the year of our lorde god
MCCCCCLII.
The upper dexter shield bore the arms of Bond, the upper sinister and lower dexter BOND impaling ALPHEW quartering PETTIT, and the lower sinister ALPHEW quartering PETTIT.
Agnes Bond, daughter and co-heir of John Alphew of Boreplace, Chiddingstone, Kent, by Isabel, daughter of John Pettit, was the widow of William Bond, clerk of the green cloth to Henry VIII, who died in 1523. In her will, dated 1st September, 1546, proved 8th February, 1551–2, (fn. 22) she is described as Agnes Bond of London, widow, and desires to be buried in the church of All Hallows Barking. Leaves bequests of silver to her daughters Anne Thynne, widow, Isabel, wife of John Richmond, and Alice, wife of John Becker. Appoints Anne Thynne and John Richmond residuary legatees and executors. She held a property south of the Bell in Mark Lane (vide ante).
On the back of a high tomb in the north wall of the north chapel.
20. JOHN CROKE, citizen, skinner, and alderman of London, 1477, and widow MARGARET. See monument No. 7.
On the dexter side is a group, 12 × 11½ inches, consisting of John Croke kneeling at a prayer desk on which is an open book and a rosary, with the smaller figures of his eight sons kneeling behind him. A scroll from his mouth is now completely corroded away, as is also his head and that of his eldest son. He wears a tunic or gown with close-fitting sleeves edged with fur and has a large pouch at his girdle. Over all is his fur-lined alderman's mantle, open in front and buttoned on the right shoulder. His sons are all dressed alike in the usual civil tunics or gowns with close sleeves. Above and to the dexter is a shield, 5½ × 4½ inches, bearing the arms of CROKE: (Azure) a fess engrailed ermine between three eagles (or).
On the sinister side is another group, 11½ × 11 inches, consisting of Margaret Croke kneeling at a prayer desk on which is an open book, with the smaller figures of her five daughters kneeling behind her. From her mouth is a scroll, 13 × 1 inch, in raised black letter, now much corroded: "Miserere mei de' scd'm magnā mi[isericordia]m tuā." The shield to the sinister is lost. Margaret Croke is represented as a widow wearing a veil, plaited barbe, kirtle with close sleeves and mantle. The daughters all have butterfly head-dresses and wear low-necked fur-trimmed gowns. The two eldest have necklaces.
Originally there was a chamfer inscription of which Strype (i, Book 2, p. 34) has preserved a portion, "… stapule fuit seniorum et unius Londoniis habitans sermone fidelis cum Margareta domina castaque beata hunc rapuit Michael ad cœli gaudia lati. …" Further references to John Croke follow the description of the tomb on p. 77. (Plates 81, 84 and 85.)
On the back of a high tomb in the south wall of the south chapel.
21. The Resurrection and two scrolls, c. 1500. See monument No. 26.
A pictorial representation of the Resurrection, 10½ × 11 inches, now much corroded. Our Lord, surrounded by rays, with crossed nimbus and holding a cross with small banner attached, is represented stepping from a tomb around which are grouped the sleeping soldiers.
The dexter scroll, 15 × 1 inch, in raised black letter, now much broken and corroded, originally read:
[Ego resurgam et in carne mea videbo] te Ihm deū salvatorē meū.
The sinister, still complete but much corroded,
Qui Lazarū ressusitasti a monumēto fitidū dona nobis requiem.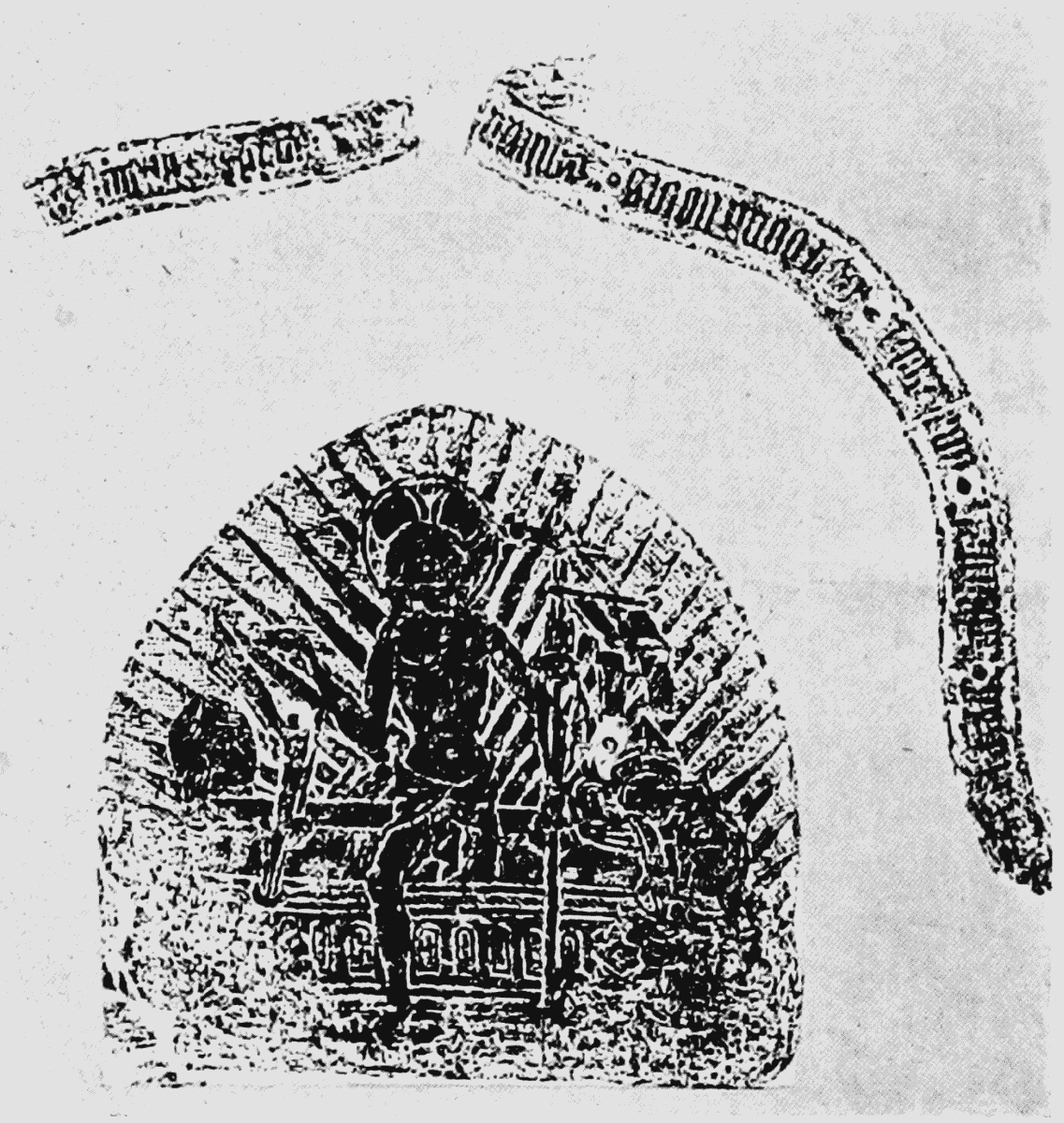 Strype (i, Book 2, p. 35) describes the monument as "a fair marble tomb much defaced, whereon are figured kneeling a man and a woman, he having three sons kneeling behind him, and she four daughters. A label proceedeth from his mouth, etc." Owing to the decay of the stone all trace of the indents is now gone. Recently the plates have been cleaned and are now protected by a sheet of glass. It is suggested in the Introduction that this may possibly be the tomb of (Sir) Robert Tate (d. 1500), removed from the Royal Lady Chapel. According to the Northamptonshire Visitation, Tate had three sons and two daughters, and the pedigree is not necessarily a complete record of his children. The form of the tomb is that of an Easter sepulchre (its probable function being emphasized by the brass of the Resurrection), and it would be redundant in the parish church, as the Croke tomb would have served this purpose. The apparent date of the monument would fit the suggested attribution quite well.
In floor of nave.
22. THOMAS GILBERT, citizen, clothier and merchant of the staple of Calais, 1483, and wife AGNES, widow of John Saunders, citizen, clothier and merchant of the staple, 1489–90 (date added in Arabic numerals).
Inscription in Latin, 27 × 3 inches, three lines, black letter (the precatory clause at the end defaced):
Hic jacet Thomas Gilbert quōd'm Civis et pannari' London
ac M'cator staple ville Calisie et Agnes ux' ej'
nup' ux' Joh'is Saunders Civis et pannarii Civitat' p'dict'
ac m'cator staple ville Calisie qi qid'm Thom's obiit
XXVIIo die Ap'lis Ao dni Mo CCCCoLXXXIIIo et p'd[ict]a Agnes
obiit XIIIo die ffebruarii Aodi 1489 […].

Relaid in a new stone. On the same stone are two 15th-century roundels, 4½ inches in diameter, bearing the symbols of St. Luke and St. Mark, but not belonging to the Gilbert brass. Both are much worn. Fletcher (fn. 23) gives a sketch of the original stone showing the inscription in position under the indents for a man and woman with mouth scrolls, and under the woman indents for a group of four children and one single child.
By will (fn. 24) Thomas Gilbert desires to be buried in the church of All Hallows Barking, in which parish " I now dwell." He divides his estate into three equal parts, one for his wife, one to be divided between his children, and one to be devoted to works of piety and charity in connection with the parish. Maskell says that (Sir) Robt. Tate's will calls Thos. Gilbert his brother-in-law (p. 45 n.). Robert and John Tate were among Gilbert's executors. See also Lond. and Midd. Arch. Trans, ii, 242, 245.
On a pillar in the south aisle.
23. WILLIAM ARMAR, esq., servant for 51 years to Kings Henry VIII and Edward VI, and to Queens Mary and Elizabeth, governor of the pages of honour, free of the City of London and of the Clothworkers' Company, 1560, with three sons, and wife ELIZABETH (Irton) with two daughters.
A rectangular plate, 23 × 19 inches, with the figures, kneeling on cushions on a chequered pavement, of William Armar in armour, with three sons in civil dress behind him, and wife Elizabeth, with two daughters behind her. Between the figures is a shield of arms, and beginning over the sons and continuing over the daughters a scroll bearing "Lyve to Dye is ye way to Lyve." Below are twelve English verses and the inscription.
William Armar is represented bare-headed and bearded, in armour similar to that of William Thynne (No. 10) except that the taces are longer and have two large tassets attached thereto over the mail skirt. His helmet and gauntlets lie on the pavement in front of him. Behind him are his three sons in civil dress. His wife wears the pedimental head-dress with the lappets turned up, an undergown with slashed sleeves and an overgown with wide open sleeves. Behind her are her two daughters in similar dress, but with long flowing hair. (Plate 82.)
Between the figures is a shield of arms bearing (Gules) a cheveron between three upright arms in armour (argent), the elbow-pieces (or), with two pales (azure) between three half fleurs de lis (gules) split paleways on the cheveron, for ARMAR, impaling quarterly I and IV (Argent) a fesse (sable) with two pierced mullets (gules) in the chief, for IRTON. II and III (Argent) two bars and a canton (gules) with a bend (sable) over all, for COPELAND.
Below, in black letter, are the verses and inscription:
He that lyveth so in this worlde
That god is pleased with all
He nede not at the Judgment day
ffeare nothing at all
Therfore in peace lie Downe will we
And take our rest and Slepe
And offer to god in Sacrifice
Our bodies and soules to kepe
Vnto that day that god shall call
Our bodies to rise agayne
Then we with other shall come together
To Glorify his Name.
Willi'm Armar Esquier sarvaunt to Kynge Henry the Eight
Edward the Syxte Quene Mary and Quene Elizabeth one
and ffyftie yeares Governor of the pages of Honor and
fre of the Citie of London & of ye Coumpany of Clothworker'
and heare under lyes buried with Elizabeth his wyf We
beleve in the Blode of Christ only to Ryse agayne to
Everlastyng Lyfe. Ano d'ni MICCCCCLX.
The plate was cleaned and repaired by the Clothworkers' Company in 1843, but is again much corroded.
William Armar married Elizabeth, daughter of John Irton of Irton, Cumberland, and owned in Mark Lane a house not yet identified on the east side. (fn. 25)