Pages 115-117
Survey of London: Volume 21, the Parish of St Pancras Part 3: Tottenham Court Road and Neighbourhood. Originally published by London County Council, London, 1949.
This free content was digitised by double rekeying and sponsored by English Heritage. All rights reserved.
LXXV—EUSTON SQUARE
The houses on the north side of Euston Square are designed in two blocks of 15 and 13 houses respectively (28 in all) separated by the road leading to the station which bears the name of Euston Grove. The leases are dated 1811. The East block was built by Thomas Jennings of Upper Marchmont Street and the west by John Knight of Kenton Street, St. Pancras. (fn. n1) The entrances to the end houses of each block towards the centre are at the side and are approached from vestibules in Euston Grove. Those at the opposite ends also have porches. The design has considerable distinction and cleverly contrived variety. All the buildings are in stucco but the ground floor has grooved joints, with segmental arches to doors and windows, two windows to the right of the door for eight houses of the western block, changing to the left for the remaining seven. In the eastern block the alternation is more frequent but the lack of symmetry is no blemish. The three houses at each end and in the centre of each group have Ionic pilasters traversing the first and second floors with a continuous cornice and frieze over. The pilasters are arranged in two pairs and two singles, the latter containing each group. All the first-floor french windows have roofed balconies of exceptionally beautiful design, and these are varied by linking the two windows to each of the houses that have pilasters and separating the windows in the intervening houses, at the same time lengthening their balconies in compensation. The second-floor windows follow suit, with a three-light window between the pilasters and two seaprated lights elsewhere. The third floor forms an attic with pilasters and an arched parapet over a three-light window in each house that has pilasters below, and plain single rectangular lights over the others. The same general scheme is followed in the eastern block but here the balconies are continuous across each pair of houses that lack pilasters.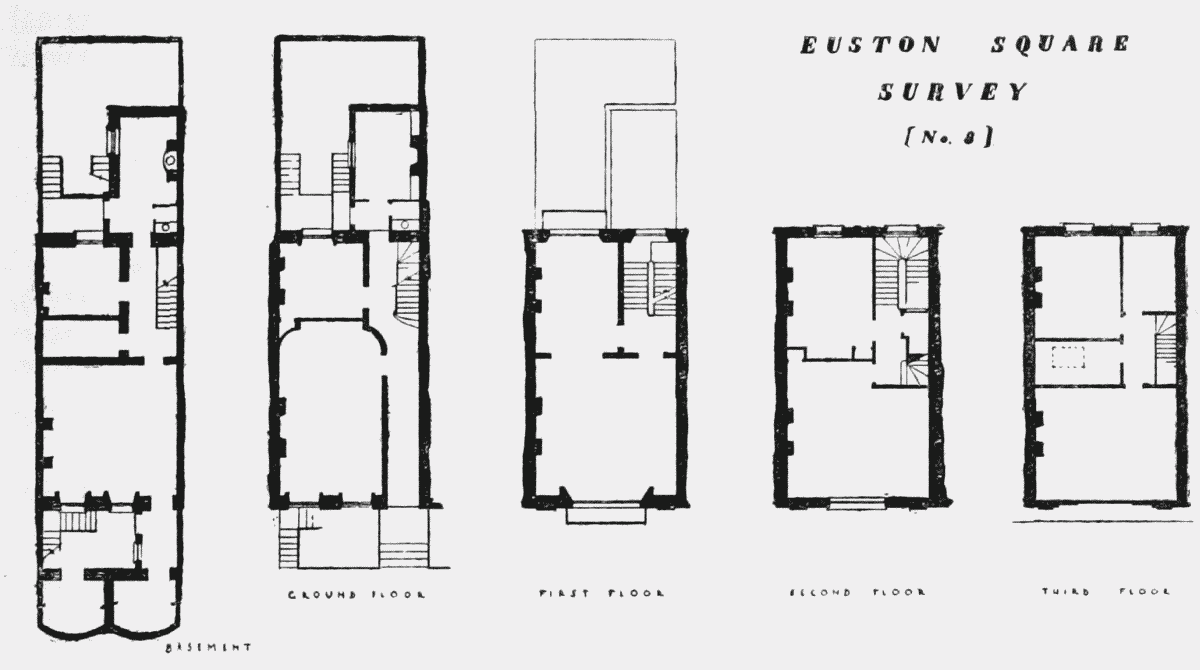 A reference to the measured drawings (Plates 65 and 67) will show the variety and skill employed in the whole design and especially in the porches, doors and ironwork.
The Square originally included the section south of the Euston Road, re-named Endsleigh Gardens in 1879 and re-numbered. The original numbers started at the east end of the north side and proceeded anti-clockwise along the west, south and east sides.
No. 2.
1835–1836, Rev. David Laing. 1856–1889, Baroness M. Von Muller.
No. 4.
1854–1855, Rev. William Wilson. 1863–1865, Thornton Leigh Hunt (1810–1873), journalist. Eldest son of James Henry Leigh Hunt, the essayist and poet. He co-operated with George Henry Lewes in founding the Leader. Wrote for the Spectator, Morning Chronicle and Daily Telegraph. (See also No. 26.)
No. 10.
1815–1817, The Dowager Lady Nightingale and (1816) Sir Charles Nightingale.
No. 14.
1841–1846, Archdeacon Robinson.
No. 16.
1823, Rev. W. H. Charlton; 1833–1835, Rev. Henry Stebbing(1799–1883), incumbent of St. James's, Hampstead Road, 1836–1858 (q.v. page 135).
No. 19.
1860–1863, Rev. F. Panton Ham.
No. 23.
1838–1851, Sir Claudius Stephen Hunter, Bt. (1775–1851). The house is marked "militia quarters" in the rate-books. Sir Claudius, who was a son of Henry Hunter and Mary (Sloane) a relation of Sir Hans Sloane, was a solicitor and a city alderman (Bassishaw Ward). In 1806 he was appointed lieutenant Colonel (1810, Colonel) of the Royal East regiment of London Militia. He was Sheriff, 1808, and Lord Mayor, 1811. He died at Reading.
No. 25.
1817–1824, Rev. P. le Breton. 1834–1839, John Payne Collier (1789–1883), Shakespearean critic, journalist and antiquary. Wrote for learned societies, librarian to the Duke of Devonshire, Secretary to the British Museum Commission. Used his extensive knowledge to make wholesale forgeries of Shakespearean and other documents.
No. 26.
1824–1825, Sir William Wightman (1784–1863), judge. Called to the bar, Lincoln's Inn, 1821. Judge of Queen's Bench (1841). 1866–1872, Thornton Leigh Hunt, (see No. 4.)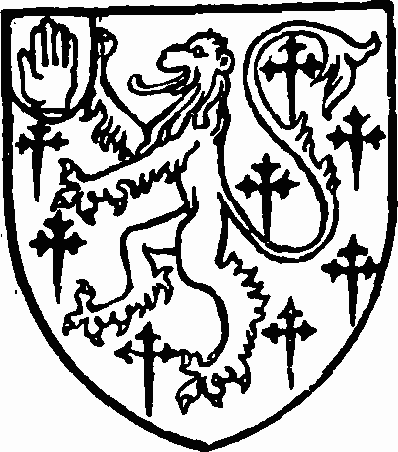 No. 30.
1845–1846, Charles Tomlinson (1808–1897), scientific writer. Published The Student's Manual of Natural Philosophy (1838). Lecturer on experimental science at King's College School and on Dante at University College. F.R.S., 1872. Author of several works.
No. 31.
1853–1858, George Bullen. Possibly George Bullen (1816–1894), keeper of printed books at the British Museum. F.S.A.
No. 33.
(No. 28 now 33 Endsleigh Gardens.) 1867–1869, Rev. E. P. Cachemaille.
No. 34.
(No. 27 now 31 Endsleigh Gardens.) 1820–1832, Rev. H. W. Rowlett.
No. 43.
(now No. 18 Endsleigh Gardens.) 1876–1911, Sir Percy William Bunting (1836–1911) barrister and social reformer. Called to the bar from Lincoln's Inn, 1862. The National Free Church Council was founded at his house, 1891. Co-founder of Leys School, Cambridge and the West London Mission. Editor of the Contemporary Review. He died at this house.
No. 48.
(now No. 13 Endsleigh Gardens.) 1846–1852, Rev. Thomas J. Judkin, (see also No. 49). 1854–1868, Rev. James Hamilton, D.D., F.L.S. (1814–1817), presbyterian minister. In 1841 he became minister of the National Scotch Church, Regent Square, where he remained until his death. He had an extensive knowledge of botany and wrote devotional works, memoirs, etc. published in a collected edition of six volumes.
No. 49.
(now No. 12 Endsleigh Gardens.) 1853–1871, Rev. Thomas J. Judkin, (see also No. 48).
No. 53.
(now No. 8 Endsleigh Gardens.) 1875–1879, Rev. John H. Snowden.
No. 56.
(now No. 5 Endsleigh Gardens.) 1868–1891, William Michael Rossetti, brother of Dante Gabriel Rossetti. He published a memoir on his brother and his letters.
No. 62.
1822–1836, William Inwood (1777?–1843), architect. This house was numbered 68 up to the year 1828. Inwood was born at Kenwood in this parish where his father was bailiff to Lord Mansfield. His best known work (in conjunction with his son Henry William, whose name appears with him for this house in 1828) is St. Pancras New Church. He died at his house in Upper Seymour Street and was buried in St. Pancras New Church. He was succeeded at No. 62 by Samuel Acton, architect in 1837. Mrs. Acton's name occurs 1838–40.
No. 70.
1817–1823, Rev. Edward John Burrow, D.D. (1785–1861). Incumbent of Hampstead Chapel of Ease, 1816–23; Archdeacon of Gibraltar, 1842. Miscellaneous writer. 1824–1852, Richard Gilbert (1794–1852), printer and publisher. He was stock keeper of the Stationers' Company.