Pages 25-55
Survey of London: Volume 24, the Parish of St Pancras Part 4: King's Cross Neighbourhood. Originally published by London County Council, London, 1952.
This free content was digitised by double rekeying and sponsored by English Heritage. All rights reserved.
CHAPTER 3: THE FOUNDLING HOSPITAL AND DOUGHTY ESTATES
The history of the estate purchased by the governors of the Foundling Hospital from James Cecil, sixth Earl of Salisbury, in 1741, is given in St. Pancras, Part II (Survey of London XIX, p. 25). We can add that Edward Vaughan and Thomas Ellis (who bought from the Crown in 1590) sold (fn. 11) the property to Edward and Thomas Caryll and Thomas Marshall in 1596 and that in the following year they conveyed (fn. 12) it to Thomas Bennett, citizen and alderman of London. Sir Thomas Bennett left it by will (fn. 13) (1627) to his son Ambrose with remainder to his grandson Symon (son of Richard). James Cecil, fourth Earl of Salisbury, married Frances, daughter and co-heir of Symon Bennett.
The intention of the governors of the hospital had been to purchase two fields only, but Lord Salisbury would not part with so small a site, and four fields comprising 56 acres were eventually acquired. (fn. 14) Although the governors had been compelled to purchase more land than they required for the site, this was ultimately to prove an advantage, for, as the funds of the hospital diminished, so the value of this pasture land increased. In 1926, when built upon, its revenue brought them in £42,000 per annum, (fn. 9) that is more than six times the original purchase price of the land.
Suggestions for disposing of this surplus land upon building leases came before the hospital committee at various dates from 1764 onwards, but it was not until 1785, when the governors were gravely troubled about their inadequate revenue, that they gave serious attention to the question. (fn. 15) Immediately after it became known that the hospital intended to convert their land into streets and squares there were protests from the wealthy and influential residents in Queen Square and Great Ormond Street, all of whom had for many years enjoyed uninterrupted views over the green pasturage towards the heights of Highgate and Hampstead (see Plates 42a and 42b ). In 1787–88 pamphlets were circulated accusing the governors of endangering the health of the children by destroying the fresh-air amenities of the site. (fn. 16) A Mr. John Halliday of Lincoln's Inn was particularly active in this opposition, and his tract, An Appeal to the Governors of the Foundling Hospital, alludes to similar protests by residents in Great Ormond Street. This opposition culminated in 1792 (after the hospital had leased off some of its eastern land for building) in a Chancery suit by Edward Lind of Queen Square, seeking to restrain the hospital from further disposals on the pretext that the contracts were speculative and improvident. The action was unsuccessful.
Apart from outside opposition, the governors were faced with many difficulties in laying out their estate. The greatest of these was its isolation; it was, in fact, a square of meadow-land surrounded on three sides by open fields, and shut off by them from the main external avenues of traffic. Its one and only paved carriage-way into London was the narrow "bottle-neck" thoroughfare, Red Lion Street, a somewhat unprepossessing approach to the fashionable squares which the governors hoped to build.
The all-important approach to the West End was shut off by the Duke of Bedford's estate, whose boundary intercepted, by a mere stone's throw, the outlet of the Foundling Estate into Southampton Row. Russell Square was not yet built, the Duke's garden occupying the site. Connection with the New Road (Euston Road) on the north was intercepted by the intervening Skinners' Company, Lucas, Harrison and Battle Bridge estates. On the eastern side the small Doughty estate (see below, pp. 29–30) lay inconveniently at the southern end, shutting off the entry into the paved and built-up portion of Gray's Inn Road.
It was therefore by no means a simple matter to plan streets up to the boundaries of these estates. The surrounding landowners had not yet decided to develop their ground, and were in no frame of mind to embarrass themselves by having to continue across their land street-lines which the Foundling Hospital might arbitrarily impose upon them. Much tactful negotiation and inevitable compromise thus faced the building committee of the Foundling Hospital.
Apart from these difficulties, the ground formed an ideal site for development. Abundance of fine brick-earth and gravel lay almost on the surface, extending to a depth of more than ten feet in most parts. As most of the houses at this period had semi-basements the excavation of this valuable brick-earth would be done free of charge to the hospital by the speculating builders in the ordinary course and the hospital would be able to sell the brickearth to the adjoining brickmaker, Mr. Harrison, (see Plate 61b). The surplus gravel could be sold locally to the Commissioners of the New Road (Euston Road) who were particularly in need of it.
The building committee of the Foundling Hospital appointed as their architect and surveyor, Samuel Pepys Cockerell, a pupil of Sir Robert Taylor, entrusting to him the planning of their estate. The minute books of the committee are remarkably informative, recording almost every detail of the development of the property, and are the source from which all the facts here given have been derived. They show that Cockerell submitted his schemes to the committee on 28th December, 1790. (fn. 15) The outstanding feature of these schemes was the creation of two imposing squares (Brunswick and Mecklenburgh Squares) flanking the hospital gardens on the western and eastern sides, and open towards them, so that the residents should have an uninterrupted view of the gardens, and the occupants of the Foundling Hospital should look on to the fronts of houses instead of the unsightly backs. These houses were to be of the most expensive type, to attract wealthy residents to the vicinity of the hospital and keep up its status. Cockerell advocated the reservation of the eastern portion of the estate for houses of the better class, leaving the northern and southern parts for cheaper houses to be erected by small speculating builders (whom he termed "Adventurers"). Thus the estate was planned to accommodate different classes of residents and to attract all types of building speculators, rich and poor.
Cockerell, a man of tact and integrity, performed his duties to the hospital committee in an exemplary manner. He contrived street-lines on amicable terms with the surrounding landowners. He overcame the many difficulties of obtaining water-supply from the New River Company, despite their assertion that the ground was too soft on the south for their wooden water mains, and Mr. Harrison's refusal to allow these ever-bursting contrivances to pass through his land on the north.
It was unfortunately inevitable that a man in Cockerell's position should make enemies. He had to enforce the committee's stipulations as to good sound work on the speculating builders, yet, if he enforced them harshly the builders would be discouraged from taking up more land, and the hospital would suffer. To make his problem more difficult, costs were rising, and builders were all the more prone to evade their commitments as to the quality of the work. Cockerell's task of supervision would have justified a large staff of clerks-of-works, each to supervise a limited area, but the hospital's minute books afford no indication that he had any such assistance.
He did his best for the building committee, but apparently they were not satisfied. On 25th May, 1805, they presented him with a report from an outside surveyor alleging encroachments by speculating builders beyond their allotted sites and their failure to construct adequate sewers. The report further asserted that "In traversing the estate it is observable that in many of the buildings the materials of brick, timber and cement were shamefully bad and not agreeable to the Building Act."
On 16th October, 1805, Cockerell defended himself, pointing out fallacies in the report, and blaming the building committee for having allowed the builders to construct their own sewers (often dead-ended like cesspools and surreptitiously covered over) instead of carrying them out, as landlords, in a proper manner, and charging them to the builders in the areas concerned, as he had advised in April, 1792, and as the committee had then agreed to do. His tone was indignant and somewhat bitter.
Further attacks were made on him. In 1807, two unscrupulous surveyors, James Spiller and Thomas Spencer, put in a report condemning him for neglect of duty in having sanctioned bad work and having lied to the governors in defending himself. The governors relieved him of his duties as surveyor, restricting him to lease-negotiations and similar work. His pupil, Joseph Kay, was appointed inspector, and his attackers, Spiller and Spencer, took on his former surveying work. (fn. 15)
Spiller and Spencer proceeded to find fault with everything Cockerell had done. Buildings were summarily ordered to be pulled down on the score of imperfect workmanship. Bad materials were reported everywhere by them ("mortar little better than mud") and walls were alleged to be falling out. Their over-zealous fault-findings came to a sudden end on 27th June, 1807, when Mr. Farmer, solicitor to the hospital, ignored his instructions to prosecute the builders in question, and accepted apologies or partial repairs instead. He no doubt had opportunities of enlightening the committee as to the facts, and a week later, on 4th July, 1807, Spiller and Spencer were dismissed.
That the charges against Cockerell were unfounded is evident from the fact that his houses are still standing and in sound condition. Apparently his pride would not allow him to resume his former duties after the dismissal of his persecutors. He put in his resignation and presented the hospital with his bills for four years' unpaid work. On 9th April, 1808, he offered his future services gratuitously to the committee, if called upon, evidently leaving them on good terms. Joseph Kay was then appointed in his place to supervise the development of the estate, particularly around Mecklenburgh Square and the important eastern side, the design of which can be attributed to him.
The minute books of the hospital building committee are singularly informative as to the builders and building conditions of the day. They may well be quoted for the light which they throw upon the contemporary development of surrounding estates which are less amply recorded.
The earliest entry (7th July, 1790) indicates that James Burton, builder and architect of Southwark, was eager to lease extensive building sites at a date long before the estate was planned by Cockerell. He was asked to wait till plans had been completed. Five months later he offered £1400 per annum rent for a large piece of ground in the principal streets on which he proposed to erect "substantial, uniform, well-finished houses of the first and second rate of building." The committee decided that his offer was inadequate, and informed him that "It is not for the interest of the Corporation to let any considerable quantity of ground to any one person." Clearly, they doubted whether this ambitious young man would carry out his commitments, little suspecting the great value he would be to them later.
To gain their confidence, Burton took a small plot of ground and erected satisfactory houses upon it. In November, 1792, he wrote the committee a letter beginning "Having completed my first engagement with you," with a proposal to build Brunswick Square "on a handsome scale." (fn. 15) The committee turned this down, being still indisposed to grant so much land to a single builder, and, moreover, requiring more money than he offered.
Undeterred, Burton continued his negotiations, and by the end of the month, had persuaded them to let him have the land on the south side of Brunswick Square. The lease contained the interesting proviso that "in the event of a foreign war or civil commotion" only a peppercorn rent was to be paid by him for three years. After that transaction, which he satisfactorily completed, Burton held the confidence of the building committee as a sound builder and a man of his word. They leased him land all over the estate, almost whenever he asked for it, rarely refusing except when his Scottish business instincts conflicted with their ideas as to price. Unquestionably the financial success of the estate development of the Foundling Hospital was, in the main, due to the enterprise of Burton. He built the major part of its houses, of which details are given below in the description of individual streets.
Burton having made the major pioneering effort and assured the success of the estate, less venturesome speculating builders came in and took larger or smaller numbers of plots according to their means. Their names and the houses they built are recorded in the street-sections of this volume. On the whole, their ventures were successful. Latterly, the market for houses reached saturation point. Fear of war with France darkened the outlook. Many houses stood unlet. Even James Burton was compelled at one time to ask the hospital committee to relieve him of some of the building land which he had leased from them.
The designing and planning of many of the houses seem to have been done by the speculating builders themselves, who submitted sketches for approval to Mr. Cockerell. In this way he retained control and maintained general uniformity. The houses on the Foundling Estate reflected the latest architectural fashions between 1790 and 1830, being built to popular taste, and at popular prices. The brick was made from local clay, of a light ochreous shade, and the estate, when first built, must have had all the brightness of a cream-coloured town in a setting of green pasture land.
The roofs throughout were of slate. Many of the chimney pots came from the factory at Bagnigge Wells and are so stamped (see p. 68). It will be noticed that the external wooden door cases, characteristic of the 18th century, are entirely absent in the buildings on the estate, the doors being set within brick arches, and depending for embellishment on fluted or reeded architraves and interlaced fanlights. The earlier houses have first floor windows with high sills, but in those built towards 1800, they reach down to the floor and open out on to iron balconies in the French manner. The windows have their glazing bars dividing the glass in elongated panes and sometimes interlaced or shaped above to follow the curves of the arched heads (see Plates 45, 49, etc.).
Of interior decoration there is little. The wealthy type of resident who spent extravagant sums on ornamental plaster decoration and painted ceilings did not come to St. Pancras where nearly all the interiors are simple in character. The entrance halls, even in the meanest houses, have some kind of ceiling ornament, in accordance with the speculating builders' age-long practice of providing a pleasant first impression to prospective buyers. The remainder of the interiors are for the most part bare, with light cornices, stock mouldings for dados and skirtings, and little individuality in their mantelpieces. The same type of staircase with cut strings, narrow oval serpentine mahogany handrail and square-section balusters, is found throughout the estate.
It will be noticed that most of the houses have window heads of what appears to be red brick. In all cases, where the surface has been destroyed by war damage, they prove to have been made of the same cream-coloured brick as the remainder of the house and to have been painted red. It would seem that these red-painted bricks were an original or very early feature of the estate, since they are indicated in the picture of Birkenhead Street about 1827 (Plate 78b).
The Doughty Estate, the development of which is linked with the Foundling Estate, was settled on Sir Edward Doughty, who owned land in Buckinghamshire, Suffolk, Lincolnshire and Dorset. It was involved in the claims made in the celebrated Tichborne Case of 1867. Its boundaries are shown in a plan in the Heal Collection made about the year 1820. (fn. 17) It followed the old parish boundary on the south, Gray's Inn Road on the east and adjoined the Foundling Estate, west and north.
In 1790 Cockerell was instructed to treat with Henry Doughty of Bedford Row for an exchange of land to enable Guilford Street to join up with Gray's Inn Road. The transfer was effected in March, 1792, (fn. 13) and almost at once Doughty began to develop the southern end of what is now called Doughty Street (then called Upper John Street). The Act for paving and lighting the estate was not passed until 1797. (fn. 18) After 1796 all leases of land to builders were in the name of Elizabeth Doughty, spinster. (fn. 19)
XCIII—Guilford Place
Guilford Place forms an effective preface to the Foundling Hospital, being situated on the south side of Guilford Street opposite the hospital entrance in the form of an open square.
The buildings of the hospital were set out in axial alignment with Red Lion Street, the direct approach from London. As Rocque's map of 1746 shows, there was at first little more than an open carriage track extending from the top of that street to the hospital gates. Around the entrance were ale-houses for the refreshment of sightseers (see Plate 11).
In 1790 Cockerell planned a more dignified approach consisting of a crescent of gentlemen's houses of the first grade. But, when the speculating builders saw this plan "they objected to build thereon in the circular form described in the plan." (fn. 15) Accordingly, on 16th June, 1791, the hospital building committee consented to a rectangular shape, "so as to form an opening 130 feet wide from east to west." South of Guilford Place a short but well-built street was designed to join with the end of Red Lion Street and thereafter its name, Lamb's Conduit Street, was applied also to the northern part of Red Lion Street as far as Theobalds Road.
Building began soon after 1791, in which year Mr. Tomes, bricklayer, applied for a building lease of 130 feet frontage at 14s. per foot. (fn. 15) Prior to that, William Harrison had acquired a lease in 1778, and according to the lease book of the hospital, he built the larger part of Guilford Place on land leased to him in March, 1793. James Tomes built about a third of it. Lamb's Conduit Street was built partly by William Fasson and partly by Mr. Tomes. Their leases are dated 1785 and 1794. (fn. 20)
Of the original houses in Guilford Place there remain on the east side Nos. 2, 3 (in the angle of the south return and facing north), 4, 5 and 6. On the west side Nos. 7 and 8 (opposite 5 and 6) still stand. Nos. 9 to 12, and No. 1 on the east side have been demolished after war damage. They are all of four storeys above a basement. No. 2 has a plain cement string at the sill level of the first floor windows and a wooden door case, with entablature and columns, set within a segmental brick arch. The other doorways are plain with ribbed jambs and transomes, except those to Nos. 7 and 8 which have stucco pedimented entrances with pilasters at the sides. There are exceptionally fine wrought-iron lamp standards flanking the entrances of Nos. 5, 6, 7 and 8.
XCIV—Millman Street
Millman Street is a continuation northward of Bedford Row and Great James Street, and enters Guilford Street slightly east of the Foundling Hospital. On Rocque's map of 1746 its upper end is shown unbuilt.
Its extension northwards was one of the first projects of Samuel Pepys Cockerell, who proposed to the building committee of the Foundling Hospital on 28th December, 1790, that the houses should "be of the fifth class, that is, from £40 to £30 per annum." On 16th June, 1791, the committee resolved that the street should be 50 feet wide between the faces of the houses.
On 13th July, 1792, the committee accepted the proposal of Messrs. Fulford and Upsdell, builders, who offered 5s. per foot frontage for the whole of New Millman Street (as the extension was to be named) except the southernmost house on the west side, where the boundary ran at such an acute angle as to make building difficult. Messrs. Fulford and Upsdell also stipulated that "as New Millman Street will be for shops, we trust we shall not be prevented from having a butcher and tallow chandler, but would by no means have a slaughterman or a melter of tallow." Having obtained their ground lease they proceeded to sublet parts of it to other speculating builders. In 1796, when building work was well advanced, the following names appear in the hospital sewers accounts: William Bull, east corner of New Millman Street (60 feet); John Fulford and his under-tenants, east side (60 feet and 90 feet); James Burton and his under-tenants, east side (70 feet) and Peter Upsdell, east side (69 feet) and west side (143 feet).
Horwood's map of 1799 shows this street completely built, but the hospital committee's minute book refers to building in progress as late as 1803. Their estate book gives the actual numbers of the houses built, and to what builders they were sublet. It would appear that most of Peter Upsdell's land was taken over and built upon by Harry James Layton, carpenter, of 10 Duke Street, who wrote to the committee on 28th February, 1801, that the houses were let to respectable tenants from Lady Day of that year and called upon the hospital to pave and light the road in front of his house. In 1802, despite a petition from a Mr. Hogarth in Millman Street, the hospital sanctioned the existence of a greengrocer's shop there, but refused to allow a cobler's stall. They, however, permitted the erection of a public house upon an important corner site.
John Bellingham was lodging in Millman Street in 1812, when he assassinated Spencer Perceval in the lobby of the House of Commons. The Chevalier D'Eon de Beaumont died here on 21st May, 1810.
XCV—Guilford Street
A reference to Rocque's map of 1746 will show the irregular track north of Queen Square and the gardens of the houses in Great Ormond Street which Cockerell replaced by Guilford Street, designed to run parallel with the south wall of the Foundling Hospital. It stretches from Russell Square to Gray's Inn Road and formed the base line of the development of the estate to the north. At its western end it was originally called Upper Guilford Street to distinguish the better houses built on this section. These were to be of the 1st grade, but eastward they were to tail off into 2nd, 3rd and 4th class houses, where the latter could be provided with shops if found desirable. Exchanges of land with Henry Doughty (see p. 30) were made in 1790—2 for his and the hospital's mutual convenience, and in the latter year Mr. Farrar, solicitor to the hospital, was directed to obtain the necessary legal powers for laying out the new road.
Applications from builders to take up leases came in before the arrangements were complete, and in 1792 proposals by Wigg and Stanton, Hodgkinson of Pentonville and J. Booth of Gloucester Street were being considered. The hospital also negotiated building leases with Harrison and Offley who had previously rented grassland there. James Burton was entrusted with the north side of Guilford Street, from Grenville Street to Lansdowne Terrace, on 28th November, 1792 (together with the south side of Brunswick Square) and agreed to pay his share of the sewers (310 feet) and supply foot pavements of Yorkshire stone with kerbs of Scottish or Moor stone. In 1793 Burton was given a lease of 310 feet, east from Queen Square on the south side and from Grenville Street to the Bedford Estate on the north, the latter being property backing on the present Russell Hotel. He purchased (fn. 15) Mr. Newnham's house in Queen Square (No. 20 at the north-west corner) in order to make an entry from the square into Guilford Street and at the request of the governors of the hospital made over this purchase to them. He produced a special design for the houses facing the square (Plate 45). In 1794 the New River Company were objecting to laying their mains in Guilford Street, because of the softness of the ground, but the building committee countered this by assuring the company that the street had been used "for nearly twelve months for quite heavy carriages."

In March, 1799, Burton reported to the committee that on the south side of the street, west of Brunswick Square, he had ten houses nearly roofed, ten up to the first floor and ten to the parlour floor. For six or seven years the street was in the builder's hands and was a mass of scaffolding, but by 1800 tenants began to move in. In the rate book (fn. 21) for 1800 some 60 houses were occupied.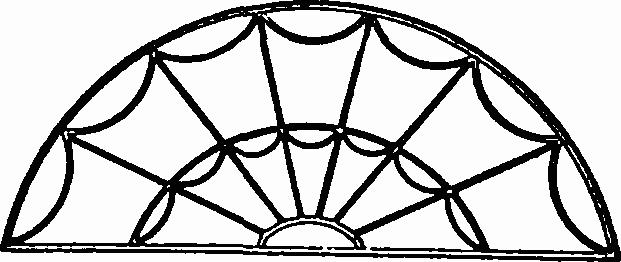 Guilford Street presents a combination of houses varying from the first to the fourth class of building, ingeniously designed so that the spectator should pass from end to end without realizing any obvious change, the divergence being, of course, principally in the dimensions. Houses of the first class (see Plate 44) at the west end are about 25 to 30 feet wide with spacious entrance halls and the principal rooms on the first floor with three windows reaching to floor level and leading out to the balconies with their decorative ironwork. Above these are two bedroom floors and a servants' attic. As the houses fall in grade towards the east their frontage becomes about 15–20 feet wide and they are only three storeys high. They have no iron balconies and the entrance halls are mere narrow passages.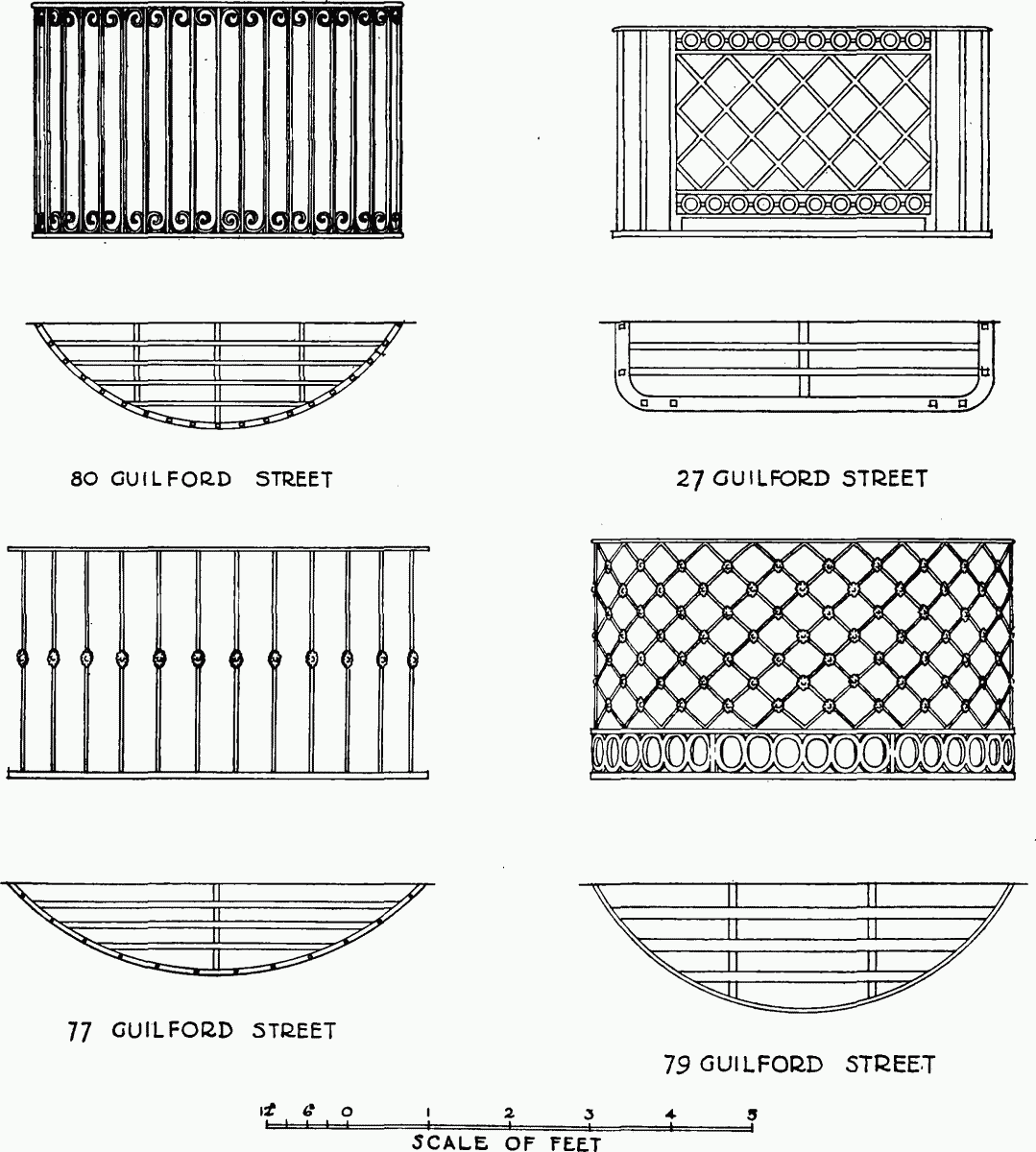 To preserve the uniform appearance of the street a stone string runs in a continuous band throughout its length. The roof lines are, however, varied including slate-fronted mansard roofs exposed above a stone cornice, and also parapets concealing the attic windows. Variety is also introduced in the design of the doors, fanlights and balcony railings.

The entrance halls are usually decorated with enriched ceilings with a classical border and a small cornice. A second inner door, with glazed fanlight, occurs in the larger houses to protect the staircase from the draught. The street is numbered from east to west on the south side and west to east on the north. No. 1 at the south corner of Gray's Inn Road has a shop with a wide gateway to Brownlow Mews. Nos. 2–7 are of brick, three storeys high with mansard attics. All have railed areas to the basements. No. 8 at the west corner of Doughty Street, faces east but is entered on the north. Nos. 9–15 are similar in design, but Nos. 9, 10 and 13 have balconies to the first floor. No. 15 is partly demolished. The houses between Millman Street and Guilford Place were badly damaged in the 1939–45 war. Nos. 24 to 33, between Guilford Place and Ormond Mews, are characteristic of this part of the street (see Plate 44b). Nos. 25, 26 and 27 retain their first floor balconies.
On the north side of the street Nos. 70–73 (Plate 45a and 45b), opposite Queen Square, are more elaborate in design. The ground floor is of rusticated stucco, with arched windows and doorways. It forms the base for a continuous order of Doric columns the height of the next two storeys, the first floor having tall French windows. There is a continuous balcony at first floor level. Above the plain entablature is the attic storey with short pilasters between the windows. Nos. 76 to 82 (Plate 44a) form a pleasant uninterrupted range up to Grenville Street of the same proportions as the last but plain in treatment. They are wholly of brick with a string at first floor and a cornice at third floor level. The doorways alone are arched. The balcony railings vary in design. East of Grenville Street is the Guilford Arms and another row of houses, Nos. 84 to 92 of similar character, No. 92 retaining its lamp supports. Beyond these are the lodges and gates of the Foundling Hospital and further east the only original houses that remain are Nos. 105 to 110. They resemble the eastern houses on the south side, with three storeys and mansard attics. No. 108 has an arched door, the others are square-headed with entablatures.
Among the inhabitants of Guilford Street the following names have been noted:
No. 1.
1837–42, John Gillam Booty, solicitor.
No. 2.
1805–13, Thomas Peake. This was probably Thomas Peake, serjeant-at-law and legal author (1771–1838); 1814–18, William Flexney, attorney; 1819–32, George Shipman, surgeon.
No. 3.
1825, Edward Reddish, attorney; 1826–29, William Woodgate, solicitor; 1836–39, Thomas Fisher and George Shepherd, solicitors.
No. 4.
(formerly No. 20). 1796–7, Sir Samuel Toller, Advocate-General of Madras (1812) and legal author; 1830–32, Charles Austin (1799–1874), possibly the brilliant lawyer and friend of Macaulay; 1836–45, William Metcalfe, barrister.
No. 5.
1840–50, Robert Brotherson Upton, solicitor; 1853, Thomas Charles, surgeon.
No. 6.
1855–56, Charles Ashenheim, surgeon.
No. 8.
1821–25, John Wotton, surgeon; 1828–41, Henry Coode and John Browne, solicitors; 1844–49, Rev. Edward Auriol.
No. 9.
(formerly No. 15). 1797–1802, Colonel Turner; 1805–08, John Impey, legal writer and member of the Inner Temple, died 1829 at Hammersmith; 1809–18, Archibald Elijah Impey (1766–1831), a natural son of Sir Elijah Impey, called to the Bar at the Inner Temple, governor (1810) of the Foundling Hospital and buried in the Temple Church; 1819–32, H. W. Mander, counsellor; 1844–48, John Joseph Field and John Field, solicitors; 1851–53, Thomas Hay, civil engineer.
No. 10.
(formerly No. 14). 1797–1812, James Cobb, possibly the dramatist who was also secretary of the East India Company (1756–1818); 1816–40, James Cummings.
No. 11.
1803–17, Abraham Langford, governor (1808) of the Foundling Hospital; 1828–38, E. R. Porter, solicitor; 1840–42, R. H. Giraud, solicitor; 1843–61, George Colman, F.R.A.S.
No. 12.
1801–17, David Pitcairn; 1858–60, Rev. Owen Thomas (1812–91), pastor of the Welsh Church Meeting, Jewin Crescent.
No. 13.
1840, Dr. Hopkins; 1853–54, Edward Gregory, solicitor.
No. 14.
1823–25, John Hance, solicitor; 1828–32, Robert Griffith, attorney; 1838–42, W. B. Hutchinson, surgeon; 1843–47, Charles Holt, attorney; 1849–56, Henry Bateman Hodson, architect.
No. 15.
1828–34, William Hornidge, solicitor; 1836, John Carr, solicitor; 1838–40, A. W. Grant, solicitor; 1875–84, Rev. Henry Clement Barlow.
No. 16.
(formerly No. 8). 1796–1820, Anthony Van Dam, governor (1801) of the Foundling Hospital; 1835–42, William Hornidge, solicitor; 1854–56, William Lawson, portraitpainter; 1857–84, William Pettit Griffith, architect.
No. 17.
(formerly No. 7). 1796–97, Baker John Sellon, lawyer (1762–1835), called to the Bar from the Inner Temple, 1792, he wrote on legal practice; 1854–62, William Rumbelow, surgeon.
No. 19.
1834–44, Captain Heaviside; 1847–56, Benjamin Kay Brydges, surgeon; 1857–72, Robert Cuff, surgeon; 1858–60, — Garlick, surgeon.
No. 20.
(formerly No. 4). 1776–1800, Lady Catherine Murray; 1819–27, John Webb.
No. 21.
1820, Rev. William Tooke (1744–1820), historian of Russia. He removed from Great Ormond Street to this house just before his death and was buried in St. Pancras new burial-ground (his name occurs in the rate-books for 1821); 1836–50, Henry William Ravenscroft, solicitor.
No. 22.
(formerly No. 2). 1796–1800, Mr. Serjeant Palmer; 1845–51, John Finch, solicitor.
No. 23.
1812–51, John Shore, governor (1812) of the Foundling Hospital; 1853–55, John Cooper. This may have been the actor, fl. 1810–70.
No. 24.
1798–1801, John Sidney Hawkins (1758–1842), the antiquary who wrote an account of the wall paintings at St. Stephen's, Westminster, and quarrelled with J. T. Smith; 1840–45, William Glover, serjeant-at-law.
No. 25.
1879–80, Algernon Charles Swinburne (1837–1909) the poet. Swinburne moved from 3 Great James Street in 1879 to Mr. Theodore Watts-Dunton's house in Putney.
No. 27.
1799–1827, Thomas Croft, governor (1807) of the Foundling Hospital; 1840–53, Palgrave Simpson, solicitor; 1858–63, Colonel Joseph Coxwell.
No. 28.
1827–32, C. J. Shoubridge, solicitor; 1846, George Duplex, surgeon; 1847, William Campbell Sleigh (1818–87), serjeant-at-law, counsel in the Tichborne case.
No. 29.
1809–17, John James Peele, governor (1812) of the Foundling Hospital; 1820–21, T. Dax, solicitor.
No. 30.
(formerly No. 7 Upper Guilford Street). 1797–1816, Woodbine Parish, governor (1808) of the Foundling Hospital and father of Sir Woodbine Parish, diplomat (1796–1882); 1817–48, Captain Daniel Stephenson.
No. 31.
(formerly No. 8 Upper Guilford Street). 1797–1825, James Bury, governor (1797) of the Foundling Hospital; 1834–57, John Casley, solicitor.
No. 32.
1825–40, Francis Whitmarsh, counsellor; 1844–58, Edward Headland, surgeon.
No. 33.
1816–21, Ralph Bernal (d. 1854) politician and art-collector, M.P. for Lincoln, Rochester, and Weymouth, his collection of glass, plate, china, and miniatures was sold in 1855; 1822–37, Benjamin Austin, attorney; 1840–48, Rev. Alfred Williams, Evening Preacher at the Foundling Hospital (1828) and governor (1845); 1849–53, Thomas Henry Wakley (1821–1907), surgeon and joint editor of The Lancet.
No. 34.
1801–17, Captain Timbrell; 1830–32 and 1837–59, James Bunstone Bunning (1802–63), architect. He held a number of important appointments to public bodies (including surveyor to the Foundling Hospital estates, c. 1825) and was appointed architect to the City of London (until 1847 called "clerk of the City's works") in 1843.
No. 35.
(formerly No. 12 Upper Guilford Street). 1797–1829, James Spiller, sometime surveyor to the Foundling Hospital; 1801–17, Robert Spiller; 1830–34, Edward Bellasis (1800–73), serjeant-at-law, he had a large parliamentary practice, was a friend of Cardinal Newman, and followed him in his adhesion to the Roman Catholic Church; 1835–45, Robert Wharton, barrister; 1846, John Farey (1791–1851) civil engineer, a talented inventor, whose principal residence was at No. 67 (q.v.).
No. 36.
1837–47, John Boote, surgeon; 1838–48, Charles Dyer, architect; 1858–60, Samuel Oliver, surgeon.
No. 38.
1821–52, John Spurgin (1797–1866), physician and medical writer, who had an extensive practice here and later at 17 Great Cumberland Street, physician to the Foundling Hospital from 1835 to his death; 1853–54, John Bird, surgeon.
No. 39.
1836–39, Mrs. (Colonel) Black; 1840–42, Frederick James Hand, attorney; 1848–59, John Beardmore Wathen, solicitor.
No. 40.
1803–15, William Lowe, attorney; 1817–42, Thomas Andrews, serjeant-at-law; 1843–52, William Barclay Hutchinson, surgeon.
No. 41.
1823–32, Joseph Lucas.
No. 42.
1854–67, William Milford Teulon, architect and surveyor.
No. 44.
1836–38, William Smith, solicitor; 1858–65, Henry Tompkins, solicitor.
No. 45.
1828–36, T. H. Hall, barrister; 1843–44 and 1846–48, Forbes Benignus Winslow (1810–74), physician and authority on insanity, who did much to reform the treatment of insane persons and to give force to the plea of insanity in criminal cases; 1849, Edmund John Bridell, barrister.
No. 46.
1857, Patrick Fraser, M.D.
No. 48.
1800–07, Charles Dalahoyd, surgeon; 1818, William Edwards, surgeon; 1819–33, C. Shuter, surgeon; 1834–50, Edward Farrar, surgeon.
No. 51.
1858, Sackville Davis, solicitor.
Queen Square House, the London house of Sir Jonathan Frederick Pollock (1783–1870), judge. He was elected a governor of the Foundling Hospital in 1830 when living in Guilford Street and was vice-president 1844–70. He purchased Roubiliac's plaster bust of Handel and presented it to the hospital. He was living in Queen Square House from 1844 until 1862.
No. 52.
1801–03, Colonel Gent, governor (1801) of the Foundling Hospital; 1822–27, Fred Maples, solicitor; 1840–63, Miss Compton Cox, daughter of Colonel Compton Cox, vice-president of the Foundling Hospital 1805–06 and treasurer 1806–39.
No. 53.
1822–25, Richard Holmes Coote, conveyancer, father of Holmes Coote (1817–72), surgeon; 1826–30, Alexander Wallace, barrister; 1842–45, Lady Mary Alston; 1849–52, John Gorham Maitland (1818–63), secretary to the Civil Service Commission, 1855–63.
No. 54.
1818–45, Philip Mayow, governor of the Foundling Hospital; 1852–61, Sir Matthew Digby Wyatt (1820–77), architect. He was closely associated with the Great Exhibition of 1851 and its transfer to Sydenham. He was Hon. Secretary of the R.I.B.A., and collaborated with Isambard Brunel in building Paddington Station.
No. 55.
1825–31, Peter Erie, barrister.
No. 56.
1804–30, Hugh Edwards, governor of the Foundling Hospital, 1804; 1831–76, Rev. James William Vivian.
No. 57.
1800–07, Mr. Serjeant Bayle.
No. 58.
1832–37, John Egan, solicitor; 1838–46, Thomas Sanders, solicitor.
No. 59.
1803–04, Rev. —Palmer; 1838–51, George Owen Rees (1813–89), physician of Guy's Hospital, known for his researches in the chemistry of urine, his father, Josiah Rees, a Levantine merchant and sometime consul at Smyrna, lived with him; 1852–53, Maximilian Schlesinger, M.D.; 1854–57, George Duncan Gibb, physician.
No. 60.
1802–04, Sir James Mackintosh, counsellor (1765–1832), he had a varied career as doctor, lawyer, M.P., and professor of philosophy at Edinburgh; 1824–27, Joshua Bates (1788–1864), born near Boston, in America, he became senior partner in Baring Brothers, bankers, founder of Boston Public Library, his only daughter married Sylvan van de Weyer, Belgian Minister in London (see Survey of London, XXI, p. 61); 1836–38, J. Watton, surgeon; 1839–59, Silas Stedman, surgeon.
No. 62.
1842–55, Patrick Fraser, physician.
No. 63.
1840–46, George Hume Weatherhead (? 1790–1853) medical writer.
No. 64.
1832–36, D. R. Blaine, solicitor; 1864–66, George Augustus Sala (1828–96), artist and journalist, special correspondent at the Crimea and the American Civil War, founder of the Temple Bar magazine.
No. 66.
1818–36, Lieut.-Colonel Wilson.
No. 67.
1801–17 [John] Sims, F.R.S. (1749–1831), botanist and physician, editor of Curtis's Botanical Magazine, and foundation fellow of the Linnean Society. His herbarium is at Kew; 1834–50, John Farey (see No. 35 above), in 1850 his house and library were burned down and he died the following year.
No. 68.
1850–57, Major the Rev. John Richardson; 1858–61, Rev. Charles U. Dasent.
No. 69.
1814–44, Sir Thomas Wilde, later Lord Truro (1782–1855), Solicitor-General, 1839, Attorney-General 1841 and 1846, Lord Chancellor, 1850.
No. 70.
1804–24, Cornelius Buller, governor of the Foundling Hospital, 1806; 1848–52, William Holt, barrister; 1853–64, William Barclay Hutchinson, surgeon.
No. 71.
(formerly No. 1 Upper Guilford Street). 1790–1817, Sir Thomas Plumer (1753–1824), one of Warren Hastings' counsel, Solicitor-General and knighted (1807), Master of the Rolls (1818), he was vice-president of the Foundling Hospital, 1805–24; 1822–34, Sir Edward Burtenshaw Sugden, afterwards Baron St. Leonards (1781–1875), SolicitorGeneral and knighted (1829), Lord Chancellor, 1852, and raised to the peerage in the same year; 1848–53, Rev. Thomas Mozley (1806–93), divine and journalist, a prominent writer in the Tractarian Movement, his first wife, Harriet Elizabeth, an author, sister of Cardinal Newman, died here in 1852.
No. 72.
1840–66, Daniel Henry Walne, surgeon.
No. 73.
(formerly No. 3 Upper Guilford Street). 1800–17, Sir Robert Graham (1744–1836), judge; 1824–28, John Shearman and W. R. Wyllie, solicitors; 1853–54, Dr. John Spurgin (see No. 38 above); 1864–81, Thomas Spinks, Q.C., D.C.L., governor (1864) of the Foundling Hospital.
No. 74.
1801–19, James Scarlett, afterwards Baron Abinger (1769–1844), lord chief baron of the exchequer, 1834; 1820–40, Dr. Hue; 1842–48, John Nokes, solicitor; 1858–63, Sir John William Kaye (1814–76), military historian, he succeeded John Stuart Mill as secretary of the political and secret department of the India Office and was knighted in 1871.
No. 75.
1837–42, George Seddon, cabinet-maker and upholsterer, whose business premises in Gray's Inn Road later became the Royal Free Hospital.
No. 76.
1836–39, William Westall (not the painter of this name who resided in St. John's Wood); 1840–54, Dr. Charles Harris.
No. 77.
1803, Rev. Sydney Smith (1771–1845), divine and wit, canon of St. Paul's and founder of the Edinburgh Review. (see No. 14 Doughty Street where he resided when preacher at the Foundling Hospital); 1804–16, Stephen Gaselee (1762–1839), he was made a governor of the Foundling Hospital in 1815 and was knighted in 1825, after his appointment as Justice of the Court of Common Pleas, his eldest son Stephen (1807–83), serjeant-at-law, was born here; 1824–27, William Smith; 1841–51, Rev. Thomas Boyles Murray; 1852–59, James Powell, surgeon.
No. 79.
1839–40, Colonel Hewett.
No. 80.
1804–05, Captain Nash; 1808–14, John Mitford; 1821–22, Lieut.-General Robert Bell; 1823–27, Dr. Good; 1875–77, Sir Augustus Harris (1852–96), actor and dramatist.
No. 81.
1818–22, William Smith; 1842, John Anderson; 1846–75, William Durrant Cooper. F.S.A. (1812–75), the Sussex antiquary who came here the year before the foundation of the Sussex Archaeological Society, to whose Collections, of which he was for some years editor, he continually contributed, he was solicitor to the vestry of St. Pancras from 1857.
No. 82.
1839–49, Edward Francis Lonsdale, surgeon; 1850–56, Robert Taylor, physician.
No. 84.
1825–35, Dr. Roots; 1836–38, Dr. Millar; 1845–60, Edward Hart, professor of music and 1845–47, Charles Hart (1797–1859), organist and musical composer.
No. 85.
1855–56, William Scott.
No. 86.
1818–27, William Bagster, surgeon.
No. 87.
1834–38, Rev. J. W. Worthington (later Vicar of Holy Trinity, Gray's Inn Road).
No. 88.
1802, Dr. Bouvell; 1821–27, David Jardine (1794–1860), historical and legal writer, he was Recorder of Bath and police magistrate at Bow Street (1839); 1831–37, George Hennett, civil engineer; 1832–36, Mrs. Hamilton, artist; 1839–45, Thomas Watson, dentist; 1847, John Hamilton Reynolds (1796–1852), poet, and friend of John Keats and Thomas Hood.
No. 89.
1822–32, Mrs. Meek; 1847–49, William Henry Weston, solicitor; also, 1842–51, Augustus Edward Pitcher, solicitor.
No. 90.
1826–27, Henry Richards, solicitor; 1829–33, Mrs. De Morgan; 1840, Thomas Platt, barrister, probably Sir Thomas Joshua Platt (? 1790–1862), afterwards baron of the exchequer.
No. 91.
1801–03, Dr. Curling; 1822–25, Robert Espinasse, barrister; 1826, Dr. Buchanan; 1830–34, Edward Holroyd, commissioner of bankrupts.
No. 92.
(formerly 21 Upper Guilford Street). 1797–98, Sir Thomas Plumer (see No. 71 above); 1818–33, Dr. Dennison; 1834–37, John Poynter, attorney; 1842–56, William Burnie, physician.
No. 94.
1803, Rev. James Simpkinson; 1822, Dr. R. Haggard.
No. 95.
1848–56, John Joseph Field, solicitor.
No. 96.
1813–23, Thomas Weeding, governor of the Foundling Hospital, 1818, he was granted leases of some of the property on the north side of Mecklenburgh Square; 1825–32, Dr. Williams; 1836–40, T. E. Clarkson, attorney; 1842–44, John Forbes; 1848–54, Charles Ronalds, solicitor.
No. 97.
1798–1816, Rev. Robert Cooper.
No. 99.
1842–50, Richard Cromwell Carpenter (1812–55), architect, who designed the church of St. Mary Magdalene, Munster Square (see Survey of London, XXI, p. 140); 1853–55, Achille Chape, lithographer.
No. 100.
1798–1813, Sir John Hullock (1767–1829), appointed baron of the exchequer and knighted in 1823; 1828–48, George Shepheard, artist, also 1845–74, Lewis Henry Shepheard, artist; 1875–91, Lewis Henry Walwyn Shepheard, artist. George Shepheard (? 1770–1842) was a water-colour painter, and his son, George Walwyn Shepheard (1804–52), practised the same art.
No. 101.
1830–36, A. T. Upton, attorney; 1846–48, John Sullivan, surgeon.
No. 102.
1823–27, J. E. Clowes, solicitor; 1836–40, Oxley Tilson, solicitor; 1842–45, John Frederick Hilditch, attorney; 1848–84, Charles William Reeves and others, architects.
No. 103.
1853–54, Henry Sibley, solicitor.
No. 104.
1831–36, O. G. Williams, surgeon; 1837–63, Thomas Hodges, surgeon.
No. 105.
1844–45, William Harvey.
No. 106.
(formerly No. 6 Guilford Street East). 1798–1805, William Draper Best (1767–1845), judge; 1832–34, William Wiseman, attorney.
No. 107.
1801–41, Alderman Samuel Birch (1757–1841), he was in business as pastrycook at the celebrated shop, 15 Cornhill, and was Lord Mayor of London 1814, he wrote poems and musical dramas of which the Adopted Child is the best known; 1843–56, John Cockle, physician; 1857–65, Henry Bateman Hodson, architect.
No. 108.
1830–39, William Rogers, barrister.
No. 109.
1817–48, William Dean, attorney; 1849–61, Frederick Smith, attorney.
No. 110.
1832–33, Horace Hayman Wilson (1786–1860), orientalist, professor of Sanskrit, Oxford, he published the first Sanskrit-English Dictionary; 1834–37, T. Cormack, barrister; 1840–42, William Simpson, surgeon; 1843, T. Barrow, surveyor; 1849, William Henry Grey, surgeon; 1857, Rev. John Otter.
No. 111.
1828–33, James Holmes, surgeon; 1834–37, William Simpson, surgeon.
XCVI—Brunswick Square
Brunswick and Mecklenburgh Squares were both essential parts of Cockerell's original schemes for the development of the Foundling Hospital Estate, and were each designed with continuous ranges of buildings on three sides, the fourth being open to the hospital garden. It has already been related that James Burton was entrusted with the work in Brunswick Square. He was a young man of 28 or 29 years at the time. He started work on the south side after the hospital committee gave its permission in November, 1792. On 8th April, 1795, the committee gave him a lease of the west side of the square, with an option of taking the north side, provided that he completed the west side and the streets at the back of it within the next three years.
On 9th March, 1796, work was well advanced on the south side and Burton submitted his proposals for enclosing the central garden "with good cast iron palisades, 5 feet high on a stone curb with external Moor stone curbs thereto on a brick footing. To have three wrought iron gates in proper situations and lamp irons at 30 feet to 40 feet apart." (fn. 15) He sublet five of the plots on the south side to Charles White and John Shaw, builders, and seven plots on the west side to the following: Charles Mayor (No. 14), Richard Blackmore (Nos. 15, 18 and 19), Henry Hase (No. 17) and Charles Babbage (Nos. 27 and 28).
Although the garden was planted and fenced in by 1799, the houses on the west side had not been begun and those on the south side still lacked a carriage approach (see Horwood's map, 1799). When in April of that year Burton was ready to make a start on the west he confessed to the hospital committee that he had much unlet property on his hands, and asked for additional time to complete his contract. He had evidently then abandoned his hopes of building the north side, but one of his sub-contractors, Charles Mayor, came forward on 6th November, 1799, and offered to take over this work, and pay a third of the cost of forming the square. His offer was accepted and when he submitted his architectural elevations for the north side on 14th April, 1800, Mr. Cockerell reported that the proposed facade was "perfectly regular and very nearly corresponding with the south side already erected. The first two houses from the west are already begun, the westernmost of which, containing two windows, is intended to enter from the west side next the street, and it is his wish to be allowed to project a vestibule of his area (5 feet) to be built in stone, if you will permit it to be done." (fn. 15) The committee gave their approval.
Later, Mr. Mayor found difficulty in disposing of his houses owing to the shallowness of the gardens at their backs, and he applied for another 24 feet in depth. Again, on 11th April, 1801, he asked for the strip of additional land separating the easternmost house from the hospital gardens (see Plate 46) and offered to "make good the iron railing, stone curbs, etc., to correspond with the iron railing round the Square, which will cost me £150 and save the Governors of the Hospital £70 in paving etc." (fn. 15) The governors seem to have demurred and apparently no reply was given. He applied again in May, 1801, that he could not complete the north side "unless 'tis extended up to the garden wall of the Hospital." The governors still withheld their reply, for they were then considering the making of a roadway across the north end of their garden to unite Brunswick and Mecklenburgh Squares. Mayor pressed them again in November, 1802, urging that if they were reluctant to let him have the ground they should at least fence it "in line with the front of my houses, so as to prevent the carriages or any other things from falling into the hollow of the back ground" (which was 4½ feet below the level of the square). In December the hospital acceded to Mayor's request and the ground was leased to him.
The proposed road communicating between Brunswick and Mecklenburgh Squares on their north side was first considered by the hospital committee in 1802. The surveyor urged that it would be difficult to get good houses erected in Mecklenburgh Square as it had no western entry, and that such a road, if built with fine property on its north side, would shut out the view of the burial ground of St. George's, and the houses likely to be built to the north of that area. He submitted a plan which is still in existence, and urged that despite "the period of pecuniary difficulty . . . the neighbourhood is in much demand by persons of general and great respectability," and if this northern screen of houses were not built it would expose this ugly scene "to the view from the respectable quarters already established on the hospital estate." (fn. 15)
After much consideration, however, the proposal was dropped. Possibly it was feared that it might induce the authorities of St. George's to apply for an entry into their burial ground. The graveyard was a source of worry to the Foundling Hospital Committee. Mr. Harrison, whose land adjoined that of the hospital was proposing to make a road to it, and Mr. Cockerell pointed out that "if any communication were made between them" (i.e. Mr. Harrison's estate and the hospital estate) "it must let into both estates funeral processions, at all times most disagreeable and forbidding for building private houses."
The earliest private residents in the square were at Nos. 1, 2, 4, and 8 (south side) in 1799; by 1801 there were seven more on the west side. In 1802 the first house on the north side (No. 29, west corner) was occupied. In 1804 this side was completely occupied except for the last house (No. 40) on the east corner of the north side, which does not appear to have had a tenant until 1809.
The marked plainness of Brunswick Square is unquestionably due to the circumstances in which it was built. The governors of the Foundling Hospital were mainly concerned to attract speculating builders to take up land and provide badly-needed ground rents for the maintenance of the hospital. The builders wanted to erect plain houses at a low cost for ready sale. They had already objected to Cockerell's crescent-shaped planning of Guilford Place on account of the cost of building on the curve. Accordingly, Cockerell had to put aside all thoughts of designing stately buildings in Brunswick Square. To have done otherwise might have jeopardized the entire scheme from the outset, while diverting his mind from the more urgent problems of street-planning, drainage, and water-supply. Fortunately the age looked favourably on simplicity and restraint, and the absence of external decoration was no disadvantage. The doors are almost devoid of ornament, and the fanlights are of the plainest type. A double banding of stonework serves to bring the various wide and narrow houses into uniformity. The houses are numbered clockwise round the square, starting with No. 1 at the east end of the south side. The old parish boundary passed through No. 21 (west side), which bears the boundary plates of St. Pancras and St. George's, Bloomsbury, and the centre of the north side.
The south side is symmetrically designed (excepting the arrangement of the doorways) in brickwork with four storeys over basements. Above the ground floor is a continuous stone string, and above the second floor, a moulded stucco cornice, the parapet above the attic having a plain coping. At either end of the row, a section, five windows in width, projects forward, and in the centre is another projecting block with a bay window, which rises three storeys. The end blocks have four circular-headed ground floor windows within wider brick arches and a doorway in the centre. The eastern block was one house (No. 1) but was destroyed during the war of 1939–45; the western one was apparently designed as two houses (Nos. 9 and 10) the end one being entered from Grenville Street by a projecting porch with Corinthian pilasters and entablature; it has now been demolished. All the remaining windows are square-headed with red brick heads, those to the first floor being tall with their sills level with the floor. The doorways which are within semicircular arches have large fanlights above. The west side (Nos. 11–28) is similar to the south, but a plain string takes the place of the moulded cornice. The three houses at each end are three windows in width, and project forward nine inches. The intermediate houses are two windows wide, and the four in the centre have a similar projection to those at the end. The balconies are individual to each house. Nos. 21, 22 and 28 retain their tall curved lampholders. Nos. 16, 17 and 18 were destroyed in the 1939–45 war, and several others were very seriously damaged. The north side is now occupied by a modern building, but the east house, No. 40 (Plate 46), which was first erected in 1807 by Charles Mayor, has been rebuilt by the Foundling Hospital (1937) to serve as its London office. In it have been fitted the court room, picture gallery, committee room and one of the principal staircases from the old hospital.
Among the inhabitants of Brunswick Square the following have been noted:
No. 1.
1829–39, Dr. Davidson; 1828–58, J. A. Silk, solicitor; and 1853–57, E. W. Gooday, solicitor; 1934, George Russell ("Æ"), poet and prose writer.
No. 2.
1828–34, Thomas Harrison Burder (1789–1843), physician, one of the writers of the Cyclopaedia of Practical Medicine, 1833–35, he was a son of George Burder, the noted Congregationalist minister, who died here, 1832; 1836–37, Dr. Litchfield; 1839–42, Rev. P. Le Breton; 1843–51, J. A. Silk (who moved to No. 1, see above); 1859–60, G. Somers Clarke, architect.
No. 3.
1799–1806, G. W. Jordan, barrister.
No. 4.
1832–40, J. Parker, barrister.
No. 5.
1800–04, Peter Mellish, governor (1800) of the Foundling Hospital; 1818–51, Thomas Phillips (1760–1851), surgeon and benefactor to Welsh education, he died here.
No. 6.
1800–06, Thomas King, governor (1800) of the Foundling Hospital; 1828–34, Abraham John Valpy (1787–1854), editor and printer of the classics.
No. 7.
1831–68, J. E. Clowes, F.R.G.S., solicitor.
No. 8.
1799–1802, Rev. Thomas Butler; 1852–56, Captain John Gilmore, R.N.
No. 9.
1799–1808, James Hulme, a governor (1799) of the Foundling Hospital; 1821–25, Sir Nicholas Conyngham Tindal (1776–1846), counsellor and chief justice of the Common Pleas.
No. 10.
1802–17, Plowden Presland, governor (1806) of the Foundling Hospital; 1820–25, F. Jones, solicitor; 1833–36, T. M. Banister, solicitor; 1836–50, T. Jones, attorney; 1842–51, F. W. R. Jones, solicitor; 1852–53, Jones & Betteley, solicitors.
No. 10A.
1859–63, W. W. Foley and F. W. R. Jones, solicitors; 1860, E. W. George and T. J. Johnson, solicitors.
No. 11.
1809–12, Sir Arthur Leary Pigott (1749–1819), Attorney-General (1806), M.P. for Steyning and later for Arundel and Horsham; 1833–42, T. Burgon, attorney; 1848–49, Rev. Henry Gehle; 1859–98, M. Davis, surgeon.
No. 12.
1922–49, Douglas Goldring, author.
No. 13.
1819–55, Bryan Holme, solicitor.
No. 14.
1819–21, Francis Mercier, governor (1819) of the Foundling Hospital; 1822–23, Thomas Hunt; 1856, Rev. J. M. Brown; 1857, Society for Exploring and Evangelizing Central Africa.
No. 15.
1897–1913, Lucien Wolf, historian.
No. 17.
1849–55, Colonel J. G. Griffith.
No. 19.
1841–52, S. C. Griffith, surgeon.
No. 20.
1850–59, E. William Tarn, architect.
No. 22.
1811–12, J. Gunning, surgeon; 1832, John Frederick Archbold (1785–1870), legal writer; 1849–55, W. H. Halse, medical galvanist.
No. 23.
1803–32, Captain Gooch; 1835–41, William Samuel Jones, solicitor, governor (1836) of the Foundling Hospital.
No. 24.
1852–55, Rev. P. B. Power.
No. 26.
1929–39, Edward Morgan Forster, author.
No. 27.
1802–07, William Wilson, governor (1802) of the Foundling Hospital; 1827–33, Sir Digby Mackworth.
No. 28.
1835–39, B. Martindale, solicitor; 1840, J. M. Bicker Caarten, barrister; 1861–62, C. H. Edwards, architect.
No. 29.
1803–07, Rev. Dr. Rees, probably Abraham Rees, D.D. (1743–1825), encyclopaedist and independent minister; 1815–23, George Darling (1782–1862), surgeon and physician, friend of Wilkie, Lawrence, and Chantrey; 1815–16, Neil Arnott (1788–1874), surgeon; 1825–26, G. Jackson, solicitor.
No. 30.
1814–17, Rev. J. Hubbard; 1851–60, Rev. T. B. Murray.
No. 31.
1811–25, John Petyt, governor (1811) of the Foundling Hospital.
No. 32.
1803–09, John Hunter; 1810–36, Dr. W. Lewis; 1839–46, W. J. and David Mocatta, architects; 1854–62, John Leech, the artist (1817–1864).
No. 33.
1808–16, G. Frere, attorney; 1845–67, H. E. Kendall, architect and district surveyor; 1868–72, Prof. David Thomas Austed, consulting geological engineer.
No. 34.
1810–16, John Hunter, vice-president of the Foundling Hospital (1810–12); 1817–20, Mrs. Hunter, possibly mother of Catherine Hunter who married (1819) F. A. Winsor, son of the gas pioneer, who also was an inventor and secretary and director of the French Protestant Hospital; 1845–46, H. James, surgeon; 1861–74, Rev. T. Nolan.
No. 35.
1804–10, Philip Charritie, governor of the Foundling Hospital (1803); 1811–20, Francis Garrett, governor of the Foundling Hospital (1810); 1841–60, Charles Plumley, governor of the Foundling Hospital (1841).
No. 36.
1808–29, Colonel W. Reader; 1834–47, Benjamin Hawes, (fn. n1) afterwards knighted (1797–1862), M.P. for Lambeth (1832–47), Under-Secretary for War (1851), and governor of the Foundling Hospital (1834); 1859–61, Peter Hardy, F.R.S.
No. 37.
1812–26, Donald McLean, governor of the Foundling Hospital (1815); 1827–36, W. J. Ching; 1856, J. W. Jordan.
No. 38.
1818–32, John Thomas, governor of the Foundling Hospital (1818).
No. 39.
1811–12, Colonel P. Charie; 1813–14, Philip Charritie (see No. 35); 1815–32, Philip Perring, governor of the Foundling Hospital (1813).
No. 40.
1809–49, George Hathorn, governor of the Foundling Hospital (1812), and 1844–49, Captain G. Hathorn, R.N.
XCVII—Grenville Street
Grenville Street connects Guilford Street with the west side of Brunswick Square and was part of the property for which James Burton took responsibility in 1792 and 1803. It is possible that he sublet some of it since the following names appear in the hospital lease book: Joseph England (No. 2), John Hindman (No. 3), Thomas Colecom (Nos. 4 and 5), and Michael Riches (No. 6). The street was completed in 1799, but according to the Land Tax Book, six houses were then unoccupied.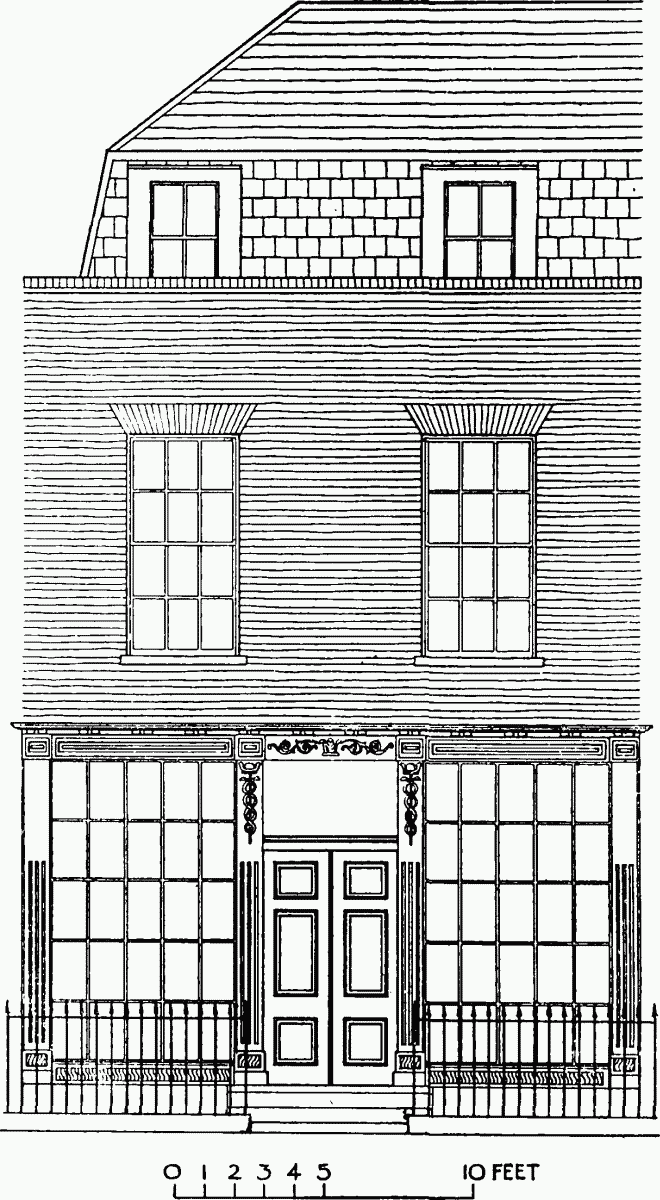 The street consists of six houses on its east side, numbered from south to north, the corner section beyond this in Brunswick Square being numbered 7 on John Tompson's map (Plate 3). On the west side Nos. 8, 9, and 10 at the corner of Bernard Street have now been rebuilt. Nos. 11 and 12 flank the entrance to Colonnade, each having a small shopfront, but of later date than the rest of the street. Nos. 13 and 14 are original, No. 15 has been re-fronted, and No. 16 has a well-designed shopfront with one storey over it beneath a mansard roof illustrated opposite. The symbols of Mercury carved on the door-frame might suggest an apothecary, but the rate books show its first tenant was an oilman and grocer. The houses in general resemble those in Brunswick Square with round-headed doorways and balconied windows to the first floor. Lansdowne Terrace, which connects the south-east corner of Brunswick Square with Guilford Street, retains only three or four of its original houses north of the corner one in Guilford Street. All have been extensively restored following war damage.

Among the inhabitants in Grenville Street the following have been noted:
No. 1.
1836–43, Henry Storer, surgeon.
No. 3.
1802–46, William Wright, probably the aural surgeon (1773–1860), surgeon-aurist to Queen Charlotte.
No. 4.
1821, G. H. Cocker, solicitor; 1823–24, Frederic Carpenter Skey, the eminent surgeon (1798–1872); 1826–28, Charles C. Bompas, barrister; 1836–49, Henry Davies, probably the physician (1782–1862), expert in midwifery and children's diseases.
No. 5.
1825–26, Dr. Salemi; 1857–66, Frederick James Grant, surgeon.
No. 6.
1806–22, John Reid, M.D. (1776–1822), physician and medical writer.
No. 9.
1826–37, G. S. Cook, solicitor.
No. 10.
1838–40, Thomas Jones, solicitor; 1852–56, Robert Lee, probably the obstetric physician, (1793–1877); 1858–62, George Edward Laing, architect.
No. 11.
1814–15, R. G. Baker, barrister; 1816–18, Henry Butterworth, probably the law publisher and fellow of the Society of Antiquaries (1786–1860).
No. 13.
1815–16, R. Harrison, counsellor; 1831–33, Henry Williams, solicitor; 1852–57, William Cooper, barrister; 1860–62, Edward Lushington Blackburne, (fn. n2) architect.
No. 14.
1844, Roger Devine M'Manus, surgeon.
No. 15.
1823–24, Dr. Roots; 1853–66, Henry George Burridge, artist.
No. 17.
1820–21, Richard Valpy, perhaps related to the schoolmaster and scholar (1754–1836), of the same name whose son, Abraham John Valpy, lived in No. 6 Brunswick Square (q.v.).
XCVIII—Bernard Street
Bernard Street, which connects Russell Square with Brunswick Square (south side), is only partly within the old boundary of St. Pancras. It is named after Sir Thomas Bernard, Bt., who took an active part in the administration of the Foundling Hospital, being elected governor in 1787, treasurer, 1795–1806, and vice-president, 1806–1810. (fn. 9) He died in 1818. Bernard Street was built by James Burton, who started work on it in 1799, and it follows the general character of the houses in Brunswick Square. It was opened into Russell Square by an arrangement made with the Duke of Bedford in 1794. (fn. 9) Eight of its houses appear in the rate books for 1801 and it was completed by 1820.
On the south side the eight eastern houses are in St. Pancras, Nos. 21 to 28 (numbered from west to east), the four last breaking forward nine inches in front of the rest, and now converted into an hotel, the doorways of Nos. 26 and 28 being closed and converted into windows. On the north are four houses, Nos. 30 to 33 (from east to west) (Plate 47), the next house, No. 34, having the plate of St. George's, Bloomsbury: "Sr. G.B. 1823." No. 33 is treated with channel-jointed stucco to the ground floor.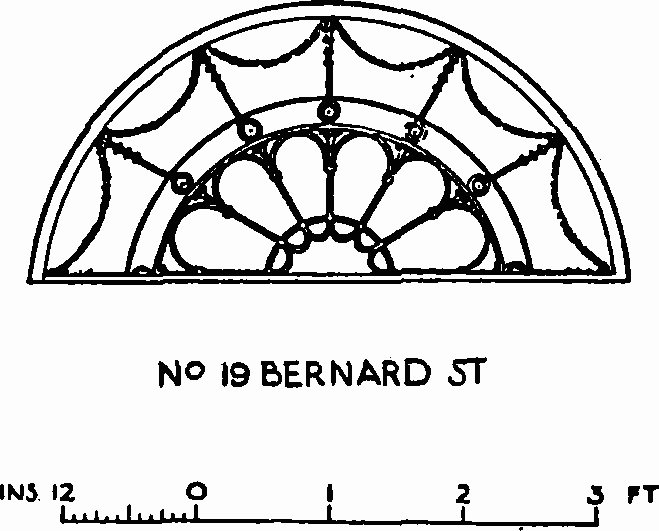 XCIX—Mecklenburgh Square
Mecklenburgh Square balances Brunswick Square in the plan to build on each side of the Foundling Hospital, but it was not put in hand until much later. Its situation was not so favourable, and more care had to be given to it to make it attractive to residents. On the resignation of Cockerell in 1808, his pupil, Joseph Kay, took over his appointment, and he is credited (fn. 15) with the design of this fine square. By 1804 the northernmost house in Caroline (now Mecklenburgh) Place, which connected the square with Guilford Street (next the hospital), was already being built by Benjamin Hornby; in May, 1809, he had built two houses adjoining this, and complained of the delay in forming the square. The hospital committee thereupon decided that the "Brickwork of the Iron Railing of the Area of the Intended Square be erected forthwith," which with the railings and the planting cost £1,100. (fn. 15)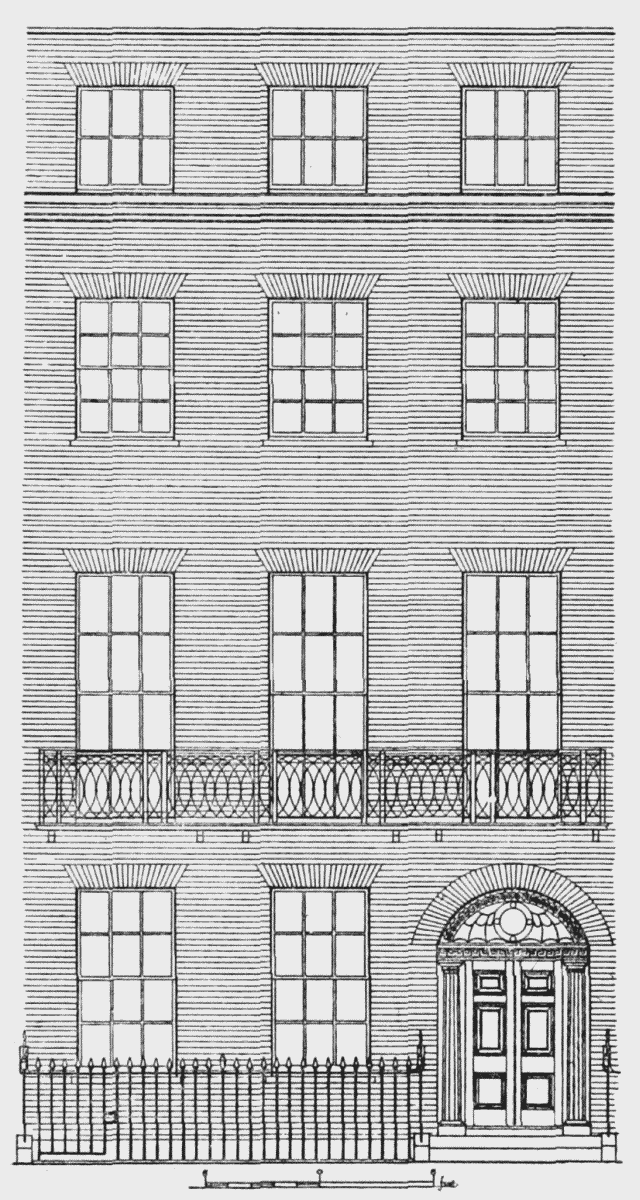 Kay presented his plans late in 1809, and they were approved on 13th January, 1810. Several builders came forward with offers to take up the ground, the chief being George Payne and Thomas Penthrin. The lease book of the hospital shows how the plots of land were allocated
South side (numbered west to east, 1–10): Benjamin Hornby, Nos. 1, 3, and 4; James Moore, No. 2; Thomas Penthrin, Nos. 5–10.
East side (numbered south to north, 11–34): Thomas Penthrin, Nos. 11–19, 30–34; George Payne, Nos. 20–29.
North side (numbered east to west, 35–47): Thomas Buckle, No. 35; John McGill, Nos. 36, 38, and 39; John Wood Nelson, No. 37; William Thorne, No. 40; Francis Wigg, No. 41; Woolcot & Browning, Nos. 42 and 43; Thomas Weeding, Nos. 44, 45, 47; S. Wright, No. 46. The south side was building from 1808 to 1810, the east side from 1810 to 1820, and the north side during 1824 and 1825.
The conspicuous feature of the square is Joseph Kay's treatment of the east side, with its three blocks of classical-fronted stucco houses spaced at equal distances apart. Each block is treated alike, but the middle one is eleven windows wide whereas the end blocks are nine. The centre of each of these blocks of five houses is recessed on the three upper floors to receive, in the middle block four, and in the side blocks two, three-quarter columns of the Ionic order, which carry an entablature that extends the whole side of the square. On each side of the recess are two pairs of pilasters, with an arch enclosing the central window on the first floor. The ground floor is treated with channelled rustication. The attic above the main entablature has dwarf pilasters, pedestals and finials to correspond with the work below. Stucco ornament of wreaths and festoons enrich the frieze and the panels between the first and second floor windows. Interlaced ironwork forms a balustrade to the centre of the middle block and to the individual balconies of the remaining windows. The doors, set in semicircular arches, have six panels, some of the centre ones being circular. The fanlights are of excellent design and consist of concentric circles in the centre within oval hoops connected by floral paterae and other ornament.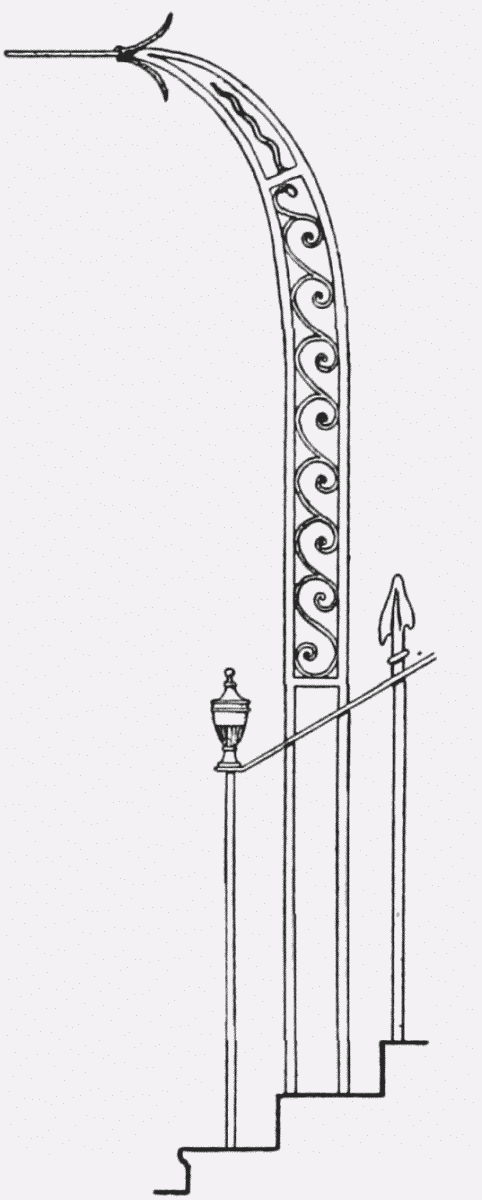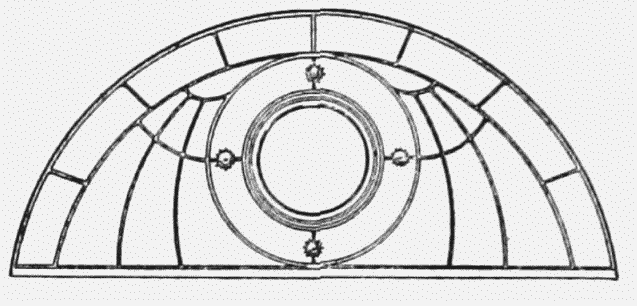 The houses between these blocks are of brick, with plain stucco rendering to the ground floor, balconies at first floor level and a bold stucco entablature, already mentioned, between the second and third floors. The north and south sides of the square follow the Brunswick Square pattern with projections in the centre and the ends. The centre two houses on the south side are rendered in stucco and have linked Doric porches and balconies which are continuous at first floor level.
The south side of the square, which was damaged in the 1939–45 war, has been taken down to allow for an extension of London House. The north side, which had lost Nos. 35, 38, 39, 40, and 42, will possibly be removed for a like purpose. The east side is to be preserved, and repairs have already been made to some of its damaged buildings. Nos. 15 and 27 to 34 were destroyed or gravely damaged during the 1939–45 war.
Mecklenburgh Street is a continuation northwards of the east side of the square. Its east face consists of eight houses built in brick, with four storeys above the basements, their height being lower than those in the square. Each house has a balcony linking its first floor windows, and a railed area. The three houses on the west side, Nos. 9, 10 and 11, survive. Their ground floor walls are rendered with plain stucco.
Mecklenburgh Place, which connects the south-west corner of the square with Guilford Street, had houses on its east side, but these have all been demolished and their sites used for the London House extension.
Among the inhabitants of Mecklenburch Square the following have been noted:
No. 1.
1833–48, James Taylor (1788–1863), probably brother of John Taylor (1781–1864), partner in the publishing firm of Taylor & Hessey of Fleet Street; 1857–64, Rev. James Augustus Hessey (1814–92), preacher at Gray's Inn (1850–79), and headmaster of Merchant Taylors' School (1845–70).
No. 2.
1815–25, William Roberts, barrister and author (1767–1849).
No. 4.
1819–21, Captain Richardson; 1835–51, T. E. Sherwood, solicitor; 1874–78, A. Hawksley, architect.
No. 6.
1879–80, Hon. Lewis Strange Wingfield (1842–91), traveller, etc.; 1926–29, J. F. Horrabin; 1936–37, Flora Robson, actress.
No. 8.
1838–43, R. Addison, attorney.
No. 9.
1842–56, John Edye, F.R.S.; 1857–67, Rev. C. C. Collins.
No. 10.
1865–93, Rev. Thomas Darling; 1935–38, L. F. Salzman, F.S.A., antiquary.
No. 11.
1815–20, Fortunatus Dewarris, counsellor; 1845–71, Rev. John Williams.
No. 12.
1845–48, R. S. Davis, surgeon.
No. 13.
1856, Lieut. J. Blackmore, R.N.; 1858–59, Frederick Dalton, surgeon; 1864–65, Rev. R. J. Bird.
No. 14.
1828–34, William Oke Manning, legal writer (1809–78).
No. 17.
1822–23, Rev. Joseph Barrett; 1913–15, Professor R. H. Tawney.
No. 18.
1820–21, Colonel Simmonds; 1932–35, John Masefield, poet.
No. 20.
1851–65, Shuckburgh Risley, solicitor; 1853, W. C. Stoker, solicitor.
No. 21.
1853–58, Rev. Caleb Morris; 1951–, Professor R. H. Tawney.
No. 22.
1827–49, George Wigg, architect, governor of the Foundling Hospital (1837); 1850–57, R. G. Shute, surgeon; 1856–89, Samuel Hill, surgeon and physician.
No. 23.
1848–65, J. C. Mason, possibly John Charles Mason (1798–1881), Secretary of the Marine branch of the East India Company and later of the India Office.
No. 26.
1818–47, John Benbow, attorney; 1847–55, John Benbow, M.P. for Dudley; 1947–51, Professor R. H. Tawney.
No. 27.
1819–23, R. Mence, barrister; 1835–49, R. Shute, surgeon; 1860–68, A. Paul, surgeon; 1861–62, Rev. James Hill.
No. 28.
1822–26, Edward Leigh Pemberton, solicitor; 1833–34, R. Shute, surgeon.
No. 29.
1832–33, W. G. Lyle, solicitor; 1859–68, Rev. William Tarr; 1917–20, Dr. Tancred Borenius, Finnish diplomat and professor of the history of art, University College, London.
No. 30.
1822–25, Samuel Parkes, chemist (1761–1825), died here; 1841–56, Henry Bliss, Q.C.
No. 31.
1831, Rev. John Natt; 1859–64, Rev. Charles Hume; 1868, Rev. A. H. Mackonochie.
No. 33.
1832–35, P. Bingham. This may be Peregrine Bingham (1788–1864), legal writer and magistrate at Great Marlborough Street.
No. 34.
1824–25, W. D. Bayly, barrister; 1836–42, P. Bingham (see No. 33); 1845–50, Sir Robert Lush (1807–81), Lord Justice; 1852–65, Rev. T. E. Thoresby; 1866–71, E. W. Tarn, architect.
No. 35.
1825–40, T. H. Buckle; 1849–80, Rev. Edward Auriol, canon of St. Paul's.
No. 35a.
1933–35, Fay Compton, actress.
No. 36.
1832–43, Rev. J. Natt; 1856–8, Rev. A. Williams; 1950–52, W. R. Rodgers, poet.
No. 37.
1848–57, J. Dowson. This may be John Dowson (1820–81), professor of Hindustani at University College, London; 1939–1942, Virginia and Leonard Woolf, essayists and novelists.
No. 38.
1852–67, W.T. S.Daniel, Q.C.; 1906–11, Sir William Nicholson (1872–1949), painter.
No. 40.
1850–56, Rev. J. Hoole.
No. 41.
1852–65, Michael Wills, governor of the Foundling Hospital (1862).
No. 42.
1836–41, William Burra, governor of the Foundling Hospital (1836); 1843–77, J. & T. E. Penfold, solicitors.
No. 43.
1832–44, William Cubitt (1791–1863), Lord Mayor of London and builder, director of the Gray's Inn Road works; 1857–90, B. Robinson, S.L., F.R.G.S.
No. 44.
1917, D. H. Lawrence, author; 1922–40, Professor R. H. Tawney.
No. 45.
1895–1903, Richard Whiteing (1840–1928), journalist and novelist.
No. 46.
1878–84, George Augustus Sala (1828–96), journalist.
No. 47.
1859–63, Rev. J. E. Cox, F.S.A., ecclesiologist; 1881–7, Hon. Lewis Strange Wingfield (seeNo. 6 on p. 49).
C—Doughty Street (formerly Upper John Street)
This street runs southwards from the south-east corner of Mecklenburgh Square, crosses Guilford Street and proceeds as far as Roger Street (formerly Henry Street) which divides it from its continuation, John Street. In 1792 Henry Doughty, who had two years before been in touch with the Foundling Hospital building committee, granted (fn. 19) leases to Joseph Wigg, carpenter, and George Slaton, builder, to erect six houses on each side of the street southwards from Guilford Street. In 1794 he granted land in the northern part of the street, north of Guilford Street, to George Slaton and John Golden to build three houses on the west and two on the east. These are shown in Horwood's map of London (1799) and included the corner houses. In 1799–1800 building leases were granted (fn. 19) for the completion of the south part of the west side of the street to John Wilson of Princes Street, Bedford Row, George Soward of Tottenham Court Road, Stephen Cosser of Millbank, Westminster, Thomas Curtis of Frith Street, and George Hornby of Great James Street. The south part of the east side of the street was not completed until 1807–09, when leases were granted to John Wilson, Joseph Wigg, John Long of Christ's Hospital, and John Lovell of Red Lion Street. The northern end, which lies in the Foundling Estate, was completed by 1810. The progress of the building is reflected in the rate books of St. Pancras. There were thirteen houses in 1801, fortytwo in 1808, and sixty-two (the entire street) in 1820. Charles Dickens lived at No. 48. Rate books show that Dickens' house was occupied in June, 1809, but before that the entries are confused. There is no doubt, however, that it was built between 1801 and 1809, as leases were being granted by Elizabeth Doughty to various builders in the street at this time. The house is not marked on Horwood's map (1799).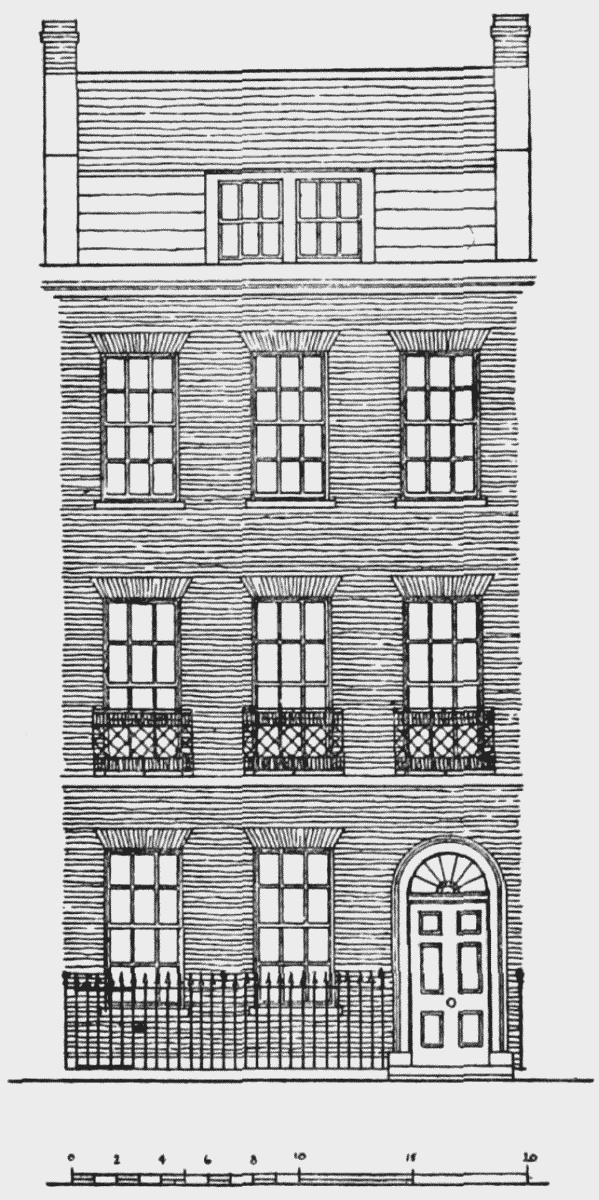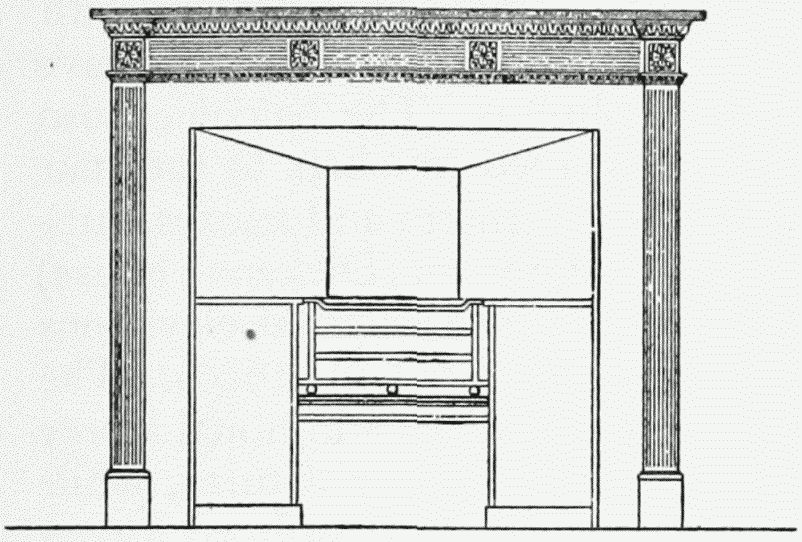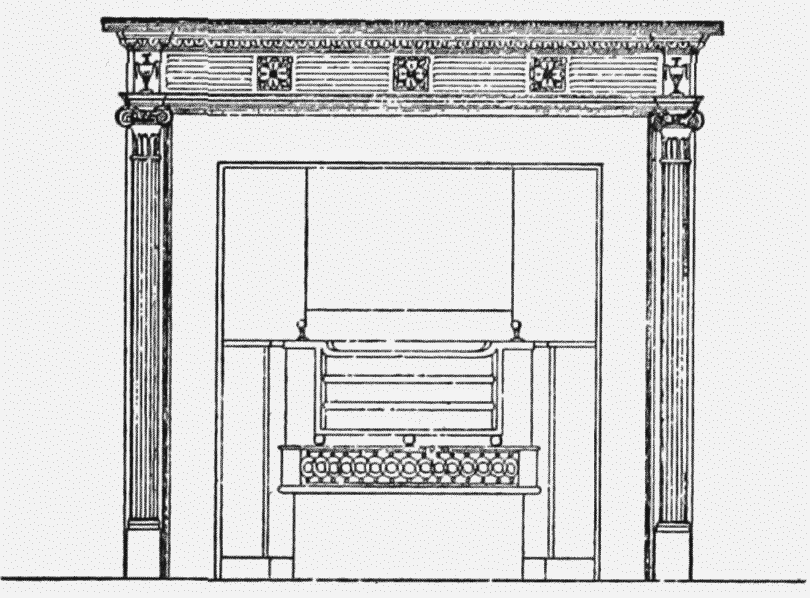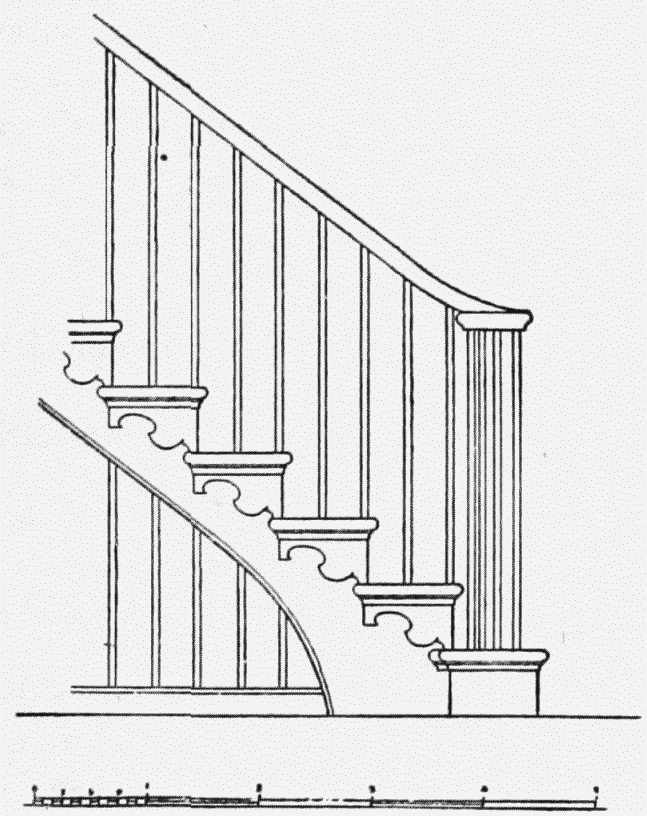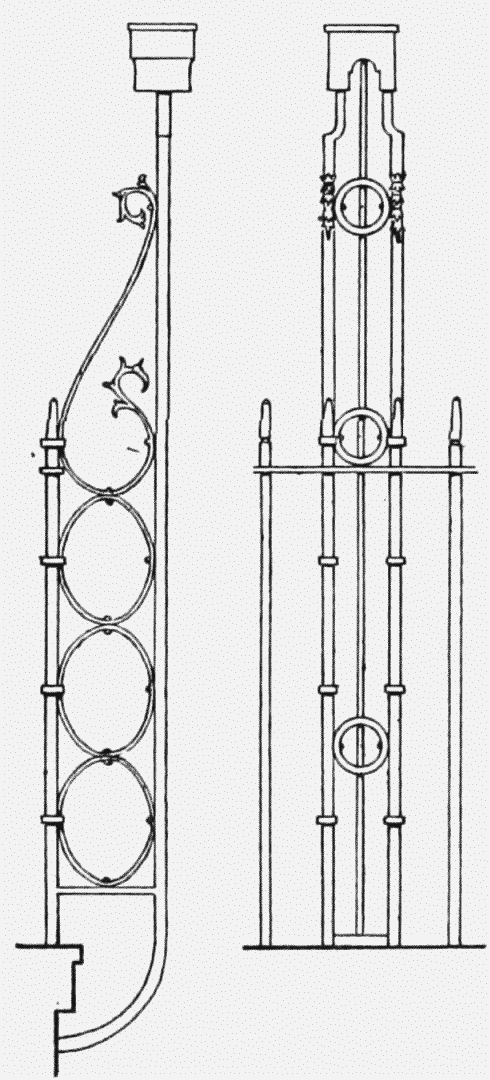 The street is numbered continuously, 1–19, on the west from Roger to Guilford Street, 20–28 (destroyed) from the latter to Mecklenburgh Square, 29–38 from the square to Guilford Street, and 39–62 south of this on the east side. The houses have pleasant dark brick fronts of three storeys, with tall sash windows on the first floor, a stone moulded cornice to the eaves and mansard roofs with attics. There are variations in the design of details, such as the entrance doorways which are chiefly semicircular-headed with plaster reveals and well-designed fanlights (Plate 52a and 52b) while others have their entrances flanked by three-quarter Doric columns. The balconies also vary. The interiors have simple staircases with shaped brackets to the stair ends and the fireplaces have mantels with enriched cornices and friezes, supported by side columns or pilasters (see illustrations of Dickens' house) enclosing cast-iron hob grates. A few alterations in the external elevations should be noted. The ground floor of No. 1 is rendered in stucco. The doorways of Nos. 2, 3, 4, and 5 have been changed and an additional storey added. Nos. 35–38 have square-headed doorways with entablatures, while No. 32 has a fluted stucco surround. The east side, south of Guilford Street, is intact, except for a later third storey at No. 55 and a further storey at No. 62. Dickens' house (No. 48) bears a commemorative tablet as does No. 14 opposite (Rev. Sydney Smith).
Among the inhabitants of Doughty Street the following have been noted:
No. 1.
(formerly No. 21). 1823, Lieut.-General Robert Bell; 1852–55, C. A. Curwood, solicitor, and partners; 1858–60, William Fenn, landscape painter.
No. 2.
(formerly No. 20). 1814–16, Sir Samuel Whitcombe; 1817, Lady Whitcombe; 1842–49, Henry Thomas, solicitor; 1850–52, Edward L. Levy, solicitor.
No. 4.
(formerly No. 18). 1818, Rev. T. Wilkinson; 1822–54, John Tilleard, solicitor; 1850–80, Martin Joseph Stuteley, architect.
No. 5.
(formerly No. 17). 1808–16, John Frederick Pott, governor of the Foundling Hospital (1809); 1829, John Millington, engineer and scientific writer (1779–1868). This was his last year in England before he went to Mexico to become chief engineer of the silver mines. He was buried at Williamsburg, where there is a monument to his memory.
No. 6.
(formerly No. 16). 1807–26, George Palmer, attorney; 1828–34, George Faulkner, attorney; 1907–10 Douglas Golding.
No. 7.
(formerly No. 15). 1816, Captain Graham; 1823–25, James Patten, solicitor; 1826–27, Rev. Charles Gerran.
No. 9.
(formerly No. 13). 1806–17, R. L. Appleyard, attorney; 1851–52, Rev. James William Worthington, vicar of Holy Trinity, Gray's Inn Road, 1838–79.
No. 10.
(formerly No. 12). 1828–41, Alfred Ainger, architect; 1845–47, Edward Strick, solicitor; 1855–61, George Crafter, solicitor.
No. 11.
1810–13, Rev. Dr. Young; 1814–21, Sir Joseph Littledale (1767–1842), judge; 1842–43, F. I. Manning, solicitor; 1848–56, William Smiles, physician.
No. 12.
(formerly No. 10). 1838–40, Rev. Thomas Madge; 1841–44, Edward William Gooday, solicitor; 1856–69, Charles Laws, architect.
No. 13.
(formerly No. 9). 1822–25, Leonard Hicks, solicitor; 1827–40, Gilbert Stephens, solicitor; 1841–46, Charles Nicholas Cole, solicitor; 1852–95, William Tegg (1816–95), publisher and bookseller, a friend of Charles Dickens and a member of the Common Council of the City of London. He died here.
No. 14.
(formerly No. 8). 1804–5, Rev. Sydney Smith (1771–1845), author and wit; 1838–44, Charles Walton, solicitor; 1852–86, Richard Norris Bower, surgeon.
No. 15.
(formerly No. 7). 1823–44, — Moss and William Lincoln, surgeons; 1825–30, O. G. Williams, surgeon; 1847, Daniel Gosset, surgeon.
No. 16.
(formerly No. 6). 1820–21, John Hayes; 1848–57, Joseph Dalton, surgeon.
No. 18.
(formerly No. 4). 1818–32, Richard Raine, surveyor; 1837–45, William Payne, coroner for the City of London; 1853–60, John Thomas Bennett, solicitor.
No. 19.
(formerly No. 3). 1842–71, William Fisher, solicitor.
No. 21.
(formerly unnumbered in Upper Doughty Street), 1828–36, John William Cundy; 1854–9, Major Alfred B. Hawkes.
No. 22.
(originally I Doughty Street and then unnumbered in Upper Doughty Street, 1798–1826, Rev. Josiah Pratt; 1851–67, Rev. Joseph Penuel Dobson.
No. 23.
1816–17, T. Dax, solicitor; 1848, William Adams, surgeon; 1860–67, William Lawson, artist.
No. 24.
1848–54, William Butterfield, the eminent ecclesiastical architect (1814–1900).
No. 26.
1834–38, John Thomas Miller, solicitor.
No. 27.
1854–6, Rev. Robert Alldis.
No. 29.
1852–54, Rev. George Albert Rogers; 1855–58, Rev. Abel Siccama; 1859, Nathaniel Graham Ravenor, solicitor; Havelock Ellis (1859–1939)
No. 30.
1814–41, Dr. William R. Macdonald; 1844, William Ruff (1801–56), author of The Guide to the Turf.
No. 32.
1815–35, John Spinks, attorney; 1837–47, William Henry Dickson, solicitor.
No. 33.
1835–43, Robert Sawyer, attorney; 1845–56, William Ruff (see also No. 30 above). He died here.
No. 35.
(formerly 4 Upper Doughty Street). 1831–38, Charles Parker, solicitor; 1860–67, Thomas Edye, solicitor.
No. 36.
(formerly 3 Upper Doughty Street). 1813–32, George Roots, barrister; 1834–49, William Tindal, barrister, and 1837–49, Thomas Tindal, attorney.
No. 37.
(formerly 2 Upper Doughty Street). 1843–55, Thomas Roe, barrister.
No. 38.
(formerly I Upper Doughty Street). 1801–14, George Boon Roupell, father of George Leith Roupell, M.D. (1797–1854); 1826–37, Stafford Northcote; 1839–52, James Mason, solicitor.
No. 39.
(formerly No. 41). 1835–36, John Smith, barrister.
No. 40.
1836–39, John Moore, barrister; 1840–46, Alfred Hall, solicitor.
No. 41.
(formerly No. 39). 1841–47, Charles Burrows, solicitor; 1854–56, Rev. Charles Hume.
No. 42.
(formerly No. 38). 1820–22, Rev. I. C. Clements; 1827, Josiah Wilkinson, attorney; 1846–53, John Dawson Lowden, chemist.
No. 43.
(formerly No. 37). 1854–60, Edmund Yates, novelist and journalist (1831–94).
No. 44.
(formerly No. 36). 1840, G. W. Babington, solicitor; 1845–47, John Duffin Thomson, attorney.
No. 45.
(formerly No. 35). 1856–63, William Vizer, solicitor.
No. 47.
(formerly No. 33). 1806–11, Francis Milland, special pleader; 1834–39, Robert Few, solicitor.
No. 48.
(formerly No. 32). 1837–39, Charles Dickens. The publication of Pickwick Papers, Oliver Twist, and Nicholas Nickleby occurred during his residence here.
No. 49.
(formerly No. 31). 1803–13, Arthur Robinson, surgeon; 1832–33, Richard Burman, solicitor; 1838–40, Henry Rickards, solicitor; 1845–48, George John Lloyd, solicitor; 1849–52, Henry Hill, solicitor.
No. 50.
(formerly No. 30). 1828–33, John Rudall, barrister; 1834–46, John Henry Benbow, attorney; 1847–52, George Tamplin, solicitor, and 1848–51, George Ade, solicitor.
No. 51.
1859–70, Robert Jewell Withers, architect.
No. 52.
1842–47, John James Wilson, surgeon; 1848–52, Richard Bower Norris, surgeon; 1854–60, Robert Rutland Newman, solicitor; 1922 Vera Brittain and Winifred Holtby.
No. 53.
1837–49, Thomas Cubitt, builder (1788–1855). His workshops were at 37 Gray's Inn Road.
No. 54.
(formerly No. 29). 1848–50, Shuckburgh Risley, solicitor.
No. 55.
(formerly No. 27). 1827–45, Joseph Underwood, barrister.
No. 57.
(formerly No. 26). 1850–60, Joseph Moses Levy, founder of The Daily Telegraph.
No. 58.
(formerly No. 25). 1810–18, Thomas Leach, legal writer (1746–1818).
No. 59.
1832–33, Henry Robertson, surgeon; 1858–60, Rev. William Atherstone Hales.
No. 60.
1854–60, John Oakley, architect and surveyor.
No. 61.
1852–93, Charles John Shoppee, architect and surveyor.
No. 62.
1836–66, Thomas Holme Bower, solicitor; 1832–34, H. Hill, solicitor, probably Sir Hugh Hill, judge (1802–71); 1853–55, Arthur Perry Bower, solicitor.
CI—Gray's Inn Road West side (Nos. 83–211)
The northern part of Gray's Inn Road (formerly Gray's Inn Lane), lying in the parish of St. Pancras, is shown in Rocque's Map of 1746 as the "Road to Hampstead and Highgate" lying between open fields. To the west, behind the Foundling Hospital, were Mr. Harrison's brickfields (see p. 71), and there were no houses until one came to Battle Bridge. The lane was beset with footpads; robberies and murders, chiefly in the vicinity of the brickfields, were frequently reported in the 18th-century newspapers.
On Horwood's Map (1799) and Tompson's Map of the parish (c. 1803) we see a few houses facing the street on the Doughty Estate. The land between Mecklenburgh Square and Gray's Inn, Road diminished in depth northwards, and only the southern portion (including the back of Upper Doughty Street) had sufficient space for houses. This was leased (fn. 15) in separate plots to Joseph Evans of 17 King's Road, and Penthrin, Morris Lievesley, and Payne, the contractors who were building the east side of the square. The leases date from 1811 to 1820. It was not long before the frontage south of Guilford Street was also completed. This part of the road was first called Upper North Place, and the houses backing on to the square were known as Foundling Terrace. By 1830 the rate books show thirty-six houses on the west side of the street north of Roger (formerly Henry) Street.
The present position can be summarized as follows, excluding even numbers which are on the opposite side of the road: Nos. 83–91 have been demolished, except for the shop of No. 87. Nos. 93–111 have shops or offices with three-storeyed brick fronts above. No. 105 retains its original round-headed (house) entrance with Doric columns each side. Nos. 107, 109 and 113 have been rebuilt. No. 115 is exceptional in having its ground floor level below that of the pavement, with steps down to its arched doorway. No. 117 has a railed area and its original lamp overthrow. Nos. 119–129 follow the normal pattern, most of them having shops. No. 121 has been cement-faced, and the ground floor of No. 125 is treated likewise. The Blue Lion (No. 131) has been rebuilt, but Nos. 133–137 have only had shops added. No. 137 has rendering to its upper storeys.
North of Guilford Street, No. 139 is a double-fronted house with a basement, three storeys and an attic. Its doorway is square-headed with entablature and pilasters. Nos. 141–151 form a range of uniform design, with stucco ground floor and three storeys in brick above (Plate 53). There are railed areas and balconies to the first floor. The remaining buildings to the north have been rebuilt, except No. 165, which has an arched doorway with entablature and pilasters with delicate consoles, and a long balcony at the first floor level. It is of wider frontage than the other houses.