Pages 83-93
Survey of London: Volume 24, the Parish of St Pancras Part 4: King's Cross Neighbourhood. Originally published by London County Council, London, 1952.
This free content was digitised by double rekeying and sponsored by English Heritage. All rights reserved.
CHAPTER 7: THE SKINNERS' COMPANY'S ESTATE
The Skinners' Company's Estate lies to the north-west of the Foundling Hospital, having the Southampton property on the south and the Battle Bridge and Lucas estates on the east. It formerly extended across Euston Road and included the site of St. Pancras Station Hotel and offices. The land was originally known as Sandhill(s) or Sandfield and was in the possession of Michael Englisshe in 1552. (fn. n1) Sir Andrew Judd acquired it from James Gates and Thomas Thorogood for £346 6s. 8d. and vested it in the Skinners' Company as Trustees for the benefit of Tonbridge School in 1572. (fn. 76) In the deed of trust he describes it as "A close of pasture with appurtenances called the Sandhills situate, lying, and being on the back side of Holborn in the Parish of St. Pancras, of the yearly value of £13 6s. 8d."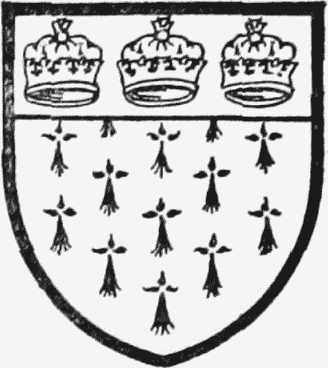 It remained farm land until 1807, its principal building being Bowling Green House (see Plate 2) with two bowling greens, situated on the site of the present Judd Street. This house, which was then approached by a lane from the New (Euston) Road (a continuation of Skinners Street on the opposite side) was leased to Julius Deeds in 1743–1764, Edward Roberts from 1764–1790 and Thomas Mullett from 1790–1799. (fn. 77) The lane north of the Harrison estate also gave access to the bowling greens, as shown in the following advertisement of 1756: "The Bowling Green House, near the Foundling Hospital, commands an extensive and pleasant prospect, and is fitted up in a genteel manner, with great alterations. Tea, coffee and hot loaves every day. The Bowling Green, which is in exceding fine order, is now opened by your humble servant
The Coachway is through Gray's Inn Lane turnpike, up the first turning on the left hand, and in at the second gate." (fn. 78)
Joseph Barrass, who figures here as the proprietor, was probably a tenant or manager for the Deeds family, Julius having died some time before the expiry of his lease.
The survey of the Skinners' Estate in May, 1785, shows the position of Bowling Green House, and the later survey of 1898 marks the streets built on the ground (see p. 83). The approach from Gray's Inn Road is shown on John Tompson's map (Plate 2).
The Skinners' Company's account book (fn. 77) shows that for a while part of the estate was let to the adjoining landowner, the Duke of Bedford. Thomas Richardson, doubtless a farmer, leased the whole of the land, apart from the bowling green, from 1790 to 1793. In 1792 the account book records the settlement of a boundary dispute with the Foundling Hospital, which the minutes of the latter institution do not mention.
By 1805–08 building work on the Foundling Estate was beginning to creep close to the southern side of the Skinners' fields, and some of Burton's sub-tenants had illegally built sheds over the boundary. It seems that the Skinners' Company left this southern area as grassland to the last, and began development on the northern side of the New (Euston) Road considerably before 1799, for Horwood's map of that year shows a line of fine houses with front and back gardens (Judd Place) along the site of St. Pancras Station, Goods Yard and Hotel, and a street called Skinners Street, where Midland Road now runs.
The lower part of their estate was leased to James Burton in 1807, also, in part, to Payne and lesser builders, whose work is recorded in the sections dealing with the streets on this estate.
CXVII—Judd Street (northern section)
Judd Street is a continuation of the former Hunter Street North to the Euston Road, and its name commemorates Sir Andrew Judd, the donor of the estate to the Skinners' Company. (fn. n2) The first building leases date from 1808 when the company let sites to James Burton, William Mitchell, carpenter, of St. Pancras, and Francis Oxley of Camberwell. (fn. 79) These leases make reference to some already existing buildings, but there cannot have been many, for Judd Street does not appear in the rate books until 1810, when six houses only are mentioned. Two more were erected in 1811, a further twenty-four in 1813, and the remaining fifty-two in 1816.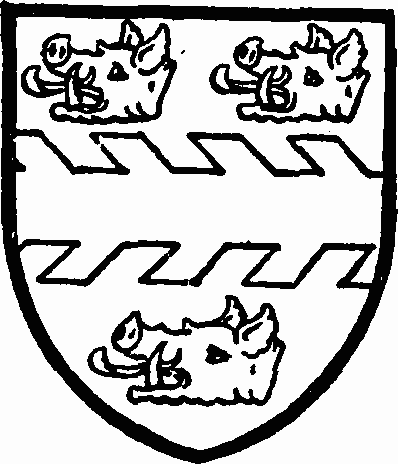 None of the original buildings remains on the east side. On the west, where there has also been considerable damage, the houses are numbered from south to north (odd numbers). From the north of Leigh Street Nos. 69 to 83 have been demolished. Of these No. 79 alone retained its arched doorway and railed area to the original stuccoed basement; the remainder were fitted with shops. The range from Nos. 85 to 103 remains, and its character is shown on the elevational drawing of Nos. 87 to 91 (p. 86). The houses have stucco ground floors and basements with arched doors and windows to the former. The three upper storeys are of brick, with balconies connecting the two first floor windows and plain parapets above. The detail drawing shows the design of the doors, each with a central circular panel, flanked by pilasters with masks for capitals. No. 85 and Nos. 93 to 101 have shops, that to No. 95 being illustrated on p. 86. It has four fluted columns with Corinthian capitals carrying an entablature and enclosing the central shop window and two doorways. An elaborate roofed balcony from one of the destroyed houses in this street is also illustrated on p. 87.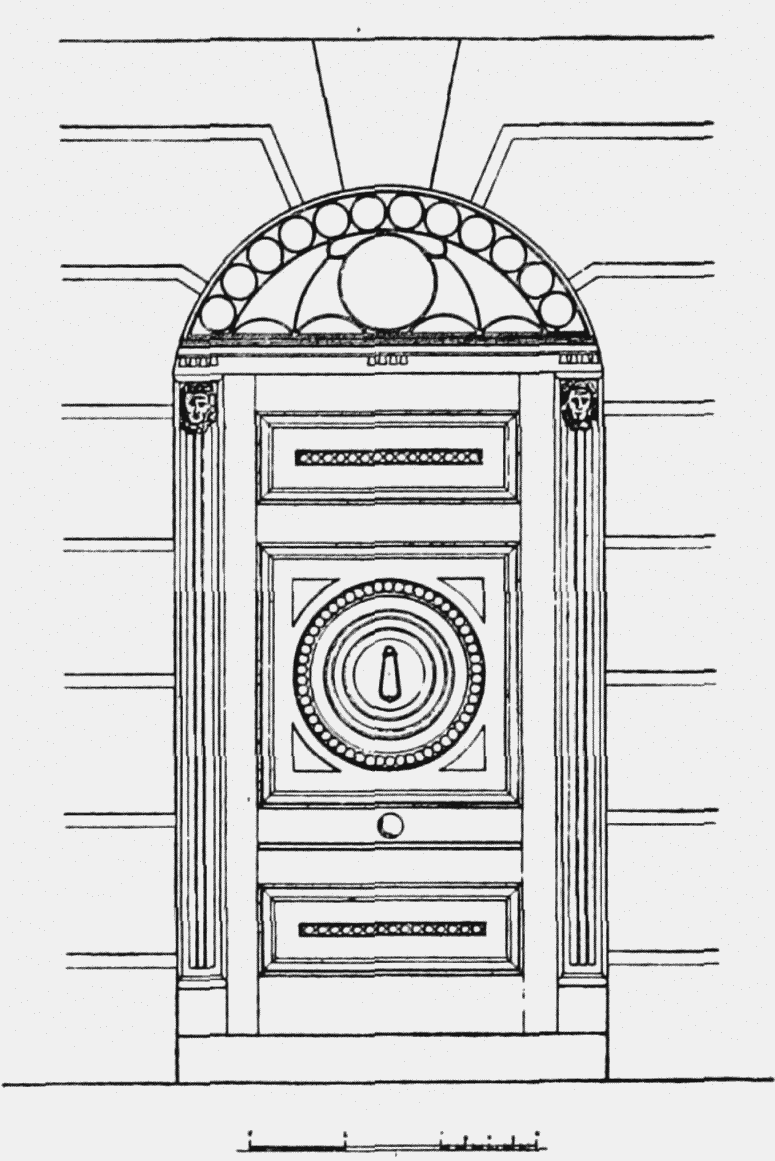 Among the principal inhabitants the following have been listed:
West side (former numbers in brackets)—
No. 65. (80).
1812–19, William Gill, surgeon; 1825–28, William Symes, surgeon.
No. 79. (73).
1815–20, Rev. Samuel Birch.
No. 81. (72).
1823–27, John Leycester Adolphus, (1795–1862), barrister and author of Letters to Richard Heber, Esq., on the authorship of the Waverley Novels. He was a bencher of the Inner Temple and was appointed Judge of Marylebone County Court (1852).
No. 83. (71).
1815–22, Thomas Watson; 1826–36, Richard Millbanke, surgeon.
No. 85. (70).
1822 Mingay Syder, surgeon.
No. 87. (69).
1818–21, T.G. Winter, surgeon; 1826–30, John Arbuthnot, artist.
No. 97. (64).
1817–20, Richard Evans, possibly the painter (1784–1871).
No. 105. (60).
1822, John Doughty.
No. 115. (55).
1824, Alexander Delisser, surgeon.
No. 119. (53).
1820–29, Daniel Leonard, barrister.
No. 127. (49).
1825–27, Alexander Delisser, surgeon (see above).
No. 129. (48).
1817, James Thompson, surgeon.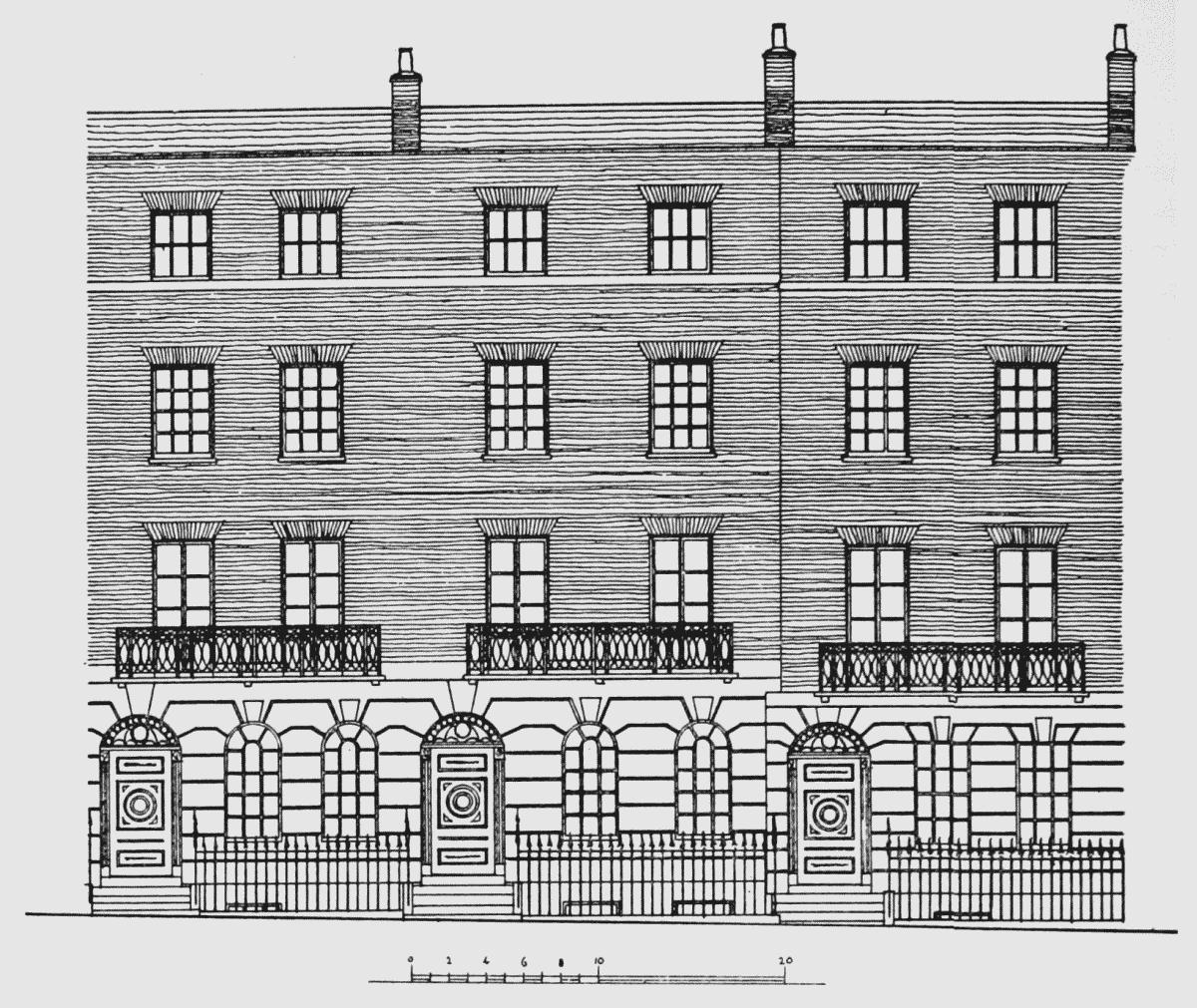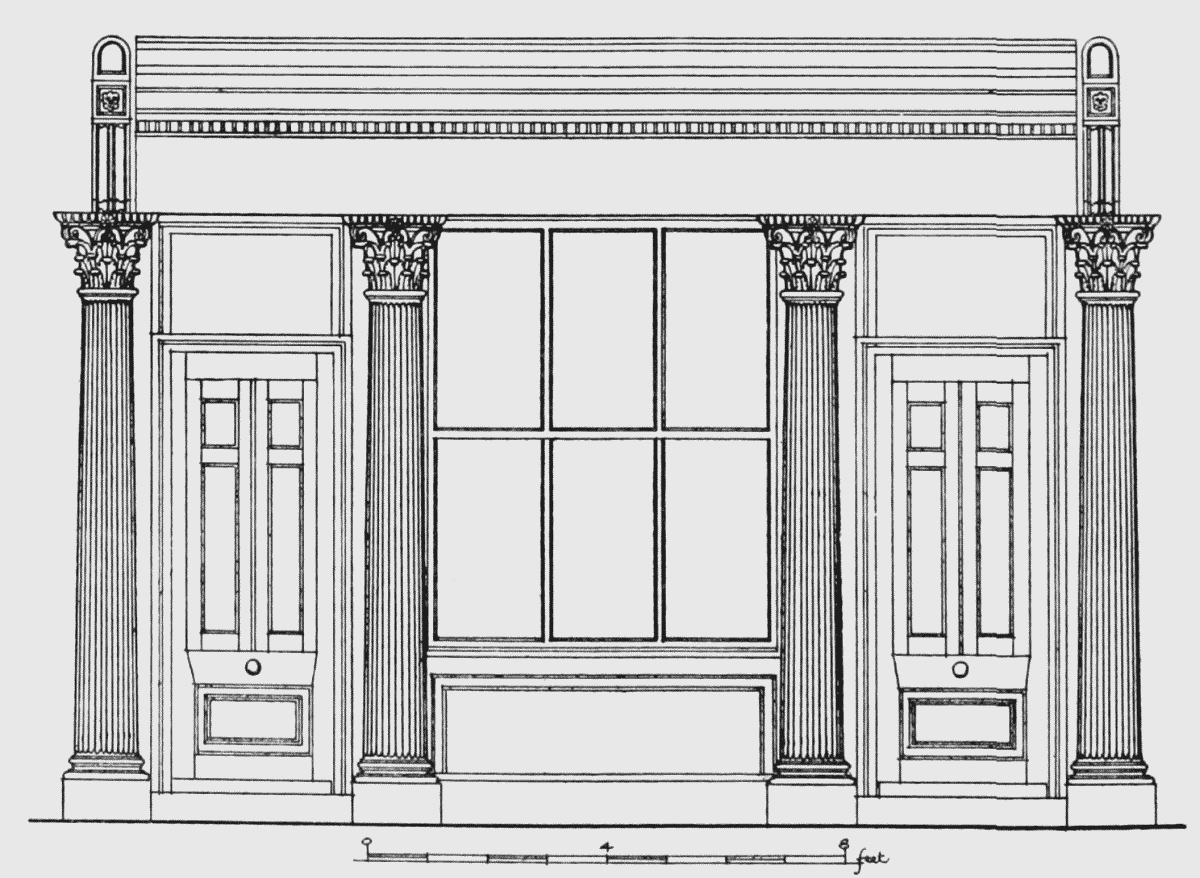 No. 58. (3).
1812–24, Domingo Ribeiro de Faria.
No. 62. (5).
1814–16, John Impey, legal writer.
No. 70. (9).
1815–25, Crofton Cooper, surgeon.
No. 82. (15).
1822, John Wilson, conveyancer; 1823–25, Garrett Dillon, surgeon.
No. 100. (24).
1827, E. Bowden, surgeon.
No. 120. (34).
1817–18, Captain Johnson.
No. 128. (38).
1815–19, John Martin.
CXVIII—Thanet Street
Thanet Street lies between Judd Street and Sandwich Street which run, parallel with it, from north to south. The rate books show that its first two houses were erected in 1812. It remained in this state till 1820, when a further twelve were completed. In 1822 the remaining thirty dwellings, making the full complement of the street, were built and occupied. Up to 1826 it was called Lancaster Street, and it is so marked on Britton's map of 1834.
Thanet Street is an early and picturesque example of a street of workmen's cottages. Though small in size, having only one storey above the ground floor and basement, they have charming balconies and elongated windows to the first floor which give an impression of French windows. The ground floor is rendered in channelled stucco with arched windows and doors of the simplest character, with emphasized key-blocks. Some of the houses have a moulded course at first floor level; with others it is a plain band. In certain instances the stuccoed portion is plain. The upper storey is in plain brick with a broad stucco band forming a parapet hiding the slate roof. None of the original houses remain on the west side. On the east, the middle part (about one-third) survives (Nos. 8 to 17). The southern third has been demolished as far as Leigh Street and the northern third has been rebuilt.
CXIX—Sandwich Street
Sandwich Street is parallel to Thanet Street westwards. Its first house was built in 1812. Eighteen followed in 1813; by 1814 there were thirty and, by 1824, forty-seven. The street is numbered continuously from south to north on the east side and from north to south on the west. No. 1, next the public house at the corner of Leigh Street, is a shop with the walls above in stock brick. Nos. 2 to 9 are of four storeys with a basement, the ground floor being treated with channelled stucco. The doors are arched but the windows are rectangular throughout. The three upper floors are faced with brick; the first floor windows are tall, reaching to the floor, and each furnished with a balcony (see Plate 69). No. 4 is wholly plastered; north of this are later buildings.
On the west side there is a public house, at the corner of Hastings Street, and south from this Nos. 22 to 29 follow the type described above, but with variations in height, Nos. 24 to 29 having only two storeys above the ground floor. South of these stands a block of modern flats.
CXX—Leigh Street
Leigh Street runs west and east and connects the south end of Cartwright Gardens with Judd Street. In March, 1809, the Skinners' Company granted a lease to James Payne of Marchmont Street, builder, of the sites of the fourth to ninth houses on the south side of the street east of Marchmont Street. At the same time they let the ground for three adjacent houses to James Richard Parry of Everett Street and a further four sites further east, on the south side, to James Burton and Thomas Jennings of Marchmont Street, plasterer. (fn. 80) The rate books show that the street was not actually built until three years later (1810) when the first five houses were fit for occupation. Another six were added in 1811, and the remaining twenty-two were completed in 1813.
The old houses that remain are all on the south side of the street and are numbered consecutively 2 to 20 from west to east. They resemble very closely the designs already described in Sandwich Street (Plate 68a). Nos. 3 to 8 and 12 to 20 have shops, the example illustrated from No. 14 (Plate 70) being typical of its period. Some of the entrances to the houses are approached by as many as six steps, enabling the area windows to have more light. No. 20 is the back part of No. 65 Judd Street and is damaged and disused.
CXXI—Cartwright Gardens (formerly Burton Crescent)
Cartwright Gardens are named after Major John Cartwright, the political reformer, who lived here (see No. 37). A bronze statue of Cartwright by George Clarke was set up in the gardens in 1831 in front of the reformer's residence (Plate 71). The crescent, formerly known as Burton Crescent after James Burton, the builder, with its garden enclosed between the western curve and the eastern chord of the segment, is the key point to the simple but effective plan of the Skinners' Company's Estate. The crescent itself, consisting of thirty-seven houses, is cut through the centre by Burton Place (formerly Crescent Place) which communicates with Burton Street further west. The architectural scheme is a simple one. The ground storey of channelled stucco with arched doors and windows, well elevated above the street level, is framed between the area railings below and the almost unbroken line of balconies to the first floor above. Over the second floor windows runs a moulded cornice; above this is a perfectly plain third floor. The centre houses in each half of the crescent project slightly, but not enough to break the sweeping lines of the curve; they are larger than the others, having three windows in their width, whereas their neighbours have two only.
The eastern side has suffered seriously from war damage, Nos. 1 to 6 (from the corner of Leigh Street) being demolished. These houses had formerly been converted into the Brighton Hall Restaurant. North of this, the middle range has been replaced by modern flats; beyond this, Nos. 19 to 26 have been demolished above the ground storey. The crescent is numbered from north to south beginning with No. 27 at the corner of Mabledon Place and continues to No. 63 at the corner of Marchmont Street. Many of these houses are now grouped together to form hotels.
Not far from the north end of Cartwright Gardens is a building formerly known as the Bidborough Riding School where there still stands the figure of a horse. It is a long building on the north side of Bidborough Street (which lies between Hastings Street and Euston Road) and is numbered 46, formerly No. 30. From 1818 to about 1830 it was a riding school, later called an academy, run by James Martin. In 1838 it was used as livery stables by George Trevelyan. In 1859 it was purchased by Thomas Voile, chemist and apothecary, the founder of the firm of Voile & Wortley, who are its present owners. They were described as dry-salters in 1865 and are now liquorice manufacturers.
Among the inhabitants of Cartwright Gardens, the following have been noted:
No. 1.
1816–18, W. Symmons, surgeon; 1820–37, Rev. Dr. Povah; 1838–39, A. Chadwick, M.D.
No. 2.
1835, Dr. Cooper. Possibly Daniel Cooper (c.1817–42), naturalist, author of Flora Metropolitana and curator of the Botanical Society of London; 1837–39, Sir Rowland Hill (1795–1879), who introduced the penny post; 1840–43, George Stonhouse Griffith, solicitor; 1846–50, Thomas Theodore Campbell, surgeon.
No. 3.
1814–25, Sir Thomas Joshua Platt, baron of the Exchequer (1790 ?–1862); 1840–45, Charles Green, probably the aeronaut (1785–1870).
No. 4.
1845, Henry Augustus De Medina, solicitor; 1846, George Griffith, solicitor; 1853–56, John Barnes, surgeon.
No. 5.
1852–58, Thomas Burgon, merchant and numismatist at the British Museum (1787–1858).
No. 6.
1832–43, Oscar Byrne, ballet master (1795 ?–1867).
No. 9.
1813–14, John Galt, novelist (1779–1839); 1838–45, Samuel Abrahams, solicitor; 1848–51, Dominique Auguste Des Jardins (see No. 45); 1853, Henry Damylaville, engraver.
No. 10.
1842–44, Edward Buckton Lamb, architect and surveyor (1806–69); 1846, Edward Hillyard, surgeon.
No. 11.
1829–31, Sir John Perring; 1837–45, Raymond Gasquet, surgeon.
No. 12.
1845–60, Alexander L'Estrade, French professor.
No. 13.
1813 and 1815, Captain Young; 1838, Dr. H. Boase; 1841–42, Andrew Maris (see No. 45).
No. 14.
1846–47, Rev. George Smith Drew (1819–80), incumbent of St. John the Evangelist in St. Pancras, 1850–54.
No. 15.
1820–28, Mathias Rowe, surgeon; 1830–31, Thomas Calley, surgeon; 1832–34, I.T. Blenkin, surgeon; 1835–45, Thomas Theodore Campbell, surgeon.
No. 16.
1848–52, Robert Dalliston, surgeon, and again in 1858.
No. 17.
1855, Thomas William Clark, solicitor.
No. 18.
1815–16, John Simpson, portrait painter (1782–1847); 1818–28, Thomas Wilson, probably the Nonconformist benefactor, founder of London University and of a chapel in Tonbridge Place, Euston Road; 1854, Joseph Moon; 1855–56, William Moon, possibly the inventor of Moon embossed type for the blind (1818–94). At this time he used to spend one month each year in London to supervise the work of the London Home Teaching Society.
No. 19.
1815–16, William Wright (?) the aural surgeon to Queen Charlotte and the Duke of Wellington (1773–1860); 1839–43, Captain Thomas Arman; 1844–47, Robert Dalliston, surgeon; 1854–61, Walter Wilson, surgeon.
No. 21.
1817–53, Thomas James, barrister.
No. 22.
1822, George Flower, surgeon; 1825, General Mina.
No. 23.
1821, Benjamin Ricardo; 1822, Sir John Easthope, politician and journalist (1784–1865); 1834–56, Vice-Admiral Sir William Henry Dillon (1779–1857).
No. 24.
1818–20, William Westall, painter (1781–1850).
No. 26.
1835–6, Sidney Smith; 1837–41, Jos. Seaton, surgeon; 1842–61, St. Pancras General Dispensary; 1852, J. R. Diamond, surgeon.
No. 27.
1824–25, John Frederick Archbold, legal writer (1785–1870); 1846–54, Thomas Sharp, sculptor; 1859–61, William Henry Tayler, surgeon.
No. 28.
1844, Pascual De Gayangos.
No. 29.
1817–19, Edward Quin, probably the journalist or his son, a historical writer; 1823, Captain I. Betham; 1852–54, Rev. Thomas Saville; 1857–61, Rev. Samuel Garratt.
No. 30.
1850–56, Samuel Gwinneth Hornidge, solicitor; 1859–60, Eldon E. Towne, solicitor.
No. 31.
1835–38, Captain Sir Edward Chetham, R.N.
No. 32.
1819–20, John Stewart, probably the traveller and individualist (1749–1822); 1836–68, Rev. George Hamilton.
No. 33.
1826–40, John Scargill, solicitor; 1842–56, Captain John Hall, R.N.
No. 34.
1819, John Cox, attorney; 1836–39, Sidney Smith (see No. 26); 1840, Rev. Thomas Farris; 1842, Robert Lowe, probably the politician, later Viscount Sherbrooke (1811–92); 1843, T. D. Hawker, surgeon.
No. 35.
1819–20, Captain Fernandez (see No. 39); 1852, James Storey, solicitor; 1854–61, Alfred Ward, solicitor.
No. 36.
1841–44, John Scargill, solicitor (see No. 33); 1849–59, Matthew Urlwin Sears, wood engraver.
No. 37.
1820–24, Major John Cartwright, political reformer, (1740–1824), after whom the Gardens are named; 1825, Mrs. Cartwright; 1832–37, Lieutenant-General Sir Samuel Hawker; 1839, General Hazard; 1840–44, Robert Varicas, surgeon; 1854–75, John Flather, barrister.
No. 38.
1821, Captain White; 1829–51, Dr. Emanuel Pacifico; 1852–56, Mrs. Sarah Pacifico.
No. 39.
1820, George Heald, counsellor; 1823–25, Captain Fernandez.
No. 40.
1824, George Matcham; 1854–58, Rev. R. S. C. Redfern.
No. 42.
1828–37, Andrew Amos, barrister.
No. 43.
1825–31, Charles Ellis, solicitor; 1841–47, Rev. E. A. Illingworth.
No. 44.
1818–20, Captain Rand; 1838–47, John Charles Mason, civil servant (1798–1881); 1848–58, Rev. John Edmund Cox.
No. 45.
1835, John William Wright, painter (1802–48); 1844–51, Andrew Maris; 1852–58, Dominique Auguste Des Jardins, professor of French.
No. 46.
1814–16, Rev. Dr. Johnson; 1817–19, Rev. Dr. Povah (see No. 1); 1821, J. Latham.
No. 47.
1812–20, James White, writer (1775–1820); 1856, John Ross Diamond, surgeon.
No. 48.
1832, H. S. Heathcote, solicitor.
No. 49.
1814, Captain Hawkey.
No. 50.
1859–62, John James Napier, artist.
No. 51.
1814–16, H. Smith, ? Horatio Smith, poet (1779–1849); 1823–30, James Smith, attorney; 1832–37, Rev. Alfred Williams; 1856–60, Arthur John Baker, architect.
No. 52.
1852–82, John Arthur Power, physician.
No. 53.
1818–19, Blas Mendizabal, Spanish Consul.
No. 54.
1834–37, J. Amesbury, surgeon.
No. 55.
1854–56, John Cambridge Fisher, solicitor; 1857–62, Captain John Hall, I.N.
No. 56.
1839, Lieutenant-General Sir Samuel Hawker (see No. 37); 1840–47, William Hodgkinson, solicitor.
No. 57.
1832, A. H. Bicker Caarten; 1838, J. M. Bicker Caarten, barrister.
No. 58.
1817–18, Captain Rolland; 1846–68, Duncan Forbes, orientalist (1798–1868).
No. 59.
1840–41, J. Amesbury, surgeon (see No. 54); 1854–60, Jacob Watson, solicitor.
No. 61.
1821, Robert Espinasse, barrister; 1832–37, William S. Shaw, barrister; 1839–40, Thomas Weeden; 1857–59, Edward Lawrence Levy, solicitor; 1860, Henry Williams, surgeon.
No. 63.
1825–27, John Jackson; 1845–48, Robert Scanlan, artist; 1860–61, Edward Passmore, surgeon.
CXXII—Burton Street
Burton Street commemorates James Burton, the builder, whose name is so closely connected with the neighbourhood. The street runs north and south, behind Cartwright Gardens on the western limit of the Skinners' Estate. Burton began building there in 1809 but the first three houses do not figure in the poor rate books until the following year. One additional house was added in 1811. Thirty-five more were built between 1813 and 1814, and the street was completed by 1820.
The houses are of the best second grade, differing only in width from those of the first order. Their ground floors have stucco fronts, some plain and channelled to represent masonry. Unlike many streets, in which the houses have balconies running the full width of the house, some have individual balconies to each window, many of them being of delicate trellis patterns. The ground floors stand some 18 inches higher than the pavements, being approached by three stone steps to give additional light to the basements.
On the west side, opposite Burton Place, is the back of the modern British Medical Association premises of Tavistock Square. The numbering starts south of this. Nos. 4 (north) to 13 are of the usual type with stuccoed basements and ground storeys and three upper storeys of brick. Nos. 14, 15 and 16 are of two storeys with a stuccoed ground storey and brick first floor. This end of the street is a cul-de-sac.
On the east side the numbering continues from south to north, starting with Nos. 18, 19, to which adjoins No. 25 (sic). These have stuccoed basements and ground storeys and two upper storeys of yellow brick. Nos. 26 to 34 are of three brick storeys above the stuccoed ground storeys. No. 33 has a square-headed doorway, the others are round-headed. North of these up to Burton Place is a cleared site now occupied as a garage. In the northern half No. 39 is a modern office; Nos. 40 to 45 are like Nos. 26 to 34. There is a straight joint between Nos. 43 and 44. No. 45, the northernmost, has a shop front.
The numbering is then continued on the west side from north to south. Nos. 52 and 53 have been destroyed except for the doorway of the latter. Nos. 54, 55, 56 and 57 have stuccoed ground storeys and three brick upper storeys like the others (Plate 73). No. 57 is damaged and unoccupied, and 58, between it and the B.M.A. building abovementioned, has been demolished.
Among the inhabitants the following have been noted:
No. 2.
1816 (? James) Burton.
No. 3.
1838–42, Captain Frederick Hedges.
No. 4.
1824–26, John Waller, junior, architect; 1840–45, William Hodges, barrister.
No. 5.
1827–39, R. W. J. Rodgers, solicitor; 1848–50, Major Lawrence Courtright.
No. 6.
1829–35, Fred Vallings, solicitor; 1842–47, Ambrose Peede, physician; 1848–72, Rev. John Cunningham.
No. 7.
1848, Charles Hart, ? the organist (1797–1859).
No. 9.
1824–32, Henry Okey, attorney; 1840–42, Pascual De Gayangos; 1843–44, Charles Richard Weld, historian of the Royal Society (1813–69).
No. 10.
1828, Major Osborne; 1829, Edward Holroyd, barrister.
No. 11.
1829–31, Charles Swann, counsellor; 1837–51, Robert Henry Giles, surveyor.
No. 12.
1816–17, — Gladstone; 1845–52, Archibald Barclay (see No. 54 below).
No. 14.
1829–31, Alexander Gordon, civil engineer; 1845–46, Captain James Barclay.
No. 15.
1837–38 Samuel Cummin, barrister.
No. 17.
1819, — Gurwood ? Colonel John Gurwood (1790–1845), foster son of H. Okey; 1820–57, John Britton, antiquary (1771–1857).
No. 18.
1823–26, John Gray, surgeon.
No. 19.
1826–36, William Oliver, artist (?1804–53).
No. 27.
1838–39, William Hodges (see No. 4 above).
No. 28.
1815–17, Captain Edwards; 1834–48, John Abraham Heraud, poet and dramatist (1799–1887).
No. 29.
1813–18, William Bromley, line engraver (1769–1842); 1824–32, William O. Bright, solicitor.
No. 30.
1825–26, Rev. Joseph Brackenbury, poet (1788–1864); 1835–39, Captain Henry Shuttleworth; 1842–45, Charles Mackay, poet and journalist (1814–89).
No. 34.
1847, Rev. Thomas Beames.
No. 35.
1826–36, Rev. Edward Hannam.
No. 36.
1818, — Vanheythuysen.
No. 37.
1848–52, Rev. Francis John Stainforth.
No. 39.
1825–29, Philomathic Institution.
No. 40.
1816–19, William Burton; 1840, Doña Ma Saavedra de Zayas.
No. 41.
1816–18, James Hopwood, engraver (1752 ?–1819); 1825–74, Thomas Mann Baynes, artist.
No. 42.
1838, J. Ballantyne, artist; 1839, F. Hodgson Clarke, barrister; 1843, Mrs. Colonel Dundas; 1849–51, William Young, architect and surveyor.
No. 43.
1823–26, W. H. Cotterill, solicitor; 1840–46, Strafford Spurr, solicitor.
No. 44.
1826, William Thompson, solicitor; 1832–35, Sir Hugh Hill, judge (1802–71); 1837–53, William Thompson, solicitor.
No. 45.
1829–42, Thomas Wilson, Nonconformist benefactor and a founder of London University (1764–1843); 1845, Leitch Ritchie, novelist (1800?–65); 1846–49, Joseph Burtt, archaeologist and assistant record keeper at the Public Record Office (1818–76).
No. 47.
1837, G. S. Shepherd, artist.
No. 48.
1815–27, George Gardner, barrister; 1828–29, Fred Dunn, solicitor.
No. 49.
1832, J. J. Allen, solicitor; 1842, James Pierrepont Greaves, mystic (1777–1842). There is no verification in rate books or directories for the Dictionary of National Biography's assertion that he lived in Burton Crescent. It was probably at this house that the Aesthetic Society met.
No. 50.
1818–23, Captain James Pearse.
No. 51.
1843–49, Rev. David Woolf Marks, minister of synagogue.
No. 52.
1822–24, Arthur John, artist; 1840–45, John Turner, attorney.
No. 54.
1828, David Lester Richardson, poet and writer (1801–65); 1832–35, Sidney Smith; 1839–44, Rev. Dr. Archibald Barclay or Berkeley (see No. 12 above); 1846–48, Julas Godet, artist.
No. 55.
1825–34, Edward Turner, surgeon and professor of chemistry in London University (1798–1837); 1842–45, William Henry Hunt, water-colour painter (1790–1864).
No. 56.
1828, Emanuel Aguilar, a relative of Grace Aguilar, Jewish writer.
No. 57.
1826–28, Robert Anderson, solicitor; 1829–39, J. D. Tawney, solicitor.