Pages 58-76
Survey of London: Volume 37, Northern Kensington. Originally published by London County Council, London, 1973.
This free content was digitised by double rekeying and sponsored by English Heritage. All rights reserved.
CHAPTER IV - The Phillimore Estate
The land acquired by the Phillimore family in Kensington in the early eighteenth century, a substantial part of which has remained in the ownership of the family up to the present time, was at one time part of the extensive estate attached to Campden House. In 1708 the third Earl of Gainsborough sold the mansion with its surrounding parks and farmland to Laud D'Oyley of St. Mary le Savoy, a merchant (see page 50). D'Oyley had at least three illegitimate daughters, one of whom, Ann, had married Joseph Phillimore, the younger son of a Gloucestershire clothier, (fn. 14) and it was from this somewhat unpromising beginning that the fortune of the Kensington branch of the Phillimore family derived. Joseph Phillimore died in 1704, before his father-in-law purchased Campden House, but not before his wife had borne him three sons and two daughters. She married again, to John Seymour, an upholsterer.
Laud D'Oyley died in 1709, leaving his property to his son Robert. (fn. 15) He, in turn, immediately made a will bequeathing the Campden House estate to his half-sister Ann for her lifetime with remainder to the sons of her body in order of birth, i.e. giving precedence to her sons by Joseph Phillimore. (fn. 16) In March 1709/10, however, Robert D'Oyley sold Campden House and some land adjoining it (see page 50) so that on his death in c. 1716 Ann Seymour inherited only part of the former estate. What remained consisted principally of about sixty-four acres to the south and west of Campden House, and twenty-five acres to the north. The latter area, known as The Racks, was generally treated as a separate entity and was sold in 1808; its later history is described in Chapter V. This chapter will be primarily concerned with the former area of sixty-four acres to which the term 'Phillimore estate' is generally applied (fig. 8).
Ann Seymour's eldest son, John Phillimore, died, apparently without marrying, either in 1729 or early in 1730, (fn. 17) and his brother, Robert Phillimore, became her heir. She herself died in 1741. (fn. 14)
From 1741 to 1829
Under the ownership of Robert Phillimore nothing was done to change the essentially rural character of the estate and the land was divided between several tenants engaged in agricultural pursuits. In 1774 he promised the inheritance of The Racks to his younger son Joseph as part of a marriage settlement, (fn. 18) but the main part of the estate passed to his eldest surviving son William.
William Phillimore succeeded to the estate in 1779 and within ten years he had decided to venture into the field of speculative building. He began with the turnpike road frontage where roadside development of the kind taking place along many of the major routes leading out of London seemed to offer a good hope of success. In 1788 he entered into agreements with two builders, Samuel Gray, a bricklayer, and John Schofield, a carpenter, who both had addresses in Jewin Street, City, and were acting in association; Samuel Gray's brother Francis Gray was also involved. The agreement with Samuel Gray was for the development of five hundred feet of frontage between the present Argyll Road and Phillimore Gardens, which Gray was to take for ninety-nine years at a rent of a peppercorn for the first two years and £97 per annum thereafter. (fn. 19) (fn. 1) The terms of the agreement with Schofield are not known but it covered the much smaller frontage between Phillimore Gardens and the western boundary of the estate at Holland Walk. Although building began immediately on the ground taken by Gray the development of Schofield's section did not begin until about 1795.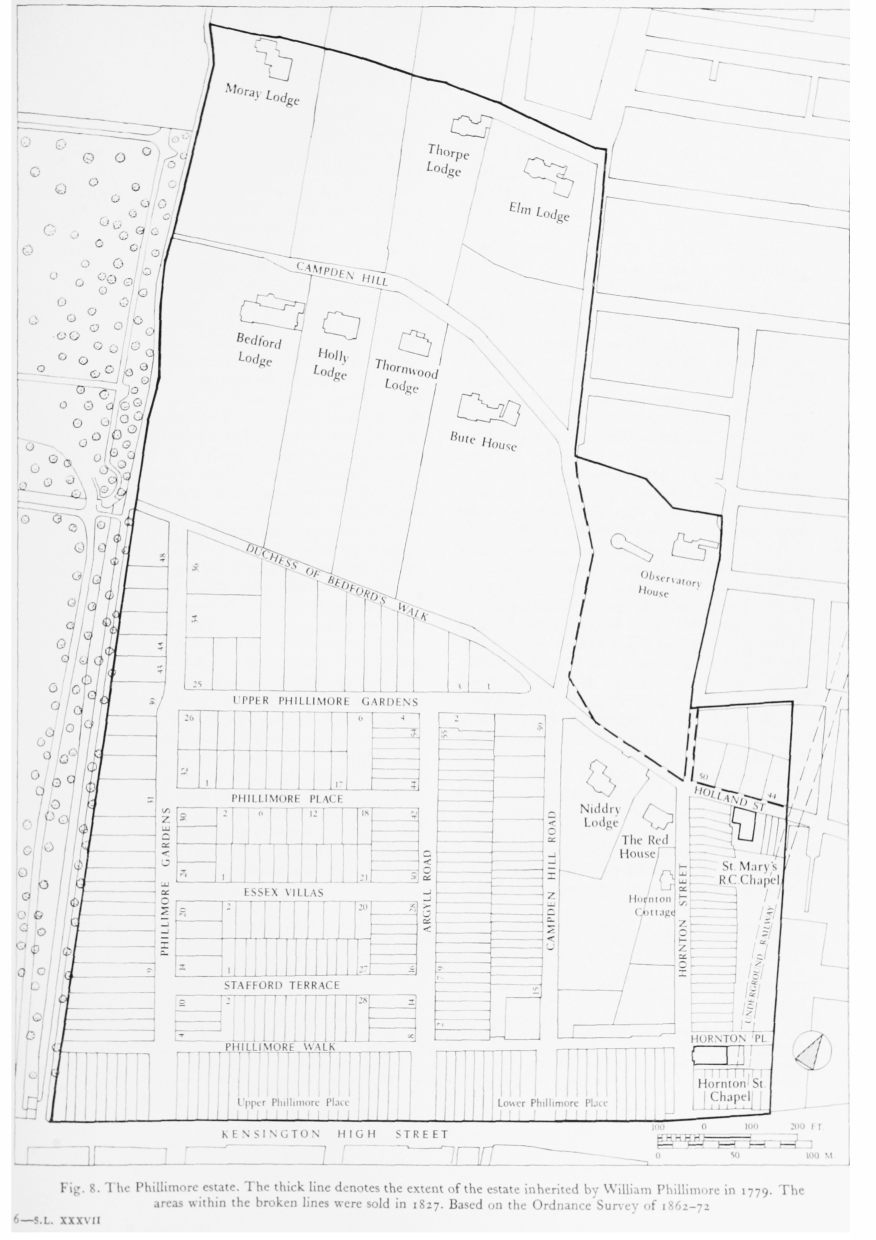 In 1788 William Porden exhibited a perspective view of Phillimore Place at the Royal Academy and there is little doubt that he was responsible for the design of these elegant late-Georgian terraces which were a conspicuous feature of the north side of Kensington High Street until well into the twentieth century. Porden, who was later to design several buildings at Brighton and act as surveyor to the Grosvenor estate, (fn. 20) was William Phillimore's surveyor. In 1792 he entered into an agreement to develop the remainder of the frontage between Argyll Road and the eastern boundary of the estate, but, with the exception of the short terrace between Argyll Road and Campden Hill Road, the houses erected under this agreement were surprisingly commonplace and showed less influence of an overall design. The terraces to the west of Argyll Road came to be known as Upper Phillimore Place and were numbered 1–32 consecutively from east to west; those to the east of Argyll Road were known as Lower Phillimore Place and were numbered 1–31, also consecutively from east to west.
The completion of the terraces took a long time. The first lease was granted in December 1788 but the last lease was not dated until 1812 and the two houses built under it (Nos. 22 and 23 Lower Phillimore Place) were not occupied until 1816.m Building thus spanned the whole period of the French revolutionary and Napoleonic wars.
The first four houses to the west of Argyll Road (Nos. 1–4 Upper Phillilmore Place) were completed by 1789 and among the first occupants was the Reverend Joseph Phillimore, William Phillimore's brother (at No. 2). (fn. 22) The next five house sites were taken under one lease by Peter Banner of St. Luke's, Old Street, a carpenter, (fn. 23) but within two years he had been declared bankrupt. His assignees were Thomas Lett of Lambeth, a timber merchant, and William Hobson of Southwark, a brickmaker. (fn. 24) Hobson had also concluded an agreement with Gray under which he was to be assigned leases (fn. 25) and was probably the principal supplier of bricks for the development at this stage. A substantial part of the capital was provided by William Phillimore himself and two leases (each covering two house sites) which he granted directly to Gray were mortgaged back to him for a total sum of £2,000. (fn. 26)
Samuel Gray died towards the end of 1791 when fifteen houses had either been completed or were nearing completion. Leases had already been granted for most of them (fn. 2) at ground rents which added up to a little over £90, leaving less than £7 to be secured under Gray's agreement. His widow contracted with George Wightman, a local carpenter, for the assignment of the remaining frontage, amounting to one hundred and seventy-five fect. (fn. 27) As well as completing Gray's development in Upper Phillimore Place, Wightman also undertook the leading role in the building of Lower Phillimore Place, which was begun in 1792 under the agreement between Phillimore and William Porden. (fn. 28)
Approximately half of the remaining leases for Upper and Lower Phillimore Place were granted to Wightman, and most of the remainder to other people connected with the building trades. (fn. 3) Among the covenants in the leases was a provision that no bow windows or porticoes were to be added to the front elevations of the houses. (fn. 30) William Phillimore continued to supply money for the development himself and provided mortgages of between £300 and £400 per house to Wightman, taking assignments of the leases he had granted to the builder as security. (fn. 31) Presumably these amounts would have been sufficient to meet the initial building costs, but in 1804 Wightman was forced to mortage several properties for a second time as security for £2,600 which he owed to James Turner of Whitechapel, a timber merchant, (fn. 32) perhaps money which had become due for materials obtained on credit. He was unable to meet his commitments, however, and in 1813 he suffered the fate of so many nineteenth-century builders by becoming bankrupt. (fn. 33) By this time he had ceased operations in Phillimore Place and was building in Hornton Street (see below). Martin Stuteley of St. Giles in the Fields was the builder of the last houses to be completed along the turnpike road frontage (Nos. 22–26 Lower Phillimore Place). (fn. 34) (fn. 4)
Although Phillimore Place took over twenty-five years to build the final result was aesthetically satisfactory. The terraces to the west of Campden Hill Road (i.e. Nos. 22–31 Lower Phillimore Place and all of Upper Phillimore Place) were excellent examples of late-Georgian terrace design and survived with relatively little alteration (fn. 5) until their demolition in 1931–2. To the east of Campden Hill Road less concern was taken with either symmetry or ornamentation and the majority of the houses were demolished earlier. The only ones remaining, although altered, are Nos. 98 and 100 Kensington High Street (originally Nos. 1 and 2 Lower Phillimore Place), which were built under leases granted in 1803 to George Wightman and John Oldham, a stonemason, respectively. (fn. 35) The best illustrations of the terraces as they were built are in the drawings presented to the Kensington Turnpike Trust by Joseph Sal way in 1811 (Plate 44). Salway must have been guilty of some artistic licence, however, for he shows Nos. 22 and 23 Lower Phillimore Place as completed when they could have been at most in carcase and were probably not even so far advanced at that date.
Whether William Phillimore's original intention was to extend building operations behind the terraces which stretched along the main highway is not known, but it may be that the development of the east side of Hornton Street, which was begun in 1804, was a tentative step in this direction. The conventional terrace of twenty-seven narrow-fronted houses between Hornton Place and Holland Street which was demolished in 1903 (Plate 46a) took almost as long to build, however, as the whole of Phillimore Place. The prime mover in the development, which included building along the south side of Holland Street between Hornton Street and the eastern boundary of the estate, was once again George Wightman. (fn. 36) (fn. 6)
Approximately twenty houses had been completed in the two streets when Wightman was declared bankrupt in 1813. His assignees in bankruptcy were John Lomas, a butcher, who was the tenant of several acres of pasture land on the estate, John Lumb, the mason who had taken leases of houses in Lower Phillimore Place and Holland Street, and Alexander Millington, a sash-frame manufacturer, who had already taken sub-leases of several houses. (fn. 38) They sold a large piece of ground in Hornton Street, on which only two party walls were standing, at auction for £100, (fn. 39) but it was left unbuilt on for several years. Eventually, by various assignments, it came into the hands of Richard Wheeler, a victualler turned builder, who erected ten houses to fill the gap. These were begun in 1824 and completed by 1828. (fn. 40)
When the leases granted by William Phillimore expired in 1902–3, the opportunity was taken to rebuild the east side of Hornton Street and that part of the south side of Holland Street which was still owned by the estate (see page 66). Of the original houses only the upper part of No. 33 Holland Street (formerly No. 2 Upper Holland Street) survives. This house was one of the properties purchased by the Metropolitan Railway Company for the construction of its railway, but in the event the demolition of the house did not prove necessary.
On the west side of Hornton Street a small house and other buildings including a workshop were built to the south of the mews behind Lower Phillimore Place under a lease of 1792 to George Wightman. (fn. 41) To the north of the mews Wightman built another house for his own occupation in 1812. (fn. 42) A small plot to the rear of this house, on the north side of the mews, was leased in 1822 to Charles Chesterton, then described as a poulterer. (fn. 43) Chesterton, who was living at No.6 Lower Phillimore Place, (fn. 22) was also an agent for the Phoenix Insurance Company, a churchwarden, and a prominant figure in the deliberations of the Kensington Vestry. He also acred as agent for the Phillimore estate, (fn. 44) and the family firm of Chesterton and Sons still manages the estate's affairs. Among his great-grandchildren were Gilbert Keith Chestesrton, the writer, and Frank Sydney Chesterton, an architect of considerable promise who designed several buildings on the Phillimore estate before his death in action during the war of 1914–18.
Instead of the terrace of houses which might have been expected to match that on the east side of the street, only one house was built on the remainder of the west side of Hornton Street. This was erected in 1817 for Maria Hudson, William Phillimore's housekeeper, who was given a lease for as long as she lived. (fn. 45) Later known as Hornton Cottage, the house was demolished in 1972.
While the terraces which were being erected on the southern part of the estate were still uncompleted, a different kind of building enterprise was begun in the north. In 1808 John Tasker of St. Marylebone, an architect and buider, and Thomas Winter of St. Jame's, a tailor, entered into an agreement with William Phillimore to build on nineteen and a half acres of farmland between the northern boundary of the estate and a footpath which led from the town of Kensington to Holland House (now Duchess of Bedford's Walk). (fn. 46) Phillimore was to grant leases for terms which would be equivalent to eighty-one years from Christmas 1808 at aggregate ground rents rising from £ 116 in the first yeaar to £ 438 per annum after eight years (equivalent to approximately £22 per acre). It is not known who took the decision to build detached houses in extensive grounds, but by 1817 the development had been completed with the erection of only seven houses. No doubt the proximity of the mansions of Holland House, Notting Hill (Aubrey) House and Campden House exerted and influence, and the fact that there had been virtually no urban development in this part of Kensington away from the main roads may have millitated against more intensive building. Whatever the reason, the effect was that this area of Campden Hill retained an atmosphere of rural seclusion for longer than most of Kensington, and it was not after the war of 1939–45 that its character was changed substantially by the building of Holland Park School and the extension of Queen Elizabeth College.
John Tasker, who designed and built several houses in St. Marrylebone and was a regular exhibitor at the Royal Academy, (fn. 20) probably designed all seven houses. None were particularly grandiose at first although occupants attracted to them. As in the case of Phillimore Place part of the capital for the speculation came from William Phillimore himself, for in 1812 when building was only just under way he provided a mortgage of £2,000 and followed this three years later with another loan of an equal amount. (fn. 47) The individual history of these houses will be found on pages 68–71. Their locations and the names by which they were generally known are shown on fig. 8.
On William Phillimore's death in 1818 the estate passed to his only surviving son William Robert. He was to outline his father by only eleven years and during his brief ownership the most significant occurrence for the history of the estate was the sale of about four acres in two plots to (Sir) James South, the astronomer, in 1827. (fn. 48) The two areas, the larger of which contained the former family mansion although it had long since ceased to be occupied by the Phillimores, are shown on fig. 8; their history is discussed in more detail at the end of this chapter, pages 73–4.
From 1829 to 1900
When William Robert Phillimore died in 1829 the extensive family property in Hertfordshire, which had been acquired through marriage, passed to his eldest son, also named William Robert. His Kensington estate was left in trust for his younger son Charles, subject to a mortgage debt of £5,400 and a charge to raise £5,000 for each of his two daughters. (fn. 49)
Virtually no building took place on the estate for nearly thirty years with the exception of the completion of undertakings begun during William Robert Phillimore's lifetime, such as the building of Niddry Lodge and Hornton Villa (The Red House) by Stephen Bird (see pages 71–2). In April 1855, however, Charles Phillimore entered into a building agreement with Joseph Gordon Davis, a builder who had been operating in Pimlico for several years. (fn. 50) The agreement concerned an area of twenty-one acres now bounded by Holland Walk on the west, Duchess of Bedford's Walk on the north, Campden Hill Road on the east, and Phillimore Walk on the south, with the exception of a small plot at the corner of Campden Hill Road and Phillimore Walk on which a cottage had been built. Davis undertook to build 375 houses and Phillimore agreed to grant leases for terms which would be equivalent to ninety-nine years from 1855 at an ultimate total yearly ground rent after five years of £1,400 (equivalent to approximately £66 per acre). Davis was to provide the necessary roads and sewers and covenanted to complete the development within twelve years. A standard form of lease was attached to the agreement containing the usual covenants including a long list of prohibited uses. These were to be varied in the case of six shops and one public house which Davis was to be allowed to build in or near Phillimore Mews (now Phillimore Walk), apparently the only concession made to commerce in what was otherwise to be a purely residential development.
The agreement of 1855 was amended by two subsequent agreements. By December 1856, when only ten houses had been built, it had become clear that a total of 375 houses would lead to a greater density of housing than was desirable, and that the amenities of the large detached houses on Campden Hill would be likely to be adversely affected by too great a concentration of houses to the south of Duchess of Bedford's Walk. Accordingly the number of houses was reduced to 315 and none were to be built fronting on to Duchess of Bedford's Walk. In 1861, when seventy-eight houses had been built and thirty-nine were in the course of erection, another agreement was made in which the total number of houses was reduced still further to not less than 205 and not more than 225. At this time it was stated that detached and semi-detached villas had been built on some of the land rather than terraces as specified in the original agreement, it having been considered that 'Houses of that Character were better suited to the Locality and more eligible for Letting'. The total value of the houses to be built, including those already completed, was to be £215,000. The original terms on which Davis had taken the land were so favourable—with a total of 375 houses the ground rent per house would have worked out at less than £4 on average—that he could well afford to reduce the number of houses built; in the event 214 were erected.
The details of these agreements are contained in an Act of Parliament passed in 1862. (fn. 51) By this time doubts had arisen whether Charles Phillimore had the power under his father's will to enter into certain terms of the agreement with Davis, or whether he had the power to amend that agreement once made. In particular, the variations in ground rents of houses already leased (from £1 to £21), which was quite normal practice in large-scale building speculations, may have contravened a provision in William Robert Phillimore's will that building leases should be granted at 'the best or most improved yearly rent or rents ...that can be reasonably gotten for the same'. (fn. 49) An Act was therefore obtained confirming the leases already granted and authorizing the granting of further leases on similar terms.
Charles Phillimore died in 1863 before the development had been completed. He had remained a bachelor and the estate passed intact to his nephew, William Brough Phillimore. (fn. 52)
The tables on pages 75–6 contain a list of the lessees for all of the houses built under the agreements with Davis. The lessee of Nos. 7–13 (odd) Campden Hill Road has been included although these houses were built on the site of the cottage and its garden which had been excluded from the area taken by Davis. Most leases were granted in consideration of the expense incurred in building, the payment of rent and the performance of covenants. Several also specified a monetary consideration which in some cases represented the full value of the house but in other cases was clearly less than this. The highest price for any one house appears to have been £4,109 12s. paid by Lady George Paulet for No. 36 Phillimore Gardens—a spacious detached house with a large garden at the south-east corner of Phillimore Gardens and Duchess of Bedford's Walk although the lease was executed in the name of her son, St. John Claud Paulet. (fn. 53)
Specimen elevations and plans were attached to the original building agreement, but it is clear that each builder in practice supplied his own designs, and by the time of the third agreement of 1861 all that was required was that the elevations should be approved by Charles Phillimore. It is not known who designed the general layout, although Arthur Chesterton, who was Philimore's surveyor and estate agent, was probably consulted. George C. Handford, a Chelsea architect and surveyor, gave evidence before a committee of the House of Lords that the changes made after the initial building agreement were to the advantage of the estate, (fn. 54) but he may only have been brought in as an outside referec at this point.
In May 1856 Davis advertised that building land was available on ninety-nine-year leases, (fn. 55) and his first taker was James Jordan the younger, then of Paddington. It was not an auspicious choice. Jordan built eleven houses on the west side of Campden Hill Road—Nos. 15–35 (odd) and then became bankrupt in 1857. (fn. 56) By mid-1858 he was back in business, from an address in St. Ann's Villas, and began building on the east side of Argyll Road at the south end. At least two of his former creditors were prepared to lend him money again. (fn. 57) One of them was George Powell, a solicitor, and the other, Powell Warner, may have been related. Powell's firm—Powell, Thompson and Groom of Gray's Inn—also acted as solicitors for Joseph Gordon Davis, and it was no doubt through their help that the indefatigable Jordan was able to persist with his building activities. By 1859 he was back in trouble again, and Nos. 3 and 4 Argyll Road were sold while still in an unfinished state. (fn. 58) By March 1860 Nos. 5, 6 and 7 Argyll Road had been taken out of his hands and tenders for completing the houses were invited; the architect was stated to be E. W. Crocker. (fn. 59) Presumably Crocker was responsible for the appearance of the complete group of Nos. 2–7 (consec.) Argyll Road. No. 2 occupies two house sites of which Jordan had originally taken separate leases, but they had been joined together by 1861 when the premises were being used for a boarding-house. (fn. 60) The rest of the development appears to have proceeded relatively smoothly.
One builder who played a more extensive role than the table of lessees would indicate was Charles Frederick Phelps. When he took his first lease on the estate in 1860, Phelps was described as an architect and had an address in Furnival's Inn. He seems to have dropped the designation of architect quite quickly, however, for in the following year his name appeared in the Post Office Directory for the first time, as a builder, not an architect, and his address was given as No. 28 Phillimore Gardens. (fn. 7) Besides the houses of which he was the direct lessee, Phelps was granted sub-leases of some houses which had been leased to Davis and was also the builder of several others. (fn. 61) He was probably responsible for the whole of Essex Villas (south side now partly demolished), Nos. 24–30 (even) Phillimore Gardens, Nos. 2–4 and 14–18 (even) Phillimore Place and Nos. 7–13 (odd) Campden Hill Road. He went on to build extensively on the Holland estate.
Joseph Gordon Davis was himself responsible for most of the larger houses in Phillimore Gardens and Upper Phillimore Gardens (Plate 47a). (fn. 62) Two notable exceptions, both dating from 1859–60, were No. 31 Phillimore Gardens and No. 15 Upper Phillimore Gardens. The first was built for his own residence by George Eugene Magnus, a slate manufacturer who was also 'billiard maker to H.R.H. the Prince Consort'. (fn. 63) No. 15 Upper Phillimore Gardens was built by William Brass and Son of the City (fn. 64) to the designs of Deane and Woodward for William Shaen, a solicitor. In A History of the Gothic Revival Charles Eastlake described the house as 'A curious example of a suburban villa residence treated to a certain extent in a Medieval spirit. The front is of red brick, with stepped gables. A picturesque staircase turret is on the right hand of the building, and a Venetian-looking balcony projects from one of the windows. It cost 3,0001.' (fn. 65) In 1937 the house was 'reconstructed' by G. Grey Wornum to such an extent that virtually nothing of the original has survived, but a photograph of it is contained in the 1924 edition of Good and Bad Manners in Architecture by A. Trystan Edwards, where the design is described as 'conceived and inspired by Mr. Ruskin himself'. (fn. 66)
Most of the houses built as part of Davis's development are of the standard Italianate variety but one group of four houses in Phillimore Place (formerly Durham Villas) provides a contrasting Tudor Gothic touch (Plate 48a). It consists of two detached houses of red brick with blue brick in diaper patterns (Nos. 6 and 12) on each side of a semi-detached pair of similar design although fronted in ragstone (Nos. 8 and 10). The architect of all four was Henry Winnock Hayward of Lexden, near Colchester, who was the lessee of Nos. 6 and 12. (fn. c1)
The last street to be built to complete the enterprise was Stafford Terrace, for which leases were granted to Davis in March and April 1868 at a Yearly ground rent of £ 1 per house. (fn. 67) Each house was occupied by 1874, the year in which Edward Linley Sambourne, the illustrator and cartoonist, took up residence here. The interior and furnishings of his house have been little altered since his lifetime and today it provides an excellent example of High Victorian decorative taste (Plate 49a, b, c). (fn. 68)
The enumerators' books for the census of 1861 give an indication of the kind of people who were attracted to the new development. Returns were received from fifty-seven houses, just over a quarter of the number eventually built under the agreement with Davis. The occupants of the new houses were generally members of the substantial Victorian middle class and on average there were between two and three servants to each household. A considerable number of residents belonged to the professions. As might be expected there were several solicitors and barristers, including Charles Clode, the solicitor to the War Office, at No. 47 Phillimore Gardens, as well as surveyors, doctors and one dentist. Perhaps the most remarkable concentration was of artists, seven occupiers describing themselves as such; five lived in Upper Phillimore Gardens, the most noteworthy being Henry Tanworth Wells (at No.9), Frank Dillon (No.13) and William Duffield (No.4). Four men described themselves as clerks, but the size of their households indicated that they are probably in positions of considerable authority. There were a few army and navy officers, mainly retired, including Captain William Hutcheons Hall) at No. 48 Phillimore Gardens. Few individuals declared that they were living on unearned incomes, and those that did were mostly widows, although two men described their occupation simply as that of 'gentleman'.
As a result of the extension of the Metropolitan Railway to Kensington, some parts of the estate towards its eastern boundary were required by the railway company. The property which changed hands was Nos. 2–5 (consec.) Lower Phillimore Place, Hornton Street Chapel and the schools to the rear in Hornton Mews, some garden ground at the back of houses in Hornton Street, and Nos. 1 and 2 Upper Holland Street. (fn. 69)
Not all of the buildings purchased had to be demolished, and after completion of the railway, which was underground at this point, the company embarked on a policy of rebuilding on the surface. Between 1871 and 1875 Nos. 102–106 (even) Kensington High Street were built to replace Nos. 3–5 Lower Phillimore Place, No. 31 B Holland Street replaced No. 1 Upper Holland Street, Drayson Mews was laid out, and Nos. 3–6 (consec.) Hornton Place erected. The builder in all these cases was William Cooke of Paddington, who was later to build Airlie Gardens. He was granted building leases by the company for eighty- or eighty-five-year terms. (fn. 70)
The last major development undertaken on the estate during the nineteenth century was the building of Airlie Gardens on the curtilage of Elm Lodge. The opportunity was provided in 1878 when the Grand Junction Water Works Company surrendered the lease of Elm Lodge (see page 70). (fn. 71) The house stood in extensive grounds and a good deal of open space was preserved by building only on the north and east sides of the plot of land which was made available, leaving the remainder as a communal garden for the inhabitants of the new houses. At first eighteen houses were planned but the number became nineteen when two houses were built on the wedge-shaped site at the angle of the terrace and numbered 10 and 10A. Nos. 15 and 16 were destroyed during the war of 1939–45 and a block of flats has since been built in their place.
Although the houses in Airline Gardens appear relatively narrow, the majority have frontages of about twenty-three feet and they are exceptionally tall, most containing five storeys plus attic and basement (Plate 47b). They were undoubtedly designed to take full advantage of their situation near the summit of Campden Hill and command extensive views of the surrounding area. They remained in single-family occupation until 1929, when two of the houses were converted into flats. (fn. 72) An agreement for the sale of No. 17 before it was actually completed indicates that the house plans had been signed by the architect Spencer Chadwick, but whether he designed these houses or merely approved their design for William Brough Phillimore is not known. (fn. 73)
The builder was William Cooke, who was operating from a Hammersmith address when he first gave notice to the district surveyor of his intention to commence building in January 1881. (fn. 8) By January 1882 he had given notice for all nineteen houses, which were completed in carcase by the end of 1883. (fn. 74) William Brough Phillimore granted leases for ninety-nine years from Christmas 1880 at annual ground rents of £40 after a short peppercorn term for each house except Nos. 10 and 10A for which the ground rents were only £10 per annum each, no doubt because these houses were not only smaller in area but also did not have access to the communal garden at the rear. All of the leases were taken by Cooke with the exception of that for No. 4, which was granted to the first occupant on Cooke's nomination. (fn. 75)
For the most part Cooke financed his building operations by obtaining mortgages on the security of his leases in the usual manner. For instance, Nos. 2 and 3 were mortgaged to Richard Nicholson, William Brough Phillimore's solicitor, for £3,000 each. (fn. 76) Sometimes, however, he was able to find a prospective buyer who was willing to put down a substantial payment for a house before it had been completed. In this way the purchaser of No. 17 paid a deposit of £2,000 in August 1881 as part of the sum of £4,550 which he had agreed to pay for the house. (fn. 77) (fn. 9)
The leases contained provisions for the upkeep of the communal garden at the rear of the houses. The occupiers of the seventeen houses which backed directly on to it had the right to use the garden together with their families and domestic servants, and a committee of five persons was to be chosen from them with power to levy an annual compulsory rate to cover expenses. For several years the plot of ground immediately to the south of Airline Gardens which belonged to Bute House was sub-let to the garden committee and was known as the 'Lower Garden'. (fn. 79)
In 1891 the owner of No. 1 Airlie Gardens, Douglas William Freshfield, the explorer and geographer, (fn. 80) had an addition built on to the south side of his house in a style which has marked affinities with that of Richard Norman Shaw (Plate 47b). (fn. c2) Both the corner turret and the gable on the south wall of the extension resemble the latter's then recent work at New Scotland Yard. No evidence has been found, however, to suggest that Shaw was Freshfield's architect. The builders were S. and S. Dunn of Brewer Street, St. James's. (fn. 74)
William Brough Phillimore died in 1887 without issue. He left the estate to his widow for the rest of her lifetime, and, after her death, to Sir Walter George Frank Phillimore. He was the great-grandson of Joseph Phillimore, the younger brother of the William Phillimore who had inherited the estate in 1779. (fn. 71)
Since 1900
Sir Walter George Frank Phillimore, who entered into possession of the estate on the death of William Brough Phillimore's widow in 1900, was an international jurist of considerable repute and was created Baron Phillimore in 1918. (fn. 80) He quickly set about rebuilding some of the older properties on the estate. The late-Georgian terrace on the east side of Hornton Street was demolished in 1903 as soon as the original leases had expired, and a small block of flats (the present No. 12) and twenty-one houses were built in its place (Plate 46b). Originally Nos. 1–43 (odd), the new terrace was numbered Nos. 12–54 (even) Hornton Street in 1928. The architect was Frank Sydney Chesterton and the building lessees were Messrs. C. A. Daw and Son. Nos. 35–43 (odd) Holland Street were also built as part of this development. (fn. 82)
All of these terrace houses are similar in the picturesque massing of elements with a strong vertical emphasis, and consist of three main storeys over a basement with one or, in some cases, two storeys in the roof. Although most of the houses have been much altered internally, a typical arrangement of the accommodation consisted of the kitchen, storage rooms and servants' quarters in the basement, with the dining-room, one other room used as a library, study or morning-room, and a cloakroom on the ground floor, the main living rooms being on the first floor. Stylistically the houses may be divided into three groups. Nos. 35–41 (odd) Holland Street are small in scale and owe much to English vernacular traditions. The basement and ground storeys are faced with red bricks and the first and second storeys have rough-cast rendering. The roofs are of red tiles. Nos. 12–42 (even) Hornton Street are larger, with two attic storeys, dormers and gables, and very steep tiled roofs. The façades are entirely of brick with stone or artificial stone dressings. The tall bays, porches, windows and gables are composed with subtlety, so that although the houses are not identical there is a marked degree of unity, recalling streets of Flemish or North German houses. Nos. 44–52 (even) Hornton Street and No. 43 Holland Street have one attic storey and are based on a freely interpreted Queen Anne style. Throughout, many of the porches have walls lined with brilliant green coloured tiles.
F. S. Chesterton was also the architect, this time in collaboration with J. D. Coleridge, of Hornton Court (Nos. 116–138 Kensington High Street). This block of flats with ground-floor shops and originally an extensive terrace garden at first-floor level (Plate 11 2e) replaced Nos. 10–21 Lower Phillimore Place in 1905–7. Daw and Son were again the lessees. (fn. 83) Chesterton and Coleridge also collaborated in 1908 on the design of Sundial House (Nos. 108–114 Kensington High Street). (fn. 84)
The only other rebuilding to take place during the first Lord Phillimore's lifetime occurred when Blundell House (formerly known as Bute House) was pulled down shortly before the war of 1914–18. As the grounds of the house were very extensive its demolition enabled several new buildings to be erected. The southern part of the site, at the junction of Duchess of Bedford's Walk and Campden Hill Road, was let on a 999-year lease for the erection of buildings for King's College for Women (now Queen Elizabeth College, see page 72). (fn. 85) No. 1 Campden Hill was built in 1914–15 to the designs of E. P. Warren. (fn. 86) The present Blundell House (No. 2 Campden Hill) was built at the same time to the designs of Arthur G. Leighton of the firm of Gale, Gotch and Leighton, and later of Leighton and Higgs. He was also the architect of Little Blundell House (No. 3 Campden Hill), the studio-house built in 1927 for Sir William Llewellyn, who was President of the Royal Academy from 1928 to 1938. (fn. 87) A plot of ground on the north side of the road named Campden Hill also formed part of the original grounds of Bute House and another house was built here in 1914. Officially No. 71 Campden Hill Road, the house was called 'New House' at first but on becoming the residence of the South African High Commissioner in 1946 it was renamed High Veld. The architect was Henry Martineau Fletcher. (fn. 88)
Further redevelopment took place shortly after Lord Phillimore's death in 1929. The remainder of Lower Phillimore Place and Upper Phillimore Place were demolished in 1931–2 and replaced by three monumental blocks of shops and flats along Kensington High Street—Phillimore Court, Stafford Court and Troy Court. Of these Troy Court (Nos. 208–222 Kensington High Street), designed by Michael Rosenauer, (fn. 89) is the most interesting and stylistically advanced.
Campden Hill Gate, the two large blocks of flats on the north side of Duchess of Bedford's Walk, was also built at this time on land which had been taken from the gardens of Cam House (formerly Bedford Lodge), Holly Lodge and Thornwood Lodge. The architects were Paul Hoffmann, who was responsible for the planning, and J. D. Coleridge, who designed the facades. (fn. 90) The gap between the new flats and King's College of Household and Social Science (as Queen Elizabeth College was then called) was filled shortly before the war of 1939–45 by the erection of Duchess of Bedford House, another block of flats.
The war had a serious effect on some of the older properties on the estate, not only through enemy action, but also through the deterioration in the fabric of some of the large houses on Campden Hill which had been requisitioned for wartime use. Both Cam House and Moray Lodge suffered severely in this respect and in 1948 the London Country Council decided to purchase these properties together with Thorpe Lodge under a compulsory purchase order for housing purposes. A considerable amount of local opposition greeted this plan and in 1951 the Council decided to use the land for the erection of a school rather than housing. (fn. 91) Holland Park School was built on the site, Thorpe Lodge being preserved and used as part of the school premises.
Other parts of the estate which were sold after the war of 1939–45 were the sites of Holly Lodge and Thornwood Lodge, for extensions to Queen Elizabeth College, and the island site bounded by Hornton Street, Phillimore Walk, Campden Hill Road and Holland Street, which was purchased by the Kensington Borough Council in 1946 to provide a site for new municipal buildings. (fn. 92)
Hornton Street Chapel
The chapel which formerly stood at the south-east corner of Hornton Street and Hornton Place was erected in 1794–5 under a ninety-nine-year lease granted by William Phillimore in 1794 to William Forsyth, the superintendent of the royal gardens at St. James's and Kensington, John Broadwood, the pianoforte manufacturer, James Gray of Brompton Park, a nurseryman, and fames Mackintosh of Kensington, esquire. (fn. 93) Although the founders of the chapel included both Presbyterians and Independents, the Congregational form of worship was soon established. (fn. 94) In 1845 the building was enlarged to the designs of John Tarring, (fn. 95) but it still proved too small for the needs of its congregation and the Horbury Chapel was built in Kensington Park Road. When a further Congregational chapel was opened in Allen Street in 1855, the Hornton Street chapel was no longer needed and its minister moved to Allen Street. (fn. 96) In 1858 the building was re-opened as a Baptist chapel. (fn. 97) It was demolished c. 1927 for the building of Evelyn House.
Behind the chapel facing Hornton Mews (now Hornton Place) was a small school-house which took up part of the site leased in 1794 but was probably not built until 1815. (fn. 98) At first it appears to have been used primarily for a Sunday school in connexion with the chapel but in 1835 a school was established there under the auspices of the British and Foreign School Society. (fn. 99) It was demolished c. 1865 for the building of the Metropolitan Railway.
St. Mary's Roman Catholic Chapel, Holland Street
St. Mary's chapel in Holland Street was the first church specifically built for the Roman Catholic faith in Kensington since the Reformation. It was built under a ninety-year lease granted by William Phillimore in 1813 to Richard Gillow, who was the first occupant of Bute House (see below), and John Kendall of Kensington, a tallow chandler. (fn. 100) By the end of 1813 the first priest, Giles Viel or Gilles Vielle, who was probably a French emigre, had taken up residence. (fn. 22) In 1830 a charity school was established in the grounds of the chapel. On the restoration of the Catholic hierarchy in 1850 St. Mary's assumed the status of a parish church, but after the opening of the nearby Pro-Cathedral of Our Lady of Victories in 1869 it was no longer needed as a place of worship and was given over to the needs of the expanded school. The school buildings were demolished c. 1904, shortly after the expiry of the original lease. (fn. 101)
Bute House
Also known as Blundell House. Demolished
Bute House appears to have been the first to be completed (in 1812) of the seven houses which were built under the agreement of 1808 between William Phillimore on the one hand and John Tasker and Thomas Winter on the other and which were all probably designed by John Tasker (see page 62). The first occupant was Richard Gillow (d.1849), of the noted Lancashire Roman Catholic family of Gillow, and an active partner in the leading British cabinet-making firm of that name. His lease included the ground on which Elm Lodge was built to the north slightly later, but he surrendered this lease in 1817 and was granted a new one, excluding the site of Elm Lodge. The addition later of a two-acre field between the house and Campden Hill Road gave Bute House a spacious setting of just under six acres. (fn. 102)
The most notable early inhabitant was the second Marquess of Bute, after whom the house was named and who lived there from 1830 until 1842. During his period of residence several embellishments were made to the house. The next occupant was the Honourable William Sebright Lascelles, the brother of the third Earl of Harewood, and after his death in 1851 Lady Lascelles continued to live there until 1856. The aristocratic associations of the house were revived by the sixth Duke of Rutland who lived there from 1865 until his death in 1888. The last owner was Blundell Charles Weld, a Lancashire landowner, who changed his own name to Charles WeldBlundell and renamed the house Blundell House. After he left the house in 1912 or 1913 it was demolished. (fn. 103)
Thornwood Lodge
Also known as London Lodge. Demolished
Thornwood Lodge was another of the seven houses which can probably be attributed to John Tasker. The first occupant was Thomas Williams, a coachmaker of Oxford Street, who took up residence in 1813. (fn. 22) The original leaseholder was Thomas Kitching, a surgeon and apothecary, to whom Williams was indebted for over £3,000. Kitching's lease was of a long strip of land extending to the northern boundary of the estate, but after Thorpe Lodge had been built on the upper part of the plot this lease was surrendered in 1817 and new ones were granted to Williams for each house. (fn. 104)
Williams later acquired more property to the north of Thorpe Lodge and in 1827 purchased Notting Hill (Aubrey) House. At the time of his death in 1852 he owned property in Essex, Oxfordshire, Suffolk and Sussex as well as in several parts of London and elsewhere in Middle-sex. (fn. 105)
After Thorpe Lodge was finished Williams moved there and let Thornwood Lodge. Among the early residents were the Marchioness of Hastings (1817–23) and the fourth Earl of Glasgow (1824–30). (fn. 22) In 1833 Williams assigned the lease of the house— at this time called London Lodge—to Henry William Vincent, the Queen's Remembrancer, for £5,000. (fn. 106) Sir John Fowler, the eminent railway engineer, lived there from 1867 until his death in 1898. (fn. 107) The house was demolished c. 1956 to make way for new buildings for Queen Elizabeth College.
Holly Lodge
Also known as Airlie Lodge. Demolished
The third of the seven houses which can probably be attributed to John Tasker was completed by 1814 and is chiefly noteworthy as the last residence of Lord Macaulay, the historian. He took the house in 1856, partly on the suggestion of the Duke and Duchess of Argyll, who were then living in the house immediately to the west, and he died there in 1859. (fn. 108) (fn. 10) The seventh Earl of Airlie lived there after Macaulay's death and renamed the house Airlie Lodge. The name Holly Lodge was later revived, however. The house was demolished c. 1968 for further extensions to Queen Elizabeth College. The coach-house, built at the same time as the house, was modernized after the war of 1939–45 for occupation by a member of the Phillimore family, and is still standing at present (1972).
Bedford Lodge
Also known as Argyll Lodge and Cam House.
This house—the fourth of the seven which were built and probably designed by John Tasker—was occupied in 1815 by Lieutenant-General John Fraser (later General Sir John Fraser). (fn. 110) He only lived there until 1819, when a Major Colegrave took over the lease. (fn. 22)
In 1823 the sixth Duke of Bedford took an assignment of the lease for £5,250. (fn. 111) He had been searching for a house of convenient size near London and the proximity of Holland House was no doubt a factor influencing his choice. (fn. 112) He immediately set about enlarging what was basically a simple Regency villa and employed as his architect Jeffry Wyatt (later Sir Jeffry Wyatville), who had previously undertaken work for the Duke at Woburn Abbey. An addition was built on to the east side of the house in 1823 (Plate 45), and six years later Wyatville drew up plans for an extension to the west. These were probably not carried out, as another set of designs was made in 1835 and work began on the new extension in 1836. (fn. 113) These alterations made the house one of the most lavish on Campden Hill and for several years it was valued more highly for rating purposes than Holland House. (fn. 22) After the Duke's death in 1839 the Dowager Duchess continued to live at Bedford Lodge and made it a famous centre for social gatherings. (fn. 114) Shortly after her death in 1853 it was taken by the eighth Duke of Argyll, who renamed the house Argyll Lodge and kept it until his death in 1900.
Sir Walter G. F. Phillimore (later Lord Phillimore), who came into possession of the Phillimore estate in 1900, took the house for his own occupation in January 1901. (fn. 115) He renamed it Cam House, after the place in Gloucestershire where his remote ancestors had lived. After Lord Phillimore's death it was leased by an American, Mrs. St. George, who carried out several alterations and built another house in the grounds called Plane Tree House. (fn. 116) (fn. 11) After being requisitioned for military use during the war of 1939–45 Cam House fell into disrepair. It was demolished in 1955 for the building of Holland Park School.
Elm Lodge
Elm Lodge, on the site of Airlie Gardens, was the first to be demolished of the seven houses which were built and probably designed by John Tasker. The first occupant was Sir James McGrigor, who was a noted army surgeon and had been chief of the medical staff of Wellington's army during the Peninsular War. (fn. 117) In 1843 he sold the house, together with some freehold land he owned to the north, to the Grand Junction Water Works Company (see page 99). For several years it appears to have been used as the residence of the superintendent of the company's reservoir, (fn. 12) but after the completion of new buildings to the north of the reservoir it was occupied by Alexander Fraser, who was firstly assistant engineer and later engineer to the company. (fn. 119) In 1878 the company surrendered the lease and the house was demolished for the building of Airlic Gardens.
Thorpe Lodge
Thorpe Lodge is the only survivor of the seven houses which were built and probably designed by John Tasker between 1808 and 1817 but it has been substantially altered.
The first leaseholder was Thomas Williams, who moved to the new house in 1816 from Thornwood Lodge to the south. (fn. 120) He left the house in 1829 to move to Hillingdon and sub-let it to Edward Stone, a draper, together with a substantial piece of ground to the north of the house which Williams had purchased in 1820 (see page 99). (fn. 121) In 1869 Stone surrendered his lease of the additional piece of ground to the Grand Junction Water Works Company, which had purchased the freehold, for £3,000, a sum which was calculated to include compensation for the adverse effect on Thorpe Lodge of the new reservoir the company was planning to build on the site. (fn. 122)
In c. 1875 the house was taken by Henry Tanworth Wells, the painter. He lived there until his death in 1903 and had a studio added to the west side of the house to the designs of John Lough-borough Pearson. (fn. 123)
In 1904 Thorpe Lodge was occupied by Montagu Collett Norman, later created Baron Norman, who was Governor of the Bank of England from 1920 until 1944. He immediately began to redesign the interior and employed as his architect Walter Knight Shirley (later eleventh Earl Ferrers). (fn. 124) Several of the decorative features and items of furniture were based on Norman's own sketches. The principal craftsmen employed were A. J. Shirley for the metalwork and J. H. Wakelin, with his chief joiner Robert King, for the furniture and joinery. Some items of furniture were brought from the Guild of Handicrafts and from Arts and Crafts exhibitions. (fn. 125)
When it was announced in 1948 that Thorpe Lodge was included in an area which the London County Council was planning to acquire for housing purposes, there was a considerable local outcry at the proposed demolition of the house. The L.C.C. eventually decided to use the site for a school rather than for housing purposes and agreed to preserve the house as part of the school premises. In 1956 Lady Norman made a gift to the Council of several items of furniture and decoration in the house. (fn. 126) Wells's studio, which had been turned into a music room by Norman, is now used as the school's library.
The interior of Thorpe Lodge, despite the addition of desks and bookshelves, still bears testimony to the complete transformation undertaken in a contemporary style between 1904 and 1912. The influence of Ernest Gimson is evident, not only in the plasterwork of the friezes and ceilings, but also in the use of richly figured woods, such as maple. The views of Halsey Ricardo may have prompted the use of hard, rich surfaces for some of the interior walls, especially the entrance hall. Here the walls are lined with tiles made of fractured silicone compounds used in the manufacture of crucibles for smelting, the effect of which, rather similar to mother-of-pearl, was greatly admired by Norman. There are also panels of de Morgan tiles, of basically turquoise and ultramarine colouring, in some of the fireplace surrounds.
Moray Lodge
Also known as West Lodge. Demolished
Formerly known as West Lodge, this was the last to be completed of the seven houses which can all probably be attributed to John Tasker. Tasker himself was the first leaseholder in 1817, and he may have intended to live there but he died later in the same year. (fn. 127) According to the ratebooks the first occupant was Patrick King in 1818.
The name Moray Lodge was given to the house by James Malcolmson, a Scotsman, who lived there from 1844 until 1861. (fn. 22) For most of the remainder of the nineteenth century it was occupied by Arthur Lewis, of the silk mercers' firm of Lewis and Allenby, and he made it a centre for artistic and literary social events. (fn. 128) In 1873–4 the house was extensively alteres by Lucas Brothers, builders, of Lambeth, (fn. 74) and, externally at least, little was left of the original house.
Moray Lodge was requisitioned during the war of 1939–45 and was used for various official purposes afterwards. It was demolished in 1955 for the building of Holland Park School.
Niddry Lodge
This detached house, which was faced with stucco and consisted of two main storeys, was built by Stephen Bird (see below). (fn. 129) It was first occupied in 1831 by General Sir John Fraser, who had also been the first occupant of Bedford Lodge, and he lived there until his death in 1843. The next inhabitant was the Dowager Countess of Hopetoun, widow of the fifth Earl. One of the Earl's titles was Baron Niddry and it was no doubt during the Countess's occupation that the name Niddry Lodge was acquired. After her death in 1854, the house was taken by John Francis Campbell, Chief of the Campbells of Islay. (fn. 130) In 1972 it was demolished by Kensington and Chelsea Borough Council, which by then owned the freehold of the site, to make way for a new Town Hall.
The Red House
Formerly known as Hornton Villa. Demolished
This house was built by Stephen Bird for his own occupation. He moved in during 1835 and in the following year was granted a lease by Charles Phillimore for ninety-nine years from 1828; (fn. 131) he called the house Hornton Villa. Bird was one of the most notable builders and brickmakers of Kensington. He owned a sixteen-acre brick-field to the west of the Potteries and in 1836 gave evidence to the Commissioners of Excise Inquiry as one of the eminent brickmakers in the neighbourhood of London. (fn. 132) In 1861, when he was eighty years old, his brickmaking business was still flourishing and employed nearly one hundred hands. (fn. 60) At this time he also described himself as a farmer with about forty acres of land. For several years he conducted his building operations in partnership with his son Henry and extended his activities to other areas of London besides Kensington. (fn. 13) In 1838–9 he secured the contract for constructing the new covered part of the Counter's Creek sewer made necessary by the building of the West London Railway, and he was praised by the Westminster Commission of Sewers for the efficient and satisfactory manner in which the work had been carried out. As a result of the precarious financial condition of the railway company he had to take a substantial part of his payment for this work in shares in the enterprise, and after the failure of passenger operations in 1844 he played an increasingly important role in the company's affairs, later becoming its chairman. (fn. 133) Bird died in 1865 when nearly eighty-five years old and The Builder described him as a man who was 'well known for his integrity and good sense'. (fn. 134) After his death the rates on Hornton Villa were paid by his son William, who was also a builder. (fn. 22)
Other occupants included William Martin (later Baron) Conway, the art critic and explorer, and Herbert Hoover, who afterwards became President of the United States. Between 1907 and 1916 Hoover used the house 'as a European lodging place. . .although frequently sublet', and when he left it for the last time it was with some regret: 'The house with its quaint garden in the middle of a great city was a place of many affections, many happy recollections, and of many stimulating discussions.' (fn. 135)
In 1888 W. J. Loftie described the house as having been 'added to in an incongruous fashion; for originally though only a stucco villa it had some architectual pretensions, being in the style described in Vitruvius as Etruscan Doric'. (fn. 136) Several alterations appear to have been made in 1885 when a new red-brick stable block was built by Peto Brothers. (fn. 74) At the time of the demolition of the house in 1972, however, several features of the Tuscan style were still evident, particularly the caves-framed pediments and over-hanging roots.
The Abbey
The Abbey, which stood at the north-east corner of Phillimore Walk and Campden Hill Road (the site is now occupied by the western part of the Central Library), was built in 1879–80 for William Abbott, a stockbroker. It had no religious associations and owed its name to the humorous caprice of its owner. Abbott, who less than twenty years before had been a draughtsman in the Copyhold, Inclosure and Tithe Commission Office, (fn. 137) had acquired a leasehold interest in most of the island site bounded by Phillimore Walk, Campden Hill Road, Holland Street and Hornston Street either through assignments or under-leases. He was thus able to provide one and a half acres of grounds for his new house at the expense of substantially reducing the gardens of The Red House and Hornton Cottage. New stables were built along the north side of Phillimore Walk at the same time as The Abbey, while the house at the north-western corner of Hornton Street and Phillimore Walk, which had been built in 1812, was rebuilt and named The Grey House. Abbott surrendered the leases he had secured and was granted new ones by William Brough Phillimore. He had to pay a ground rent of £270 for The Abbey and its large garden for a term ending in 1954. (fn. 138) The house was destroyed by bombing during the war of 1939–45.
The Abbey and its attendant buildings along Phillimore Walk were remarkable structures in the Decorated Gothic style. They were built in Kentish rag with carved stone enrichments and red and black tile roofs. The interior of the house was a sumptuous piece of historical extravaganza dominated by a series of halls on the ground floor and a grand staircase. Statues and wooden panels depicted scenes from English history, stone figures representing England, Scotland and Ireland were placed in niches in the outer hall, and in some of the windows stained glass depicted characters from the Arthurian legends. Abbott's architect was Henry Winnock Hayward, who had designed the house in which Abbott lived (No. 8 Phillimore Place) before moving to The Abbey. The builders were Haward Brothers of St. Marylebone. (fn. 139)
Queen Elizabeth College
Formerly Department of Household and Social Science of King's College for Women and later King's College of Household and Social Science
In 1878 a course of lectures for women, held under the auspices of King's College in the Strand, was given in the Vestry Hall at Kensington. They were so well attended that No. 5 Observatory Avenue (now No. 9 Hornton Street) was taken as the venue for the lectures in the following year. In 1885 King's College Women's Department was inaugurated and new premises taken at No. 13 Kensington Square. Under the King's College London Transfer Act of 1908 a semi-autonomous King's College for Women was envisaged, and although Nos. 11 and 12 Kensington Square were taken over it soon became clear that new permanent buildings would be necessary.
The demolition of Blundell (formerly Bute) House provided a convenient site and the University of London took a 999-year lease of the southern part of the grounds of the former mansion, on which new college buildings were erected to the designs of Adams and Holden in 1914–15. The architect who appears to have been principally concerned was Charles Holden and the general contractors were Wallis and Sons of Maidstone. (fn. 140) When the new buildings were opened in 1915 they only housed the Household and Social Science Department of the college and a hostel for students, the remaining departments having been moved to the Strand as a result of the recommendations of the Haldane Commission on university education in London. In 1928 the department on Campden Hill was constituted a separate college under the title of King's College of Household and Social Science and in 1953 it was granted a Charter of Incorporation as Queen Elizabeth College. (fn. 141)
The college buildings were damaged during the war of 1939–45 and part of the east wing had to be rebuilt. Since then the expansion of its curriculum to cover the sciences generally has necessiated the construction of new buildings on the former sites of Thornwood Lodge and Holly Lodge.
Holland Park School and West London College of Commerce
The planning of Holland Park School was partly dictated by a concern to preserve certain amenities of Campden Hill in deference to the wishes of local residents. The height of the school buildings has been restricted to a maximum of four storeys and care has been taken to preserve as many trees as possible. The footpath at the west end of the roadway named Campden Hill, which follows the line of an ancient footpath, has been preserved even though it passes through the school site; footbridges have been constructed to connect the parts of the school to the south and north of it. The original entrance lodge to the grounds of Wycombe Lodge (see page 99) has been retained and used as the schoolkeeper's house, and, more importantly, Thorpe Lodge has been preserved and adapted for school use. Building began in 1956 and the school took its first pupils in 1958. The London County Council Architect's Department was responsible for the design, the architect-in-charge being D. Rogers Stark. (fn. 142)
Central Library, Phillimore Walk
In 1946 the Royal Borough of Kensington purchased land bounded by Campden Hill Road, Holland Street, Hornton Street and Phillimore Walk in order to provide a site for new municipal buildings. The provision of a new central library for the borough was regarded as a matter of some urgency and E. Vincent Harris was retained as architect. As soon as his design was made public there was dissatisfaction in some quarters at its conservative nature and several students from colleges of art and architecture marched in protest. Harris is quoted as saying that the borough council did not want anything modern in style and that 'They wanted a building of good manners. So I designed the Library in a modern English Renaissance style, which is in keeping with the Royal Borough. . . . It will be a manly type of building, an example of dignified architecture. Architectural good manners are rare today. It will be a durable building and I am sure it will outlast the modern ones.' The Library is faced with red Berkshire bricks and Portland stone dressings over a steel and concrete frame. It was opened in July 1960. (fn. 143)
Nos. 1–37 (odd) Hornton Street, Observatory Gardens and Campden Hill Court
The larger of the two plots which were sold by W. R. Phillimore to (Sir) James South in 1827 (fig. 8) (fn. 144) included the houses which had formerly been the residence of the Phillimore family. Little is known about this house, but it was probably built shortly before 1730 for John and Ann Seymour. (fn. 145) When sold the house was no longer used by the Phillimores and had been let to tentants for several years.
James South, who was knighted in 1830, was an astronomer, and he bought the land at Campden Hill as a convenient place for his observations. He lived in the eighteenth-century mansion, which he renamed Observatory House, and had a new observatory built nearby. Among his equipment was a twelve-inch lens, which he had purchased in Paris, and in 1830–1 he had a dome built on to his observatory under the superintendence of Isambard Kingdom Brunel and arranged to have the lens mounted in an instrument made by Troughton and Simms. South, who was an intemperate man, was involved firstly in a dispute over the building of the dome and then in a long lawsuit with the instrument-makers. He claimed that their work has not been executed satisfactorily, but lost the case. He promptly broke up the instrument, selling the metal as scrap in a public auction which was held in his grounds. In 1862 he presented the lens, which had brought him a great deal of trouble, to the observatory of Trinity College, Dublin. (fn. 146)
South died in 1867 but a dispute over his will held up the disposal of his property. Eventually in 1870 his land at Campden Hill was sold to Thomas Cawley of Prince of Wales Terrace, South Kensington, a builder, for £19,350. (fn. 147) Cawley drew up plans for building on the land, which he called The Observatory estate. According to these plans, two new roads were to be formed, one from east to west (Observatory Gardens), and the other from north to south through the centre of the plot. The latter road was never constructed (the site is now occupied by the blocks of flats called Campden Hill Court) and far fewer houses were built on his estate than Cawley had envisaged. At the start he entrusted operations to other builders with whom he entered into building agreements. Jeremiah Olive Hayward and Josias Stephens of Paddington were to be responsible for Observatory Gardens, while Francis McFarland and Henry Nance of Hackney agreed to build the terrace originally named Observatory Avenue, now Nos. 1–37 (odd) Hornton Street (Plate 47c), and other houses on the southern part of Cawley's land. Building began in 1873 and the capital was largely provided by Cawley himself, partly out of a sum of £2,000 which he had raised by mortgaging the whole plot in 1871, but both building firms were soon in difficulties. Hayward and Stephens were not able to fulfil their agreement and Cawley had to resume possession of the houses which they had built. McFarland and Nance were declared bankrupt in 1875 and apparently did not complete any houses. (fn. 148) Cawley then took over most of the building operations himself, although Nos. 31–37 Hornton Street were erected by another builder, William Frayte. The final houses in Observatory Gardens were not begun until 1883 and are somewhat plainer than the rest. (fn. 74) Cawley granted long-term leases of some houses to a firm of house agents, but most appear to have been let by him directly on short-term leases at rents ranging between £150 and £200 per annum. In at least one case the lessee was given the option to purchase the freehold for £3,800. (fn. 149)
The terraced houses in Hornton Street and Observatory Gardens, which were built as part of Cawley's development, are of basically similar design, each consisting of three main storeys over a semi-basement with a steeply pitched roof containing garrets. They are built of red brick with profuse and florid dressings in painted stone or cement.
The open space which was left facing Campden Hill Road was eventually filled by the building of the large blocks of flats called Campden Hill Court to the designs of Frederick Pilkington (Plate 112c). Buildings began in 1898, the year of Pilkington's death, and his son, E. C. Pilkington, acted as architect during the period of construction. The builder was Thomas Boyce of Bloomsbury. (fn. 150) (fn. c3)
Nos. 44–50 (even) Holland Street and No. 56 Hornton Street
The smaller of the two plots purchased by (Sir) James South from W. R. Phillimore in 1827 (fig. 8) was in turn sold by him in 1840 to Lewis Duval of Lincoln's Inn, a barrister. (fn. 151) Duval had three pairs of semi-detached houses built, two pairs on the north side of Holland Street known as Hornton Villas, and one pair on the south side of Pitt Street known as Upper Hornton Villas (now demolished). The former were renumbered as Nos. 44–50 (even) Holland Street in 1869. These stucco villas, consisting of two storeys above a basement, were completed by 1845 (Plate 46c). They were not erected under building leases, and the builder was probably Duval's nephew, John Duval. (fn. 152) No. 56 Hornton Street was originally built as an addition to No. 50 Holland Street in the late nineteenth century, possibly during the occupation of the house by Sir Charles Stanford, the composer, and it was converted into a separate house in the 1950's. (fn. 153)
PHILLIMORE ESTATE LESSEES 1856–68
The names are those of the first lessees of the houses erected under the building agreements made between Charles Phillimore and Joseph Gordon Davis of Pimlico, builder, with the exception of Nos. 7–13 (odd) Campden Hill Road, which were not covered by the agreements. The dates refer to the years in which the leases were granted: these are not always the date of actual building. Leases dated between 1856 and 1863 were granted by Charles Phillimore and those between 1864 and 1868 by William Brough Phillimore. Most were granted in consideration of the expense incurred in building, but where it is known that a monetary consideration other than ground rent was also involved this has been noted. The chief sources are the records of Messrs. Chesterton and Sons at the Phillimore Estate Office, Kensington High Street, and the Middlesex Land Register in the Greater London Record Office at County Hall.
Argyll Road, east side
2–4 consec.
James Jordan the younger of St. Ann's Villas, builder, 1858.
5
John Humphrey Hunter of Paddington, gentleman, at the request of Jordan, 1859. Hunter paid £220 to Jordan.
6 and 7
Jordan, 1859.
9
Caroline Hare of Upper Phillimore Place, spinster, at the request of Jeremiah Little of Wilton Villa, Sheffield Terrace, builder, 1862. Hare paid £1,320 to Little.
11–47 odd
Jeremiah Little, 1861–2.
49
Octavius George Perrott of Norland Place, late captain in H.M. 15th Light Dragoons, at request of Jeremiah Little, 1861. Perrott paid £1,050 to Little.
51
James Beeby of Clarendon Road, gentleman, at request of Jeremiah Little, 1860. Beeby paid £1,000 to Little.
53
Jeremiah Little, 1862.
55
Samuel Read of Paddington, gentleman, at request of Jeremiah Little, 1861. Read paid £990 to Little.
Argyll Road, west side
8
James Furnell of Argyll Road, gentleman, at request of Henry Little of Vicarage Gardens, builder, 1862. Furnell paid £1,100 to Little.
10–38 even
Henry Little, 1861–2.
40
Jane Emma Streatfield of West Ham, widow, at request of Henry Little, 1861. Streatfield paid £1,080 to Little.
42–54 even
Henry Little, 1860–1.
Campden Hill Road, west side
7–13 odd
Charles Frederick Phelps of Russell Road, builder, 1867.
15–35 odd
James Jordan the younger of Paddington, builder, 1856–7.
37–59 odd
Stephen Bird of Hornton Villa, esquire, 1859. Nos. 49 and 51 demolished.
Essex Villas, north side
1
William Hay of St. George's, Hanover Square, baker, at request of Charles Frederick Phelps of Paddington, architect, 1861. Hay paid £300 to Phelps.
3
Hay at request of Phelps, 1861. Hay paid £240 to Joseph Gordon Davis and £60 to Phelps
5–15 odd
Charles Edward Smith of Pimlico, esquire, 1861–2. Smith paid £300 to Davis for each house.
17–21 odd
Davis, 1863.
Essex Villas, south side
2
Charles Edward Smith, 1861. Smith paid £300 to Davis.
4
Smith at request of Charles Frederick Phelps, 1861. Smith paid £300 to Phelps.
6 and 8
Smith, 1862. Smith paid £300 for each house to Davis.
10–20 even
Davis, 1863–4. Nos. 12–20 demolished.
Phillimore Gardens, east side
4–20 even
William Henry Cullingford of Pernbridge Villas, builder, 1863.
24
Charles Frederick Phelps of Furnival's Inn, Holborn, architect, 1860.
26
William Henry Ashurst of Old Jewry, gentleman, and Rev. John David Glennie the younger, of St. George's, Hanover Square, 1860. Ashurst and Glennie paid £400 to Davis.
28 and 30
John Thompson of Chelsea, esquire, 1860. Thompson paid £380 for each house to Davis.
32
Henry Burton of Aldersgate Street, City, builder, 1861.
34
Davis, 1863.
36
St. John Claud Paulet, a lieutenant in the 5th Dragoons, 1864. Paulet paid £4,109 12s. to Davis.
Phillimore Gardens, west side
1 and 2
James Wild of Shaftesbury Terrace, Kensington, builder, 1857. Demolished.
3–17 odd
William Henry Cullingford, builder, 1860–1. Nos. 3–7 demolished.
17A and 21
William Yeo of Paddington, builder, 1858.
23–29 odd
George Eugene Magnus of Hammersmith, esquire, 1861–2.
31
Magnus, 1860. Magnus paid £440 to Davis.
33–37 odd
Henry Burton, builder, 1860–1.
39
John Fuller Maitland of St. Marylebone, esquire, 1863. Maitland paid £3,500 to Davis.
43
William Norris Nicholson of Bloomsbury, esquire, 1863.
44
Isaac Solly of Enfield, esquire, and Edward Harrison Solly of Cheshire, esquire, 1862. Lessees paid £2,800 to Davis.
45
James Staats Forbes of Hyde Park Gate South, esquire, 1862. Forbes paid £2,800 to Davis.
46
Louis Edward Engelbach of Brompton Crescent, esquire, 1861. Engelbach paid £2,600 to Davis.
47
Charles Mathew Clode of War Office, Pall Mall, esquire, 1860.
48
William Hutcheons Hall of Lansdowne Road, captain in the Royal Navy, 1860. Hall paid £2,386 to Davis.
Phillimore Place, north side
1
Henry Burton, builder, 1861.
3–17 odd
Davis, 1866.
19
Jeremiah Little, 1862. Little paid £528 to Davis. Demolished and rebuilt as two houses (Nos. 19 and 21).
Phillimore Place, south side
2 and 4
Valentine Holmes of Tottenham, esquire, 1861. Holmes paid £340 for each house to Davis.
6
Henry Winnock Hayward of Essex, architect, 1861. Hayward paid £340 to Davis.
8 and 10
John Kingham Reeves of Berkshire, esquire, 1861. Reeves paid £200 for No. 8 and £320 for No. 10 to Davis.
12
Henry Winnock Hayward, 1861. Hayward paid £430 to Davis.
14
Davis, 1864.
16 and 18
Charles Frederick Phelps, 1864.
Stafford Terrace, north side
Stafford Terrace, south side
Upper Phillimore Gardens, north side
1
George Augustus Elliott of Campden Hill, esquire, 1859. Elliott paid £1,750 to Davis.
3
Thomas Brooks of Campden Grove, esquire, 1858. Brooks paid £1,309 to Davis.
5
Thomas Allen of Hammersmith, esquire, 1857. Allen paid £380 to Davis.
7
Henry Burton, builder, 1858.
9
Henry Tanworth Wells of St. Marylebone, artist, 1858. Wells paid £1,720 to Davis.
11
Burton, 1859.
13
William Henry Ashurst and Rev. John David Glennie the younger, 1859. Ashurst and Glennie paid £380 to Davis.
15
William Shaen of Holborn, esquire, 1860. Reconstructed.
17
Edward Mansell of Gloucester Road, esquire, 1859. Mansell paid £3,000 to Davis. ?Rebuilt.
19
Hon. William Pitt Lennox, 1859. Lennox paid £1,840 to Davis.
21–25 odd
Davis, 1863.
Upper Phillimore Gardens, south side
2
William Addison Combs of Upper Phillimore Gardens, gentleman, at request of Jeremiah Little, 1860. Combs paid £1,340 to Little.
4
William Duffield at request of Henry Little, 1860. Duffield paid £1,240 to Little.
6
Jeremiah Little, 1862. Little paid £500 to Davis.
8–22 even
Davis, 1865.
24 and 26
Henry Burton, builder, 1861.