Pages 161-162
Survey of London: Volume 5, St Giles-in-The-Fields, Pt II. Originally published by London County Council, London, 1914.
This free content was digitised by double rekeying and sponsored by English Heritage. All rights reserved.
LXXIII.—No. 11, BEDFORD SQUARE. (fn. 1)
Ground landlord and lessee.
Ground landlord, The Crown; lessee, George Frederick Hatfield, Esq.
General description and date of structure.
This house (Plate 76) is situated at the south-eastern end of Gower Street, with its entrance in Montague Place. It has no connection with the Bedford Square blocks. The boundary between the parishes of St. Giles-inthe-Fields and St. George, Bloomsbury, passes through the house, and is indicated by two tablets fixed to the flank wall.
The house has an interesting plan (Plate 75). The small hall is entered through a semi-octagonal bay, and beyond is the staircase lighted by a lantern. To the left is the original dining room with a cleverly screened serving door at the head of the basement stairs. The white marble and inlay chimneypiece in this room is a fine specimen of carving (Plate 77).
The room to the right is now used as the dining room. It has been considerably altered in appearance by a modern partition, but its original form can be seen by the plan. The eastern side is circular, and has a casement window affording access to a verandah, which is screened by the two small rooms on either side. A curious feature to note is that the northern room impinges upon the first house in Gower Street.
The drawing room on the first floor has a sculptured white marble chimneypiece, and an enriched frieze and cornice (illustrated below).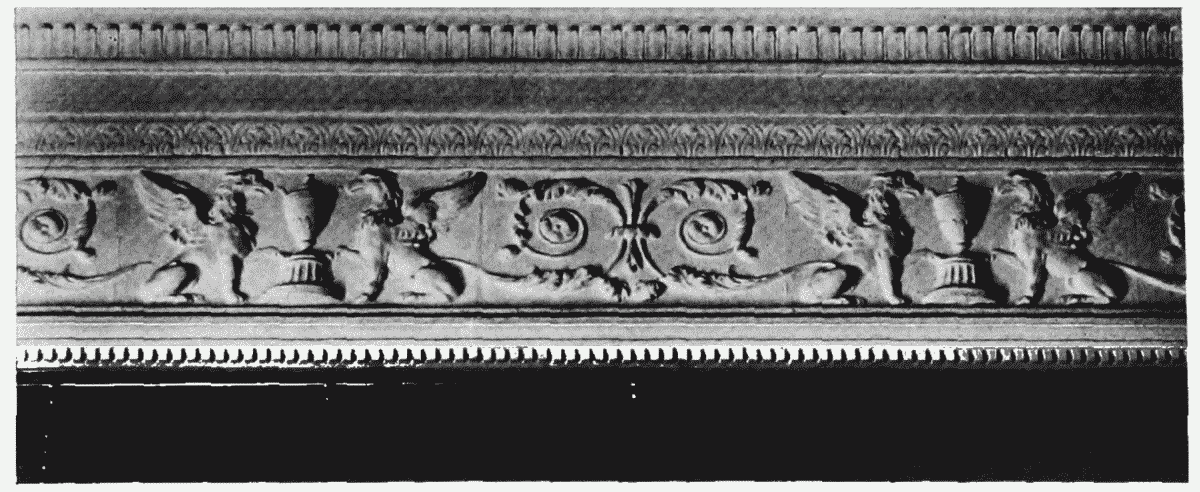 Condition of repair.
The premises are in good repair.
Biographical Notes.
The ratebooks show that the occupants of this house before 1800 were as follows:—
1782–84.
Dr. Tye.
1784–86.
Hon. John Cavendish.
1786–.
Hon. Henry Cavendish.
Henry Cavendish was the elder son of Lord Charles Cavendish, brother of the third Duke of Devonshire, and was born in 1731. His only interest in life seems to have been in natural philosophy, and his manners were characterised by extraordinary reticence and timidity. His scientific discoveries were remarkable, and his work was not only exceedingly wide in scope, but marked by extreme accuracy. In 1766 he began a brilliant series of communications to the Royal Society on the chemistry of gases, containing amongst others his discoveries of the compound nature of water and the composition of nitric acid. He apparently anticipated Black in the discovery of latent heat and specific heat; and he will ever be known to fame as the first man to determine accurately the density of the earth. He died on 10th March, 1810. Most of his time seems to have been spent at his residence near Clapham Common, No. 11, Bedford Square serving as a town house. In 1904, the Duke of Bedford affixed on the latter house a bronze tablet commemorative of Cavendish's residence.
In the Council's Collection are:—
(fn. 2) Ground and first floor plans (measured drawing).
(fn. 2) Exterior (photograph).
General view of staircase from entrance hall (photograph).
(fn. 2) Marble chimneypiece in front room on ground floor (photograph).
Rear room on ground floor (photograph).
Marble chimneypiece in drawing room on first floor (photograph).
(fn. 2) Detail of frieze and cornice in drawing room on first floor (photograph).