Pages 28-32
Survey of London: Volume 7, Chelsea, Part III: the Old Church. Originally published by London County Council, London, 1921.
This free content was digitised by double rekeying and sponsored by English Heritage. All rights reserved.
Monuments in the Lawrence chapel
The Lawrence Chapel. East Wall.
An inscribed slab of touchstone, or black marble, is surrounded by a wide border of alabaster carved with arabesque ornament; a circular column of touch with alabaster base and capital of the Corinthian order stands on each side, the whole being supported by a moulded ledge of black marble with a shield of arms in the centre. A simple moulded cornice rests directly on the capitals and the carved border, but is cut away in the centre for an achievement of arms, which extends into the tympanum under the segmental pediment that crowns the design.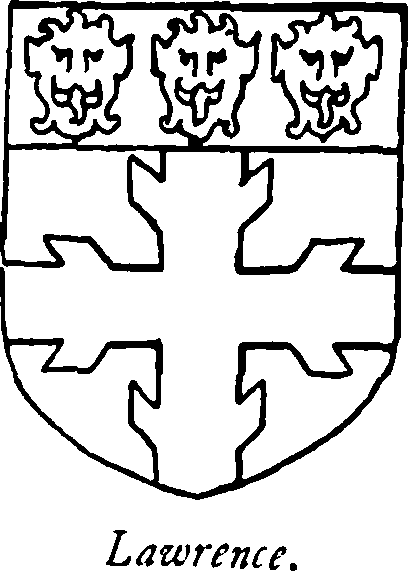 SACRED TO THE MEMORY
Of Sr Iohn Lavrence Late of Iver in ye covnty
of Bvcks Knight & Baronet who married Grissell
davghter & coheire of Gervase Gibbon of Benenden
in the covnty of Kent Esq by whom he had issve
seven sons and fovre davghters Hee deceased the
xiith of Novembr. 1638. aged 50 years.
When bad men dy & tvrne to their last sleepe
What stir the Poets and ingravers keepe
By a faind skill, to pile them vp a name
With termes of good & ivst, ovt lasting fame
Alas poore men, svch have most neede of stone
And Epitaphs. The good (indeed) lack none
Theire owne trve worth's enovgh to give a glory
Vnto th' vncankerd Records of theire story
Svch was the man lyes heere yet doth Pertake
Of Verse and Stone bvt tis for fashon sake.
Arms: Argent, a ragged cross gules; on a chief azure, 3 leopards' heads or (Lawrence). Crest: a demi-turbot.
The shield at the base bears Lawrence impaling sable, a leopard rampant between 3 scallops or (Gibbon).
For the connection between the Lawrence family and Chelsea, see Survey of London, Vol. IV, Pt. II, p. 58, and Mr. Randall Davies' Chelsea Old Church. Inscriptions commemorating the wife and two children of Sir John Lawrence are given with the floor slabs on pp. 55–6.
Lawrence Chapel. North Wall.
A wall tablet with two groups of kneeling figures, each beneath a semi-circular arch, to the left the effigies of Thomas Lawrence and three sons, and to the right those of his wife, six daughters, and the figures of two babies by her side. The arches rest on moulded responds which continue as a dado across the back of the monument. Over the arches is an architrave and frieze, but the cornice and sections of the rest of the entablature are projected forward over three Corinthian columns, which stand free. The figures are on cushions on a deep moulded ledge, which breaks forward beneath the columns and over three console brackets. Between these brackets are two inscription panels. There is a shield of arms in the spandrel between the two arches and behind the centre column. A large achievement of arms in a circular medallion of strapwork crowns the tablet, and two smaller shields on backgrounds of strapwork stand each side upon the cornice.
The yeares wherin I liv'd weare fifty fowre
October twentye eyght did end my life
children five of eleven, God left in store
sole comfort of theyr mother & my wife.
The world can say what I have bin before
what I am now examples still are rife
Thvs Thomas Larrance spekes to tymes ensving
that death is svre & tyme is past renving.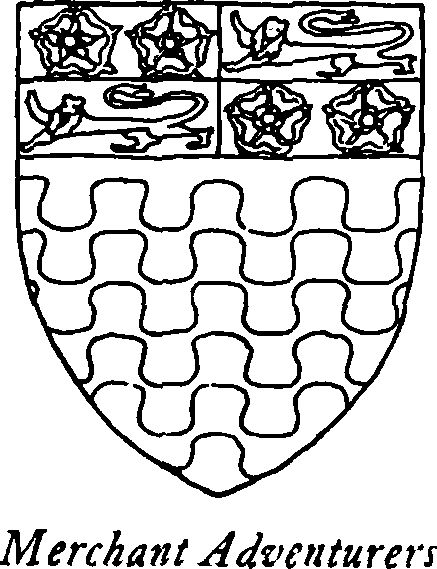 Arms: The arms above the tablet are those of Lawrence (see No. 33, above); to the left and right are the shields of the Merchant Adventurers' and the Goldsmiths' Companies. The shield in the arch spandrel bears Lawrence impaling: Quarterly 1 & 4, Party palewise azure and gules, a saltire or (Cage); 2 & 3, gules, a swan flying argent (Dale).
35. SARA COLVILE, 1631. (fn. 1)
This monument shows a half-length alabaster figure of the deceased, attired in grave clothes, and rising from a coffin of black marble. There is a similar monument to Lady Salter in Iver Church, Bucks (1631), (fn. 2) and another to Constance Whitney in St. Giles', Cripplegate (1628).
At the back of the figure is a shallow semi-circular headed recess beneath a canopy formed of a pediment and inscribed frieze standing well above the arch, and brought forward on curved brackets. These brackets separate the frieze from the architrave, which is thus out of position. A portion of the latter projects forward where the brackets rest on free Doric columns, and then the architrave continues (a little above the springing line) to form the responds of the arch and is carried round the arch itself. The space between the extrados of the arch and the canopy is filled with carving representing the trumpet call of the Day of Judgment. The columns rest on carved brackets above a stone coffin, and are flanked by carved consoles. The coffin is inscribed and rests on a moulded ledge, beneath which is the chief inscribed panel of black marble within a shaped frame of alabaster bearing a shield of arms.
In the pediment and above on each side are shields of arms.
The inscription is as follows:
SACRED
to ye blessed memory of that
vnstayned copy & rare example
of all virtve
SARA
wife to Richard Colvile of Nevton
in ye Ile of Ely in ye covnty of
Cambridg Esq davghter to
THOMAS LAVRENCE
of Iver in ye covnty of Bvckingha Esq
who in ye 40th yeare of her
age received ye gloriovs reward
of her constant piety
being ye happy Mother of 8 sons
and 2 davghters.
Wonder not (reader) how this stone
Should be so smooth & pure: there's one
That lyes within't, by whose fayre light
It shines so cleere & looks so bright
The Cutters art could only give
A forme unto't: no power to live;
Nor shall it ever loose this grace
Till she arise & leave the place;
For losse of whome ye mournfull Vrne
Shall fire, and to Cynders turne.
She dyed ye 17th of aprill
1631. (fn. 3)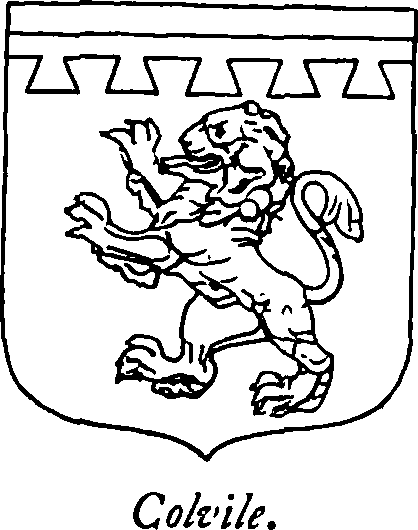 This text appears upon the coffin:
And yov shall know that I am the
Lord, when I have opened yovr graves
o my people and brovght yov vp
Ovt of yovr sepvlchres. Ezekiel 37
vers 13
for the trvmpet shall blowe and the dead shall be
raised vp incorrvptible and wee shall be changed.
Arms: The shield in the pediment is that of Lawrence (see No. 33), with crest and ribbon mantling.
The shields above the cornice are both as follows: Quarterly 1 & 4, azure, a lion argent, a label of 3 points gules (Colvile); 2, argent, 3 chess rooks gules (Walsingham); 3, argent, on a bend gules a besant (Pinchbeck) impaling Lawrence. Two crests are carved above each shield (a) a lion (b) a chess rook. A shield at the base gives azure, a lion argent, a label of 5 points gules.
Sarah Colvile was the eldest daughter of Thomas Lawrence (34) and married Richard Colvile of Newton, in the Isle of Ely.
36. WILLIAM FREND DE MORGAN, 1917.
to the memory of
WILLIAM FREND DE MORGAN
artist—potter—inventor—novelist
born 16th november 1839 died 15th january 1917
who did much of his best work in cheyne-row, the vale
and church st chelsea—where he died
Recreating in Ceramic work upon his own vigorous designs the
colour of the Persian & the lustre of the great Umbrian craftsmen
Enriching literature by his faithful & sympathetic
presentment of homely and very human character
And beloved by all who knew his breadth of intellectual
interest, his catholic sympathy, genial humour & lambent wit
this tablet is dedicated by some of his
chelsea and personal friends
37. MARGARET HEWITT, 1762. HENRY HEWITT, 1770.
A wall tablet in the form of a cartouche fixed on the northern respond of the arch dividing the Chapel from the nave.
Near the Pulpit
South of the middle Isle
lies the Body of
MARGARET
the beloved Wife of
MR. HENRY HEWITT
of this PARISH
died January 17th 1762v Aged 58
Also the said
HENRY HEWITT
who died May 27
1771
Aged 75