Pages 71-92
Thoroton's History of Nottinghamshire: Volume 3, Republished With Large Additions By John Throsby. Originally published by J Throsby, Nottingham, 1796.
This free content was digitised by double rekeying. All rights reserved.
SOUTHWELL. SUELL. and SUDWELL.
This place, with the hamlets and members of it, which make up that which is now called the Soke, before the conquest was a distinct hundred, lying between the two hundreds of Torgarton and Lyde, with which it is now joined, and was sometimes called Southwell hundred (as out of doomsday book in Farnesfeld, is manifest) and sometimes (as I suppose) Cherlington Hundred, corrupted at length into Chadlington Hundred, for so it is called in the patent, 5 E. 6. (fn. 1) which gave licence to John earl of Warwick to alienate it, and this most ancient and noble manor to John Beaumont, then master of the rolls, and his heirs.
The church is said by sir Edward Cooke to be founded or built by Paulinus the first arch-bishop of York, who baptized king Edwin on Easter day, in the year of our Lord 627, (fn. 2) which may likely enough be true; but certain it is, that in the year 958, (fn. 3) king Eadwy granted to his beloved bishop Oscytel (who was also arch-bishop of York) part of his land, at Sudwellan twenty farms for an heritage, with all their appurtenances; yet king Edgar, bro her and successour of Eadwy, in the certificate into the court of augmentation, is said to be the ancient founder (fn. 4) However the Conquerours great survey reciting the land of the arch bishop of York in Snottinghamscire in Torgarton Wapentac shows, (fn. 5) that in Sudwelle, with its Berues, then numbered twelve, were twenty two car. and an half, for the tax or geld. The land twenty four car. There arch-bishop Thomas had ten car. in demesne, ten sochm. seventy five villains, twenty three bordars, having thirty seven car. There were two mills 40s. and a fishgarth (Pisciana) or pool, and a passage 6s. Of this same land held six nights, four car. and an half. Three clarks had one car. and an half (according to my copies, or four car. and an half, as Mr. Dugdales) (fn. 6) of that were two bovats in prebend. Two English-men had three carucats, and five bovats. The knights had seven car. in demesne, thirty five vill. twenty eight (or twenty three) bordars, having twenty one car. and one mill of 8s. (or as Mr. Dugdale's copy 3s.) The clarks had one car. and an half in demesne, seven vill. five bord. having three car. The English-men had four (or three) car. in demesne. twenty vill. six bord. having six car. and and half. To Sudwelle belonged one hundred and fourscore and eight acres of meadow, pasture wood eight leuc. long, two quarentens and an half broad (the half is wanting in the Monasticon Angl. vol. 3 part 2 page 10.) Arable land five leuc. long, three broad. In the time of king Edward the Confessour it was valued at 40l. and when the book of doomsday was made at 40l. and 15s.
St. Mary of Sudwelle had a manor in Croppehille, which had a Berue in Hegelinge, which the canons then had; and another manor in Nortwelle; but how many prebendaries there were at this time, or whether they held their prebends dictinct, or in common, is not easie positively to determine; yet seeing that in Woodborough it is recorded that a clark (whom I take for the prebendary of that place) held under the arch-bishop lands which answered the Dane-geld for one bovat, (fn. 7) 'tis most probable that every one enjoyed his own apart. Now because in the white-book of Southwell (still remaining with the chapter) there is nothing of the foundation of the prebends of Woodborough, Normanton, the three of Norwell, the two of Orton, that of North Muskam, that of South Muskam, nor of the Sacrista, called Sakerson, and Segiston, and now Sexton: it may reasonably be guessed, these, or the most of them, were in being then or near that time, viz. the latter end of the reign of king William the first.
Most of the rest, as by that book appeareth, were not long after; for king Henry the first, son of the said king William, gave to Thurstan arch-bishop of York, the church of Dunham, that he might make it a prebend in the church of Southwell, (fn. 8) and likewise confirmed the gift which that arch-bishop made of the churches of his manors of North-Leverton and Bekingham, to make another prebend in that church.
(fn. 9) King Henry the second confirmed to his clark Roger, the brother of Martin de Capella, the prebend which Roger arch-bishop of York had made of the land of Halton, which William the steward of the aforesaid Thurstan held, in the time of the said king Henry the first, and afterwards gave to the church of Southwell.
(fn. 10) Roger arch-bishop of York certified king Henry the second, that his predecessours did enseoffe more knights than they ought to the king, not for the necessity of the service which they did owe, but because they were willing to provide for their kinsmen and servants
(fn. 11) Pavia, the daughter of Nigellus de Ramtun, by the consent of Robert Malo vell her son, not long after gave the church of Ramton, with the appurtenances, to make another prebend this church of Southwell.
(fn. 12) And John arch-bishop of York, in the year of our Lord 1289, made another of the church of Eton. (fn. 13) And in the year 1291, William Rotherfeild prebendary of Bekingham resigning for that purpose, the said archbishop at his request, and by the consent of the chapters of York and Southwell, did ordain the church of North Leverton, before a part of the prebend of Bekingham, to be a distinct one of itself, and the prebendary to have his stall in the quire on the north side next that of the Sacrist, and his place in the chapter-house duely assigned by the chapter, and to have and pay his vicar choral, as the other eanons used, and the said William Rotherfeild to enjoy Bekingham, so divided, during his time, which made the number of the prebend, sixteen, as they now are, which have been, and are thus valued, (fn. 14) viz.
in the kings books, and the arch-bishop of York is patron of all.
l.
s.
d.
Norwell Overhall, or prima pars, was
42l. is now
48
1
3
Norwell Palacehall, or secunda pars, was
30l. is now
27
19
7
Norwell tertia pars was
6l. is now
5
2
0 ob
Normanton prebend was
20l. is now
22
6
0 ob
Halton or Halloughton was
10l. is now
8
17
6
Dunham before the survey taken by H. 8. was
45 marks is now
23
11
3
Rampton then also was
24 marks is now
15
17
11
Woodborough is wanting in my copy of the old, but is now
9
17
11
Eton before the survey of H. 8. was
10l. is now
2
11
3
South Muskham then also was
20 marks is now
13
4
7
Orton prima pars was
40 marks is now
22
19
7
Orton altera pars was then also
40 marks is now
24
10
0
Bekingham was
20l. is now
16
15
10
North Muskham was
34l. is now
32
5
0
Sacrista was in elder time
30s. is now
1
3
4
North Leverton was
5l. is now
4
17
11
(fn. 15) Very great and many priviledges were anciently granted to this church by several kings arch-bishops, and chapters of York, which Pope Alexander the third, in the twelfth year of his pontificate, viz. 1171, refers to in his Bull, wherein he confirmed to the canons of the church of St. Mary of Southwell, amongst many others, their ancient liberties and customs, to wit, the same which the church of York had of old, and were known to have then, and that the churches of the prebends, and also those belonging to the chapter should be free from episcopal jurisdiction, and that they might institute fit vicars in them without any contradiction, as the said arch-bishops and chapters of York ever suffered them and their predecessours to do, who likewise granted to them, as was of long custom observed, and also by the said Pope approved, that both the clergy and laity of the county of Nottingham should at the feast of Pentecost come to their church with solemn procession; and that every year according to the old and rational usage of that church, a synod should there be celebrated, and that thither the Chrisma should be brought by the deans of the county from the church of York, to be thence distributed through the other churches, &c.
There is yet, and from the beginning of this church, I suppose ever hath been, at Whitsunday a certain small pension paid from every parish and hamlet in this county called the Pentecostall offerings, (fn. 16) whereof the prebendary of the Sacrists or Sacriston prebend hath the tenth part, and the residue is equally divided between the commons of the canons [resident] and the prebendary of the prebend of Normanton.
s.
d:
Arnall,
2
0
Ansley
0
16
Addenburgh
0
16
Bramcote
0
6
Bulcote,
0
9
Bulwell
0
10
Burton Jorce
0
10
Bilborough
0
6
Bassord
0
13
Beeston
0
18
Colwick
0
8
Cossall
0
7
Eastwood
0
14
Eperston
2
6
Greseley
2
2
Gonalston,
0
16
Gedling cum Carleton and Stoke Bardolf
3
4
Hucknall Torcard
0
18
Hoveringham
0
13
Kirkeby in Ashfeild
0
20
Loudham
2
4
Lambley
0
16
Linby
0
9
Lenton
2
0
Maunsfeild
4
8
Mansfeld Woodhouse
2
6
Nottingham
13
4
Nuthall
0
12
Papiewick,
0
12
Radford
0
13
Snenton
0
8
Selston
2
0
Stapleford
0
17
Strelley
0
8
Sutton in Ashfeild
2
0
Skegby
0
8
Teversall cum Stanley
0
15
Thurgarton
0
15
Trowell
0
14
Woolloughton
0
15
Sum
£.3
9
0
s.
d.
Adbolton
0
3 ob
Bingham
4
8
Bridgeford ad pontem
0
10
Bridgeford super montem
0
18
Barton in sabis
0
18
Boney cum Bradmere
2
8
Broughton
0
10
Carcolston
0
14
Cortlingstock
0
7
Cotgrave
0
20
Colston Basset
0
18
Cliston cum Clapton
0
18
Crophill Butler
0
12
Edwalton
o
6
Elton
0
12
Flintham
2
2
Gotham
0
13
Granbie
0
18
Hickling
0
18
Haucworth
0
12
Holme Pierpont
0
20
Kynnalton
0
18
Kingston
0
8
Kayworth
0
12
Knœton
0
8
Langar
0
14
Leake major
0
16
Leake minor
0
8
Normanton super Sore
0
10
Orston
0
22
Owthorpe
0
12
Plumtree cum Clipston
0
15
Ratclif super Sore
0
8
Ratclif super Trent
2
0
Rempston
0
7
Ruddington
0
16
Stanford
0
9
Screveton
0
14
Sarendale
0
6
Scarrington
0
8
Sutton Bonington
0
13
Shelford
0
20
Stanton
0
5
Thoroton
0
10
Thorompton
0
10
Tithby
0
6
Tollerton
0
13
Wilford
0
18
Wisaw
0
13
Widmerpoole
0
14
Willoughby
0
13
Whatton
0
17
£.3
2
4 ob
s.
d.
Averham
2
0
Balderton,
2
0
Barneby
2
0
Caunton
0
10
Cromwell
0
22
Cliston cum membr.
4
0
Eykring
2
0
Faringdon
3
0
Fledbrough
0
7
Cotham
0
10
Coddington
2
0
Gretton
2
0
Hockerton
0
12
Hawton
0
15
Kilvington
0
8
Kneesall
2
0
Kellum
0
16
Laxton
3
0
Marneham
3
0
Molebeck
0
18
Normanton super Trent
0
20
Newarke
13
4
North Collingham
2
0
South Collingham
0
20
Ossington
0
16
Rolston
2
8
Staunton Hiekirke
0
6
Sibthorpe
0
9
Shelton
0
8
Clifton
0
14
Sutton super Trent
4
0
Stoke
0
18
Scarle cum Biesthorp
2
8
Sierston
0
12
Thorney
0
12
Thorpe
0
5
Winckburne
0
9
Weston
2
0
Winthorpe
0
8
Sum
£.3
16
7
s.
d.
Allerton
0
12
Askham
0
12
Bottomsall
0
10
Bevercotes
0
8
Blith cum Bawtrie & Awsterfeild
4
4
Burton
0
8
Babworth
0
8
Blisthorpe
0
16
Boughton
0
8
Claworth
0
16
Cuckney
0
12
Carberton
0
8
Carleton
0
18
Clipston
0
16
Draiton magna
0
20
Est Redford
2
0
Elkesley
0
16
Edwinstow cum Budby
2
8
East Markham cum Drayton
3
4
Everton
0
16
Egmonton
0
22
Finingley
0
8
Gamston
0
16
Gringley
0
14
Grove
0
14
Harworth
0
12
Headon
2
0
Kirketon
0
9
Little Markham cum Milneton
0
12
Littleborogh
0
7
Laneham
0
20
Misterton
2
0
Mattersay
0
12
Missen
0
10
North Wheatley
0
22
Ordsall
0
16
Rossington
0
12
Saundby
0
12
Stokeham
0
6
Sutton cum Lound
0
20
South Leverton
0
18
Sturton
0
20
Tuxford
3
0
Treswell
0
10
Walkeringham
0
12
Walesby
0
10
Welley
0
12
Warsop cum Sulkholme
2
4
West Redford
0
16
Workesoppe
3
0
Sum
£.3
10
2
The Deanery or Jurisdict of Southwell.
s.
d.
Beckingham
2
0
Blidworth
0
14
Cropwell Byshop
0
16
Calverton
0
12
Donham
0
19
Darlton
0
12
Eaton
0
10
North Leverton
0
12
Norwell
0
18
North Muskham
2
4
Orton
0
14
South Muskham
2
0
South Wheatley
0
8
Rampton
0
20
Ragnell
0
18
Woodborow
0
20
Southwell
5
0
Halome
0
18
Halloughton
0
10
Edingley
0
18
Kirtlington
0
18
Farnesfeild
2
0
Bleasby cum
Gouerton & Gipesmere
0
21
Morton
0
12
Upton
3
0
Sum
40s.
6d.
Summa totalis 15l. 15s. 3d. ob.
(fn. 17) King Henry the first being at Nottingham granted to arch bishop Thomas, all his possessions and customs over all his lands in Nottinghamsyre, and especially over those which belong to the church of St. Mary of Suell, as he held them better in the time of his brother [William Rufus;] and if any claimed upon the men which remained on those lands, they should do such right as the canons of St. Peter [of Yorke] and in such place; and if upon this any should do any injury, he should make the amends to the King himself.
(fn. 18) The priviledges of the church of York in this kings charter of confirmation, are more particularly mentioned, which are also almost word for word rehearsed in an instrument of the chapter of York, declaring the freedoms and customs of that church, granted by King Athelstan, carefully observed by his successours, and confirmed by Apostolical authority, to be very much infringed by the sheriff of Yorkeshire, in the year of our Lord 1106, (fn. 19) upon which bishop Gerard made complaint to the king, who thereupon sent Robert bishop of Lincolne, Raph Basset, Geffrey Ridel, Ranulf le Meschines, and Peter de Valoniis to Yorke, that they might enquire what were the said customs of the church of St. Peter, who to that end called to them the most prudent English-men of that county, whom they caused to swear by the faith they ought to the king, to tell the truth, viz. Vitreth, the son of Alwin, Gamel, the son of Swarterol, Gamel, the son of Grim, Norman the priest, William, the son of Ulf, Frenger the priest, Vitreth, the son of Turkill, Norman the son of Baling, Thurstin, son of Turmot, Gamel, son of Ormi, Morcar, son of Ligulf, and Ulvet, the son of Forno, by right of inheritance the Lagaman of the city (which may rather be interpreted lawyer or judge possibly, as recorder is now, than lawful man, or free man) who then also was Prefect, and thus discoursed before them, Ausketinus de Bolomer the Præpositus of the Northriding, being his interpreter, that they all remembered and testified, that all the land belonging to the prebends of the church of St. Peter, was so quiet and free, that neither the kings officer, nor any other could have law, nor take a distress there till the canon of that prebend was first required: and if he refused, the dean should set a day, and do right at the church door. And if any person whatsoever shall take and detain any man, though guilty and convict of any crime or wickedness whatever, from within the porch, he shall alwaies be judged to make amends by six hundreths; if from within the church, by twelve; if from within the quire, by eighteen, every hundreth containing six pounds [the kings charter saith eight pounds] and for every the said faults, or any, shall be injoyned penance as for sacriledge. But if any should be so mad, and instigated by the devil, as to presume to take one from the stone-chair by the altar, which the English call Frithstol, that is, the chair of quiet and peace, for so wicked a sacriledge no judgement nor sum of money can acquit him, but is by the English called Botelesse, i.e. without emendation. These amends, emendations (or americaments) belong not to the arch-bishop but to the canons, &c.. Thus it goes on reciting many other like priviledges, besides those of Soc, Sac, Toll, Them, Infangthef, Intol, Utol, &c. as in the said kings charter also may be seen; most (or all) of which the church of Southwell had and used as occasion required, and had them in other names (as the use of words and things changed with the times) allowed and confirmed, and others granted by succeeding kings.
(fn. 20) King Stephen, by his precept dated at York, directed to William Peverell of Nott. and the sheriff and his ministers, commanded that the canons of St. Mary of Suwell should have the woods of their prebends in their own hands and custody, and thence take what they should need, as in king Henry's time; and that his foresters be forbidden to take or sell any thing there. (fn. 21) King Henry the second, king Richard, king John, king Henry the third, all of them, and indeed those kings who came after them, made the several arch bishops in their respective times, and this chapter, very secure of their liberties within the forest of Shirwood.
The justices in Eyr were to hearand determine all pleas touching the chapter, canons, their tenants and servants at the south door of the church, except pleas of the crown, which they were to hear and determine at the house of any of the canons out of the sanctuary, which was presen'ed by the Wapentac of Thurgarton and Lyth, and claimed by tee chapter, among other priviledges allowed in Eyre, before William Herle and his fellow justices, the third year of king Edward the third, (fn. 22) at which time, besides the chapters view of frank-pledge of all their tenants in Southwell, Northwell, South Muskham, North Muskham, Calneton, Orton, Calverton, Wodeborough, Crophill, Blitheworth, Halghton, Bekingham, Dunham, Halam, Edingley, and Normanton, and their court-leet held twice every year at Southwell, for their tenants residing in Southwell, Halum, and Newton, and likewise that held in like manner for Edingley.
Robert Woodhouse, prebendary of Norwell claimed and had the like view of all his tenants in Norwell, Woodhouse, Willoughby, and Midelthorp, kept twice in a year at Norwell, and ways in the said towns. And Robert de Notingham, prebendary of Orton and Crophill, the like of his in Orton, Blitheworth, Calverton, Woodborough, and Crophill, and Hickling, and wayf also. Lambert de Trikingham, prebendary of Halton, the like of his there. Henry de Edenestow, prebendary of Orton and Crophill, as before. Robert de Bridelington, prebendary of Woodburgh, the like of his in Woodburgh and Edingley.— William de Barneby, prebendary of Bekingham, the like of his in Southwell and Edingley, held twice a year at Southwell, and of those in Bekingham held twice a year there. William de Newark, prebendary of North Muskam, the like of his in North Muskham, Calneton, South Muskam, North Carleton, Normanton by Southwell, held twice a year at North Muskam, and wayf as the rest. Thomas de St. Albano, prebendary of Dunham, the like of his tenants in Dunham, Derleton, Wymton, Ragenhull, held twice a year at Dunham. John de Sandale, prebendary of Normanton, the like of his in Southwell and Normanton, kept likewife twice a year at Southwell. The courts of the prebendaries were all subject to that of the chapter, and causes upon error, or other lawful reason, might be removed thither, and there determined.
The lands and tenements of this church either belonged to the prebendaries resident, called the commons of the church, or to the several prebends, or to the fabrick called our ladies works, or to the vicars chorall, or to the chantry priests.
(fn. 23) The residentiaries commons, it seems, were but short, and therefore for their augmentation Walter arch-bishop of York, about the fifth year of king Henry the third, conferr'd the church of Rolleston upon them, which he obtained of the prior and covent of Thurgarton, who had it of Henry, the son of Thomas de Rolleston, knight, and of Jollanus de Novavilla, which said Henry confirmed it also to the chapter; and Bene dict, the son of Thomas de Rolleston, knight, for the sum of twenty marks sterling, did likewise confirm what his predecessour sir Henry had done. But the provision of the residentiaries was very slender still, and therefore John arch-bishop of York in the year 1291, did by the good will and submission of Mr. John Clarell, sir William de Rotherfeud, and sir Richard de Bamseud, canons of Southwell, decree and ordain, that the portions of corn and hay in the parish of Upton by Southwell, which theretofore belonged to their prebends, should for the future be for the commons, or common uses of the chapter and canons resident, the chapters of York and Southwell consenting, and king Edward the first confirming the same.
(fn. 24) The fabrick had divers parcels of land in Southwell and Normanton, and Henry de Southwell gave a rent of forty shillings a year due to him from Robert Wulrington, for lands which he held of him in Stretton in the Clay. Sir Walter Mallett of Weloby, knight, gave seven acres on the west side of his wood Thirneclive, four and twenty foot to the perch. Robert, the son of Beatrix de Bella aqua, gave three bovats of land in Normanton. Thomas de Radclive, rector of Flintham, gave one oxgang in Flintham; and several less parcels were given in other places by many other pious persons, too many in number, and too small in quantity, to be here recited.
The vicars chorall had likewise lands of good value in Southwell, Edingley, Farnes. feild, Muskam, and other places near by, many ofwhich were conveyed to the chapter the 16 R. 2. (fn. 25) by Richard de Chesterfeild, and William Gunthorp, cler. besides Rawmersh in Yorkshire, and the priory Alien of West Ravendale in Lincolneshire, which was given to this church by king Henry the sixth, in the seventeenth year of his reign, for the sum of three hundred marks, which he received of John arch-bishop of York, and to relieve the poverty of this church, which was at that time so great, that of about sixty persons, canons, vicars, chaplains, chantry. priests, deacons, sub-deacons, choristers, and other ministers which belonged to it, there was scarce subsistence for forty. This priory the said king did uphold to be of the value of fourteen pounds per annum above all reprisals, and if it should be recovered from this church, or be defective in that sum, he promised lands of that value some where else; and likewise granted the said arch-bishop or chapter, or their successours, licence to purchase twenty pounds a year more, notwithstanding the statute of mortmain. These vicars had likewise in county the rectory of Knesale, to which that of Boughton was united, and the union confirmed by the chapter of York in the year 1403, besides the sums of 4l. per annum from the respective prebendaries, and the colledge for their habitation at the east side of the church yard, upon part whereof, about the year 1379, at the charge of Richard de Chesterseild, canon of this church, it was builded; (fn. 26) the remaining part of the said church yard being large enough for processions, and burials, and other things there to be done; and the house anciently built for their dwelling being old and ruinous, and scituate far from the church, and the way between dirty and deep, that they could not so commodiously attend divine service, but dwelt scattered abroad in the town before the said building of it. John, arch-bishop of Yorke appropriated the rectory of Barneby near Newark, for the more plentiful sustentation of the choristers. The church of St. Elen of Wheatley was given by Geoffrey arch-bishop of York to find lights, and confirmed by Walter Thaney arch deacon of Nott. and also by Pope Innocent.
In this church were many chanties founded, and those priests had also some lands in common, and an house at the north west side of the church yard for their residence, which is now in lease to Mr. Robert Butler, and his dwelling-house.
(fn. 27) Three of these were founded by Mr. Robert Lexington, canon of this church, the two first at the altar of St. Thomas the martyr, for the health of his own soul and his ancestors, and for the souls of king John, of Brian de Insula, of his father, mother, brothers, sisters, parents, friends, parishioners, all his benefactors, and for all the faithful departed, and also for all the living for whom he was any way obliged to pray, or of whom he had ever received any thing either willingly or against their wills, for the performance whereof he gave the church, and some lands in Barneburgh near Doncaster, which he had of Henry de Novomercato, and were confirmed to him by Adam de Novomercato, brother of the said Henry, to the chapter of Southwell for the augmenting the divine worship in that church, and the sustenance of two priests, two deacons, and two sub-deacons, to minister in their order, and to follow the quire, as vicars according to the order of Walter Grey arch-bishop of York, dated at Orton in the twenty sixth year of his pontificate: and likewise to pay half a mark yearly towards lights, ornaments, and other necessaries for the said altar; and to twenty seven pounds of wax to make one light for the great altar, and thirteen pounds to make two for the said altar of St. Thomas the martyr, to burn on the day of his passion and translation; the remainder to be for the use of that altar as occasion shold require: which advowson and lands were likewise released to the chapter by Thomas, the son of sir Thomas de Bella aqua. And the succeeding rectors of Barnburgh did accordingly by the decree of the aforesaid arch-bishop pay quarterly to the said priests forty shillings, to the said deacons twenty, and to the said subdeacons sixteen and eight pence, besides the wax and half mark before mentioned.— The third chantry was likewise at the altar of St. Thomas the martyr in the new work, for the soul of the said Robert de Lexington the founder, and for the souls of his father, mother, brothers, sisters, parents, ancestors, successours, parishioners, benefactors, and of all the faithful, for which he gave to the chapter of Southwell sixty and four shillings of yearly rent issuing out of eleven oxgangs of land held of him by several persons in Newton, and one oxgang in Sarendale, together with homages, services, reliefs, wards, &c. and sixteen shillings of like rent in Larton Morehouse.— The priest who did the service, and might sometimes read, sometimes sing, which stirr'd up most devotion, was to have all the said rents, and half the reliefs, and other profits happening out of the aforesaid tenements, and the other half was to be for the commons of the canons resident.
Another chantry was founded at the altar of St. Peter in the same church by Richard de Sutton, canon there, and also of Lincolne, about the year of our Lord 1260, at which time the vicars of this church of Southwell, granted to him by their instrument sealed with their common seal, together with that of the chapter, for themselves and their successours, that so oft as mass for the dead brethren and benefactors of that church should be there celebrated, there should a special prayer be said for the said Richard Sutton; and another for the souls of Robert de Sutton his father, and Alice his mother. And that they would find a wax light to burn for his soul at the mass of our Lady daily there celebrated for ever. Oliver de Sutton, prebendary, and afterwards bishop of Lincolne, and Ernald de Calneton were his executors, and purchased of Philip, the son of Baldwin de Paunton, rents and lands in Holme, which they settled upon Henry de Newark, arch-deacon of Richmund, prebendary of North Muskham, (fn. 28) and upon his successours prebendaries of North Muskham, to pay six marks yearly, viz. twenty shillings every quarter to the priest performing the office. And left the rent should be ill paid by his successours the said Henry de Newark, by his writing bearing date at Muscam, Novemb. 1288, granted to the chapter of Southwell, power to sequester the prebend in case of failer. John, the brother of Richard de Sutton, canon of Suthwell, was rector of Lerington, anno 1259. (fn. 29)
Sir William de Wydington, knight, founded a chantry at his chapel of St. Nicholas, in Est Thorp, during his own life, but after that, at the altar of St. Nicolas, in the church of Suthwell, to which he gave rents thereabouts, to the sum of six pounds and eight shillings yearly; which were confirmed to the chapter of Southwell, by Symon de Gryngethorp, and Clementia his wife.
Andrew, the bayliff of Southwell, in the time of Walter, arch-bishop of York, founded a chantry at the altar of St. Stephen there, and gave many parcels of land to it, in several townships thereabouts.
In the year 1275, or shortly after, Henry le Vavasor, prebendary of Norwell Palishall, founded another chantry in this church of Southwell, at the altar of St. John Baptist; though in the white book, p. 327, where his deed is registered, it is written St. John the Evangelist.
After the death of sir Henry de Notingham, about 29 H. 3, anno domini 1245, Robert Lexington founded a chantry at the altar of St. John the Evangelist, where the bones of the said sir Henry Nott. do rest, to pray for his soul. And procured lands in Helpringham, and other places in Lincolneshire, for the monastery of Sixill, who were therefore obliged to pay ten marks yearly, to the chapter of Southwell, for that purpose; as did also William Rosell, and his heirs, twenty shillings for a tenement, which he held of the said Robert Lexington, in Warksep, and Raph, the chaplain, son of Goscelinus de Willoughby, the sum of half a mark yearly, for one in Carleton.
In the year 1395, William de Gunthorp, prebendary of Southwell, prevailed with the chapter to give four marks of the Sixill rent, towards the maintenance of a chaplain to celebrate the mass of our Lady every day by note, in the chapel of St Mary, on the north side of the church, and there to pray for the souls of sir Henry de Notingham, Edward, late king of England, Philip his queen, their children, Thomas, late bishop of Norwich, John de Rolleston, Haman de Barsham, and for his own when he should dye, and all the faithful departed: for the performance whereof, and to pay the chaplain of the chantry of St. John Baptist, 13s. 4d. yearly, to pray dayly for the soul of the said sir Henry Nott. (to which he would have the said chaplain sworn at his entrance) he gave 3 messuages, fourscore acres of land, fifteen acres and an half of meadow, twenty acres of pasture, a fishing in Trent, and four shillings rent, with the appurtenances, in North Carleton, and Sutton upon Trent.
There was another chantry at the altar of St. Mary Magdalen, founded by Mr. Robert de Oxton, which had five pounds per annum from the monastery of Welback.
Another about king Henry the fourths time, by Thomas Haxey, one of the prebendaries, which had lands in Bekingham, Bole, Batheley, Normanton, and in the burgage of Southwell.
And another by Laurence Booth, arch-bishop of York, at St. Cuthberts, for two priests, which had twenty marks per annum out of Battersay, paid by the arch-bishop of York for the time being.
The predial tythes of the whole parish of Southwell, are divided amongst the 3 ancient prebends, viz. Normanton, and the two of Notwell, viz. Overhall and Palacehall in this manner.
The town and fields of Southwell, with the hamlets of Est Thorpe, West Thorpe, and Normanton, are one part. Halam, Farnesfield, Greaveslane, Edingley, and Osmundthorp, another part. And Gourton, Gibbesmere, Bleseby, Moreton, Fiskerton, and Notowne, the third part. And to avoid all cavill for inequality, the prebends change from one to another every three years, so that it is now called the current tythe.
The scite of the town of Southwell is divided into the Burgage, now contracted into Burridge, which takes that part of the town from the market-place, to the river Greet, and the prebendage and church.
(fn. 30) After the dissolution of monasteries, the collegiate church of Southwell was reputed and taken for the head mother church of the town and county of Nottingham; wherein is sedes Archiepiscopalis, and was so allowed by king Henry the eighth, by an act of parliament about 34 H. 3. But about 2 E. 6. amongst the colledges this chapter was dissolved, and the manor and prebends granted to John, the then earl of Warwick, after duke of Northumberland, and by him sold to John Beaumont, master of the rolls, and father to Francis Beaumont, who was judge of the common pleas, 5 E. 6. and from John Beaumont, they were brought again to the crown by conveyance, or otherwise, and so to the said duke of Northumberland, whose they were at his attainder, and by queen Mary restored to the arch-bishop and chapter again. But queen Elizabeth in her statutes for this church, bearing date 2 Apr. 27 Eliz. faith it was founded by her father king Henry the eighth. (fn. 31)
The king, 35 H. 6, (fn. 32) Febr. 21, granted to Will. Bothe, arch-bishop of York, and his successers, return of writs, within and upon all and singular their demesnes, lands, tenements, and fees, &c. to which charter Laurence Bothe, (his brother) then keeper of the privy seal, amongst others was a witness.
The arch-bishop of York, besides a great Leet over many townships, have a sessions of peace (kept by turns at Southwell, and Scrooby) by justices of the peace, of their own nomination, though under the kings commission.
They had a very fair palace here at Southwell, which stood on the south side of the church-yard, within a park of excellent ground, called the little park, or the new park, which was demolished in the late rebellion; some think it was built by Cardinal Wolsey, and if it were not, I should guess at the arch-bishops Bothes, for they, or one of them, builded, or caused to be builded a chapel joyning to the south-wall of the church, at the west end, called Bothes chapel, which by negligence in the late wars, and since, is now utterly ruined, as is also a very fair marble tomb in it, whereunder 'tis like one of them lies buried.
King Edward the sixth, the sixth of January, 3 E. 6. (fn. 33) granted to John, earl of Warwick before-named, the manor of Southwell, and all hereditaments, known by the name of Chadlington Hundred, and the farm of land and hereditament called Hokerwood, or Hokerwood Park, containing 120 acres, and all pasture woods, and pastures lying in Southwell in the tenure of Galfr. Lee, and all those hereditaments called Chequer Silver, Water Silver, Hidage, and other hereditaments, known by the name of Chadlington Hundred, and five acres, and three roods of meadow, in one piece called Dersinge, in Southwell, and the park of Hexgrave, and the park of Norwood. then in the tenure of sir John Markham; and the New Park, in the tenure of Galfr. Lee, and two corn mills, scituate on the river Greet, under one roof, and the water mill at Upton, and a fullingmill in Southwell, and the fishing and passage of the water at Hesilford, in the tenure of Richard North, &c. but they still remain to the arch-bishop and church.
Hexgrave Park, 'tis likely was made by Walter, arch-bishop of York, in thr time of H. 3, because then it was called the wood of Hekesgrave, concerning which Thomas de Bella aqua, and likewise Robert de Bella aqua quit-claimed all their right to the said archbishop in the said wood, (fn. 34) and released all the ditch, with the wood upon it, between the said wood, and the field of Kertlington. (fn. 35) The like did Hugh Picot, for ten marks, and a nag of three marks price, received by him of the same arch-bishop. Sir Hugh Cartwright had this park in lease, I suppose, wherein his son Hugh dwelt till he died, but since, I think it is demised to — Sterne, younger son of the most reverend Richard, the present lord arch-bishop of Yorke, and to Frances his wife, one of the daughters of William Cartwright, of Normanton, deceased, and of Christian his wife, daughter of the said sir Hugh, or to some body for their use.
Norwood Park was purchased in the late unhappy times, by Mr. Edward Clud, who built a pretty brick house in it, and since his Majesties return, it become tenant to the arch-bishop of York, as I guess.
This town of Suelle or Southwell, gave name to a very considerable family, a branch whereof continued their residence here, till the time of King H. 6. as by comparing several places of this book, where there is occasional mention of some of them, may be gathered; besides whom I find about the latter end of the reign of H. 3. (fn. 36) sir Simon de Suelle, knight, the prime witness to a deed of feoffment, whereby John, son of Benedict de Hokerton, conveyed some small parcels of land, to John, the rector of the church of Hokerton, and his heirs.
(fn. 37) John de Slamundeshey, son of Mr. Simon de Slamundshey, for a certain sum of money beforehand, by his deed bearing date at Salmundeshey, the Thursday next after the feast of the Conception of the blessed Virgin Mary, 9 E. 1. granted and confirmed to his beloved and special John de Suthewelle, clerk, and his heirs, a mess. with the appurtenances, in the borough of the town of Suthwell. which had been Simon le Charpenters of Suthwell. To this were witnesses sir Hugh (son of Oto or) Fitz Otes, the kings Senescal, sir Peter de Huntingfeld, the kings Marescall, sir Galfr. de Neuband, chancellour of the kings exchequer, Adam de Clare, Roger de Stokes, Richard de Hereford, clarks of the kings chancery, John de la Cressover, Robert de Slamundeshey, chaplain, Simon le Charpenter, William de Eton, Hugh Tankard, and Wil liam le Rus, and others. Nicolas de Skipton, granted two selions of land in the fields of Suthewell, (fn. 38) to John de Suthwell, clark, and to Alice the daughter of Richard de Mareschall, of Northwell, to hold to the said John, his heirs, and assigns, and if he happened not to have an heir, to the said Alice for her life, and after her decease, to Matildis mother of the said John, for hers, and after her death to Gilbert, brother of the said John, and to his heirs, and assigns, for ever. (fn. 39) Peter, son of Mr. Gilbert de Eton, returning from the parts beyond the seas into England, at Canterbury, the Friday next before the feast of St. Margaret, the virgin, 21 E. 1. released to John de Suwell, the kings clark, [Domini Regis Clerico] (which is supposed then to signify Secretary) and to his heirs and assigns, all his right in one toft, with the appurtenances in the borough of Suwell, lying in Pottergate, between the toft of the said John, and the toft of Mr. Benedict de Halum: The witnesses were William de St. Oswald, William de Billingesley, Adam de Brom, clarks of the kings chancery, John Quarel, Richard de Clayton, and Paulin Attebarre, and many others. (fn. 40) — The same Peter made another release, bearing date at Suthewell, the Sunday next after the feast of St Vincent the martyr, 4 E. 2. to the same John de Suthewell, the kings clark, of the same toft, and of all other tenements, tofts and crofts in the said borough or town of Suthewell, wherein the said John was enfeoff'd by Henry de Normanton, chaplain, or any others. (fn. 41) Joane, the daughter of John de Suthwell, the kings clark, being then two and twenty years old, by her deed dated at Suthwell, the Saturday next after the feast of St. Michael the archangel, 34 E. 1. released to the said Joh. her father, and to Alice his wife, her mother, and their heirs, a toft and crost, &c. in Southwell.
Now there was another John Suthwell, knight, (but whether son, or how otherwife related to the former, I have not found,) to whom the king 7 Jun. 13 E. 1. (fn. 42) committed the Senescalcy (or stewardship) of Gascoigne. And 2 Jun. 17 E. 1. (fn. 43) for his acceptable and commendable services, and especially for putting himself, at the kings instance, hostage for the freeing his most dear cousin Charles, the illustrious kings of Sicily, then lately in Arragon, the said sir John de Suthwell had the castle of Burdeaux, and whatever there belonged to the king by reason of the incroachment or increment (incurramenti) coming to him by the commission of Arnaid Beonard de Lados, knight, deceased, and whatever the king had otherwise acquired there, granted to him for his life. And the same year, viz. 17 E. 1. Jun 27, (fn. 44) had a mandate from the king to depute a fit person for the custody of his forest nigh Burdeaux, with daily wages to be paid him as long as the king, and he the said constable should please.
John de Suthwell, 22 E. 1. (fn. 45) had letters from the king, dated July 16, at Portsmuth, to attend him with horse and arms at that place the first of September following, to pass over with him for the relief of Gascoign; and so had Roger de Huntingfeud, Roger Fitz Osbert, Raymund de Clyvedon, William Trussell, Roger de Lascells, Peter Roscelyn, Michael de Poning, and others.
Margery du Mareys, 19 E. 2. (fn. 46) impleaded Walter Atte Brugge of Lambeth, and Rose his wife, because they, together with Thomas de Waltham of Wandlesworth, Rose de Suthwell, and Robert de Suthwell, took and carried away Rose and Margaret, daughters and heirs of John de Suthwell, then under age, and found at Wandlesworth, whose marriage belonged to the said Margery.
John de Suthwell, 20 E. 2. (fn. 47) then being in Gascoigne had power to confederate or to make league with any who desired the kings friendship.
This name of Southwell chiefly flourished in the southern counties, viz. Norf. Suff. Suss. Surrey, Essex, &c. (fn. 48) whereof John Southwell served in parliament for Lewis in Sussex, 28 and 29 H. 6. whose grandson Richard Southwell married Amy, daughter and co-heir of sir Edmund Wichingham, by whom he had the manor of Wood-Rising in Norfolk, where his posterity had a noble house and seat. This Richard was father of sir Robert Southwell, who married Ursula, daughter and co-heir of John Bohun of Midhurst in Sussex, but had no issue: so that his brother Francis Southwell, second son of the said Richard, was his heir; which Francis was father of sir Robert the master of the rolls in the time of H. 8. and also of sir Richard Southwell, privy counsellor, and one of the executors of that king. Sir Richard had a son of his own name seated at Horsham St. Faiths in Norfolk, who also had a son of the same name and place, who was father of sir Thomas Southwell of Polylong in the county of Cork, knight, one of the privy council of Munster, sent over into Ireland by king James, and accompanied thither by his brother Anthony Southwell, who was father of Robert Southwell of Kinsale in the said county of Cork, vice admiral of Munster, who is father of sir Robert Southwell, now one of the clarks of his majesties privy council, not unfit to be stiled Domini Regis Clericus like his predecessour John de Southwell. There is also in the county of Lymerick, sir Thomas Southwell, baronet, descended from those of Barum-Hall in Suffolk.
(fn. 49) There is in Southwell a chief inn now, and long since called the Saracens-Head, which being an escaet, Thomas [Arundell] arch-bishop of York, gave to John Fysher of the borough of Suthwell, and to Margaret his wife, and their heirs, by the name of a mess. lying between the mansion of the prebend of Orton and Crophille, and the mess. sometime Henry Atte Barres in Southwell, by his deed bearing date 20 Oct. 19 R. 2. whereunto his seal of arms is still appendant, viz. within a Bordure engrailed, quarterly, in the first and fourth a Lion Rampant, the second and third Cheque. The Crest a Gryphins (or such like) Head between two wings erected out of a Coronet. The supporters two Lions Sejeaunt.
(fn. 50) This John is frequently stiled master John de Southwell alias Fysher, and so was John his son, who, it seems, died without issue: for Thomas Suthwell, clark, conveyed all the lands and tenements in Suthwell, Upton, and Halom, (fn. 51) which descended to him by right of inheritance after the death of John Fisher of Suthwell his father, and of Margaret his wife his mother, to certain feoffees, reserving to himself and his heirs nine shillings sterling yearly to pe paid at Lammas, with a clause of distress, which said rent of 9s. he afterwards passed to John Gunthorp, Tho. Urkyll, and Rob. Billesfeild, chaplains, and their heirs, (fn. 52) to whom 28 H. 6. Henry Gobet of Suthwell, and Isabell his wife, then holding the possession of the said lands and tenements, confirmed it on condition that they should cause an Obit to be celebrated amongst the vicars of the quire of the collegiate church of the blessed Mary at Suthwell, for the souls of the said Thomas Suthwell, and of his father and mother, and for the souls by name of the said Henry and Isabell, of John Wymeswold, and Margaret his wife, and of John Chamberlen, and of Lucia his wife, for ever in the form contained in the writing of the said Thomas. Margaret and Lucia were daughters and heirs of the said Henry Gobet, and Isabell his wife; (fn. 53) from which Margaret the said Inne, and divers houses and lands hereabouts, came by inheritance to William Wymondesold, esquire, the present owner, according to this descent. He hath lately built in East Thorpe a part or hamlet of Southwell, the seat of his ancestors.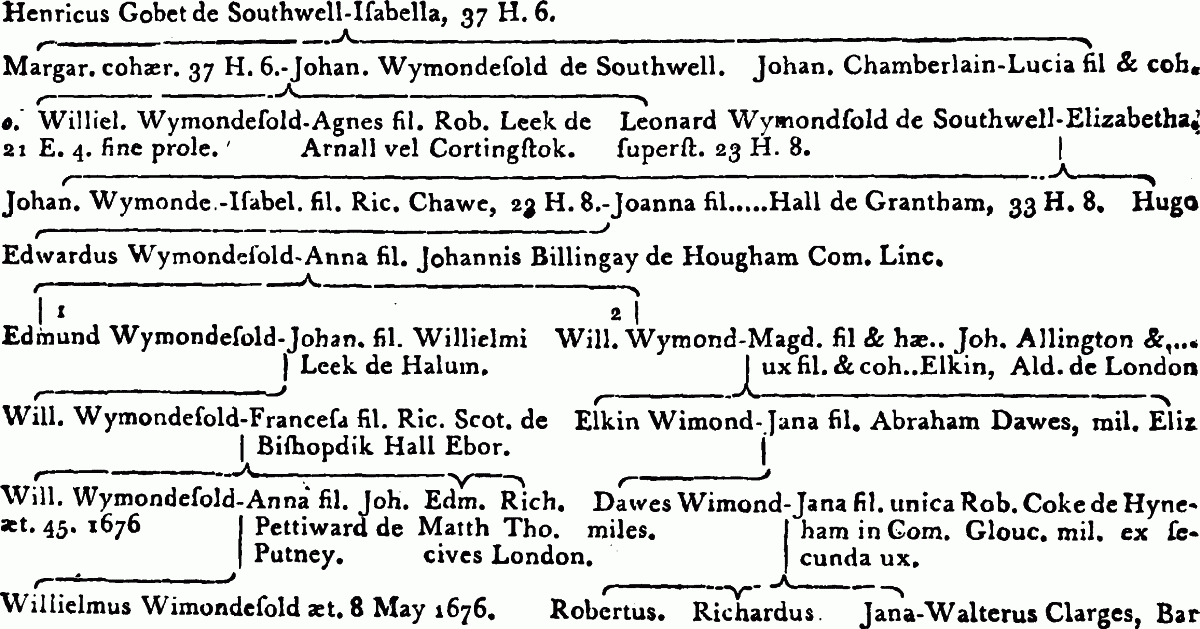 (fn. 55) The owners of Southwell and East Thorp in 1612, are said to be Gervas Lee, esq; Matthew Palmer, gent. Ed. Wymondswold, esquire, John Alvie, John Banes, Henry Ballard, gent. Wm. Ballard, gent. George Lacock, gent. Ed. Manysty, gent. Robert Porter, Francis Wyld, Francis Dodson, Richard Blackbourne, Richard Turner besides the church and prebendaries.
Sir Matthew Palmers son and heir William Palmer, esquire, married — the sister of sir John Digby, and had a son Matthew, who died a batchelor; but his other son John Palmer married — the daughter of the lady Hauvile, and by her had two daughters; since her death he married again, and lives in London, having parted with all or most of his interest here,
Ed. Lacock, clark, younger son of the before-named George, married Sarah the daughter and heir of William Roos of Egmanton, by whom he had two daughters and heirs, Elizabeth, wife of John Dickinson of Claypole in Linc. and Deborah, wife of my cousin John Ouseley, rector of Panfeild in Essex, who in his said wives right is still owner here.
[Throsby] Southwell.
"Southwell town is meatily well builded, but there is no market publick. The Minister of our Lady is large but of no pleasant building, but rather strong. There lyeth in the quier of an arch, an arch-bishop of York. The bishop of York hath here a pretty palace, and the ministers of the church be well lodged, especially the prebendarys. The Archbishop has three parks, the little park alias New parks, Norwood Parkes; but Hexgre is the chiefest of them." (fn. 56)
"The termination of the ancient name of this place in Bede, Tiovul Finacester, seems to imply a Roman settlement somewhere in the neighbourhood of Southwell which is an ancient place, but on the wrong side of the river. Possibly there may have been a station on the south side of Trent, or on the lingula formed by this river, or a smaller one, which in Camden is called Snite, and perhaps has been a bridge over the Trent, which has occasioned the name Ad-Pontem. Mr. Horsley from a view of the ground, did not think the situation or appearance unpromising, and accordingly he fixes AdPontem in this neighbourhood." (fn. 57)
Mr. Rastall, who has contended, also, to prove that Southwell was the Ad-Pontem of the Romans, in his history of this place, has lately informed me that the foundation of the Roman Bridge (which has so long been the desideratum of Antiquaries for the purpose of fixing the station, Ad-Pontem) has been lately discovered, in the Trent, near to Winthorp, a little way from Newark, from which this ingenious gentleman supposes he has traced the direction of the Roman Road to Southwell, and almost, (to use his own words) irrefragably confirmed his former supposition, that here was the famous station Ad-Pontem. (fn. 58)
Of the origin and possessions of the church Thoroton has been pretty copious. He has, also, described the town in its divisions, noticed its markets, &c. &c. Hence we will proceed with our own and Mr. Rastall's observations, sufficient for our purpose.
It appears that the archiepiscopal estates, here during the usurpation were sold for 50881. 15s. 0d. ½ Before by a survey taken in 1646 by George Hawley surveyor, that the then rents and profits were 262l. 7s. 1d. per ann. Improvements above 369l. 19s. 10d. per ann. Materials, woods, &c. val in gross 2492l. 11s. od.
Charles the first, during the troubles, was several times at Southwell, once with his queen. It experienced, like many other places at this time, the ravages of war.— The garrison of Newark, at one time, in a sally, cut to pieces here almost a whole regiment of soldiers, on the side of parliament. When the unfortunate Charles, was approaching towards the last awful period of his life, when dissensions had arisen among his commanders, when his strong holds had nearly all been wrested from him, and when he knew not whither to flee for protection, he, with a few faithful followers, honoured Southwell with his presence. The day after his arrival he walked about the town, not known, and entered the shop of a shoe-maker, whose name was Lee, who it seems, was a fanatic of the day. His Majesty after some conversation with this man, bid him take measure for a pair of shoes, Lee, in taking the king's foot in his hand, and looking at him attentively, refused to proceed. The king astonished at the man's behaviour, desired him to do what he had requested; but the shoe-maker actually refused, giving a reason that the king was the customer he had been warned of in a dream, the night before, in which he (the King) was doomed to destruction, and those who worked for him would never thrive. "The forlorn Monarch whose misfortunes had opened his mind to the impressions of superstition, uttered an ejaculation expressive of his resignation to the will of Providence, and returned to the palace, which was the place of his abode". (fn. 59)
May the 6th. 1646, the unhappy Charles came privately to Southwell & surrendered himself to the Scotch commissioners. The subsequent baseness of the Scotch is too generally known to need a relation here. The Inn, where the king dined, that day, is still standing. A little before the king's death, this inn, and the very apartment, were used by Cromwell when he was sent to oppose the northern army. The Palace had been rendered unfit for his reception by the soldiers who attended the commissioners, for they, it appears, had stripped the roof of its lead, and sold it before they left the town. His soldiers, during their stay, were dispersed about, some in the town and some in the villages. The church, this tyrant converted into a stable for his horses, and his soldiers were suffered to break down the monuments therein, and ransack the graves of the dead for lead and other valuables. Some of the iron rings still remain, in different parts of the church, which were then driven into the wall to fasten his horses to. The Bishop's palace, at the same time, was completely gutted of every thing that remained in it, that was valuable, or useful for their purposes.
Of this palace, which is now a ruin, in consequence of these plunderers, under the command of Cromwell, I have to observe, that its scite is near the church, the great hall is still standing entire, and is occupied now by the Revd. Mr. Barrow, a gentleman whom I found, obligingly, ready to answer my enquiries. The annexed view of the ruin, taken on my second visit to this place, will give a saint idea of what it has been. Several coats of arms remain, one of which is projected from a wall, an angel bearing the arms of Cardinal Kempe, arch-bishop of York, in the reign of Henry the sixth, who was rather a great contributor than the reputed founder of this building. He bare three corn sheaves, in allusion to his being the son of a husbandman, in Sussex. Thus his munificence to this place is recorded in a monkish distich:
In Suthwell manerium fecit pretiosum Multis artificibus valde sumptuosum.
Other great contributors to this palace were several of the arch-bishops of York.
"The Church of Southwell, says Rastall, has perhaps suffered a greater fluctuation of fortune, than any religious foundation in the kingdom. From its first institution, in the year 627, to the reign of Henry the VIII. we find it encouraged and endowed by the liberality of Kings and Princes; and most bountifully protected, by the fostering hands of Popes and Prelates." After it was partly robbed of its possessions by the irreligious defender of the church, Henry VIII. it arose to power and consequence by the same monarch, and it was made by parliament the head and mother church of the town and county of Nottingham. A little succinct history of this place may be collected from the note below, which contains an inscription on a pillar in the anti-chamber, called Lee's pillar from a man of that name being the author. (fn. 60)
It appears that Cromwell's soldiers had not robbed all the dead of their treasure, which was buried in this church; for Peck has given us the following, in his Desiderata Curiosa, communicated to him by the Revd. Mr. Cart, vicar of St. Martin's, Leicester, who received the information from a gentleman on the spot at the time of the discovery.
"On the 17th. of March, 1717, as the sexton was digging Mr. William Andrews' grave, in the south aile of Southwell Minster, he, with his spade, broke off the end of a stone coffin; and, seeing it hollow, put in a measure, and found it larger by a foot than the usual length of a grave; and opening it, found the body of a man, lying in his boots. The leather was fresh, and to all appearance found; till on trial it tore like London brown paper. The stitches were plainly to be seen. The shape of the boot-toe was made to the foot. He was dressed in cloth of tissue; which plainly shewed the silver, by waving it in the sun, or against a candle. A wand lay by him. On his breast lay something like the cover of a silver cup, sex or oct-angular. It had something like an acorn with leaves round it, on the top of it, but the hollow side was uppermost. By letting the moulds fall on his face, they could make no farther discovery of his head, only that the skull was small and very thin, even transparent. His teeth were all very found, and taken away by the spectators."
"This person, I conceive, was one of the family of Cauz." (fn. 61)
The old tombs here are not very numerous, of which Thoroton has taken but little notice, indeed he has not given any engravings, attached to Southwell, but two views of the church; therefore it will be necessary for me to add something, in this way, towards his collections, and in illustration of my own.
In the anti-choir is a tomb, probably for a founder of this part of the church, it rests under an arch in the north wall. It is fashioned somewhat like a modern coffin. (fn. 62)
One on the floor has part of an inscription legible, viz. Willelmus Both, ob. 1464. Another of this name and family, Laurence Both, has an altar tomb, he died in 1480, both prelates.
On the north side near the altar stands a monument for arch-bishop Sandys, on which is a figure of the bishop; and on the side figures of his children. At one end are the family arms, and at the other a very long latin inscription. Enough of it for our purpose is as follows:
Edwinus Sandys sacre theologie Doctor, postquam Wigorniensem episcopat. xi annos, totidemque tribus demptis Londinensem gessisset; Eboracensis sui Archiepiscopatus anno xv, vitæ autem lxix, obiit Julii x, Anno Dom. 1588. See fig 4 preceding plate
On a floor stone in the choir, was the figure of Thomas de Carbridge in brass, another arch-bishop of York who died in 1303.
A grand altar tomb, for another bishop, on which was a whole length figure, but now without its head, stands on the north side the choir. No inscription. (fn. 63)
Another altar tomb, plain, had originally two brass figures, apparently for a male and female; but for whom no body can tell. This however we know, that Cromwell's soldiers let few of these things, in brass, escape them, wherever they went. They were easy plunder, and as easily converted into cash. This thieving, no doubt, their hypocrite of a master, would tell them was for the service of God.
A small stone remembers William Talbot with this modest inscription:
Hic jacet Willelmus Talbot Miser & indignus Sacerdos Expectans resurrectionem Mortuorum sub signo THAU.
Some of the floor stones, in different parts of the church, I found, had curious crosses thereon, the inscriptions gone or obliterated. That fig. 2 in the preceding plate, was taken from the anti-choir, where there are others not much dissimilar. (fn. 64)
Here is an organ built by Master Smith.
Formerly there were five chapels within the parish.
The chauntry priests here had a college at the corner of the church yard. The building is still standing. There are no remains of an hospital dedicated to St. Mary Magdalene mentioned by Tanner. Part of the old gate-ways are still remaining which lead into the church yard, one is nearly entire.
Mr. Rastall has noticed the ages of five persons who died, within a few years of his publishing his history of this place; A. D. 1787. viz. Mrs. Twells 90. Richard Whittington 92. John Cade 93. — Higgins 99, and Eliz. Turvey 100.
K. B. 7l. 13s. 4. Clear yearly value in Bacon, 9l. 3s. 4d. Southwell V. dedicated to St: Mary. Syn and Prox null. Val. per ann. in mans cum gardin 10s. in dimid. acr. prat. 1s. 4d. de preb. Normanton in augment. 1l. in decem. privat. &c. Chapter of Southwell propr. and patr.
The vicarage, or college, what remained of it, was taken down in 1780, which had some curious carving on the beam ends, rich devices and emblematic figures.
Here were some wells of note, from one of which, it is said, the town takes its modern name. This is situate without the town south-east about ½ a mile. It is now called Lord's well Another was called Holy well, situate on the right of the cloyster. Another, Lady's well, situate within the consecrated ground of the church. In the year 1764, a Mr. Fowler, a clergyman, fell into this on a dark night, and was drowned. It is now filled up. St. Catherine's well is at the extremity of Westhorp, and has been celebrated for its cures, particularly in the rheumatism.
About the year 1779 or 1780, a gold ring, very broad, was found in the church yard in digging a grave. Within, this inscription, † MIEV † MOVRI † QUE † CHANGE † MA † FOY. †
Some few Roman coins have been found in this place, and some silver ones of modern times.
In the year 1711, Nov. 11th. a violent storm attended with lightning passed over the town; the lightening set fire to the south spire of the church, which communicated to the west end of the building, and to the roof of the middle tower, which in the end melted the bells and destroyed the organ. The damage was 4000l.
In 1740, in clearing one of the vaults of the palace was found the entire skeleton of a man, standing upright, with boots and spurs on, and some part of his arms, as a soldier lying at his feet. Near to this was a skull with the head of an axe in the cleft. with which, it may be supposed, the person was killed. The people of Southwell had heretofore given credit to a traditional report that a deserter, or a spy, had been taken up, in Southwell, when Charles the First was there, and some of the soldiers had thurst him into a vault or well, where he lost his life. This discovery has therefore given credit to the relation.
May 1772 a gentleman of this place, gave an entertainment to 24 persons of the town and neighbourhood, whose ages, together, amounted to 1981 years. The ynote iduet at dinner was in his 80th. year. (fn. 65)
A gentleman of Southwell gives the following account of a ginger red cock, late in his possession. When two years old, he sought in three regular mains, at Burton, in co. Stafford. The same year at Newhall and Brettby in co. Derby. At three years old he fought at Litchfield races and Nottingham, and on his return thence fought at Derby races. When four years old he won three successive battles in one day. (fn. 66)
Some time since at Westhorp, a small village near Southwell, died Mrs. Dorothy Clark, aged 112 years. She enjoyed good health till within a few days of her death. At the age of 102 she reaped wheat, a whole day, against a man, and performed her work with great ease to herself.
Hexgrave Park
Mentioned by Thoroton, in his account of Southwell, belongs to the archbishop of York, i. e. it is held under him by lease, which lease was lately purchased by Mr. Ingar, Mr. Veasey and Mr. Reynold. It has been sold for almost double the value within these thirty years.
Here, on this farm, which it now is, stands a good house, with extensive and pleasant views. On its scite formerly stood a seat of the arch-bishop.
Norwood,
Mentioned in the above account, lies on the road to Southwell from Nottingham, and is situate within two miles of the former. Here is the seat of sir Richard Sutton, bart. The building is modern, of brick and stone, small; but rather pleasantly situated, on a rising ground; at the foot of which is a small pond of water. The approach to this dwelling, from the road, is prettily diversified with firs, larches, &c. approaching towards maturity. Here and there, in the grounds about this seat, are some venerable oak trees, with decaying branches, long since past the meridian of life, that seem unwillingly expiring.
Norwood park was purchased after the civil wars by a Mr. Chud, a Nottinghamshire gentleman on the side of parliament.