Pages 136-139
A History of the County of Bedford: Volume 3. Originally published by Victoria County History, London, 1912.
This free content was digitised by double rekeying. All rights reserved.
KEYSOE
Caisot, Caissot, Chaisot (xi cent.).
Keysoe parish lies some 9 miles to the north of Bedford and 4 miles to the south of Kimbolton. The main road from these two places passes directly through the parish. Keysoe comprises 3,699 acres; 1,956 of these are arable land, 1,074 permanent grass and 37 woods and plantations. (fn. 1) The soil is stiff clay, which provides the material for brick works, and there are old sand and gravel pits. The principal crops grown are wheat, barley and beans.
The slope of the ground varies, but may be generally described as from south-west, where 260 ft. is attained above ordnance datum, to north-east. A late 17th-century survey states that 'the three townships of Brook End, Hardwick and Row make up the manor of Keysoe,' (fn. 2) and this description may be applied at the present day to the village, which is a very scattered one. Keysoe Row, on high ground in the south of the parish, stretches on either side of the road from Little Staughton to Thurleigh. Hardwick End, further west, includes Keysoe Park Farm, a 17th-century brick building with tiled roof, partially surrounded by a deep moat. The church and vicarage occupy an isolated position in the centre of the parish. Brook End, which is the most populous quarter, lies some distance north of the church in a hollow. A windmill is still in use on high ground in the centre of the parish. Besides that at Keysoe Park there is a second moat in an outlying district called London End, close to Little Staughton. (fn. 3)
There are Baptist chapels at Keysoe Row and Brook End, the latter congregation dating from 1652.
It has been suggested that a series of slightly banked and moated inclosures, all situated within a space of three-quarters of a mile, mark the site of the homesteads of the twelve sokemen, (fn. 4) who owned land in Keysoe in the time of the Confessor. (fn. 5)
MANORS
In 1086 Hugh de Beauchamp held a manor of 5 hides less I virgate in this parish which later became known as KEYSOE BURY or KEYSOE BERRYSTED MANOR. (fn. 6) It follows the same descent as the barony of Bedford (q.v.) until the death of William de Patishull in 1359. (fn. 7) He left three sisters—Sibil, Alice and Katherine (fn. 8) —and Keysoe became the property of Sibil wife of Roger de Beauchamp, who obtained a grant of free warren in Keysoe in 1377. (fn. 9) Roger de Beauchamp died seised of the manor in 1379–80. (fn. 10) His grandson (fn. 11) and successor Roger before his death in 1406 had placed the manor in the hands of trustees. (fn. 12) His son Sir John Beauchamp likewise settled the manor on his wife Edith (afterwards the wife of Sir Robert Shotesbrook) for life, with reversion to John his son, who, however, predeceased his mother in 1420. (fn. 13) Robert de Shotesbrook is recorded as holding the manor in 1432, (fn. 14) and was succeeded by Margaret Beauchamp, his wife's daughter by her first marriage. (fn. 15) Margaret Beauchamp was twice married—first to Oliver St. John and later to the Duke of Somerset. (fn. 16) On her death in 1482–3 the manor passed to her son John St. John. (fn. 17) The latter's son John died seised of the manor in 1526. (fn. 18) Oliver Lord St. John of Bletsoe, his grandson, held this manor at the time of his death in 1582. (fn. 19) His son John died without heirs male in 1596, (fn. 20) and after the death of his wife Katherine the property passed to his brother Oliver, (fn. 21) who died in 1618–19. (fn. 22) Oliver, afterwards the first Earl of Bolingbroke, son of the last-mentioned Oliver, settled the manor on his son Oliver on his marriage with Arabella the daughter of the Earl of Bridgewater. (fn. 23) This Lord St. John was killed fighting on the Parliamentary side at the battle of Edgehill in 1642. (fn. 24) As he left no heirs this manor probably reverted to his father the Earl of Bolingbroke, who died four years later. (fn. 25) The latter's grandson Paulet St. John, who succeeded to the earldom in 1688, (fn. 26) held this manor in 1703 (fn. 27) and 1706. (fn. 28) Between this latter date and 1715 Keysoe Berrysted passed from the St. John family to Edward Lord Harley, who was concerned in a suit regarding it in 1715, (fn. 29) while four years later he alienated the manor to Jeremiah Sambrook. (fn. 30) On the death of Jeremiah Sambrook and the division of his property among his heirs (see Yelden Manor) a portion of Keysoe Berrysted came into the hands of the Crawleys of Stockwood, (fn. 31) who have retained it down to the present day. Mr. Francis Crawley is the present lord of the manor.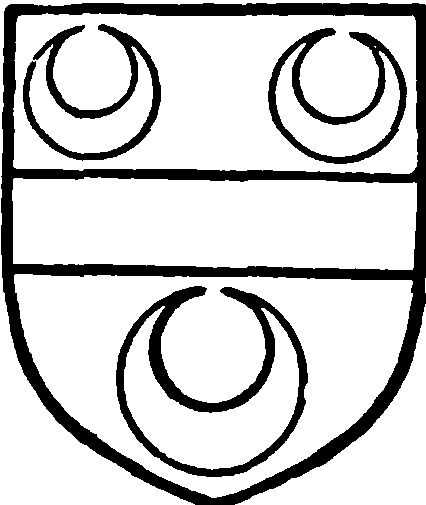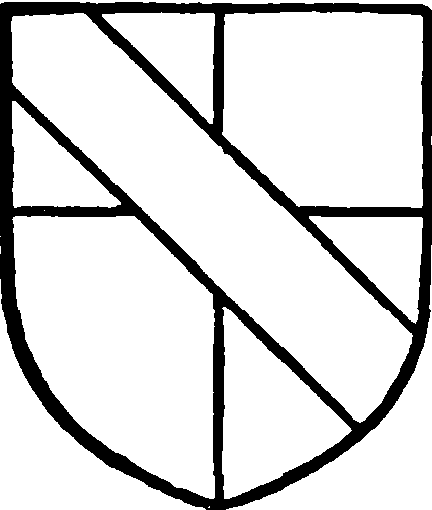 The manor of KEYSOE GRANGE had its origin probably in the land given by Simon de Beauchamp in the reign of King John to the Priory of Chicksands, founded by his mother. (fn. 32) This land was confirmed to the priory by Simon's son William de Beauchamp. (fn. 33) In 1330–1 the prior claimed view of frankpledge in his 'manor of Keysoe.' (fn. 34) The priory continued to hold the manor till the dissolution of the monasteries. (fn. 35)
In 1540 this manor was granted by the king to Sir John St. John of Bletsoe, (fn. 36) and the descent is henceforward the same as that of the manor of Keysoe Berrysted (q.v.). A view of frankpledge and a court leet were attached to this manor in 1559. (fn. 37)
In 1302 Walter de Stouton held a thirtieth part of a fee in Keysoe of that part of the barony of Bedford then held by Robert Lestraunge. (fn. 38) By 1346 this part of the barony had passed to John de Mowbray and Walter de Stouton's one-thirtieth part of a fee had become merged in the one-third part of a knight's fee then held by Richard de Melchebourne, John de Smyth, John Reyner and others. (fn. 39) By 1428 this had passed to Robert de Shotesbrook, (fn. 40) who married Edith Beauchamp, on whom the manor of Keysoe Bury had been settled by her husband John de Beauchamp. (fn. 41) The descent of this property is henceforward the same as that of the manor of Keysoe Berrysted (q.v.).
In 1282 William Jarpenvill quitclaimed to Henry Waukelyn for life with reversion to himself and his heirs land in Keysoe consisting of a messuage, 77 acres of arable land, 3½ acres of meadow and 3½ acres of pasture. (fn. 42) In 1302–3 William Jarpenville and Stephen Waukelyn held one-quarter of a knight's fee from Richard le Rous as of the barony of Bedford, (fn. 43) while in 1346 their respective heirs Richard Tetebury and Margaret Waukelyn held the same quarter-fee, but from John de Pateshulle. (fn. 44) Richard de Tetebury's heirs are recorded as still holding this property in 1428, (fn. 45) but no further mention of them occurs.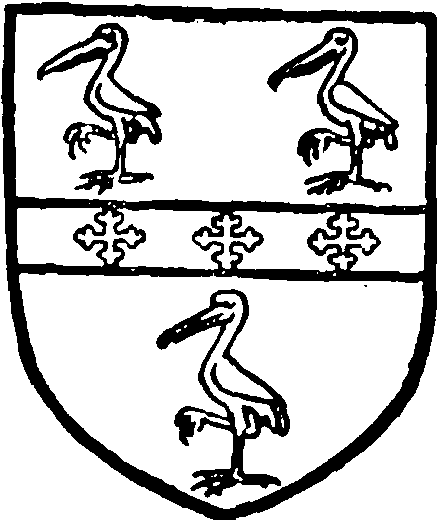 Walter de la Londe also held one-thirtieth part of a knight's fee from the barony of Bedford in the 13th century. (fn. 46) He was still holding in 1302. (fn. 47) In 1346 John Cokkyne, John and Richard Serle, (fn. 48) with Roger de Done had succeeded him. (fn. 49) This fragment of a knight's fee cannot be traced further.
In 1388 John Hemyngford granted lands in Keysoe to the Prior and convent of Bushmead to be held in frankalmoigne. (fn. 50) At the time of the Dissolution these lands were valued at 7s. 5d. per annum (fn. 51) and were leased to Sir John St. John. (fn. 52) The reversion of them was granted to Sir William Gascoigne, (fn. 53) and in 1587–8 they were in the hands of William Gerey, (fn. 54) whose nephew Richard died seised of them in 1638. (fn. 55)
In 1086 as in 1066 Alwin held I virgate in Keysoe. (fn. 56) As he also held land in Pertenhall, (fn. 57) it seems possible that this virgate in Keysoe later came into the possession of the Peyvre family, whose Pertenhall property extended into Keysoe. Nicholas Peyvre was granted free warren in Keysoe in 1253, (fn. 58) and other members of the family claimed the right in 1287 (fn. 59) and 1330. (fn. 60) Their Keysoe lands, however, were a parcel of their Pertenhall property (q.v.).
In the Domesday Survey Hugh Hubald is recorded as holding of Osbert 1 virgate worth 2s., (fn. 61) while 3 virgates of land in Keysoe were included under Huntingdonshire in the soke of Kimbolton and held by Allic. (fn. 62) The descent of these small holdings cannot be traced.
William Tuward held one twenty-fifth part of a knight's fee of the barony of Bedford in the 13th century. (fn. 63) In 1302 his property amounted to half a virgate. (fn. 64) He was succeeded by Amice de Caldecote, who held in 1346. (fn. 65) No further mention of this holding occurs.
A mill is mentioned with Hugh de Beauchamp's holding in the Bedfordshire Survey. (fn. 66) There was a windmill in this manor in the 13th (fn. 67) and 14th (fn. 68) centuries. In 1379–80 this is described as being in a ruined condition. (fn. 69) Roger de Beauchamp was granted rights of free warren in Keysoe Berrysted in 1377, (fn. 70) while a view of frankpledge was attached to the manor in 1287 (fn. 71) and 1330. (fn. 72)
CHURCH
The church of ST. MARY THE VIRGIN consists of a chancel 25 ft. 6 in. long by 13 ft. wide with north chapel, a nave 39 ft. long by 19 ft. 2 in. wide with south porch, a north aisle 12 ft. 10 in. wide and a west tower 13 ft. 11 in. by 12 ft. 6 in.
The plan of the nave and chancel is apparently that of a late 12th-century building, of which parts of the walls and the south doorways of nave and chancel remain. In the 14th century the north aisle was added and in the 15th century the north chapel and nave clearstory.
The chancel has a 14th-century east window of three trefoiled lights with geometrical tracery and on each side of it are plain image brackets. On the north side there is an arcade of two bays with arches of two chamfered orders on an octagonal shaft and responds of 15th-century detail. On the south side is a 14th-century piscina with tracery under a pointed head and near it a tall lancet window with jambs carried down for sedilia; it is apparently 13th-century work reset, and on its east springer is a small blank shield. The doorway has a plain round head, and to the west of it is a square-headed 14th-century window of two trefoiled lights set low in the wall, with traces of an internal shutter. The chancel arch is pointed in two chamfered orders, probably 14th-century work. The north chapel has an east and two north windows of 15th-century date of three lights with tracery under a four-centred head. In its east wall is a piscina recess, once trefoiled, and in the north wall a square locker. The second window on the north is of different section from the others and in part older work re-used, probably from the east window of the north aisle.
The nave has a north arcade of three bays c. 1340, on octagonal piers and responds with moulded capitals and bases; above them is a range of four 15th-century clearstory windows, each of two trefoiled lights, and at the north-east is a rood-loft door.
On the south side of the nave are two 15th-century windows of three cinquefoiled lights, the eastern of the two being set in 14th-century jambs with a 14th-century sill and a square locker below. The clearstory on this side is a range of four two-light windows with tracery, larger than those on the north.
The south doorway is only slightly chamfered and has a semicircular head of plain late 12th-century work, a moulded string at the springing having been cut away. To the east of it is a mutilated holy water stone. The porch has square-headed windows on the north and south sides, each of two trefoiled lights with tracery; the doorway is pointed in two chamfered orders and above it is a small trefoilheaded niche; the work seems of mid-14th-century date. The north aisle has two 14th-century north windows of two trefoiled lights with a quatrefoil over and a single trefoiled light at the west. The north doorway of the aisle has a two-centred arch with wave moulding.
The tower, which was built early in the 15th century, is in four stages, a fine massive building, simply and broadly designed, with an embattled parapet and angle buttresses rising the full height and ending in panelled and crocketed pinnacles; it is crowned by a tall octagonal spire with three sets of spire lights. The stair is at the south-west, and the belfry windows are pairs of tall two-light openings with tracery and transoms. Below are single trefoiled lights and over the plainly-moulded west door is a three-light window with tracery in the head. The tower arch is of three chamfered orders with a shaft to the inner order only.
The roofs of the church are all old, that of the chancel being probably 14th-century work and the rest all of the 15th century, though repaired.
The altar table is dated '1628 H. R.,' and there are a number of early 16th-century bench ends and fronts in the nave, with tracery on the panels which is in some cases old.
The 14th-century font is octagonal on an octagonal base with gablets each side and is unusually interesting, having a long inscription on the base '+ Cestui ke par hici passerũt pur le alme Warel prieū ke Deu par sa grace verrey merci li face, Am.'
In the north chapel is a marble slab inscribed 'AVDRE DE [T. . YE]' GIST ICY DEU DE SA ALME EYT MERCI.' Near it is a 13th-century coffin lid with scrolls on the shaft of the cross. On the outside of the west wall of the tower is a curious inscription recording the fact that a man fell from the top of the tower in 1718, yet was not killed, but lived until 1759, attaining the age of seventy-three years.
There are five bells, of which the first, third and fourth are modern; the second is by Joseph Eayre, 1755; the fifth is dated 1779.
The plate consists of a modern electro-plated cup and paten.
The registers date from 1735. Book i has all entries 1735 to 1753 and baptisms and burials till 1792, book ii continues the baptisms and burials to 1812, and book iii contains marriages 1754 to 1812.
ADVOWSON
The church of Keysoe was given by Simon de Beauchamp to the priory of Chicksands in the reign of King John. (fn. 73) It remained the property of the priory until the Dissolution. Henry VIII granted the church and advowson to Trinity College, Cambridge. (fn. 74) The authorities of the college have presented to the living down to the present day (fn. 75) and are the present patrons. The value of the church in 1291 was £10 13s. 4d. (fn. 76) At the time of the Dissolution the living was worth £8 3s. and the rectory £24. (fn. 77)