Pages 69-76
A History of the County of Bedford: Volume 3. Originally published by Victoria County History, London, 1912.
This free content was digitised by double rekeying. All rights reserved.
ODELL PARISH
Wadelle, Wadehelle (xi cent.); Wahull, Wodhull (xii–xiv cent.); Odyll (xv cent.); Odell, Woodhill alias Wahull (xvi cent.); Woodhill alias Odell or Odley (xviii, xix cent.). (fn. 1)
Odell, a parish with an area of 2,902 acres, is situated 8 miles north-west of Bedford. The slope of the ground is from north-west, where the highest point attained is 346 ft. above ordnance datum, to south-east, where the land lies low, and in the neighbourhood of the Ouse, which forms its southern boundary, is liable to floods. Of this area, 1,086 acres are arable land and 904½ permanent grass. (fn. 2) The soil is gravel, the chief crops wheat and pasture. There is an abundance of good stone in the parish and several springs, two of which have been reputed medicinal. (fn. 3)
The village, which is prettily situated on the northern banks of the Ouse, is approached by the main road from the east. To the south of this road is North End Farm, whilst further west on the opposite side stands Odell Rectory. Beyond the rectory is the parish church of All Saints, much overgrown with ivy, and on a slight eminence. The churchyard, which rises abruptly from the road, contains fine chestnut trees. The road, which here makes a bend, passes on to Odell Castle, occupying an elevated position above the river, and commanding a beautiful view of the surrounding country. The castle stands in 11 acres of grounds on the site of the ancient stronghold of the Wahulls, and Oliver St. John Cooper, writing of it in 1787, says, 'The castle, before the art of war was so refined as at present, must have been an impregnable fortress from its advantageous situation near the river and on a rock of considerable height and steep ascent. Little remains of the old works, yet both the upper and bas courts are very conspicuous.' (fn. 4)
The road then passes through the village, consisting of stone houses with tiled and thatched roofs, turns south, south-west, and leaving the river, with which it has hitherto maintained a parallel course, and on whose banks stands a corn-mill, on the south passes on to Little Odell, an outlying portion of the parish.
Odell is well wooded, containing in all upwards of 370 acres. (fn. 5) The principal wood is Odell Great Wood, towards the centre of the parish, 'the noblest wood in this county,' containing about 300 acres, 70 of which is called Yelnoe Wood. Other woods and copses are Great Catsey, Little Catsey and Forty Acre in the north-west, Brownage and Barwick Woods in the north-east.
Odell was at one time a market town. In 1221 William Fitz Warine paid 100s. for right to hold a market here. (fn. 6) The following year a prohibition was issued ordering the market not to be held if it were detrimental to the neighbouring market of Olney, Buckinghamshire. This did not prove to be the case, and Odell market, which was held on a Thursday, was confirmed to Saher de Wahull, lord of the manor, in 1236. (fn. 7) Frequent mentions of the market as attached to the manor are made during the remainder of the 13th century and the first half of the 14th. (fn. 8) It does not appear that this right has been since exercised, though it is occasionally mentioned in 18th-century extents of the manor. (fn. 9)
At the beginning of the 19th century an annual fair was held on Thursday and Friday in Whit week, known as the Horse Fair, and a few stalls are still erected. (fn. 10) During the fair week anyone was permitted to sell beer without a licence, but this has long since been stopped, on account of the abuses it entailed. There are small industries of pillow-lace making and leather-dressing carried on here at the present day. Odell was inclosed in 1776 by Act of Parliament, 'with as little benefit as other new inclosures, especially to the poor,' according to Mr. Cooper. By this inclosure an allotment was made to the rector for glebe and tithes, and one-sixteenth of all the common and waste lands were to go to the lord of the manor. Persons having a grievance were to have the right of appeal at the quarter sessions. (fn. 11)
Edward and Peter Bulkley, father and son, were successive rectors of this parish in the 17th century. The former of these, who died in 1620, was one of the commissioners appointed by the Bishop of Lincoln in 1608 for the 'Levye of Armour in Bedfordshire among the clergy.' (fn. 12) His son Peter, born here in 1582, was educated at St. John's College, Cambridge, and succeeded his father as rector in 1620. He fell into disfavour with Archbishop Laud on account of his Puritanical tendencies, and in 1634, on the occasion of the visitation of Sir Nathaniel Brent, Vicar-General, he was suspended for non-attendance at the visitation. He afterwards came and confessed that he never used the surplice nor the cross in baptism, 'accounting them ceremonies, superstitions and dissentaneous to the holy Word of God.' (fn. 13) The following year, being unable to conform, he converted the estate left him by his father into money, and, as so many had done before him, went to America, hoping to find there the religious freedom denied him in his own country. He settled at Concord and afterwards at Fairfield, where he became the owner of a large estate. In 1651 he published The Gospel Covenant Opened, one of the first books published in America. His death took place in 1658–9. (fn. 14)
CASTLE AND BARONY
The castle of Odell situated in this parish was the head of one of the three great local baronies, that of Odell. It represented the Domesday fief of Walter le Fleming, who held 50½ hides in Bedfordshire—extending into the parishes of Astwick, Henlow, Holme, Langford, Milton, Odell, Podington, Stratton, Southill, Thurleigh, Totternhoe, Turvey, and Wymington, (fn. 15) nearly 44 hides in Northants, (fn. 16) 6 hides 1½ virgates in Hertfordshire, (fn. 17) 1 hide and 1 virgate in Buckinghamshire. (fn. 18) He had been preceded by Levenot and Lewin, both thegns of Edward the Confessor, and it is interesting to note that of this hidage 33 hides in Manshead and Willey Hundreds (i.e. on the Northants border) and all the hidage in Northants had formerly belonged to Levenot, (fn. 19) whilst in 13 hides in Biggleswade (i.e. on the Hertfordshire border) and throughout Hertfordshire itself Walter le Fleming had succeeded Lewin. (fn. 20)
To the barony of Wahull was attached the liability to provide castle-guard of Rockingham in Northants. That castle was constructed by command of William the Conqueror some time previous to the Survey, (fn. 21) and its garrison was further supplemented by a charge on the barony of Warden (Northants) and on the Peterborough Abbey knights. (fn. 22) In 1278 Odell, as part of the barony, contributed one knight's service towards the castle-guard, (fn. 23) and Thomas de Wahull, who died in 1304, was declared to hold the manor 'in chief by barony doing service of a knight's fee yielding yearly to the Castle-guard of Rockingham 69s. at Michaelmas for the king's use.' (fn. 24) In 1349 John de Wahull held his Bedfordshire property and Pattishall (Northants) for two knights' fees and £9 yearly towards the ward of Rockingham. (fn. 25) Other references to this charge of £9 occur during the 15th century, (fn. 26) and when in 1613 Sir Richard Chetwood made his claim to this barony, he mentions in support of it 'nine pounds per annum, being the Antient Fee of the Castle guard of Rockingham continually paid into the Exchequer, and is at this day.' (fn. 27)
In the 12th century the barony of Wahull was an aggregate of thirty knights' fees. (fn. 28) Walter de Wahull (c. 1160–90) declared himself to hold twenty-seven fees of ancient feoffment and three of his own demesne. (fn. 29) In 1214–15 a scutage of three-score pounds was levied on John de Wahull for his thirty knights' fees, (fn. 30) and a little later in the same century the Testa confirms this statement, the barony then comprising thirty fees in various counties. (fn. 31) In 1371 an inquisition was made as to the extent of the knights' fees held of John de Wahull: the total number was then assessed at twenty-one and a half. (fn. 32) This list, which names with few exceptions Walter Fleming's Domesday property in Bedfordshire, Northants, and Hertfordshire, does not include the fees which John de Wahull held in chief in this county and elsewhere. (fn. 33)
The descent of the barony of Wahull is as follows: Walter the Fleming, the Domesday holder, was followed by his son Walter, (fn. 34) whose son Simon flourished in the reign of Stephen (1135–54), and who together with his wife Sibyl and his eldest son Walter is found presenting Langford Church to the Knights Templars. (fn. 35)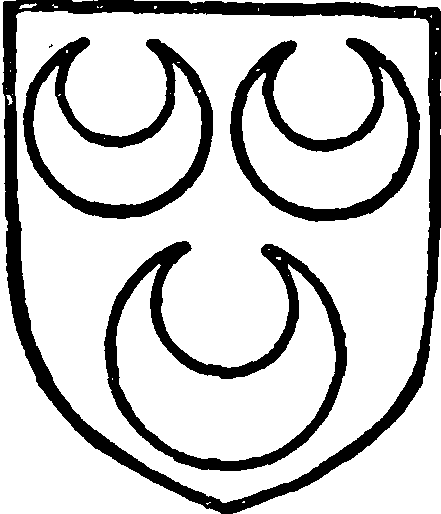 The barony passed to Walter, who held it in 1160. (fn. 36) He was a man typical of the turbulent time in which he lived. With Robert Foliot and others he was described by Theobald Archbishop of Canterbury (1139–61) as 'invader' of Ramsey Abbey, and was commanded to desist from his depredations. (fn. 37) Again, in 1172, on the occasion of a quarrel between Henry II and his son Prince Henry, which almost assumed the proportions of a civil war, Walter appears to have taken an active part on the prince's side, and in company with others was taken prisoner in Norfolk. (fn. 38) Walter left two sons, Simon the elder and Saher, of whom later. Simon died shortly before 1197, in which year Hubert Archbishop of Canterbury paid £333 6s. 8d. for the wardship and marriage of his son and heir John de Wahull. (fn. 39) John was still a minor on the death of Hubert in 1206, and the wardship was transferred on a further payment of 300 marks to Isabel widow of Geoffrey de Mandeville Earl of Essex and wife of Hubert de Burgh, Justiciar of England. (fn. 40) In 1213 John de Wahull furnished three well-equipped knights for one year's service beyond the sea, receiving for himself at the same time permission to delay his own departure thither on account of his ill-health. (fn. 41) He died c. 1217, leaving two sisters and co-heirs, Rose wife of Robert Lisle, and Agnes, at this time wife of Robert Basingham, on whose death in the same year she married William Fitz Warine. (fn. 42) They obtained full seisin of their brother's barony on payment of a relief of £200. (fn. 43) Rose de Wahull died in 1222 without issue, (fn. 44) and Agnes thus acquired entire right in the Wahull barony. John de Basingham, her son by her first husband, succeeded his mother in 1238, (fn. 45) and died the following year without direct heirs. (fn. 46) The barony now reverted to Saher de Wahull, son of Simon de Wahull, and greatuncle of John de Basingham. (fn. 47) He paid baronial relief on succession to the lands of his ancestors, (fn. 48) and personally performed baronial service with the king beyond the seas in 1242. (fn. 49) He died in 1250 seised of the Wahull honour, when his son Walter, aged twenty-three, succeeded him (fn. 50) and paid the ordinary £100 relief of a baron in the same year. (fn. 51) In 1257 he received simple protection on the occasion of a journey to Santiago, (fn. 52) probably as a pilgrim to visit the world-famous shrine of St. James of Compostella. (fn. 53) He was summoned by special writ (one of the privileges attached to the rank of majores barones in the Great Charter of 1215) for military purposes in 1260, 1261 and 1263. (fn. 54) Walter de Wahull, who died ante 1269, married Heloise daughter of Hugh de Vivonia. His son John de Wahull received nine writs as a baron between the years 1276 and 1295. These were not summonses to Parliament, but undoubtedly military writs. (fn. 55) The only possible exception is a writ dated from Rhuddlan, 28 June 1283, summoning him to Shrewsbury on 30 September. The writ runs, 'to ordain what should be done with the aforesaid David (fn. 56) … to speak with us upon this and other matters.' This has been held to imply that John de Wahull was subsequently present at the Parliament held at Acton Burnell, near Shrewsbury, in the same year, when David was condemned to be hanged, drawn and quartered, and when the statute De Mercatoribus was passed. (fn. 57)
John de Wahull married Agnes daughter of Sir Henry Pinkney of Weedon Pinkney, by whom he had a son Thomas, (fn. 58) who had succeeded his father in 1296. (fn. 59) Thomas de Wahull received three writs of summons, two in 1297 and 1298 of a military character, and one in 1296–7 endorsed 'De Parliamento tenendo apud Sarum.' (fn. 60) Apart from the fact that no proof exists of Thomas' presence at Salisbury, this meeting is not technically recognized as a Parliament. (fn. 61)
Thomas de Wahull died in 1303, when his son John was one year old. (fn. 62) During his long minority the king retained his guardianship, (fn. 63) and in 1323, on receiving his homage, gave him full seisin of his father's lands. (fn. 64) In 1330, on the occasion of the special commission of inquiry into privileges known as the Placita de Quo Warranto, John de Wahull was exempt from amerciaments by the justices in eyre at the Bedford Assizes as a baron, (fn. 65) that is one who in virtue of his rank must be amerced by his equals or before the Royal Council. (fn. 66) He was summoned to attend the king by writ witnessed at Roxburgh in 1334, (fn. 67) and died in 1336, (fn. 68) leaving a son and heir John de Wahull, a minor of sixteen years of age and more. (fn. 69) He was summoned by special writ in 1347, and died in the following year, (fn. 70) his son John being under age, as had been the case in the two previous successions. (fn. 71) John de Wahull died in 1367 without male issue, when his two daughters, Elizabeth aged three and Eleanor aged two, became his co-heirs. (fn. 72) They both died in 1376 before attaining their majority, and the barony reverted to their great-uncle Nicholas son of John de Wahull. (fn. 73) Nicholas de Wahull is described as holding the barony of Wahull in 1404, (fn. 74) and died in 1410, when his son Thomas, aged twentythree years and more, succeeded him. (fn. 75) He paid full baronial relief to the king in 1412–13, (fn. 76) and died in 1421, leaving one son Thomas by his marriage with Elizabeth sister and heir of Sir Thomas Cheetwood. (fn. 77) Thomas, who was under age in 1421, and who is styled Baron of Wahull in Letters Patent, (fn. 78) married Isabel daughter of Sir William Trussell, and had one son John, who at the time of his father's death in 1441 was five years of age. (fn. 79) John de Wahull died in 1490, and his lands and dignity passed to his son Fulk, (fn. 80) who by his marriage with Ann daughter and co-heir of William Newenham had three sons, of whom the eldest, Nicholas, succeeded his father in 1511. (fn. 81)
He married Elizabeth daughter and co-heir of Sir William Parr, by whom he had a son Anthony, who followed him in 1531. (fn. 82) On Anthony's death in 1542 his daughter and heir Agnes was only seventeen days old. (fn. 83) She married twice. Her first husband was Richard Chetwood, and in 1558–9 a statute passed for restoring to the Crown its ancient ecclesiastical and spiritual jurisdiction has a special proviso, by which Richard and Agnes Chetwood—whose marriage had been declared invalid by Cardinal Pole, and who had appealed to Rome for reversion of his sentence—were to be allowed to abide by the decision of the Papal Court, 'any Lawe, Costume, Usage, Canon . . . . to the contrary nothwithestanding.' (fn. 84) Richard Chetwood died a year later, and Agnes subsequently married Sir George Calvely. She died in 1575–6, when her heir was her only son Richard Chetwood, a minor. (fn. 85) He became a member of the Inner Temple, and about the year 1613 presented a petition to James I claiming the ancient barony in fee of Wahull, as being heir lineal and sole of his several ancestors who had been summoned to attend, and had attended the king as barons. (fn. 86) This petition was referred to the commissioners for exercising the office of Earl Marshal, at that time void. They returned a report in which they stated that they held his petition to be true, and that they considered him to be worthy of the dignity of a baron. (fn. 87) According to family tradition, after the report was made, Sir Richard Chetwood was offered a peerage of new creation, which he refused. (fn. 88) In 1632 Sir Richard Chetwood alienated his Bedfordshire property to the Alstons, (fn. 89) and died three years later. A little over 100 years later, in 1739, Knightley Chetwood, direct heir and great-great-grandson of Richard Chetwood, presented a petition to George III claiming the title of Baron de Wahull, and relying on the favourable report of the commissioners in the reign of James I; the petition was referred to the AttorneyGeneral, but no further action in the matter taken. (fn. 90) His grandson Jonathan Chetwood in 1831 presented a similar petition to William IV, which was referred to Sir Thomas Denman, then Attorney-General. He, considering the descent from Saher de Wahull satisfactorily proved and other arguments brought forward worthy of consideration, advised that the case should be referred to the House of Peers. In 1833 therefore it was referred to the Committee for Privileges. (fn. 91) Jonathan Chetwood had no issue—save one son Valentine, who died in infancy—and died in 1839 without further prosecuting his claim. A further claim was made to this barony in 1890, when Constantia Elizabeth Chetwood-Aiken, great-great-granddaughter of Knightley Chetwood, the claimant of 1739, presented her petition to Queen Victoria. (fn. 92) It was referred to the House of Lords for adjudication, but she died in 1892 without her claims having come before the Committee for Privileges, and her son John Chetwood Chetwood-Aiken preferred her claim. The case was brought before the Committee for Privileges in 1892, the petitioner basing his claim on direct descent from the de Wahulls, (fn. 93) who it was claimed were 'Barones Majores,' documentary proof of their possession of the rights which belong to such rank being brought forward. (fn. 94) The claim, however, broke down on the ground that though special writs of summons had been issued at various times to the de Wahulls they were either definitely for military service, or when not definitely so stated to be they were very doubtful. And that since the right to being a peer, as laid down by Coke and repeated decisions of the House of Lords, consists in summons to Parliament by writ, and sitting in Parliament in pursuance of that summons, the Committee of Privileges decided that the petitioner John Chetwood Chetwood-Aiken had failed to prove that such a peerage was ever created. (fn. 95)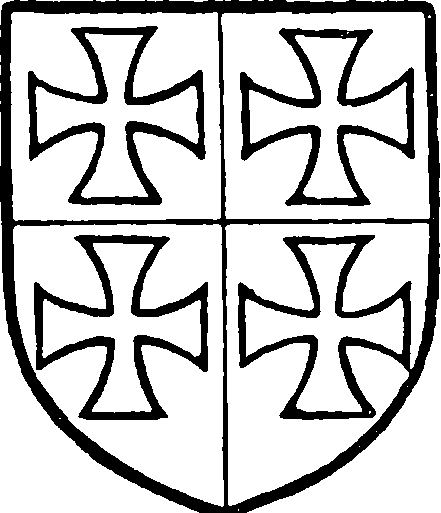 MANORS
Walter the Fleming owned a manor in Odell at Domesday which was assessed at 5 hides 12/3 virgates, and which included a mill worth 36s. 8d. and 200 eels. It was worth 100s. as opposed to £8 when acquired. (fn. 96) The descent of this manor is the same as that of the barony of Wahull (q.v.) till 1632. In 1236 Saher de Wahull received a charter of free warren. (fn. 97) John de Wahull, lord of the manor in 1278, had in demesne 180 acres of arable land, meadows and pasture, one park, an ancient inclosure of 100 acres, two water-mills and a several fishery from the head of the Odell mill-ponds to that of Felmersham. He owned 4½ virgates in villeinage, and the servi on his estate were not allowed to give their daughters in marriage nor sell their male foals without their lord's consent. He had twenty-seven free tenants, who held by various rents, such as a rose, an arrow, capons, wax, a pair of gloves, they in their turn having tenants under them. There were also twenty-six cotarii on the estate who held chiefly by money rents, though in one instance William Prikeavant held his cottage by the service of a hooded falcon, and Walter le Sergeant, who was also free tenant of half a virgate as park-keeper, held his cottage by the service of twelve arrows. (fn. 98) In 1304 the value of this manor was stated to be £17 11s. 6d. (fn. 99) An excellent and detailed account of the estate is preserved bearing date 1368, that is nearly one hundred years later than that given above. The extent then included a dwelling-house within the site of the manor worth nothing beyond reprises, the herbage in the garden was worth 40d., the dove-house 6s. 8d., the fish-pond 40d., a water gate 10s., a fishery in the waters of the Ouse 10s., a market every Thursday 26s. 8d. and pleas and perquisites of court 20s. The demesne included 2 carucates of land worth £4, pasture in the park of the manor worth 13s. 10d., 13 acres of meadow worth 39s., and 60 acres of wood, worth nothing at the time of the inquisition, as the underwood had been cut the preceding year. (fn. 100) Odell Manor was valued at £20 in 1403, (fn. 101) whilst eight years later it had diminished to £10. (fn. 102) A few years later, in 1421, the capital messuage of the manor was declared to be worth nothing, 'because the houses are very ruinous,' a garden was worth 2s. 4d., the water-mill 26s. 8d., 12 acres 3 roods of meadow were worth 31s. 10½d. The estate also included 140 acres of arable land (of which 71 were suitable for yearly sowing) worth 23s. 8d., (fn. 103) 35 acres of wood, 40 acres of pasture, a fishery worth 6s. 8d., rent of free tenants 20s. 2d., 1 lb. of pepper and 1 lb. of cummin, rent of customary tenants 41s., perquisites of court and view of frankpledge 2s. 9d. When various services due from the lord of the manor to the king were deducted it was only worth 43s. 4½d. (fn. 104)
In 1632 Sir Richard Chetwood and Dorothy his wife conveyed the manors of Great and Little Odell by fine to Roger Nicholls and Thomas Tirrell, (fn. 105) preliminary to a sale to William Alston which took place the following year. (fn. 106) William Alston, who was of the Inner Temple, was made keeper of the writs in the King's Bench, a post according to Cooper 'of considerable profit and honour, being conferred only on the nobility or some other eminent persons.' The same authority states that he was a pious and charitable man, giving to the church of Odell a large chalice of silver-gilt, and completing a peal of five musical bells. (fn. 107) He died unmarried in 1638, when his brother Thomas, also of the Inner Temple, succeeded to the Odell property. (fn. 108) He was created a baronet in 1642, in which year he was sheriff for the county. By his wife Elizabeth, daughter of Sir Rowland St. John and sister of three successive Lords St. John of Bletsoe, he had two sons—Thomas, who predeceased him, and Rowland, who together with his father made a settlement of the manor in 1674. (fn. 109) Sir Thomas Alston died in 1678, when Rowland acquired the Odell property. He died in 1697, (fn. 110) and was succeeded by his son Sir Thomas Alston, bart., (fn. 111) who sat for Bedford borough in 1698, and on whose death unmarried in 1714 Odell passed to his brother Rowland. He died in 1759, aged eighty, (fn. 112) when his son Thomas succeeded to the baronetcy and family estates. He, who sat as member for the county in 1747 and for Bedford borough in 1760, died in 1774, (fn. 113) having devised his property by will to his natural son Thomas Alston, who with his son Justinian made a settlement of the manor in 1803, (fn. 114) and again in 1814. (fn. 115) Justinian Alston succeeded his father in 1823, and was followed by his son Crewe Alston, on whose death in 1901 the castle and manor passed to his son Rowland Crewe Alston, the present owner.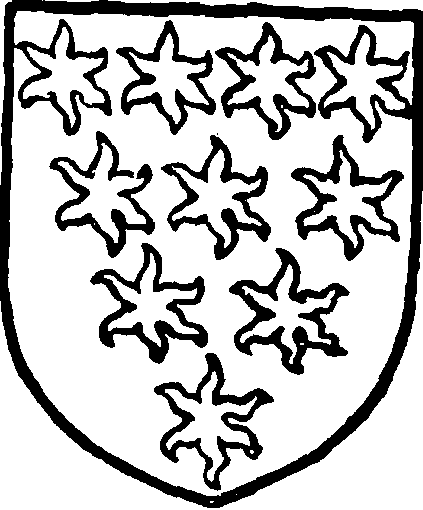 The castle stands on an eminence on the north bank of the Ouse about midway between Harrold and Felmersham. It was in ruins in Leland's time, (fn. 116) and nothing now remains to show either the extent or disposition of the original buildings or the date of their erection. Sir William Alston (fn. 117) appears to have built a new residence here in 1623, in which he utilized the remains of the castle keep, as is testified by the great thickness of the walls in the basement along the south-west and north-west sides of the house.
In the 18th century Lady Wolstenholme made considerable alterations to the interior of the house and rebuilt both the north-east and south-east fronts, (fn. 118) while in more recent years the south-east corner was again rebuilt and heightened, and other alterations made. (fn. 119)
The main block faces the south-east and is L-shaped in plan. It is built of stone and is mainly two stories in height with one in the roof. The projecting arm extends to the north-west from the southern corner of the building, while running parallel with it from the centre of the main block but at a lower level are the kitchen wing and offices.
This wing, which is only one story high, is entirely the work of Sir William Alston, and in the gable is a stone with the date 1623. The principal approach from the road is now from the west through a courtyard, which is bounded on the north-east by the kitchen wing, but in the 17th century the main entrance was on the north. The original gate-piers with the gates are still standing at this point, and form the entrance to the stableyard; the stables are of the same date as the main rebuilding and back on to the roadway. To the south-east of the kitchen block is a stone well known as 'King John's Well,' which is sunk to a great depth, being apparently over 60 ft. to the water level. The house is entered from the courtyard up a modern flight of stone steps, which are covered by a verandah, the ground floor being considerably above the ground level.
At the end of the entrance corridor, lighted from the north-east, is the Monks' Hall, a large room lined with 18th-century panelling. The southeast wall from its thickness must have belonged to the mediaeval building. Behind the panelling in this wall is a small doorway with a flight of stone steps leading down to the basement, the level of which is only a little below the present level of the ground outside. These steps are said to continue down some way below the basement level.
The south end of the south-east front was raised in 1864–5; it is now in three gables and is lighted by sash windows. The north end of this side and the whole of the back of the main building are 17thcentury work, although much modernized. The chimneys are original and are rectangular with moulded caps and bases.
The grounds of the Castle are nicely wooded.
Among the early tenants of Odell Manor was Robert Parentine, who at the time of the Testa held one-seventh fee of the Wahull Barony. (fn. 120) By 1278 this fee, which had increased to one-fourth, was held by William St. John, who owned a carucate of 100 acres and a capital messuage, and had under him twelve tenants. (fn. 121) By 1302 this fee had passed to Sampson de Batsford, (fn. 122) a member of whose family, William de Batsford, held in Odell in 1315 (fn. 123) and in 1346. (fn. 124)
Ralph Druel was another 13th-century tenant of the Wahulls, holding by one-tenth of a knight's fee. (fn. 125) Sampson Druel held this fee in 1302, and one of the same name in 1346. (fn. 126)
Ralph Caperon, another tenant, holding onetwenty-fourth fee, (fn. 127) was succeeded in 1278 by Sybil and Agnes Caperon, who each held half a virgate of land here. (fn. 128)
Reginald de la Hoo and Ralph son of Wymark were other tenants of the barony of Wahull in the 13th century. (fn. 129)
A second estate in this parish at the Survey was LITTLE ODELL MANOR. It was assessed at 4½ hides and one-third of a virgate, and belonged at this time to Count Eustace, the successor of Alwold, a thegn who had held under the Confessor. (fn. 130) The overlordship of this manor, like other of Count Eustace's property, became attached to the honour of Boulogne, and follows the same descent as that of Stevington. In 1278 Baldwin Wake was overlord of this manor. (fn. 131) The Wakes continued to exercise paramountcy until c. 1441, (fn. 132) at which date it was held of the Earl of Huntingdon. (fn. 133)
The Domesday tenant of Little Odell was Ernulf de Ardres, but by the beginning of the 13th century it had become the possession of his heir the Count of Guînes. (fn. 134) Subsequently it is found in the hands of the Wahulls who owned the larger manor. (fn. 135) In 1278 the manor, then held by John de Wahull, included 1 carucate, containing 200 acres of land, meadow and pasture, an ancient park, 20 acres of common, 20 acres of woods, a fishery in common with Walter Trailly from Harrold Bridge to Great Odell Mill. He had 12½ virgates of land in villeinage held by nineteen servi for 20s. each virgate or works. He had ten free tenants who held by small money rents, or quit-rents, among which may be mentioned a garland of roses and a bundle of rushes. (fn. 136) The manor was worth £16 0s. 10½d. in 1304. (fn. 137) It has always followed the same descent as Great Odell (q.v.), although invariably differentiated by name.
The Prioress of Harrold received a grant of 1 virgate of land in Little Odell from William Fitz Warine (living in 1221 (fn. 138) ) and 2 virgates from Walter de Wahull in the time of Henry III. (fn. 139) In 1240 Saher de Wahull confirmed to the priory 30 acres of land with appurtenances in this parish. (fn. 140) At the Dissolution the rents arising from this land were valued at 12s., (fn. 141) and in 1557 were granted to John Thompson. (fn. 142)
In the 13th and 14th centuries the Hospital of St. John of Jerusalem claimed a view of frankpledge extending into this parish as appurtenant to their neighbouring manor of Bedford. (fn. 143)
In Easter 1275 Odell, as a 'mercatorial vill,' received a summons to send a representative to the Parliament held in that year. (fn. 144)
CHURCH
The church of ALL SAINTS is a good example of a 15th-century church built all at one time, and consists of a chancel 30 ft. 3 in. long by 17 ft. 4 in. wide, nave 56 ft. 4 in. long by 19 ft. 10 in. wide, north aisle 11 ft. 6 in. wide, south aisle 11 ft. wide and a west tower 15 ft. square, internal measurements.
The chancel is of two bays, and has a modern east window of three lights and in the west bay on the north one of three lights, the tracery of which has been replaced by vertical mullions; the east bay is blank on the north, but has a blocked doorway, which once opened into a north vestry. In the south wall are two windows of three cinquefoiled lights, with tracery under a four-centred head; the sill of the eastern of these windows serves as sedilia, being stepped in three levels, and to the east is a piscina with a cinquefoiled ogee head. To the west of it is a small priest's door. The chancel arch is of two wave-moulded orders separated by a hollow, and springing from shafts with moulded capitals and bases; underneath is a 15th-century screen, the lower part of which retains some old stencil work. The chancel roof is divided into three bays by old wood principals resting on carved head corbels.
The nave arcades are of four bays with slender shafts and arches with capitals and bases like those of the chancel arch. Above is a clearstory with four two-light windows in each side. The roof, of low pitch, is in four bays, the principals resting on old carved corbels. At the north-east end is a rood-loft doorway, entered by a circular staircase from the north aisle.
The north aisle has three three-light north windows and one each at east and west, the cusping of which has been mutilated; under the north-east window is a very small trefoil-headed recess, and at the south-east angle the door to the rood-loft stair. The north doorway is in two continuous wave-moulded orders, divided by a hollow. The roof, which is of low pitch, is old. The south aisle has windows like those in the opposite aisle, but taller, their sills being at a lower level, as the ground falls from north to south. In the south wall near the east end is a trefoiled ogeeheaded piscina. The south doorway has two continuously moulded orders, and the porch has a stone vault with carved bosses at the intersections of the ribs; the outer archway is in two delicately moulded orders, the outer one of which forms a square head and the inner a two-centred arch. The font, which is in the south aisle, is of the same date as the church, and is octagonal with cinquefoiled panelling on the bowl.
The tower is massive, with an embattled parapet, under which are a band of quatrefoil panelling and a moulded plinth. At each angle are large clasping buttresses, on which are large crocketed pinnacles, and strings divide the tower into four stages, the uppermost having a pair of windows on each side of two trefoiled lights divided by transoms quatrefoiled on the lower side. The west doorway is of three moulded orders with a label, and over it is a window of four trefoiled lights with modern tracery under a two-centred head. The tower arch is in two chamfered orders, of which the exterior is continuous and the interior rests on shafts with capitals and bases of the same type as those of the chancel arch; under this is a screen with a gallery over and two ranges of turned balusters, and an inscription recording it to be the gift of William Alston, deceased 1637–8, with a shield of his arms. The two front blocks of seats in the nave, six rows on either side, are good 17th-century work, inclosing the backs of the mediaeval seats, while at the west are four rows of these seats but little altered, and more in the west ends of the aisles. The pulpit is of 17th-century date, and at the east end of the south aisle is a box pew made up of the same work. The rood-screen, of original date, remains, a fine and simple structure with a cusped central arch and four traceried openings on each side; the solid lower panels are painted alternately red and black, and have on the north side a diaper pattern of IHS and on the south the Maria monogram crowned. The altar table is good 17th-century work.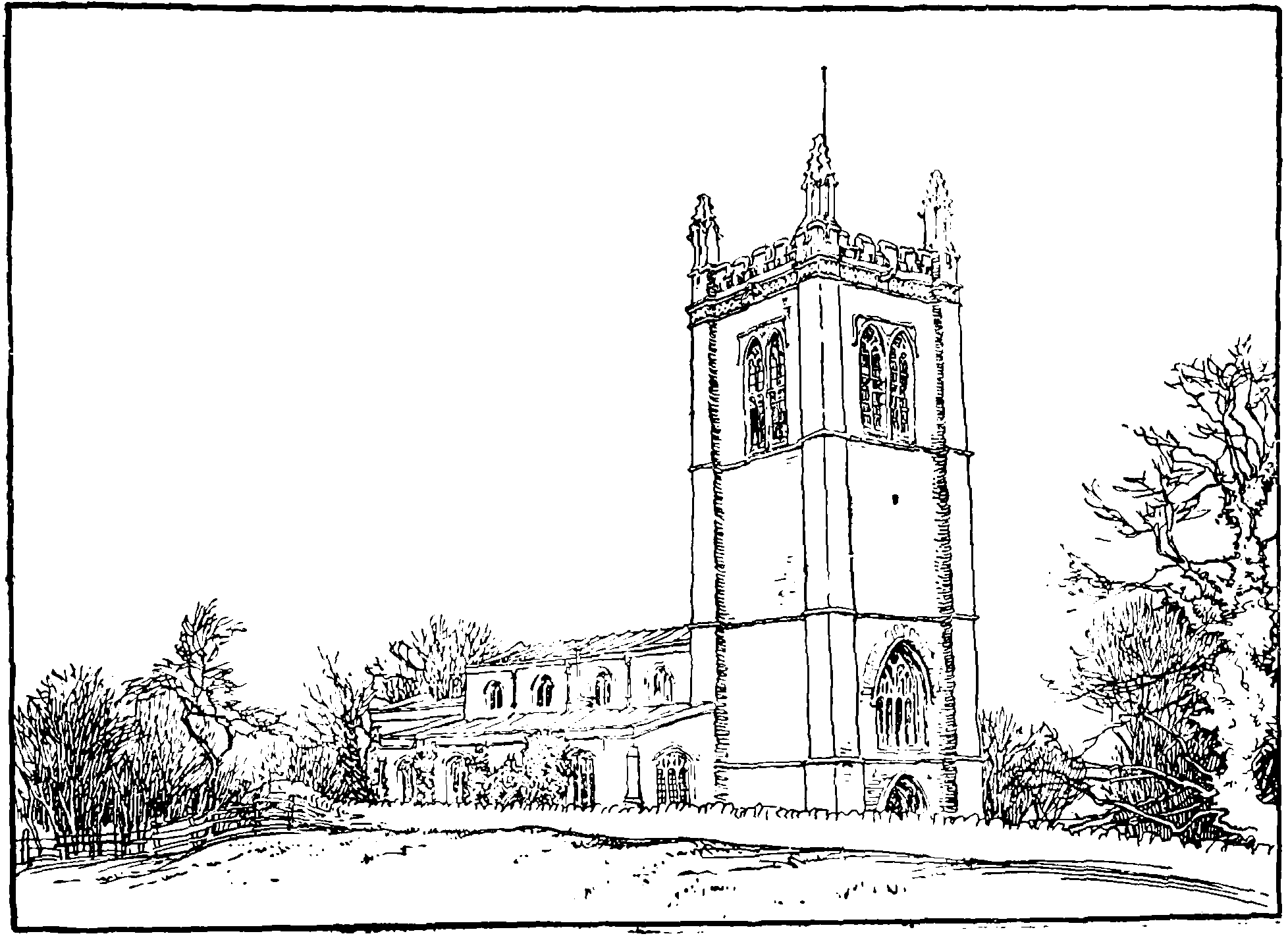 In the north aisle is a 13th-century slab with a foliate cross carved in relief, and near it is another much smaller. On the north wall of the chancel is a fine white marble mural monument of the Alston family, beginning with Frances Alston, 1644, and William her son, 1637, and ending with Vere John Alston, rector of Odell, 1762.
There are several relics of the original glass. In the tracery of the south-west window of the chancel is some pretty white and gold glass with roundels, which when perfect had the four Evangelists' symbols and the monograms IHS, and probably XPS. In the east window of the south aisle are five seraphs, out of six originally there, the place of the last being taken by the figure of a bishop. There are also parts of another set of evangelistic symbols.
The flooring of the nave and aisles, with diamond patterns within straight borders, is very good of its kind.
There are five bells: the first three, of 1638, are by James Keene of Woodstock; the fourth, of 1618, is inscribed 'God save our King'; and the tenor, of 1635, by Hugh Watts, is inscribed 'Love and feare God, honour and obaie the King.'
The plate consists of a large silver-gilt communion cup, with a Latin inscription on the bottom to the effect that it was the gift of William Alston in 1637, and has his arms and the date letter of 1638; a silvergilt paten, of the same gift; a paten of 1685; a second paten, 'the gift of Dame I. Wolstenholm 1728,' date letter 1695; also a modern electro-plated flagon and cup.
The books of registers are five in number: Book i has all entries 1604 to 1667; (ii) the same, 1667 to 1712; (iii) the same, 1712 to 1754; (iv) has baptisms and burials 1754 to 1796; (v) baptisms and burials 1797 to 1812.
ADVOWSON
The church of Odell has always been attached to the principal manor (q.v.) and follows the same descent. (fn. 145) The first mention has been found in 1235, when Saher de Wahull presented. (fn. 146) In 1278–9 the church had an endowment of 1½ virgates, which the rector held in demesne. (fn. 147) At the same date, among the free tenants of John de Wahull, lord of Odell, Robert 'Firegod' (with his tenants Robert Keyrun, Robert le Cleck and Seylade) held one messuage 3 acres by the service of one lamp to be kept burning in the parish church for John de Wahull; Joan Meyhec held one messuage and 3 acres for 2 lb. of wax for the light of the Blessed Virgin Mary in the same church; Henry Page held half a virgate for 1 lb. of wax for the same light. (fn. 148) At the dissolution of the chantries there was an endowment for the maintenance of a light arising from the farm of land valued at 2s. 11d. yearly, and also for the maintenance of a lamp, arising from pasture, land valued at 4d. There was further a piece of pasture, value 1s., in the hands of the parson to provide a yearly drinking or church ale on Rogation Monday. (fn. 149)