Pages 139-144
A History of the County of Huntingdon: Volume 3. Originally published by Victoria County History, London, 1936.
This free content was digitised by double rekeying. All rights reserved.
CHESTERTON
Cestretune (xi cent.); Cestreton (xii cent.); Chesterton (xiv cent.).
The parish of Chesterton contains 1,349 acres of land and lies to the south of the River Nene, which separates it from Northamptonshire. A feeder of the Nene, called Billing Brook, forms the western boundary of the parish. The altitude varies from 28 ft. to 179 ft. above Ordnance datum, the village being about 70 ft. The subsoil is Oxford Clay, Great Oolite, and Cornbrash. The parish lies along the Great North Road, which forms its eastern boundary; the nearest station is Orton Waterville, 2½ miles away, on the London Midland and Scottish Railway. Neolithic flints have been found scattered over the parish, (fn. 1) but it and the neighbouring parish of Water Newton are far more famous for their Romano-British remains. 'The Castles,' the name given to three fields, lying due north of the village and near the Nene and Billing Brook, is the site of a small Romano-British town, which was surrounded by a rampart. The site of the town has never been scientifically excavated, but many miscellaneous finds have appeared. The Roman signal station, so marked on the Ordnance map, is really a round barrow. (fn. 2)
There formerly was a very fine house close to the church, dating from the end of the 16th or the beginning of the 17th century, and probably built by the first Sir Robert Beville (d. 1635), and held successively by the Drydens, Pigotts and Wallers. It was of Elizabethan character, had a long central block with wings at each end, and a porch of two stories, slightly out of the centre, with transomed square-headed three-light and four-light windows, embattled parapets, steeppitched roofs and plain gables with finials. It was pulled down in 1807. (fn. 3) The porch has been re-erected as part of a lodge at Alwalton, and other portions are at the Lynch Farm house in the same village. A bay window is preserved as the library window at Elton Hall.
Manors
In the reign of Edward the Confessor part of Chesterton, assessed to geld at 4 hides and 2 virgates of land, consisted of two manors, which were held by two unnamed brothers. (fn. 4) After 1066, it came into the hands of Eustace the Sheriff (fn. 5) and afterwards was held as half a knight's fee (fn. 6) of the barony of Lovetot or Southoe (fn. 7) (q.v.). On the division of the lands of the barony of Lovetot in 1219, it was assigned to the pourparty of Rose, the second sister of Nigel de Lovetot. Rose's son Richard took his mother's name of Lovetot, and in 1279 it was held of his grandson Thomas. (fn. 8) From this date the overlordship followed the descent of Southoe. (fn. 9)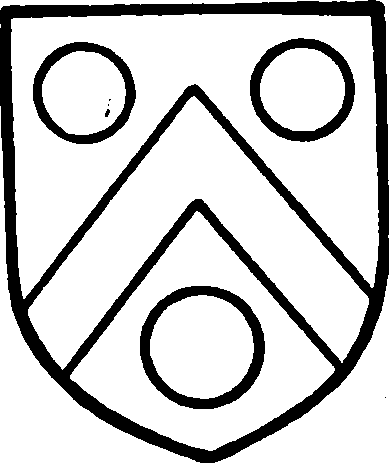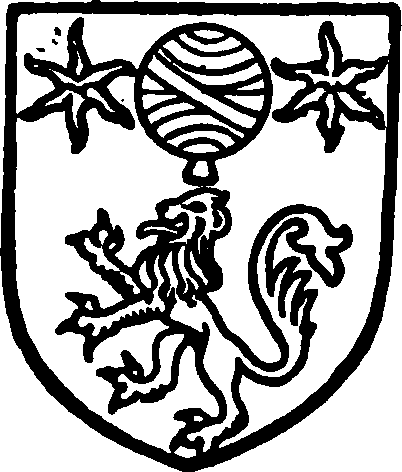 The earliest reference to the WALDESHEF or BEVILLE MANOR is probably in 1166, when William de Chesterton held a quarter of a fee of Nigel de Lovetot. (fn. 10) In 1200–1 Ralph de Chesterton and Roger de Cantilupe were claiming the advowson, (fn. 11) and some 20 years later the quarter of a fee had passed to Henry Waldeshef, who held with Roger de Cantilupe a half-fee. (fn. 12) By 1242–3 Henry de Waldeshef was dead, and the half-fee was held by his heirs and Roger de Cantilupe. (fn. 13) The quarter-fee had passed in 1279 to William de Waldeshef, possibly son or grandson of Henry. (fn. 14) William and his wife Margery were holding later in the 13th century, and in 1304 their son John settled the manor, together with the dower of Beatrice Waldeshef, when it should fall due, on his parents for their lives. (fn. 15) William was holding the manor in 1316, (fn. 16) but apparently died before 1320–1, when John, his son, gave lands in Chesterton to his brother Nicholas and Margaret his wife, and William their son. (fn. 17) In 1373 Roger Leycester of Chesterton and Margaret his wife, who had probably been the widow of the Waldeshef holder of the manor, conveyed the manor of Chesterton to Robert Boteler, clerk, and John Skele, of Glatton, evidently feoffees. (fn. 18) Robert Boteler in 1378–9 granted the manor, under the name of the manor of Waldeshefs in Chesterton, to Margaret Waldeshef, then probably the widow of Roger Leycester, for her life with remainder to John Beville and Agnes his wife and their heirs. (fn. 19) It would appear that Agnes was the heiress of the Waldeshefs, which is corroborated by the fact that the Bevilles of Chesterton quartered the Waldeshef arms. (fn. 20) In 1409–10 John and Agnes Beville settled their lands in Wood Walton and Chesterton on Richard Butvileyn, chaplain, Thomas son of Thomas Beville of Denton, Henry son of Simon Butvileyn, Henry de Deen, chaplain, Thomas Beville, lord of Wood Walton, and other trustees. (fn. 21) They had a son and heir Thomas Beville and a daughter Maud, the wife of Simon Butvileyn. (fn. 22) Thomas was succeeded by William Beville, who died in 1487, and left a request in his will to be buried in the church of St. Michael of Chesterton 'before the altar of our Blessed Lady Seynt Mary the Virgin.' (fn. 23) He left two sons, William, who died childless in 1504; and Robert, who made a settlement of the manor on himself and Elizabeth his wife in 1513 and died in 1517. (fn. 24) William his son was a minor, and after he reached his majority obtained the greater part of Chesterton, including Beville's Manor. (fn. 25) He died in 1553 (fn. 26) and was succeeded by his son Robert (d. 1602); (fn. 27) grandson, Sir Robert Beville, K.B. (d. 1634), (fn. 28) and great-grandson, Sir Robert Beville, K.B. (fn. 29) The last named died in 1640 leaving no surviving children, and the manor was divided between John Hewett, son of his eldest sister Katharine; Thomas Elmes, son of his second sister Grace; and Honor, his youngest sister, the wife of Sir John Dryden, bart. (fn. 30) In 1647, Elmes sold his third part of Beville's manor to Sir John Dryden, (fn. 31) and thus two parts of the manor came into possession of the Dryden family. Sir John died before November 1658, (fn. 32) his wife having predeceased him. (fn. 33) Chesterton passed to their second son, John Dryden, who died there in January 1707/8. (fn. 34) He was unmarried and left the manor to his brother Erasmus, who also died unmarried. (fn. 35) It passed to his nephew Robert Pigott, of Chetwynd (Salop), whose son Robert succeeded him. (fn. 36) His grandson, another Robert, (fn. 37) abandoned the somewhat Jacobite sympathies of his ancestors and became an ardent supporter of the French Revolution. Before this, however, in 1776, thinking that the American War would ruin the country, he sold all his English estates (fn. 38) and went to live in France, where he became known as a food and dress reformer. (fn. 39) Pigott sold Chesterton to — Waller; (fn. 40) it was bought from the Waller family in 1803 by George, Earl of Aboyne, afterwards Marquess of Huntly, (fn. 41) whose descendants retained it until about 1914. The Rev. William Francis Buttle, M.A., is now lord of the manor.
The CANTILUPE MANOR, which formed the second half of the Lovetot holding, was known as the manor of Chesterton and was also held as a quarter of a knight's fee. (fn. 42) In 1166 it was held by Roger de Cantilupe (fn. 43) and in 1207 a Roger de Cantilupe brought an action against his sister Maud as to land in Chesterton. (fn. 44) Another Roger de Cantilupe in 1242–3 held half a fee here with the heirs of Henry de Waldeshef, (fn. 45) and it was probably the same Roger who in 1257 granted the wardship and marriage of his heir to Adam de Chesterton before proceeding on a pilgrimage which he had vowed to make. (fn. 46) He died before 1265, when, according to the arrangement made in 1257, the king granted the wardship of his heir to Adam de Chesterton, a king's clerk, the wardship being in the king's hands owing to the part taken by Roger de Lovetot in the baronial opposition to Henry III. (fn. 47) The heir was probably the John de Cantilupe who held the manor in 1279. (fn. 48) It was his sister Alice (Elicia), daughter of Roger de Cantilupe, who was dealing with lands in Chesterton in 1292. (fn. 49) In 1303, Roger de Cantilupe had succeeded him and seems to have been the last member of the family to hold it. (fn. 50) In 1339, it had passed into the possession of Sir Richard de la Pole, knt., who held it jointly with his wife Joan. (fn. 51) He died in 1345 and was succeeded by his son, Sir William de la Pole. (fn. 52) He settled the manor in 1362 on his son John, on the occasion of the latter's marriage with Joan, daughter of John, Lord Cobham. (fn. 53) It passed to their only daughter and heiress Joan, who with her husband Sir Robert Hemenhale sold it in 1390 to Sir Gerard Braybrooke, senior. (fn. 54) It appears to have been settled on his daughter Joan, the wife of Sir William Thirnyng, knt., (fn. 55) but after her death reverted to her brother, Gerard Braybrooke. (fn. 56) He granted it in 1427 to Henry Chichele, Archbishop of Canterbury, (fn. 57) who bestowed it on the college of Higham Ferrers, of which he was the founder. (fn. 58) At the Dissolution, the manor and its appurtenances were valued at £6 14s. 7d. a year. (fn. 59) In 1528, however, the college had granted it on a 21 years' lease to Robert Drewe, of Chesterton, (fn. 60) and in 1537 granted it, at the request of Wolsey, to William Beville, (fn. 61) the lord of Beville's manor (q.v.), and from this time the descent of the two manors was identical. In 1543, however, Henry VIII granted the rent of £6 13s. 7d. and 2 capons a year, (fn. 62) by which Beville held the manor, to Robert Dacre on the condition that he maintained 2 chaplains, nominated by the Crown, in the parish church of Higham Ferrers and a schoolmaster there. (fn. 63) This rent was held by the Dacres as late as 1748, but it was generally described as the 'manor of Chesterton.' (fn. 64)
The manor of CHESTERTON VESSIS [VESCI] may be traced back to the land which was held by Ulf in the time of Edward the Confessor. (fn. 65) In 1086, it was held, apparently in demesne, by Count Eustace of Boulogne. (fn. 66) It formed part of the Honour of Boulogne in the 13th century (fn. 67) and in 1470 was held of the Earl of Richmond. (fn. 68)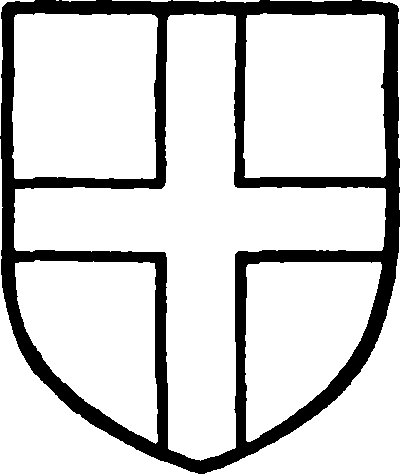 The first sub-tenant whose name is recorded is Eustace de Merc, the founder of Royston Priory. (fn. 69) In 1201, he had been succeeded by his son William, who held one knight's fee in Chesterton about 1210. (fn. 70) Giles de Merc, probably the son of William, was holding this knight's fee in 1217–18 and 1221–2 (fn. 71) and sold the manor in 1226 or 1227 to Nigel de Amundeville. (fn. 72) In 1258, (fn. 73) he sold it to Richard de Clare, Earl of Gloucester and Hertford, but obtained a grant of it for the life of himself and his wife Joan. In 1277, Gilbert, Earl of Gloucester, obtained a quitclaim from Alice de Amundeville, the widow of Nigel's son Robert, for certain lands which she claimed in Chesterton. (fn. 74) The Earl, however, before 1278, exchanged the manor with Agnes, widow of William de Vesci. (fn. 75) She was a daughter of William de Ferrers, Earl of Derby, and through her mother one of the co-heirs of Anselm, the Earl Marshal. (fn. 76) She held it as half a knight's fee at her death in 1290. (fn. 77) Her heir was her son William de Vesci, to whom she had sub-enfeoffed the manor before 1278. (fn. 78) He died in 1297, (fn. 79) but had previously given it to his son John and his wife Clemencia, a Frenchwoman, to hold jointly for their lives. (fn. 80) John died in his father's lifetime, (fn. 81) and Clemencia continued to hold it till after 1303. (fn. 82) Subsequently she demised it for an annual rent of 100s. to William de Thorp and then returned to France, so that in 1343, after the outbreak of war, the king seized the rent into his own hands. (fn. 83) She died abroad before 1345 and the manor passed to the heirs of Agnes de Vesci, who were the descendants of four of her sisters. Their names were John de Mohun of Dunster, Hugh Mortimer of Chelmarsh, John de Bohun of Midhurst, who each inherited a quarter of the manor, while Henry FitzRoger and John de Beauchamp of Somerset, a minor, each inherited an eighth part. (fn. 84) During the minority of Beauchamp, the wardship of his share was committed to Mortimer. (fn. 85) Before 1355, the latter had obtained a moiety and an eighth part of the manor, (fn. 86) and it was possibly his holding, described as the manor of 'Vessis in Chesterton,' of which John Tiptoft, Earl of Worcester, was seised at the time of his attainder and execution in 1470. (fn. 87) His son and heir Edward, a child of three, (fn. 88) was restored probably at the return of Edward IV to the throne in 1471, but died unmarried in 1485. (fn. 89) His heirs were his three aunts, and a messuage, 20 acres of land and 30 acres of pasture, probably representing a third share of the manor, passed to the second, Joan, wife of Sir Edmund Ingoldesthorpe. (fn. 90) She died in 1494, when her heirs were the five daughters of her daughter Isabel, who married John Nevill, Marquess Montagu. (fn. 91) Margaret, the second of these heiresses, married Charles Brandon, afterwards Earl of Suffolk, (fn. 92) and they seem to have become possessed of the whole manor, since in 1508 they sold it to John Castel, with warranty from her heirs. (fn. 93) Subsequently this manor, or part of it, came into the possession of the Bevilles and probably first appears in the documents relating to the family as two tenements and 60 acres of land, etc., held by knight's service of the king in chief, of which Robert Beville died seised in 1602. (fn. 94) On the division of their property on the death of the second Sir Robert Beville, the manor of Chesterton Vessis appears by name (fn. 95) and followed the descent of Beville's manor (q.v.). (fn. 96)
ROYSTON (or CHESTERTON) MANOR may be identified with land which Eustace de Merc granted to the Priory of Royston before 1184. (fn. 97)
Possibly it may also be identified with the carucate of land which was said in 1279 to have been given to Giles de Merc. (fn. 98) The manor was then held of the priory by William de Hamtone for the term of his life at a money rent. (fn. 99) In 1291, the possessions of the priory were valued for taxation at £3 6s. 8d., (fn. 100) and at its dissolution the manor was let at farm for £4 6s. 8d. a year. (fn. 101) In 1543 the king sold it to William Beville (fn. 102) and from that date it followed the descent of Beville's manor (q.v.).
The College of Fotheringhay acquired 5 messuages and 126 acres of land in Chesterton about 1506, (fn. 103) but they do not seem to have formed a separate manor and appear to have been held of various manors in Chesterton. (fn. 104) In 1547, Edward VI granted the reversion of the holdings to Richard Lee, (fn. 105) who in 1550 alienated them to William Beville. (fn. 106)
In 1278, the Knights Templars held a messuage in Beville's manor (q.v.) and their sub-tenant, Beatrix de Waldeshef, paid them a yearly rent of 2s. (fn. 107) It was presumably the same holding which passed to the Knights of St. John, from whom it was held in the 16th century by the College of Fotheringhay for the same rent of 2s. (fn. 108) This was granted in 1543 to William Beville. (fn. 109)
In the early 13th century both the tenants of the Lovetot fee in Chesterton owed one suit to the Hundred of Norman Cross, (fn. 110) which was in the hands of the Abbot of Thorney. (fn. 111) In 1278, a tenant of Chesterton manor (q.v.), then held by John de Cantilupe, held a virgate of land and did suit at the shire and hundred. (fn. 112) In 1285, the abbot claimed to have view of frankpledge and waifs in the manors of the hundred. (fn. 113) The fee of Boulogne also owed suit to the sheriff's tourn, but this was withdrawn by Richard, Earl of Gloucester, (fn. 114) and in 1276 Agnes de Vesci claimed to have view of frankpledge, the assize of bread and ale, and trebuchet in her manor. (fn. 115) Her right to the view was questioned in 1285 and it was taken into the king's hands, but was restored in 1286, pending the settlement of her claim. (fn. 116) In 1279 fisheries worth 3s. a year were attached to Beville's manor and Cantilupe manor, (fn. 117) and there was also a common fishery from Newentone lake to Ewlyedyk (fn. 118) attached to these manors and also to Chesterton Vessis. In 1086, a custom in the wood of the Abbot of Peterborough, presumably giving the right to carry wood, was attached to both the Lovetot and Boulogne fees in Chesterton, each of them paying 2s. a year. (fn. 119)
In 1254, Henry III, at the instance of Adam de Chesterton, granted to the Prior of Royston the right to hold a weekly market on Tuesday and a yearly fair on the eve, day and morrow of Michaelmas, (fn. 120) but no more seems to have been heard of it.
Church
The church of ST. MICHAEL consists of a chancel (22 ft. by 17½ ft.), nave (48½ ft. by 19 ft.), north aisle (8½ ft. wide), south aisle (6½ ft. wide), west tower (10½ ft. by 10½ ft.), and south porch. The walls are of stone rubble with ashlar dressings, and the roofs are covered with lead.
The church is mentioned in the Domesday Survey (1086), but no part of this early church remains. Small parts of the nave walls may be of 12th-century date, but they have been so much cut into by later arcades that very little remains. Early in the 13th century the south aisle was added, and during the first half of the same century the west tower was built. The north aisle was built c. 1300, and probably the chancel, with its arch, was rebuilt at the same time. The clearstory was added about 1330, and a little later the spire was built. In the 18th century the chancel was rebuilt, and a heavy oak screen erected across the chancel arch; the aisles had new windows inserted and the parapets reconstructed; and the south porch was rebuilt. The church was restored in 1841 and 1906.
The chancel is of 18th-century date, but possibly the lower parts of the east and north walls and the foundations of the south wall may belong to the 13th-century chancel. The east window is of simple Renaissance design with a semicircular head with plain imposts and keystone. There is a similar window in each of the side walls, and a priests' door on the south. The roof is hidden by a flat plaster ceiling. The chancel arch of c. 1300 is two-centred and has two chamfered orders; the line of the former chancel roof remains on the wall above. Two lead rainwater pipes are inscribed 'g. g. 1821,' for the Rev. Lord George Gordon, Rector 1819–1863.
The nave has an arcade of c. 1300 on the north side, consisting of four bays having two-centred arches of two chamfered orders on octagonal piers with moulded capitals and bases, and plain chamfered responds with moulded corbels carrying the inner order. The early 13th-century south arcade, also of four bays, has twocentred arches of two chamfered orders, on two octagonal and one circular pier; the capital of the eastern pier is carved with the water-leaf, that of the second with stiff-leaf foliage, and that of the western pier moulded, and all have moulded abaci and bases. The responds are semicircular and the capital of the eastern is carved with stiff-leaf foliage. The clearstory, c. 1300, has three square-headed three-light windows on each side, and at the east end of the south wall an ogee-headed one-light window. The embattled parapet of the south wall has the ballflower ornament in its string-course. The roof is hidden by a plaster ceiling, but some cambered tiebeams are visible and are supported on shaped cantilever brackets, probably in lieu of splicing rotten ends.
The north aisle, c. 1300, has the jambs of a blocked window in the east wall. The north wall has three 18th-century windows similar to those in the chancel but with slightly depressed heads; parts of the jambs and splays of two blocked windows and of a blocked doorway remain. Towards the eastern end is a low arched recess covering a slab with black-letter inscription 'Orate p aia Willmi Beiu[y]le gnosi qui obiit anno Reg' richardi tertii 1° cujus anime ppiciet Deus.' The west wall is blank. In the south-east angle is part of the blocked upper doorway to the rood-loft. The roof is modern but has five chamfered beams, probably of 16th-century date.
The early 13th-century south aisle has no windows in the east and west walls. In the south wall are two 18th-century windows similar to those in the north aisle, the easternmost being formed in a blocked original window; an original doorway with a twocentred head of three moulded orders, the two outer orders resting on detached shafts, three having capitals carved with stiff-leaf foliage and one with a human head; and an original piscina with a two-centred arch and a square basin. The roof is modern.
The 13th-century tower has a two-centred tower arch of three chamfered orders on chamfered responds with attached semicircular shafts having moulded capitals and bases. In the west wall is a tall, narrow lancet with an external rebate and wide internal splays. In the south wall is a similar lancet, some of the stones of which have been re-used from another window—and below it is a blocked 18th-century doorway. The belfry windows are two-lights with pierced spandrels in their heads, under a two-centred arch resting on detached jamb-shafts with moulded capitals and bases. The tower has bold buttresses standing square at the angles and has a large stair-turret at the south-west angle; it is finished with a corbel table of carved heads, from which rises an octagonal broach spire with two tiers of spire-lights on the cardinal faces, both tiers being two-lights.
The 18th-century porch has a semicircular-headed outer arch with continuous moulding broken with large square blocks. At the north-east corner, outside. some rough masonry may be the remains of an earlier porch. A plain parapet with a small cornice below it is carried round all three walls at the same level.
The font is of poor 18th-century design.
There are three bells, inscribed: (1) Omnia fiant ad gloriam Dei, 1621; (2) Sancta Margareta ora pro nobis; (3) O Trinitas Sancta istam campanam conserva. The first bell is by Tobias Norris (1), of Stamford; the second by John Walgrave (c. 1418– 1440); and the third by John Michell (c. 1490). (fn. 121) In 1712 there were in the church three bells and a Saints' bell. (fn. 122)
The 18th-century chancel screen is of Renaissance design with a Greek feeling. It has three semicircular arches surmounted by a frieze and cornice, and entirely encases the responds of the chancel arch. There is a reredos against the east wall of somewhat similar character. The 18th-century oak pulpit is of simple design with raised panels and a moulded cornice.
In the churchyard is the 13th-century circular base with part of the 15th-century octagonal stem of a churchyard cross; and a large rectangular Roman stone coffin and cover found in 1849 in some fields called 'the Castles.'
At the east end of the north aisle is a stone monument to Beville. It consists of two semicircular arches grouped under a frieze and cornice supported on two Composite columns and surmounted by a shield enclosed with Elizabethan strapwork, and two smaller shields. Under the arches, kneeling figures of two men with their wives, and below, two groups each of eight children. There is neither date nor inscription, but the heraldry clearly shows it to be to Robert Beville and his wife Joan, daughter of William Lawrence, of St. Ives (d. 1602 and 1574 respectively), and to their son Sir Robert Beville and his wife Maria Coles (d. 1634 and 1611). At the east end of the south aisle is a white marble monument with a large inscription panel between Corinthian pilasters surmounted by a curved pediment, and with shield of arms, and inscribed for John Dryden, arm. (second son of John Dryden, of Canons Ashby, bart., and Honor dau. and coheir of Robert Beville, K.B.), who died unmarried 3 Non. of January 1707, aged 72. Erected by his nephew and heir Robert Pigott, arm. Above the chancel arch is a hatchment for Elmes.
Other monuments are as follows: in the chancel to Deborah wife of the Rev. John Fowke, d. 1808; the Rev. John Fowke, LL.D., Rector, d. 1813; and the Rev. Lord George Gordon, Rector, d. 1862, and Charlotte Anne (Vaughan) his relict, d. 1879; floor slab to Deborah Fowke, d. 1808; in the nave, floor slabs to John Toon, d. 1831; and Mary dau. of John and Reb. Toon, d. 1831; in the north aisle, floor slabs to Bigland, son of Isaac and Orme Bayley, d. 1739; Orme, dau. of the same, d. 1739; Orme Bayley, d. 1745; Isaac Bayley, gent., d. 1751; and Esther, dau. of Isaac and Orme Bayley, d. 1760, and Orme, her sister, d. 1757; in the south aisle, to Richard Edwards, d. 1730, and Richard and John his sons; and floor slabs to Richard Edwards, d. 1730; Martha Standish, d. 1781; and John Willimott, d. 1788.
The registers are as follows: (i) baptisms, marriages and burials, 13 Aug. 1561 to 1733; there are no entries from 1640 to 1661, and the marriages end in 1589; (fn. 123) (ii) the same, 8 May 1734 to 29 Oct. 1766; the marriages end 10 July 1753; (fn. 124) (iii) baptisms and burials 25 Feb. 1770 to 23 Dec. 1812; (iv) the official marriage book, 15 Nov. 1754 to 2 July 1811.
The church plate consists of a silver cup engraved with a band of Elizabethan ornament round the bowl and egg and tongue moulding on the foot, and inscribed on the base 'chesterton,' hall-marked for 1569–70; a cover paten for the same, inscribed '1569,' the same hall-mark; two cups with arms of Beville. (fn. 125)
Advowson
In 1086 a church and priest were attached to the holding of Eustace the Sheriff. (fn. 126) The advowson, however, afterwards came into the possession of Eustace de Merc, the tenant of the Boulogne fee in Chesterton, and he granted it to Royston Priory at its foundation. (fn. 127) The gift was confirmed by Pope Celestine III in 1192. (fn. 128)
In 1200–1, however, the advowson was claimed against William de Merc by Ralph de Chesterton and Roger de Cantilupe, the tenants of the Lovetot fee. (fn. 129) William pleaded that his father had given the church to the priory, (fn. 130) and two years later Roger was still claiming the advowson against the priory. (fn. 131) He lost his suit because he had claimed the whole church, but afterwards admitted that he could claim only as to onequarter of it. (fn. 132) Ralph de Chesterton had disappeared from the suit, and the priory was left in undisputed possession of the advowson. (fn. 133) The right of presentation was obtained either shortly before its dissolution from Royston Priory or from the king by Henry Pygott of Abyngton for one turn only. (fn. 134) He presented in 1543, (fn. 135) but in the same year Henry VIII granted the advowson to Richard Andrewes. (fn. 136) In 1546 Andrewes and Nicholas Temple alienated it to Sir Edward North, (fn. 137) who presented to the rectory in 1557. (fn. 138) Before 1580, however, it was acquired by Robert Beville, (fn. 139) and from that time followed the descent of Beville's manor (q.v.). After the division of the manor, both the Hewetts and Drydens claimed their shares in the advowson, but after 1660, when Sir John Hewett presented, (fn. 140) his successors in the third part of the manor do not seem to have exercised the right, although a third part of the advowson was included in the sale to Abraham Ris in 1699. (fn. 141) John Dryden presented in 1669 and subsequent presentations have been made by his successors in the two-thirds of the manor (q.v.) until 1916; (fn. 142) since then the advowson has belonged to the Rev. W. F. Buttle. The rectory of Haddon was annexed to Chesterton in 1863. (fn. 143)
In 1279 the rectory consisted of an ancient endowment of a messuage and 1½ virgates of land, (fn. 144) in addition to the tithes. A pension of 3 marks was paid from it to the Priory of Royston, but between 1209 and 1219 Bishop Hugh de Welles ordered an inquiry into the legality of its payment. (fn. 145) The priory, however, must have established its right to the pension, since in 1238, at the institution of a new rector, a pension of 20s. a year was reserved to Royston, as well as one of 2 marks to the Abbey of Thorney and the tithes of the demesnes of the Lovetot fee to the Canons of Huntingdon. (fn. 146) At its dissolution the Priory of Royston received a pension of 40s. a year, (fn. 147) which was in the possession of William Beville at his death in 1553 (fn. 148) and passed to his descendants. (fn. 149) The tithes formerly received by the Abbey of Thorney were granted in 1545 to Sir Robert Tyrwhitt, junior, and his wife Elizabeth. (fn. 150)
In 1279 small rents for land belonging to the church fee were paid for the light of the Blessed Virgin. (fn. 151)