Pages 138-140
A History of the County of Rutland: Volume 2. Originally published by Victoria County History, London, 1935.
This free content was digitised by double rekeying. All rights reserved.
HORN
Horne (xi cent.); Horn (xiii cent.); Thorn (xiv cent.); Hernseld als Hornseld, Hornefeld (xvi cent.); Hornfield (xvii cent.).
The area of this small parish is 946 acres, of which about half is arable land and the remainder permanent grass. The soil is sand and limestone on a subsoil of Inferior Oolite. The average height of the parish is about 300 ft. above the Ordnance datum. The Great North Road, leading south-east from Grantham to Stamford, enters Horn at its extreme north-east corner, where an outer fringe of Exton Park, Horn Lane Spinney, ends, and forms the boundary between this parish and Empingham for some distance. From the 16th to the early 19th century Redbroke was a place-name in this parish. (fn. 1)
There is now no village of Horn, but in 1287 Richard son of Richard de Seyton had a manor-house and in 1378 Sir John Seyton had his capital messuage here; (fn. 2) there is little doubt, therefore, that there was a village with, as we know, its church. In 1376 the principal manor was found to be almost valueless, (fn. 3) and the place was declared waste and uninhabitable before the middle of the next century. (fn. 4) Probably the parish fell a victim to the desire at this date to turn arable land into pasture, with the consequent depopulation of the district. A great part of the western side of the parish with the site of the church was included in Exton Park. In 1649 it is said there was no church or chapel nor inhabitant but a shepherd. (fn. 5) Blore, writing in 1809, described the parish as almost depopulated, (fn. 6) and in the census of 1921 its population of 26 souls was reckoned in the ecclesiastical parish of Exton.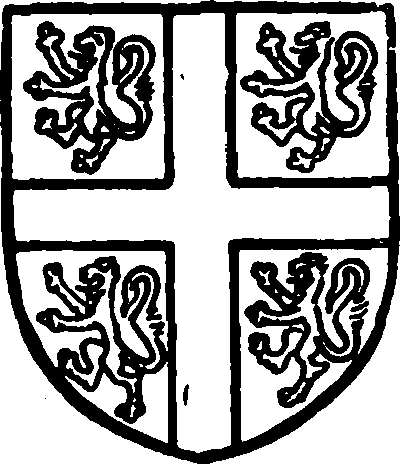 Manors
Two hides in Horn of which Langfer had been tenant under Edward the Confessor were held of the king by the Bishop of Durham in 1086, (fn. 7) and may perhaps be identified with the third of a knight's fee in Rutland which formed part of the Bishop's barony in 1235–36 (fn. 8) and became known as SEYTON'S MANOR. According to Blore, the manor of Horn was held of Ralph de Nevill, Baron of Raby, in the first half of the 14th century, (fn. 9) and this overlordship had not altogether lapsed in 1445, when some lands in the parish were found to be under the suzerainty of his descendant the Earl of Westmorland. (fn. 10) Horn was held in chief in 1509 and 1524, (fn. 11) but was afterwards regarded as part of the Honour of Huntingdon and descended with the manor of Exton (q.v.).
A priest was returned in the Domesday Survey with the Bishop's manor of Horn, (fn. 12) which may indicate that this was the manor to which the church was attached. In 1235 John de Amby or Hamby held a third of a knight's fee in Rutland of the barony of the Bishop of Durham, which presumably was at Horn, that being, in 1086, the only land held by the bishop in what was later the county. (fn. 13) Blore adds that John de Amby was patron of the church of Horn. In 1256 the manor, as the inheritance of Alice the wife of William de Curzun, and possibly heiress of John de Amby, was conveyed to William de Frankton and his wife Aline, (fn. 14) who in 1271 granted two messuages, one apparently the capital messuage of the manor, and lands and the advowson of the church to Richard de Seyton. (fn. 15) Later they conveyed the manor to Nicholas de Frankton. (fn. 16) An action was brought about 1287 for the ownership of the manor by Nicholas de Frankton against Richard son of Richard de Seyton, (fn. 17) and in 1304 Richard son of Richard de Seyton claimed the right of presentation to the church against Alan son of Nicholas de Frankton. It was decided that the advowson had been detached from the manor and conveyed to the Seytons, but that the manor belonged to the Franktons. (fn. 18) In 1305 Alan de Frankton was returned as owner of one-sixth of a knight's fee in Horn, (fn. 19) and in 1315–16 a settlement of the manor was made on him with remainder to Roger de Tolthorp de Deneford, his wife Elizabeth and the heirs of their bodies. (fn. 20) Thomas, son and heir of Roger de Deneford, quitclaimed in 1361 the manor of Horn to Sir Roland Daneys, presumably the son of Brice Daneys of Tickencote (fn. 21) and his wife Elizabeth. (fn. 22) It was held by Sir Roland's widow until she died in 1377, when his nephew and heir, John son of his brother Oliver, succeeded. (fn. 23) Another John, son and heir of the last, followed his father. Robert his son died without issue, and Horn descended through his younger daughter Elizabeth, wife of William Hasilden, to their son John, (fn. 24) whose son Francis Hasilden in 1509 obtained licence to enter without proof of age on the 'manor of Hernseld alias Hornseld,' (fn. 25) the Hornfield of the 17th and two following centuries. In 1517 he sold the manor to Sir John Harington, (fn. 26) who died in 1523 seised of the manor of Horn, formerly belonging to Francis Hasilden. (fn. 27) Horn has since descended with the manor of Exton (q.v.).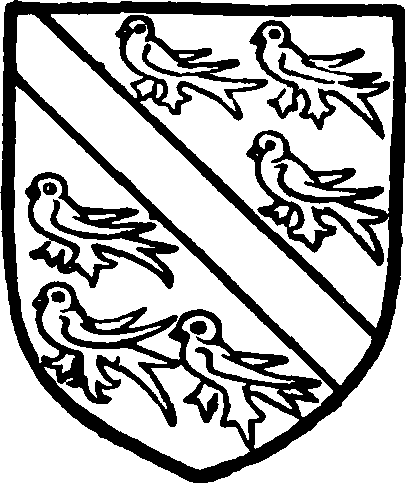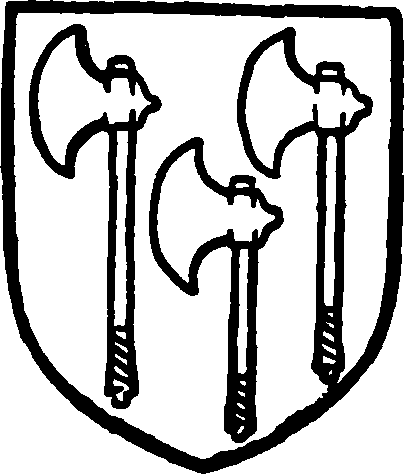 A third hide in Horn was found amongst the lands of the Countess Judith in 1086 (fn. 28) and formed part of the Honour of Huntingdon. In 1241, on the partition of the inheritance of John le Scot, the overlordship of this hide, which became known as GRIMBALD'S MANOR, went to Ada, fourth daughter of Judith's great-grandson, David Earl of Huntingdon, and wife of Sir Henry Hastings, from whom it descended to their grandson Sir John de Hastings. He died seised in 1313 (fn. 29) and was succeeded by his son of the same name, overlord of six bovates in Horn in 1315. (fn. 30)
The tenant under the Lady Judith in 1086 was Grimbald, and the descent of this mesne lordship followed that of Tickencote (q.v.) until the 13th century, when in 1241 Robert Grimbald held two knights' fees in Horn, Thistleton and Tickencote. There was much subinfeudation during the Barons' Wars of the 13th century, and the Grimbalds seem to have granted their manor of Horn to the family of Dive or Dyve. John de Dive in 1242–3 held lands in Lincolnshire of Ernald de Boys, who held of Robert Grimbald, and Robert held of the Honour of Huntingdon. (fn. 31) William de Dive died in 1262, leaving a son and heir John, (fn. 32) who died in 1293. John's heirs were his sisters, Joan, wife of Ralph de Trehampton, and Elizabeth, then the wife of John Daubeney. (fn. 33) The purparty of Joan, as would appear from a later lawsuit, included two-thirds of the manor of Horn (fn. 34) which before 1295 must have passed to the Normanvilles. Thomas de Normanville died seised of 5 bovates of land in demesne and 7 bovates in villeinage in Horn, in that year held of Margaret de Normanville, daughter of Thomas de Normanville of Empingham (q.v.), who married William de Basing. (fn. 35) Thomas was succeeded by his son Edmund, a minor, who held a sixth part of a knight's fee in Horn in 1305. (fn. 36) He died before 1316, when Margaret and her husband had succeeded to the property. William died in that year seised of 6 bovates of land in Horn held of Sir John de Hastings, and left a son and heir Thomas, aged 15 years. (fn. 37) The other purparty of John de Dive's property, which went to his sister Elizabeth, then the wife of John Daubeney, had been settled on her daughter Maud, by her first husband Lambert Bussey (Bussi, Busshy), on her marriage with William de Holland. William and Maud died without issue, (fn. 38) and on Elizabeth's death in 1293 her share in the manor of Horn went to her son Hugh de Bussey. (fn. 39) Hugh died in 1306, leaving a son John, (fn. 40) who in 1330 brought an action against Margaret, widow of William de Basing, for the manor of Horn, when it was decided by the court that John de Bussey was entitled to a third of the manor. (fn. 41) It seems probable that as a result of this decision Margaret bought out John's interest, as we have no further reference to the Busseys in connection with Horn.
The manor continued to be the property of the Basings and passed with Empingham (q.v.) until George Mackworth seems to have sold it to Everard Digby, who in 1510 conveyed it to Sir John Harington, (fn. 42) when, like the other manor in this parish, it followed the descent of Exton.
In 1086 there were four mills in Horn, three being on the land of the Bishop of Durham, the fourth on the Countess Judith's hide. (fn. 43)
Church
The church of Horn dedicated to ALL SAINTS (fn. 44) fell into ruin probably in the 15th century. It was taxed in 1428, (fn. 45) but in 1539 it was described as once a church, but now devastated and only valued at 2 marks. (fn. 46) Its site is uncertain, but it is believed to be in Exton Park, where, near a thorn tree, the rector was inducted in 1809. Blore, writing in 1811, states that 'not a single fragment now remains of the edifice.' (fn. 47)
Advowson
A priest was returned with the demesne land of the Bishop of Durham at Horn in 1086. (fn. 48) The patronage apparently followed the descent of this fee. Sir John de Amby was patron in 1234–35, (fn. 49) and the advowson afterwards came to John de Curzun and his wife Alice, in right of Alice, who presented their clerk to the church before enfeoffing William de Frankton of the whole property in 1256. (fn. 50) William granted the advowson to Richard de Seyton in 1271, (fn. 51) and it remained with his son Richard until the death, in or before 1304, of his clerk, Roger de Maydenewell, when Alan de Frankton, lord of the manor, claimed the next presentation. In the suit which followed Richard produced the charter whereby William de Frankton had enfeoffed the elder Richard de Seyton of the advowson with one messuage and 7⅓ acres of land in Horn. The right of presentation was thereupon restored to Richard, on the ground that the advowson had been separated from the manor long before it had belonged to Alan's father, Nicholas de Frankton. (fn. 52) A later member of the Seyton family, Sir John de Seyton of Maidwell, was patron in 1352 and reckoned the advowson amongst his possessions in this parish twenty-six years later. (fn. 53) In 1539 it was the property of Sir John Harington, who had bought it from Everard Digby in 1510, since which year it has followed the descent of the manor of Exton (q.v.).
The rectory of Horn is said to have belonged from time immemorial to the owners of the manor which was of the fee of the Bishop of Durham. (fn. 54) There was a rector here as late as 1578, when the parish was united to Greetham. (fn. 55)