Pages 264-268
A History of the County of York North Riding: Volume 1. Originally published by Victoria County History, London, 1914.
This free content was digitised by double rekeying. All rights reserved.
THORNTON STEWARD
Tornertune, Tornenton (xi cent.); Thorneton, Thorneton Dapifer (xii cent.); Thornton, Thorneton Stiward (xiii cent.); Thornton Styward (xiv cent.); Thornton Stuerd (xvi cent.); Thornton Stuart, Stuard, or Steward (xviii cent.).
This parish on the north bank of the Ure covers an area of nearly 2,399 acres, of which the surface is clay and loam on a subsoil of Millstone Grit. The greater part of the land is laid down to grass, only 609¼ acres being arable, and 201½ woods and plantations. (fn. 1) From the Ure, where it is about 300 ft. above the sea level, the land rises to heights varying from 400 ft. to 500 ft. in the north and centre of the parish.
Ulshaw (Ulveshowe, Ulsey, Ousey, Howsey), which lies on the west of the parish, was included in East Witton parish in 1717. (fn. 2) Ulshaw Bridge over the Ure was important from its situation on the road from York to Kendal; it was built of timber (fn. 3) and was unfinished in 1424, when Ralph Nevill, first Earl of Westmorland and lord of Middleham, left £20 towards its completion. (fn. 4) It was in serious disrepair in 1605 (fn. 5); and eighteen years later £350 was granted to rebuild it of stone. (fn. 6) Possibly the work was not carried out, for in 1673 £800 was levied upon the whole riding for its repair. (fn. 7) Near the bridge are the old water-mill and the Roman Catholic chapel of St. Simon and St. Jude, the burial-place of the Scropes of Danby (fn. 8); it dates from 1788, though still unfinished in 1823. Danby Hall, the seat of Mr. Henry Scrope, has been for over three centuries the residence of this last branch of the house of Scrope, (fn. 9) and is doubtless the messuage held by Anne Mountford and her husband John Carr at the close of the 15th century. (fn. 10) It stands in a park north-east of Ulshaw and is built on a gentle elevation with a grass terrace in the front sloping down to the river. A store of weapons found in a secret chamber here in 1855 is supposed to have been concealed in 1745, when the Scropes were believed to favour the Young Pretender. (fn. 11) As 'a reputed Papist' in 1689 Simon Scrope of Danby had been allowed for the defence of his house one gun described as 'parcel of the arms found in his custody.' (fn. 12) The house is E-shaped in plan with its principal front looking east. At the north-west corner is a small embattled tower, which is probably the oldest part of the house. This was doubtless a peel tower built for the purpose of defence, and may be assumed to date from the 14th century. A few other parts of the house, especially in the north wing, seem to be of the same date, but were considerably altered when the house was enlarged in the Elizabethan period. The back of the house retains much Elizabethan work, and there are two gabled roofs, which seem to have extended to the front of the house. The straight joint of an old window on the east face supports the tradition that the house had three floors at that time, although the appearance of this and other blocked or reduced windows is somewhat confusing.
Half a mile east of the hall in a field called Chapel Garth are the foundations of an ancient chapel. The little village of Thornton Steward lies high up on the hill-side overlooking Wensleydale, near a branch road running east from the highway to Hutton Hang. The village street runs east and west, the houses on the north side being built on a grassy bank above the road. At its west end is the manor-house, probably on the site of the older dwelling occupied two centuries ago by the Roman Catholic family of Allen. There was a capital messuage here in the 18th century. (fn. 13) The church stands on lower ground a quarter of a mile to the south-west. In the wooded and hilly country to the north High and Low Hull recall the Hull close and Hull pasture of 1717. (fn. 14) West Marriforth plantation and farm to the south-east were once probably part of the grange of the Abbot of Jervaulx, (fn. 15) who also owned land here at 'Henephan.' (fn. 16)
Manors
THORNTON STEWARD was held in 1086 as before the Conquest by Gospatric, Count Alan being his lord in 1086 (fn. 17); the overlordship followed the descent of the honour of Richmond. (fn. 18) In 1368 this manor was held by military service, suit at the court of Richmond every three weeks and money payment for castle ward. (fn. 19)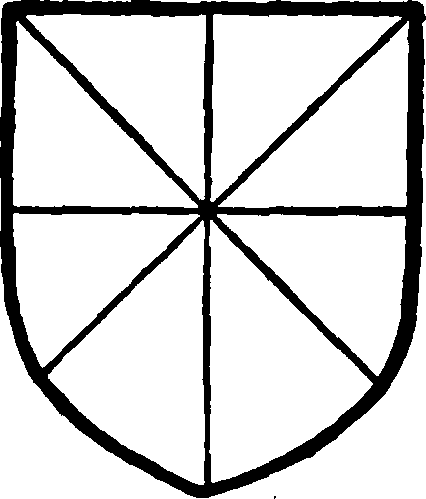 Gospatric was perhaps followed in his sub-tenancy by Wymar, steward (fn. 20) of the lords of Richmond. He had two sons, Warin (Warner) the Steward and Roger. Roger probably died before 1157–8, when Ralph his son rendered account to the king with Warin, (fn. 21) who would seem to have lived until about 1173, for in the following year Ralph paid £6 13s. 4d. pro conventione Warneri Avunculi sui. (fn. 22) Wymar, eldest son of Ralph, (fn. 23) was holding two and a half knights' fees of the honour in 1210 (fn. 24); he must have died without issue, for his heir was his brother Roger. (fn. 25) He was succeeded by his son Wymar, (fn. 26) who was living in 1240, when Beatrice his daughter married Thomas son of Hugh. (fn. 27) Wymar probably married Joan, a widow in 1249 (fn. 28); her son, then a minor, seems to have been that Matthew de Thornton who was lord of the manor in 1256. (fn. 29) He was living at Easter 1259, (fn. 30) but must have died shortly after this, for by 1260–1 he had been succeeded by his daughter and heir Mary, then a minor in the custody of Peter de Savoy. (fn. 31) She married the younger Humphrey de Bassingburn, (fn. 32) and together they made an agreement with John de Thornton and his wife Maud and Matthew's widow Sybil touching lands here in 1279. (fn. 33) The return of 1286–7 accounts for the dower of Sybil only, (fn. 34) but Humphrey and Mary seem to have remained in possession of the manor (fn. 35) until Humphrey's death (fn. 36) in or before 1298. (fn. 37) In 1303 Mary was tenant (fn. 38); she afterwards married John de Lisle, (fn. 39) who was living here in 1309 (fn. 40) and returned as lord in 1316. (fn. 41) Her son and heir, the third Humphrey de Bassingburn, (fn. 42) who was serving in the king's army before 1306, (fn. 43) conveyed the manor of Thornton Steward in trust to William de Ayermin, Bishop of Norwich, lord in 1327 (fn. 44); he with other trustees demised Thornton Steward to Humphrey's son Giles and his wife Alice, (fn. 45) and Alice held it as a widow in 1343. (fn. 46) The reversion was then settled by Humphrey on Margaret, Giles's daughter and her husband Walter son of Robert Colvill, with contingent remainder to Robert and his heirs. (fn. 47) In 1367 Alice, then widow of a third husband (fn. 48) John Fauconberg of Bilton, (fn. 49) recovered seisin of this manor against Isabel widow of Humphrey Sturdy. (fn. 50) She died in the following year, her heir being Robert, orphan son of Walter Colvill and Margaret, a child of three, (fn. 51) who did not survive his grandmother two years. (fn. 52) At his death Thornton Steward passed under the settlement of 1343 (fn. 53) to the heirs of Robert Colvill alias Bytham—Ralph Basset of Sapcote, grandson of Elizabeth, sister of Robert's father Edmund, and John Gernoun, son of Alice, another sister of Edmund (fn. 54) —between whom the Bassingburn inheritance was then divided. (fn. 55) It is probable that the whole of the manor was ultimately assigned to Ralph Basset, who in 1371 sold it to Sir Richard le Scrope of Bolton. (fn. 56) In the three following years Richard de Bassingburn, John Holt and Richard de Leicester quitclaimed to Richard le Scrope all their rights here, (fn. 57) and Thornton Steward has followed the descent of Castle Bolton (q.v.) since that date, (fn. 58) Lord Bolton being now lord of the manor.
Free warren here was granted to Matthew de Thornton in 1256. (fn. 59) John Lisle's mill, burnt down in 1309, (fn. 60) does not seem to have been rebuilt by 1368, when a common bakehouse and fishery in the Ure are the chief appurtenances mentioned. (fn. 61)
A 'manor' and 4 carucates in DANBY ON URE (Danebi, xi cent.; Daneby super Yore, xiii cent.; Little Danby, xiv cent.; Danby, Danby upon Yore, xv cent.), held by Gamel under the Confessor, were among the lands of Count Alan in 1086, and were parcel of the honour of Richmond. (fn. 62)
The sons of Gamel were the sub-tenants in 1086, (fn. 63) and the division of the vill into thirds, which prevailed in 1286–7, (fn. 64) may date from their tenancy. On this assumption the third of the youngest son can be identified with the one messuage, 1 carucate, which Alexander son of Richard de Belhouse settled in 1260 on Wischard de Charron with service from a tenement formerly held by Alan de Kilham. (fn. 65) The other shares came to the family of Kilham, Edmund de Kilham holding a knight's fee in Danby and, presumably, elsewhere in 1280, (fn. 66) whilst in 1286–7 onethird of the vill was held by Richard son of Wischard de Charron, Edmund being in possession of the rest. (fn. 67) The landholders of 1316 were the heirs of Peter de Kilham and John Wichard. (fn. 68) The tenure of the Kilham family continued until 1428, John de Barden and John de Kilham then holding severally a third of the knight's fee once of Edmund de Kilham, (fn. 69) and six years later John Kilham and his wife Joan settled the manor of Danby on Ure on themselves with remainder to Agnes wife of Thomas son of Thomas Mountford and her heirs. (fn. 70) Thomas and Agnes were probably the parents or grandparents of Anne daughter and heir of Thomas Mountford of Hackforth, who married Robert Conyers (fn. 71) and held Danby with John Carr, apparently her third husband, (fn. 72) in 1499. (fn. 73) By Robert Conyers Anne had a son Simon, (fn. 74) to whom the manor ultimately descended. (fn. 75) In 1567 Simon settled his inheritance on himself with remainder to his only daughter and heir Margaret, then wife of Henry Scrope of Spennithorne, who was in possession of Danby at her death in 1609, when Francis Scrope, her son and heir, was sixty years of age. (fn. 76) Francis, lord in 1613 and 1616, (fn. 77) seems in the latter year to have transferred a third of the manor to Ralph Wythes, who, or his assignees, held this in 1617. (fn. 78) Francis died without issue, and Danby descended to the sons of his younger brother Christopher Scrope of Spennithorne. (fn. 79) Simon, the fifth son, who held with his younger brothers Christopher and Thomas in 1663, (fn. 80) and was living in 1689 and 1690, (fn. 81) was succeeded in 1691 by his eldest son and heir, another Simon Scrope of Danby. (fn. 82) A settlement of Danby and his other manors, made by Simon in 1699, (fn. 83) before his marriage with Frances Sheldon, (fn. 84) does not seem to have afforded sufficient protection against the burdens then laid on the estates of Roman Catholics, and in 1714 his lands were vested in trustees, who paid annuities from their issues to himself and his wife. (fn. 85) From this second Simon Scrope Danby descended to his son of the same name, lord in 1735 (fn. 86) and in 1749, when, on his marriage with Ann Clementina Meynell, he settled the manor on trustees for his own use, charging it with an annuity in lieu of dower. (fn. 87) Simon Thomas Scrope their son succeeded his father in 1788, (fn. 88) and in the following year married (fn. 89) Catherine, eldest daughter of Edward Meynell of Yarm; their son, the second Simon Thomas Scrope, inherited Danby in 1838. (fn. 90) His son and heir of the same name was succeeded in 1872 by his son, the fourth Simon Thomas Scrope. (fn. 91) At his death in 1896 Danby passed to his eldest son Simon Conyers Scrope, (fn. 92) who was succeeded in 1909 by Henry Aloysius Scrope, the present lord of the manor. (fn. 93)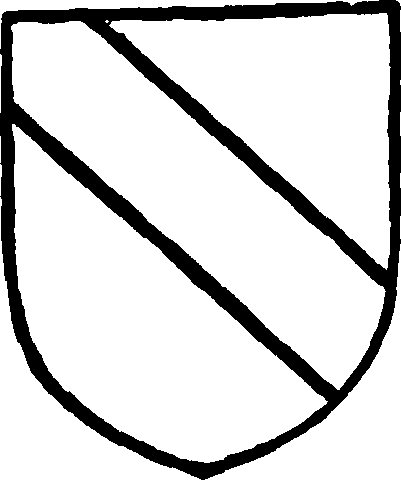 A water corn-mill called Danby Mill was parcel of the manor in 1789 and 1821. (fn. 94)
Various small gifts made in the 13th century (fn. 95) seem to have been the nucleus of the later holding of Jervaulx Abbey in Thornton Steward. In 1289 the abbot recovered seisin of common of pasture here from Sybil widow of Matthew de Thornton and others, (fn. 96) and the abbey paid 8s. subsidy here in 1301–2. (fn. 97) The homage and services of the Abbot of Jervaulx were sold with the manor in 1371, (fn. 98) and in 1428 tithes from property once part of the two knights' fees here of Mary de Bassingburn were paid by the head of this house. (fn. 99) The Jervaulx holding, valued in 1535 at 73s. 4d., (fn. 100) was included in a grant made by James I to Edward Lord Bruce of Kinloss, (fn. 101) and remained in the possession of his heirs until 1746. (fn. 102) In 1286–7 I carucate in Danby belonged to the liberty of St. Mary of York. (fn. 103)
Church
The church of ST. OSWALD apparently still retains the walling of an early Norman church, the plan being very little altered. It consists of chancel and nave, with the later additions of a north vestry and a porch at the west end.
The east window is modern, of two lights, and on the south side of the chancel are two similar windows, under one of which is a modern priest's doorway, and on the same side are a rude piscina and a low-side window of the 14th century, originally pointed but now cut square. On the north side is a pointed segmental 14th-century moulded recessed tomb, with a hood having carved heads at the apex and stops; to the west of it is a modern vestry doorway.
The chancel arch is debased 18th-century work. On the north side of the church are two modern lancet windows, one round-headed, the other pointed. On the south side is a 14th-century window of two trefoiled lights and a quatrefoil under a pointed head, and to the west of it is a modern lancet window.
The round-headed south doorway of the west porch is of the 12th century; it is square-edged and has a plain tympanum resting on rude cushion capitals and columns; the arch itself is ornamented with the cheveron.
The old walling of the church is rough, widejointed irregular rubble; the north side of the chancel is plastered over. In the north wall of the nave are traces of what appear to be Norman windows, and under one of the windows are the jambs of an early doorway. There are no monuments of importance, but in the recessed chancel tomb is the head of a wheel cross, almost complete and having a head carved on it; on the south side of the church are also two stone coffins.
The font is octagonal, resting on eight capitals ranged round a central pillar. These capitals are foliated and date from the 13th century; their shafts have been cut away, and they now rest directly on their bases.
There are two bells in a bellcote at the west end, one being of the 18th century and the other inscribed 'Repent, cry aloud, 1684.'
The plate consists of a chalice with the old York mark of 1636, and a modern chalice, foot paten and flagon.
Advowson
There was a church in Thornton Steward in 1086. (fn. 104) This with half a carucate of land here was included with the chapel of St. Martin, Richmond, in the gift said to have been made in 1100 by Wymar the Steward to the abbey of St. Mary. (fn. 105) At the beginning of the 13th century Wymar son of Roger gave lands to his chapel of Thornton Steward, but traces of the rights of St. Mary's survive in the promise given in 1249 by Joan de Thornton to the abbot to lay no claim to the advowson of Thornton Steward and to influence her son to surrender his rights in the same, (fn. 106) in an undated agreement by the rector Bartholomew, to pay 2s. a year to the abbot, (fn. 107) and in the payment made up to 1535 by the Abbot of Jervaulx to the Prior of St. Martin for rent in this parish and East Witton. (fn. 108) It would seem, however, that the church was early transferred to the archdeaconry of Richmond, (fn. 109) to which it had been appropriated before 1291. (fn. 110) The vicarage may have been then ordained; it is said to have been augmented in 1377. (fn. 111) In 1541 Henry VIII assigned this church and other possessions of the archdeaconry to the newly-constituted see of Chester. (fn. 112) The patronage of the vicarage remained with the bishopric till 1859, (fn. 113) when it was transferred to the Bishop of Ripon, who now presents. (fn. 114)
Charities
The Poor's Money, consisting of £10, of which £5 was bequeathed by George Foss previous to 1729, and £5 by a donor unknown, was formerly in the hands of the overseers, in respect of which 10s. was distributed to the poor at Christmas. The principal sum has been lost sight of.