Pages 403-405
A History of the County of York North Riding: Volume 1. Originally published by Victoria County History, London, 1914.
This free content was digitised by double rekeying. All rights reserved.
HUTTON CONYERS
Hotone, Hotune (xi cent.); Hoton Coigners, Hoton Conyers (xiv cent.).
Hutton Conyers, now a civil parish and formerly extra-parochial, is situated in the north-west of Ripon parish on the left bank of the Ure. It covers an area of about 3,211 acres. The eastern boundary is formed by Leeming Lane, and between the lane and the village is the wide tract of Hutton Moor. Its boundaries in 1202 were given as follows: 'By the boundary between Bishou and Kanehou . . . and to the north by the King's high road from Boroughbridge to the bridge of Lemming, and then by the road from Halikeld towards Braithkeld, and then towards the south from Braithkeld to Kanehou. (fn. 1) A later perambulation of Ripon gives more local names of interest: 'Through the middle of Branckcarr to the corner of Hutton Flatt and thence directly to the corner of the wood of William Mallory, knight, commonly called Theidale.' (fn. 2)
A local writer describes various customs of the moor which were still in use in the 18th century. The occupiers of messuages and cottages in Hutton Conyers, Baldersby, Rainton, Dishforth and Hewick had a right of estray for their sheep. Each township had a shepherd, whose rights were subject to those of the lord's shepherd. On the first day of the year the shepherds appeared at the court of the manor and did fealty 'by bringing up to the court a large apple pie and a twopenny sweet cake.' (fn. 3)
The 'road from Halikeld' mentioned in 1202 must be the lane now known as Melmerby Green Lane, which runs south from Melmerby and is crossed on Hutton Moor by the road from Thirsk to Ripon, which runs in a south-westerly direction through the parish. At the point where a lane branches off from it to run westward to the village of Hutton Conyers stood Athelstan's Cross, one of eight which marked 'St. Wilfrid's Mile' round the city of Ripon. (fn. 4) Within this circuit the church of Ripon had privilege of sanctuary. (fn. 5)
The village stands on rising ground a quarter of a mile to the east of the River Ure. At a point just north of the village a small stream flows into the river, which below the junction is known as Hutton Mill Deep. No trace remains, however, of the two mills here which belonged to the Ripon Chapter. (fn. 6)
Just north of the village is the site of Hutton Hall, the old moated manor-house of the Conyers, and subsequently of the Mallorys. There is no trace of the park which once surrounded it. (fn. 7) In 1869 the site was occupied by a farm-house dating from the 16th century. A ceiling ornamented with the arms of the Mallorys remained to show that this house also had been at times the residence of the lords of the manor. (fn. 8) According to tradition it was attacked during the civil wars by the Parliamentary forces. (fn. 9) The Hutton Hall of the present day stands a short distance to the north-east and is the residence of Mr. Cyril Spence.
There are many tumuli scattered over the eastern part of the parish. Some earthworks on Hutton Moor may possibly mark the site of the fortification which Count Alan set up here in 1140 to harass Ripon. (fn. 10)
The manufacture of bricks and tiles is the chief industry of the population, which in 1901 amounted to 194. (fn. 11) A large part of the parish is, however, under cultivation. Wheat, turnips and clover are grown. An Inclosure Act was passed in 1810. (fn. 11a)
MANOR
Twelve carucates in HUTTON CONYERS were in the hands of the Bishop of Durham before 1086, and were held with 2 carucates in Howgrave as one 'manor.' (fn. 12) They were claimed as an endowment ab antiquitate of the church of St. Cuthbert. (fn. 13) Norton, Sutton, Holme and Thorp were in the soke of Hutton. (fn. 14)
The tenant of the bishop in 1086 was one Robert. (fn. 15) Between 1099 and 1133, however, Bishop Ralph Flambard enfeoffed in Sockburn, Hutton and other places his councillor Roger de Conyers. (fn. 16) Hutton, Norton, Holme and Howgrave were held of the Bishop of Durham for one knight's fee. (fn. 17)
At the end of the 12th century a division of the Conyers' estates was made between Roger son of Robert de Conyers, the right heir, and his uncle Roger. (fn. 18) Hutton was allotted to the elder branch of the family, which resided here for several generations. Roger was succeeded by his son Robert, (fn. 19) who died before 1259, and was succeeded by Roger his son. (fn. 20) Another Robert followed and held Norton Conyers in 1284. (fn. 21) It was either he or his heir of the same name who was returned as lord of Hutton in 1316. (fn. 22) In 1334 Robert de Conyers settled the manor on himself, with remainder to his grandson Robert, son of Thomas de Conyers. (fn. 23) This younger Robert succeeded him and died without male heirs. (fn. 24) His daughter and heir Joan married Sir Christopher Mallory, (fn. 25) who confirmed in 1347 grants which had been made by Robert de Conyers. (fn. 26) He seems to have been succeeded before 1398 by William Mallory, (fn. 27) probably his son. A second Christopher Mallory followed. (fn. 28) His widow Isabel married William Vincent, who claimed a third of the manor as dower against William Mallory, (fn. 29) probably the son of Christopher. This dispute lasted for four years, and was finally settled by a quitclaim in 1438 of the third part in question, made by William Vincent and Isabel to William Mallory. (fn. 30) William married Denise, sister and heir of William Tempest, (fn. 31) and thus became lord of the manor of Studley Royal. He died in 1475, (fn. 32) and was succeeded by his grandson William, (fn. 33) son and heir of John Mallory, (fn. 34) who had predeceased his father. (fn. 35) The younger William married Joan Constable. (fn. 36) On his death in 1499 (fn. 37) he was succeeded by his son John Mallory, (fn. 38) who paid £4 0s. 4d. as subsidy for his land in Hutton Conyers in 1524. (fn. 39) He settled some lands here on his son William, (fn. 40) who was his heir, and succeeded him at his death in 1527. (fn. 41) William died in 1547, (fn. 42) leaving a son and heir Christopher, who survived him only eight years. (fn. 43) At his death Christopher had no children, (fn. 44) and his lands were inherited, under a settlement, (fn. 45) by his brother William Mallory and his wife Ursula. (fn. 46) A posthumous son John was subsequently born to Christopher, (fn. 47) and in 1578 had a writ of amoveas manus for a third part of the manors of Studley and Nunwick, late of Christopher his father. (fn. 48)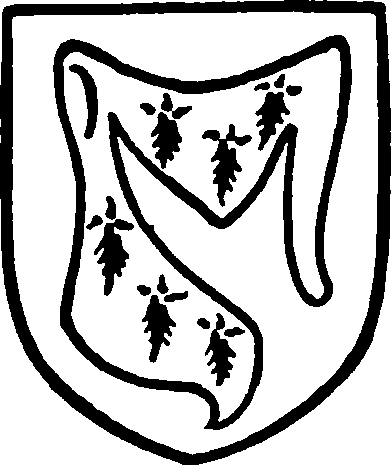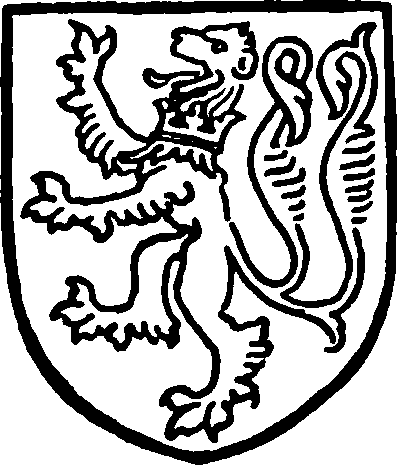 William Mallory, brother of Christopher, held Hutton Conyers till his death in March 1602–3. (fn. 49) He was member of Parliament and Sheriff of Yorkshire, and was very active in the suppression of Popery. (fn. 50) His son John, who succeeded him, (fn. 51) was succeeded in his turn by his son William. (fn. 52) William died in 1645–6, (fn. 53) and left to his son Sir John Mallory his land encumbered with considerable debts which he doubted his 'whole estate both reall and personall would not extend by farr to satisfie.' (fn. 54) He and his son had raised forces against the Parliament in the liberty of Ripon, and had to pay a fine of £2,219. (fn. 55) Sir John, whose wife was Mary Mosley, (fn. 56) died in 1655. (fn. 57) Their son William died ten years later, (fn. 58) and was succeeded by his only surviving sister Mary wife of George Aislabie of York. (fn. 59) The manor was in the possession of George Aislabie in 1670, (fn. 60) but four years later he was killed in a duel, (fn. 61) and his wife held his lands in trust for her children. (fn. 62) Her eldest surviving son George succeeded her, and died in 1699. (fn. 63) The estates were inherited by his brother John, who was member of Parliament for Ripon, and Chancellor of the Exchequer during the financial crisis known as the South Sea Bubble. (fn. 64) He resigned his seat after the disaster, and retired to Studley. His son and heir William Aislabie succeeded him, (fn. 65) and was member for the borough from 1721 to 1781. (fn. 66) He had two sons who predeceased him, and his will entailed the estates on his two daughters in succession. (fn. 67) The elder, Elizabeth, wife of Charles Allanson, (fn. 68) died without issue. She was succeeded by Elizabeth, daughter of her younger sister Anna Sophia who had married William Lawrence. (fn. 69)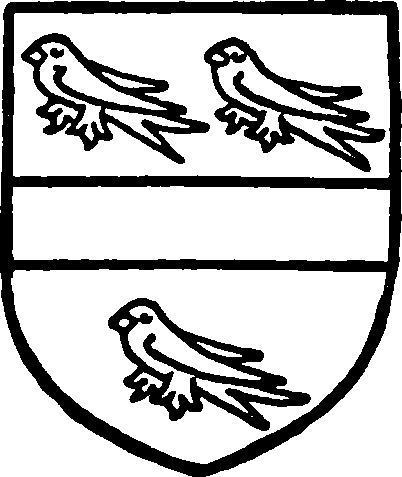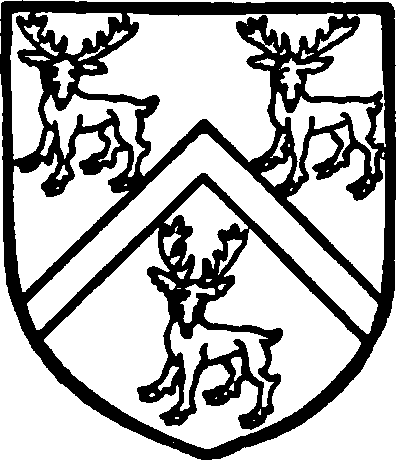 On the death of Miss Elizabeth Lawrence in 1845 the estates reverted to the descendants of Mary Aislabie, daughter of George Aislabie and Mary Mallory. (fn. 70) She had married Sir William Robinson of Newby (q.v.), bart., and her representative at this date was Thomas Philip Earl De Grey. (fn. 71) On his death he was succeeded by his nephew afterwards Marquess of Ripon. (fn. 72) The present Marquess of Ripon is now lord of the manor.
Two oxgangs in Hutton belonged in 1086 to the Archbishop of York. (fn. 73) They appear in the 13th century as part of the endowment of the church of Ripon, (fn. 74) together with a toft, or messuage, known as St. Wilfrid's House. (fn. 75) This land was held of the Ripon Chapter by the lords of the manor of Hutton. (fn. 76) The two mills in Hutton Conyers were also held of the chapter by the Mallorys. (fn. 77)
Chapelry
In the early 13th century the chapter of Ripon granted to Roger de Conyers and his son Robert the right of having a chapel in Hutton Conyers, and a chaplain serving there, (fn. 78) subject to the parochial rights of the chapter. The presentation was to be in the hands of the lords of the manor. (fn. 79) Roger de Conyers made a grant of a toft and 6 acres of land in Hutton Conyers for the purpose of building the chapel, (fn. 80) which was dedicated to St. John the Baptist. (fn. 81) In 1322 Robert de Conyers, then lord of the manor, made an additional grant of one messuage with land in Hutton Conyers and Howgrave to a chaplain celebrating divine service daily in the chapel. (fn. 82)
The lords of the manor of Hutton Conyers continued to present incumbents to this chapel down to the 16th century. (fn. 83) The object for which it existed was stated in 1546 to be 'to have mass, divine service and sacraments ministered in the said church at such times as the inhabitants of the same town cannot come to the parish church for the influence of the water, when the water here is big.' (fn. 84)
After the confiscation of its endowment the chapel seems to have fallen into disuse, and since the 16th century the inhabitants of Hutton Conyers have had no nearer church than Ripon. In 1863 the village was included in the new ecclesiastical district of Sharow. (fn. 85)