Pages 91-94
Ancient and Historical Monuments in the County of Gloucester Iron Age and Romano-British Monuments in the Gloucestershire Cotswolds. Originally published by Her Majesty's Stationery Office, London, 1976.
This free content was digitised by double rekeying and sponsored by English Heritage. All rights reserved.
PAINSWICK
(11 miles N.W. of Cirencester)
Roman finds not closely provenanced include coins (fn. 1) and an enamelled 'horse' brooch. (fn. 2)
'Entrenchments' on the N. end of Huddenknoll Hill (SO 848109) include a track and a V-shaped depression, 1½ ft. to 5 ft. deep, cut by quarrying at its N. end. (fn. 3) There is no good evidence for prehistoric earthworks formerly predicated on Longridge Hill, some 2 miles S.E. of (1). (fn. 4)
(1) Kimsbury Hill-fort (SO 869121), also called Painswick Beacon or Castle Godwyn, bivallate, unexcavated, encloses 7 acres on a spur of the Cotswold escarpment (Plate 37). The interior is almost entirely defaced by stone-quarrying and now contains part of a golf-course. Plan and profile, p. 93.
The defences on W., S.E. and N.E. are up to 180 ft. wide overall and comprise three ramparts with two medial ditches. The inner rampart, of glacis construction, rises 5 ft. above the interior and on the N. continues along the edge of a short steep scarp as a bank without a ditch. The middle rampart springs from the edge of the inner ditch and is separated from the outer ditch by a berm 15 ft. wide. The outer rampart turns W. at the N.E. corner to follow a sloping terrace for 350 ft.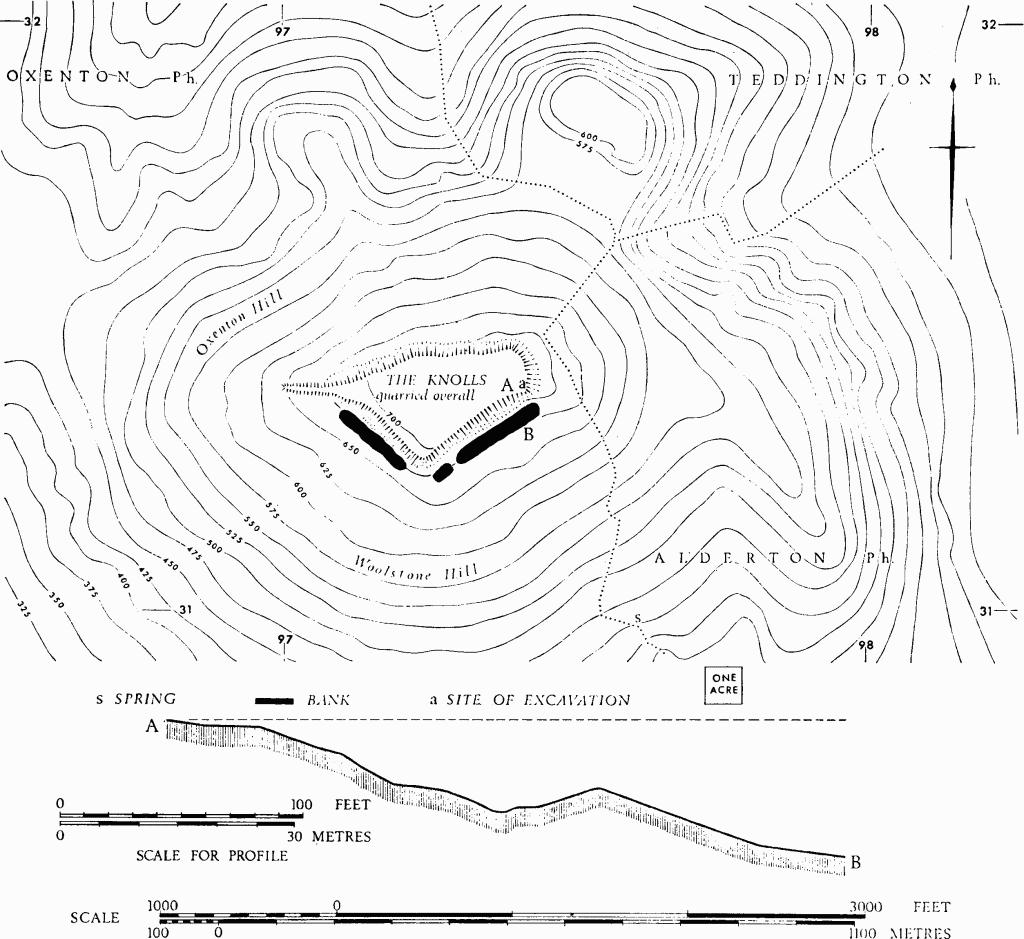 At the main entrance, near the S.E. corner, the ramparts are offset from each other. The inner bank is inturned so that on the W. side it projects almost straight into the interior for 60 ft. The E. arm is markedly bowed for 80 ft. and its N. end has been much dug. Beyond this, a low and very irregular bank curves N.W. and W., to end 12 ft. N. of the top of the W. arm. The extent to which this represents the original arrangement cannot be determined by surface inspection alone (see p. xxvi). A second entrance may have existed at the N.W. corner, where the surviving end of the inner rampart turns inwards to flank a hollowway.
Almost at the centre of the interior is a circular hollow (a), 20 ft. in diameter at the top, about 8 ft. deep and surrounded by a low bank; it is of unknown origin.
'Several Roman coins', 'a sword and some spearheads' (undated), said to be casual finds (Rudder (1779), 592), have not survived.
C.U.A.P., OAP AIK 76–81, AQM 83, 85.
Lysons, Woodchester (1797), Plate I. Camden, Britannia (ed. Gough, 1806), 398. Lloyd Baker (1821), 169, No. 17. Playne (1876), 211, No. 20. Witts (1883), 28, No. 57.
(2) Roman Villa (SO 85781020), Ifold, (fn. 5) lies on Inferior Oolite sloping gently to S. and W., close to a springline. The site, first recorded in 1868, was excavated by W. St. Clair Baddeley in 1903–4. It has been extensively robbed for stone and disturbed by ploughing.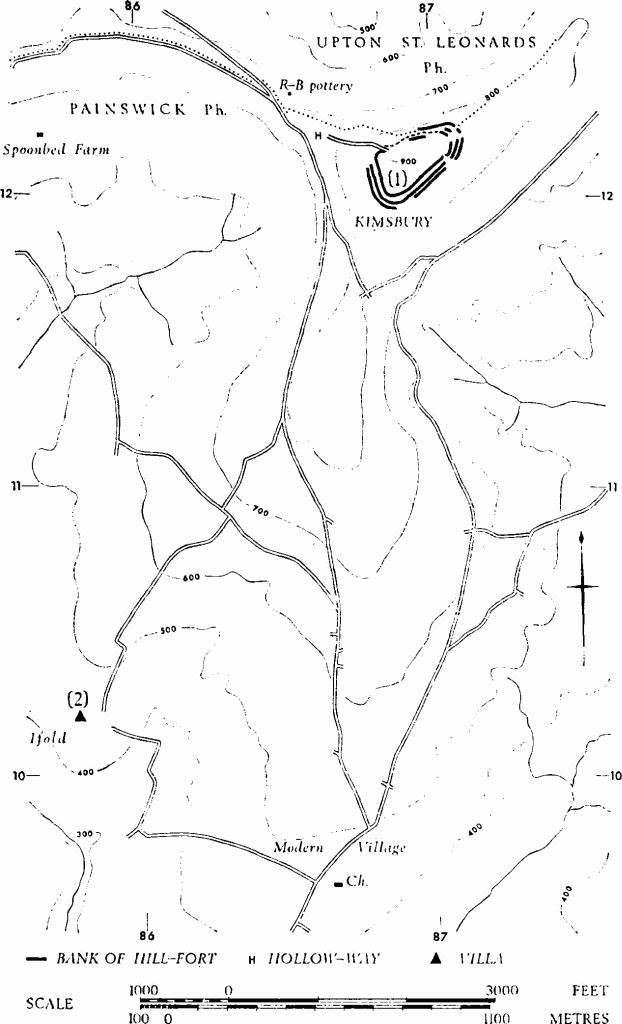 The plan is incomplete, but the excavator insists that room 1 was isolated. Lathe-turned columns 9½ in. in diameter lying N.E. of room 1, and a smaller column near the 'buttress' on the S., suggest a colonnade along the W. side of a corridor which was partly paved in black tesserae of three sizes. Lias slabs and cobbles were found in the N. half of the suggested corridor. Apsidal hypocausts, 26 and 27 (adjacent), with 2-ft.-high stone pilae of square section occasionally capped by single tiles, were heated from a furnace (29) on the N. The square plunge baths (P) were lined with opus signinum, and one was slate-floored with coved angles; a stone platform lay between the two baths. The mosaic floor of room 10 survives on the E. only (Plate 8); lias, tile and Oolite were used for small and large tesserae. In the western part of the room cobbles were reported in place of the mosaic. In several places it seemed that the ruins of the villa had been reused as farm buildings.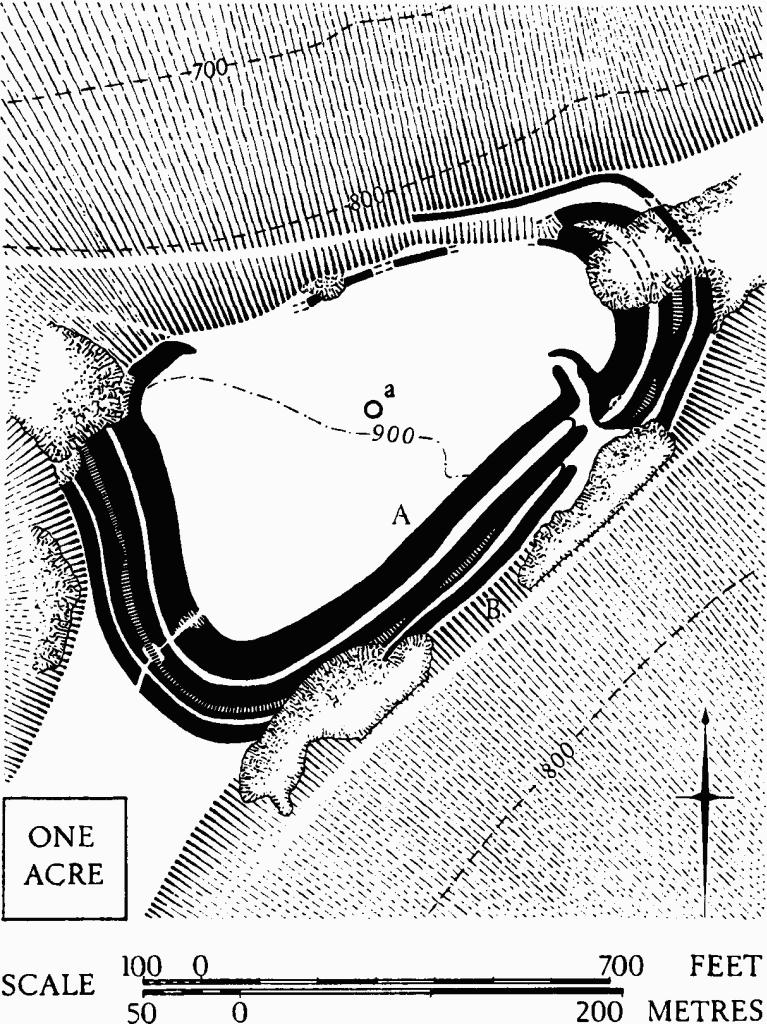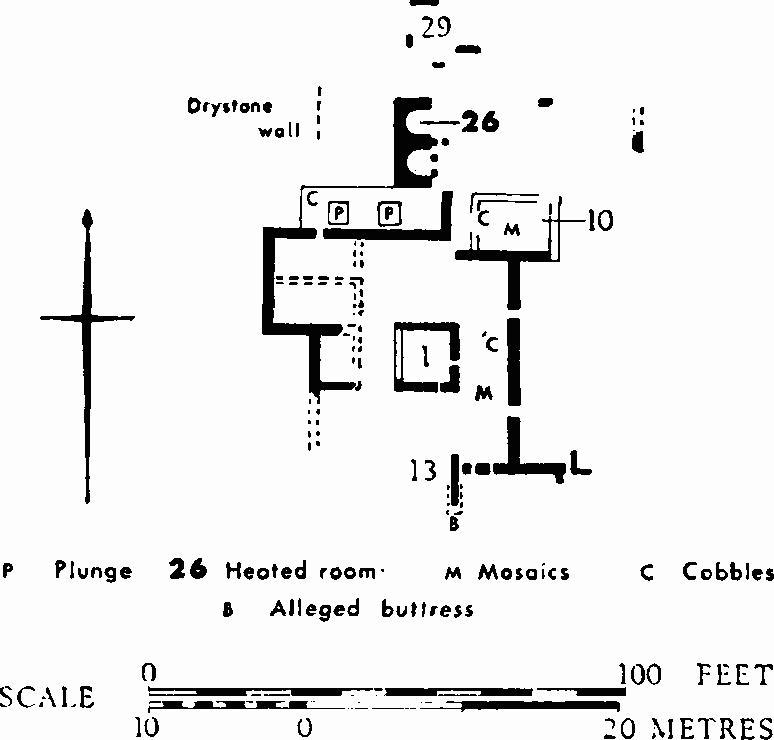 Building debris included large moulded rectangular stones, some possibly from cornices, a hexagonal stone column base integral with a column drum 9½ in. in diameter, pierced off-centre with a small octagonal hole, and a very large number of hexagonal sandstone tiles cut in three distinct sizes. Combed tiles included some stamped RPG. Copious wall plaster included much with striped designs; there were also small fragments of window glass and some melted lead. There was extensive evidence of burning.
Two coins were found, one Constantinian, the other earlier. Pottery included samian, amphorae, a jar with applied white scroll decoration, a 'red glazed' base stamped with a wheel of eight spokes (Oxfordshire rosette-stamped imitation samian?), and mortaria. A yellow-green glazed tile was thought to be Roman. Other finds were glass bottles and beads and a pewter pot; a sheath, cold chisels, hinges and a penannular shackle were of iron. There were also a piece of green porphyry and quernstones. There were numerous oyster shells and animal bones, including ox, horse, pig (one tile bore trotter marks), goat and sheep; also a red deer's antler, a boar's tusk and bones of small wild animals. Surviving finds are in Stroud and Gloucester City Museums.
TBGAS, XXVII (1904), 156–71; 73 (1954), 25 (porphyry). W. St. Clair Baddeley, A Cotteswold Manor (1929), 3, n. 1, 24 and illustrations opp. pp. 22–4. JRS, XLV (1955), 69 (stamped tile). Archaeological News Letter, 6 (1955), 47 (cornice stones).
(3) Roman Burials (SO 85500726), Brownshill. At least six skeletons are said to have been found in 1796. The site was probably on a slight shelf facing W., between the 300-ft. and 400-ft. contours; it is now parkland.
An associated coin of Urbs Roma type is in Gloucester City Museum.
TBGAS, 77 (1958), 155–6.