Pages 96-98
An Inventory of the Historical Monuments in Dorset, Volume 1, West. Originally published by Her Majesty's Stationery Office, London, 1952.
This free content was digitised by double rekeying and sponsored by English Heritage. All rights reserved.
31 CHILCOMBE (C.e.)
(O.S. 6 in. XXXVIII, S.E.)
Chilcombe is a small parish 4 m. E. of Bridport. The church and the hill-fort are the principal monuments.
Ecclesiastical
(1) Parish Church (dedication unknown) stands in the middle of the parish. The walls are of local rubble, cement-rendered on the E. and S., with dressings of the same material; the roofs are covered with slates and stone slates. The S. wall of the Nave dates from the 12th century and the Chancel is probably of the same period. The chancel-arch was rebuilt late in the 14th century and the N. and W. sides of the nave were perhaps rebuilt in the 15th century. The South Porch is of 18th-century or modern date. The church has been restored in modern times.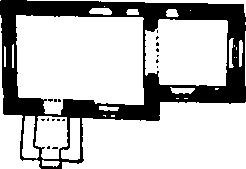 Architectural Description—The Chancel (11¾ ft. by 11 ft.) has an early 15th-century E. window of two cinque-foiled lights with vertical tracery in a two-centred head with moulded reveals. In the N. wall is a window of one trefoiled light entirely modern externally. In the S. wall is an early 15th-century window of two trefoiled lights with vertical tracery in a two-centred head with a label. The late 14th-century chancel-arch is two-centred and of two continuous moulded orders.
The Nave (21¼ ft. by 14¾ ft.) has, in the N. wall, two windows, the eastern of uncertain date and of one trefoiled light with a modern head; the western window is similar to the S. window in the chancel, but has no label and no cusps to the heads of the lights, which may have been cut away; further W. are the jambs of a destroyed doorway. In the S. wall is a modern window; the W. part of the wall is thicker than the E. part and in it is the partly restored late 12th-century S. doorway; it has chamfered jambs and a later round arch; above it is a plastered arch resting on reset scalloped capitals. The late 14th-century W. window is of two cinque-foiled lights with a quatrefoil in a two-centred head with moulded external reveals. On the W. gable is a stone bell-cote.
Fittings—Bell: dated 1636. Brasses: see Monuments (1), (5), (6), (7). Chair: In chancel—with turned legs, shaped arms and back with the initials and date R.B., 1642. Font: round bowl with chamfered edge, band of herring-bone cable decoration on curved underside and band of conventional scallops or gadroons enclosing flowers or leaves, late 12th-century, stem and base modern. Glass: In head of E. window—yellow crown, 15th-century. In nave, in S. wall, E. window, two memorial lights containing figures of St. Peter and St. Paul under elaborate canopies, with I.H.S. in the tracery, to Jane, daughter of John and Elizabeth Strong, 1777, and John their son, 1787; on St. Paul's sword is the signature and date J. Bell, 1852. Monuments and Floor-slab. Monuments: In chancel—on N. wall, (1) to Henry Michell, 1662, freestone tablet, with brass plate signed John Bishop and Richard Medway, with rusticated side-pilasters, round arch and panel above with sword and banner, one shield-of-arms. In nave—on E. wall, (2) to John Bishop, 1682–3, freestone cartouche (Plate 20) with scrolls and achievement-of-arms; on N. wall, (3) to John Strong, 1819, and Elizabeth his wife, 1802, white marble wall-tablet with cornice, urn and shield-of-arms, by King, London; (4) to Robert Strong, 1844, Elizabeth his wife, 1845, and Mary their daughter, 1850, white marble wall-tablet with shield-of-arms, In churchyard—S. of the church, (5) to Robert Strong, 1844, table-tomb with brass plate; (6) to John Strong, 1819, and Elizabeth his wife, 1802, table-tomb with brass plate; (7) to Henry Marsh, 1807, and John Marsh his nephew, 1807, table-tomb with brass plate engraved with shield-of-arms. Floor-slab: In chancel—to [E. Waddon], 1692–3. Piscina: In chancel—recess with moulded jambs and trefoiled head, round drain, early 14th-century. Plate: includes a cup and paten, the former with the engraved date 1673 and a shield-of-arms of Bishop. Reredos: In chancel—in panelled wood with the Crucifixion in middle panel, Annunciation above, Flagellation and Resurrection at sides, in poker-work and incised technique, foreign, perhaps 17th-century. Royal Arms: over S. door, wood gilded, Hanoverian before 1801. Miscellanea: In nave— tapering cylindrical stone (22 in. in diam.) with raised rolls or bands and central drain-hole, possibly early font with sides of bowl cut away, broad end roughly cut but with remains of border where wall of bowl may have been cut away.
Secular
(2) Manor House, immediately W. of the church, is of two storeys; the walls are of rubble and the roofs are thatched. It was largely rebuilt in 1578, but incorporates earlier work. The N. and S. doorways are perhaps mediæval and have chamfered jambs and two-centred arches; above the S. doorway is a stone inscribed "Anno Dni. 1578 John Bysshop, Elnor Bysshop". Further W. is a 16th-century window of four lights with a label. An addition to the late 18th-century farmhouse incorporates some 17th-century windows. The old building was in course of demolition in 1939.
Earthworks
(3) Hill Fort, on the top of Chilcombe Hill (650 ft. above O.D.) at the N. end of the parish, has an internal area of 19 acres and a total area of 23½ acres. The work consists of an irregular pear-shaped enclosure surrounded by a ditch with inner and outer ramparts. Along the S.E. side the defence now consists of two scarps with a small ledge between them, but presumably the former defences along this side were the same as those of the rest of the work. The defences are of very slight character and there remain no traces of huts in the enclosure. There appear to be three entrances, one on the E. side, the second 70 yards S.S.W. of the N.W. angle, the third (more doubtful) an oblique passage to the E. of the S. corner. In the middle of the W. side a sharp kink suggests a change of plan during construction.
Within the enclosure and nearly adjoining the N. rampart is a mound (a), probably a barrow, 38 ft. in diam. and 4½ ft. high. Outside the enclosure to the S. are two further mounds, probably also the remains of barrows; (b), about 80 yards away, is 39 to 44 ft. in diam. and 2½ ft. high and has on the top a flat stone about 5 ft. by 2¾ ft.; (c) is 100 yards S.W. of (b) and about 38 ft. in diam. and 4 ft. high.