Pages 144-151
An Inventory of the Historical Monuments in Dorset, Volume 2, South east. Originally published by Her Majesty's Stationery Office, London, 1970.
This free content was digitised by double rekeying and sponsored by English Heritage. All rights reserved.
18 LULWORTH, EAST (8582)
(O.S. 6 ins. aSY 88 SW, bSY 88 SE)
East Lulworth, 5 m. S.W. of Wareham, is a coastal parish covering 2,311 acres. It stretches from the sea on the S., across an area of Chalk rising to over 500 ft. above O.D. at Flower's Barrow, and north-eastwards across the well-wooded outcrops of Reading Beds and London Clay to the heathland on Bagshot Beds.
There were formerly two settlements in the parish, East Lulworth itself and the now deserted settlement of Gatemerston in the S.W., no trace of which remains. The present village lies immediately E. of Lulworth Park. Lulworth castle, the successor to the 'goodly manor place' of the Newburghs mentioned by Leland (Itin. III, 50, 53), is of interest both for its early position in the history of romantic architecture and also for its connection with the Weld family who acquired it in the mid 17th century. In the late 18th century they built the Roman Catholic church, which was the first to be built in England since the Reformation, and which makes an interesting comparison with the slightly earlier Anglican church of St. George at Portland. The park in which the castle and the Roman Catholic church stand was laid out by Edward Weld in the second half of the 18th century to replace extensive formal gardens. The formation of the park involved the destruction of part of the old village and the building of new cottages further E. The parish church, also in the park, is said to have been partly pulled down late in the century, but restored with a small apse in place of the former chancel. The present village includes five buildings of the 17th century, but it is largely a development of the late 18th and early 19th centuries.
The S. part of the parish is now used as ranges by the Army; it contains Monastery Farm (26) which is not of architectural interest but is something of a curiosity, having been built originally as a monastery for French refugee monks (Hutchins I, 385).
The principal monuments are the parish church, the Roman Catholic church, the castle, and the hill-fort of Flower's Barrow.
Ecclesiastical
b(1) The Parish Church of St. Andrew stands to the W. of the village, in Lulworth Park. The walls are of Purbeck stone and carstone and the roofs are tiled. The West Tower (Plate 3) is of the late 15th century. The rest of the church was apparently reduced in size in the 1780s and then entirely rebuilt in 1864 to the designs of J. Hicks (Report of John Hicks, 1860, D.C.R.O., P77/ CW I; The Builder, 20 Aug. 1864, 622; Dorset Procs. XLV (1924), 31–2).
The tower is a handsome building and unusual in having large corbels of unknown purpose near the wall-head.
Architectural Description—The Tower (14½ ft. square) is divided externally into four stages by weathered offsets above a moulded plinth. It has diagonal buttresses; those to the E. are of four stages and those to the W. are of five with the weathering of the lowest stage of each finishing in an ogee crocketed finial. The buttresses are surmounted by pinnacles above which the corners of the tower are splayed. At the wall-head is an embattled parapet above a moulded string with paterae and with gargoyles and pinnacles at the four corners. The tower arch (Plate 100) is triangular, rounded at the springing, and of two moulded orders on the E. side but simply splayed on the W. On each jamb, the mouldings, which stop on a high splayed plinth, are in part interrupted to give place to a niche with moulded pedestal and ogee crocketed canopy. In the N. wall a doorway with four-centred head leads to a vice. The W. doorway has a moulded four-centred arch under a label returned from the plinth and with plain shields in the spandrels. In the N., S. and W. walls are windows each of two cinque-foiled lights in a moulded square head with a label and with a moulded four-centred rear arch, the moulding being carried down the splays; the S. window has been entirely renewed. Across each corner of the ground storey are ashlar squinches supported on demi-angels holding shields, now defaced. Higher up on the squinches and immediately below the timber floor are traceried pendants of a stone vault apparently never completed; those in the N.E. and N.W. corners have been destroyed. In place of a vault there is a floor with moulded timber plates and intersecting beams carrying chamfered joists laid flat. At the intersection of the beams is a carved foliated boss. The second stage has a small square-headed light to the N. The top stage has in each wall three windows each of a single transomed light with deeply moulded square head and reveals; the lights are trefoiled under the head and under the transom. Between the window heads outside are boldly projecting moulded corbels.
Fittings—Bells: three; 1st by John Wallis, 1589; 2nd with black-letter inscription 'Sit Nomen Domini Benedictum', mediaeval; 3rd by William Knight, 1718–19. Bell-frame, probably 16th-century. Bracket: over tower arch, of moulded stone, 15th-century. Brass: In nave, in Purbeck marble floor-slab, to Henry Webster, inscription plate, 15th-century. Font: of Purbeck marble, octagonal bowl with quatre-foiled panelled sides, panelled stem with moulded capping, 15th-century, on modern base. Hatchments: In chancel, (1) of William, son of Sir Francis Baring, 1820. In nave, (2) of Humphrey Weld, 1722; (3) of Edward Weld, 1761; (4) of Edward Weld, 1775; (5) of Sir John Weld, 1674; (6) of William Weld, 1698. Now in Lulworth Castle estate office, (7) of Thomas Weld, 1816. Monuments and Floor-slabs. Monuments: In nave, on N. wall, (1) to William, son of Sir Francis Baring, 1820, white marble tablet. In churchyard, headstones—E. and N.E. of chancel, (2) to John Seamor, 1710; (3) to Cressam Taylor, late 17th-century, defaced; (4) to Mary, wife of John Pope, 1709/10; N. of nave, (5) to William Smedmore, 1683/4; (6) to John, son of Bernard and Rebekah Smedmore, 1709; N. of W. tower, (7) to Elizabeth, wife of Benjamin Baker, 1699. Floor-slabs: In chancel, (1) to Josephus Tomes, vicar, 1727/8; (2) to Joseph, son of John and Rachel Vincent, 1707/8. In nave, (3) to Rachel Vincent, 1716/7; (4) to Mrs. Eleanor . . . mes, 18th-century. Organ-case: of mahogany, with pierced panels showing pipes in five groups above solid lower panels, early 19th-century. Plate: includes cup of 1572. Royal Arms: in tower, painted on wood, Hanoverian.
b(2) The Roman Catholic Church of St. Mary (Plates 104, 105), with walls of ashlar and roofs covered with lead, was built for Thomas Weld in 1786–7 to the designs of John Tasker, architect and builder. Tasker's drawings are in the possession of Col. Weld at Lulworth, and a building account book of Thomas Weld is preserved in the Dorset County Record Office. (fn. 1) Superficial alterations were made to the windows and the interior decoration in mid-Victorian times under the supervision of J. A. Hansom, but all evidence of them was removed in the restoration and redecoration completed by H. S. Goodhart-Rendel in 1953. The partition enclosing the vestibule is a replacement of the latter date.
St. Mary's church is of considerable interest, not only for its central planning and the unusual Classical composition of its elevations, but also for its quality, implying as it must a confidence among Roman Catholics at the time of building (after the Relief Act of 1778) despite the Gordon Riots of 1780. Reputedly, George III told Weld to make it look as little like a church as possible. It stands in an idyllic setting.
Architectural Description—The church has a central domed space, entered from the N. by a segmental vestibule, segmental transept-recesses to E. and W. and a semicircular sanctuary to the S. Behind the sanctuary is a second entrance flanked by a vestry and a staircase, forming a rectangular southern arm. The staircase leads down to a small crypt. The S. front (Plate 104) has a central doorway with a Tuscan porch surmounted by an artificial stone urn all within an arched wall-recess flanked by niches, containing large artificial stone urns, with windows above them. The other elevations are segmental on plan with rectangular piers, containing niches and surmounted by large artificial stone urns, on the flanks. The N. front has a central doorway with a Tuscan porch surmounted by artificial stone urns. The windows, to ground and gallery floors, are rectangular and now have modern steel glazing bars; formerly each had late 19th-century stone frames forming two round-headed lights inserted in the openings.
Inside, four large openings, with segmental arches springing from Ionic pilasters, lead out of the central space (Plate 105). Between the pilasters to N., E. and W., Roman-Doric columns support galleries with balustraded fronts. In the sanctuary to the S. architectural continuity of the colonnade and balustrade treatment is effected by a wall decoration of pilasters with their entablatures and by balustrades in two arched openings that give indirect light on the altar.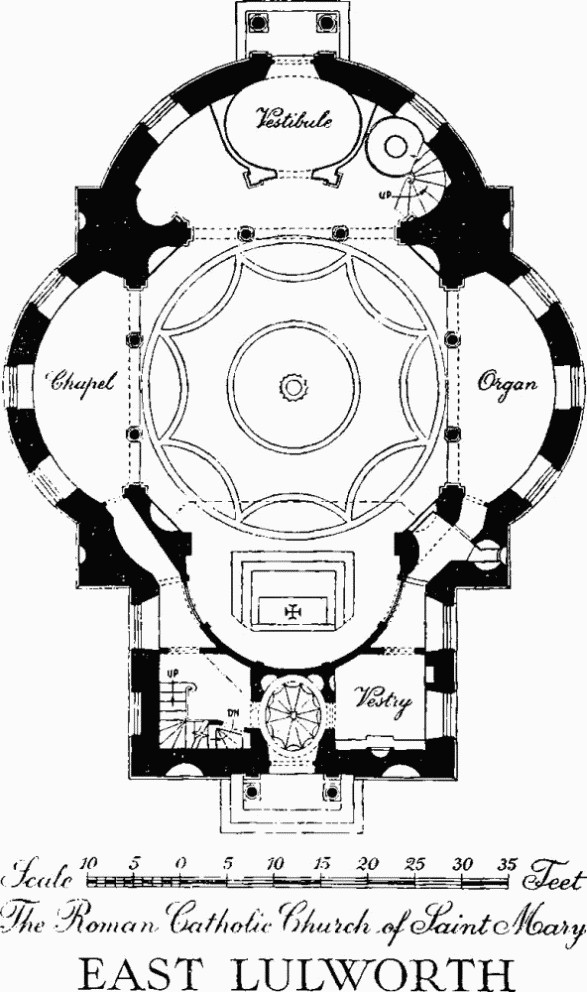 Fittings—Altar: of various marbles with bronze enrichment, with front in three panels and in the middle panel two kneeling angels in bronze with censers flanking an alabaster urn; in the retable a tabernacle enriched with semi-precious stones and supporting a Crucifix with Mary Magdalene in bronze at the foot of the Cross and the figure of Christ carved in ivory, late 18th-century, made in Rome and intended for the first Jesuit church to be opened in England but sold to Mr. Weld c. 1786 (letter of Fr. Thorpe, S.J., to Lord Arundell, 22 August 1787, now in the possession of Mr. R. J. R. Arundell). Candlesticks: six, of gilt bronze, 18 ins. high, enriched with wreaths, foliage and cherubs' heads, 18th-century. Cope (Plate 31): made with Italian embroidery, probably not originally worked for a cope, mid 18th-century. Furniture: in vestry, fitted mahogany drawers and cupboard and semicircular niche above with mahogany lining, contemporary with church.
Monuments and Floor-slab. Monuments: In crypt—oval wall tablets, (1) to Mary (Stourton), wife of Sir John Weld, 1650; (2) to Frances Joan, daughter of Sir John Weld, 1673; (3) to John, son of William Weld; (4) to Sir John Weld, 1674; (5) to William, son of Sir John Weld, 1698; (6) to Elizabeth (Shireburn), wife of William Weld, 1688; (7) to Humphrey, son of William Weld, 1722; (8) to Edward, son of Humphrey Weld, 1761; (9) to Edward, son of Edward Weld, 1775; (10) to Margaret (Simeons), wife of Humphrey Weld, 1737; (11) to Mary Teresa (Vaughan), wife of Edward Weld, 1754; (12) to Juliana (Petre), wife of Edward Weld, 1772; (13) to Thomas, son of Edward Weld, 1816; (14) to Lucy Bridget (Clifford), wife of Thomas Weld, 1815; (15) to Mary (Stanley), wife of Thomas Weld, 1838; (16) to Mary Anne, daughter of Joseph Weld, 1846; (17) to Thomas Stanley, S.J., 1805; rectangular tablets, (18) to William Weld, 1782, and Francis Weld, 1788; (19) to Edward Joseph Bourchier Weld, 1843. Floor-slab: in crypt, to John Grou, priest, 1803 (i.e. Jean Nicolas Grou, S.J.).
Organ-case (Plate 105): in E. gallery—a separate console facing the body of the chapel is fronted with pipes and has a small figure playing a harp on a projection; the case of the main organ has the lower part of solid wood panelling, the upper part with two open round-headed panels filled with pipes between three projecting groups of pipes, and the top finished with a cornice surmounted by a cross and two urns, inscribed 'Richard Seede Bristol Fecit 1785'. Pavement: of white freestone with geometrical pattern in black slate. Prie-dieu: two, with stools with tapered legs and fluted bearers and oval dies at the corners, late 18th-century. Plate etc. (Plates 22, 27): includes ciborium and cover; cruet comprising oval dish and two jugs, one decorated with fountains and surmounted by the letter A, the other decorated with vines and surmounted by the letter V, by Frederick Kandler, 1776; silver-handled brush sprinkler and holy-water bucket by Charles Kandler, 1786; chalice of silver gilt by Benjamin Pyne, 1704, and another of 1791; incense boat; monstrance and paten; censer by William Tuite, 1772. Pieces undated are probably late 18th-century. Tabernacle (Plate 9): 2½ ft. high, of mahogany with marquetry and painted decoration, with coupled marbled Classical columns at angles and with fluted domed top, formerly surmounted by a crucifix, late 18th-century.
Bridges, two, N. of the church, over a ha-ha, have segmental brick arches with keystones dated 1791.
Secular
b(3) Lulworth Castle (Plates 101–3), of brick faced with Purbeck and Portland stone rubble and ashlar, comprises a four-square building of three storeys with four-storey towers at the corners all rising above a basement which is partly masked by a wide terrace forming a podium, itself containing basement rooms. It was begun c. 1590 by Henry Howard, 2nd Viscount Bindon, or his brother Thomas (P.S. new information suggests c. 1608, see p. lviii, footnote). From the latter it passed to his cousin, Thomas Howard, Earl of Suffolk. The exterior at least was virtually complete by 1609, but Coker's statement (Survey of Dorsetshire (1732), 43) that it was built with materials from Mount Poynings is unlikely; Mount Poynings, in West Lulworth (see Lulworth, W., 34), was built by Thomas, Lord Poynings, who married Henry Howard's aunt; it was subsequently held by the heirs and successors of Lord Poynings until it was acquired by the Earl of Suffolk after 1609 and reunited with the Lulworth Castle property. The interior of the castle was still unfinished when it was bought by Humphrey Weld in 1641. (Hutchins I, 370, 374.)
The architectural treatment of the building is severe and decoration is limited mainly to a small-scale triumphal-arch motif, and even this is an addition of c. 1700. The decoration of the arch includes a shield-of-arms of Weld impaling Stanley commemorating a marriage of 1772, but the whole motif is shown in a drawing of the castle with formal gardens surrounding it which was executed by Margaret Weld in 1721 and is reproduced in Country Life LIX (1926), 54. It also appears, more clearly, in a Buck engraving of 1733. The doorway in the middle of the W. elevation is also an addition of c. 1700. The terrace, which was originally confined to the E. front, was extended round the N. and S. sides by 1765.
Remodelling of the interior began under Edward Weld in the middle of the 18th century: account books show payments to the Bastards of Blandford in 1740–1756 for decoration, furniture and chimneypieces. Further work was carried out for Edward Weld, junior, and Thomas Weld, senior, later in the century: Thomas Bastard, junior, in 1770 was paid £153 14s. 7½d. (bill in D.C.R.O.) for work including repairs, redecoration and provision of sash windows, and in 1787 payments were made for paving, a staircase, and chimneypieces (Building Account Book of Thomas Weld). Two drawings endorsed 'Paine's plans for Lulworth Castle' and 'designed 1773' survive but cannot be related to any work known to have been carried out. About the same time the formal gardens which had surrounded the castle were swept away and the park was laid out, enclosed by a new brick wall. This also involved the destruction of part of the village (see Monument 27). The castle was completely gutted by fire in 1929 and has not been restored. For photographs of the interior before the fire see Country Life LIX, 55–9.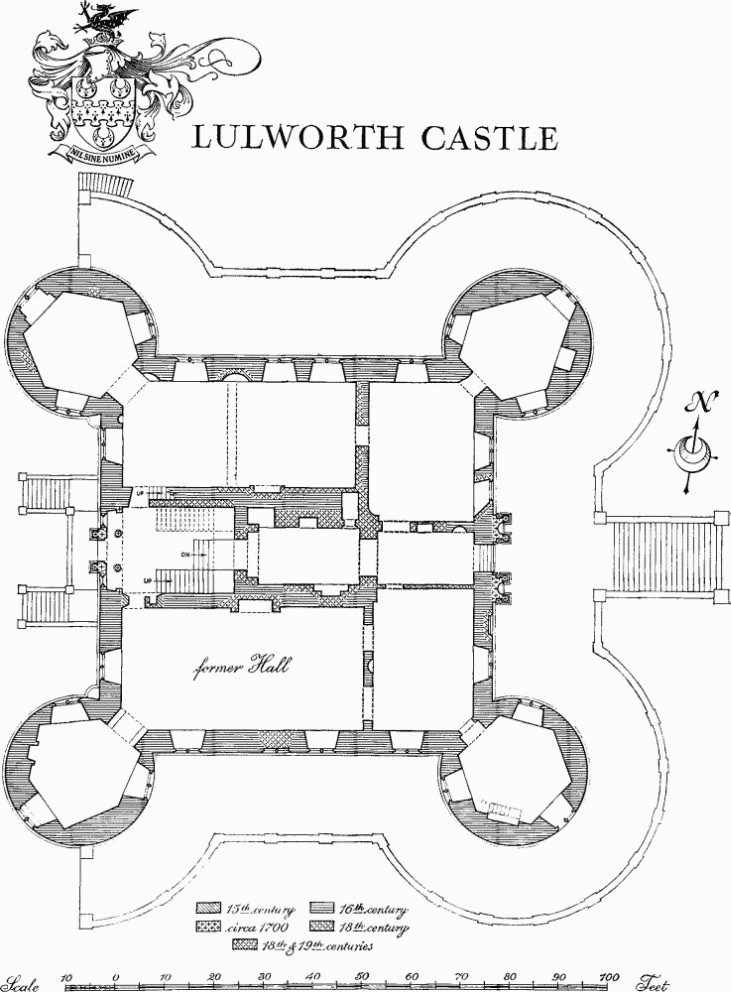 Lulworth castle is of special interest. It is a military-looking structure wholly without military intent; symbolic and associative notions alone, it would seem, dictated the design. The building forms a solid rectangular block with corner towers in contrast to the open E and H-shaped planning more often adopted for contemporary houses. The prototype may be the late 15th-century Wickham Court, Kent, though this has octagonal towers and a small central courtyard, or Mount Edgcumbe in Cornwall of 1546, which has round towers and a hall in the centre rising above the surrounding roofs to receive clearstorey lighting. Lulworth castle has a central tower-like feature, but only large enough to contain flues and a staircase. Comparison may be drawn also with Sherborne new castle built after 1592 (R.C.H.M., Dorset I, Castleton (5)) and Bolsover castle designed by John Smythson of 1612–21, both with angular corner turrets, and with plans drawn by John Thorpe (cf. T190 with round towers and T191, 192 with square towers). At Longford castle in Wiltshire, built in 1578–9, something of the same allusive pageantry emerges, but here the original plan is triangular, enclosing an open triangular courtyard, and the round towers on the salient corners flank façades of greater elaboration than those at Lulworth; the military character too is less pronounced.
The windows of Lulworth castle are similar to those at Wardour old castle inserted by Robert Smythson in 1576–8 and equally archaic, and the E. rose-window is much akin to his designs. Indeed Lulworth has many stylistic affinities with Smythson's work, but there is no evidence that he was connected with it. (See M. Girouard, Robert Smythson and the Architecture of the Elizabethan Era (1966); Sir John Summerson, 'The Book of Architecture of John Thorpe' in Walpole Soc. Vol. XL (1966).)
Architectural Description—The castle is square with a circular tower at each corner and the centre carried up above the general roof level to form a small embattled rectangular tower with chimneys in the corner turrets. The site slopes down to the E. and on this lower side is a terrace, which returns along the N. and S. sides to meet the higher ground to the W. The E. elevation is of ashlar, the others are rubble-faced with brick backing. The storeys are marked by string-courses and the parapets are embattled. On the W. side the lowest string-course is carried across the re-entrant angles in projecting curves making small platforms for rain-water cisterns.
The windows generally are of two four-centred arched lights in a square head; two on the ground floor have human masks below and most of those to the upper floors have lions' heads below or flanking them. Ranging with the first-floor windows on the E. front are shell-headed niches containing 18th-century lead statues of the four Cardinal Virtues (Plate 103) (now removed). The windows on the ground floor show a change in design: some occupy the full height between the string-courses defining the ground floor, and some have sills at a higher level. The change seems to have been decided upon when the N.W. tower was being built; here the windows have the tall jambs but the sills have been raised and the windows reduced in height.
On the E. front (Plate 103) is a round-arched entrance doorway, with a keystone carved with the arms of Weld, set in a composition suggesting a triumphal arch. To each side is a projecting pier with paired engaged Ionic columns on the front flanking a shell-headed niche and a cartouche carved subsequently with the arms of Weld (one quartering, the other impaling Stanley, for Thomas Weld, married 1772, died 1816); the crowning entablature returns forward over the piers to form pedestals for two stone statues of Roman emperors. The whole composition is an embellishment of c. 1700. In the castle wall between the statues is an original round window of seven round lights. Smaller round windows to each side are later insertions, probably of the 19th century.
On the W. elevation the middle of the ground floor originally had two two-light windows; one light of each window was lost when a new central doorway was formed c. 1700. The latter has a semicircular head with the arms of Weld carved on the keystone and is flanked by rusticated Tuscan columns carrying an entablature, over which there was formerly a bust.
The windows to the basement, which is mainly above the ground, are each of two square-headed lights, but the terrace covers the lower parts of some of them; ranging with the E. basement windows are wall-niches with shell heads.
The terrace follows the plan of the castle; it is enclosed by a stone balustrade and in the wall below are elliptical-headed doorways and windows, one of which has a keystone dated 1776. On the E. side, the terrace is carried on brick vaulting.
The interior of the castle has been gutted and it is now evident that many of the walls had been partly rebuilt in brick in the 18th century and that further alterations were carried out in the 19th century. The former Great Hall has at the N.W. corner an opening to the stairhall which is formed by a reused 15th-century stone archway with moulded jambs and a four-centred head. At the E. end are two round-arched openings with panelled jambs and soffits and with circular recesses above. The fireplace has a moulded stone surround of the 18th century set in the blocking of a larger opening which has a relieving arch over it.
The basement rooms are, or were, covered by ribbed stone vaults springing from columns with plain or enriched capitals. Some of the rooms have doorways with four-centred stone heads, and in the central room to the N. is a big open fireplace with a segmental-arched head. An external doorway is fitted with an early 17th-century door with carved enrichment to every part; it has two round-headed panels, with raised centres each decorated with a lily-pot, flanked by Ionic pilasters, an architrave with consoles over the pilasters and containing a small opening covered by an iron grille, a moulded frieze and a gadrooned and moulded semicircular head.
bStable Building, to S.E., enclosing a square courtyard, is of one storey and attics and has walls mainly of brick and tiled roofs; the building is dated 1777, but the outer walls of the S. and W. ranges are of older stone rubble and contain the remains of 17th-century windows. The building was remodelled in c. 1900 with timber-framed gables and dormers. The entrance is through the N. range by an archway with three-centred head. The E. range has in the W. wall an arcade of seven three-centred archways to coach-houses. The stable has now been converted into a gallery for the display of the Ince Blundell Hall collection of paintings and drawings.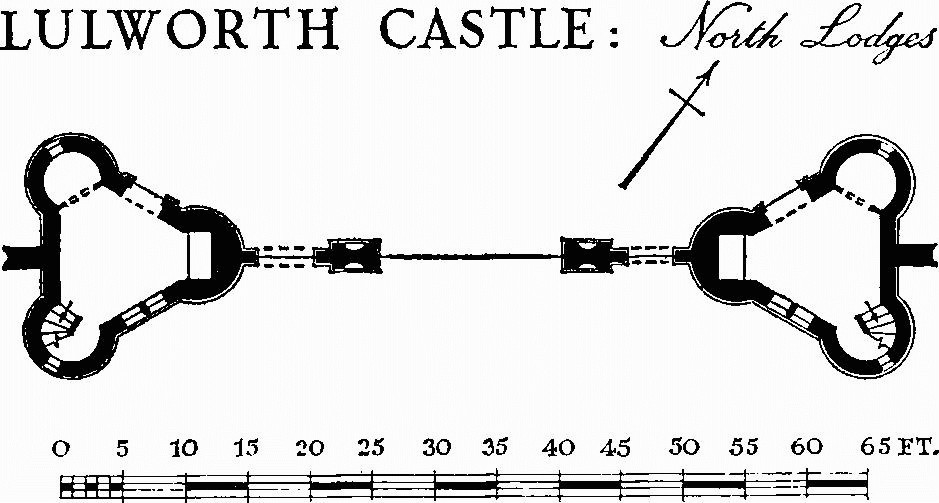 aNorth Lodges (848833), in Coombe Keynes parish but described here with the castle, comprises two lodges of two storeys flanking a main gateway with piers and two narrow side gateways in arched openings, all ashlar faced (Plate 101). The gate-piers contain round-headed niches and oval panels framing, on the S., the date (of building) 1785, and on the N. two shields-of-arms, of Weld quartering Sherborne, Heveningham, Simeon, and of Weld impaling Stanley; couched lions crown the piers. The short connecting walls between the piers and the lodges contain segmental-headed archways with plain imposts and keystones. The lodges are triangular on plan with rounded turrets at the corners; the fronts have a moulded string carried round at first-floor level and embattled parapets. The entrance-doorways are on the N. and have moulded four-centred heads; the windows in the flat wall-faces are of two lights with elliptical openings in square moulded heads, and the turrets contain loop lights, trefoiled at head and foot. The two lead rain-water pipes are original.
The park walls are of carstone rubble patched with brick, from 5 ft. to 10 ft. high and with embattled parapets. They continue straight E. and W. from the lodges a distance of 13 yds. to round towers of similar build, 6 ft. in diameter and some 15 ft. high, then curve in a quarter circle to two more similar towers; a third tower on each side stands 60 yds. away.
aClare Towers (842830), in Coombe Keynes parish but described here with the castle, is a gateway built of carstone rubble and brick, and is probably contemporary with the park wall, of the late 18th century. It consists of an entrance archway, two-centred and of three brick orders with a leopard's mask carved in stone above, flanked by round towers, 6½ ft. in diameter internally, entered through doorways with two-centred brick openings and lit by plain loops. The towers are roofless and the brick parapets and upper parts of the walls are ruinous.
bWareham Gate Lodge (857828), of rubble partly stuccoed and with brick string-courses (Plate 58), is of the 17th century but was moved to its present position in 1808, this date appearing on a date-stone on the building. On a drawing of it dated 1806 in Thomas Weld's notebooks is written 'Design for introducing the Old Lodge which stood in front of the Castle till the year 1753', and it is shown giving access to a formal garden E. of the castle in Margaret Weld's drawing of 1721 referred to above.
It is a rectangular two-storey building with an embattled parapet and with a round-arched carriageway through the middle of the lower storey; the windows are divided into three and four elliptical-headed lights by timber mullions.
b(4) Park Lodge (852830), of two storeys, attics and cellars, with brick walls and tiled roof, was built in the 17th century on a two-room plan with a central chimney; early in the 18th century a central S. wing was added containing an entrance hall and staircase and the elevations of the original building were remodelled.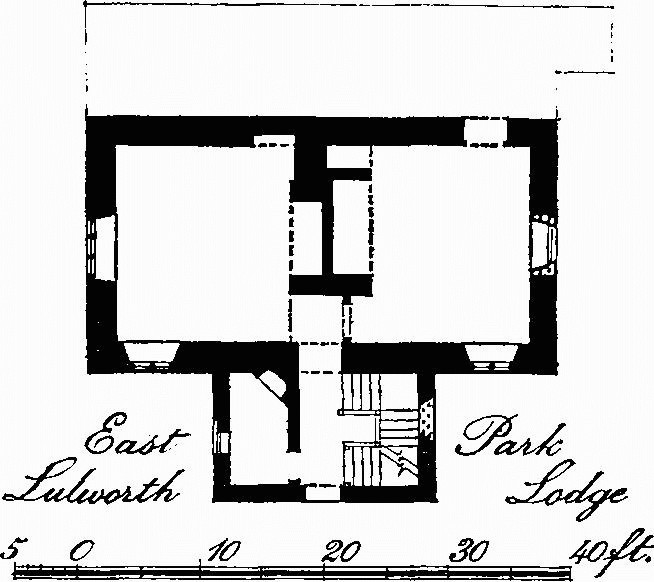 The principal elevations have a string-course at first-floor level; the entrance has a rebuilt round arch and the windows have stone mullions and dressings under semicircular brick labels. The early 18th-century staircase remains in the S. wing, and on the first floor are moulded 17th-century door frames.
b(5) Manor Cottage (Plate 47) is of two storeys with walls of alternate courses of Purbeck and carstone and a thatched roof. It was built in the late 16th century and enlarged in the 19th century. Some of the original stone-mullioned windows remain.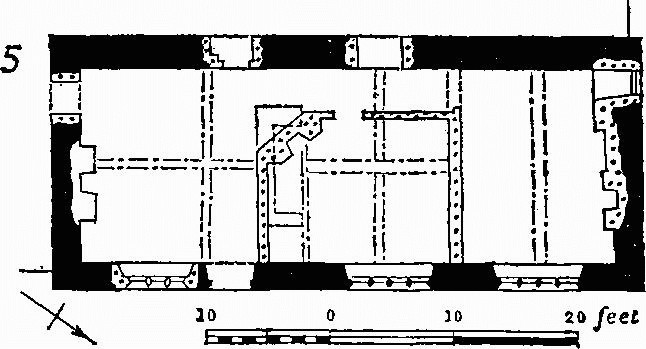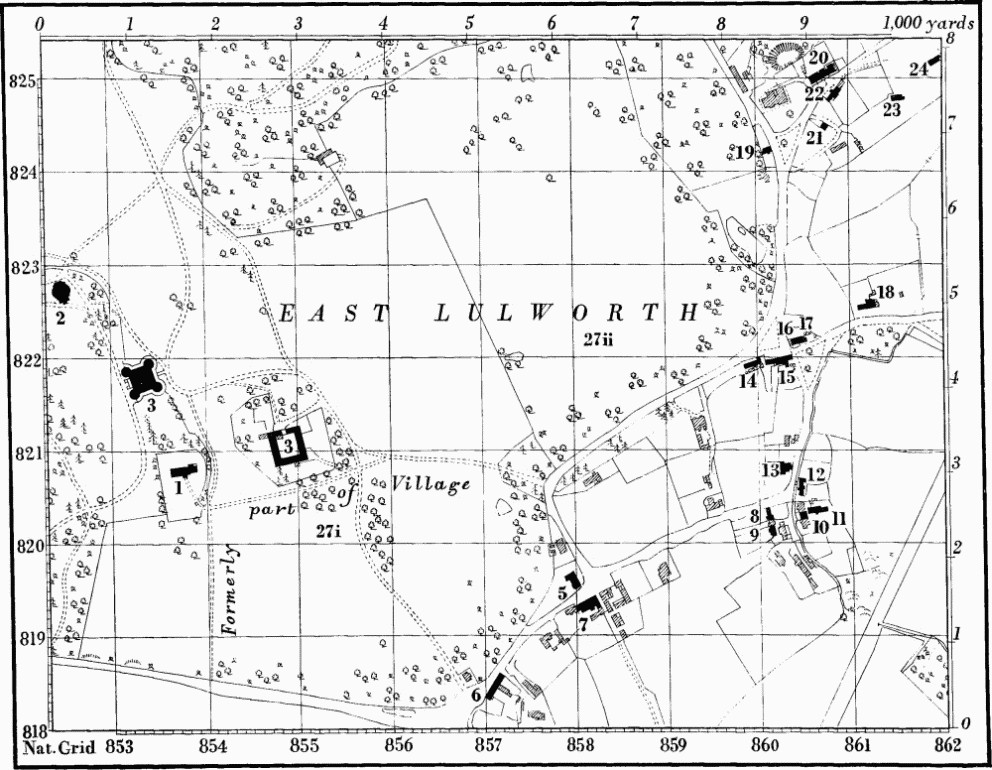 The house originally had a central hall with intersecting chamfered ceiling beams, a parlour to the N., a through passage behind the hall chimney and a third room to the S. The original hall chimney has been replaced by a smaller structure.
b(6–25) Cottages and small Houses (see village plan) are generally of one storey and attics or two storeys, with rubble walls and thatched roofs, and mostly built on a two-room plan with a central entrance and end chimneys.
They are of the late 18th century except for the following: (6) is of the 17th century and has been enlarged; (9) and (10) are of the 17th century and have walls built of alternate courses of Purbeck and carstone; (23) is of the late 17th century and has cob walls and one end chimney only; (25), an outlier (863826), has cob walls and is of the mid 18th century; (18) and (22) are of c. 1800; (15), (19), (21) and (24) are of the early 19th century.
b(26) Monastery Farm (861810) incorporates some of the buildings erected in 1795 by Thomas Weld for refugee Trappist monks. The monastery was remodelled as a house and farm buildings after the departure of the monks in 1817. (Hutchins I, 385–91.) The house is of two storeys with rubble and brick walls, partly rendered, and has a slated roof.
Earthworks, Etc.
Mediaeval and Later Earthworks
b(27) Settlement Remains, remnants of a part of the old village, occur in two places in Lulworth Park.
(i) S.E. of the parish church, banks, platforms and hollows cover about 10 acres. Houses stood here in 1770 (J. Sparrow, Estate Map of E. Lulworth (1770), in D.C.R.O.) but were destroyed c. 1790 to clear the area of the park (see Monument 3). In 1959 foundations of buildings were exposed in a pipe trench some 80 yds. S.E. of Lulworth castle (85588206); small finds, mostly of the 18th century, are now in D.C.M. (Dorset Procs. LXXXIV (1962), 131.)
(ii) 600 yds. E.N.E. of the castle, banks define irregular closes cut by tracks and covering some 3 acres (85828222). Mediaeval and later pottery was found here after ploughing. The area was meadow in 1770.
Blocks of narrow rig divided by banks or narrow tracks cover more than 15 acres immediately N.E. of the castle. (R.A.F. V.A.P. CPE/UK 1821: 2426.)
b(28) Strip Lynchets of contour type, very disturbed, cover 5 acres immediately W. of Maiden Plantation (853809). A prominent riser marks the boundary between the West Field and the Little Field of 1770 shown on J. Sparrow's Estate Map (in D.C.R.O.). (R.A.F. V.A.P. CPE/UK 1821: 5429.)
Other Earthworks and Allied Monuments
(29–39) Round Barrows, p. 445.
(40–41) Flower's Barrow, hill-fort, and Crossridge Dyke, p. 489.
Ancient Field Group (17), p. 629.