Pages 260-261
An Inventory of the Historical Monuments in Essex, Volume 2, Central and South west. Originally published by His Majesty's Stationery Office, London, 1921.
This free content was digitised by double rekeying and sponsored by English Heritage. All rights reserved.
104. WILLINGALE DOE. (E.c.)
(O.S. 6 in. (a)xlii. S.E. (b)li. N.E.)
Willingale Doe is a small parish adjoining that of Willingale Spain on the N. and 4 m. N.E. of Chipping Ongar. The Church is noteworthy.
Ecclesiastical
b(1). Parish Church of St. Christopher stands immediately N. of the church of Willingale Spain. The walls are of flint-rubble mixed with some fragments of freestone and Roman brick; the dressings are of limestone and clunch; the roofs are tiled. The Chancel and Nave were built c. 1360–70, probably on the site of an earlier church. About the middle of the 15th century the West Tower and South Porch were added. The church was restored in the 19th century, when the North Aisle was added and the W. tower and S. porch largely re-built. (Plate p. 196).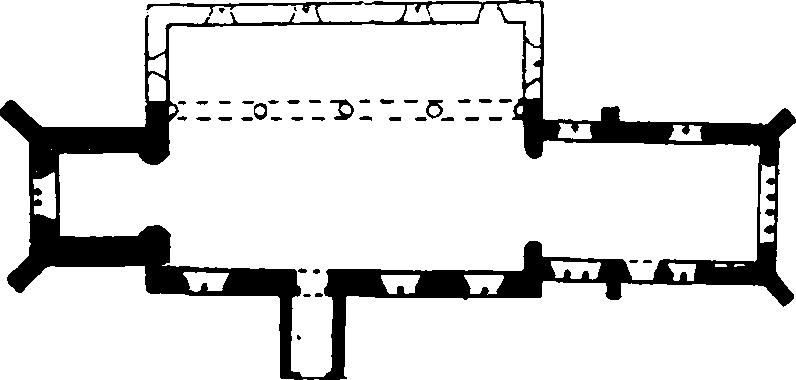 Architectural Description—The Chancel (28 ft. by 15 ft.) has an E. window, modern except the 15th-century splays, rear-arch and internal label with head-stops. In the N. wall are two late 14th-century windows, both of two cinque-foiled lights and tracery in a square head with a moulded label; the eastern window is much restored, but the western is old, except the modern sill. In the S. wall are two windows of similar date and detail to those in the N. wall, but the western window is of three lights and both are entirely restored externally; between them is a doorway all modern except the 14th-century splays and rear-arch. The late 14th-century chancel-arch is two-centred and of two hollow-chamfered orders; the stop-chamfered responds have each a semi-octagonal attached shaft with a moulded capital.
The Nave (46½ ft. by 20 ft.) has a modern N. arcade. In the S. wall are three windows all of two lights and of similar detail to those in the chancel; the middle window is entirely modern, the other two have been entirely restored externally; between the middle and westernmost windows is the late 14th-century S. doorway with moulded jambs and two-centred arch with a modern label.
The West Tower (11 ft. square) is of three stages, with an embattled parapet. The 15th-century tower-arch is two-centred and of two orders, the inner hollow-chamfered and continuous, and the outer moulded and interrupted by a moulded capital and base on each respond. The W. window is modern, except for the re-worked 15th-century splays. The windows of the second stage and bell-chamber are all modern.
The Roof of the chancel has 15th-century moulded wall-plates. The roof of the nave is probably of late 14th or early 15th-century date, and has three cased king-post trusses. The 15th-century roof of the S. porch has cambered tiebeams with curved braces, wall-plates and posts.
Fittings—Bells: four; 2nd by John Clifton, 1634; 3rd by Thomas Bartlet, 1631; 4th by William Carter, 1610. Brasses and Indent. Brasses: In chancel—on N. wall, (1) of [Thomas Torrell, 1442], figure of man in plate armour with dog at feet, and shield of arms—on a fesse between six martlets, a pierced molet, indent of shield and inscription. In nave—(2) of Dorothy (Jocelyn), wife of Thomas Brewster, 1613, figure of woman with two inscription-plates and shield of arms, indent of second shield. In N. aisle—(3) to [Ann] (Torrell), widow of John Sackfield, 1582, figure of woman with inscription and four shields of arms. Indent: In S. porch—of figures, two shields and inscription-plate. Chest: In nave—of panelled oak, hutch-type with plain lid, late 16th-century. Coffin-lid: In chancel—top part only with raised cross-head and hollow-chamfered edge and Lombardic inscription to Alis, daughter of R . . . . . Font: octagonal, each face with quatrefoil in circle and enclosing blank shield, moulded under edge, stem with trefoil-headed panels, 15th-century. Funeral Helm: In chancel—on N. wall, with comb and vizor, 16th-century; wooden crest and shield of arms of Wiseman, loose, early 17th-century. Monuments and Floor-slabs. Monuments: In chancel— on N. wall, (1) to Mary and Margaret, daughters of Sir Richard Wiseman, 1631, and Edward, his son, 1634, marble tablet with three shields of arms; on S. wall, (2) of Robert Wiseman, 1641, and of Richard Wiseman, 1618, and Mary, his wife, 1635, elaborate wall-monument (Plate p. 102) of alabaster and marble, consisting of three Corinthian columns standing on lions-head corbels and supporting separate entablatures, from which spring stilted arches coffered on the soffit; in lower part and extending behind central column, reclining effigy of man in plate armour, life size; on projecting shelf under arches, smaller kneeling figures of man and wife in civil costume, five shields of arms. In nave—on E. wall (3) to Winifred (Barrington), wife of Richard Wiseman 1684, white marble, oval tablet with laurel-wreath frame and shield of arms. Floor-slabs: In nave—(1) to Sir Richard Wyseman, 1654, and Lucy (Griffin), his second wife, 1660, with two shields of arms; (2) in N. aisle, to Thomas Fuller, rector of the parish, 1701, and Thomas, James and John, his sons; also to Clopton Havers, M.D., 1702, and his children Elizabeth, 1692, Thomas, 1695, Fuller, 1695, Henrietta, 1700, Mary, 1702, and Clopton, 1705, with two shields of arms. Piscina: In nave —in S. wall, head of pillar-piscina, with round drain, 12th-century.
Condition—Good, much restored.
Secular
Homestead Moats.
b(2). At the site of the old Rectory, 300 yards N.E. of the church.
a(3). At the Poplars, 1 m. W.N.W. of the church.
a(4). At Windmill Farm, ¾ m. E.N.E. of the church, has a supplementary enclosure on the W.
a(5). At Rowe's Farm, 15/8 m. N.E. of the church.
b(6). At Clapgate, 2,000 yards E.S.E. of the church.
Monuments (7–11).
The following monuments, unless otherwise described, are of the 17th century, timber-framed and plastered; the roofs are tiled. Many of the buildings have original chimney-stacks, wide fireplaces and exposed ceiling-beams.
Condition—Good, or fairly good.
b(7). Bell Inn, 40 yards E. of the church, has a gable at the N. end of the W. and E. sides. At the N. end of the W. side the upper storey projects.
b(8). Hill Farm, house, 1,100 yards W. of the church, was built probably in the second half of the 16th century. At the E. end of the S. front is a gable. The original front door has a carved tympanum and moulded panels.
a(9). Cottage, at Birds Green, about 1 m. N.N.W. of the church, was built on an L-shaped plan with the wings extending towards the E. and S.
b(10). Duke's Farm, house, 650 yards N. of the church, was built probably early in the 16th century on a half H-shaped plan with the wings extending towards the N.; at the back of the S. wing is a later addition. At each end of the S. front the upper storey projects and is gabled. At the back of the main block is the round head of an original oak doorway. Inside the building in the former central Hall is an original king-post truss and a moulded wall-bracket.
a(11). Torrell's Hall, 1,100 yards N.N.E. of the church, was built of brick probably late in the 16th century, but the original plan is obscured by extensive 18th-century and modern alterations and additions on the S. side. Inside the building much of the original woodwork has been removed to Skreens House, Roxwell, but there is an original dentilled wall-plate with part of a pilaster wall-post, and a fine original staircase with moulded rails and carved newels and balusters. In the upper storey is some original panelling.
Unclassified
a(12). Small Rectangular Enclosure, with wide moat, 100 yards S.S.W. of (11); further S. are traces of a former ditch; possibly remains of a small mount and bailey.
Condition—Of smaller moat, good; of large moat or ditch, fragmentary.