Pages 180-181
An Inventory of the Historical Monuments in Essex, Volume 3, North East. Originally published by His Majesty's Stationery Office, London, 1922.
This free content was digitised by double rekeying and sponsored by English Heritage. All rights reserved.
70. MESSING. (B.d.)
(O.S. 6 in. (a)xxxv. N.E. (b)xxxv. S.E.)
Messing is a parish and small village 4½ m. S.E. of Great Coggeshall. The church is the principal monument.
Ecclesiastical
a(1). Parish Church Of All Saints stands in the village. The walls are of stone rubble with conglomerate and Roman bricks; the dressings are of limestone and the roofs are tiled. The earliest detail in the church is a 13th-century window in the Chancel but the character of the masonry of the chancel seems to indicate an earlier date. The chancel-arch was rebuilt probably early in the 17th century. The church was restored in the 19th century, when the E. wall was apparently rebuilt, the Nave lengthened and practically rebuilt, and the West Tower, South Chapel and South Porch added. There is said to have been a modern N. transept, now destroyed.
Among the fittings the 17th-century panelling and royal arms are noteworthy.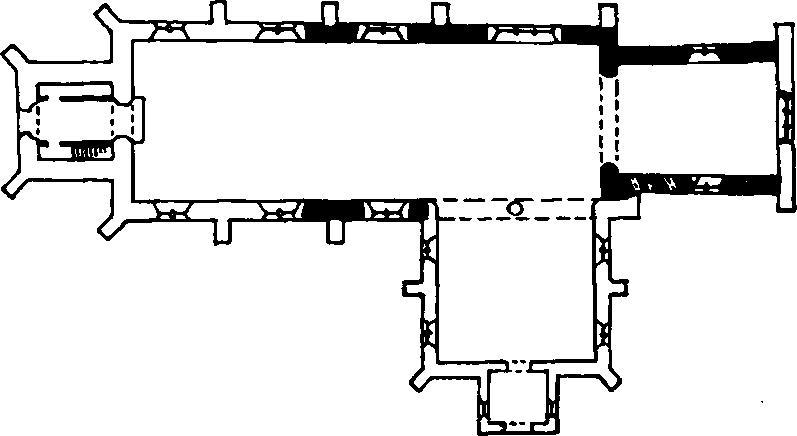 Architectural Description—The Chancel (21½ ft. by 15½ ft.) has an E. window, perhaps of the 17th century, and of three lights with net tracery in a two-centred head. In the N. wall is a mid 14th-century window of two ogee lights, with tracery in a two-centred head with a moulded label. In the S. wall is a window uniform with that in the N. wall, but not in situ; further W. is a 13th-century lancet-window, now blocked; between the windows and partly destroyed by the eastern is an early 16th-century doorway of brick, with chamfered jambs and four-centred arch in a square head; it is now blocked. The two-centred chancelarch is probably of early 17th-century date and of plastered brick; it is of two chamfered orders, the outer continuous and the inner resting on crudely moulded corbels.
The Nave (63½ ft. by 21½ ft.) has no ancient features except the remains of a late 14th-century doorway under the second window in the N. wall; it has moulded jambs and defaced head-stops to the former label.
The Roof of the nave is of the 15th century and of six bays, of which the two western are mostly modern; the others have moulded wall-plates, curved principals and trussed-rafters; at the feet of the principals are small carved angels, two holding shields, charged with three cheverons ermine and a label of five points for Baynard; at the apex of each truss is a flowered boss; against the E. wall is a hammer-beam truss with carved angels at the ends of the hammer-beams.
Fittings—Brasses and Indent. Brasses: In chancel—(1) of woman in pedimental head-dress, c. 1540. In nave—(2) to John Porter, 1600, inscription only. Indent: In nave—of inscription-plate. Chairs: In chancel—two with elaborately carved and pierced backs, turned legs, late 17th-century. Chests: In S. chapel—(1) (Plate, p. xxxii) iron-bound, with three locks, lid in two sections, 13th or 14th-century; (2) with feet and panelled sides and lid, top-rail in front, fluted, 17th-century. Communion Table: with two pairs of turned legs with round arches, shaped lower rail, upper rail ornamented with turned drops, 17th-century. Glass: In chancel—in E. window, and including the six of the seven works of mercy with titles, figures of Faith, Hope and Charity, and cherubheads and stars, early 17th-century. Monument: In nave—fragments, with two quatrefoiled panels enclosing shields, probably part of monument, 15th-century. Panelling: In chancel—on E., N. and S. walls, elaborate oak panelling divided into bays by enriched Corinthian pilasters and having an entablature with dentilled cornice and enriched frieze with cherub-heads, each bay normally with two panels, each with an enriched and masoned arch in perspective, panelling raised in middle of E. wall to form reredos and entablature interrupted and stopped at the windows by pierced and carved scrolls; stalls (Plate, p. 181) included in same design, with panelled fronts and ends, each panel containing a masoned oval and carved spandrels, dentilled book-board, c. 1640; around responds of chancel-arch, modern panelling incorporating linenfold panels, early 16th-century. Pavement: In chancel—of black and white marble, part set diagonally and some inscribed with text, late 17th-century. Piscina: In chancel—plain round drain, probably 13th-century, recess modern. Plate: includes two cups with cover-patens, two flagons and a standing-dish, all of 1634 and each with a shield of arms and inscription. Reredos: see Panelling. Royal Arms (Plate, p. 181): In S. chapel—gabled panel with pierced, supporting scrolls and the Stuart arms and date 1634 on the N. face and on the S. face the Prince of Wales' feathers, crown, initials C.R., and the same date, below main panel, rectangular panel with dentilled entablature, texts on one side and an impaled achievement of arms of Hananeel Chibborne and his wife. Stalls: see Panelling.
Condition—Good, but some cracks in walls of nave.
Secular
Monuments (2–22).
The following monuments, unless otherwise described, are of the 17th century and of two storeys, timber-framed or weather-boarded; the roofs are tiled or thatched. Some of the buildings have original chimney-stacks and exposed ceilingbeams.
Condition—Good, or fairly good.
a(2). Bourchier's Hall, 180 yards S. of the church, was built in the 15th century with a cross-wing at the E. end. The hall block was subsequently divided into two storeys and probably now includes a former cross-wing at the W. end. Inside the building are remains of the original roof construction. There are some 17th-century battened doors and a staircase of the same period, with turned balusters, close strings and square newels with turned heads and pendants.
a(3). House, two tenements, 100 yards N.N.E. of (2), has a lower storey of brick.
a(4). Old Crown Inn, 100 yards N. of (3), has a modern front.
a(5). House, two tenements, on E. side of churchyard, has a modern front.
a(6). House, two tenements, 30 yards W. of (4), has a W. cross-wing of the 15th century, with remains of original king-post roof-trusses; the rest of the house is modern.
a(7). Queen's Head Inn, W. of (6).
a(8). House, 10 yards W. of (7), has an E. cross-wing and part of the main block of a 15th-century building, but the rest of the house has been rebuilt. The upper storey projects on the S. end of the cross-wing and in the same wing is an original king-post roof-truss.
a(9). Cottage, two tenements, 36 yards W. of (8).
a(10). Cottage, two tenements, W. of (9).
a(11). Messing Lodge, house, ½ m. N.E. of the church, has been very much altered.
a(12). Yewtree Farm, house, 1,100 yards W. of the church, was built in the 16th century. The upper storey projects on the S. front on curved brackets. The short back wing has an original king-post roof-truss.
b(13). Stubbers, house, now two tenements, about ¼ m. S.W. of (12), was built probably late in the 15th or early in the 16th century, but has been extensively altered and added to.
b(14). Parsonage Farm, house, 500 yards E. of (13), has a large modern block, added in front. Inside the building are some original doors of moulded battens.
b(15). Hill Farm, house, 1¼ m. S.W. of the church, has a late 17th-century addition on the N.E. The front has been refaced with modern brick.
b(16). Cottage, 800 yards E.S.E. of (15).
b(17). Cottage, on N. side of Tiptree Heath and ¼ m. S.S.E. of (16).
b(18). Cottage, at cross-roads, ¼ m. E. of (16).
b(19). Cottage, 260 yards N.E. of (18), has an original chimney-stack, cross-shaped on plan.
b(20). The Elms, house, 180 yards N. of (18), has been considerably altered. The upper storey projects on the W. front on original shaped brackets.
b(21). Cottage, 300 yards S.E. of the church, was built probably early in the 18th century.
b(22). Harborough Hall, house and outbuilding, 500 yards S.E. of the church. The House has been almost completely altered, but in the N. wall is a blocked window with an original moulded mullion. The Outbuilding adjoins the house on the S. and is of L-shaped plan.
Unclassified
b(23). Mound, probably tumulus, in Coneyfield Wood, about ½ m. S. of the church, is about 6 ft. high and 75 ft. in diameter at the base.
Condition—Fairly good.