Page 33
An Inventory of the Historical Monuments in Essex, Volume 4, South east. Originally published by His Majesty's Stationery Office, London, 1923.
This free content was digitised by double rekeying and sponsored by English Heritage. All rights reserved.
21. DENGIE. (G.b.)
(O.S. 6 in. lxiii. N.E.)
Dengie is a parish 5 m. N.E. of Burnham.
Ecclesiastical
(1). Parish Church of St. James stands on the W. side of the parish. The walls are of septaria, flint and pebble-rubble with yellow 14th-century and red Roman brick; the dressings are of limestone and the roofs are tiled. The Chancel and Nave were apparently re-built early in the 14th century but the walls of the nave may be substantially of earlier date. The church has been restored in modern times when the bell-turret was re-built and the North Vestry and South Porch added.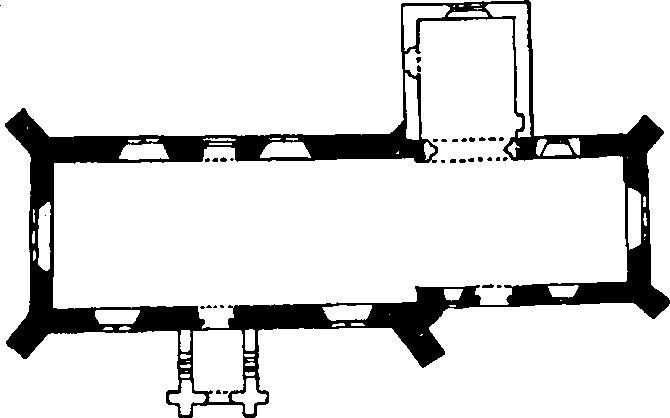 Architectural Description—The Chancel (26¼ ft. by 16¼ ft.) has an E. window, all modern except the 14th-century splays and re-set rear-arch. In the N. wall is a large blocked window with a smaller modern window, with re-used 14th-century material, set in the blocking; further W. is a modern archway. In the S. wall are two windows, the eastern is uniform with that in the N. wall, the western window is modern except for the splays and rear-arch which are probably of the 14th century; it is set low in the wall; between them is a modern doorway incorporating some old stones in the jambs and rear-arch. There is no chancel-arch.
The Nave (45 ft. by 18½ ft.) has in the N. wall two 14th-century windows partly restored and each of two trefoiled lights with tracery in a two-centred head with a moulded label; between them is the much restored N. doorway of the same date and now blocked; it has moulded jambs, two-centred arch and a modern label. In the S. wall are two much restored windows similar to those in the N. wall; the S. doorway is modern. In the W. wall is a 14th-century window, much restored and of three trefoiled ogee lights with tracery in an ogee head with a moulded label and head-stops; further N. is a small blocked 14th-century doorway with hollow-chamfered jambs and a two-centred head.
Fittings—Bells: two; 2nd by Thomas Bullisdon, c. 1500, inscribed "Sancta Maria Ora Pro Nobis" and "Sur Thomas Morys Vekery." Brass: In nave—figure of woman, two groups of children, indent of inscription-plate, c. 1520. Coffin-lid: In churchyard—with hollow-chamfered edge and traces of Lombardic inscription. Plate: includes cup of 1565 with two bands of engraved ornament. Stoup: E. of S. doorway, with plain pointed head and broken bowl, date uncertain.
Condition—Good.
Secular
(2). Dengie Hall, W. of the church, was re-built in the 18th century except for part of a 17th-century building at the back. It is of two storeys, timber-framed and plastered; the roofs are tiled.
Condition—Good.
(3). Keelings, house, 600 yards E. of the church is of two storeys, timber-framed, with modern brick; the roofs are tiled. It was built early in the 17th century and has a modern block on the S. side. There are two original chimney-stacks with diagonal shafts. Inside the building the ceiling-beams and joists are exposed.
Condition—Good.