Pages 89-90
An Inventory of the Historical Monuments in Hertfordshire. Originally published by His Majesty's Stationery Office, London, 1910.
This free content was digitised by double rekeying and sponsored by English Heritage. All rights reserved.
46. FLAUNDEN.
Note.—The plan is reproduced by permission of the Victoria County Histories.
(O.S. 6 in. (a)xxxviii. N.W. (b)xxxviii. S.W.)
Ecclesiastical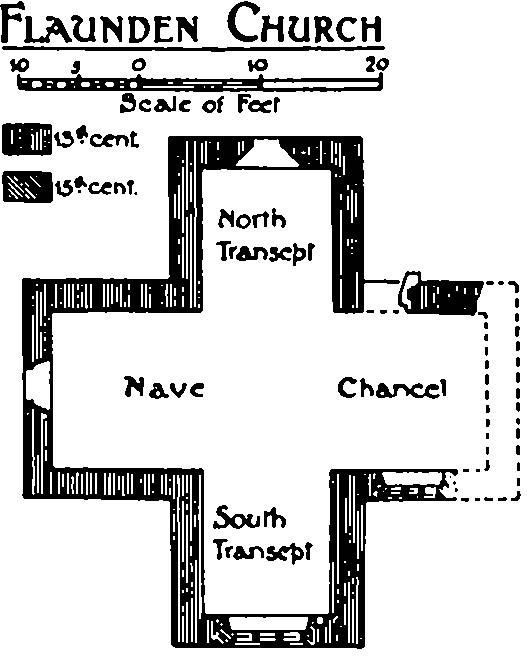 b(1). Old Church of St. Mary Magdalene, ruins, 1½ miles S. of the village, in a clump of fir trees on the banks of the river Chess. The remaining walls are of plastered flint rubble, with clunch dressings, and, with the gables, retain their original height, but there are no roofs. The building is small, in the form of a Greek cross, and was probably built c. 1230.
The unusual plan and the traces of early mural painting in the interior make these ruins especially interesting.
Architectural Description—The building measures 36 ft. from E. to W., and 37 ft. from N. to S. across the transepts; the Chancel (13 ft. wide) retains only parts of the N. and S. walls. In the N. wall is an arched recess partly destroyed by a later opening with brick jambs; in the S. wall is the sill of a two-light window of the 15th century. The Nave (13 ft. wide) has a 13th-century W. doorway with plain jambs, pointed arch and moulded label. The North Transept (10½ ft. wide) has, in the N. wall, the jambs and sill of an original single-light window. The South Transept (10½ ft. wide) has a partly restored three-light window of the 15th century in the S. wall.
Fittings—Paintings: on E. splay of N. transept window, traces, probably representing the Crucifixion; on W. splay, a diaper pattern: on E. wall of N. transept, traces of colour. Piscina: in S. wall of S. transept, 13th-century. Reredos: on E. wall of S. transept, traces, with central niche.
Condition—Very bad; the ruins are loaded with heavy ivy, and much damage has been done by visitors; the paintings have suffered much from exposure.
a (2). Church of St. Mary Magdalene, on a hill at the W. end of the village, was built in 1838. It contains, from the old church, the following
Fittings—Bells: one, inscribed ' Gloria in exelcisc deo ,' by William Knight, 1578. (Another bell by the same founder, and of the same date, originally at Flaunden, is now at St. John's Church, Uxbridge.) Font: bowl, octagonal, probably 15th-century, with modern stem and base. Plate: includes cup and cover paten, 1576. Tiles: in S. porch, mediæval.
Condition—Good; tiles worn.