Pages 27-31
An Inventory of the Historical Monuments in London, Volume 4, the City. Originally published by His Majesty's Stationery Office, London, 1929.
This free content was digitised by double rekeying and sponsored by English Heritage. All rights reserved.
7. BRIDGE WARD WITHIN.
Bridge Ward Within consists of the Parish of St. Magnus the Martyr and parts of the parishes of St. Michael, Crooked Lane, St. Margaret, New Fish Street, St. Leonard, Eastcheap, St. Benet, Gracechurch, and All Hallows, Lombard Street. The principal monuments are the Monument and the church of St. Magnus the Martyr.
Ecclesiastical
(1) Parish church of St. Magnus the Martyr stands on the S. side of Lower Thames Street, and is a Renaissance building on the Gothic plan and perhaps incorporating some of the N. and S. walls of the mediæval building. The N., S. and W. fronts are faced with Portland stone, as is also the W. tower; the S. front is plastered and the clearstorey rendered in cement; the main roof is covered with slates and the aisle roofs with lead. The old church was destroyed in the Great Fire of 1666 and re-built by Sir Christopher Wren in 1671–87, at a cost of £9579 19s. 10d. The steeple was not finished until 1705, and the roofs were burnt and the church slightly damaged in 1760. In 1762 the aisles were shortened by one bay at the W. end to allow the footpath on the E. side of London Bridge to pass under the tower, and in 1768 the S. Vestry was added. In 1924 the fourth column in each arcade was inserted.
The Tower and Cupola form a unique design among the works of Sir Christopher Wren. Among the fittings the fine organ-case, the reredos and wrought-iron Communion rails are good examples of the work of the period and a pre-Reformation alms-dish and paten, both from St. Michael Crooked Lane, are noteworthy.
Architectural Description—The church is approximately rectangular (80 ft. by 65¾ ft. at the E. and 67 ft. at the W.) with a main body (25¾ ft. wide) and side aisles and a projecting W. tower.
The E. Elevation is concealed by buildings except in the middle, where an area formerly gave light to a large round-headed E. window which is now blocked. The N. Elevation contains seven windows, of which the 4th to the 6th are included in a façade of very slight projection. All the windows except the 5th are uniform and circular with cherub-head key-stones and moulded architraves; they are included in round-headed panels resembling blocked windows with rectangular panels at the base and a moulded cornice over resting on consoles. The 5th window is also round with a moulded architrave and a carved swag on the wall above. Below it is a round-headed doorway (blocked internally) with a carved escutcheon key-stone and flanked by plain pilasters supporting fluted consoles on which rests a pediment. The wall stands on a moulded plinth and the outer angles, with those of the projecting bay, are rusticated. The parapet is plain with a moulded string-course below it. The clearstorey has four plain oval windows with a blank space at each end of the wall. The S. Elevation contains four round-headed windows with moulded architraves. The wall has a moulded plinth and is finished with simple cornice and parapet. The W. Elevation—The ends of the side aisles incorporate some of the original material re-used and have each a blocked round-headed window, with moulded architrave, cherub-head key-stone and moulded cornice above resting on consoles. The walls are rusticated at the outer angles and finished with a moulded cornice and a plain blocking course. On this are curved pedestals supporting two carved scrolls, one on either side of the W. wall of the tower. The Tower (Plate 3) stands in the centre of the W. front, and is of four stages surmounted by an octagonal cupola. The ground-stage has a round-headed archway in the N. and S. walls with concave external reveals, moulded imposts and modern architrave and keystone. On the W. side of each doorway are two Ionic pilasters (one at the angle of the tower) with enriched capitals; the inner on each face and part of the angle-pilasters are modern; they support an entablature (with pulvinated frieze), the cornice of which is carried along the W. wall of the aisles. The W. wall forms a tetrastyle portico with a restored entablature and pediment resting on four Ionic pilasters; in the centre is a round window with architrave and below it a square-headed doorway with eared achitrave, a frieze enriched with a cherub-head and swags and a cornice on plain brackets. The side bays have each a round-headed niche semi-circular on plan with a rectangular and raised panel above and below it. The second stage stands on a low plinth slightly projecting on N. and S. sides and is capped by a moulded string. In the W. wall is a round window with moulded architrave. The third stage forms architecturally a base to the fourth, having a small plinth and cornice and slightly projecting wide pedestals at the angles. In the W. wall is a segmental-headed window with architrave. The fourth stage or bell-chamber has a round-headed louvered opening in each face with architrave, plain key-stone and a wood mullion. On either side of the windows are coupled Corinthian pilasters resting on the pedestals and supporting a continuous entablature with pulvinated frieze. The parapet is pierced to represent a miniature arcade with solid piers at the angles each supporting a pair of stone vases. The stone cupola is octagonal with a plain base and has a round-headed opening in each face with plain impost-blocks and keys. Below the moulded sills are rectangular sunk panels. At the angles are Corinthian pilasters supporting a continuous entablature recessed back to the face of the wall and a plain stone base to the domed covering. The latter is octagonal with moulded ribs at angles and lead-covered, and has a small segmental-headed light, towards the cardinal points, with a segmental cornice surmounted by a small pine-apple ornament. Above the dome rises a small octagonal lantern with a round-headed opening in each face, panelled pilasters at the angles and an entablature from which rises an octagonal spirelet with slightly concave sides and finished with a ball and vane.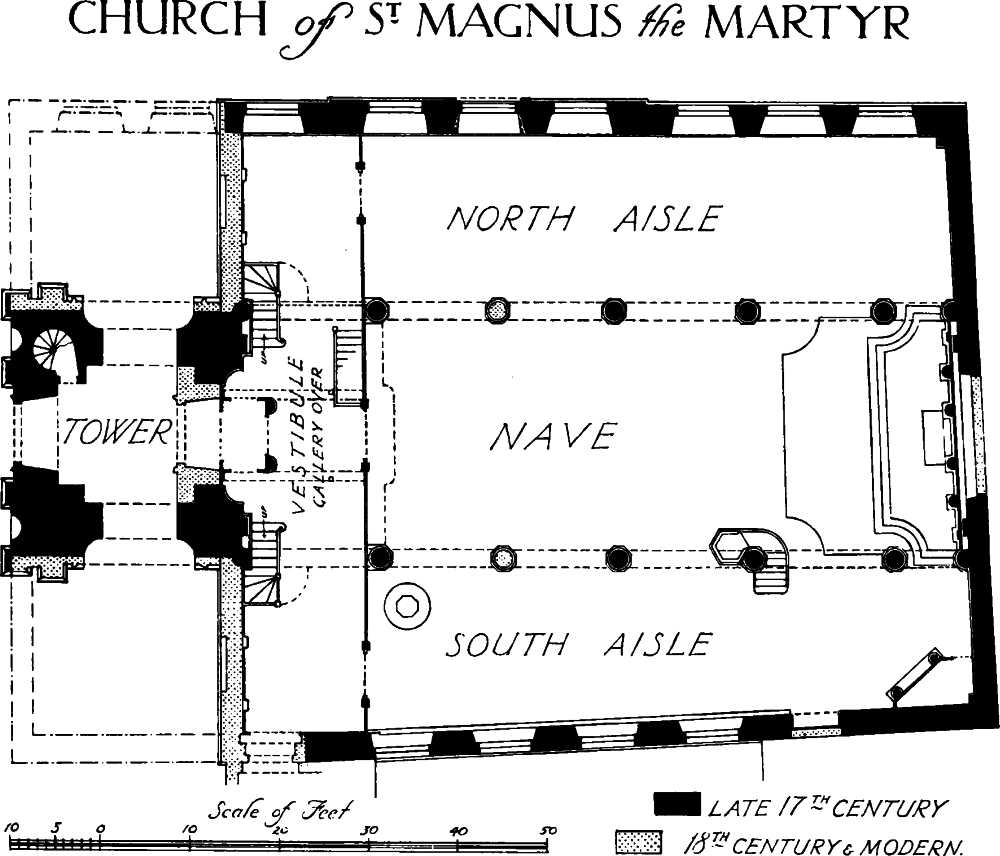 Interior: Flanking the blocked E. window are fluted Ionic pilasters supporting an entablature continued along each side of the body of the church. At the E. end of the S. wall is a blocked doorway, and at the W. end of the same wall a modern doorway. The colonnades dividing the centre and side aisles are irregularly arranged. They are each of six bays, of which the first is half and the third was twice the width of the other three before the insertion of the modern fourth column. The fluted and reeded columns are of the Ionic order, with half-columns as responds; the fourth column on each side is a modern insertion. The columns stand upon octagonal pedestals and they support an entablature and, on the nave side, an attic from which springs the ceiling. The ceilings both of the centre and side aisles are of the 18th century. The ground-stage of the tower has a modern recess in the E. wall, and below it a re-built square-headed door with moulded architrave. Between the recess and door-head is a partly modern moulded cornice continued from the imposts of the N. and S. archways, and there is a circular bell-way in the centre. The cupola is supported internally by four courses of corbelling carried across the angles of the bell-chamber. The circular stairway is in the N.W. angle.
Fittings—All of late 17th-century date unless otherwise described. Bells: ten, including seven by Richard Phelps, 1714. Chests: in vestibule— (1) of oak, of simple design, inscribed on front "Bridge Ward Within 1674," with original handles at the ends; (2) of oak, leather-covered and studded with nails and dated 1670, original handles, lock-plate and hasp; (3) of oak, with two iron handles at each end, late 17th or early 18th-century. Clocks: On W. gallery-front —in centre-panel, (1) with repainted dial encircled by carved frame. On W. tower—(2) projecting from second stage of W. front on curved beam strengthened by long scroll-bracket, with two dials set within shaped ornamental surround with cornice and segmental pediment with cherub-heads above and cartouche below, dated 1709 and given by Sir Charles Duncombe. Communion Table and Rails. Table: In S. aisle—with moulded top and massive baluster-shaped legs and moulded rails with intersecting quadrant ends. Rails (Plate 38): of 1683 and of wrought-iron with large panels of scroll-work separated by standards of simpler design, the sides formerly returned against E. wall in re-entrant quadrants, but rails now moved forward. Doorcases and Doors. Doorcases: In S. aisle near E. end, not in situ—with two attached and fluted Corinthian columns supporting enriched entablature with cornice projecting in centre and surmounted by segmental pediment; top member of door-architrave shouldered and carried up to form panel between head of doorway and pediment and enclosing carved swag with scallop above and richly carved scrolls at sides; whole now forming reredos (Plate 67). To lobby at W. end of nave, with middle door flanked by attached and fluted Corinthian columns supporting entablature; middle door in two leaves each of three raised panels, with central panel elliptical and glazed; side doors single and each of six panels surrounded by simple architraves surmounted by rectangular panel. Doors: to blocked N. doorway, in two leaves each of two panels, with round panelled tympanum. Between nave and vestibule, three, each in two leaves with raised lower panel and upper part in six glazed divisions. In N. and S. vestibules —fixed against W. wall and flanked by fluted Corinthian pilasters supporting enriched entablatures, two, each of two leaves with four raised panels. Font: of white marble with octagonal bowl of ogee section with upper part moulded and lower part gadrooned, given in 1683; stem of four moulded consoles with moulded fronts and moulded plinths and supporting pseudoCorinthian caps; base of two circular steps inlaid with two interlacing squares of coloured marble, stem and base 18th-century or modern. Font-cover: of oak, with octagonal base surmounted by four-sided superstructure with double recessed angles and raised panels on each face with simple cornice and segmental pediment; in front of each face, small vase with flowers carved in high relief; upper part rises in ogee section with moulded angles and surmounted by cherub-heads and dove with spread wings. Gallery: over W. end of nave, partly carried on two wrought-iron piers with pierced ornamental sides and Corinthian capitals supporting moulded wooden beams; front with raised panels, moulded plinth and capping and divided into bays by panelled pilasters; middle portion to nave projects with quadrant-angles with carved panel surrounding clock and carved flanking pilasters, early 18th-century. Monuments and Floor-slabs. Monuments: In N. aisle—on E. wall (1) to Thomas Collett, 1703, and Sarah (Howland) his wife, 1714, cartouche with drapery and cherubs surmounted by canopy and having gadrooned shelf. In S. aisle—on E. wall, (2) to Robert Dickins, 1705–6, draped cartouche (Plate 26) with cherub-heads and cartouche-of-arms. Floor-slabs: In nave—(1) to John Stint, 1709, from St. Michael Crooked Lane; (2) to Benjamin Henshawe, 1687–8, and Martha his wife, 1697; (3) to Henry Amy, 1687, and Richard his son. In N. aisle— (4) to John Ward, 1714; (5) to Benjamin Biddle, 1690; (6) to M . . . wife of . . ., 1692; (7) to Jacob Babington, 1708, and Margaret his wife, 1710. Organ and Organ-case (Plates 82, 28): Organ, built by Jordan in 1712, includes the earliest 'swellorgan.' Organ-case, of oak, lower part with raised panels surmounted by entablature with pulvinated frieze and moulded cornice, both carved with pierced acanthus-leaf enrichment and having scallop-shells and palm-leaves at either end and two cherub-heads in middle; upper part in two bays with three projecting towers of pipes surmounted by carved acanthus leaves and continuous entablature, recessed over bays and having carved acanthus leaf cornice and broken pediment; over middle of organ, secondary pediment in double-ogee form, carried on pilasters, carved with swags, enclosing pipes and broken in centre by a small pedestal surmounted by crown; bays between 'towers' each divided horizontally into two by a stringmoulding; lower part filled with panels richly carved with musical instruments, flowers, etc.; upper part with arched opening with moulded imposts, with pierced carving running up to the main entablature and carved cherub-heads in spandrels; in openings, ranges of pipes with pierced carving below. Paintings (see Reredos). Panelling: round walls of church in three heights with raised panels; on W. wall, in two heights with panelled dado and enriched cornice. Paving: At E. end and within communion rails—of black and white marble squares, set diagonally. Plate (Plate 30): includes two cups of different size, both of 1560; secular standing-cup (Plate 29) of 1590 and of pear-shape, called the Falstaff Cup and given by Francis Wythers; one flagon of 1654 dated 1678; one flagon of 1641 dated 1678; four patens of 1653; one pre-Reformation paten of c. 1500; one similar paten of 1625 and an alms-dish of 1524 with four heads in medallions on the rim and a figure of St. Michael in the middle; the two patens last mentioned and the alms-dish formerly belonged to St. Michael Crooked Lane, and the two flagons to St. Margaret, New Fish Street. Pulpit (Plate 78): hexagonal, painted, with carved angles, enriched capping and base and raised panels on five sides with carved border; segmental panels below, three containing wreath and swag and two panels containing wreaths held by half-cherubs growing out of carved scrolls; lower part of pulpit of ogee-section with carved ribs on angles supported on hexagonal stem with moulded cap; stairs later, except upper part with carved cut string. Sounding-board: hexagonal with entablature round sides and enriched cornice having projecting angles and carried down in a segmental curve between the angles; on cornice, carved scallopshells and swags with vases at the angles; underside with central inlaid star-pattern and border of panels; carving partly restored and standard modern. Reredos: occupying full width of sacrarium, of oak divided into five bays by attached fluted Corinthian columns with pilasters at either end; columns and pilasters stand on panelled pedestals connected by panelled dado, and support entablature with segmental pediment over middle bay, slightly recessed in centre with 'Pelican in her Piety' carved in the tympanum; in lower part of each bay above dado, carved panel; above, in middle bay two round-headed panels separated by festoon and containing the Decalogue; in two adjoining bays, rectangular panels containing paintings of Moses and Aaron; in two outer bays, rectangular panels containing Creed and Lord's Prayer and surmounted by smaller panels carved with swags and wreaths; above main cornice, a panelled attic, enriched capping and panelled pilasters above columns; three middle panels carved and middle bay surmounted by large panel flanked by carved pilasters with enriched capping and supporting pediment with enriched mouldings; in middle of panel, circular frame with enriched mouldings enclosing painting of Holy Dove in glory surrounded by cherubs; below painting, carved open book and remainder of panel filled with carved scroll-work; end pilasters of attic support large carved figure of seated angel holding palm-branch; the panels above second bays of attic, curved brackets, Holy Dove, vases and Rood are modern. In N. aisle—modern reredos, incorporating some carved brackets and other wood-work from the church and secular buildings. Screen: across W. end of nave, enclosing vestibules, with central doorway flanked by fluted Corinthian pilasters on E. side and Doric pilasters on W.; lower part of screen towards nave panelled in three heights with raised mouldings and panels; on side towards vestibule, in four heights, the uppermost carved; upper part glazed in octagonal, lozenge and triangular-shaped divisions; side screens towards aisles panelled in five heights, the three lower with raised mouldings; doorways flanked by Doric pilasters. Seating: six benches with turned legs, moulded edge to seat and plain stretchers. Sword-rest (Plate 44): In nave—on second column on N. side, of 1708 and of wrought-iron, with crowned cypher of Queen Anne and modern shields. Miscellanea: Benefactors' Tablets. In S. aisle—on screen, (1) of two large panels (Plate 45) flanked by festoons depending from cherub-heads, with cornice and broken segmental pediment above containing a cartouche with painting of Charity with three infants, late 17th-century; (2) tablet with moulded frame having shouldered and segmental top, 18th-century, from St. Michael Crooked Lane. On gallery-front—four iron standards in the form of Corinthian columns, two supporting mitres and two the crowned monogram A.R., early 18th-century.
Condition—Good.
Secular
(2) The Monument stands on the W. side of Monument Square on the E. side of Fish Street Hill, about 170 yards N.E. of the N. approach to London Bridge. It is of Portland stone and the ball-shaped finial is of copper gilt. Built to commemorate the Great Fire of 1666, the work was begun in 1671 and completed in 1677 from the designs of Sir Christopher Wren; later restorations include that of the year 1834 and another of 1888; the iron cage enclosing the gallery was added in 1842.
The Monument (Plate 81) consists of a base 28 ft. square, surmounted by a pedestal about 21 ft. square and a fluted Doric column 120 ft. high. The top of the capital is utilised as a gallery, and above is a drum supporting a shaped vase crowned by a flaming ball. In the E. side of the plinth is a square-headed doorway giving entrance to the interior. The pedestal has a moulded base and cornice, both with enriched members, and on each side a sunk panel with carved acanthus-leaf mouldings. On the W. panel (Plate 81) is carved an allegorical relief by Caius Gabriel Cibber representing King Charles II. with the Duke of York bestowing protection on the stricken city and giving encouragement to the rebuilding. The King and his brother are both in Roman costume, the former crowned with a laurel-wreath and holding a baton, the Duke wears a helmet and holds a garland; the attendant figures include Science, Architecture, Liberty, Justice and Fortitude, and the City is represented by a female figure with dishevelled hair and a sword in her left hand, and attended by figures of Time, etc. Peace and Plenty are represented sitting in the clouds above; in the ruins beneath the figure of London is a dragon supporting the City arms, and below the steps on which the King stands is a figure, probably representing Envy; the background on the N. has burning houses and on the S. is the rebuilding of the City. The three other panels have incised Latin inscriptions in Roman capitals. That on the N. panel gives an account of the fire, records the amount of damage done and the height of the Monument, 202 ft., being the distance E. at which the conflagration broke out; the inscription on the S. panel records the actions taken by the King and Parliament for the rebuilding of the City and erection of the Monument; and the inscription on the E. panel gives the dates of the building of the Monument and the names of the Lord Mayors during whose terms of office it was erected; above the inscription on the E. panel is an oval window surrounded by a carved wreath with ribbons above. At the base of the column, above the cornice to the pedestal, on each side, is a carved garland, with, at each corner, a carved dragon, the work of Edward Pierce, junior; in the middle of the garland on the W. side is a shield of the Stuart arms surmounted by a state hat and with trophies at the sides: on the N. side is a shield of the City arms, on the S. side a scroll and on the E. side a shield of the City arms with a flaming ball above. In the central fillet on each side of the column at regular intervals in its height are narrow slit lights to the internal staircase. The band above the necking of the capital is carved with fire-balls and thunderbolts, and the ovals below the abacus with egg-and-dart enrichment. Above the abacus is a plain wrought-iron railing and an iron cage enclosing the gallery which is entered from the E. side of the drum supporting the crowning vase, through a square-headed doorway. The drum has a moulded base and cornice, the middle member of the vase is enriched with a copper-gilt band of ornament; from the copper-gilt ball-finial project a number of spikes, simulating a ball of fire. Inside the structure a spiral staircase rises round an open well from the entrance-lobby to the top of the column; the steps are of black marble. In the lower part of the walls, at intervals round the staircase, are round-headed niches.
Condition—Good.
(3) Fishmongers' Hall stands on the W. side of Adelaide Place and is a modern building. It contains one of the eight remaining funeral-palls belonging to the city companies. This example is about 12 ft. long with flaps to the sides and ends; the embroidered arms and supporters of the company are twice repeated on each side, and between them is St. Peter receiving the keys; at each end is St. Peter enthroned, with keys and triple crown. The arms did not come into use before 1536, which is the approximate date of the pall.
(4) House (Nos. 18 and 19), on the W. side of Fish Street Hill, 25 yards S.W. of (2), is of four storeys with attics; the walls are of brick and the roofs are covered with slates. It was built late in the 17th century, but has been refronted in 18th-century and modern times. Inside the building, No. 19 has an original staircase (Plate 41) from the first floor upwards; it has turned balusters, straight strings and square newels with ball terminals and moulded pendants. In the atticstorey of No. 18 is an original battened door.
Condition—Fairly good.