Pages 28-30
An Inventory of the Historical Monuments in Middlesex. Originally published by His Majesty's Stationery Office, London, 1937.
This free content was digitised by double rekeying and sponsored by English Heritage. All rights reserved.
17 GREENFORD (B.c.)
(O.S. 6 in. (a)X, S.E. (b)XV, N.E.)
Greenford is a parish adjoining Ealing on the N.W. The church is the principal monument.
Ecclesiastical
b(1) Parish Church of Holy Cross (Plates 1, 68) stands near the middle of the parish. The walls are of flint rubble with dressings of Reigate and other freestone; the roofs are tiled. The church was probably built or re-built late in the 15th or early in the 16th century, which is the date of the earliest details. The Nave, South Porch, and the timber-framed structure at the W. end, supporting the Tower, are probably of the this date. The Chancel was re-built and probably shortened in the 17th century. The chancel-arch was re-built in 1871; the church was restored in 1882 when the chancel was refaced and the tower or bell-turret was re-built in 1913.
The timber structure at the W. end is of some interest and among the fittings the glass, font and some of the monuments are noteworthy.
Architectural Description—The Chancel (20 ft. by 14¾ ft.) has a two-light E. window, all modern externally and with a flat internal lintel. In the N. wall is a window all modern externally but with a similar lintel. In the S. wall are two early 17th-century windows each of two square-headed lights and partly restored; the jambs are partly of brick and the heads and mullions of oak; between them is a modern doorway. The chancel-arch is modern.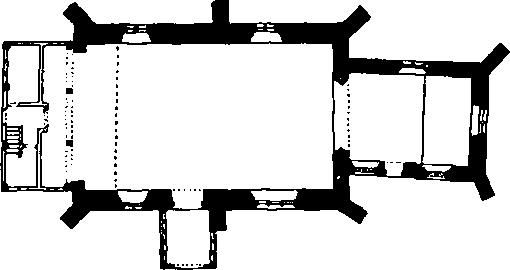 The Nave (40 ft. by 24 ft.) has four modern windows, two in the N. and two in the S. wall. The late 15th-century S. doorway has moulded jambs and four-centred arch in a square head with traceried spandrels and a modern label. There is no masonry W. wall.
The West Annexe supporting the bell-turret is of late 15th or early 16th-century date and of timber with six main posts, the two intermediate ones on the E. being modern; the cross-beams have curved braces, those on the E. springing from small attached shafts. The bell-turret is modern.
The South Porch is of early 16th-century date, timber-framed on dwarf walls. The sides have moulded mullions forming three lights on the E. and five on the W., all with rounded heads.
The Roof of the chancel is of the 15th century, re-set, and of two bays; the middle truss is of king-post type with a chamfered tie-beam and an octagonal king-post with moulded capital and base and four-way struts; the truss at the W. end has a plain king-post and a single strut; the wall-plates are chamfered and the roof is ceiled below the rafters.
Fittings—Bells: three; 1st uninscribed, 14th-century; 2nd by William Culverden c. 1510 and inscribed "Sancta Anna ora pro nobis"; 3rd by William Eldridge, 1699. Brasses and Indent. Brasses: In chancel—on N. wall, (1) half-figure (Plate 8) of priest in mass-vestments, with scroll, c. 1450; (2) of Thomas Symons, rector [1521], figure of priest in mass-vestments. In nave—(3) figure of lady in butterfly head-dress, etc., c. 1480; (4) to Richard Thorneton, 1544, and Alys, his wife, inscription only, indents of two figures and groups of children. Indent: In churchyard—W. of porch of three figures with inscription. Font (Plate 12): of stone with round bowl, moulded rim and baluster stem; bowl inscribed "Petra Christus si quis sitit veniat ad me Baptisterium"; stem inscribed "Ex dono Dominæ Franciscæ Coston viduæ nuper defunctæ 1638." Cover, probably of same date and of painted oak, octagonal with jewel-ornament, moulded cornice and central post with acorn-top and four scrolled and crocketted brackets. Gallery-front: of W. gallery, with turned posts and balusters and moulded rail; staircase with similar balusters and moulded rail, late 17th-century. Glass (Plate 70): In chancel—all said to have come from King's College, Cambridge, in E. window, (a) arms of Henry VIII impaling Catherine of Aragon in a crowned wreath, (b) France quartering England in a crowned wreath, (c) quarries with stags, stags' heads, floral designs, windmill with initials T.P., etc., (d) roses, (e) shield of the Grocers' company. In N. window, (a) crowned Tudor rose, (b) France quartering England with garter and crown, (c) portcullis, (d) quarries with stag, initials T.B., initials H.B. and bugle, windmill with initials T.P., etc., (e) head of turbaned figure, (f) head of bearded saint, etc. In S.E. window, (a) arms of King's College, (b) France quartering England, (c) red rose with the royal crest above, (d) the moon, (e) two roundels with heads, (f) various quarries and fragments. In S.W. window, (a) arms of King's College, with enriched frame, (b) arms of Eton College, with enriched frame, (c) two red roses, (d) panel with two angels playing lutes and initials G.R., (e) panel with initials T.E. and roses, (f) panel with putto, (g) fragments of tabernacle-work, quarries, etc. Mostly early 16th-century, last two shields late 16th-century. Monuments and Floor-slabs. Monuments: In chancel—on E. wall, (1) to John Castell S.T.P., rector, 1686–7, and Christiana, his wife, 1695, white marble tablet (Plate 69) with pilasters, cherubs holding medallion-bust above, shield-of-arms below; (2) to Rupert Browne, 1711, and Sibyll (Wyrley) his wife, 1710, white marble tablet with gadrooned base, drapery and achievement-of-arms; on N. wall, (3) of Michael Gardiner, rector, 1630 and Margaret (Browne) his wife, 1623–4, alabaster and black marble wall-monument (Plate 69), with kneeling figures of man and wife at prayer-desk in recess flanked by pilasters supporting a cornice and pediment with a cartouche-of-arms; on S. wall, (4) to various relatives of Thomas White—Honoria Cason, daughter of Thomas Spicer, his mother, 1638, Nathaniel his brother, 1638, Hannah his sister, 1632, and Honoria his niece, 1638, white and black stone tablet with side pilasters, entablature, pediment and cherub-head. In nave—on N. wall, (5) of Bridget (Carr), wife of Simon Coston, 1637, alabaster wall-monument (Plate 69) with kneeling figure of woman holding infant, five kneeling daughters behind and bust of husband at back, all in draped recess with side pilasters, entablature, figures of virtues, cartouche and two shields-of-arms, monument signed Hum. Moyer. In churchyard—E. of chancel, (6) to John Francklin, 1644, Elinor (Pumphiret) his second wife, 1654, and Anne his daughter, wife of William Smith, 166(8 ?), flat stone with shield-of-arms; S. of nave, (7) to William Marnham, sen., 1711, and William Marnham, jun., 1716, moulded slab, (8) to Hannah, widow of William Widgy, 171., slab; head and foot-stones S. of nave, (9) to Mary, wife of Thomas Butler, 1653, (10) to Frances (Butler), wife of Richard King, 1653; (11) to Thomas Butler, 1671, who erected the stones. Floor-slabs: In chancel—(1) to William Terry, 1672, and Mary (Lambert) his wife (?), 1665–6, with achievement-of-arms, (2) to Rupert Browne [1711] and Sibyll, his wife, [1710], (3) to Edward Bennet, 1657–8, with achievement-of-arms, (4) to Constance Cr . . ., 16 . . ., (5) to William Millett, 1663, with shield-of-arms, (6) to Mar . . . (Moyle), wife of Edward Ben . . ., 1710. Panelling: In nave—at W. end, incorporated in cupboards, six panels with pierced carving at top, from former pews, late 17th or early 18th-century. Plate: includes cup of 1638, stand-paten of 1638 given by Honoria Cason, died 1638, large paten or dish of 1661 with arms of Coston and a flagon of 1640 given by Michael Gardiner, with shield-of-arms.
Condition—Good, much restored.
Secular
b(2) House, two tenements 1,020 yards S.S.W. of the church, is of two storeys, timber-framed and plastered; the roofs are tiled. It was built probably in the first half of the 17th century and has a cross-wing at the W. end. Inside the building are some exposed ceiling-beams.
Condition—Fairly good.
b(3) The Grange, house 1 m. E.S.E. of the church, is of two storeys with attics; the walls are mainly of brick and the roofs are tiled. It was built probably early in the 17th century of timber-framing, but was recased in brick in the following century. Inside the building is some original panelling.
Condition—Good.
a(4) Barn (Plate 33) at Greenford Green Farm about 1¼ m. N.N.E. of the church, is timber-framed and weather-boarded. It was built in the 17th century and is of four bays with queen-post trusses and a porch. Across the E. end is another timber-framed building of rather later date.
Condition—Fairly good.