Pages 27-29
An Inventory of the Historical Monuments in the County of Northamptonshire, Volume 1, Archaeological Sites in North-East Northamptonshire. Originally published by Her Majesty's Stationery Office, London, 1975.
This free content was digitised by double rekeying and sponsored by English Heritage. All rights reserved.
12 CLOPTON
(OS 1:10000 a TL 08 SW, b TL 08 SE, c TL 07 SW, d TL 07 SE)
The parish covering 800 hectares, lies against the boundary with the old county of Huntingdonshire. All but the S.W. part is almost level land covered with Boulder Clay at about 240 ft. above OD. In the S.W. the ground falls steeply towards the Thorpe Brook, here between 100 ft. and 125 ft. above OD.
For Roman Road 57a, see p. 117.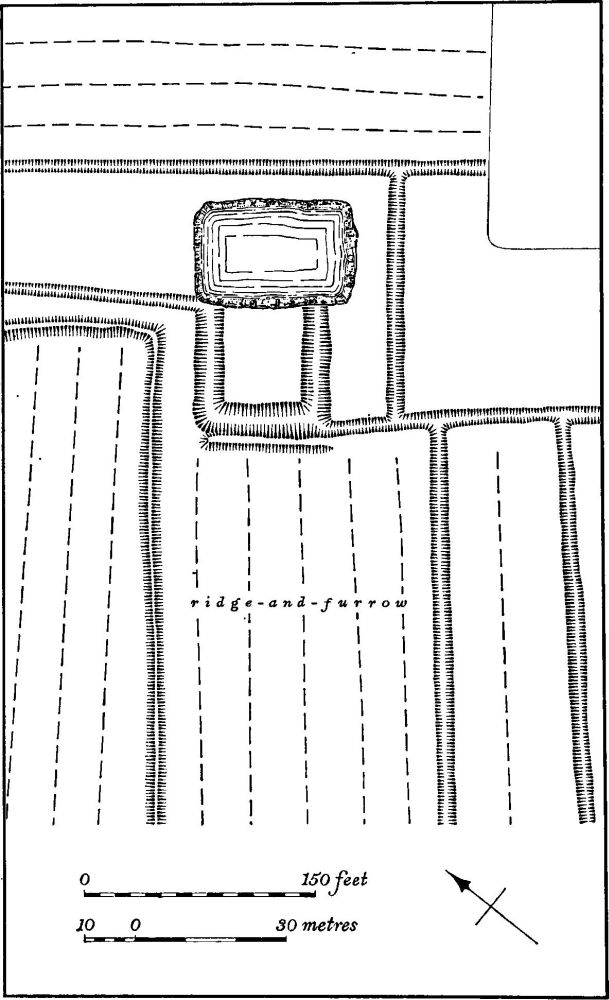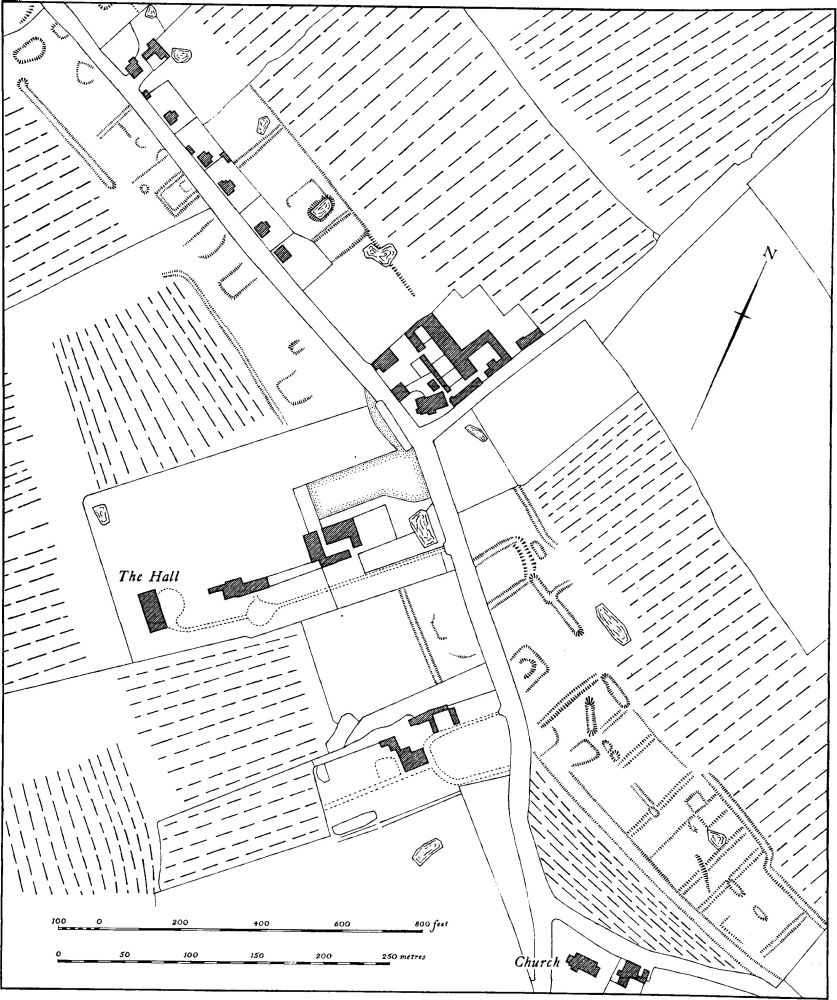 Medieval and Later
b(1) Settlement remains (TL 058806–077800; Fig. 39), in and around the present village, on both sides of the main street. All existing houses and gardens on the N. side of the street have the remains of earlier, larger, crofts behind them, bounded by low banks and ditches. Where there are now no houses, the crofts extend up to the street and have building-platforms within them. To the S. of the street, in permanent pasture, are other fragmentary remains, apparently former house sites. The abandonment of these buildings had certainly taken place by 1840 but the precise date is not known (NRO, Tithe Map).
In the field immediately N. of the church is a large area of earthworks consisting of at least 10 ditched closes, some with building-platforms within them. These closes lie on the N. side of a broad hollow-way which is on an earlier line of the existing road.
b(2) Moat (?) (TL 06088019; Fig. 38), in permanent pasture 150 m. N.W. of The Hall on flat land at 230 ft. above OD. The site consists of a small rectangular island surrounded on three sides by a ditch up to 7 m. wide and 1 m. deep. There is a rectangular pond on the N.E. side. The interior of the site is flat and level with the adjacent land, and the surrounding ditch is linked to other ditches which divide the nearby areas of ridge-and-furrow.
d(3) Moat (?) (TL 06607975), S. of the church within Ringdales Wood, on flat land at 245 ft. above OD. It comprises a triangular area of just over one hectare which is completely surrounded by a shallow ditch, between 3 m. and 10 m. wide and less than 1 m. deep. The interior is flat and level with the surrounding land, but has no entrance causeway. It has been identified as a moated site but recent investigations have cast doubt on this (OS Record Cards), and its purpose is unknown. All large-scale OS plans show the site correctly.
(4) Cultivation remains. The date of enclosure of the common fields is unknown. Ridge-and-furrow, presumably of these fields, covers much of the parish and can be seen on the ground or traced on air photographs. It is arranged in end-on and interlocked furlongs and includes ridges of reversedS form, up to 500 m. long, in the S.E. corner of the parish (TL 040802). Extensive remains lie W. and S.W. of The Hall, associated with the settlement remains (1) and the moat (2). Here, groups of ridges are separated by deep ditches up to 3 m. wide, presumably to improve drainage on the heavy land (Fig. 38). (RAF VAP CPE/UK 1925, 4330; 1994, 4318–20; 541/602, 4067–9, 3042–6)
Undated
b(5) Enclosures (centred TL 07308013), E. of the village on flat land at 230 ft. above OD. Air photographs, not seen by RCHM, apparently show three small enclosures in an E.-W. line (BNFAS, 6 (1971), 7).