Pages 52-54
An Inventory of the Historical Monuments in the County of Northamptonshire, Volume 1, Archaeological Sites in North-East Northamptonshire. Originally published by Her Majesty's Stationery Office, London, 1975.
This free content was digitised by double rekeying and sponsored by English Heritage. All rights reserved.
25 HEMINGTON
(OS 1:10000 a TL 08 NE, b TL 08 SE, c TL 18 NW, d TL 18 SW)
The elongated parish, covering 540 hectares, lies close to the old Huntingdonshire boundary. It is on generally flat land between 150 ft. and 215 ft. above OD. Almost the entire parish is on Boulder Clay.
The only monument of note is the elaborate moated gardens (3) which were probably laid out in the late 16th or early 17th century, perhaps on an older medieval moated site.
Medieval and Later
ab(1) Moat (TL 08878498; Fig. 65) now completely destroyed, lay W. of the church on Boulder Clay at 225 ft. above O.D. No details are known. Fig. 65 is based on OS Record Cards.
ab(2) Settlement remains (TL 090852; Fig. 65), formerly part of Hemington village, lie S. of the main village street on either side of the road to the now isolated church. The remains suggest that the village has moved away from its original site in a N.E. direction but when this occurred is not known. It had certainly taken place by the 18th century (NRO, map of Hemington and Kingsthorpe, 1716).
The earthworks, now mutilated and slight, consist mainly of shallow ditches and scarps, in generally rectangular areas, which were formerly crofts or closes. Only one house site can be identified ('a' on Fig. 65); it consists of a well-marked rectangular depression near the N.W. end of a small close.
a(3) Moat and garden remains (TL 095852; Fig. 66) lie at the E. end of the village, on Boulder Clay at 225 ft. above OD. They surround the remnants of Beaulieu Hall, an early 17th-century building, which is the only surviving fragment of a large manor house belonging to the Montagu family who acquired the Manor in 1540. On the evidence of extant remains, the site may have been occupied by a moated manor house in the medieval period when it was owned by Ramsey Abbey. However, the Montagus appear to have enlarged and adapted the older watercourses to form an elaborate garden, probably contemporaneously with work on the existing building. By 1713 the site was abandoned, the greater part of the house having been pulled down in about 1618 (VCH Northants., III (1930), 80).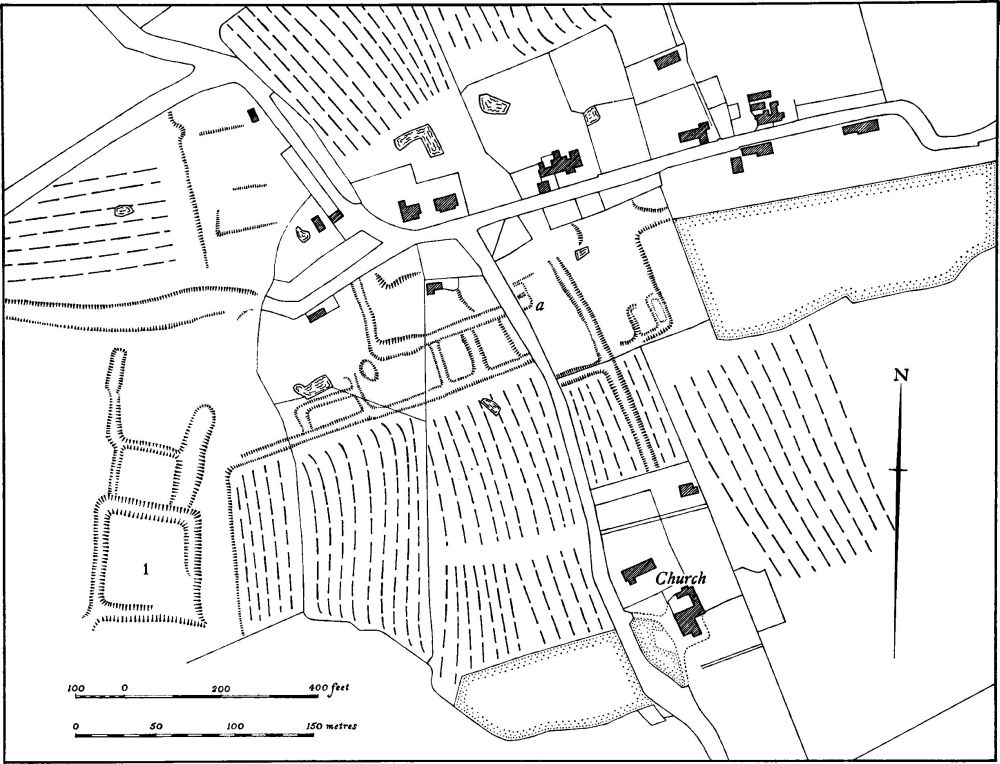 The site, covering about 3 hectares and roughly trapezoidal in shape, was originally completely surrounded by a ditch. Where remaining the ditch is up to 12 m. wide and 1.5 m. deep, but much of its E. side has been destroyed. This ditch is probably the original medieval moat. The manor house stood centrally with its main elevation facing S.W., and extensive foundations discovered in the garden of the surviving part of the house (OS Record Cards) indicate that it formerly extended to the S.E. Immediately S.W. of the house are two very low enclosures, surrounded by shallow ditches only 0.3 m. deep, and to judge from their form and position they may have been formal flower-beds fronting the house. Beyond this, and further to the S.W., is a broad flat area extending to the outer ditch, here bounded by a low bank only 1 m. high. This area has been under cultivation at some time and minor features may have been destroyed. S. of the manor house, a long ditch or canal, 15 m. wide and up to 2 m. deep, and still partly waterfilled, is set at an angle to the outer boundary ditch and may be an early 17th-century feature enclosing the garden on that side. E. of the house is a broad area of land with no identifiable features on it, except in the S.E. corner where several rectangular depressions perhaps represent the remains of medieval fishponds.
(4) Cultivation remains. The date of the enclosure of the common fields of the parish is not known, but it apparently took place in two stages in about 1650 (J. Bridges, Hist. of Northants., II (1791), 399; NRO, map of Hemington 1716). Ridge-and-furrow of the former common fields remains, or can be traced on air photographs, around and S. of Hemington Lodge (TL 098844 and 092840) and N.W. and W. of the village (TL 095854 and 105858) in the form of end-on and interlocked furlongs mainly of reversed-S type. (RAF VAP 541/143, 3198– 3200)
Undated
b(5) Enclosures (TL 091840). Air photographs (not seen by RCHM) apparently show some rectangular enclosures in this area (BNFAS, 6 (1971), 14).