Pages 12-14
An Inventory of the Historical Monuments in the County of Northamptonshire, Volume 2, Archaeological Sites in Central Northamptonshire. Originally published by Her Majesty's Stationery Office, London, 1979.
This free content was digitised by double rekeying and sponsored by English Heritage. All rights reserved.
7 BROUGHTON
(OS 1:10000 a SP 87 NW, b SP 87 SW, c SP 87 NE)
The parish, covering 1100 hectares, occupies a narrow strip of land immediately S.W. of Kettering. The higher, S.W. part of the parish between 122 m. and 137 m. above OD is covered by Boulder Clay, but to the N.E. several small streams, draining N.E., have exposed the underlying Upper Lias Clay along their steep-sided valleys. The interfluves stand as high ridges of Northampton Sand, between 76 m. and 122 m. above OD.
Prehistoric and Roman
Part of a stone axe of porphorytic basalt has been found in the village (SP 835760; NM; BNFAS, 4 (1970), 2). A leaf-shaped arrowhead was discovered in the parish before 1911 (NM Records).
a(1) Ring Ditch (?) (SP 83447501), S. of the village, on Boulder Clay at 114 m. above OD. Air photographs (RAF VAP F22 540/RAF/1312, 0161–2) show a possible ring ditch, 30 m. in diam.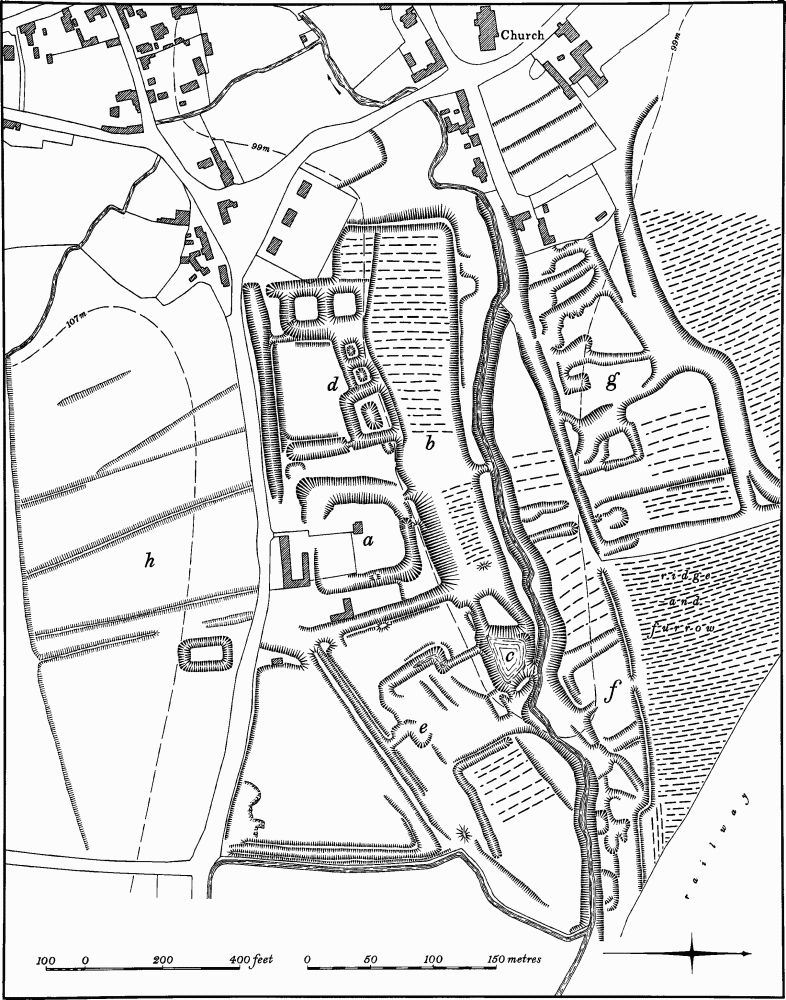 a(2) Roman Finds (SP 84557579). Topsoil removed from this site contained a 4th-century coin. Excavation led to the discovery of some Roman pottery (OS Record Cards).
Medieval and Later
a(3) Settlement Remains (centred SP 837760) formerly part of Broughton, lie on either side of a steepsided valley 200 m. N. of the church on either side of Gate Lane. They fall into three distinct parts. Immediately S.W. of Gate Lane and along the N. side of the N.E. end of Church Street (SP 83707590) are several rectangular raised platforms up to 0.75 m. high lying parallel to the existing roads and within small embanked closes. These are the remains of former houses and gardens along these roads. To the W., on the W. side of the valley (SP 83607595), is a series of low-spread banks extending down the hill-side from the existing gardens of houses in High Street. These appear to be abandoned closes, once belonging to the houses. To the N.E. of Gate Lane (centred SP 837760) is a more complex series of earthworks, much damaged by later quarrying. These include a sub-rectangular ditched enclosure lying on the edge of the valley side. This enclosure is bounded on the S.W., S.E. and N.E. by a broad ditch 5 m. wide and 0.25 m. deep and is divided into two by a low internal bank. Ridge-and-furrow abuts onto it in the S.E. From it runs a shallow terrace-way leading in a S. direction towards the end of Church Street, but broken up by later quarrying. There is also a series of low banks or scarps extending down the hillside, which may be old closes. This area was known as Hall Closes in 1728 (NRO, Map of Broughton) but all the remains had been abandoned by this date.
(4) Cultivation Remains. The common fields of the parish were enclosed by Act of Parliament in 1786 (VCH Northants., IV (1937), 162). On an estate map of 1728 (in Boughton House, photocopy in NRO) almost the whole parish except along the valley bottoms and in the extreme S.W. is shown divided into six open fields with the internal furlongs named and strips indicated. Ridge-and-furrow of these fields can be seen on the ground or traced on air photographs over much of the parish, and S. and S.W. of the village the pattern is virtually complete. The layout of the surviving ridge-and-furrow agrees exactly with the strips shown on the 1728 map. S. and S.W. of the village the ridge-and-furrow is arranged in interlocked and end-on furlongs, with well-marked headlands up to 30 m. wide, still clearly visible in the modern arable. These lay in Stone Pit, Middle and Headland Fields in 1728. The name Middle Field is recorded in 1545 (VCH Northants., IV (1937), 160). N.E. of the village the ridge-and-furrow is less complete, but appears to be mainly in end-on furlongs, all lying N.W.-S.E., at right-angles to the contours, except in the extreme N.E. of the parish where it extends down the slope to the stream. All this ridge-and-furrow lay in Kettering Hill, Nether Middle and Carr Side Fields in 1728 (RAF VAP CPE/UK/1925, 1227–37, 2361–3, 3227–33, 4352–64; F21 540/RAF/1312, 0160–6; F22 540/RAF/1312, 0158–63, 0214–5).