Pages 14-15
An Inventory of the Historical Monuments in the County of Northamptonshire, Volume 2, Archaeological Sites in Central Northamptonshire. Originally published by Her Majesty's Stationery Office, London, 1979.
This free content was digitised by double rekeying and sponsored by English Heritage. All rights reserved.
8 BURTON LATIMER
(OS 1:10000 a SP 87 NE, b SP 87 SE, c SP 97 NW, d SP 97 SW)
The old parish of Burton Latimer, now part of Kettering, lies immediately S. of that town, on the E. side of the R. Ise. It covered an area of about 1090 hectares, rising gently from the river at 50 m. above OD to a maximum height of just over 90 m. above OD in the E. The higher E. part is entirely covered by Boulder Clay but along the valleys of the Ise and its tributary streams bands of limestone, clays and sands outcrop.
Prehistoric and Roman
A polished stone axe, Group VI, Great Langdale, is recorded from the parish (PPS, 28 (1962), 262, No. 983) as well as fragments of two polished flint axes (NM). The report that a hoard of 85 iron currency bars had been found in Burton Latimer before 1917 is incorrect. In fact only one bar, sword-shaped with a tubular socket, was discovered (NM; R. F. Tylecote, Metallurgy in Archaeology, (1962), 347; PPS, 32 (1967), 330; Antiquity, 14 (1940), 432; Northants. Ant. Soc. Rep., 61 (1955–6), 15–24; OS Record Cards).
(1) Bronze Age Burials (?) (unlocated). OS Record Cards refer to two Collared Urns discovered at Burton Latimer between 1903 and 1920. One of these, now without identification, is in NM and appears to be that listed as having come from Northamptonshire by Longworth who considers it to be one of the Primary Series (PPS, 27 (1961), 296, No. 128). The other is in KM, located as from Burton Latimer, and is also one of the Primary Series (PPS, op. cit. No. 111).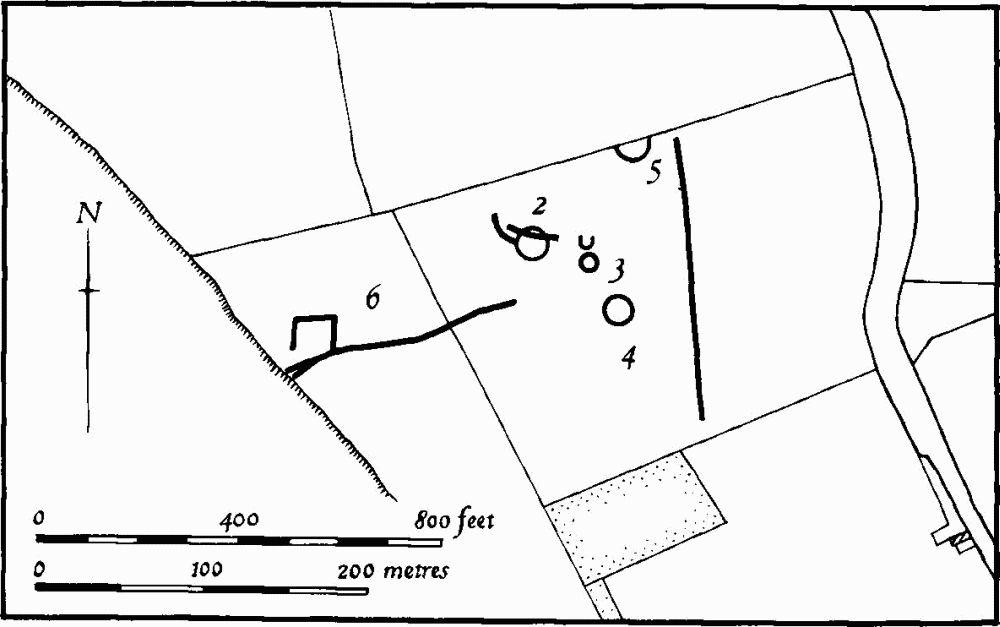 a(2–6) Ring Ditches and Enclosures (centred SP 896755; Fig. 23), N.W. of Burton Latimer, on lime-stone at 80 m. above OD. None is clear on available air photographs (CUAP, YX 83–4).
a(2) Ring Ditch (SP 89527552), 16 m. in diam., cut by a length of ditch on its N. side and with another curving ditch, perhaps a large ring ditch, projecting from the N.W. side.
a(3) Ring Ditch (SP 89567551), 35 m. E.S.E. of (2) in a similar position. It is 12 m. in diam. and a penannular ditch attached to its N. side may be another ring ditch.
a(4) Ring Ditch (?) (SP 89587548), 35 m. S. of (3) in a similar position. It is 14 m. in diam. and is very indistinct on air photographs.
a(5) Ring Ditch (?) (SP 89597559), 80 m. N.E. of (2) partly cut by a modern hedge. It is 18 m. in diam.
a(6) Enclosure (SP 89407547), 140 m. W.S.W. of (2). It appears to be roughly rectangular, but is not clear on air photographs. A length of ditch, traceable for 110 m., runs E. from it.
b(7) Iron Age and Roman Settlement (centred SP 895745), lies S.W. of the village on land sloping W. to the R. Ise, on sand at 68 m. above OD. Two Roman coins and some pottery were found some years ago when the area was allotments. During building development in 1967–8 pits and ditches were noted and examination of pipeline and foundation trenches revealed worked flints, cores and hand-made pottery, apparently of Iron Age type. A wide range of Romano-British coarse wares, samian and roofing tiles was also found. Stripping of topsoil for a new road revealed other ditches, dated to the Roman period, clay-lined pits and traces of stone foundations (BNFAS, 4 (1970), 2, 6 and 40).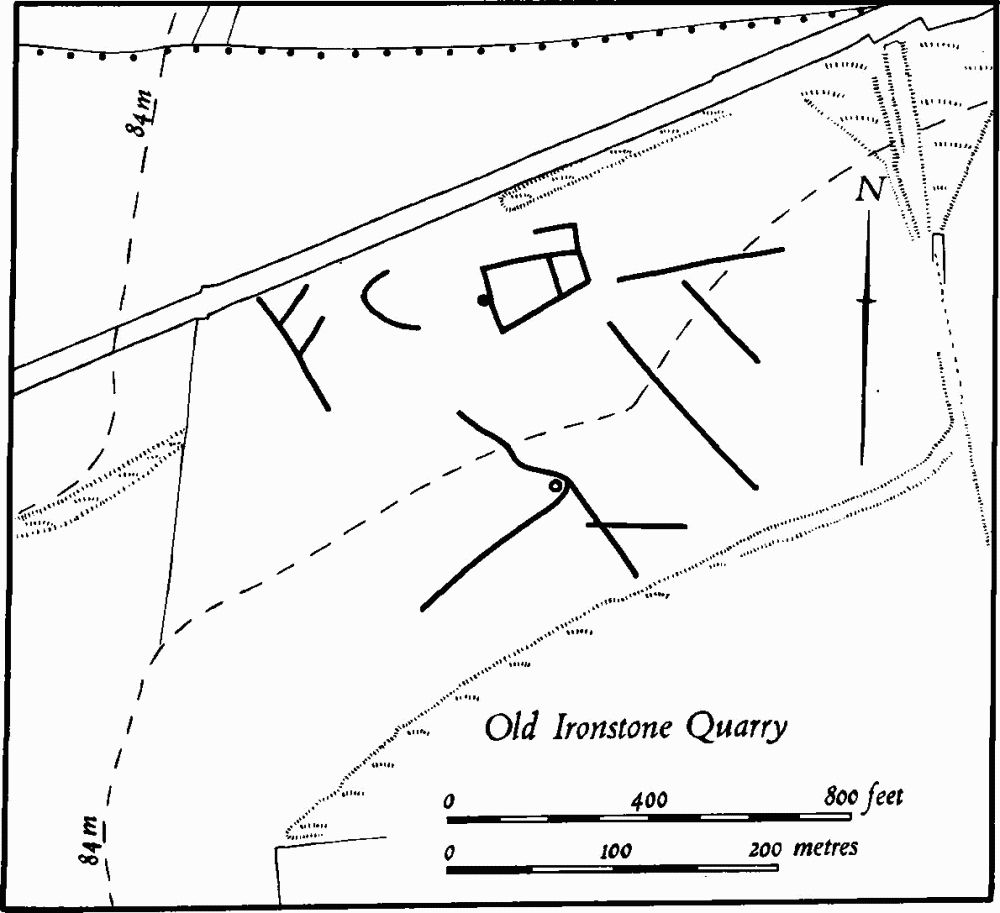 d(8) Roman Settlement and Coin Hoard (SP 90367445) on the E. side of the valley of a small stream, on sand and limestone at 60 m. above OD. When a silage pit was dug in 1954 finds were made which included pottery of the 3rd and 4th centuries, two tesserae, brick, roofing tile, slag and animal bones, associated with a hoard of about 120 antoniniani of the late 3rd century (NM).
c(9) Enclosures and Linear Ditches (SP 902761; Fig. 24), in the N. of the parish, on Northampton Sand at 84 m. above OD. Air photographs (in NMR) show a trapezoidal enclosure with an internal division and a pit at the W. end. In the surrounding area are various other features forming no coherent pattern.
Medieval and Later
a(10) Settlement Remains (SP 89947514), formerly part of Burton Latimer, lie on the E. side of the main street, N. of the old village centre. An area of disturbed earthworks suggests the sites of former buildings and closes (RAF VAP CPE/UK/1925, 4349–50).
(11) Cultivation Remains. The common fields of the parish were enclosed in 1803, following an Act of Parliament (NRO, Enclosure Map). Before that there were three large open fields, Nether, South, and Braken and Boshill Fields. The name of the latter perhaps indicates that it had once been two. Ridge-and-furrow of these fields exists on the ground or can be traced from air photographs over wide areas N., E. and S. of the village, arranged in end-on and interlocked furlongs many of markedly reversed-S form. A number of the original headlands between end-on furlongs still survive on the ground as long low ridges up to 400 m. long and 25 m. wide (e.g. at SP 914746, 902740 and 910758). In the extreme E. of the parish was a large area of pasture, beyond the common fields, known as The Wold in 1803. Traces of ridge-and-furrow are also visible (e.g. at SP 922742 and 928752) indicating that the land here was under cultivation at some period before the early 19th century (RAF VAP CPE/UK/1925, 1238–47, 2344–52, 3240–7, 4346–52; F22 540/RAF/1312, 0168–73; 541/611, 3115–7, 4078–9).
Undated
d(12) Mound (SP 91457353), 150 m. S. of Glendon Farm on limestone at 85 m. above OD. Air photographs (RAF VAP CPE/UK/1925, 3245–6) show a long mound, orientated E.-W., 30 m. in length and 10 m. wide, overlain by traces of ridge-and-furrow running N.-S. There is no evidence of a ditch.