Pages 50-51
An Inventory of the Historical Monuments in the County of Northamptonshire, Volume 2, Archaeological Sites in Central Northamptonshire. Originally published by Her Majesty's Stationery Office, London, 1979.
This free content was digitised by double rekeying and sponsored by English Heritage. All rights reserved.
23 GEDDINGTON
(OS 1:10000 a SP 88 SE, b SP 88 NE, c SP 98 SW, d SP 98 NW)
The parish, in the shape of an irregular L, occupies 925 hectares of land between Corby and Kettering (Fig. 13). The W, part of the parish is a long, narrow strip of land lying parallel to and S. of the R. Ise, between 76 m. and 107 m. above OD. The down-cutting of the R. Ise has exposed extensive areas of sands, silts and limestones. The N.E. part of the parish lies N. of the river and is mainly on Boulder Clay, at about 91 m. above OD, except in the extreme N. where it reaches the valley of the Harper's Brook at 76 m. above OD.
Prehistoric and Roman
A Levallois flake was found at SP 895834 in 1974. Roman coins, pottery and bones are recorded (NM Records; Archaeol. Newsletter, 1 (1948), 15).
a(1) Roman Settlement (?) (SP 88338220). in the S. of the parish, on limestone at 99 m. above OD. During ironstone-working in 1968 a large quantity of Roman pottery was found here (OS Record Cards).
a(2) Roman Iron-Working Site (SP 89378280), on the S. of the village, close to the R. Ise, on clay and sand at 72 m. above OD. During pipe-laying in 1951 the remains of ten iron-smelting furnaces were found, associated with pottery which was said to be of 2nd and 3rd-century date. No further details are recorded (NM Records).
d(3) Roman Settlement (SP 90358547) in the extreme N.E. of the parish close to the Stanion boundary, on Boulder Clay at 85 m. above OD. Part of a quern and some 1st-century pottery were found in an area of dark soil with a scatter of limestone and pebbles (Northants. Archaeol., 10 (1975), 154). The site is one of a group, the rest of which lie N.E. in Stanion parish (see Stanion (2–7)).
a(4) Iron Age and Roman Settlement (SP 871824–879824), on the N. side of Weekley Hall Wood, on limestone at 91 m. above OD. During ironstonequarrying in 1972–4 the following discoveries were made: (a) at SP 871824, many ditches and pits containing late Belgic or early Roman pottery; (b) at SP 87608275, a quantity of worked flints and a number of ditches and areas of burning, all containing mid and late 1st-century Roman pottery; (c) at SP 874825, two pits filled with burnt clay and slag; (d) at SP 874824 an iron-smelting furnace (Northants. Archaeol., 9 (1974), 89); (e) at SP 870823, ditches revealed in a quarry face contained early Roman pottery and kiln material (Northants. Archaeol., 8 (1973), 6).
This site is part of the large Roman occupation area to the S. (see Kettering (6) and Weekley (1)).
Medieval and Later
A late medieval bronze badge decorated with a falcon and a Tudor rose was found in the N.E. side of the churchyard, not far from (6) (SP 89588304; Northants. Archaeol., 10 (1975), 145–6; KM).
d(5) Saxon Settlement (?) (SP 90158572), in the extreme N.E. of the parish close to the Harper's Brook, on limestone at 76 m. above OD. A thin scatter of early or mid-Saxon pottery has been recorded (Northants. Archaeol., 10 (1975), 165).
a(6) Royal Hunting Lodge (perhaps SP 89558308), immediately N.E. of Geddington church. There was a small royal estate of one hide here in 1086, which was later enlarged. In 1129–30 £17 was spent in 'the making of the King's house at Geddington'. Subsequent additions and repairs were made but none is recorded after 1285. No building remained standing after 1374 (H.M. Colvin, The History of the King's Works, II (1963), 943–4). The site, according to Bridges, was N.E. of the church in a close called Castle or Hall Yard, where irregularities suggested the existence of foundations (J. Bridges, Hist. of Northants., II (1791), 309; C.A. Markham, Hist. and Ants. of Geddington, (1899), 50–52). The area, which was called Castle Close in 1717 (NRO, Map of Geddington), is now covered by a modern housing estate.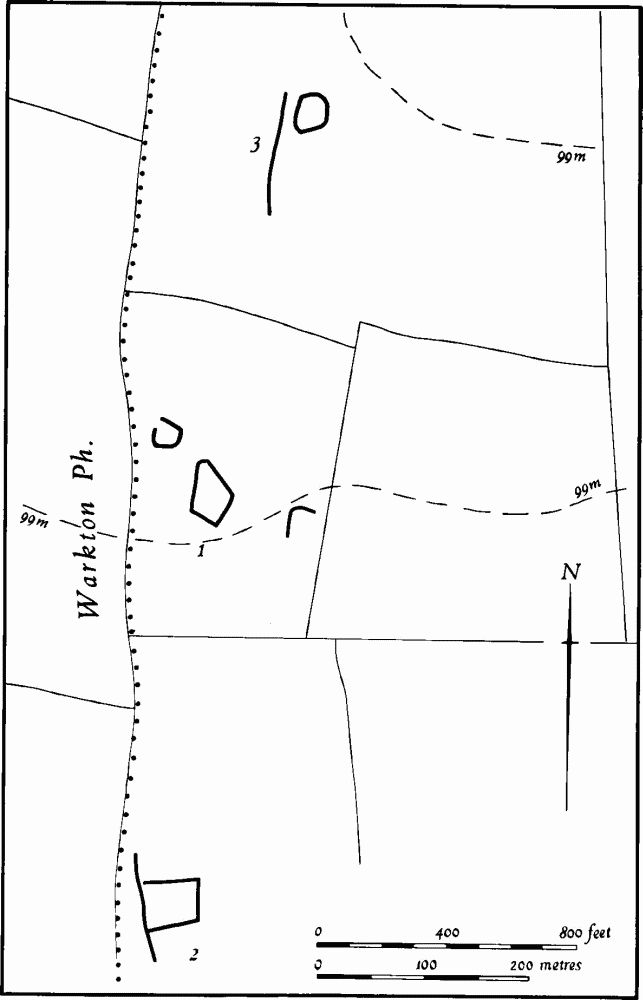 (7) Site of Medieval Buildings (unlocated). Bridges records that 'in the south-west part of the village as may be conjectured from the foundations and ruins was once a considerable building. The gate house belong ing to it is still entire' (J. Bridges, Hist of Northants., II (1791), 309). No trace of this has been noted.
(8) Cultivation Remains. The common fields of the parish were enclosed by Act of Parliament (NRO, Enclosure Map, 1808). Before enclosure there were five large open fields, West, Mill, and Tickley Fields W. of the village and Wood and Debdale Fields N. and E. of it. These covered all of the parish except for a strip of old enclosures S. of the village between Debdale and Tickley Fields, and a larger area of old enclosures known as Bancroft Closes in the E. of the parish. Most of the ridge-and-furrow of the three fields in the W. of the parish has been obliterated by extensive ironstone-mining, but one small fragment is still traceable on air photographs, S.E. of Geddington Grange Farm (SP 874826). It is called Asp Leys on a map of Geddington of 1717 (Map at Boughton House, copy in NRO) and at that time was not in strips. The term Leys probably applied here to an area of arable temporarily laid down to grass. In the E. of the parish ridge-and-furrow can be seen on the ground or is traceable on air photographs in the common fields in the Furlong Against Stowe Hill (SP 892841) and Wood Way Furlong (SP 898835) in Wood Field, and in Wiche Tree Furlong and elsewhere in Debdale Field. It is also traceable as discrete blocks within most of the old enclosures of Bancroft Closes, and Great and Little Stockings (SP 904831 and 902833), and also of Home Close, Conny Gree, Boughton Field and New Field, S. of the village. (RAF VAP 541/602, 3118–27, 4097–4103, 3097–3104; 541/611, 3046–9, 4044–8; 540/474, 3045–6, 4051–4; F22 540/RAF/ 1312, 0107–11; F22 82/RAF/865, 0245–7; F21 82/ RAF/865, 0283–90, 0324–30).