Pages 9-11
An Inventory of the Historical Monuments in the County of Northamptonshire, Volume 2, Archaeological Sites in Central Northamptonshire. Originally published by Her Majesty's Stationery Office, London, 1979.
This free content was digitised by double rekeying and sponsored by English Heritage. All rights reserved.
5 BRAMPTON ASH
(OS 1:10000 a SP 78 NE, b SP 88 NW)
The parish, 913 hectares in area, lies immediately N. of Desborough, on land mostly covered by Lias Clays, between 84 m. and 148 m. above OD. On the higher ground in the extreme S., centre and far N. there are extensive areas of Boulder Clay. The village is situated near the middle of the parish on a small outcrop of Northampton Sand. The rather isolated church is surrounded by slight earthworks, indicating shrinkage or movement of the village (4).
Prehistoric and Roman
a(1) Ring Ditch (SP 78508808), N.W. of the village, on a N.–facing slope on Northampton Sand at 135 m. above OD. Air photographs (in NMR) show a ring ditch 25 m. in diam.
a(2) Ring Ditch (SP 78508800), 80 m. S. of (1), in a similar position. Air photographs (in NMR) show a ring ditch 25 m. in diam.
a(3) Ring Ditch and Enclosure (SP 796857), within the former Brampton Wood, on Boulder Clay at 145 m. above OD. Air photographs (in NMR) show a ring ditch 45 m. in diam., lying within a large, roughly rectangular but incomplete ditched enclosure covering at least 8 hectares.
Medieval and Later
a(4) Settlement Remains (SP 788874), formerly part of Brampton Ash village, lie on either side of the now isolated church, on sand at 130 m. above OD. Slight traces of ploughed-out rectangular embanked closes and disturbed areas suggest former buildings covering about 3 hectares. The site was already devoid of habitation in 1839 (NRO, Tithe Map). These somewhat indeterminate remains must reflect the expansion and contraction of the village throughout its recorded life, as well as, perhaps, some movement. Domesday Book (VCH Northants., I (1902), 335, 350) gives a recorded population of 14 for Brampton. In 1332–4 the vill paid 50 s. ¾ d. tax and in 1348–9 60 s. (PRO, E179/155/3), in 1377 161 people over the age of 14 were taxed (PRO, El79/155/ 28) and in 1674 129 people are listed as paying Hearth Tax (PRO, El 79/254/14), an unusually large number. By 1801 the total population was only 79.
a(5) Moat and Cemetery (?) (SP 78318537; Fig. 21), lie on the S. edge of the parish, on the N. side of the A6, immediately E. of The Hermitage, on the summit of a narrow E.—W. ridge on Boulder Clay at 152 m. above OD. The moat is probably the site of a monastic grange of Pipewell Abbey (Wilbarston (9)) which is known to have been rebuilt in 1298 (VCH Northants., II (1906), 118). The area of modern fields immediately to the E. and S. of Hermitage Wood was apparently not part of the common fields of the parish and may be the original land of the medieval farm. The moated site is now almost destroyed, and only the W. part remains. It seems to have consisted of two conjoined rectangular enclosures, bounded and separated by a ditch 25 m.—40 m. across and 1.5 m. deep. An old house within it was pulled down in 1863, and a former chapel at its E. end is said to have been demolished at the end of the 17th century. Further E. again, now the site of the modern farm, there was a cemetery (J. Bridges, Hist. of Northants., II (1791), 284; Whellan, Dir., 784; 1st ed. 1 in. OS map (1834), sheet 44).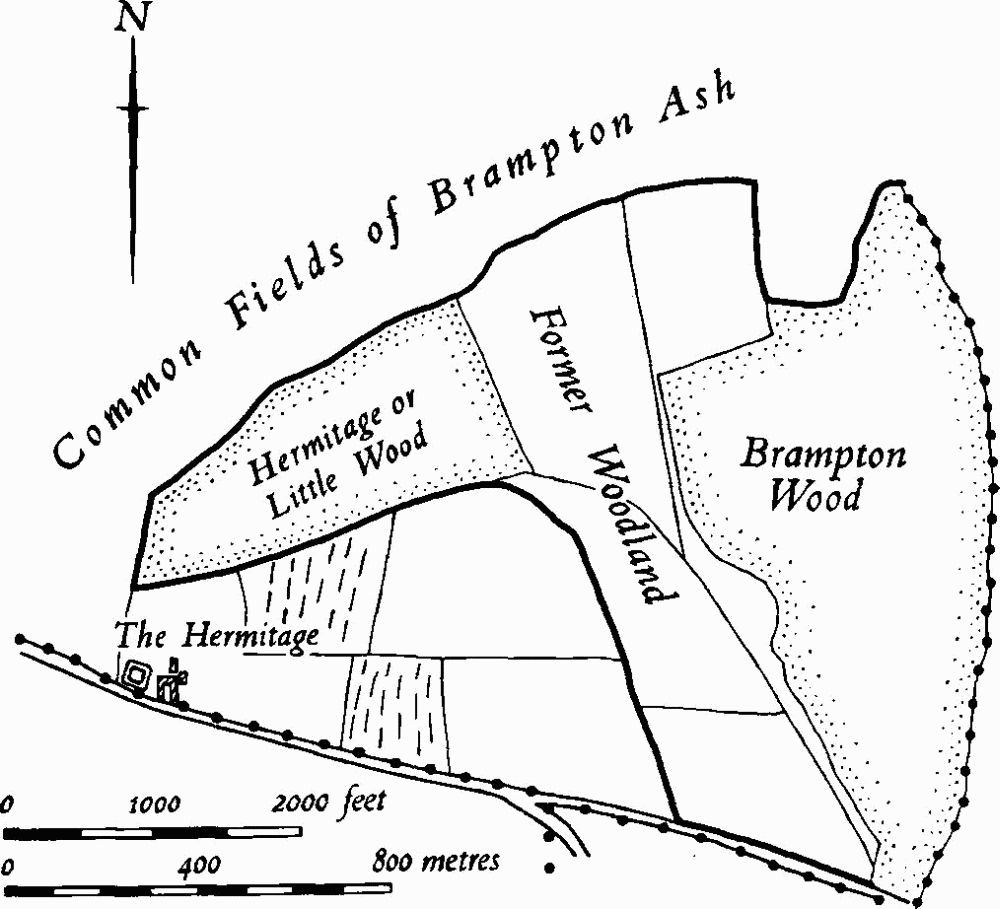 a(6) Dam (SP 79718714), S.E. of the village, in the valley of a small N.W.-flowing brook, on clay at 90 m. above OD. The remains have been completely destroyed, but air photographs taken in 1957 (RAF VAP CPE/UK/ 2109, 4278–9) show a broad bank, some 100 m. long and 15 m. wide, spanning the valley. Traces of the former pond covering about 2 hectares and respected by the adjacent ridge-and-furrow to the S. are also visible.
a(7) Fishponds (SP 792875), N. of Grange Farm and E. of Manor Farm, on clay, in the valley of a small S.E.-flowing brook, at 110 m. above OD. The remains have been cut by the modern road (A 427), but once consisted of a series of at least seven ponds. To the S.E. of the road are three embanked ponds. The largest one, to the S.E., is trapezoidal in shape, with a dam 2 m. high at the S.E. end. The central one is rectangular, but the N.W. one is little more than an oblong depression, 10 m. by 5 m. There is an overflow channel along the N. side of all three. N.W. of the road and largely destroyed by it are the remains of another shallow pond, and there are three other rectangular ponds beyond (Northants. P. and P., 4 (1971), 306; RAF VAP CPE/UK/2109, 4278–9).
a(8) Mound (SP 79058600), E. of Hermitage Wood, on Boulder Clay at 135 m. above OD. It was 50 m. long and 8 m. wide, markedly rectangular and flat-topped, lying at right-angles to the contours. It has now been destroyed and is visible only as a cropmark (Northants. Archaeol., 9 (1974), 114; RAF VAP CPE/UK/2109, 4279–81).
(9) Cultivation Remains. The date of enclosure of the common fields of the parish is unknown but was certainly sometime before 1839 (NRO, Tithe Map). Ridge-and-furrow of these fields exists on the ground or can be traced from air photographs over much of the parish, and especially S. of the village where the pattern is almost complete. Though the overall arrangement of furlongs appears to be very haphazard, with large rectangular blocks of interlocked furlongs, in fact they are almost all laid out, in what is an area of extremely broken ground, so that the ridges run across the contours. In the extreme S. of the parish, S. of Hermitage Wood, is an area of old enclosures, probably to be associated with the adjacent moated farmstead (5). On this land there are slight traces of ridge-and-furrow (Fig. 21; RAF VAP CPE/UK/1925, 1182–6; CPE/UK/2109, 3278–81, 4139–40, 4277–81; 541/602, 3228–30, 4204–5; 541/612, 4027–8).